Ссылки
Recently there was a lot of noise regarding the new coolest guy on the street: Google Chrome OS. I was traveling and just today I could read all my feeds, emails and put everything on the right place

Some people talked about it but I usually don't pay attention or even read some articles but unluckily I was doing some reviews of Palm Pre, the new Zune and other devices and it's software and for some reason I landed in the article of Free Software Magazine regarding Google Chrome OS and how KDE and GNOME shot each other on the head. I really don't pay attention to any flame wars or trolls and usually just ignore these topics as they don't take us anywhere. But this one got my attention (unluckily, again).
I'm writing about it for a few reasons: first the (lack) of technical background present in the article (I really don't know the author and I'm not judging his technical skills besides the ones shown in the article), second due the fact ...read more...
It's been lost a bit in a flurry of activity on the Dot, but our KDE Edu team has set up a short survey to gather your feedback on their applications and get a better idea of who their users are and what they want. So, if you use Marble, KStars, KHangman or any of the other great apps they produce please take five minutes to fill in the survey.
Well, I guess I'll bump some of the great responses to the branding strategy with this, but I thought it was worth blogging a little.

First, I'd like to thank the KDE marketing and promotion team for making this all actually come together. We're still working on things, like updating websites (hopefully done by the time 4.4 is out, at least that's the plan). We can use some help though, if you're interested in contributing to KDE, by updating various pieces of documentation to use the new terminology. The wikis are a good place to start (community.kde.org, userbase.kde.org, techbase.kde.org). Just follow the outline from the dot and start fixing sentences.

Second topic: Camp KDE. We're trying to get as many people at this event as we can, and our registration numbers are growing. However, we're also running a contest that includes a free flight to the event. Sadly, unless they are disappearing into the aether, we're receiving very few submissions. On the converse, a lot of people have been registering for the event recently. Yay!
...read more...
In the (somewhat) recent release of Karmic (Ubuntu 9.10), Kobby Beta 3 is available to all users via apt (Horray!).  For those who do not know about Kobby, it is a collaborative editor built using libinfinity, allowing it to be protocol compatible with the GTK based Gobby editor.
For those who do know about Kobby you may have noticed the lack of development progress in the past couple months.  This is a result of my college workload being above normal for the past semester.  With the end of year approaching and a new semester I would really like to try and give collaborative editing the push into the public spotlight I think it needs.  A 1.0 release of the editor would help this greatly, but before this can happen the project is in need of some brave crash-testers.  Beta releases of Koby have been available for several months, but little more than ...read more...
So it's been a busy month for me:
At work I've qualified as an instructor, qualified as Command Duty Officer (basically the senior-most officer on duty when everyone else goes home for the day), and just today I've become the Division Director for my division. Basically it just means way more work (I spent 10 hours at work today…) but on the other hand I'll eventually get my picture on the posted Chain of Command pictureboard at the entrance. Not sure that's the best tradeoff ever but that's the major job I was assigned here for in the first place so onward I'll go.
My class has a sense of humor. I mentioned yesterday that we always ran out of a particular flavor of coffee creamer first while underway. When I walked into the class today there were two little individual-sized creamers waiting for me. :)
On the KDE front, I sent the KDE.news story about Sheldon's T-shirt to a friend of mine who watches Big Bang Theory. I've switched kdesvn-build in trunk to not use any ...read more...
I'm relieved. After close to 2 years of thinking and discussing, the rebranding of KDE is official. From now on, the K Desktop Environment is dead. "KDE 4.4" will never see the light of day.

Today, "KDE" has officially moved on.

KDE is no longer software created by people, it is people creating software!


I won't go into this any further, as the dot article isn't up yet - but it will be soon - just gave Stu the go to publish. When he does you will be able to read what this is about.

Don't worry: most of it will sound familiar, we have changed our communication over the past year to fit the new branding. But some of it will be new. After years of discussing this and consulting the wider community (both by contacting key figures by personal mail and by discussing it on kde-devel, for example) it was time to move. We have made decisions (many of them at the recent marketing meeting), and yes, you could debate them. Please don't. ...read more...
I have just discovered that Simone (Demo) Gentili is documenting his journey about the Jolie language on his blog! As a matter of fact, he's practically translating the Jolie language tutorials in italian!
See his blog here if you are interested in some Jolie lessons in italian.

This is obviously a very nice surprise for us and an important form of contribution, so thank you Simone for your work!
Here is what a day off from work can mean for Amarok:



VERSION 2.2.2
FEATURES
* Make it possible to change a podcast channel's URL. (BR 195204)
* Also support feed:// urls for subscribing to podcasts.
* Limiting the number of simultaneous podcast updates and downloads to 4. Can be
configured separately in the rc-file.
* Import podcast subscriptions from OPML.
* Show HTML info for podcast channels that support this. Patches by Mathias Panzenb


An anonymous reader writes "Using the latest build of Google's Chromium OS source code, Phoronix built it out to run on a Samsung netbook and ran sixteen benchmarks , putting it up against Moblin 2.1, Ubuntu Netbook Remix 9.10, openSUSE 11.2, and Fedora 12.
After some deliberation, the development team decided to stick to the original name. Even if there were many good submissions and unprecedented participation of the community (at least by KMM standards), none was able to gain the heart of the team over the original name. I liked some of the proposed names, but mine is only 1 vote.
Just in case some people are only reading planetKDE, and not the dot, I thought that I'd reproduce this article here (in order to boost the number of submissions, which is currently zero after three days, as far as I can tell - good odds for submitters):

Do you have a special story about how you or your organization has used KDE to break free from proprietary software? If so, enter the Camp KDE "Be Free" Contest and tell us your story!




Camp KDE, in conjunction with the KDE e.V., will be flying one lucky individual to Camp KDE 2010 in San Diego. Camp KDE attendees can meet the KDE community, participate in KDE talks, take free Qt developer training (normally not free), and join our hacking and planning sessions.

To qualify, we (the Camp KDE event organizers) are looking for a 300 word essay which demonstrates how using KDE Software has increased your freedom to get more done with your computers. At the event the winner ...read more...
So, there seems to be a consensus against the panel allowing to edit operations in Skrooge. And probably rightly so :



The usual critics are, as you would expect from the screenshot above, that it looks scattered, and over complicated to the point where it becomes intimidating for the first time user.

I've been trying to try to reorganize the whole stuff, without removing any field, and came up with this :



I'm a bit concerned that some fields are not wide enough on small screens... Mode can contain strings like "Automatic Transfer", for example, or Category can be something in the line of "Transport > Car > Fuel".

What do you think ? Am i ...read more...
November 21 was the seventh anniversary of MEPIS Linux, so it seems fitting that Warren Woodford has uploaded SimplyMEPIS 8.4.80, the alpha release of MEPIS 8.5. Available from MEPIS and public mirrors, the ISO files for 32 and 64 bit processors are SimplyMEPIS-CD_8.4.80-a0_32.iso and SimplyMEPIS-CD_8.4.80-a0_64.iso. Warren Woodford explained the ...
I know that this is mostly a personal post. But since 8 days now Jara is part of my life. She is not yet completely house-trained but we will succeed ;-).
And nonetheless here is some KDE related information. In May 2010 markey, mamarok and me will organize another KDE meeting in Randa. Topic? Multimedia! Interested? BTW: Randa is where the last Plasma meeting Tokamak3 happened…
And now back to Jara to see if she has to go outside. Below the picture you'll find some more words in German…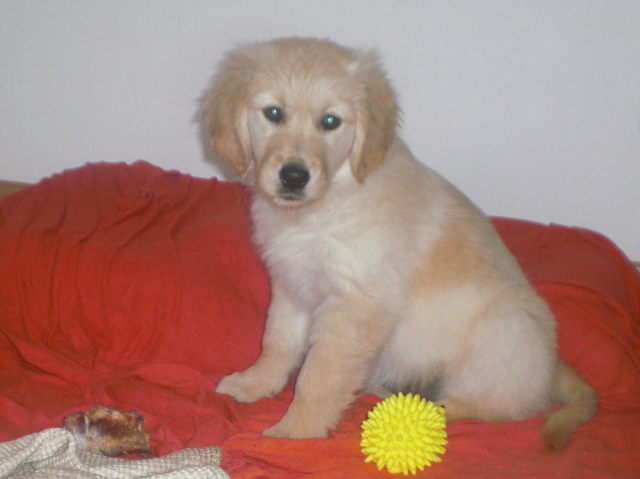 Hallo zusammen. Nun will ich noch ein paar mehr Worte in oder auf Deutsch verlieren.
Jara, meine kleine Golden-Retriever-Welpin, ist nun 8 Tage bei mir in der WG und sie hat sich schon recht gut eingelebt. Die Kabel l
another quick micro thing that will be in Plasma for KDE 4.4: until now, the taskbar items appeared and disappeared "magically" and when a task disappeared between other two, every task immediately disappeared from where it was, appearing in the proper place. That is sooo computer behaviour, one of the little things that makes computer to look innatural and scary...
Until now :)
This is made really easy by the new Qt 4.6 animations framework, and for now there will be just a little taste of things like that, then with Qt 4.7 this will become almost automagic, since it'll support animated layouts natively
Yesterday Myriam and I attended the Kubuntu "Karmic Koala" release party in Berne, Switzerland, kindly hosted by Puzzle ITC in their very nice office. We did all sorts of funny things there, including a talk on Project Timelord (given by Myriam), some Amarok 2.2.1 goodness (presented by me), having pizza (including some very hot sauce), and... wait for it... beer!

All in all we had a jolly good time, made some new friends, and even talked about the possibility of having a Nokia N900 release event there in January (anyone interested in giving a presentation?)
"While the industry is distracted by the ongoing tussle between Microsoft and OpenOffice.org over document formats, the KDE project is quietly preparing the next generation of its own office suite , KOffice, for Linux, Windows, and Mac OS X. KOffice 2.0, to be released sometime in the first half of 2008, will be cross platform like many other ...
We must not believe the many, who say that only free people ought to be educated, but we should rather believe the philosophers who say that only the educated are free. – Epictetus
The KDE-Edu team is looking for feedback from their users to improve their applications and to find out where to invest the limited time they have. If you are a student, teacher or just casual user of any of these applications we are looking for your feedback:
Kanagram
KHangMan
Kiten
KLettres
KWordQuiz
Parley
KAlgebra
KBruch
Kig
KmPlot
Blinken
KGeography
KTouch
KTurtle
Kalzium
KStars
Marble
Step
Cantor
Rocs
We created a short survey (1 page – about 5 minutes) where you can tell us about the 3 problems you have with any of the applications listed above as well as give some general feedback. Those 3 problems can be small or big. We want to know about them. This feedback is incredibly valuable to the team so if you know anyone who should take this survey but doesn't read this blog please send ...read more...
As an extra event around FSCONS, I had the opportunity to meet a bunch of GNU hackers (part of the GNU Hacker Meeting, GHM). The GNU hackers are the people who maintain particular GNU packages, ranging from binutils to gcc to GNU Scheme to the new GNU PDF library. Cool folks all and neat to see them all in one room — and it illustrated for me that although I'm usually interested (from a technical perspective) in the desktop layer (e.g. KDE), there's a huge stack underneath. That deeper software stack now has a face for me — up until now, somehow the "shared technology stack" underneath the Free Software desktop sort of stopped for me at X, HAL, DBus, Strigi. Let us not forget the bits underneath that make a GNU/Linux system run.

(Click for full-size version, where you can see that my camera has focus problems with wide pictures under mediocre lighting conditions) From left to right, we find that I'm really bad with remembering ...read more...
Just a quick comment that renaming in digiKam now is capable of using syntax highlighting. It should be easier to decipher a renaming string this way :-)
I just got up and Quassel presented the following to me:

<daskreech> apachelogger: as regards to your musing on what Kubuntu should be in terms of providing what is needed for the user. I just had a look at the Perfect Kubuntu Desktop 9.10 setup and the first steps are to replace nearly all the KDE apps

Honestly, I did not read the howto just until now, so thanks to daskreech for reminding me. There is indeed some things that need highlighting. Certainly not the application selection though.
The most important thing about this how to is the last line from the introduction:

I want to say first that this is not the only way of setting up such a system. There are many ways of achieving this goal but this is the way I take. I do not issue any guarantee that this will work for you!

This is a very reasonable statement. See, if the author were to present applications that are superior or missing, then he would need to justify such claims in one way ...read more...
(A very late update on DevDays 2009 SFO. I am one lazy blogger)
In an unexpected twist of events, I ended up attending Qt Developer Days at SFO. I had just one week to get my visa, flight and hotel bookings in place, so I wasn't too hopeful. Amazingly, I got my visa interview appointment in 2 days  and received the passport by courier in another 2 days! Also, the chennai embassy didn't have any long queues that every indian so dreads. Either the U.S.A visa process has made giant leaps or it's the downturn .
1. Sebastian Nystr
Another screencast of yours truly: this shows the Plasma netbook shell running on a bog standard Asus EeePc 1005Ha.
It can be seen the new neat animations of the search and launch interface when results are loaded. What's neat is that it seems to run quite well on this pretty basic hardware and animations are just as smooth as they should be :)
Last week, I blogged about the removal of the graphics magick file format filter in Krita, and that it would mean that we need to write directly our own support for many file formats, using low-levels library when relevant and available. And by forcing us to do this work, the support for file formats in 2.2 will rock.
Among the three mostly usefull file formats that were delivered by the gmagick file format filter, there is XCF, the file format of the Gimp. After my blog, pusling (Sune Vuorela of the debian KDE team) reminded me about xcftools, a tool written by Henning Makholm that extract information from XCF files. Despite not being a library, the code to parse XCF files is well seperated from the command line logic, and I imported it in Krita (might be a good idea to turn it into a real library ?).
As mentioned, the previous filter was not really good, we were only able to get the layers, but ...read more...

So i just got a mail saying i'm now a Nokia Certified Qt Developer. Great!
On Wednesday the Washington Post's "Security Fix" blog had a small item on privacy issues with the smart grid. It was most interesting for me because of the graph that was included: by looking at a simple metric (power draw in the house) one could reach conclusions on what was happening inside. Breakfast, lunch and dinner can be spotted. This isn't much of an issue if the data is available only to the power company, stored securely, and applied only to its intended purpose for which it is collected. Presumably that's to optimize power delivery.
But when the information is used outside of that context, then bad things can happen.
This kind of concern applies to all kinds of metrics that indirectly show what is happening inside a closed box. Consider an active developer on software project where the source repository is available publicly. This applies to lots of them — and CIA.vc makes relevant stats for many even more public. By looking at time stamps you can find out roughly when the developer is active. How ...read more...
Where have you been?
So lately I've been occupied by a few things:
Family issues
Working for a startup company
University bureaucracy
Jobhunting
Which is not to say I've been without free time. What have I been using my free time for?
Studying natural languages more in-depth
Reading technical books, and inspiring books
Being with friends, having fun and discussing the near and long-term future
So where does this leave open-source coding, for which I've even been given the honor of being listed as author for a great project like Amarok? After all, I have a vested interest in continuing to improve something I spent so much time on. I'll explain a few factors of the times that I've tried to get back into coding for it.
Have you been coding in secret?
The nice thing about using git for development is that I can continue to work on a feature or large fix on the side, and then deploy it when ready. That said, this is
...read more...
Fitting my earlier post about rating and stars in Get Hot New Stars Stuff , I just listened to "Dead Stars" by Covenant…
So this is all about stars. At first I wanted to answer the comments individually, but there are just too many.
A few points keep coming up:
The number of items in the Hot New Stuff Dialog is limited: not any more, the dialog will fetch more items if you scroll down. (I'll do a screencast soon, promise!)
Updates: There is a category that shows only installed items, here it's easy to update individual ones. Applications will have the possibility to query for updates without invoking the gui at some point, probably not in the initial release though.
Displaying the Rating of an item will most likely be the "five stars, just as in Nepomuk/Dolphin" variant. It shows the numerical rating in a tooltip (yeah, we all love numbers, don't we?? though I would still download what I like, not what the rating tells me to like). I stretched the scale a bit, ...read more...


Today I updated the KDE Licensing Policy with a couple of changes following requests from folks. Most notably Creative Commons is now allowed. This is only for standalone media files (such as an image for a splash screen) and not for anything which might want to be mixed with GPL material such as icons. "Attribution-Share Alike 3.0 Unported" is the version allowed. The other change is requiring BSD licencing for CMake modules, which brings the policy into line with existing practice.
Ссылки