Ссылки
People, just remember that this is a Work in Progress done by a few students, and it has Sandro Andrade as a Mentor, and me as a quick-problem-solver.
The main coders are Andr
16 | System & Utilities | http://liveblue.wordpress.com/2009/12/03/visual-playlist-in-amarok-video/ | 9938 |
For quite some time almost every blog by a KDE PIM developer is about Akonadi in one for or the other, often about "Akonadi porting" or "porting to Akonadi". Akonadi itself can already be difficult to explain, combined with "porting" it probably has only meaning left if you are a developer.
16 | System & Utilities | http://www.topix.com/tech/kde/2009/12/akonadi-porting-explained?fromrss=1 | 9933 |
No, v
16 | System & Utilities | http://jlp.holodeck1.com/blog/2009/12/03/slovenski-qt-46-in-qt-creator-13/ | 9932 |
Finally I reached foss.in/2009 day 2 by 5 PM. And met some of my friends and made new friends. Being a KDE guy I spent my time in the KDE Booth. Couldn't grab more snaps. But you may find some snaps here.
16 | System & Utilities | http://sujithh.info/2009/12/foss-in2009-day-2/ | 9930 |
Thread beginning with comment 397482 To view parent comment, click here . To read all comments associated with this story, please click here .
16 | System & Utilities | http://www.topix.com/tech/kde/2009/12/re-qtruby-kde4-4?fromrss=1 | 9929 |
Just a quick record. I just committed a fix for a folderview bug that had been (excuse the pun) bugging me for awhile now.
If you've been fiddling with the file preview settings in folderview, you've probably noticed that there was no way to control file preview in the on-hover popup views – all settings in the config dialog applied only to the icons on the folderview itself, while the popups invariably only previewed images. That has been fixed now – the popups now properly inherit file preview settings: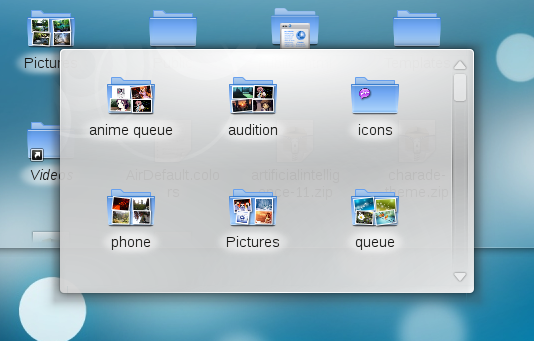 I had intended to attempt this fix much earlier, but was impaired by formidable difficulties in rebuilding trunk after fresh-installing my system (all the new and unfamiliar dependencies didn't help
). Fortunately bugfixes are still acceptable during feature/string freeze. It would have sucked if this pet peeve of mine had needed to delay its resolution till 4.5
16 | System & Utilities | http://yuenhoe.co.cc/blog/2009/12/file-previews-in-folderview-popups/ | 9928 |
You know, of all the demos we released and blogged about yesterday, turns out none were really a web app. "How could this be?! How could the Trolls forget about the web?" you may be asking. (or not, I mean, no one posted anything in the blogs as of the time of writing this blog)
Say no more, here's your web demo:
This demo is called "webscraps" and was developed by formerforever Troll Girish and his friend and business partner Roopesh. The source code, of course, is available on Labs: http://qt.gitorious.org/qt-labs/webscraps.
So what does this demo do? It allows you to create a scrap collection of webpages and websites. Often you're interested in just the "news" section of a website that may not provide an RSS feed for you to be up-to-date. For example, you could configure it to watch blue-grey central banner of the Qt Homepage.
But that's not it. I mean, from what I've described so far, we could do since Qt 4.4, ...read more...
16 | System & Utilities | http://labs.trolltech.com/blogs/2009/12/02/and-finally-a-demo-about-web/ | 9927 |
It has been a month since I started working in my own business. My former employer has been very kind and let me explore this while on a leave of absense, i.e. I have somewhere to return to.




This Monday I sent my first large invoice to my biggest customer. Now, time to wait for the next pay. What have I learned this far?
Bookkeeping - there are a lot of receipts to handle, especially when starting. Insurances, web servers, car insurance, etc.
Working from home - it works fairly well for me. I've come up with a scheme to keep myself motivated and actually working. However, a simple business lunch now takes three hours instead of one.
Money takes time - I've been given offers, signing deals, working more than ever, and my next pay check is still not due until mid January. Worth thinking about.
Time is not money - at least not yet. By being self employed I'm so much more flexible so that I get more quality time with my family, while making the money that I need (and some ...read more...


16 | System & Utilities | http://www.thelins.se/johan/2009/12/one-month-of-flying.html | 9925 |
Linked by Thom Holwerda on Sun 31st Dec 2006 18:47 UTC, submitted by Ironhead Haynes "I noticed some tiny disturbance in the force before Christmas as Thom Holwerda posted two articles about what he felt was the sorry state of free desktops.
16 | System & Utilities | http://www.topix.com/tech/kde/2009/12/re-browsing-as-a-form-of-defense?fromrss=1 | 9920 |
tuesday we lost Ramses Shaffy. A popular, charasmatic dutch singer. he was popular when my parents were younger, so I was confronted with his songs while i grew up.
the lyrics were facinating and mostly cryptic. for those that want a taste of dutch culture, here is a nice song, the title catches aspects of life and translates to: sing, fight, cry, pray, laugh, work and admire. The clip shows appropiate stills at each word.
16 | System & Utilities | http://www.omat.nl/2009/12/02/ramses-shaffy/ | 9919 |
The KDE community has modified its product branding and expanded its focus beyond the KDE Linux desktop to support a wider range of open source projects, says eWEEK.
16 | System & Utilities | http://www.topix.com/tech/kde/2009/11/kde-community-shifts-branding-as-koffice-2-1-debuts?fromrss=1 | 9916 |
"Unlike KFC, KDE won't be offering crispy chicken and stale biscuits. What KDE will be offering is "distinct brands for the software that was previously referred to generically as 'KDE'." Instead of offering KDE 4.4 in 2010, the project will be releasing the "KDE Software Compilation 4.4." "According to the post, the rationale for the switch is ...
16 | System & Utilities | http://www.topix.com/tech/kde/2009/11/k-desktop-environment-is-dead-long-live-kde?fromrss=1 | 9915 |
Recently there was a lot of noise regarding the new coolest guy on the street: Google Chrome OS. I was traveling and just today I could read all my feeds, emails and put everything on the right place

Some people talked about it but I usually don't pay attention or even read some articles but unluckily I was doing some reviews of Palm Pre, the new Zune and other devices and it's software and for some reason I landed in the article of Free Software Magazine regarding Google Chrome OS and how KDE and GNOME shot each other on the head. I really don't pay attention to any flame wars or trolls and usually just ignore these topics as they don't take us anywhere. But this one got my attention (unluckily, again).
I'm writing about it for a few reasons: first the (lack) of technical background present in the article (I really don't know the author and I'm not judging his technical skills besides the ones shown in the article), second due the fact ...read more...
16 | System & Utilities | http://blog.morpheuz.cc/25/11/2009/google-chrome-os-or-how-to-miss-shot/ | 9913 |
It's been lost a bit in a flurry of activity on the Dot, but our KDE Edu team has set up a short survey to gather your feedback on their applications and get a better idea of who their users are and what they want. So, if you use Marble, KStars, KHangman or any of the other great apps they produce please take five minutes to fill in the survey.
16 | System & Utilities | http://www.asinen.org/blog/2009/11/kde-edu-survey/ | 9910 |
Well, I guess I'll bump some of the great responses to the branding strategy with this, but I thought it was worth blogging a little.

First, I'd like to thank the KDE marketing and promotion team for making this all actually come together. We're still working on things, like updating websites (hopefully done by the time 4.4 is out, at least that's the plan). We can use some help though, if you're interested in contributing to KDE, by updating various pieces of documentation to use the new terminology. The wikis are a good place to start (community.kde.org, userbase.kde.org, techbase.kde.org). Just follow the outline from the dot and start fixing sentences.

Second topic: Camp KDE. We're trying to get as many people at this event as we can, and our registration numbers are growing. However, we're also running a contest that includes a free flight to the event. Sadly, unless they are disappearing into the aether, we're receiving very few submissions. On the converse, a lot of people have been registering for the event recently. ...read more...
16 | System & Utilities | http://troy-at-kde.livejournal.com/24531.html | 9908 |
In the (somewhat) recent release of Karmic (Ubuntu 9.10), Kobby Beta 3 is available to all users via apt (Horray!).  For those who do not know about Kobby, it is a collaborative editor built using libinfinity, allowing it to be protocol compatible with the GTK based Gobby editor.
For those who do know about Kobby you may have noticed the lack of development progress in the past couple months.  This is a result of my college workload being above normal for the past semester.  With the end of year approaching and a new semester I would really like to try and give collaborative editing the push into the public spotlight I think it needs.  A 1.0 release of the editor would help this greatly, but before this can happen the project is in need of some brave crash-testers.  Beta releases of Koby have been available for several months, ...read more...
16 | System & Utilities | http://blog.greghaynes.net/index.php?/archives/41-Kollaborative-Editing-in-KUbuntu.html | 9906 |
So it's been a busy month for me:
At work I've qualified as an instructor, qualified as Command Duty Officer (basically the senior-most officer on duty when everyone else goes home for the day), and just today I've become the Division Director for my division. Basically it just means way more work (I spent 10 hours at work today…) but on the other hand I'll eventually get my picture on the posted Chain of Command pictureboard at the entrance. Not sure that's the best tradeoff ever but that's the major job I was assigned here for in the first place so onward I'll go.
My class has a sense of humor. I mentioned yesterday that we always ran out of a particular flavor of coffee creamer first while underway. When I walked into the class today there were two little individual-sized creamers waiting for me. :)
On the KDE front, I sent the KDE.news story about Sheldon's T-shirt to a friend of mine who watches Big Bang Theory. I've switched kdesvn-build in trunk to not use ...read more...
16 | System & Utilities | http://www.purinchu.net/wp/2009/11/24/the-november-update/ | 9904 |
I'm relieved. After close to 2 years of thinking and discussing, the rebranding of KDE is official. From now on, the K Desktop Environment is dead. "KDE 4.4" will never see the light of day.

Today, "KDE" has officially moved on.

KDE is no longer software created by people, it is people creating software!


I won't go into this any further, as the dot article isn't up yet - but it will be soon - just gave Stu the go to publish. When he does you will be able to read what this is about.

Don't worry: most of it will sound familiar, we have changed our communication over the past year to fit the new branding. But some of it will be new. After years of discussing this and consulting the wider community (both by contacting key figures by personal mail and by discussing it on kde-devel, for example) it was time to move. We have made decisions (many of them at the recent marketing meeting), and yes, you could debate them. Please don't. ...read more...
16 | System & Utilities | http://nowwhatthe.blogspot.com/2009/11/finally-rebranding-kde.html | 9902 |
I have just discovered that Simone (Demo) Gentili is documenting his journey about the Jolie language on his blog! As a matter of fact, he's practically translating the Jolie language tutorials in italian!
See his blog here if you are interested in some Jolie lessons in italian.

This is obviously a very nice surprise for us and an important form of contribution, so thank you Simone for your work!
16 | System & Utilities | http://fmontesi.blogspot.com/2009/11/discovering-jolie-in-italian.html | 9900 |
I just got my copy of "The Book of Inkscape" by Dmitry Kirsanov. It has excellent information for inkscape users both new and old ;)
16 | System & Utilities | http://kwwii.blogspot.com/2009/11/fresh-off-press.html | 9899 |
Here is what a day off from work can mean for Amarok:



VERSION 2.2.2
FEATURES
* Make it possible to change a podcast channel's URL. (BR 195204)
* Also support feed:// urls for subscribing to podcasts.
* Limiting the number of simultaneous podcast updates and downloads to 4. Can be
configured separately in the rc-file.
* Import podcast subscriptions from OPML.
* Show HTML info for podcast channels that support this. Patches by Mathias Panzenb


16 | System & Utilities | http://commonideas.blogspot.com/2009/11/amarok-podcasting-progress.html | 9897 |
An anonymous reader writes "Using the latest build of Google's Chromium OS source code, Phoronix built it out to run on a Samsung netbook and ran sixteen benchmarks , putting it up against Moblin 2.1, Ubuntu Netbook Remix 9.10, openSUSE 11.2, and Fedora 12.
16 | System & Utilities | http://www.topix.com/tech/kde/2009/11/chrome-os-benchmarked-against-moblin-ubuntu-netbook-more?fromrss=1 | 9894 |
After some deliberation, the development team decided to stick to the original name. Even if there were many good submissions and unprecedented participation of the community (at least by KMM standards), none was able to gain the heart of the team over the original name. I liked some of the proposed names, but mine is only 1 vote.
16 | System & Utilities | http://soliverez.com.ar/drupal/node/132 | 9891 |
Just in case some people are only reading planetKDE, and not the dot, I thought that I'd reproduce this article here (in order to boost the number of submissions, which is currently zero after three days, as far as I can tell - good odds for submitters):

Do you have a special story about how you or your organization has used KDE to break free from proprietary software? If so, enter the Camp KDE "Be Free" Contest and tell us your story!




Camp KDE, in conjunction with the KDE e.V., will be flying one lucky individual to Camp KDE 2010 in San Diego. Camp KDE attendees can meet the KDE community, participate in KDE talks, take free Qt developer training (normally not free), and join our hacking and planning sessions.

To qualify, we (the Camp KDE event organizers) are looking for a 300 word essay which demonstrates how using KDE Software has increased your freedom to get more done with your computers. At the event ...read more...
16 | System & Utilities | http://troy-at-kde.livejournal.com/24101.html | 9889 |
So, there seems to be a consensus against the panel allowing to edit operations in Skrooge. And probably rightly so :



The usual critics are, as you would expect from the screenshot above, that it looks scattered, and over complicated to the point where it becomes intimidating for the first time user.

I've been trying to try to reorganize the whole stuff, without removing any field, and came up with this :



I'm a bit concerned that some fields are not wide enough on small screens... Mode can contain strings like "Automatic Transfer", for example, or Category can be something in the line of "Transport > Car > Fuel".

What do you ...read more...
16 | System & Utilities | http://gdebure.blogspot.com/2009/11/working-on-skrooge-usability.html | 9887 |
November 21 was the seventh anniversary of MEPIS Linux, so it seems fitting that Warren Woodford has uploaded SimplyMEPIS 8.4.80, the alpha release of MEPIS 8.5. Available from MEPIS and public mirrors, the ISO files for 32 and 64 bit processors are SimplyMEPIS-CD_8.4.80-a0_32.iso and SimplyMEPIS-CD_8.4.80-a0_64.iso. Warren Woodford explained the ...
16 | System & Utilities | http://www.topix.com/tech/kde/2009/11/mepis-birthday-surprise-simplymepis-8-5-alpha-release?fromrss=1 | 9888 |
I know that this is mostly a personal post. But since 8 days now Jara is part of my life. She is not yet completely house-trained but we will succeed ;-).
And nonetheless here is some KDE related information. In May 2010 markey, mamarok and me will organize another KDE meeting in Randa. Topic? Multimedia! Interested? BTW: Randa is where the last Plasma meeting Tokamak3 happened…
And now back to Jara to see if she has to go outside. Below the picture you'll find some more words in German…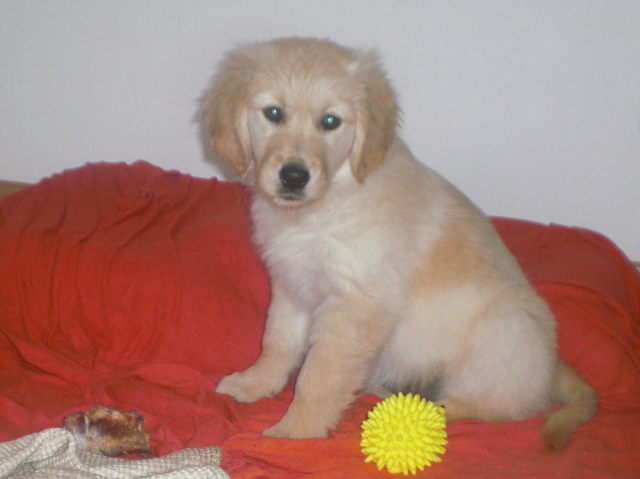 Hallo zusammen. Nun will ich noch ein paar mehr Worte in oder auf Deutsch verlieren.
Jara, meine kleine Golden-Retriever-Welpin, ist nun 8 Tage bei mir in der WG und sie hat sich schon recht gut eingelebt. Die Kabel l
16 | System & Utilities | http://blogs.fsfe.org/mario/?p=31 | 9886 |
another quick micro thing that will be in Plasma for KDE 4.4: until now, the taskbar items appeared and disappeared "magically" and when a task disappeared between other two, every task immediately disappeared from where it was, appearing in the proper place. That is sooo computer behaviour, one of the little things that makes computer to look innatural and scary...
Until now :)
This is made really easy by the new Qt 4.6 animations framework, and for now there will be just a little taste of things like that, then with Qt 4.7 this will become almost automagic, since it'll support animated layouts natively
16 | System & Utilities | http://www.notmart.org/index.php/Software/Subtle_moving | 9885 |
Yesterday Myriam and I attended the Kubuntu "Karmic Koala" release party in Berne, Switzerland, kindly hosted by Puzzle ITC in their very nice office. We did all sorts of funny things there, including a talk on Project Timelord (given by Myriam), some Amarok 2.2.1 goodness (presented by me), having pizza (including some very hot sauce), and... wait for it... beer!

All in all we had a jolly good time, made some new friends, and even talked about the possibility of having a Nokia N900 release event there in January (anyone interested in giving a presentation?)
...read more...
16 | System & Utilities | http://amarok.kde.org/blog/archives/1135-Kubuntu-Karmic-Release-Party-Puzzle-ITC.html | 9883 |
"While the industry is distracted by the ongoing tussle between Microsoft and OpenOffice.org over document formats, the KDE project is quietly preparing the next generation of its own office suite , KOffice, for Linux, Windows, and Mac OS X. KOffice 2.0, to be released sometime in the first half of 2008, will be cross platform like many other ...
16 | System & Utilities | http://www.topix.com/tech/kde/2009/11/re-2-from-what-ive-seen?fromrss=1 | 9881 |
Ссылки