Ссылки
We're happy to announce that Qt for Maemo 5 entered Beta status - this means that all APIs are feature complete and have been reviewed by multiple people. For us, this means that an intense phase of bug hunting and testing is starting. For you, it means that you can now finally develop without us changing class names or behavior all the time (*)
Lots of changes went into Qt since the last Technical Preview:
Support for NEON instructions for increased drawing speed
Refactored Kinetic Scrolling

Kinetic Scrolling now default for all QAbstractScrollArea and QWebView based widgets
QMaemo5KineticScroller is not needed anymore and was removed. To override scrolling behavior or to disable it altogether, QAbstractKineticScroller can be used
Take a look at the kinetic scroller example (examples/maemo5/scroller) for information on how to tweak scrolling

Lots of styling fixes
QtMultimedia got an N900 backend
Documentation now online at ...read more...


16 | System & Utilities | http://labs.trolltech.com/blogs/2010/01/19/qt-for-maemo-5-going-beta/ | 10375 |
KDE.News has a report from the first day of Camp KDE . " Saturday, the first day of Camp KDE 2010 in San Diego, started with a short introduction by Jeff Mitchell.
16 | System & Utilities | http://www.topix.com/tech/kde/2010/01/day-one-at-camp-kde-2010?fromrss=1 | 10372 |
Unfortunately yesterday was my last day out at Camp KDE.  Vacation is sparse for me right now after blowing it all over the holidays and on the wedding and GCDS/Akademy.  So real life calls…
I neglected to post my slides in my day 1 review so here they are.  In case you didn't know from the Dot article my talk was about simple and practical ways to get involved in KDE.  The idea was that even if you don't know much about writing code (like me) you can still be a contributor in our community.  I provided information on  different areas that people can get started in and then listed the web sites to go to or people to contact to get up and running.  Getting people besides developers to help in these areas is critical.  It allows developers to focus on what they do best, writing code, rather than triaging bugs, writing documentation, doing user support, and so on.  As great as our developer community is we can't expect you ...read more...
16 | System & Utilities | http://neomantra.org/?p=150 | 10371 |
Let me say it right at the start here: I really enjoy coding in C++. To some that makes me a very odd sort of animal, I know. (There are also probably more convincing reasons to consider me a very odd animal, but that's another blog entirely. ;) Still, despite my enjoying slinging C++ around, I also know that trying to insist that everyone else does the same is probably not the best thing for KDE. I believe that in 2010 we may see the "next step" in acceptance and adoption of languages-other-than-C++ around the KDE community and that it could be an important part of how things shape up this year.

There are two different topics here, really: in-application scripting and application development proper.


Creating Applications Without C++


We have some great language options for people writing KDE code, and have had for a number of years thanks to the foresight and diligence of the KDE Bindings community. We owe them a debt of gratitude for these efforts, because as a result of them we can ...read more...
16 | System & Utilities | http://aseigo.blogspot.com/2010/01/key-quest-scripting-and-dynamic.html | 10368 |
The Netherlands has a "dichter des vaderlands", a national poet. I don't know if that would be comparable with a British poet laureate — perhaps because the Dutch one is primarily a product of a single newspaper / publisher. The conservative one, at that, but the national poet is tasked with doing whatever poetry demands. A little like a national ombudsman, I suppose. The current holder of the title is Ramsey Nasr, and his latest foray starts with (loosely translated): "So, Mr. Premier, how does it feel to lie // and then to see the same in print?" The Dutch version refers to the premier by his initials, JP. I'd pin this up as a testament to Free Speech in this country.
16 | System & Utilities | http://blogs.fsfe.org/adridg/?p=669 | 10367 |
Hot on the wheels of our friends at KMyMoney, the Skrooge team releases a beta version of the upcoming 0.6.0 release. The goal here is, unsurprisingly, to find as much bugs as we can, and give translators a string freeze period until the final release (targeted for end of January).
With this version, we try to focus a bit more on documentation (it was already becoming quite obsolete), usability (we're not there yet, but it's getting better) and hopefully translations if possible. On the usability front, I'd like to thank all the people who took some time to give their feelings and idea. This includes Joanna Pierroz, a student in usability, who provided us with an extensive list of recommendations, people on various forums or by email.
Anyway, you can get it on the brand new Skrooge website. Of course, we're especially interested in getting bug reports and comments, so keep them coming
---
Update 17 Jan. 2010:
A ...read more...
16 | System & Utilities | http://skrooge.org/node/39 | 10365 |
Dear Amarok and KDE users, I'm sure that you have heard of the terrible earthquake disaster that has happened in Haiti.
16 | System & Utilities | http://www.topix.com/tech/kde/2010/01/help-haiti?fromrss=1 | 10364 |
Another set of night hours spent hacking on making the GTK API wrap Qt. I focused on adding functionality and not on cleaning up, so no code this time either. I just want to show the progress.
Wrapping Qt in GTK might seem like an impossible task, but the fact is that both toolkits, in turn, wrap the same APIs themselves. So, how does the progress look this far?
Upgraded Hello World (link)
The first example, upgraded hello world, works like a charm and does what is expected. There is only one change that has to be made to the example, and the need for it will go away when I've started cleaning the code.
Changes made to the example:
Replaced the gtk/gtk.h headerfile with my substitute.
16 | System & Utilities | http://www.thelins.se/johan/2010/01/another-set-of-night-hours-spent.html | 10363 |
Today I celebrated my 18th birthday with a day full of awesome talks, and some fun times with my fellow campers. After a late start in the day, we headed down to UCSD minus one Troy, and got ready for Frank's keynote, which was pretty awesome. I think I'll be joining in on his BoF tomorrow, I think, if I'm sane and conscious.
Right now, I'm sitting around, watching everyone drink. Again.
=-=-=-=-=
Powered by Blogilo
16 | System & Utilities | http://hackersramblings.wordpress.com/2010/01/18/camp-kde-day-2/ | 10361 |
Again, just track all the tweets and blogs to know what happens in Camp KDE in almost real-time. For more pictures, check out KDE Events Pool at Flickr.
In one of the talks today, Romain "Frankenstein" Pokrzywka showcased KDE 4 on Windows. Though he blogged about it recently, it is definitely interesting to see a live demo, especially things like Plasma running (and crashing, occasionally) on Windows, and that some apps are really usable already. Well, who knows? In the not so distant future, it is definitely easier to convince Window users like Joe Sixpack to start using KDE apps.
16 | System & Utilities | http://ariya.blogspot.com/2010/01/camp-kde-day-two-sunday.html | 10360 |
As you might now, we are currently porting KMail to Akonadi. The Akonadi-based KMail will be called KMail 2 and released together with KDE SC 4.5 if everything goes well.
Just a quick summary of what Akonadi is, for those who don't know: Akonadi is an abstraction layer/proxy and a cache for PIM data.
PIM data can by anything like mails, contacts or calendar entries, and they can come from different sources, like an IMAP server, a
local vCard file or an Exchange server. Akonadi provides an easy API for the client application developer to access that PIM data
in a transparent way.
This post is about Nepomuk, not Akonadi. Akonadi uses Nepomuk to index the mails. Basically this means every mail that was seen by the Akonadi cache is also indexed by Nepomuk. This makes some great features possible, which I'll describe below. With screenshots!
Powerful searches
The main benefit of Nepomuk is that we can do very powerful searches. KMail 1 had a search function ...read more...
16 | System & Utilities | http://thomasmcguire.wordpress.com/2010/01/18/nepomuk-in-kmail-2/ | 10359 |
A lot of FLOSS mailinglists (including KDE's) are run by a software called Mailman. Now Mailman is great and all but it isn't exactly a dream to work with if you have to admin a mailinglist with it. And it gets worse if you have to admin more than one list with it.
Thankfully there is a great little program called listadmin that helps here. It is a command line tool that remembers the lists you moderate and their passwords and then just checks them for new emails or subscription requests you need to deal with.
This is what it looks like if there is a mail in moderation:

Of course I want to approve sebas' email (how could I not?
) so I say "a" for approve and then "y" to submit all the changes for this list: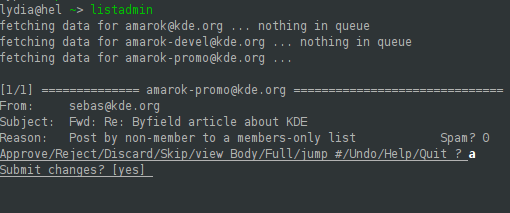 And done: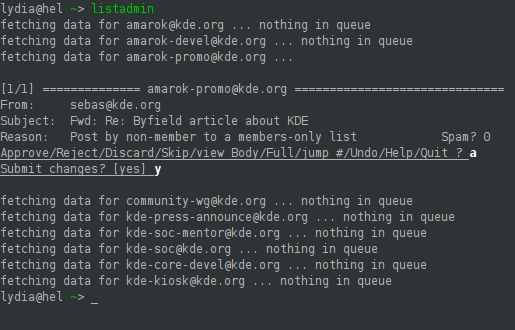 ...read more...
16 | System & Utilities | http://blog.lydiapintscher.de/2010/01/17/the-mailman-will-love-you/ | 10357 |
In KDE3 Kate had a plugin called "XML Completion Plugin". It was able to list XML elements, attributes and attribute values and entities in a completion popup menu depending on the currently active DTD. For instance, it was able to complete all your KDE/docbook tags and, thus, was one of the best tools for writing KDE documentation.

Unfortunately, this plugin has not been ported to KDE4, yet. So this is a request for developers: Please someone pick it up and make it available for Kate in KDE4.

The location in svn is: trunk/KDE/kdesdk/kate/plugins/xmltools
Just enable this folder in the kate/plugins/CMakeLists.txt file and start porting it. The code completion interface changed quite a lot, but there are other plugins and good api documentation (KTextEditor interfaces, Kate Application interfaces) where you can have a look at how things work.

Having a working XML Completion plugin for KDE4.5 would be awesome.
16 | System & Utilities | http://dhaumann.blogspot.com/2010/01/kate-xml-completion-plugin-help-wanted.html | 10355 |
This is a bit of a personal entry, so please skip if you are not in the mood.
Today marks my one year KDE SVN account anniversary. I wanted to celebrate this a bit because it has been a difficult year for me and I would like to thank the community for the support during the more difficult moments (especially the CeBIT 2009 crew).
To many more years
.
16 | System & Utilities | http://aloogobi.nl/blog/2010/01/happy-anniversary/ | 10354 |
I'm pretty tired but I did upload new pictures and added descriptions to them. Find them here: http://picasaweb.google.com/jospoortvliet/CampKDE2010

A few highlights:


Chani being eaten by William
Till showing how you can give relaxed talks
The gang preparing presentations and mingling with the local crowd (while finishing my 1.75 litre bottle of rum. It was empty at the end of the night so saturday we bought two)

The crowd at the conference...
Hanging on the beach (friday during the day)
Tonight we had mexican food.
16 | System & Utilities | http://nowwhatthe.blogspot.com/2010/01/camping-kde-2010.html | 10351 |
Woohoo, Camp KDE is finally here!  After a somewhat of a dizzying ride to find the building we eventually arrived…believe it or not there are something like 8 streets all called "Voigt Dr" on this campus.  Who designed this place? Geez!
  Anyhow finally we found the meeting space and it's extremely nice.  All the high tech gadgetry you'd expect for a proper conference (check out Jos's entry for some pictures).
Today we got to listen to a whole bunch of great talks.  Early on we got a nice intro to the conference from Jeff and an update on KDE's growth in the past year.  We had a great keynote from Phillip Bourne on open access to data.  Especially interesting for me since I work in informatics…I might have to give his SciVee site a test spin next time I present a poster or something at a conference.  Then we got down to KDE business for the afternoon.  Everyone's talk ...read more...
16 | System & Utilities | http://neomantra.org/?p=146 | 10350 |
Today i recieved an Tweet from Lydia Pintscher. Lydia wrote, that the KDE Project needs help.
What is to do? The goal is to find some simple data about KDE's programs following by a template and putting them on the wiki. She tells us, that Screenshots also needed. The community wiki has more details. It doesn't matter if you don't know all the data for a certain program. Fill in as much as you know.  If you have questions come to #kde-www on freenode or drop me an email at lydia at kde org.
16 | System & Utilities | http://saigkill.wordpress.com/2010/01/17/call-for-participation-kde-project-needs-help-before-relaunch/ | 10347 |
If you don't have one yet, come find me. I think I've given out most of today's batch, but
I'll have more tommorrow.
16 | System & Utilities | http://blauzahl.livejournal.com/21899.html | 10346 |
Hola, amigos.  It's been a long time since I rapped at ya.  The standard statement of "I know I haven't blogged in a while, but…" really applies here.  My last posting was February, 2009.  That's almost a human earth year.  I mentioned my busy life on some of the KDE mailing lists (and tagged off to Troy), but to others I simply vanished.  And I'm sure there was much rejoicing.  What happened in Wade's version of 2009 to keep him away from his beloved community?
Weeks after Camp KDE in Jamaica, Sebas presumably won the laptop longevity contest.  He and I had purchased nearly identical Thinkpads years ago.  In February 2009, a cat who shall remain nameless who belongs to a wife who shall remain nameless – said cat knocked over a glass of water on my laptop sending it to an early grave.  One machine down.
Then my desktop PSU died and memory along with it.  Other machine down.
Next, I found out the hard way that Marcus Hanwell's wife Louise had ...read more...


16 | System & Utilities | http://wadejolson.wordpress.com/2010/01/16/wheres-waldhhde/ | 10345 |
As tokoe prefers screenshots in blogs, let's start with one:
This is a screenshot of the current kdepimlibs build status on CDash. In the first column you can see the different build setups that have committed a build. There are builds from FreeBSD, SunOS, Linux, with different kind of CMake versions and differnt versions of GCC.
After that you can see the results of the different stages of the build: Update, Configure, Build and the Tests. The 'Min' column indicates how long that stage took. The most interesting column for me are the warnings in the build section. I'm trying to get that number down to the real warnings, removing all the non interesting warnings. On some line you can see 8 with -20 just below it. That means that in the last run the amount of warnings dropped from 28 to 20. Simalary you can see that there currently is a build error on one of the build machines…
CDash provides the possibility to subscribe ...read more...
16 | System & Utilities | http://www.omat.nl/2010/01/16/build-dashboard-use-it/ | 10343 |
"Most comparisons of the KDE and GNOME desktops focus on usability and productivity apps.
16 | System & Utilities | http://www.topix.com/tech/kde/2010/01/kde-vs-gnome-photo-and-music-management?fromrss=1 | 10344 |
The best new feature in the soon to be released version 0.4 of Okteta, the KDE hex editor, coming with the KDE SC 4.4, is surely the Structures tool (see also the "All new Okteta features for KDE SC 4.4 in a picture"). Because this tool is just a few months old, his author Alex concentrated on the code and not on the documentation, so the Okteta docs in the 4.4 branch have been missing any note of it. But Burkhard L
16 | System & Utilities | http://frinring.wordpress.com/2010/01/16/tutorial-create-your-own-okteta-structure-definitions/ | 10342 |
Justin and I have arrived in beautifully warm San Diego for Camp KDE 2010! The pleasant upper 60s (F) will be a warm welcome to the 30s and 40s (F) we've been dealing with in Washington, DC (although, it was beginning to warm up before we left today).
I was happy to see that there are other Camp KDErs staying at the Sheraton LaJolla which is walking distance to UCSD (20 minutes walking or 17 minutes by bus plus fare. I'll be walking). The hotel is also in a good location near a mall with many restaurants which can handle typical conference crowds. However, unlike the lucky Camp KDErs staying at the Banana Bungalow hostel, we aren't as close to the ocean.
Tomorrow is Day 1 of Camp KDE 2010, and the first day of presentations look very interesting. After Jeff and Aaron J open the conference, the first keynote will by from Philip Bourne (UCSD) about Open Access to Data in the sciences. This is particularly interesting to me because of ...read more...
16 | System & Utilities | http://www.obso1337.org/2010/camp-kde-day-0/ | 10341 |
After a really nice flight, my family and I touched down at San Diego's airport, rented a car and headed down to Banana Bungalow, where I will be staying with the other participants, and the hotel across from it, where my parents will be staying.
Of course I could never find my camera. Prepare for craptastic cell phone pictures from me. The others have real cameras though, so I'll probably manage to kidnap some real photos at some point.
Right now I'm sitting at a picnic table with a bunch of cool cats, catching up on mail. Will probably go idle on the beach later! More tomorrow!
=-=-=-=-=
Powered by Bilbo Blogger
16 | System & Utilities | http://hackersramblings.wordpress.com/2010/01/16/camp-kde-day-1/ | 10339 |
A guy walks to the checkin desk of his airline with a lot of luggage:
Flyer: Hi there. I'd like you to send my suitcase to Beijing, my rucksack to Washington, my surfboard to Berlin, and I'm flying to San Diego.
Airline: Uh, I'm sorry sir I don't think we can do that.
Flyer: Well you did it before without me even asking you to…
In fairness I had only one checked in bag on my flights, but it got lost somewhere through my cancelled and delayed connections. Hopefully it will turn up in the next day or two, or it could shaft my plans for after the event.
Right now though, they're playing Moondance by Van Morrison in the lobby. The day is looking up.
Time to debug my presentation methinks.
...read more...
16 | System & Utilities | http://steveire.wordpress.com/2010/01/15/getting-mostly-to-campkde/ | 10336 |
As promised (but a bit late) here's one more blog about thursday (prepare-for-conference-day1)

As I said we went to the venue for the Camp KDE conference yesterday, and below an image of the room & Jeff & the local guy organizing it (sorry, forgot his name):


Upstairs are these computer screend with a camara which tracks sound. I was making the click sound with my fingers to make it focus me instead of jeff (who was talking). Weird thing. You can let it make a picture of you and put it on the web by moving your hand into a square it projects over your image... Which I promptly did, of course. Privacy be screwed!


And below the trunk of the car after we went for shopping. Rest assured we'll take good care of all ya visitors to Camp :D


...read more...


16 | System & Utilities | http://nowwhatthe.blogspot.com/2010/01/just-before-camp-kde-1.html | 10335 |

Long time, no post… "Real life" is unfortunately keeping me busy.

Nonetheless, something I did back in November came to fruition this week. A few months ago Jos got in touch with the folks at Linux Journal to see if they might be interested in some KDE related articles for their February issue. It turned out they were and so the latest issue has plenty of KDE content with Jos's interview with Aaron and Sebas about KDE's future, Riccardo's article on writing Plasma Widgets and my article on running KDE software on Windows.

Linux Journal uses a subscription model, but they make their archive available for free a month or two after publication and (if you didn't use it already) you can get a free PDF trial copy of the current issue by filling in an online form.



16 | System & Utilities | http://www.asinen.org/2010/01/kde-articles-in-linux-journal/ | 10334 |

Quite often -- or at least, "often enough" -- we get people that want to rescan a particular folder in Amarok. This is usually the result of them changing tags and wanting Amarok to pick it up. (Remember, for efficiency reasons Amarok watches the modified times of the collection directories, not the collection files, so adding or deleting (or renaming) files will trigger an incremental scan but modifying a file's contents won't.)

Previously, our advice was "touch the folder" or in the worst case "just do a full rescan." Now there's slightly better advice we can give. If you right-click on a folder in the collection setup dialog, and if the folder was already in your collection (i.e. you didn't just check it a moment ago), it will give you the option to rescan that folder.

I don't have a snapshot for you as the menu that pops up disappears when I click in KSnapshot (and if there's a shortcut for KSnapshot it's not obvious as Print Screen didn't work), but give it a try -- it's pretty easy. The ...read more...



16 | System & Utilities | http://jefferai.org/2010/01/rescanning-single-folders/ | 10329 |

Today - was up early (duh) to work on some articles for the dot and other stuff, tried to get online but that didn't work that well. Luckily they fixed the wireless later that day, it's great now. And so is the wireless at the university, btw so our basic needs are catered to (there is also power).

It turned into a busy day - been to the university to talk to some ppl and check things out, then moved on to buying snacks and other stuff at a few shops. Now we're going out to get Frank Karlitschek at the airport and find us some food ;-)

For those coming by plane - the directions on the website about the shuttles is wrong. The one they recommend doesn't exist anymore but if you walk out of the exit doors of the airfield, cross the street, there's a booth or something where they help you. You can get any of the other shuttles, ask the lady or guy there. Costs about 25 dollars...

Will blog more later ...read more...


16 | System & Utilities | http://nowwhatthe.blogspot.com/2010/01/campkde-sd-2.html | 10328 |

Sometimes you stumble over an application that is really cool and makes your day. Of course when you tell your colleagues everyone knows it – except you, well…

Today I had this nice experience with a little tool called screenie. It helps to arrange screenshots or images in general nicely such as this example where I made boring Hermes screenshots look nice:

It does it with a perfect simple interface on which you drop three images out of a file manager. A handful of options allow you to adjust the image to your needs and there you are – your little screenshot composition simply looks amazing, after a few moments of work. Great software.

Btw, iit's only around 500 lines of code and a couple of resource files. Amazing, must be based on a quite powerful toolkit utilized by a real smart guy…

If you also want to look nice, no idea how, but for screenshots and stuff quickly install screenie from the KDE::Community repository.

Ah yes, I ...read more...



16 | System & Utilities | http://lizards.opensuse.org/2010/01/14/what-a-cool-app-screenie/ | 10326 |

Ссылки


Генерация: 0.244 сек. и 41 запросов к базе данных за 0.112 сек.
Powered by SLAED CMS © 2005-2007 SLAED. All rights reserved.