Ссылки
A kind soul (Hosein-LS from linuxshare.org) pointed out to me that this persian KDE wiki page has some wickedly cool looking Release Counters:

click

Two pretty pics:



Basically, the text could probably be improved, probably using our 'be free' slogan, saying X days to release of KDE SC 4.4 and Be Free with KDE SC 4.4 or something. But we'll surely rock anyone with the new release ;-)

Either way, I don't know anything else about who did this besides the fact they DID - as I don't read farsi/persian, but I do wanna say: you guys and girls rock, please rock on!

(and do send me an email and get in contact, esp if you plan on doing more stuff like this hehe. google will tell you my email as I'm horribly uncarefull ...read more...
16 | System & Utilities | http://nowwhatthe.blogspot.com/2010/01/kind-soul-hosein-ls-from-linuxshare.html | 10398 |
We now have a mailing list where all the KDE Finance apps can subscribe and get together. For now, it's Skrooge, Kraft and KMyMoney, but I'm sure others will follow.
If you are in any way related or you are simply willing to help us get our act together, the mailing list is kde-finance-apps@kde.org. Thanks, David!
Now, to plan our first meeting to conquer the finance world!
16 | System & Utilities | http://soliverez.com.ar/drupal/node/152 | 10395 |
huzzah! training day today.
technical difficulties continue: when we got back to the hostel last night, another section had lost power, including my room. blarg. we were all tired though, so after a halfhearted attempt to put on a movie we just went to bed. in the morning, we arrived at UCSD… only to find none of us had the key (it was with jeff, who was waiting for someone else at the hostel). luckily there's some lady upstairs with keys, though.
oh, and since last night identica won't let me post anything. I get error 400 every time and I can't figure out why. :/
Anyways, we're doing qt training right now. model-view and events and threads, oh my! ;) I've learnt lots of interesting things already. One pattern we commonly use in KDE is actually not ideal in qt4: using a singleshot timer with timeout 0 to do delayed stuff. Using QMetaObject::invokeMethod with a queued connection does the same thing, and can even take arguments. :)
We had some lovely sunshine this morning, but the ...read more...
16 | System & Utilities | http://chani.wordpress.com/2010/01/20/campkde-qt-training-day/ | 10393 |
The Haiku operating system , an open source remake of BeOS, has gained support for running a number of KDE applications, including the KOffice productivity suite .
16 | System & Utilities | http://www.topix.com/tech/kde/2010/01/beos-clone-haiku-gains-kde-applications?fromrss=1 | 10394 |
Well, Shaun, here's a chocolate cake for you. it's very similar to the pecan cake I wrote earlier — but closer to the "ultimate chocolate brownie" recipe that I based both off of.
Chocolate cake for Shaun: Mix three eggs and a cup of (brown or cane) sugar and a tsp. of vanilla extract and a pinch of salt for 10 minutes on high with an electric mixer. Alternately, show the world you're amazingly buff with a hand whisk. Optionally add chopped nuts. Stir in 100g melted pure chocolate (that's 4 squares in North America, I believe). Sift one and a quarter cups of flour with 2 tsp. baking powder and sir that through the wet ingredients. Pour into a 9″ round pan and bake for 30 minutes at 350F or until a fork comes out clean. Frost with a mixture of icing sugar and powdered cocoa and afew drops of water (if you're into frosting, that is).
16 | System & Utilities | http://blogs.fsfe.org/adridg/?p=648 | 10391 |
As everybody else is blogging about Camp KDE here in San Diego I think I also should give you an update whats going on here.
I think it is a fantastic conference, perfectly organized with very high level talks. It is great to meet all the old and new friends and discuss various aspects of world domination. Thank you to Jeff and the team at UCSD to make all this happen.
Rain
It rained a lot the last few days here which is unusual for sunny southern california and it seams that we have to live with this weather for all the week. Which is bad because we can
16 | System & Utilities | http://blog.karlitschek.de/2010/01/whats-going-on-at-camp-kde.html | 10388 |
Things I learned at Camp KDE 2010:
Having a weird red eye that doesn't hurt or mess with your vision is awkward, and makes for awkward photos.
Chani has an epic sticker collection (though she may have lost it not sure)
Trying to run through the rain is a stupid idea. Especially in a short sleeve shirt and no umbrella.
Real rain is pretty intense. Phoenix never gets rain like this weekend's.
It is possible to live on three hours of sleep and little coffee when you are pumped up to be somewhere.
Troy hates the f—ing eagles, and is a geologist.
All Germans and Dutch folks are bloody.
Americans drive pickups, carry shotguns, and chase birds. All of them.
Multigrain pancakes cooked in vegetable oil on a gas stove that won't keep a sane temperature is suboptimal but still earns happy breakfast eaters.
karaoke is epic win when done correctly.
There's no better way to spend your 18th birthday than karaoke with friends, or watching ...read more...


16 | System & Utilities | http://hackersramblings.wordpress.com/2010/01/20/things-i-learned-at-camp-kde-2010/ | 10387 |
huh. it's tuesday evening already? time flies…
sunday evening me, troy and rrix got out the karaoke machine. :) the song selection wasn't great, but that just made it more entertaining. ;) by the end everyone was joining in, I think.
karaoke tends to involve drinking, though… I had a bit much, and didn't really want to go anywhere the next morning. After I got up and got lunch, the weather was getting stormy… I decided to just stay at the hostel for the rest of the day. :/ I wish I hadn't missed that cmake training.
so then I discovered just how unprepared for rain california is. the power went out in the common room, so there was no internet… the corridor was a river, half the table was being rained on, and one guy's bed was under a leak too. :/ we had to resort to crazy old-fashioned things like talking and playing guitar ;)
Eventually someone ran an extension cord to the common room, which gave us tv and partial internet. :) I stopped ...read more...
16 | System & Utilities | http://chani.wordpress.com/2010/01/19/campkde-day-something/ | 10384 |
I've recently added a handy command line tool for introspecting the methods in Smoke libraries.
16 | System & Utilities | http://www.topix.com/tech/kde/2010/01/introspecting-smoke-libraries-with-the-smokeapi-command-line-tool?fromrss=1 | 10385 |
I'm not at Camp KDE, but instead at LCA 2010 (in Wellington, NZ).
Andrew Tridgell, Andrew Bartlett, Jelmer Vernooij and I will be running "birds of a feather" (BoF) sessions during the last part of the conference (Friday 22 January 2010 starting at 1430 in the "Civic 3" room, which is over in the Town Hall building).
The first part of the BoF session will focus on Samba 4 and its ability to replace (or work with) Active Directory. I've been working on an installer GUI for Samba4 and OpenChange, and if you are a sysadmin who might be interested in installing this stuff yourself, then you can influence the design of the tool.
There will also be some demos.
If nothing else, you'll get to see Tridge hack, which is always fun.
So come along (remember 1430 to 1630 on Friday), hang out, observe, contribute and enjoy!
16 | System & Utilities | http://www.kdedevelopers.org/node/4149 | 10383 |
I've recently added a handy command line tool for introspecting the methods in Smoke libraries. Although it is mainly aimed at people using Smoke based language bindings, I think it might be more generally useful and worth describing to a wider audience.
Show all the methods in the QPoint class:
$ smokeapi QPoint
QPoint::QPoint()
QPoint::QPoint(const QPoint&)
QPoint::QPoint(int, int)
bool QPoint::isNull() const
...
Note that the qtcore module is always opened by default. Here only 'QPoint' is given as a class name, but you can specify more than one class
Next, show all the methods in the qtgui module with 'popup' in their name:
$ smokeapi -r qtgui -m popup
QAbstractItemView* QCompleter::popup() const
void QMenu::popup(const QPoint&)
void QMenu::popup(const QPoint&, QAction*)
QRect& QStyleOptionComboBox::popupRect() const
QToolButton::ToolButtonPopupMode QToolButton::popupMode() const
The '-r qtgui' option means open the libsmokeqtgui library - for KDE 4.4 SC release we added the ability to dynamically open and load the Smoke libraries, and it so that means the tool doesn't need to be linked in advance to any libraries to be searched. The '-m popup' option ...read more...
16 | System & Utilities | http://www.kdedevelopers.org/node/4147 | 10380 |
Aaron wrote an interesting blog about scripting and dynamic language support , and I thought I'd like to add some comments of my own about where we're heading with non-C++ languages in the KDE 4.5 SC release.
16 | System & Utilities | http://www.topix.com/tech/kde/2010/01/kde-bindings-in-kde-4-5?fromrss=1 | 10381 |
Aaron wrote an interesting blog about scripting and dynamic language support, and I thought I'd like to add some comments of my own about where we're heading with non-C++ languages in the KDE 4.5 SC release.
Language bindings are infrastructure, and they are a kind of compiler technology. We take the C++ headers and compile them into a form that allows the C++ methods to be called in other languages.
Infrastructure technologies only really succeed when they become 'boring and invisible'. For instance, there are many products which are based on the Linux kernel, but Linux is so 'boring and invisible' that for the most part, nobody even knows whether their television, GPS system or router contain Linux, and the products 'just work'. Similarly, the gcc compiler just works and we don't worry whether or not our latest build will seg fault, because the project has got to the stage where we can depend on gcc and only need to think about building our code, without be distracted by worries about whether or not it will ...read more...
16 | System & Utilities | http://www.kdedevelopers.org/node/4146 | 10377 |
Today, Nokia released the first public version of the office document viewer for the Nokia N900 phone. It was uploaded to the Maemo repositories. This version supports text files, spreadsheets and presentations in OpenDocument format (ODF) and Microsoft Office formats. The viewer requires the latest update (PR1.1) to the N900 software. You can install 'Office Viewer' by adding the maemo-devel repository to your N900 catalogues:

Catalog name: Maemo Extras-devel Web address: http://repository.maemo.org/extras-devel Distribution: fremantle Components: free

Then the application 'freoffice' will be available in the category 'Office'. The install is 9 megabytes.

With the viewer, you can open multiple files at once, open office documents from your e-mail, search in office files and copy and paste from your documents. A very nice feature is the ability to give presentations with the phone. Here are some screen shots of the viewer running on the N900.
16 | System & Utilities | http://www.kdedevelopers.org/node/4143 | 10376 |
We're happy to announce that Qt for Maemo 5 entered Beta status - this means that all APIs are feature complete and have been reviewed by multiple people. For us, this means that an intense phase of bug hunting and testing is starting. For you, it means that you can now finally develop without us changing class names or behavior all the time (*)
Lots of changes went into Qt since the last Technical Preview:
Support for NEON instructions for increased drawing speed
Refactored Kinetic Scrolling

Kinetic Scrolling now default for all QAbstractScrollArea and QWebView based widgets
QMaemo5KineticScroller is not needed anymore and was removed. To override scrolling behavior or to disable it altogether, QAbstractKineticScroller can be used
Take a look at the kinetic scroller example (examples/maemo5/scroller) for information on how to tweak scrolling

Lots of styling fixes
QtMultimedia got an N900 backend
Documentation now online at ...read more...


16 | System & Utilities | http://labs.trolltech.com/blogs/2010/01/19/qt-for-maemo-5-going-beta/ | 10375 |
KDE.News has a report from the first day of Camp KDE . " Saturday, the first day of Camp KDE 2010 in San Diego, started with a short introduction by Jeff Mitchell.
16 | System & Utilities | http://www.topix.com/tech/kde/2010/01/day-one-at-camp-kde-2010?fromrss=1 | 10372 |
Unfortunately yesterday was my last day out at Camp KDE.  Vacation is sparse for me right now after blowing it all over the holidays and on the wedding and GCDS/Akademy.  So real life calls…
I neglected to post my slides in my day 1 review so here they are.  In case you didn't know from the Dot article my talk was about simple and practical ways to get involved in KDE.  The idea was that even if you don't know much about writing code (like me) you can still be a contributor in our community.  I provided information on  different areas that people can get started in and then listed the web sites to go to or people to contact to get up and running.  Getting people besides developers to help in these areas is critical.  It allows developers to focus on what they do best, writing code, rather than triaging bugs, writing documentation, doing user support, and so on.  As great as our developer community is we can't expect you ...read more...
16 | System & Utilities | http://neomantra.org/?p=150 | 10371 |
Let me say it right at the start here: I really enjoy coding in C++. To some that makes me a very odd sort of animal, I know. (There are also probably more convincing reasons to consider me a very odd animal, but that's another blog entirely. ;) Still, despite my enjoying slinging C++ around, I also know that trying to insist that everyone else does the same is probably not the best thing for KDE. I believe that in 2010 we may see the "next step" in acceptance and adoption of languages-other-than-C++ around the KDE community and that it could be an important part of how things shape up this year.

There are two different topics here, really: in-application scripting and application development proper.


Creating Applications Without C++


We have some great language options for people writing KDE code, and have had for a number of years thanks to the foresight and diligence of the KDE Bindings community. We owe them a debt of gratitude for these efforts, because as a result of them we can ...read more...
16 | System & Utilities | http://aseigo.blogspot.com/2010/01/key-quest-scripting-and-dynamic.html | 10368 |
The Netherlands has a "dichter des vaderlands", a national poet. I don't know if that would be comparable with a British poet laureate — perhaps because the Dutch one is primarily a product of a single newspaper / publisher. The conservative one, at that, but the national poet is tasked with doing whatever poetry demands. A little like a national ombudsman, I suppose. The current holder of the title is Ramsey Nasr, and his latest foray starts with (loosely translated): "So, Mr. Premier, how does it feel to lie // and then to see the same in print?" The Dutch version refers to the premier by his initials, JP. I'd pin this up as a testament to Free Speech in this country.
16 | System & Utilities | http://blogs.fsfe.org/adridg/?p=669 | 10367 |
Hot on the wheels of our friends at KMyMoney, the Skrooge team releases a beta version of the upcoming 0.6.0 release. The goal here is, unsurprisingly, to find as much bugs as we can, and give translators a string freeze period until the final release (targeted for end of January).
With this version, we try to focus a bit more on documentation (it was already becoming quite obsolete), usability (we're not there yet, but it's getting better) and hopefully translations if possible. On the usability front, I'd like to thank all the people who took some time to give their feelings and idea. This includes Joanna Pierroz, a student in usability, who provided us with an extensive list of recommendations, people on various forums or by email.
Anyway, you can get it on the brand new Skrooge website. Of course, we're especially interested in getting bug reports and comments, so keep them coming
---
Update 17 Jan. 2010:
A ...read more...
16 | System & Utilities | http://skrooge.org/node/39 | 10365 |
Dear Amarok and KDE users, I'm sure that you have heard of the terrible earthquake disaster that has happened in Haiti.
16 | System & Utilities | http://www.topix.com/tech/kde/2010/01/help-haiti?fromrss=1 | 10364 |
Another set of night hours spent hacking on making the GTK API wrap Qt. I focused on adding functionality and not on cleaning up, so no code this time either. I just want to show the progress.
Wrapping Qt in GTK might seem like an impossible task, but the fact is that both toolkits, in turn, wrap the same APIs themselves. So, how does the progress look this far?
Upgraded Hello World (link)
The first example, upgraded hello world, works like a charm and does what is expected. There is only one change that has to be made to the example, and the need for it will go away when I've started cleaning the code.
Changes made to the example:
Replaced the gtk/gtk.h headerfile with my substitute.
16 | System & Utilities | http://www.thelins.se/johan/2010/01/another-set-of-night-hours-spent.html | 10363 |
Today I celebrated my 18th birthday with a day full of awesome talks, and some fun times with my fellow campers. After a late start in the day, we headed down to UCSD minus one Troy, and got ready for Frank's keynote, which was pretty awesome. I think I'll be joining in on his BoF tomorrow, I think, if I'm sane and conscious.
Right now, I'm sitting around, watching everyone drink. Again.
=-=-=-=-=
Powered by Blogilo
16 | System & Utilities | http://hackersramblings.wordpress.com/2010/01/18/camp-kde-day-2/ | 10361 |
Again, just track all the tweets and blogs to know what happens in Camp KDE in almost real-time. For more pictures, check out KDE Events Pool at Flickr.
In one of the talks today, Romain "Frankenstein" Pokrzywka showcased KDE 4 on Windows. Though he blogged about it recently, it is definitely interesting to see a live demo, especially things like Plasma running (and crashing, occasionally) on Windows, and that some apps are really usable already. Well, who knows? In the not so distant future, it is definitely easier to convince Window users like Joe Sixpack to start using KDE apps.
16 | System & Utilities | http://ariya.blogspot.com/2010/01/camp-kde-day-two-sunday.html | 10360 |
As you might now, we are currently porting KMail to Akonadi. The Akonadi-based KMail will be called KMail 2 and released together with KDE SC 4.5 if everything goes well.
Just a quick summary of what Akonadi is, for those who don't know: Akonadi is an abstraction layer/proxy and a cache for PIM data.
PIM data can by anything like mails, contacts or calendar entries, and they can come from different sources, like an IMAP server, a
local vCard file or an Exchange server. Akonadi provides an easy API for the client application developer to access that PIM data
in a transparent way.
This post is about Nepomuk, not Akonadi. Akonadi uses Nepomuk to index the mails. Basically this means every mail that was seen by the Akonadi cache is also indexed by Nepomuk. This makes some great features possible, which I'll describe below. With screenshots!
Powerful searches
The main benefit of Nepomuk is that we can do very powerful searches. KMail 1 had a search function ...read more...
16 | System & Utilities | http://thomasmcguire.wordpress.com/2010/01/18/nepomuk-in-kmail-2/ | 10359 |
A lot of FLOSS mailinglists (including KDE's) are run by a software called Mailman. Now Mailman is great and all but it isn't exactly a dream to work with if you have to admin a mailinglist with it. And it gets worse if you have to admin more than one list with it.
Thankfully there is a great little program called listadmin that helps here. It is a command line tool that remembers the lists you moderate and their passwords and then just checks them for new emails or subscription requests you need to deal with.
This is what it looks like if there is a mail in moderation:

Of course I want to approve sebas' email (how could I not?
) so I say "a" for approve and then "y" to submit all the changes for this list: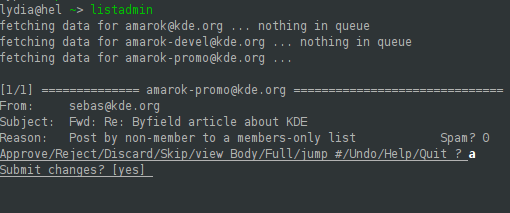 And done: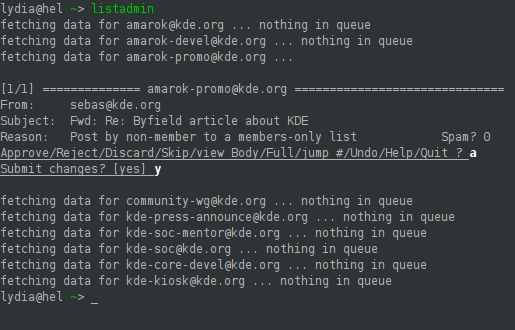 ...read more...
16 | System & Utilities | http://blog.lydiapintscher.de/2010/01/17/the-mailman-will-love-you/ | 10357 |
In KDE3 Kate had a plugin called "XML Completion Plugin". It was able to list XML elements, attributes and attribute values and entities in a completion popup menu depending on the currently active DTD. For instance, it was able to complete all your KDE/docbook tags and, thus, was one of the best tools for writing KDE documentation.

Unfortunately, this plugin has not been ported to KDE4, yet. So this is a request for developers: Please someone pick it up and make it available for Kate in KDE4.

The location in svn is: trunk/KDE/kdesdk/kate/plugins/xmltools
Just enable this folder in the kate/plugins/CMakeLists.txt file and start porting it. The code completion interface changed quite a lot, but there are other plugins and good api documentation (KTextEditor interfaces, Kate Application interfaces) where you can have a look at how things work.

Having a working XML Completion plugin for KDE4.5 would be awesome.
16 | System & Utilities | http://dhaumann.blogspot.com/2010/01/kate-xml-completion-plugin-help-wanted.html | 10355 |
This is a bit of a personal entry, so please skip if you are not in the mood.
Today marks my one year KDE SVN account anniversary. I wanted to celebrate this a bit because it has been a difficult year for me and I would like to thank the community for the support during the more difficult moments (especially the CeBIT 2009 crew).
To many more years
.
16 | System & Utilities | http://aloogobi.nl/blog/2010/01/happy-anniversary/ | 10354 |
I'm pretty tired but I did upload new pictures and added descriptions to them. Find them here: http://picasaweb.google.com/jospoortvliet/CampKDE2010

A few highlights:


Chani being eaten by William
Till showing how you can give relaxed talks
The gang preparing presentations and mingling with the local crowd (while finishing my 1.75 litre bottle of rum. It was empty at the end of the night so saturday we bought two)

The crowd at the conference...
Hanging on the beach (friday during the day)
Tonight we had mexican food.
16 | System & Utilities | http://nowwhatthe.blogspot.com/2010/01/camping-kde-2010.html | 10351 |
Woohoo, Camp KDE is finally here!  After a somewhat of a dizzying ride to find the building we eventually arrived…believe it or not there are something like 8 streets all called "Voigt Dr" on this campus.  Who designed this place? Geez!
  Anyhow finally we found the meeting space and it's extremely nice.  All the high tech gadgetry you'd expect for a proper conference (check out Jos's entry for some pictures).
Today we got to listen to a whole bunch of great talks.  Early on we got a nice intro to the conference from Jeff and an update on KDE's growth in the past year.  We had a great keynote from Phillip Bourne on open access to data.  Especially interesting for me since I work in informatics…I might have to give his SciVee site a test spin next time I present a poster or something at a conference.  Then we got down to KDE business for the afternoon.  Everyone's talk ...read more...
16 | System & Utilities | http://neomantra.org/?p=146 | 10350 |
Ссылки