Ссылки

Could you tell us something about yourself?
My name is Laura, and I currently live in Calgary, Alberta. Aside from 2D art, I model/sculpt with Blender, Maya, and ZBrush. I enjoy running and board sports, and I love science and cats!
Do you paint professionally, as a hobby artist, or both?
For the moment, I only paint/illustrate as a hobby or for free, but in the future I hope to make my hobby my profession once I gain more experience and skill. I hope to apply my 2D/3D skills to the entertainment and medical industry.
What genre(s) do you work in?
My favorite genre would be cartoon art. Childhood cartoons, such as Scooby-Doo, Tom and Jerry, and The Looney Tunes, as well as manga/anime have had a big influence on my art. I tend to like cartoon art along with comedy, adventure, fantasy, and sci-fi genres, very much like Disney's and Pixar's films. I sometimes also enjoy painting more realistic or semi-realistic portraits.
16 | System & Utilities | https://krita.org/item/interview-with-laura/ | 124 |
Hi,
after one week of patching frameworks (and KWrite/Kate), the first success can be seen: a kind of working application bundle for KWrite.
Still no icons, need to set icon theme + search paths right and bundle that, too, but need to investigate more how the icon lookup works.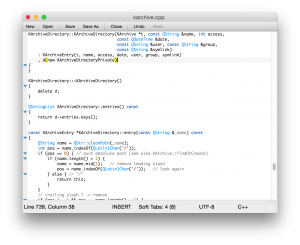 You can build the stuff on your own just following kate.git/mac.txt and calling once the macdeployqt tool afterwards on the /Applications/KDE/kwrite.app bundle (with -dmg to get the disk image file).
For Kate, the macdeployqt still misses an additional switch to deploy own plugins in addition, will add that in the next days, I hope. Have already some local hack, but want to have some patch I can hand in to Qt Company.
Here a link to the version you see above in the screenshot (not tested below Mac OS 10.10):
http://kate-editor.org/download/kwrite-alpha-no-icons.dmg
A colleague tested it for me on a Mac without any dbus/macports/homebrew/co. stuff installed and it seems to work and not eat all his data ...read more...
16 | System & Utilities | http://kate-editor.org/2015/10/19/kwrite-on-mac-application-bundle/ | 120 |
Could you tell us something about yourself?
There isn't really much to say, I'm Pierre Geier, just a 28-year-old German guy who codes at work and draws at home. I don't have an art degree or some fancy certificate, actually I've never went to an art school. Most of my skills came from just drawing and listening to people know know what they're doing.
Do you paint professionally, as a hobby artist, or both?
Right now I paint just because I like it. I've had some commissions in the past, but I can't pay my bills with them. And I think I'm not yet ready for that kind of business. Getting money by doing what you love sounds nice in the first place. But I don't really like the fact that there are people who are going to tell me what I should draw, like art directors.
What genre(s) do you work in?
Almost entirely portraits showing women, just like the old masters. I tried some space art, which was ...read more...
16 | System & Utilities | https://krita.org/item/interview-with-pierre-geier/ | 115 |
You might think of the Slackel distro as a better Slackware derivative. Slackware dates back to 1992.
16 | System & Utilities | http://www.topix.com/tech/kde/2015/10/slackel-linux-not-your-fathers-slackware?fromrss=1 | 116 |
It has been nearly a month since I got back from the Randa Meetings this year, and the memories are still fresh in my mind. This was my first KDE event that I have attended, and the overall experience was awesome!
This year the event took place from September 6 to 13, and it started off with me and some other fellow participants meeting up at the Zurich airport on the morning of 6th to collect our train tickets. After some 2 hours of train journey which included some great scenic views from the windows we finally reached the Randa house, where we were warmly greeted by Mario and others who had already reached. Arrangement for lunch had already been made, and we enjoyed a great meal consisting of beef steak and spaghetti.
Later that day I met with some of the other developers. Till then I had only interacted with them via emails/IRC conversations, and finally getting to meet them in person was quite thrilling. In the evening we went for some star-gazing. Torsten from the Marble group had ...read more...
16 | System & Utilities | https://rahulc93.wordpress.com/2015/10/05/my-experience-at-randa-meetings-2015/ | 110 |
Supplemental to what we reported previously about the work in Randa [ 1 , 2 ] there was a session on the future of Kontact, KDE's personal information manager . Over the years this tool has evolved into a monster making both development as well as usage sometimes tricky.
16 | System & Utilities | http://www.topix.com/tech/kde/2015/10/the-future-of-kontact?fromrss=1 | 111 |

Could you tell us something about yourself?
My name is Ana, I live in India and I love doing digital art, at least as a beginner. I'm 13 years old.
Do you paint professionally, as a hobby artist, or both?
Well, I'm just a hobby artist, can't say "artist" but I like art.
Whose work inspires you most — who are your role models as an  artist?
Actually my role model, not totally as an artist, but it's Scott Cawthon and team, the creator of FNAF. i like the art he did in the game and the effects. Also Markus Persson and team, the pixel artist.
What makes you choose digital over traditional painting?
As per my thinking i am kind of good at painting and art stuff, even my parents and friends say so, and I loved to do everything i could do on any gadget. I had this bored feeling with a pencil and a paper, so I started digital painting! It's fun ...read more...
16 | System & Utilities | https://krita.org/item/interview-with-anusha-bhanded/ | 106 |
Successful collaboration, Open Source license compliance and innovation management go hand-in-hand for large and small innovators. FSFE and Open Invention Network, with the participation of the Legal Network and the Asian Legal Network, are inviting to round table events with presentations and panel discussion of industry and community speakers, titled
Open Source and Software Patent Non-Aggression, European Context.
The events will be held in Berlin on 21 October and in Warsaw on 22 October. Attendance is limited – please confirm your attendance before October 15 to Nicola Feltrin of FSFE.

Filed under: CreativeDestruction, English, FLOSS, KDE, Linux, Open Invention Network, OSS, Qt Tagged: Creative Destruction, defensive publications, FLOSS, free software communities, ...read more...
16 | System & Utilities | http://creative-destruction.me/2015/09/21/round-tables-open-source-and-software-patent-non-aggression-european-context-warsaw-berlin-october-2015/ | 102 |
We have collected 184 third party Qt libraries on Inqlude now. This is a pretty complete map of the Qt ecosystem, quite an impressive number, and lots of useful libraries extending Qt for many purposes.



Inqlude is based on a collection of manifests. If you like to add or update a library, simply submit a pull request there. The inqlude tool is used to manage the manifests, it generates the web site, but you can also use it to validate manifests, or download libraries. There also is inqlude-client, which is a C++ client for retrieving sources of libraries via the data on the Inqlude web site. It's pretty handy, if you want to integrate some library into your project.

If you want to get a brief introduction into Inqlude, you ...read more...
16 | System & Utilities | http://blog.cornelius-schumacher.de/2015/09/184-qt-libraries.html | 9759 |
It's usually said "only improve performance where a profiler tells you to". I don't completely agree.
Take a big C++ library like Qt: can you profile all classes and all code paths ? It would take a couple of years to accomplish and analyse the results.
It's expensive: It usually only happens if the speed-up is big enough to justify the needed skilled developer time. Customers don't pay for a 10% speed gain for a desktop application. Even open source hackers and enthusiasts will only optimize until it's good enough.
Last but not least, what if the code is evenly slow ? Profilers point you to bottlenecks, but if everything is as slow or as fast, nothing stands out. The results will be meaningless. Bad performance is usually a matter of a "death by a thousand cuts", little inefficiencies so uniformly spread through the codebase that they go unnoticed by most tooling.Consequently, while profilers are great and have their place, I rather talk about complementary techniques to tackle the problem of the 5%-10% layer of cruft that goes undetected. ...read more...


16 | System & Utilities | http://www.kdab.com/use-static-analysis-improve-performance/ | 9756 |
Most, if not all, of us use open source projects throughout our day, but we seldom know about the people, heroes really, who created these projects and in some cases are still maintaining them. For this list I have chosen some very popular projects that are aimed at consumers rather than businesses.
16 | System & Utilities | http://www.topix.com/tech/kde/2015/09/7-top-open-source-projects-and-the-faces-behind-them?fromrss=1 | 9760 |
It is time for one more Randa Meetings this year, and over 50 KDE developers are going to participate in it along with me as well. The Randa Meetings is a codesprint sponsored by KDE and organized by Mario Fux, in which KDE developers from all across the globe are invited, and get to sit under the same roof and work together to collaborate on different ideas, coming up with some awesome feature implementations within a time span of about a week. These meetings generally focus on a common topic every year. Last year (2014) it was focused mainly on porting of various KDE applications to the KF5 framework. Similarly, this year we have a common focus as well, and it is aimed at bringing more of KDE to the mobile platform as much as possible. Now, since I am a Marble developer, let me tell you in brief what are my plans for Randa Meetings this year.
Marble is a virtual globe software, released for use in Desktops for now, but we're working on "Marble Maps" for Android currently, which ...read more...
16 | System & Utilities | https://sanjibandotme.wordpress.com/2015/08/31/randa-meetings-2015-what-i-plan-to-do/ | 9750 |
The K Desktop Environment is one of the earliest Linux desktop environments, dating all the way back to 1996, predating even the popular GNOME desktop environment, which was started in 1999. On Aug. 25, the core KDE desktop, Plasma, got an incremental update to version 5.4 that builds on the innovations that the first Plasma 5 release introduced in July.
16 | System & Utilities | http://www.topix.com/tech/kde/2015/08/kde-plasma-5-4-enhances-linux-desktop-experience?fromrss=1 | 9751 |
As time flies by, we are closer and closer to the end of this year's Google Summer of Code. I had a lot of fun and learned many things this summer thanks to the program. My main field of interest is computer graphics and rendering, so working on a project focused on this was a great challenge for me, that I think I barely - due to some unexpected events - but somehow, overcame.

Speaking of what I learned, there are just too many things to list, but if I have to name three things, I would say: Qt, the basic geography and the math related to it, but there are so many more beside those. For example I struggled during almost the entire summer to implement an acceptable form of street name labeling in real time, performance-wise and looks-wise. I realized that there is almost a whole field of study dealing with it. But more on that later.


Improvements made this summer
Decorations

Implementing the decoration system for the GeoDataGraphicsItem class was my favourite task, ...read more...
16 | System & Utilities | http://koldavidgsoc.blogspot.com/2015/08/gsoc-2015-summer-with-marble.html | 9745 |
Kronometer 2.0, the next major version of Kronometer, is now publicly available. This is the result of the port to Qt5 and KDE Frameworks 5, started one year ago.
Breeze icons
As you can see from the screenshot above, the Start, Pause, Reset and Lap actions are now powered by Breeze icons.
Kronometer got also a new, beautiful, application icon designed by Ken Vermette (thanks!).
Sessions persistence
This is the biggest change in this release. In order to save a Kronometer session, now you don't have to deal with weird XML files anymore. Just click Save and choose a name for the session that you want to save. Kronometer will save the session for you under the hood, in a global sessions file. To open a saved session, a new, simple dialog is available:
...read more...
16 | System & Utilities | http://www.aelog.org/kronometer-2-0-released/ | 9744 |
16 | System & Utilities | http://wire.kubuntu.org/?p=385 | 9738 |
Whether or not you are a KDE desktop environment user, you should have an interest in this project. In other words, whether you prefer GNOME, Xfce or something else, KDE's succes is good for the overall Linux community.
16 | System & Utilities | http://www.topix.com/tech/kde/2015/08/kaos-2015-08-linux-distribution-available-now?fromrss=1 | 9739 |
Packages for the release of KDE's desktop suite Plasma 5.3.2 and KDE's Frameworks 5.12.0 are available for Kubuntu 15.04. You can get them from the Kubuntu Backports PPA.
16 | System & Utilities | http://www.kubuntu.org/news/plasma-532-and-frameworks-5120-backported-kubuntu-1504 | 9734 |
(by jmf)
The 6th iteration of the Monthly Drawing Challenge is taking place on the Krita Forums!
This month's topic is… Ancient
To enter, post your picture on the August drawing challenge thread. The deadline is August 24, 2015. You are free to interpret the topic in any way. Let your imagination run free. The winner is decided through a poll running 7 days after the deadline. The winner gets the privilege to choose next month's topic. You can use the hashtag #kritachallenge to talk about this challenge on social media.
I started the challenge in February 2015 with two goals: to give people motivation to draw, and to give them a way to get rid of the "blank canvas syndrome". The challenge is not about winning! It is about making art, trying something new, and getting inspired.
Last month's winner: "Love at First Flight" by scottyp.

16 | System & Utilities | https://krita.org/item/monthly-drawing-challenge-august-2015/ | 9728 |
You will often want to have more than one build environment in parallel, for example if you want to work on stable and various feature branches. Recommended way so far was to use a git-new-workdir script.
16 | System & Utilities | http://www.topix.com/tech/kde/2015/08/1508030SN1KM?fromrss=1 | 9729 |
I've just pushed a patch to KWallet5 allowing you to have your wallet unlocked automagically during login. This patch was originally done by Alex Fiestas for KWallet4, so all credits and free beers go to him; I've merely just forward-ported it.
You'll also require kde:kwallet-pam repo and pass "-DKWALLET5=1" to cmake. This will generate pam_kwallet5.so which then can be coinstalled with the same module for KWallet4 (plus it also enables some ifdef'd code inside the module). If you're still using some KDE4/Qt4 software which is using KWallet4, you will require both modules present.
How to set up kwallet-pam can be found over at Luca's blog (though he said he'll update it for KWallet5 later, so you may want to wait a bit :).
16 | System & Utilities | http://martys.typepad.com/blog/2015/07/kwallet5-can-be-auto-unlocked-during-login-again.html | 9724 |
The KDE Community is known for its commitment to free and open source software and sticking to standards. This extremely versatile community has produced software like KDE Plasma desktop, Calligra Office Suite, Krita, and much more.
16 | System & Utilities | http://www.topix.com/tech/kde/2015/07/150725D58L00?fromrss=1 | 9725 |
Since updating to VMware Workstation 11 (from the Gentoo vmware overlay), I've experienced a lot of hangs of my KDE environment whenever a virtual machine was running. Basically my system became unusable, which is bad if your workflow depends on accessing both Linux and (gasp!) Windows 7 (as guest). I first suspected a dbus timeout (doing the "stopwatch test" for 25s waits), but it seems according to some reports that this might be caused by buggy behavior in kwin (4.11.21). Sadly I haven't been able to pinpoint a specific bug report.

Now, I'm not sure if the problem is really 100% fixed, but at least now the lags are much smaller- and here's how to do it (kudos to matthewls and vrenn):

Add to /etc/xorg.conf in the Device section

Option "TripleBuffer" "True"

Create a file in /etc/profile.d with content

__GL_YIELD="USLEEP"


(yes that starts with a double underscore).
Log out, stop your display manager, restart it.
I'll leave it as an exercise to the reader to figure out what these settings do. (Feel free to explain ...read more...
16 | System & Utilities | http://dilfridge.blogspot.com/2015/07/vmware-workstation-11-and-kwin-hangs.html | 9721 |
I'm excited to attend this year's Akademy in La Coruña, Spain.

Tagged: kde
16 | System & Utilities | https://rajeeshknambiar.wordpress.com/2015/07/20/going-to-akademy-2015/ | 9719 |
Krita is a KDE program for sketching and painting, although it has image processing capabilities, offering an endtoend solution for creating digital painting files from scratch by masters. Fields of painting that Krita explicitly supports are concept art, creation of comics and textures for rendering.
16 | System & Utilities | http://www.topix.com/tech/kde/2015/07/150715KGCI4R?fromrss=1 | 9720 |

KDE's third update of its 15.04 series of Applications is now available in Chakra. With this release kde-workspace has also been updated to version 4.11.21 and kdelibs and kdepim to 4.14.10. Have in mind that the applications that have been ported to Frameworks 5 will not be updated in the stable repositories but remain at their previous versions. The new versions of these packages are available in the [kde-next] repository which provides Plasma 5.

If you want to test Plasma 5 under Chakra, you can follow the instructions on the forum. Feel free to let us know of your comments and feedback on the related thread.

In addition, the following notable updates are now available with this move:
-calligra 2.9.6
-firefox 39.0
-thunderbird 38.1.0
-wine 1.7.46
-pip 7.0.3

It should be safe to answer yes to any ...read more...
16 | System & Utilities | http://www.chakraos.org/news/index.php?/archives/151-KDE-Applications-15.04.3-available.html | 9714 |
An anonymous reader writes: Eric Griffith at Phoronix has provided a fresh perspective on the KDE vs. GNOME desktop debate after exclusively using GNOME for the past week while being a longtime KDE user. He concluded his five-page editorial by saying, "Gnome feels like a product.
16 | System & Utilities | http://www.topix.com/tech/kde/2015/07/150713B7HO6R?fromrss=1 | 9715 |
Here's the definitive list of stretch goal votes. A whopping 94,1% of eligible voters (622 of 661) actually voted: 94,9% of kickstarter backers and 84,01% of paypal backers. Thank you again, everyone who pledged, donated and voted, for your support!

Votes
Stretch goal
Phabricator Task
0
N/A
Extra
Lazy Brush: interactive tool for coloring the image in a couple of strokes
T372
1
120
19.29%
10. Animated file formats export: animated gif, animated png and spritemaps
T116
2
56
9.00%
8. Rulers and guides: drag out guides from the rulers and generate, save and load common sets of guides. Save ...read more...


16 | System & Utilities | https://krita.org/item/the-votes-are-in-2/ | 9711 |

The Midterm evaluation week has almost come to an end and midterm evaluation deadline ends today. This post will describe about what all I have achieved in my project "Integration of Cantor with LabPlot" and what I plan to do further.

Below are the screenshots of LabPlot.

As you can see in the above screenshots Cantor's session is integrated. Variable manager, Print, Print Preview and all other relevant actions in Cantor has also been implemented into LabPlot. With implementation of all these I have successfully achieved my midterm evaluation target. I was working on improvising my code implemented so far and implementing my mentor's suggestion to code.

I will now move on to extract variables from the cantor's session so that we

...read more...



16 | System & Utilities | http://garvitdelhi.blogspot.com/2015/07/gsoc-2015-mid-term-evaluation.html | 9709 |

Last year was a long year. It was a year of many transitions for me and many new adventures, most of which I haven't really shared outside of my close "inner circle" of friends and family. During that time, I let my practice of writing slip by and my blog went very quiet. In general, my online activity dropped to a quiet hum. It was actually quite enjoyable after many years of rather more public interaction.

I've slowly started attending tech events again, though. And I've made up my mind to blog more often. At first I will probably have to make it a purposeful, weekly exercise before it all starts flowing without effort as it once did. There's a good backlog of thoughts, ideas, projects and meanderings that have piled up and it feels like the right time to start sharing them.

Brace yourself. ;)

p.s. Hell, I actually wrote some postcards today. Some of you will know what I'm referring to. :)



16 | System & Utilities | https://exote.ch/blogs/aseigo/2015/06/29/back-in-the-habit/ | 9705 |

Ссылки


Генерация: 0.341 сек. и 41 запросов к базе данных за 0.179 сек.
Powered by SLAED CMS © 2005-2007 SLAED. All rights reserved.