Ссылки
After Nokia purchsed Trolltech last year, doubts arose about how Nokia would handle the dual licensing model of Qt, the advanced cross-platform toolkit which lies at the base of the KDE Free software desktop.
16 | System & Utilities | http://www.topix.com/tech/kde/2010/01/death-knell-of-gtk?fromrss=1 | 10425 |
I am pleased to announce my latest mentee, Alberto Villa. Alberto has been a dedicated contributor with the FreeBSD KDE team, and it was finally time to punish him with a ports commit bit.
Martin Wilke will be Alberto's co-mentor in this little adventure!
Congratulations Alberto!
16 | System & Utilities | http://blogs.freebsdish.org/tabthorpe/2010/01/24/new-ports-committer-alberto-villa/ | 10423 |
Carla Schroder wrote an editorial piece this week on Linux Today (a website I enjoy and frequent daily via their RSS feeds) entitled Editor's Note: What is User-friendly, Really?.

In it, Carla claims to be "90% satisfied" with KDE3 and "60% satisfied" with KDE SC 4.3. Why? "KDE 4 sacrifices customizability and efficiency for glitz. [...] There is a trend to dumb Linux down in a fruitless attempt to appeal to Jane and Joe Sixpack. Which is wasted effort, because in doing so computer-savvy users are being ignored and frustrated, and Jane and Joe Sixpack don't care anyway."

What's interesting about this for me is that Gwenview's redesign wasn't to appeal to Jane and Joe Sixpack. It was to take a powerful app with a rather clumsy UI and turn it into a powerful app with a slick UI. Now, I don't know about you, but I like tools that fit my hand when I use them; using tools that fit the tentacles of an octopus might ...read more...
16 | System & Utilities | http://aseigo.blogspot.com/2010/01/gwenview-user-friendly.html | 10422 |
I'm currently working on a important part of Quanta4, Css Language support. The only thing supported for now is code completion for standalone css files:


But that is the most useful feature a Web IDE can have.


Still on my todo list is:

validation (should be easy with the existing parser)
Outline navigation (should be not that hard either)
Support <style> tags and inline styles in html files

A few notes on how I implemented the plugin:

I reused WebKit's flex lexer
then wrote a parser using kdevelop-pg-qt based on WebKits bison grammar. A major difference is that it successfully parses incomplete Css - as it is during writing in the editor.
The code completion parses the file on invocation and goes through the Ast (resulting from the parser) to find the correct type to show.
Then, using an XML file borrowed from Aptana's code assist, the shown completion items are determined.

How to test (feedback is very welcome!)

install kdevelop
install trunk/playground/devtools/kdevelop4-extra-plugins/css
Ruan recently recently ...read more...
16 | System & Utilities | http://nikosams.blogspot.com/2010/01/kdevelopquanta4-css-language-support.html | 10420 |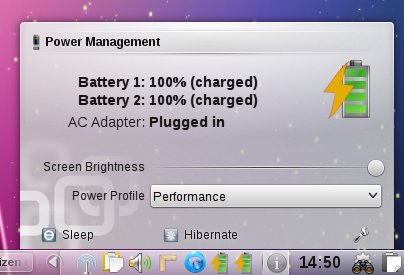 Today, a package was delivered to my house containing an item which I've been missing for a long time, years in fact. A second battery for my laptop. I've been working on various power management solutions in KDE in the past years, and they all had one problem: I couldn't really test if everything worked with more than one battery plugged in. In that area, I always depended on others to help me debugging and fixing problems, not the ideal workflow, so some bugs have gone uncaught in the past.
Not anymore! Now I've got this second battery in the optical drive slot of my dear Thinkpad T60, I can immediately identify problems with displaying the charge rate of more than one battery, and I did. One bug displaying a wrongly formatted translation string in the battery's popup has already bitten the dust, within one hour of delivery of the second battery, I committed a patch to the 4.4 branch and trunk of KDE SC. As far as I can see, ...read more...
16 | System & Utilities | http://vizZzion.org/blog/2010/01/good-news-for-multiple-battery-kde-users/ | 10419 |
I just commited an update to the Gdb Qt pretty printers, they work now for Qt 4.6. (I didn't test 4.5, but most won't work anymore I guess)

The printers need to poke around in private members, that's why they depend on a specific Qt version.

They are still located in the kdevelop svn, instructions on how to enable them see here. (the svn url changed as kdevelop is now in extragear)

Unfortunately my merge request for Qt that would add them directly to Qt got rejected, so it is a bit difficult to support multiple Qt versions - for now 4.6 only is supported. Perhaps in future more people will discover this feature in Gdb and they will get added... You know where to find them.
16 | System & Utilities | http://nikosams.blogspot.com/2010/01/gdb-qt-pretty-printers-updated.html | 10418 |
Last week I was in Berlin, and besides getting some work done, picking up some espresso beans and meeting old friends, I also received a wonderful German cold bug. From my boss Karsten, presumably. We all know that parents of small children are plague-bearers, but his kids are apparently in a different pathogen group than mine — as a result of which I've been pretty much laid-up all week with sniffles, headaches and the like. I can focus for about 2 hours at a time, after which it's back to bed. I don't recall colds hanging around this tenaciously or virulently before; the only good thing I can say about it is that 2 hours is enough time to write blog entries on random legal and licensing topics (and also technical KDE things, but that's coming up).
16 | System & Utilities | http://blogs.fsfe.org/adridg/?p=680 | 10417 |
Two weeks ago I was at the

16 | System & Utilities | http://blog.cornelius-schumacher.de/2010/01/anatomy-of-developer-sprint.html | 10416 |
The list of "Key Quests for 2010" was alphabetical. It was a sensible ordering and it prevented me from having to prioritize them in some linear fashion that could never be definitive anyways: all the points are important, though often in different ways, for different reasons and even with different key audiences. So, alphabetical ordering it was! This meant that WebKit was going to be the last topic, and now here we are. (Honestly, I'm glad I'll be able to get back to more "stream of consciousness, spur of the moment" blogging! :)

The topic of WebKit is not the easiest one. It's had its share of controversy and until recently QtWebKit wasn't really, at least in my opinion, quite up to scratch for production usage outside of fairly simple use cases. With Qt 4.6, which came with improvements across the board and new API for things like DOM access, it has turned a very important corner and makes the topic of "What does KDE want to do with QtWebKit?" ever more pressing.

When it comes to a ...read more...
16 | System & Utilities | http://aseigo.blogspot.com/2010/01/key-quest-webkit.html | 10414 |
User interfaces are the last great Linux problem. What really makes Linux user-friendly-- is it limited options and loads of eye candy? What about functionality, and depths of riches to explore? I've been using KDE 4.3 all day every day for a month now, and I have mixed feelings.
16 | System & Utilities | http://www.topix.com/tech/kde/2010/01/editors-note-what-is-user-friendly-really?fromrss=1 | 10415 |
When I was contemplating the topics for my "Key Quests for 2010" list in December 2009, even before I had decided whether I'd share the list with others, the issue of KDE's web footprint came up pretty quickly in the process. It is very often our first impression for people who would like to get involved or who would like to find out more about us. It is where people go before they know how to (or if they want to) communicate with us directly. It also has been something we've really struggled with improving.

Nobody really "owns" the web sites, which makes it a bit trickier (as it can devolve into a free-for-all), and we haven't historically been very good at integrating web designers and developers into the workflow without a bunch of C++ geeks piling on. ;) So, it's been a struggle.

It would be great if we were able to give the web sites completely over to a web development team and rely on them to consult the people who have been around KDE the ...read more...
16 | System & Utilities | http://aseigo.blogspot.com/2010/01/key-quest-web-presence.html | 10413 |
I have been really lazy to write anything here for quite some time now. I enjoyed the simple life away from the blogocube (it's actually a dodecahedron, but blogododecahedron is a mouthful) but now I'm back.
I've realized that I've made more commits to Kickoff since Tokamak 3 (mostly related to krunner integration) than to Lancelot, which is just plain wrong. So, I decided to change that and do something I was planning for quite some time now – a huge refactoring.
Puck
The first thing I noticed is that the Puck (Plasma UI compiler used in Lancelot) modules are rather outdated and reflect Lancelot widgets from the old liblancelot and not the new liblancelot2 so it got updated. It was rather cool to see that despite that, Puck still worked and didn't break the build.
Puck will eventually (read: when Qt Declarative UI becomes stable and Plasma-integrated) be abandoned and left to rust, but ATM it seems a not so near future.
libLancelot and libLancelot-datamodels
The next ...read more...
16 | System & Utilities | http://ivan.fomentgroup.org/blog/2010/01/22/lancelot-forke/ | 10412 |
In my previous post I showed off a new approach to detecting troubled projects based upon both developers and the artifacts they are responsible for.  As we saw in KMail, there was one contributor who was responsible for the majority of the commits, bu not the artifacts. Modularity in the community gave indication that the code is probably nicely modularised, too.
OK, so is KMail special or do we see this more often. Is trouble, normal? Since I was asked about KOffice, I have now repeated these visualisations for KWord.
So, KWord is strongly dependent upon one particular contributor for the commits. Don't forget there could be many reasons for this (mostly process related), or it might be indicative of a project in trouble. If we look at the artifact modularisation…
… we see that while the community/artifacts appear to be nicely modularised, the principle contributor is not only making the most ...read more...
16 | System & Utilities | http://blogs.fsfe.org/padams/?p=24 | 10411 |
Hi everyone.  Just 4 quick things I wanted to point out to the community regarding various Promo activities.  If you're one of those people lurking about Planet KDE who's been itching to start contributing, here are some ideas for you to get started.
First, not too long ago I made a YouTube video about a use case for Marble, one of our KDE Education applications.  This has now been posted on the official KDE YouTube channel.  Go check it out!  And make sure you check out all the other cool videos there while you're at it.  James Cain (our recent Camp KDE "Be Free" award winner) has done a fabulous job reworking the look of the site and accumulating some new videos lately.  You can even subscribe so that you get an alert when new videos are posted.  Very cool stuff.  However we can always use more videos.  I created mine simply using Kdenlive in less than an evening.  If you think you'd be interested ...read more...
16 | System & Utilities | http://neomantra.org/?p=152 | 10408 |
so last night went well; after the qt training we stayed at the uni. it's still stormy out there, and apparently we missed a flash flood. I got several bugs fixed and backported (screensaver stuff again), so I'm happy. :)
anyways, wednesday was the normal qt training; today is embedded training. not embedded like the n900, but embedded as in framebuffers and really tiny devices. we all got livecds with the embedded environment, and spent some time getting that set up (several people don't have cd drives, others want to run it in a vm, etc…). Then we got to actually run an app in the virtual framebuffer and make a hello-world app (without instructions… but it was basically just a new qt app + the embedded project settings).
after lunch the training continued… and… holy crap it's 7pm. where'd the time go?
and it's the last day, too…. :(
we're off to a restaurant for dinner now (at least I think we are; it's been fast food all week). most people are leaving tomorrow; I'm leaving ...read more...
16 | System & Utilities | http://chani.wordpress.com/2010/01/21/campkde-qt-embedded-training/ | 10407 |
Multiple vulnerabilities were found in kdelibs found which can be exploited by malicious people to 1) make XMLHttpRequests to remote sites 2) cause denial of service ------------------------------------------------------------------------ Pardus Linux Security Advisory 2010-11 security@pardus.org.tr ...
16 | System & Utilities | http://www.topix.com/tech/kde/2010/01/pardus-kdelibs-multiple-vulnerabilities?fromrss=1 | 10406 |
So what is going on in the konv land? Version 1.2.2 will be released soon, which is great enough but I have something even better for you.
Post 1.2.2 we will have DCC Whiteboard!
(imagine the 20th century/fox music: "dadadadaaaa…dadadadaa")


A basic "multiplayer paint" which implements dcc whiteboard, specs can be found here. It won't be in 1.2.2 as it is not ready but, as you can see, it basically works :)
Now to the show-stoppers, the whiteboard specs lack many things to keep the drawing 100% in sync.
For example it is impossible to keep the size of the image in sync, it has no real size, but how can you save an image without a size? I ended up resizing the image as needed but with a limit to 2048×2048 pixel, for the sake of all broken gfx drivers. And now imagine one side uses floodfill with a different image size than the other, the result will be different. I *could* implement a ...read more...
16 | System & Utilities | http://buscher.zxq.net/2010/01/konversation-%e2%80%93-introducing-dcc-whiteboard/ | 10404 |
Of course not. At the turn of the 20th century everybody was saying that photography killed painting. And later cinema killed theatre, and television killed cinema. The last technological revolution, the digital one, killed the business of the record companies. And this time, it may be finally true...

MIDI is about making music, and making music is about musical instruments. After all, a business that remains still alive is the musical instruments industry. Not all the musical instruments sold around the world are bought by professional musicians. Most of the market are aficionados and hobbyists. Everybody would like, in one or another point of the life, to become a musician, or learn to play a musical instrument. Well, this is the place of the MIDI software in the desktop ecosystem. It is not about passively listening music, but using tools to inspect, interact, learn, modify, understand music. That may explain how VMPK had more than 5000 downloads from SourceForge last month. Even when it is not able to play songs by ...read more...
16 | System & Utilities | http://midi-clorianos.blogspot.com/2010/01/mp3-killed-midi.html | 10402 |
A kind soul (Hosein-LS from linuxshare.org) pointed out to me that this persian KDE wiki page has some wickedly cool looking Release Counters:

click

Two pretty pics:



Basically, the text could probably be improved, probably using our 'be free' slogan, saying X days to release of KDE SC 4.4 and Be Free with KDE SC 4.4 or something. But we'll surely rock anyone with the new release ;-)

Either way, I don't know anything else about who did this besides the fact they DID - as I don't read farsi/persian, but I do wanna say: you guys and girls rock, please rock on!

(and do send me an email and get in contact, esp if you plan on doing more stuff like this hehe. google will tell you my email as I'm horribly uncarefull ...read more...
16 | System & Utilities | http://nowwhatthe.blogspot.com/2010/01/kind-soul-hosein-ls-from-linuxshare.html | 10398 |
We now have a mailing list where all the KDE Finance apps can subscribe and get together. For now, it's Skrooge, Kraft and KMyMoney, but I'm sure others will follow.
If you are in any way related or you are simply willing to help us get our act together, the mailing list is kde-finance-apps@kde.org. Thanks, David!
Now, to plan our first meeting to conquer the finance world!
16 | System & Utilities | http://soliverez.com.ar/drupal/node/152 | 10395 |
huzzah! training day today.
technical difficulties continue: when we got back to the hostel last night, another section had lost power, including my room. blarg. we were all tired though, so after a halfhearted attempt to put on a movie we just went to bed. in the morning, we arrived at UCSD… only to find none of us had the key (it was with jeff, who was waiting for someone else at the hostel). luckily there's some lady upstairs with keys, though.
oh, and since last night identica won't let me post anything. I get error 400 every time and I can't figure out why. :/
Anyways, we're doing qt training right now. model-view and events and threads, oh my! ;) I've learnt lots of interesting things already. One pattern we commonly use in KDE is actually not ideal in qt4: using a singleshot timer with timeout 0 to do delayed stuff. Using QMetaObject::invokeMethod with a queued connection does the same thing, and can even take arguments. :)
We had some lovely sunshine this morning, but the ...read more...
16 | System & Utilities | http://chani.wordpress.com/2010/01/20/campkde-qt-training-day/ | 10393 |
The Haiku operating system , an open source remake of BeOS, has gained support for running a number of KDE applications, including the KOffice productivity suite .
16 | System & Utilities | http://www.topix.com/tech/kde/2010/01/beos-clone-haiku-gains-kde-applications?fromrss=1 | 10394 |
Well, Shaun, here's a chocolate cake for you. it's very similar to the pecan cake I wrote earlier — but closer to the "ultimate chocolate brownie" recipe that I based both off of.
Chocolate cake for Shaun: Mix three eggs and a cup of (brown or cane) sugar and a tsp. of vanilla extract and a pinch of salt for 10 minutes on high with an electric mixer. Alternately, show the world you're amazingly buff with a hand whisk. Optionally add chopped nuts. Stir in 100g melted pure chocolate (that's 4 squares in North America, I believe). Sift one and a quarter cups of flour with 2 tsp. baking powder and sir that through the wet ingredients. Pour into a 9″ round pan and bake for 30 minutes at 350F or until a fork comes out clean. Frost with a mixture of icing sugar and powdered cocoa and afew drops of water (if you're into frosting, that is).
16 | System & Utilities | http://blogs.fsfe.org/adridg/?p=648 | 10391 |
As everybody else is blogging about Camp KDE here in San Diego I think I also should give you an update whats going on here.
I think it is a fantastic conference, perfectly organized with very high level talks. It is great to meet all the old and new friends and discuss various aspects of world domination. Thank you to Jeff and the team at UCSD to make all this happen.
Rain
It rained a lot the last few days here which is unusual for sunny southern california and it seams that we have to live with this weather for all the week. Which is bad because we can
16 | System & Utilities | http://blog.karlitschek.de/2010/01/whats-going-on-at-camp-kde.html | 10388 |
Things I learned at Camp KDE 2010:
Having a weird red eye that doesn't hurt or mess with your vision is awkward, and makes for awkward photos.
Chani has an epic sticker collection (though she may have lost it not sure)
Trying to run through the rain is a stupid idea. Especially in a short sleeve shirt and no umbrella.
Real rain is pretty intense. Phoenix never gets rain like this weekend's.
It is possible to live on three hours of sleep and little coffee when you are pumped up to be somewhere.
Troy hates the f—ing eagles, and is a geologist.
All Germans and Dutch folks are bloody.
Americans drive pickups, carry shotguns, and chase birds. All of them.
Multigrain pancakes cooked in vegetable oil on a gas stove that won't keep a sane temperature is suboptimal but still earns happy breakfast eaters.
karaoke is epic win when done correctly.
There's no better way to spend your 18th birthday than karaoke with friends, or watching ...read more...


16 | System & Utilities | http://hackersramblings.wordpress.com/2010/01/20/things-i-learned-at-camp-kde-2010/ | 10387 |
huh. it's tuesday evening already? time flies…
sunday evening me, troy and rrix got out the karaoke machine. :) the song selection wasn't great, but that just made it more entertaining. ;) by the end everyone was joining in, I think.
karaoke tends to involve drinking, though… I had a bit much, and didn't really want to go anywhere the next morning. After I got up and got lunch, the weather was getting stormy… I decided to just stay at the hostel for the rest of the day. :/ I wish I hadn't missed that cmake training.
so then I discovered just how unprepared for rain california is. the power went out in the common room, so there was no internet… the corridor was a river, half the table was being rained on, and one guy's bed was under a leak too. :/ we had to resort to crazy old-fashioned things like talking and playing guitar ;)
Eventually someone ran an extension cord to the common room, which gave us tv and partial internet. :) I stopped ...read more...
16 | System & Utilities | http://chani.wordpress.com/2010/01/19/campkde-day-something/ | 10384 |
I've recently added a handy command line tool for introspecting the methods in Smoke libraries.
16 | System & Utilities | http://www.topix.com/tech/kde/2010/01/introspecting-smoke-libraries-with-the-smokeapi-command-line-tool?fromrss=1 | 10385 |
I'm not at Camp KDE, but instead at LCA 2010 (in Wellington, NZ).
Andrew Tridgell, Andrew Bartlett, Jelmer Vernooij and I will be running "birds of a feather" (BoF) sessions during the last part of the conference (Friday 22 January 2010 starting at 1430 in the "Civic 3" room, which is over in the Town Hall building).
The first part of the BoF session will focus on Samba 4 and its ability to replace (or work with) Active Directory. I've been working on an installer GUI for Samba4 and OpenChange, and if you are a sysadmin who might be interested in installing this stuff yourself, then you can influence the design of the tool.
There will also be some demos.
If nothing else, you'll get to see Tridge hack, which is always fun.
So come along (remember 1430 to 1630 on Friday), hang out, observe, contribute and enjoy!
16 | System & Utilities | http://www.kdedevelopers.org/node/4149 | 10383 |
I've recently added a handy command line tool for introspecting the methods in Smoke libraries. Although it is mainly aimed at people using Smoke based language bindings, I think it might be more generally useful and worth describing to a wider audience.
Show all the methods in the QPoint class:
$ smokeapi QPoint
QPoint::QPoint()
QPoint::QPoint(const QPoint&)
QPoint::QPoint(int, int)
bool QPoint::isNull() const
...
Note that the qtcore module is always opened by default. Here only 'QPoint' is given as a class name, but you can specify more than one class
Next, show all the methods in the qtgui module with 'popup' in their name:
$ smokeapi -r qtgui -m popup
QAbstractItemView* QCompleter::popup() const
void QMenu::popup(const QPoint&)
void QMenu::popup(const QPoint&, QAction*)
QRect& QStyleOptionComboBox::popupRect() const
QToolButton::ToolButtonPopupMode QToolButton::popupMode() const
The '-r qtgui' option means open the libsmokeqtgui library - for KDE 4.4 SC release we added the ability to dynamically open and load the Smoke libraries, and it so that means the tool doesn't need to be linked in advance to any libraries to be searched. The '-m popup' option ...read more...
16 | System & Utilities | http://www.kdedevelopers.org/node/4147 | 10380 |
Aaron wrote an interesting blog about scripting and dynamic language support , and I thought I'd like to add some comments of my own about where we're heading with non-C++ languages in the KDE 4.5 SC release.
16 | System & Utilities | http://www.topix.com/tech/kde/2010/01/kde-bindings-in-kde-4-5?fromrss=1 | 10381 |
Ссылки