Ссылки
If anybody tells you that KDE SC 4 is too fancy and not configurable enough, just show them this:
A product of a temporary idle mind – ASCII theme for Plasma…
edit: It's is creating a wallpaper to fit this…
16 | System & Utilities | http://ivan.fomentgroup.org/blog/2010/02/25/tokamak-4-plasma-is-too-fancy/ | 10766 |
Kate is a multi-document editor that grew from a rewritten version of the KWrite editing widget of the KDE desktop.
16 | System & Utilities | http://www.topix.com/tech/kde/2010/02/kate-puts-other-text-editors-to-shame?fromrss=1 | 10761 |
Since beginning as a one-person project over ten years ago, the fourth generation of the K Desktop Environment is poised to be the most business-friendly open source desktop to date with a host of new features ideal for enterprises.
16 | System & Utilities | http://www.topix.com/tech/kde/2010/02/i-do-think-that-the-argumentative-term-paper-writing-supposes-the?fromrss=1 | 10756 |
I haven't blogged about my development activities for some time now... So here come some news.
16 | System & Utilities | http://www.topix.com/tech/kde/2010/02/news-from-buildsystem-land?fromrss=1 | 10751 |
From: http://toorox.de What is Toorox? Toorox is a Linux Live-DVD based on Gentoo that starts as a bootable media using KNOPPIX technology.
16 | System & Utilities | http://www.topix.com/tech/kde/2010/02/torrent-toorox-01-2010-64-bit?fromrss=1 | 10749 |
Yesterday Phoenix's KDE population gathered around the rainy tables at Matador Coffee Roasting Company for an afternoon of meeting and hanging out with some new people and some old friends around coffee and bagels and other goodies.
We had a fun few hours of discussing Epic Beard Man, Ubuntu one, Marketing SOPs, RMS and syncing PIM data between two machines. Though there were only six folks in attendance all together, it was a fun time and it was cool to meet up with some folks I've known for a while but rarely get to see, and even some new faces! Even some "youngsters" who were my age, which was pretty cool. I met my travel buddy for the Fedora Marketing FAD, Robyn at the party, and we gave the Fedora 13 talking points a quick look-over. We didn't give her a hard enough itme though, she still left as a GNOME user.
And Travis, Konversation slacker extraordinaire was there, too, all the way from (rainy) Tempe. I'm pretty sure he's the only other KDE ...read more...
16 | System & Utilities | http://hackersramblings.wordpress.com/2010/02/22/kde-sc-4-4-release-party-the-aftermath/ | 10736 |
The third blog entry in 24 hours. That's a new record for me, though not the foremost reason for this post.
Kolf 2 has, after about 4 days of intense coding, reached a size of 3000 lines of code. (I admit that much code has been ported from kolf-ng, so you cannot really conclude that I can write 750 LOC a day.) With the base engine nearly finished (the terrain, some object types and general bling will be added later), this is a good moment to stop and take a look at code quality.
On the heuristic side, I'm quite happy with the overall stability. Box2D has turned out to be a good choice: Its documentation is not very extensive, but I could get started with it much quicker than with ODE. The simulation code is simpler and at the same time more flexible than in Kolf-NG, and the simulation feels very natural (even with missing terrain friction). Kolf 2 does now offer some nice convenience classes around Box2D, which hide the non-Qt data types and make the API ...read more...
16 | System & Utilities | http://majewsky.wordpress.com/2010/02/21/observations-on-code-quality-and-the-engine-design/ | 10735 |
Yesterday was the first full day for Tokamak 4 with most of us having arrived from near (e.g. right here in town) and far (Brazil, Canada) the day before. We had a great series of presentations to catch each other up on where we are right now and where we are going. I opened the proceedings with the usual "state of the plasma" presentation where, after recapping the motivations and core design values we had defined together over the past couple of years, I likened our efforts to those of a sculptor. We had before us just raw materials, a rough-hewn stone if you will: Qt4 with QGraphicsView in it's earliest infancy, KDE 4's libraries and a simple vision. Inside that block of stone, we envisioned a masterpiece just asking to be found and released from the stone. After working for a couple of years we have something that has real shape, great scale and impressive momentum. We are at the point where we need to "finish off" many parts of this living, dynamic structure with the small, fine details ...read more...
16 | System & Utilities | http://aseigo.blogspot.com/2010/02/day-2-of-tokamak-4-and-bit-about-day-1.html | 10733 |
Tellico is a collection manager for KDE. It includes default collections for books, bibliographies, comic books, videos, music, video games, coins, stamps, trading cards, and wines, and also allows custom collections.
16 | System & Utilities | http://www.topix.com/tech/kde/2010/02/tellico-2-2?fromrss=1 | 10734 |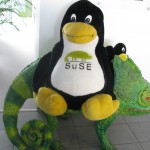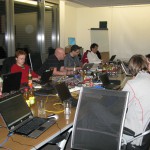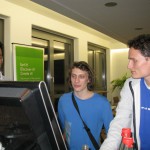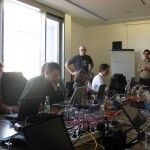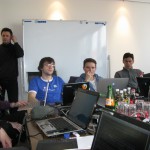 16 | System & Utilities | http://blog.uninstall.it/2010/02/21/tokamak-4/ | 10732 |
I know the number of Qt experts out there is growing (like crazy). Still, I believe we should do more to help people master this great framework. I am aware that I might bore you with few Qt code examples I did last year or even the year before, but somehow I feel that I won't do no harm if I keep sharing new stuff I learn every now and then (especially since now I got a new toy). And maybe it's not too bad if I change this blog tagline to "don't code today what you can't share tomorrow" :)
Since I am not with Nokia/Qt anymore, I also left the Graphics Dojo corner behind. I decide to publish my new and upcoming Qt examples under a new moniker: X2 from Ofi Labs. The two Xs there stand technically for eXperiments and eXamples, though X2 only sounds cool (even if that ...read more...
16 | System & Utilities | http://ariya.blogspot.com/2010/02/introducing-x2.html | 10731 |
I managed to get my hands on the N900 after a long long wait. But the path to getting the device was long and tragic. Here's the story.
Back at foss.in (Dec 1st week 2009), I heard of a contest held by the Nokia maemo-bangalore team.  The sexy 3d pic on the blog got me all excited. So, at foss.in, including all my customer commitments, I worked 3 days/nights at a stretch to write a youtube video browser, cilantro (anagram of the irc nick of a good friend and lead of qt/webkit team to whom the app is dedicated to
).  In all honestly, I put myself under some pressure to participate in the contest – I was already overloaded with work but I thought that if I can get my hands on the device I can improve QtWebKit Flash performance  since I was working on that at that point. So, you can understand my excitement when ...read more...
16 | System & Utilities | http://blog.forwardbias.in/2010/02/maemo-bangalore-foss-n900-contest.html | 10726 |
It's still pending the KDE e.v.'s board budget approval, but if everything goes ok, we are going to have our first meeting during the last days April in Frankfurt am Main, Germany. Developers from Kraft, Skrooge, Association Subscriber Manager, and KMyMoney are going to get together to discuss how we can integrate our applications and work together to have the best finance application stack for free desktop users.
16 | System & Utilities | http://soliverez.com.ar/drupal/node/159 | 10724 |
KDE developers are currently discussing whether Rekonq could replace Konqi as KDE's default web browser. I'm glad that this discussion has not (yet) turned into a flamewar like we saw in the days when Dolphin replaced Konqi as the default file manager. Instead, people are mostly discussing whether Rekonq is up to the task it is supposed to fulfil, and many people are arguing against that (including the Rekonq developers themselves!).
As you might already have concluded from the title, this blog post is only going to deal with a tiny detail of the whole discussion. Let's start by quoting a mail by Eike Hein on the kde-core-devel mailing list:
[Rekonq's] user interface also strays far from the path established by our other standard applications and the HIG. You're going to have to make a good case for why our interface standards are not supposed to apply to our default web browser.
For those who ...read more...
16 | System & Utilities | http://majewsky.wordpress.com/2010/02/20/on-the-menubar/ | 10723 |
The following scenario is quite typical. Your family member, spouse, or coworker has this fantastic, powerful, brand-new multicore machine which, for some reasons, has to run Windows or Mac OS X. On the other hand, you probably have some el-cheapo laptop which is also wonderful but it lacks the processing power to do heavy-duty build and compile. Now, what if you can exploit the other box for a distributed compile? Especially if the powerful box seems to be idle once a while, doing nothing.
Many of you already figure it out the solution: let's install Linux on a virtual machine and use tools like distcc or icecream. In fact, this is quite easy to do. I managed to find out the details, even if I have only little idea about network stuff.
Side note: I don't see why icecream would not work. But since I did try distcc, that's what I wrote below.
For the following explanation, refer to the above ...read more...
16 | System & Utilities | http://ariya.blogspot.com/2010/02/distcc-virtualbox-nat.html | 10722 |
On Saturday 13th we got together to celebrate the release of KDE SC 4.4. It was a 2-part celebraction, since it started in a bar and ended up in the house of likevynil. Here are some of the pictures. You can find all pics here: http://gallery.atpic.com/33521
We have an excellent photographer in the group. This time he didn't take as many pictures, but they are as good quality as usual.
The obligatory group photo:
16 | System & Utilities | http://soliverez.com.ar/drupal/node/158 | 10721 |
so yesterday I was actually in germany already – but not in nuremberg. I was in karlsruhe, visiting sput and nightrose. :)
Sput met me at the airport in frankfurt – conveniently both his train and my plane were delayed equally, but inconveniently we just missed the train we wanted.. oh well, we just arrived a little later, and went directly to the pub to meet nightrose and.. someone whose name eludes me. We had a good time there – they closed at 11, but I was quite happy to go to bed because my body thought it was 2pm the next day. :P
On friday me, sput and nightrose ended up seeing an interesting exhibit full of weird interactive media/art exhibits. There were rooms with 3D glasses and flying blobs and matrix-like stuff, a green-screen area that showed bits of the past mixed with the present, a weird game where you had to keep walking in circles to follow your character… lots of cool stuff. :) and of course a collection of old computers and game systems. ...read more...
16 | System & Utilities | http://chani.wordpress.com/2010/02/20/karlsruhe/ | 10719 |
Tokamak 4 has just begun, and we have a great round of introductory presentations here today.
One thing I'll try to sneak into my introductory talk is a little status update about the Klassroom that's currently going on at the forums. And since that may interest others out there, I'll also write a bit about it.
I'm not a forum regular (actually I hardly ever visit forums nowadays) so I wasn't really up to date what is going on there, except that the forums KDE look really shiny now.
I knew that porting apps for KNewStuff2 to KNewStuff3 was something for me to do at some point. Not very exciting but also not much work. I estimate that it takes me 20 minutes for each app unless it does crazy stuff with KNewStuff. (I haven't found any app that does anything out of the usual with it though).
Now instead of porting the apps myself, I talked to our forums people (very helpful and nice they are!) and we set up a small ...read more...
16 | System & Utilities | http://blogs.fsfe.org/gladhorn/2010/02/20/klassrooms-and-programming/ | 10717 |

Kat at the Lotus
Originally uploaded by kwwii


This is a tale of weary over-worked designers, days spent toiling in the colour factory. Nights searching, yearning, I dare say for some of us, groping, for some magical libation, some flame, to lighten our burdens and free heart and soul.
16 | System & Utilities | http://kwwii.blogspot.com/2010/02/kat-at-lotus.html | 10716 |
A bit of background first:
The buildsystem we (as in froglogic) use for Squish is custom written using Javascript and that means its not very nice to use KDevelop for hacking on the code. The reason is that KDevelop4 needs to know about includes and defines from the projects buildsystem to provide proper autocompletion and code-navigation.
Now the C++ support has some a small gui which allows you to store some custom include paths in a config file inside of the project. This works for small things, but Squish is buildable on various platforms and more importantly with different dependencies (Qt3 vs. Qt4, different script interpreters, tcl/tk etc.). So I have about a handful of build directories for various configurations and hence a single in-project config file for includes doesn't work.
Initially I wanted to write a buildsystem plugin for our Javascript buildsystem, but that was simply too much work for me. So instead I've sat down (since january actually) and implemented a buildsystem plugin that is supposed to support any buildsystem out there by configuring the tools, includes ...read more...
16 | System & Utilities | http://apaku.wordpress.com/2010/02/19/custom-buildsystem-support-for-kdevelop4/ | 10714 |
Gnash is a Flash movie player and Web browser plugin for Firefox, Mozilla, Konqueror, and Opera.
16 | System & Utilities | http://www.topix.com/tech/kde/2010/02/gnash-0-8-7?fromrss=1 | 10713 |
One thing N900 has been good for is logging gps coordinates for photos. I'm using eCoach to log gps data. Although "eCoach is an application for recording and managing sport activities with Nokia N900" it works nicely for recording gpx file for photos too. Initially Digikam didn't read the gpx file eCoach produced but it's now fixed.


16 | System & Utilities | http://pdamsten.blogspot.com/2010/02/n900-digikam.html | 10710 |
One of the most requested feature in Skrooge is the ability to exchange data with other applications, such as KMyMoney and gnucash. We already agreed with the KMyMoney folks to work on better interoperability between our two apps. St
16 | System & Utilities | http://skrooge.org/node/56 | 10708 |

20100216-_DSC7110
Originally uploaded by kwwii


Otto's friend Elsa (spelling?) has a catering service we've used in the past but recently they went from good to excellent.

She recently spent time in Japan and came back much the wiser :-) She and her partner brought in various dishes which really impressed.

From the salad, mains, to the desert, everything was top notch.

They make a Japanese minestrone which has a very clear and delicate vegetable flavour. I'm not a fan of pumpkin but with this soup they managed to define the balance of flavours so well that the pumpkin turned out to be the slightly sweet, nutty flavour which sealed the deal.

The pork, slow cooked to perfection, melted in your mouth. The cabbage that accompanied it was a wonderful contrast to the soy and garlic of the meat.

I didn't get to taste the Salmon...I was busy enjoying ...read more...
16 | System & Utilities | http://kwwii.blogspot.com/2010/02/amazing-lunch-at-canonical.html | 10707 |
Some progress in KUnitConversion library, converter runner and applet.

In runner add case insensitive matches to first unit too.

Fixed ?,


16 | System & Utilities | http://pdamsten.blogspot.com/2010/02/unit-conversion.html | 10705 |
In KDE SC 4.4, thanks to a very successful Summer of code project, is now possible to share your running widgets to the local area network. This opens a whole lot of new possibilities, but as every brand new thing, it still did not come to full potential, but is something that developers will have to play with to start to have really interesting applications.
In 4.4, is possible to remote control your media player by publishing the nowplaying applet. Is probably the most obvious application but it's just a start.
Since I'm refactoring the notifications and jobs for 4.5, it came obvious that it would have been a pretty good use case.
Imagine you started a pretty important file transfer on your main pc and you want wo know when is done, but now you just want to go watch tv on the couch, you can just bring to the other room your netbook or your mobile device, so your options are:
Going polling the other room every 3 seconds (naaah:), use a somewhat overkill tool like vnc, or ...read more...
16 | System & Utilities | http://www.notmart.org/index.php/Software/A_remote_notification | 10702 |
Oh no!  The out of town visitor beat me to posting the follow up blog entry on our party. Damn you Jonathan! Stop making me look like a slacker!
So unfortunately this past week or two I've been rather bogged down with working on my master's degree and working my day job and brewing beer, etc.    But on the note of beer we had some very good ones at our 4.4 SC party and I think everyone that came had a nice time.
We started out at Fuddruckers for some good American style burgers and fries (with drunken locals who swore they knew Scottish people that they'd never seen in their lives) and lots of KDE talk.  I had the opportunity to show off some new features to some of the Kubuntu LoCo folks.  I think we'd have had a better turn out ...read more...
16 | System & Utilities | http://neomantra.org/?p=198 | 10699 |
Last week I went to Washington DC where I was meant to be giving a talk at CALUG. However the whole city was buried in a metre of snow so it got cancelled. In fact the whole government shut down. Good thing the US wasn't doing anything important last week or people would have noticed they had no government and anarchy would have broken loose, it would be like Belgium. The snow was mostly ploughed out the way by the end of the week in time for the KDE 4.4 release party organised by Celeste. The release party started off in true US style in a fast food burger restaurant where I ate Ostritch, later it moved to a bar with a fine selection of beers of many interesting flavours, gosh it was like Belgium!
On Saturday we'll be hosting the first ever release party in Glasgow. Do come along if you're in the country.

Washington DC KDE SC 4.4 release party, eagerly awaiting beers.

Kubuntu developers visit ...read more...
16 | System & Utilities | http://www.kdedevelopers.org/node/4168 | 10697 |
What is Kraut Sourcing? No worries, I will explain this later on. First I would like to ask our community for a favor:

The Amarok team is about to release Amarok 2.3 fairly soon (our release schedule is tight), perhaps in about three weeks from now. What I am asking our community (especially artists) for: Creating a new splash screen for this release



This is how the current splash (kindly made by Lee Olson) for Amarok 2.2.x looks like:





As Amarok 2.3 is the start of a new major series, we would love to have a new splash screen. Any takers?


The winner will be chosen by the Amarok team, and the reward is:

1 Amarok t-shirt, a mention in the "Thanks To" dialog of Amarok, and... hmm, a beer at our next meeting. Does this sound ok?
...read more...
16 | System & Utilities | http://amarok.kde.org/blog/archives/1164-Kraut-Sourcing.html | 10695 |
February 17, 2010, 11:07 AM - There have been a number of theories as to why Intel and Nokia decided to united their Moblin and Maemo mobile OS platforms.
16 | System & Utilities | http://www.topix.com/tech/kde/2010/02/hey-youve-got-your-moblin-in-my-maemo?fromrss=1 | 10696 |
Ссылки