Ссылки
Lancelot (the menu) was not really designed to run on mobile devices (although it could be used on such devices as a full screen application quite well), but the Lancelot Part applet proved to be a rather good fit.
I wasn't involved in any mobile-related developments at Tokamak 4 (I had too much to work on krunner and activities) but I found some time to test the KDE/Plasma enabled Jax 10 devices.
Placing a Lancelot Part inside the newspaper activity that showed favourite applications and a search box was a breeze and it worked quite well. Marco did a really good job of adapting the plasma-netbook edition to mobile (touch screen) devices so the Parts applet required no changes at all to fit in the new environment.
Here is an obligatory blurred screenshot:
I'm planning to make a screencast about using Lancelot in Plasma Netbook, but I'm ...read more...
16 | System & Utilities | http://ivan.fomentgroup.org/blog/2010/02/28/tokamak-4-lancelot-mobile/ | 10801 |
I hope this post is educational and help the ones among us doing performance optimisations without any kind of measurement. If you do these things without a benchmark you are either a genuis or very likely your application is going to run slower. I'm not going to talk about performance analysis right now but tools like OProfile, callgrind, sysprof and speedprof are very handy utilities. The reason I'm writing this up is that I saw a performance regression in one of my testcase reductions and this is something which I don't appreciate and in general I see a lot of claims about performance tuning but little bit in regard to measurements and this part is very worrying.

For QtWebKit we have the performance repository with utilities, high level tests and something I labeled reductions. In detail we do have the following things:




Macros for benchmarking. I started with the QBENCHMARK macros but they didn't really provide what I needed and changing them turned out to be a task I didn't have time for. I create WEB_BENCHMARK macros ...read more...


16 | System & Utilities | http://zecke.blogspot.com/2010/02/dealing-with-performance-improvements.html | 10799 |
it's over? already?
damn, time flies when you're having fun…
I spent the last days of tokamak working on the activity UI and homework (ok, so it wasn't all fun – I'm not sure I really care whether I finish that homework now :P). I also ended up being a human tripod for a while. :) and had a short interview with HR – I'm considering doing an internship over there (unless I get a better offer… *cough*).
The last night, we went out to celebrate – and ohh, what a night. Karaoke and drinking and dancing and drinking… Tip: don't make towers of shotglasses. they chip easily. >.<
…and oh god, what a hangover the next morning. Trust me, you don't want to fly with a hangover. >.< I still felt hung over when I finally got home.
Oh, and think I might, maaaybe have figured out a way to do the activity-session stuff I want with the existing XSMP protocol. maaaybe. I need to look into it some more. :)
So all in all, a great week: ...read more...
16 | System & Utilities | http://chani.wordpress.com/2010/02/28/post-tokamak-2/ | 10798 |
Qt documentation mentions QPalette as the class that contains color groups, Active, Inactive, and Disabled, for each widget state. Knowing the color for many different color roles is important. For example, a style author might want to tweak the colors of each buttons depending on QPalette::Button, QPalette::ButtonText, QPalette::Highlight and likely play with the shades and the saturation. There are probably few different ways to get the RGB values of those colores, here I show one of them: using a small tool that display all the color roles for active, inactive and disabled states:
And here how it looks like on Nokia N900:
The code is in the X2 repository, check the sub-directory widget/palview. A possible exercise for the brave reader: allow the user to choose other color spaces such as HSL or HSV.
Have fun with the colors!
16 | System & Utilities | http://ariya.blogspot.com/2010/02/qpalette-viewer.html | 10795 |
By Mark Murphy on Wed, 02/24/10 - 8:41am. As noted last week , two other open source smartphone platforms are Symbian and Meego, the latter a merger of Intel's Moblin and Nokia's Maemo.
16 | System & Utilities | http://www.topix.com/tech/kde/2010/02/ec-confirms-google-antitrust-investigation?fromrss=1 | 10794 |
Dear digiKam users
Few months earlier I started to work on HTMLExport plugin and first two updates I made are mentioned in the TODO file or request on bugzilla.
The first one is showing template preview alongside theme description as shown in the next screenshot:
16 | System & Utilities | http://www.digikam.org/drupal/node/504 | 10792 |
As my HAL/hal-info git repos were lost last year at people.freedesktop.org, I restored them from my last existing local checkouts. I simply copied the local checkout/repo to the server and created a new git repository as proposed in the git user manual:
git clone --bare ~/hal hal.git

touch proj.git/git-daemon-export-ok
But as I, some months later, tried to switch to my hal-0_5_12-SUSE_CODE11 branch, there was no such branch. To be exact: there was neither this branch nor any of the upstream branches. I couldn't find any information on the web how to solve this problem. Everything I tried didn't work. When I cloned the new repo from the upstream repo, all branches where available.
At the end I found my own solution once I compared the .git/refs/ directories of the cloned repo from the upstream and the local repo. ...read more...
16 | System & Utilities | http://dkukawka.blogspot.com/2010/02/how-to-move-local-git-repo-with.html | 10789 |
Amarok teamster Abhishek has again produced a great video, this time explaining some new Podcast features of the upcoming Amarok 2.3:





Here is a direct link to the video, in case the embedding did not work:


Enjoy
16 | System & Utilities | http://amarok.kde.org/blog/archives/1165-Podcasts-in-Amarok-2.3.html | 10787 |
Hi everyone!
Allright since my last post I'm finally happy and landed on Debian Squeeze and started hacking again on bangarang . Our progress is really amazing. My recent task was a major feature for the new 2.0 release. The next release will have a Plugin architecture in place that employs KDEs precious kross.
If you like Python, Ruby, JavaScript or QtScript you can now try and hack together a little plugin on our scripting console. The real plugin architecture which will run the kross scripts in the background is taking shape now. For installing and getting new plugins we are in the process of getting a category on opendesktop.org as well! But I have to make a small disclaimer at the moment… The javascript  part of kross will not really work and possibly crash your application if you are unlucky. I have tried to implement kross as clean and lean ...read more...
16 | System & Utilities | http://andreasdevblog.wordpress.com/2010/02/27/bangarang-and-kross/ | 10786 |
Box2D is an Open Source rigid body 2D physics engine for C++. It's currently (2.0.1) released under the MIT license, which is quite permissive. Box2D is used by, among other things, Gluon (http://gluon.tuxfamily.org/), which is a game library from KDE in-the-making.
Integrating Box2D into your Qt application is quite easy, and this blog shows you how to get started. First of all:
* Step 1: Download Box2D from Google Code: http://code.google.com/p/box2d/
* Step 2: Build it (I had to insert a few #include <cstring> to get it to build)
* Step 3: Build and try the test bed application: Box2D/Examples/TestBed/
* Step 4: Read the manual: http://www.box2d.org/manual.html
* Step 5: Continue reading this blog to hook up the two frameworks…
The library doesn't seem to install, so I just compiled it in-source and used it directly.
What I found during my approx 2 hour study today was that Box2D manages a world with bodies, similar to how QGraphicsScene manages items. In short, you create a world object ...read more...
16 | System & Utilities | http://labs.trolltech.com/blogs/2010/02/26/qt-box2d-is-easy/ | 10783 |
Today right after breakfast with Lukas and Boudewijn and one of his daughter, we got an electricity cut. So when Dmitry arrived from his hotel, despite heavy rain, we decided to go out for a walk in the city, to discover the charm of the city under rain:

Boudewijn explained us about the past of the city, and also which building was going to be demolished, and what nice house has been replaced by an ugly one. We walked a long many nice streets like this one:
Below is a church that was build by the city inhabitant that were denied access to the cathedral, now it is used as a concert hall:
Then we arrived at the market place, where a krita developer took a picture of a krita developer taking a picture of an other krita developer:
...read more...
16 | System & Utilities | http://blog.cberger.net/2010/02/26/krita-meeting-2010-%e2%80%93-day-1/ | 10781 |
Hey everyone!
I've started my internship at KDAB this week, it's great fun so far! Though I spent most of my time this week on Bertjans KDevelop plugin, I couldn't resist on a bit of Kate hacking:
steveire is experimenting with QML so I couldn't stop but notice that there is no highlighting for it in Kate. Well, there was none ;-) Now you get pretty colors, rejoice!
Note: Since QML is basically JSON with some added sugar, I reused the existing JavaScript highlighter and improved it. Hence you get imrpoved JSON and member highlighting in plain.js as well. Enjoy!
16 | System & Utilities | http://milianw.de/blog/kate-highlighting-for-qml-javascript | 10779 |
Looks like Microsoft has released the PST format specification. I don't normally like to link to MSDN, but I'll do it this once: http://msdn.microsoft.com/en-us/library/ff385210.aspx As usual with these documents, I recommend reading the PDF version rather than the HTML.
16 | System & Utilities | http://www.topix.com/tech/kde/2010/02/microsoft-releases-pst-specification-document?fromrss=1 | 10774 |
After being blocked for three hours at G
16 | System & Utilities | http://blog.cberger.net/2010/02/25/krita-meeting-2010-day-2/ | 10773 |
Some years ago, I used to think that real programmers only do C or C++ and that script languages were not for real man. Of course, I was wrong and realized that when I did my pet project doing the server in C and the client in python.
Javascript seems to be all the rage lately (Palm WebOS anyone?). An amazing idea that I have being discussing for 2 days with aseigo, richmoore, notmart, igorto (all good hackers lurking in the #plasma channel) while in Tokamak4 is somewhat that might sound strange: javascript based animations.
Currently is possible to use our C++ animations in javascript plasmoids, which is good. But if we look at the code of those classes, a significant part is just boiler plate code to setup the object. So, what if we have a single JavascriptAnimation class coded in C++ and put the logic of setting/reseting the properties of animated target widgets on a javascript file?
Some clear advantages:
easier to prototype an animation
easier to make animations theme dependent
easier for ...read more...


16 | System & Utilities | http://savago.wordpress.com/2010/02/25/tokamak4-some-js-love/ | 10770 |
16 | System & Utilities | http://liveblue.wordpress.com/2010/02/25/plasma-everywhere/ | 10768 |
If anybody tells you that KDE SC 4 is too fancy and not configurable enough, just show them this:
A product of a temporary idle mind – ASCII theme for Plasma…
edit: It's is creating a wallpaper to fit this…
16 | System & Utilities | http://ivan.fomentgroup.org/blog/2010/02/25/tokamak-4-plasma-is-too-fancy/ | 10766 |
Kate is a multi-document editor that grew from a rewritten version of the KWrite editing widget of the KDE desktop.
16 | System & Utilities | http://www.topix.com/tech/kde/2010/02/kate-puts-other-text-editors-to-shame?fromrss=1 | 10761 |
Since beginning as a one-person project over ten years ago, the fourth generation of the K Desktop Environment is poised to be the most business-friendly open source desktop to date with a host of new features ideal for enterprises.
16 | System & Utilities | http://www.topix.com/tech/kde/2010/02/i-do-think-that-the-argumentative-term-paper-writing-supposes-the?fromrss=1 | 10756 |
I haven't blogged about my development activities for some time now... So here come some news.
16 | System & Utilities | http://www.topix.com/tech/kde/2010/02/news-from-buildsystem-land?fromrss=1 | 10751 |
From: http://toorox.de What is Toorox? Toorox is a Linux Live-DVD based on Gentoo that starts as a bootable media using KNOPPIX technology.
16 | System & Utilities | http://www.topix.com/tech/kde/2010/02/torrent-toorox-01-2010-64-bit?fromrss=1 | 10749 |
Yesterday Phoenix's KDE population gathered around the rainy tables at Matador Coffee Roasting Company for an afternoon of meeting and hanging out with some new people and some old friends around coffee and bagels and other goodies.
We had a fun few hours of discussing Epic Beard Man, Ubuntu one, Marketing SOPs, RMS and syncing PIM data between two machines. Though there were only six folks in attendance all together, it was a fun time and it was cool to meet up with some folks I've known for a while but rarely get to see, and even some new faces! Even some "youngsters" who were my age, which was pretty cool. I met my travel buddy for the Fedora Marketing FAD, Robyn at the party, and we gave the Fedora 13 talking points a quick look-over. We didn't give her a hard enough itme though, she still left as a GNOME user.
And Travis, Konversation slacker extraordinaire was there, too, all the way from (rainy) Tempe. I'm pretty sure he's the only other KDE ...read more...
16 | System & Utilities | http://hackersramblings.wordpress.com/2010/02/22/kde-sc-4-4-release-party-the-aftermath/ | 10736 |
The third blog entry in 24 hours. That's a new record for me, though not the foremost reason for this post.
Kolf 2 has, after about 4 days of intense coding, reached a size of 3000 lines of code. (I admit that much code has been ported from kolf-ng, so you cannot really conclude that I can write 750 LOC a day.) With the base engine nearly finished (the terrain, some object types and general bling will be added later), this is a good moment to stop and take a look at code quality.
On the heuristic side, I'm quite happy with the overall stability. Box2D has turned out to be a good choice: Its documentation is not very extensive, but I could get started with it much quicker than with ODE. The simulation code is simpler and at the same time more flexible than in Kolf-NG, and the simulation feels very natural (even with missing terrain friction). Kolf 2 does now offer some nice convenience classes around Box2D, which hide the non-Qt data types and make the API ...read more...
16 | System & Utilities | http://majewsky.wordpress.com/2010/02/21/observations-on-code-quality-and-the-engine-design/ | 10735 |
Yesterday was the first full day for Tokamak 4 with most of us having arrived from near (e.g. right here in town) and far (Brazil, Canada) the day before. We had a great series of presentations to catch each other up on where we are right now and where we are going. I opened the proceedings with the usual "state of the plasma" presentation where, after recapping the motivations and core design values we had defined together over the past couple of years, I likened our efforts to those of a sculptor. We had before us just raw materials, a rough-hewn stone if you will: Qt4 with QGraphicsView in it's earliest infancy, KDE 4's libraries and a simple vision. Inside that block of stone, we envisioned a masterpiece just asking to be found and released from the stone. After working for a couple of years we have something that has real shape, great scale and impressive momentum. We are at the point where we need to "finish off" many parts of this living, dynamic structure with the small, fine details ...read more...
16 | System & Utilities | http://aseigo.blogspot.com/2010/02/day-2-of-tokamak-4-and-bit-about-day-1.html | 10733 |
Tellico is a collection manager for KDE. It includes default collections for books, bibliographies, comic books, videos, music, video games, coins, stamps, trading cards, and wines, and also allows custom collections.
16 | System & Utilities | http://www.topix.com/tech/kde/2010/02/tellico-2-2?fromrss=1 | 10734 |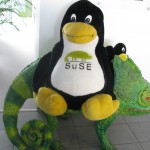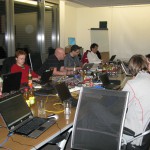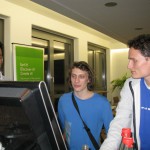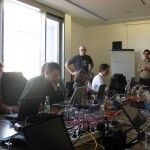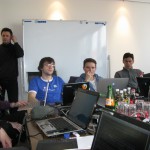 16 | System & Utilities | http://blog.uninstall.it/2010/02/21/tokamak-4/ | 10732 |
I know the number of Qt experts out there is growing (like crazy). Still, I believe we should do more to help people master this great framework. I am aware that I might bore you with few Qt code examples I did last year or even the year before, but somehow I feel that I won't do no harm if I keep sharing new stuff I learn every now and then (especially since now I got a new toy). And maybe it's not too bad if I change this blog tagline to "don't code today what you can't share tomorrow" :)
Since I am not with Nokia/Qt anymore, I also left the Graphics Dojo corner behind. I decide to publish my new and upcoming Qt examples under a new moniker: X2 from Ofi Labs. The two Xs there stand technically for eXperiments and eXamples, though X2 only sounds cool (even if that ...read more...
16 | System & Utilities | http://ariya.blogspot.com/2010/02/introducing-x2.html | 10731 |
I managed to get my hands on the N900 after a long long wait. But the path to getting the device was long and tragic. Here's the story.
Back at foss.in (Dec 1st week 2009), I heard of a contest held by the Nokia maemo-bangalore team.  The sexy 3d pic on the blog got me all excited. So, at foss.in, including all my customer commitments, I worked 3 days/nights at a stretch to write a youtube video browser, cilantro (anagram of the irc nick of a good friend and lead of qt/webkit team to whom the app is dedicated to
).  In all honestly, I put myself under some pressure to participate in the contest – I was already overloaded with work but I thought that if I can get my hands on the device I can improve QtWebKit Flash performance  since I was working on that at that point. So, you can understand my excitement when ...read more...
16 | System & Utilities | http://blog.forwardbias.in/2010/02/maemo-bangalore-foss-n900-contest.html | 10726 |
It's still pending the KDE e.v.'s board budget approval, but if everything goes ok, we are going to have our first meeting during the last days April in Frankfurt am Main, Germany. Developers from Kraft, Skrooge, Association Subscriber Manager, and KMyMoney are going to get together to discuss how we can integrate our applications and work together to have the best finance application stack for free desktop users.
16 | System & Utilities | http://soliverez.com.ar/drupal/node/159 | 10724 |
KDE developers are currently discussing whether Rekonq could replace Konqi as KDE's default web browser. I'm glad that this discussion has not (yet) turned into a flamewar like we saw in the days when Dolphin replaced Konqi as the default file manager. Instead, people are mostly discussing whether Rekonq is up to the task it is supposed to fulfil, and many people are arguing against that (including the Rekonq developers themselves!).
As you might already have concluded from the title, this blog post is only going to deal with a tiny detail of the whole discussion. Let's start by quoting a mail by Eike Hein on the kde-core-devel mailing list:
[Rekonq's] user interface also strays far from the path established by our other standard applications and the HIG. You're going to have to make a good case for why our interface standards are not supposed to apply to our default web browser.
For those who ...read more...
16 | System & Utilities | http://majewsky.wordpress.com/2010/02/20/on-the-menubar/ | 10723 |
Ссылки