Ссылки
As you are hopefully already aware, the deadline for this years Akademy Call for Papers is approaching quickly. You have until Friday, 23 April 2010 to get all your proposals for talks, lightning talks, workshops and BoFs in.
So start writing and get all your abstracts/proposals in on time!
The plugin allows to load an autotools project and offers the following functionality:
Syntax highlighting for Makefile.am files
Automatic project tree update if a Makefile.am file or the configure.ac file has been changed
Out of source builds
Configuration of build steps
Code completion
The project is in a very early state and has not been tested yet by a broad user base. Any feedback would be very welcome!
With highs below 40 degrees it's hard to know if it's Minnesota in November or Kano this week. Scale is the thing here, and I do hope to be hotting it up in Kano for the second annual FOSS Nigeria conference this week. Akademy 2008 in Mechelen brought us Mustapha Abubakar and he went back home and set up a conference for Free Software in the north of Nigeria. I'm pleased and honoured to be going back for a second round. As in previous years, talks will include Free Software background, some legal stuff, C++, python, and whatever else strikes the fancy of the speakers (some of whom are me and Frederik). I think this year I'm better prepared for the destination — although I'm still looking for my Hausa hat, it's gotta be in the house somewhere. Sinasiri, here I come! Also, I'm looking forward to seeing how the guys from Hutsoft are doing, which way IT in Kano is growing, meeting up with Mr. Tata again and once again contemplating Free Software ...read more...
The coolest thing about  Akademy was that ( besides being able to socialize with people I knew only by e-mail ) I discovered that extreme programming really works, which that in mind we began developing a cardgame – a Bohnanza clone (Tomaz's idea ). The plan now is to put it into gitorious.org and finish it. The group that are developing it ( Me, Francisco, Taiane and Victor ) are using it to learn and improve the Qt Knowledge. and we are also open to anybody that wants to contribute ( and help the project ). The work yielded much more than if we had stayed at home coding / studying alone.
In an unrelated note, the we ( Aracele, Taiane, Yasmin, Jordanna, Amanda and Me ) are also starting an movement inside Brazil to gather more woman contributing to KDE, and establishing a group of Woman within KDE ( brazilian Users and Developers ).
So we create the KDE-Lovelace – kdelovelace.wordpress.com.
The group is beginning with collaborators of kde-promo and programmers that want to ...read more...
I just bought the plane tickets to go to Akademy, Dublin->Heathrow->Helsiki, 2.5 hours to change planes in heathrow, should be enough i hope, all in all 300? could be better but could be worse too i guess. So see you in tampere :-)


In spring I tend to write sentimental bits, like this one. I've spent the past two weeks mostly in the vegetable garden, fostering new life — potatoes, carrots and beans — and tearing out unwanted plants — stinging nettles and crab grass. There must be a metaphor for software development there somewhere. It's a matter of out with the old and in with the new.
This spring brings renewed determination to do something with the garden; that's both on my part and on the part of the other people with whom I keep it. I think there's a realization that the discipline of maintaining the vegetable plots does us (nerd, philosopher, teachers of dutch and mathematics) all good. It gets me away from the computer, anyway, and hoeing is one way of cleansing the spirit.
Related, I am happy to see that Henrik Sandklef has regained his footing: Restarting life sounds pretty drastic. Catching up on the todo list is sometimes good — and sometimes you have to throw out the list and start over. I'm glad ...read more...
Quassel is a modern, cross-platform, distributed IRC client, meaning that one or more clients can attach to and detach from a central core, much like the popular combination of screen and a text-based IRC client, but graphical.
I'm here waiting for news from Lufthansa whether my flight will finally take place or not. Over the weekend, it seemed like a no go, but today the skies seemed to be better. So, it looks like this dragon is going to finally make it to Frankfurt. The next checkpoint is tomorrow at 6am when the incoming plane is supposed to take off from Frankfurt to Buenos Aires. It should arrive at 7pm and my flight departs at 9pm back to Frankfurt.
"For a long time KDE has come with an assortment of games. Collectively, this suite of games is simply called 'KDE Games'. With the advent of KDE 4, all of the KDE games were given face lifts and a standard set of features that make moving from game to game a seamless exercise.
"For a long time KDE has come with an assortment of games. Collectively, this suite of games is simply called 'KDE Games'. With the advent of KDE 4, all of the KDE games were given face lifts and a standard set of features that make moving from game to game a seamless exercise.
Funny, after blogging I got some more feedback, Aaron put in a small fix and Stephen suggested another Akonadi related improvement so that I could remove another 20 lines of code that were not overly nice.
So here is the update and I get to post first screenshots (yeah, that's what we all have been waiting for, me included
since I worked blind in a way). The tool when you write a Plasma DataEngine that you'll have a close relationship with (of hate-love possibly) is plasmaengineexplorer. It will simply show you the data offered by your engine and saves you from guessing what's going on in there.
Starting it with the engine as parameter plasmaengineexplorer --engine=calendar saves some nerve… (I discovered this after getting tired of selecting the right engine in the combo box in it).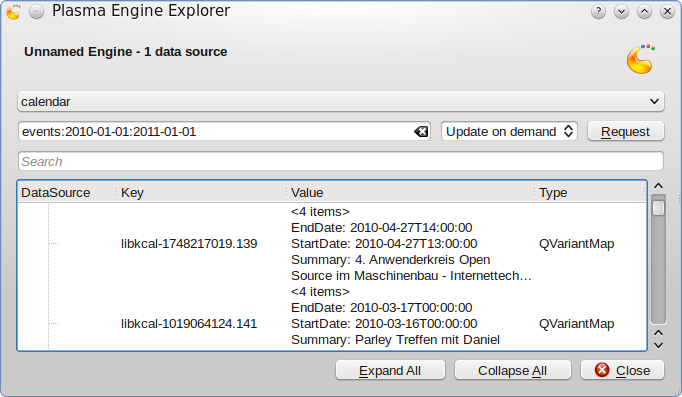 Plasma Engine Explorer - of course this is a developer tool. But it's of great utility when writing applets also.
...read more...
I think KDE SC 4.x is becoming better and better. It has reached the point where I don't even want to think about going back.
Still there are missing bits and pieces every once in a while. At our last Fellowship of the Ring FSFE meetup here in Stuttgart, we had a nice talk… and Bj


Amarok is a powerful music player for Linux and Unix, MacOS X and Windows with an intuitive interface.
In Pardus Corporate we use KDE 3.5.10 and some of our new tools from Pardus 2009 which runs KDE 4.3.5 (for now). Tools in 2009 are designed to work with the current desktop environment which is KDE 4.3.5. So, we have a problem in Pardus Corporate side; we need kdelibs4 on KDE 3.5.10. It is possible to use kdelibs4 but in some ways it is not a great idea.
We think that we can create a solution for making universal apps which run on KDE 4.x with kdelibs4 and for others (kde3.5, xfce etc.) which use Qt libs.
Most of the code in our applications just depends on Qt 4.x, but some important parts for the desktop integration depends on KDE.
In my "quest" to update KDE-related Wikipedia articles, I had to do more research than I expected and I needed to fix things I didn't expect. But that research was fun, too. It brought me back in time when I was still a teen who tried to get some ancient Linux distribution working and fiddled around with KDE 1.
After many website transitions, much info on KDE.org got kinda lost. For example, there seems no longer to be a proper announcement of KDE 1.1. The KDE website doesn't have it. Can't find it in the mailing list archives of kde-announce@kde.org either. There are only two places where I could find when 1.1 was released: The Way Back service of Archive.org and a backup of the news archives of KDE's previous website in SVN. After I found the exact date, I took the liberty to at very least add the date to the KDE 1.1 changelog which is still linked from KDE's announcements page (the KDE 1.x changelogs had white text on white background — there as well I took the ...read more...
Kubuntu 10.04 Release is nearly upon us. This Thursday sees the Release Candidate with final release due a week on Thursday.
So we need ISO testing (and upgrade testing) pretty solidly between now and then.
The ISO testing Kubuntu page lists what needs testing. Join us in #kubuntu-devel if you can help.
---
And testers will get a sneak preview of our all new logo, made after much pondering and brainstorming and re-learning how to use Inkscape.

The 'focus' word has many meanings, ranging from the optical concept of 'good convergence of light rays generated by an object' to the cognitive process of directing the attention to a particular target while ignoring other targets.
Now the interesting part: this concept can be used in computers too, especially in user interfaces, to direct the user to relevant information or to help him through a step-by-step process. How to do that? Since every image you see on screen is 'on focus' by default, you can easily unfocus unuseful information.
Blurring is the act of altering images so they appear out of focus. My Maestro[2] and other illustriuos people already talked extensively about this topic here on planet KDE. However you don't improve the world until a technology becomes available to everybody, right?
Then some days ago I read on notmart's blog that plasma and kwin supported blurring the background on windows.. so I rebuilt ...read more...
Between 9th and 11th April I was in Praia do Forte, Bahia, attending Akademy-BR: a meeting for developers, enthusiasts, and other members of Brazilian KDE community.
My main goal was to work with the KDE-Edu, especially in Rocs, KAlgebra, and KmPlot. Among these, I turned mainly to the last one because I was playing a bit with it some weeks ago.
In a course at USP, I needed to plot a two-dimensional graph to display solutions of linear programming problems. No big deal, it would be done very well in gnuplot, for example, but I decided to try KmPlot in order to get more used to KDE-Edu tools.
I realized then that the software, unfortunately, didn't have an option to change the labels of the coordinate axis. I asked myself: "oh god, such an educational software should have that option". It soon came to my mind a student's primary or secondary education, wanting to use the software and plotting graphs with all their coordinates labeled "X" and "Y"
...read more...
On April 15 2010, PBS NewsHour ran a segment talking about new ways to motivate people in the workplace, focusing on Dan Pink's new book Drive. They spend some time talking about the open source model and a few FLOSS-geeks from Washington, DC (maco and myself included) are featured near the end of the segment. There is also a nice shot of the KDE website featuring KDE 4.4.
Watch the segment (download):

As promised my first impression about the Plasma Netbook Reference.
First boot took "very long" but at least I had an amazing netbook interface with great effects running really smooth on the N270 1,6 GHz processor with 1GB ram. All in all really promising!
Downside: WLAN was not working and it was not possible to start an application that required root priviliges (like software management).
So I changed the root password (I don't know if that was the best idea). Now I was asked for the password but the app didn't start anyway. After the reboot WLAN worked. So I updated via konsole with yast2. The Netbook Reference is KDE SC 4.3.5. After the update everything worked great (WLAN, amazing desktop effects, start of every app, ...) Only one minor: Maybe it would be helpful for new users to have the logout/shutdown button in the panel. But this isn't software for ...read more...
KDevelop is an integrated development environment which makes the creation and development of GNU Standard Applications an easy task even for beginners.
We've just released a beta version of Amarok 2.3.1, codenamed Dark Star. It comes with sweet things like the Automated Playlist Generator and new context view applets showing similar artists for example. Check it out and help us get it ready for final release by reporting bugs and sending patches.
in this post and this post , i wrote that im working on chakra project beta 1 artwork which called NEDA ! already its wallpaper and kdm theme designed and finally yesterday and last night i finished ksplash theme , chakra alpha 5 ksplash is based on a theme in kde-look with oxygen-icons like kde4 default kdm that i change the wallpaper ! and now in this theme we have our exclusive images that designed by me.
in chakra philosophy "Chakra is a concept referring to wheel-like vortices which, according to traditional Indian medicine" . in this theme i tryed to design "chakra wheel like loading" and until releasing beta 1 I will try to improve it. you can see this theme is this video clip in YouTube (or bottom of this post) or download it
=-=-=-=-=
Powered by Blogilo
Today I'm plagued by headache and somehow I had the weird idea that rewriting KDE's German Wikipedia articles helps me distracting from the pain. Even weirder: it worked (up until I finished – now my head hurts again).
Well… I'm sure you've heard of KDE's rebranding. Whatever you may think about it, it's not going away for the foreseeable future. That said, often people (incl. KDE-affine distributors like Mandriva) still refer to SC4 as KDE4 and fail to understand that "KDE" is now the organization and I partially blame Wikipedia for it. Or KDE's inability to prepare modifications for the main KDE articles for various languages in time for the rebranding announcement, to be more precise – I guess due being overworked.
Better late than never: I've split the main KDE article in two: KDE now only refers to the organization. K Desktop Environment is a new article that only covers the old releases 1–3. I reorganized and extended the remaining info in KDE. A separate article for ...read more...
We are pleased to announce our new openSUSE Weekly News, Issue 119!
In this week:
Contents
1 Editors Note
2 Announcements

2.1 openSUSE 11.3 Milestone 5: The Community Strikes Back
2.2 Andrew Wafaa: oSC09 videos

3 Status Updates

3.1 Distribution

3.1.1 Schedules for the next Week
3.1.2 Bugzilla

4 Team Reports

4.1 Build Service Team

4.1.1 Build Team Meeting
4.1.2 Build Service Statistics

4.2 GNOME Team

4.2.1 Marcus Meissner: libgphoto2 2.4.9
4.2.2 Vincent Untz: GSettings Hackfest: Day 1

4.3 KDE Team

4.3.1 Will Stephenson: File Transfers in KDE 4

4.4 Mono Team

4.4.1 Moonlight 3 Preview 6
4.4.2 MonoTouch 3.0

4.5 openFATE Team

4.5.1 New: openFATE 309343 Support release number in (rp-md) repositories
4.5.2 New: openFATE 309342 Do not loose Hermes events ever.
4.5.3 New: openFATE 309341 Make new status for "unsigned"
4.5.4 Statistics

4.6 Testing Team

4.6.1 openSUSE Testing Core Team IRC Meeting 2010-04-19 17:00 UTC

4.7 ...read more...


This time around svn got me, I've used the createtarball script from kdesdk to generate the RC2 tarballs so we ship translations. This worked just fine, except that for some unknown reason svn likes to not check out svn:externals when doing an svn co of kdevplatform.
This resulted in a kdevplatform tarball (yes I didn't test-compile them as it was rather late already) that didn't contain the expandingtree subdir in plugins/quickopen.
As (silently) updating 2 days old tarballs has proven to be a bit problematic in the past, I've decided to just push in another RC which fixes exactly this problem.
So tarballs for a working fresh RC for kdevelop and kdevplatform should be available from the mirrors in a few hours (and yes, this time I've built them on 3 systems to make sure they work).
...read more...
Recoll is a personal full text desktop search tool based on Xapian. It provides an easy to use, feature-rich, easy administration interface with a Qt-based GUI.
The revival of my FreeBSD system meant that I was once again confronted with Xorg driver issues. The on-board GeForce 7050 isn't recognized by the nv(4x) driver, and the proprietary nvidia one is a no-go because I'm running FreeBSD amd64 (and the Linux driver only works on FreeBSD i386). So, time to shop around a little.
This is one of those cases where I wish the Internet would forget sometimes. Wading through the reports of video card compatibility from 2006 just isn't useful. I had one (I thought) simple question: will an ATI Radeon 4350 work with Xorg 1.6.5 under FreeBSD 8-STABLE?
Perhaps it's just my search-fu letting me down, but in the end I went and just bought one (as it's the cheapest video card available in town across the river right now).
And the answer seems to be: yes, the Radeon 4350 is supported under FreeBSD 8-STABLE with Xorg 1.6.5_1,1 and the xf86-video-ati 6.12.4_1 driver. At least I can get twm up and running and exit that same twm and restart X multiple times. As usual it took ...read more...
Akademy-br is over, and for me it was a great event. I expect the results to roll in over the next couple of months, as several projects have been started. Tomaz and the people working on card games for KDE Games will probably chime in soon, and I know the promo people are preparing the video and photo collections from the event.
I spend some time on the event helping the people that is going to work on the new KEduca. The summary of this project can be read on this message to the KDE Edu mailing list, so I will not repeat it here. Welcome Syst guys, and I hope this collaboration with KDE Edu brings lots of rewards for both our community and your users as well.
Among several interesting conversations and quick hacking sessions, on the last day I had a chance to work very briefly with Luiz Romário, a very brilliand and young member of the KDE community here. He is working on several projects, and I am happy to see his patches finding their ...read more...
Ссылки