Ссылки
So it has been a few days since Part 2, where I promised I'd talk about some issues that go with using pointers in shared memory, initial cache setup, and my arbitrary methods I use to handle various scenarios.
Pointing to things in shared memory
First I'll talk about pointers. Essentially all you need to know about them is that a pointer holds a memory address, namely the address of the data you're really interested in.
Now, every process in modern operating systems has its own "address space", which defines where things are in memory. So, memory addresses in process 1 have no relation to addresses used in process 2, or any other process.
What this means for shared memory algorithms is that you cannot use normal pointers, since they rely on pointing to a specific spot in a process's address space. See below for an example:
Three KSharedDataCache-using processes are running, and let's say that kcalc was the first to create that cache, so ...read more...
16 | System & Utilities | http://www.purinchu.net/wp/2010/05/08/implementing-a-shared-cache-part-3/ | 11556 |
16 | System & Utilities | http://liveblue.wordpress.com/2010/05/08/chanis-birthday/ | 11555 |
We pleased to announce our new openSUSE Weekly News #122.
http://news.opensuse.org/2010/05/08/opensuse-weekly-news-122-is-out/
Content
* 1 Editors Note
* 2 Announcements
o 2.1 openSUSE 11.3 Milestone 6: The Dust Begins to Settle
o 2.2 openSUSE News: Updates Go Twitter
o 2.3 openSUSE News: openSUSE@LinuxTag 2010
* 3 Status Updates
o 3.1 Distribution
+ 3.1.1 Thomas Biege: SELinux and openSUSE 11.3 Milestone 6
+ 3.1.2 Bugzilla
* 4 Team Reports
o 4.1 Boosters Team
+ 4.1.1 What are the Boosters up to?
+ 4.1.2 Changes in Staff
o 4.2 Build Service Team
+ 4.2.1 Build Team Meeting
+ 4.2.2 OBS 1.7.4 …. your weekend present

+ 4.2.3 Build Service Statistics
o 4.3 Mono Team
+ 4.3.1 Miguel de Icaza: MonoDevelop's New Search Bar
o 4.4 openFATE Team
+ 4.4.1 Andreas Jaeger: Preparation for Mounting /var/run as tmpfs
+ 4.4.2 Clean temporary data in SUSE
+ 4.4.3 Rename chromium
+ 4.4.4 improve system administration from ...read more...
16 | System & Utilities | http://saigkill.wordpress.com/2010/05/08/opensuse-weekly-news-issue-122-is-out/ | 11554 |
Well, coding officially starts on May 24, now is time supposed to read documentation, know your mentor(s) and discuss the project ideas, needs, requirements, difficulties, etc. but as many other GSoCers I couldn't resist to code something.
My goal for the last week was to write a very simple Qt application showing the power of Grantlee. The idea was to simulate that I am reading a message in Kmail and I want to change the theme again and again.
You can take a look at the code in the soc-pim branch or:
svn co svn://anonsvn.kde.org/home/kde/branches/work/soc-pim/kdepim/examples/mail_grantlee/
Of course, you need to install Grantlee, before compiling the example:
git clone git://gitorious.org/grantlee/grantlee.git
cd grantlee
git checkout -b 0.1 origin/0.1
mkdir build && cd build
cmake ..
make && make install
Here some Kmail themes. I'm not an artist, so don't expect too much, but I know some CSS and started creating the themes just for the example.
16 | System & Utilities | http://ronnyml.wordpress.com/2010/05/08/first-steps-with-grantlee-and-my-kde-pim-gsoc-project/ | 11552 |
Tomorrow (or rather today) the Giro d'Italia starts. In Amsterdam. No, Amsterdam has not moved to Italia, but The Giro just starts in The Netherlands for a couple of stages and moves to Italia after a few days.
On Sunday the stage goes from Amsterdam to Utrecht, but not in a straight line. The route also goes through a place called Houten. That's where I lived for like 18 years and passes through a very small village called Schalkwijk, which is like 6km from where I live currently, and ends in Utrecht, where I lived for 4 years.
Coworkers and friends are all very excited and curious about this big event. Highways will be closed, city's locked down and new park+ride places are discovered. There is even free (as in coins) parking in Utrecht. Everyone is planning to go and see them, and tries to think of options to see the group multiple times. Although the bikers are probably gone in two seconds, it is not like the Giro ends up in NL every year.
Of course ...read more...
16 | System & Utilities | http://www.omat.nl/2010/05/08/giro-starts-in-the-netherlands/ | 11551 |
NimbleX is a small but versatile operating system that is able to boot from a small 8cm CD, USB, or from the network.
16 | System & Utilities | http://www.topix.com/tech/kde/2010/05/nimblex-2010-beta?fromrss=1 | 11549 |
Hi, just a heads up that Akademy-es 2010 talks will be streamed, you can get the info at http://kde-espana.es/akademy-es2010/doku.php?id=streaming. Yes, we know not a very Free Software friendly format, but that's what you get when you reuse the University hardware. The talks will also be recorded and published somewhere somewhen.
16 | System & Utilities | http://tsdgeos.blogspot.com/2010/05/akakemy-es-2010-talks-streaming.html | 11544 |
It might be because I completed the port of KIconLoader to use the KSharedDataCache class I recently introduced.
Everything should be fine if it's not broken yet though, as Plasma was ported over a few days ago.
The cache files are stored under $(kde4-config –path cache)/*.kcache (Normally this is /var/tmp/kdecache-$USER/*.kcache). You shouldn't need the old plasma_theme*.index or plasma_theme*.data files anymore, and you can delete those if you'd like.
I'm not done with the series I had going on making KSharedDataCache, I just haven't had a lot of time recently. There's 1 or 2 more parts I'd like to add, stay tuned…
16 | System & Utilities | http://www.purinchu.net/wp/2010/05/06/if-trunk-is-broken-for-you/ | 11541 |
I thought this might be interesting for some folks in the KDE world -- for work stuff we needed a fast implementation of Ruby's ActiveResource, so I wrote a Qt / C++ ActiveResource consumer.
16 | System & Utilities | http://www.topix.com/tech/kde/2010/05/qactiveresource?fromrss=1 | 11542 |
[[ OSOL-only entry here, with interest for KDE only from the perspective of "it's a package server that will be serving up the KDE packages for OSOL". ]] There's some bits and pieces involved in setting up an OSOL appliance to be actually useful for serving up packages, so I thought I would document them here.
Adding a user and configuring ssh access: The adduser command in OSOL is a little arcane compared to the interactive versions available on FreeBSD and GNU/Linux, so may as well: useradd -s `which bash` -m username and remember to set up ssh access for that user. This user is also going to have the pkg repository available.
Making sure that the user can ssh login: On my OSOL appliance, /dev/ptmx is missing (which is a known problem, see this forum thread with the always-helpful Alan Coopersmith on it), so I followed the instructions there.
Setting up static IP: The appliance is configured to use DHCP from the local network. For my later use I need a static IP, so I picked 10.0.0.26 and ...read more...
16 | System & Utilities | http://blogs.fsfe.org/adridg/?p=849 | 11539 |
At the risk of starting another yet-will-be-unmaintained project, sometime ago I decided to continue learning about graphics stuff in my spare time. I will not announce it of course until its code is better for public consumption. However, I really can't contain my excitement when it reaches an important milestone:
This sounds like childish, but as a graphics n00b, the above screenshot means a lot to me.
Stay tuned!
16 | System & Utilities | http://ariya.blogspot.com/2010/05/vector-graphics-tiger-in-wireframe.html | 11537 |
For
SUSE Studio
we are looking into adding nice permalinks to appliances. This turns out to be an amazingly difficult problem. The implementation is not too hard, but getting the scheme of the links right poses quite some interesting challenges.
So what do I actually mean by permalink? A permalink is a nice and convenient way to point to objects on a web site from outside of the web site itself. In our case this would be links which point to appliances on SUSE Studio. To make this nice and convenient the link needs to have a couple of attributes:
Permanent. The link should not change or depend on the state of the site or attributes of the user session. If you publish the link on another web site, e.g. in your blog, it should not break after a while or for other users.
Pretty. As the permalink is meant to be suitable for publication, it should have a pretty format, so that you can integrate it into text without completely destroying formatting and flow.
Expressive. When you see ...read more...


16 | System & Utilities | http://blog.cornelius-schumacher.de/2010/05/quest-for-perfect-permalink.html | 11532 |
A little more than two weeks ago we released Kraft version 0.40, the first version of Kraft based on KDE 4 software platform. The release went fine as far as I can tell, no terrible bugs were reported yet. Some work went into the new website since then, but in general I need a few weeks break from Kraft and spend my evenings outside enjoying spring time.
Today, Sourceforge posted a blog about Kraft after they kind of mail-interviewed me. It's nice, it really focuses on the things also important to me. This might be another step towards a broader user base for Kraft. I say that because one could have the impression that the number of people actually really using Kraft could be larger. A high number of users is one of the fundamental criteria for a successful free software project and thus I am constantly trying to understand whats the reason for the impression ...read more...
16 | System & Utilities | http://lizards.opensuse.org/2010/05/06/a-blog-on-sourceforge/ | 11530 |
Akademy-es 2010 coordinator interviews me about Okular. Read it in spanish at his blog.
16 | System & Utilities | http://tsdgeos.blogspot.com/2010/05/interviewed-about-okullar.html | 11525 |
Following Qt 4.6.2, uploaded a couple of weeks ago, KDE 4.4.3, has finally found its way to unstable in the last 48 hours.
Given KDE 4.5.0 is not expected until August, it is likely the next point release, 4.4.4, will be the KDE version included in next Debian stable, Squeeze. What this means: go and update to 4.4.3, test, and when you find a bug, please, follow this instructions. If you are lazy to read it: report upstream bugs at the KDE Bugzilla and report the packaging/integration bugs in the Debian BTS. When in doubt, you have the Debian KDE mailing list, that is being successful so far in maintaining a good signal-noise ratio.
I would like highlight the drop in the open bugs in the BTS experimented in the last 2-3 months, I published this graph in February: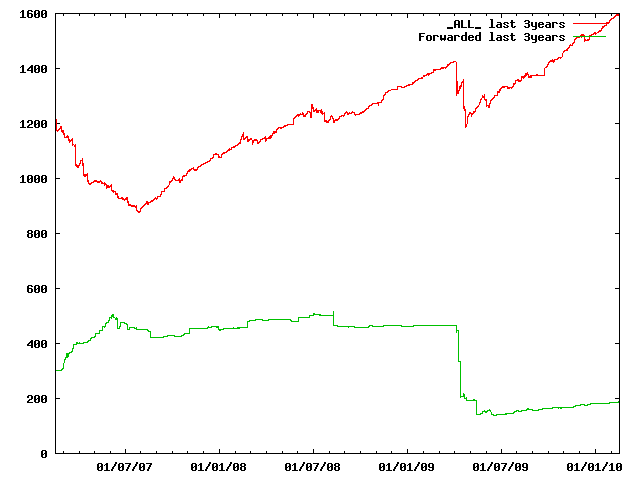 And look at the situation now:
16 | System & Utilities | http://ekaia.org/blog/2010/05/05/kde-443-in-unstable/ | 11524 |
I have to admit: I am a sucker for nice APIs. And, yes, I am sort of in love with some of my own creations. Well, at least until I find the flaws and cannot remove them due to binary compatibility issues (see Soprano). This may sound a bit egomaniac but let's face it: we almost never get credit for good API or good API documentation. So we need to congratulate ourselves.
My new pet is the Nepomuk Query API. As its name says it can be used to query Nepomuk resources and sets out to replace as many hard coded SPARQL queries as possible. It started out rather simple: matching a set of resources with different types of terms. But then Dario Freddi and his relatively complex telepathy queries came along. So the challenge began. I tried to bend the existing API as much as possible to fit in the features he requested. One thing let to another, I suddenly found myself in need of optional terms and a few days ...read more...
16 | System & Utilities | http://trueg.wordpress.com/2010/05/05/small-things-are-happening/ | 11520 |
Hello KDE Community

I am Siddharth Srivastava, an undergraduate Computer Science Engineering(6th Semester) student from New Delhi, India.

I would be working on the project MarbleToGo(Navigation Mode) during GSoC 2010. The project aims at adding new functionalities to Marble and making interface for Small Screen devices such as Nokia N900 sophisticated and customizable with the help of float items.

Well, I have categorized the project in four parts (or phases as I like them to call):-

1) Smooth re-centring and zoom adjustments of the map based on the location of the GPS Device(user) on the map so that you are not disturbed or lost on the screen while driving .
2) To show the current route instructions consisting of information about the route, landmarks etc. In addition to this the time required and the distance travelled would also be shown to the user.
3) Managing Maps in offline mode: This allows to pre-download the required data that the user would be using during his journey including the possible zoom levels and ...read more...
16 | System & Utilities | http://siddharthgsoc.blogspot.com/2010/05/introduction-marbletogonavigation-mode.html | 11518 |
Every so often (this is today's theme ;) I hear someone say something along the lines of, "I don't need Nepomuk Desktop Search. All my files are properly arranged in a neat folder hierarchy. I am not in need of any help with that, so Nepomuk is a waste of resources and I don't care to have it installed."

I am sure that such people are right about one thing: they have their files highly organized in a great filing system that they use with a great degree efficiency, and as such don't need something to index those files for them.

Nepomuk, however, is not about indexing files, at least not exclusively. It is one things Nepomuk can help you with, but they call it a "social-semantic desktop project" and not a "index your files project" for a reason.

Nepomuk is being used more and more to track, coordinate / orchestrate and index non-"files on my disk" data. Let's take two examples: Akonadi and the Plasma Desktop.

Akonadi is using it to provide search for email, ...read more...
16 | System & Utilities | http://aseigo.blogspot.com/2010/05/i-dont-need-no-stinking-nepomuk-right.html | 11516 |
The Opera 10.53 beta for Linux and FreeBSD is now available for download. In this beta release, Opera has designed a faster, more feature-rich browser that is tailored fo r the Linux-platform. Opera is adept at running on different Linux a nd FreeBSD systems, bringing its renowned speed and easy navigation to all users.
16 | System & Utilities | http://www.topix.com/tech/kde/2010/05/faster-better-and-linux-flavored?fromrss=1 | 11511 |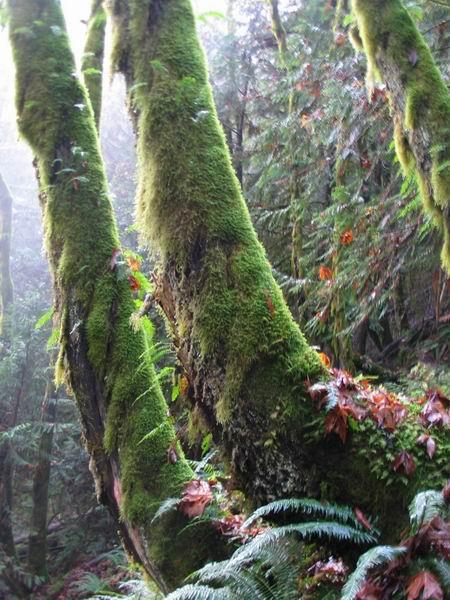 We've gotten into a bit of rut over the last few months here, though it's the good kind of rut: we've been going on hikes most weekends, exploring the outdoors. The southwest coast of Canada is just perfect for it: mountains, oceans, forests and relatively temperate weather. I bought some new hiking boots last week in recognition that we were going out more often and onto more difficult terrain. While the shoes I had had done me well in past hikes, it was time to move on up. This weekend we went out to the Sigurd Creek trail to break them in.

(Note: I've borrowed a few pics shameless from the Club Tread website from their page on the Sigurd Creek trail. It's a pretty good resource, check them out! :)

Swirling around in the back of my mind was my presentation for Akademy. Such presentations are kind of like wild animals roaming through my mind: the trick ...read more...
16 | System & Utilities | http://aseigo.blogspot.com/2010/05/supernatural.html | 11509 |
Yes, they suck, we all know it. Yes, they're boring to write, and annoying when they break, and generally - the bane of every developer's existence.

But please, write them. A lot.

I've worked on a lot of projects during my life (especially if I count ones I just throw a patch at and never look at again), but one thing that often runs true is that they usually don't have enough unit tests written. This is of perhaps because they don't have enough anal-retentive people like me badgering other people to write unit tests.

Humour aside, unit testing is important, especially when you're working on a library. Bugs are natural, and will happen, but unit tests help to catch bugs (so you don't release horribly broken code), and to prevent the same bugs happening in the future, which is also quite possible.

I was wandering around Qt's code the other week, and was a bit astonished to notice just how few tests some of the base parts of Qt had (QList, ...read more...
16 | System & Utilities | http://blog.rburchell.com/2010/05/qt-unit-tests-you-can-help.html | 11508 |
Dear KDE friends and family,
My name is Christophe Olinger aka binarylooks and I am a lurker….I mean, I was a lurker. Since the KDE 4.0 times I have been following KDE on mailing lists and blogs and recently also on irc with this constant feeling of awe and wonder about the ever evolving quality and beauty of the KDE desktop and its associated applications. I sometimes ranted about small things like bigger album covers for amarok or why the hack is there no sound in my flash video in rekonq. Some of the replies were of the shut up or contribute variant (righteously so) and I mostly followed the first suggestion. No more!
I always felt that media consumption on the KDE desktop did not really feel the way it should for me. I mean, I can do everything I want and need with dragonplayer, amarok, digikam or gwenview, but somehow I wanted a different experience. With the possible rise of tablets as personal computers in addition to the desktop or a netbook I wanted to have something more ...read more...
16 | System & Utilities | http://blog.binarylooks.com/2010/05/plasma-media-center-status-report-and-introduction/ | 11506 |
… that the ~QX11PixmapData(): QPixmap objects must be destroyed before the QApplication object, otherwise the native pixmap object will be leaked. warning most KDE applications display when exiting is actually false.
The X server will cleanup any opened resources, including pixmaps, automatically when the client exits. This is much like how the kernel automatically closes files and memory allocations when an application exits.
(The QPixmaps in question are the ones cached by KIconLoader as best as I can tell. They are cleaned up, just not before QApplication's destructor runs.)
16 | System & Utilities | http://www.purinchu.net/wp/2010/05/02/today-i-learned/ | 11499 |

Hi all,

It's been a while since I posted a blog in the 'who is KDE' series (part 1, part 2). Meanwhile, there are of course still plenty of great blogs out there, and the ones I described last time might be worth revisiting.

This blog was prompted by me bumping into our cool buzz.kde.org site (which, btw, doesn't work properly in Chromium? Back to Konqi then..). A tweet in there pointed to this blog, in Polish (google translate here). It reviews a SVN version of the 4.4 release, mostly focusing on plasma stuff. But there is also news on KWin, Marble and Dolphin. My only gripe is that the author calls it Desktop Envirionment still - maybe I should comment on that ;-)

Now that the GSoC students have been chosen ( ...read more...
16 | System & Utilities | http://nowwhatthe.blogspot.com/2010/05/who-is-kde-part-xxx.html | 11498 |
A while ago, we asked for designs to accompany our KDE Software Labels.
We've already got some excellent ideas on the wiki and there will be a Dot article quite soon with one last call for artwork and setting out the process for choosing the best. In the meantime, it's not too late to add your design.
If you submitted a design already, then hopefully you got a message from me thanking you and providing some additional guidance – in particular we'd like some horizontal web-banner like variations. If you are the Ivan who submitted an idea or you know who he is please get in touch (drop a comment here is fine or you can find my email address on the About page here). If you're about to submit a design please give us a way of contacting you.
16 | System & Utilities | http://www.asinen.org/2010/05/kde-software-labels-moving-forwards/ | 11496 |
Only a couple of hours before leaving for the KDE Finance sprint, I got this package on the mail. It was a gift sent by one of our users: The book is "C++ GUI Programming with Qt 4", and it will certainly be useful to us through this transition period to Qt4. I've already used it a couple of times, and I expect to read it fully over the next 2 months. Thank you! (you know who you are)
16 | System & Utilities | http://soliverez.com.ar/drupal/node/180 | 11495 |
This is again a littlebit of a rant and hopefully a head up for people working on that stuff to eventually get the their stuff somehow working for KDE 4.5 and the next kernel releases.
Most of the time, I am working on windows nowadays during my day work (research). I am only using linux on my netbook (AsusEEE 1101HA) for some system administration and webdesign tasks, but that more and more starts to suck. I know I am partly to blame my self, because I am using openuse factory and kde unstable from the OBS.
Things that suck:
*) I have to disable ACPI (grub acpi=off) with recent kernels (2.6.34-rcX) to get the kernel booting at all (kernels < 2.6.30 appear to work.)
--> No battery status
*) After the login Plasma (just one directory view) and one konsole window take around 3 minutes to show up on screen and start getting usefull. During that time dbus-deamon and plasma-desktop have an equal share of around 45% CPU load.
*) Once KDE is up and running,
...read more...
16 | System & Utilities | http://www.jowenn.at/permalink/1272800627.html | 11494 |
Stu is awesome and because he's awesome he wrote a nice wrap-up of the successful SoK 2009 projects for Google's Open Source blog. Go and read it and see the cool stuff that has been done last year.
This is the package our 4 successful students received: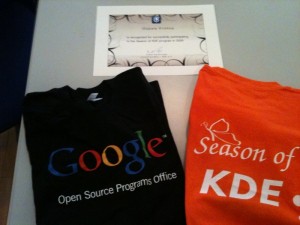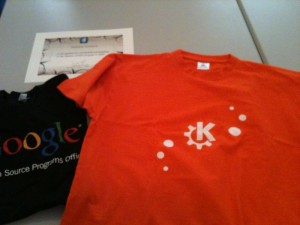 Thanks a bunch to Giulia, ruphy and sheytan for designing the shirt and certificate and Claudia and Torsten for getting them printed and shipped.
Oh and btw: I'm still looking for more mentors – ping me!
16 | System & Utilities | http://blog.lydiapintscher.de/2010/05/02/season-of-kde-2009-wrap-up/ | 11493 |
KMyMoney is now in string-freeze in preparation for the release candidate of version 3.98, which we expect to RC1, on May 15th. Almost exactly one year after we started the work on porting KMyMoney to KDE4, we will release a version deemed stable enough for general use.
16 | System & Utilities | http://soliverez.com.ar/drupal/node/179 | 11490 |
Just finished editing a dot story on Choqok (will go live sometime next week). Some of you might have noticed the initiative by its main developer Mehrdad Momeny to speed up development by soliciting monetary input. This will allow him to spend more time on making Choqok rock, but also give users a tangible way of influencing development priorities. This can increase commitment from the users, developers and the community - while bringing real benefits (in terms of code).

The KOffice developers recently did a similar thing, calling upon individual sponsors to help make Krita better. Instead of taking a summer job, Luk


16 | System & Utilities | http://nowwhatthe.blogspot.com/2010/05/quick-one-on-being-free.html | 11488 |
Ссылки