Ссылки
<p>I'm really late with Last Week in Krita, am I not? Yes, I am... There are a couple of reasons, most of them concerned with plain business. Last week I was in Bangalore, <a href="http://www.valdyas.org/fading/index.cgi/urlaub/bangalore_1.html">helping students find their way through the KOffice source code</a>. The week before, I was in Helsinki, trying to figure out which bugs in KOffice should have priority together with Tasos and Lassi from the Nokia mobile office team. The week before that, I was in Magdeburg, for a KO GmbH Board meeting. And in the meantime, a release candidate happened, which is always a reason for a slowdown of development, <i>and</i> we were busy with the Google Summer of Code preparations.

<p>Still, let's get updated on the state of Krita! Since the last instalment, we've had a mere 50 or so commits. And we're at 59 bugs. Well, Luk
16 | System & Utilities | http://feedproxy.google.com/~r/ThisWeekInKrita/~3/ntLJUOjfNHs/43-last-how-much-is-it-weeks-in-krita | 11588 |
Hi!
So after last Akademy-es (which was great BTW o/) I realised that I have to find a new laptop since the current is basically broken in many ways.
I'm writing this blog post for 2 reasons, as a reivindication and as a call for help.
The Reivindication: I'm sure I'm not the first one who finds himself in that ugly position where you're a Free Software hacker and have to pay you want or not for a Win7 license. That sincerely sucks in many levels, it's hard to get to be a proud and solid community when you feel like all the industry is denying you exist. In fact I think that hackers should be a good market (they fix their computer themselves, everyone asks them to know what's the best computer,…) but the truth feels far from that, apparently the segmenation is netbooks, businessmen and hardcore gamers. Well then, the reivindication is this: why isn't there any company that would let our community be part of their market?
Why isn't there any of such free hardware ...read more...
16 | System & Utilities | http://www.proli.net/2010/05/12/being-a-hacker/ | 11586 |
Hi everyone! Today I'll offer my little blogspace to Daniel E. Moctezuma, our mentored student for Google Summer of Code  2010
He'll explain what's about to happen in KMess soon… enjoy!
---
Integration of a plug-in system into KMess
KMess, the Live/MSN Messenger alternative for Linux, has been growing in
the past years as a way of letting the users feel comfortable with
instant messenger programs by providing a messenger with almost a lot of
the features Windows Live Messenger has together with a nice user
interface (and much more of course
). In order to keep this constant
improvement, the developer team has been working on a plug-in system. It
is a major feature as it allows which allows new features without
bloating KMess.
Goal:
The primary goal of this project is to design and write code in a way
that plugins/scripts can get their full functionality, main control of
the following components is considered:
16 | System & Utilities | http://amroth.coldshock.net/kmess/blog/generally-kmess/gsoc-kmess-is-in/ | 11585 |
So. I was wondering, which nice distro specific tools do exist in debian/gnome or in $other/kde that debian/kde is missing?
We have kalternatives for managing alternatives, we have a update notifier frontend in progress and after google summer of code, hopefully a package management frontend, aptitude-qt. (Made by Piotr).
But what other distribution specific tools are we missing for Debian-KDE ?
16 | System & Utilities | http://pusling.com/blog/?p=163 | 11581 |
Politics politics. Here in Waloonia we have to spreak French, walk half a kilometre north and you are barred from speaking French and have to speak Dutch. Go a further kilometer north and you're in Brussels where you have to speak French but in practice everyone spreaks English. And they manage this all without bothering to have a government. Almost as crazy as home where the old prime minister resigned to make way for a posh English chap who will doubtless steal our milk and make us pay a poll tax. Really I should have been in London tonight to visit Buckingham palace and put myself forward for the job of Prime Minister and had the chance to found the Pacifist Free Software Kingdom of Scotland (plus southern principalities), but I missed my chance all because I'm at the Ubuntu Developer Summit planning the next six months of Kubuntu.
We've had a guests from a couple of my favourite companies here for the first couple of days. Thiago and Jergen from Nokia's Qt dropped by to convert the world to ...read more...
16 | System & Utilities | http://www.kdedevelopers.org/node/4214 | 11578 |
Hello to all digikam and KDE fans!
My name is Gabriel Voicu, I am 20 years old and I come from Bucharest, Romania where I'm studying Computer Science and Engineering at University Politehnica of Bucharest. I enjoy programming, playing basket-ball and spending time with my girlfriend.
I was very happy when I saw that I was accepted to this year Google Summer of Code with the project "Reverse Geocoding and Improved Map Search" because I consider this feature very useful when talking about images geotagging.
16 | System & Utilities | http://www.digikam.org/drupal/node/515 | 11575 |
As requested on my earlier blog post here is a guide on how to install scripts in Amarok:
Written version:
Start Amarok
In the menu bar select the Tools menu and there the Script Manager entry
Click the Get More Scripts button towards the bottom of the dialog
Install some script
Quit Amarok
Start Amarok again
(some scripts you will have to activate in the script manager afterwards)
Have fun!
16 | System & Utilities | http://apachelog.wordpress.com/2010/05/11/how-to-install-a-script-for-amarok/ | 11574 |
No, we do not skip March, for Kexi it was just too silent month to blog about it alone
Here we go (based on identi.ca notes):
Follow-up on the SQLite the secure delete thing: Oh boy, the guys rock - they have implemented all my requests for 3.6.23. We're going to recommend this version at least.
Fixed visibility of form widget properties in the designer; that was really obscure bug
Kexi 2.2 beta 2 arrives in 2 days with KOffice 2.2 beta 2, please test! Yes because of quantum leap there's ...read more...


16 | System & Utilities | http://www.kdedevelopers.org/node/4213 | 11569 |
Today at the Maverick Ubuntu Developer Summit (USD) I gave a quick demonstration of a project I have been working on for the next Kubuntu version. It is a DBusMenu-based implementation of a global application menu. This is a feature which was in KDE 3.x but has not yet been ported to 4.x.
Here is a screenshot of Dolphin running with its menu embedded in a Plasma panel.
The nice thing about this implementation is that it takes advantage of DBusMenu: GTK+-based applications running on a KDE desktop will be able to get their menubars displayed in the Plasma panel. Same thing for KDE applications running on the GNOME desktop. My colleagues are busy finishing the GTK+ implementation right now.
The Plasma Menubar widget also features a "Button form factor". Enabling it turns the menubar into a "Menu" button, saving a lot of space in the panel. This makes it possible to pack both the Menubar ...read more...
16 | System & Utilities | http://agateau.wordpress.com/2010/05/10/getting-menus-out-of-application-windows/ | 11567 |
The full program for Akademy 2010 in Tampere, Finland July 3-11 2010 is now available.
The conference talks this year promise to be extremely excellent. We had over 90+ excellent submissions to select from. Unfortunately we only had 38 speaker slots to fill* and many excellent talks could not fit into the program. Many of these talk topics will be featured in BoFs later in the week.
Also remember to register and get your travel requests in as soon as possible.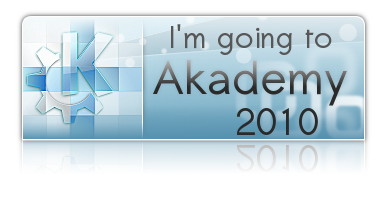 * By the way, this is less than 50% acceptance rate. In many ways this is good because it guarantees many high quality talks!
16 | System & Utilities | http://obso1337.org/2010/akademy-2010-conference-program-available/ | 11565 |
The Skrooge team announces release of Skrooge 0.7.1, bringing the usual load of bugfixes and new features. Please note that this version requires KDE SC 4.4.x minimum, since we are using the excellent work from John LAYT on currencies, available from 4.4.0.
Also, for packagers, there is no direct dependency to SQLite anymore... SQLite is still needed, but the dependency is satisfied by the standard Qt SQLite driver.
Features
Use standard KDE dialogs for password management
Applet for dashboard to display tip of the day
CSV import of splits and transfers
CSV import is able to oncatenate many attributes in "comment" or "payee"
CSV import can import unknown attributes as properties
Export XML
"Search & Process" is able to search, update, insert and delete properties
All currencies are now available in unit page
Open property picture associated to an object
Customisable date formats
Bugfix
bug 233895: Switching account from 1 type to another with multi-sel is modifying the initial balance
bug ...read more...


16 | System & Utilities | http://skrooge.org/node/77 | 11562 |
Robert Lange has announced the release of VectorLinux 6.0 KDE-Classic-Live edition, a live CD featuring the legacy KDE 3 desktop: The VectorLinux team is happy to announce the release of VectorLinux 6.0 KDE-Classic-Live. KDE 3 veterans will appreciate that this release retains the solid KDE 3.5.10. There are many updates compared to the original, ...
16 | System & Utilities | http://www.topix.com/tech/kde/2010/05/torrent-vl6-0-kde-classic-live?fromrss=1 | 11563 |
Don't know if you noticed, but our friends from the Haiku project released the second Alpha of their operating system.
Haiku is a FOSS operating system inspired by BeOS. It's not very useful as of yet, but it shows good progress. Haiku is also proof that C++ can work in the kernel.
Haiku (and BeOS) is noteworthy in a KDE context simply because pretty much all the Nepomuk tries to achieve BeOS already did 10 or more years ago.
Among other things, new features compared to include a WebKit browser, WLAN support, and internationalization support.
And now fire VirtualBox up and give Haiku a spin.
=-=-=-=-=
Powered by Blogilo
...read more...
16 | System & Utilities | http://kamikazow.wordpress.com/2010/05/10/the-haiku-operating-system-reaches-alpha2/ | 11561 |
Continuing from the saga I started some time ago, at least now I got to the point where it's rendered anti-aliased in full color:
Stay tuned, I'd clean-up and release the code soon-ish.
16 | System & Utilities | http://ariya.blogspot.com/2010/05/vittoria-tiger-in-color.html | 11559 |
I've just made a new version of Grantlee available for download. This release contains two minor fixes and one workaround for a bug (or feature?) in WebKit.
I noticed when running Grantlee unit tests against Qt4.7 that they were segfaulting on exit if they used scriptable tags. After a debugging session I'd narrowed it down to just creating a QScriptEngine in a plugin will cause a crash. Qt4.6 didn't show the same behavior, so I thought there would be no more for me to do.
Unfortunately the segfault was caused by the fact that JavaScriptCore in WebKit was not designed to be loaded (and unloaded) in a plugin. Interesting place for a Grantlee bug to end up, I thought. That meant that it would not be directly resolved in Qt4.7.
The workaround is to build in support for QtScript template libraries directly into the grantlee_core library instead of loading it in a plugin, which is the behavior as of this release. Hopefully that's ...read more...
16 | System & Utilities | http://steveire.wordpress.com/2010/05/09/grantlee-v0-1-1-now-available/ | 11558 |
Generating a Palapeli puzzle requires one to slice the image into jigsaw pieces. I had no clue how to write a good slicing algorithm for Palapeli. Several tries showed that I am not particularly good at this stuff. Because of that (and because I want more puzzles with obscure piece shapes), I made the puzzle generation extensible: You can write your own slicing plugins for Palapeli. (There's even a tutorial on Techbase, if you are interested.)
My evil plan worked out: Johannes L
16 | System & Utilities | http://majewsky.wordpress.com/2010/05/09/the-goldberg-slicer-for-palapeli/ | 11557 |
So it has been a few days since Part 2, where I promised I'd talk about some issues that go with using pointers in shared memory, initial cache setup, and my arbitrary methods I use to handle various scenarios.
Pointing to things in shared memory
First I'll talk about pointers. Essentially all you need to know about them is that a pointer holds a memory address, namely the address of the data you're really interested in.
Now, every process in modern operating systems has its own "address space", which defines where things are in memory. So, memory addresses in process 1 have no relation to addresses used in process 2, or any other process.
What this means for shared memory algorithms is that you cannot use normal pointers, since they rely on pointing to a specific spot in a process's address space. See below for an example:
Three KSharedDataCache-using processes are running, and let's say that kcalc was the first to create that cache, so ...read more...
16 | System & Utilities | http://www.purinchu.net/wp/2010/05/08/implementing-a-shared-cache-part-3/ | 11556 |
16 | System & Utilities | http://liveblue.wordpress.com/2010/05/08/chanis-birthday/ | 11555 |
We pleased to announce our new openSUSE Weekly News #122.
http://news.opensuse.org/2010/05/08/opensuse-weekly-news-122-is-out/
Content
* 1 Editors Note
* 2 Announcements
o 2.1 openSUSE 11.3 Milestone 6: The Dust Begins to Settle
o 2.2 openSUSE News: Updates Go Twitter
o 2.3 openSUSE News: openSUSE@LinuxTag 2010
* 3 Status Updates
o 3.1 Distribution
+ 3.1.1 Thomas Biege: SELinux and openSUSE 11.3 Milestone 6
+ 3.1.2 Bugzilla
* 4 Team Reports
o 4.1 Boosters Team
+ 4.1.1 What are the Boosters up to?
+ 4.1.2 Changes in Staff
o 4.2 Build Service Team
+ 4.2.1 Build Team Meeting
+ 4.2.2 OBS 1.7.4 …. your weekend present

+ 4.2.3 Build Service Statistics
o 4.3 Mono Team
+ 4.3.1 Miguel de Icaza: MonoDevelop's New Search Bar
o 4.4 openFATE Team
+ 4.4.1 Andreas Jaeger: Preparation for Mounting /var/run as tmpfs
+ 4.4.2 Clean temporary data in SUSE
+ 4.4.3 Rename chromium
+ 4.4.4 improve system administration from ...read more...
16 | System & Utilities | http://saigkill.wordpress.com/2010/05/08/opensuse-weekly-news-issue-122-is-out/ | 11554 |
Well, coding officially starts on May 24, now is time supposed to read documentation, know your mentor(s) and discuss the project ideas, needs, requirements, difficulties, etc. but as many other GSoCers I couldn't resist to code something.
My goal for the last week was to write a very simple Qt application showing the power of Grantlee. The idea was to simulate that I am reading a message in Kmail and I want to change the theme again and again.
You can take a look at the code in the soc-pim branch or:
svn co svn://anonsvn.kde.org/home/kde/branches/work/soc-pim/kdepim/examples/mail_grantlee/
Of course, you need to install Grantlee, before compiling the example:
git clone git://gitorious.org/grantlee/grantlee.git
cd grantlee
git checkout -b 0.1 origin/0.1
mkdir build && cd build
cmake ..
make && make install
Here some Kmail themes. I'm not an artist, so don't expect too much, but I know some CSS and started creating the themes just for the example.
16 | System & Utilities | http://ronnyml.wordpress.com/2010/05/08/first-steps-with-grantlee-and-my-kde-pim-gsoc-project/ | 11552 |
Tomorrow (or rather today) the Giro d'Italia starts. In Amsterdam. No, Amsterdam has not moved to Italia, but The Giro just starts in The Netherlands for a couple of stages and moves to Italia after a few days.
On Sunday the stage goes from Amsterdam to Utrecht, but not in a straight line. The route also goes through a place called Houten. That's where I lived for like 18 years and passes through a very small village called Schalkwijk, which is like 6km from where I live currently, and ends in Utrecht, where I lived for 4 years.
Coworkers and friends are all very excited and curious about this big event. Highways will be closed, city's locked down and new park+ride places are discovered. There is even free (as in coins) parking in Utrecht. Everyone is planning to go and see them, and tries to think of options to see the group multiple times. Although the bikers are probably gone in two seconds, it is not like the Giro ends up in NL every year.
Of course ...read more...
16 | System & Utilities | http://www.omat.nl/2010/05/08/giro-starts-in-the-netherlands/ | 11551 |
NimbleX is a small but versatile operating system that is able to boot from a small 8cm CD, USB, or from the network.
16 | System & Utilities | http://www.topix.com/tech/kde/2010/05/nimblex-2010-beta?fromrss=1 | 11549 |
Hi, just a heads up that Akademy-es 2010 talks will be streamed, you can get the info at http://kde-espana.es/akademy-es2010/doku.php?id=streaming. Yes, we know not a very Free Software friendly format, but that's what you get when you reuse the University hardware. The talks will also be recorded and published somewhere somewhen.
16 | System & Utilities | http://tsdgeos.blogspot.com/2010/05/akakemy-es-2010-talks-streaming.html | 11544 |
It might be because I completed the port of KIconLoader to use the KSharedDataCache class I recently introduced.
Everything should be fine if it's not broken yet though, as Plasma was ported over a few days ago.
The cache files are stored under $(kde4-config –path cache)/*.kcache (Normally this is /var/tmp/kdecache-$USER/*.kcache). You shouldn't need the old plasma_theme*.index or plasma_theme*.data files anymore, and you can delete those if you'd like.
I'm not done with the series I had going on making KSharedDataCache, I just haven't had a lot of time recently. There's 1 or 2 more parts I'd like to add, stay tuned…
16 | System & Utilities | http://www.purinchu.net/wp/2010/05/06/if-trunk-is-broken-for-you/ | 11541 |
I thought this might be interesting for some folks in the KDE world -- for work stuff we needed a fast implementation of Ruby's ActiveResource, so I wrote a Qt / C++ ActiveResource consumer.
16 | System & Utilities | http://www.topix.com/tech/kde/2010/05/qactiveresource?fromrss=1 | 11542 |
[[ OSOL-only entry here, with interest for KDE only from the perspective of "it's a package server that will be serving up the KDE packages for OSOL". ]] There's some bits and pieces involved in setting up an OSOL appliance to be actually useful for serving up packages, so I thought I would document them here.
Adding a user and configuring ssh access: The adduser command in OSOL is a little arcane compared to the interactive versions available on FreeBSD and GNU/Linux, so may as well: useradd -s `which bash` -m username and remember to set up ssh access for that user. This user is also going to have the pkg repository available.
Making sure that the user can ssh login: On my OSOL appliance, /dev/ptmx is missing (which is a known problem, see this forum thread with the always-helpful Alan Coopersmith on it), so I followed the instructions there.
Setting up static IP: The appliance is configured to use DHCP from the local network. For my later use I need a static IP, so I picked 10.0.0.26 and ...read more...
16 | System & Utilities | http://blogs.fsfe.org/adridg/?p=849 | 11539 |
At the risk of starting another yet-will-be-unmaintained project, sometime ago I decided to continue learning about graphics stuff in my spare time. I will not announce it of course until its code is better for public consumption. However, I really can't contain my excitement when it reaches an important milestone:
This sounds like childish, but as a graphics n00b, the above screenshot means a lot to me.
Stay tuned!
16 | System & Utilities | http://ariya.blogspot.com/2010/05/vector-graphics-tiger-in-wireframe.html | 11537 |
For
SUSE Studio
we are looking into adding nice permalinks to appliances. This turns out to be an amazingly difficult problem. The implementation is not too hard, but getting the scheme of the links right poses quite some interesting challenges.
So what do I actually mean by permalink? A permalink is a nice and convenient way to point to objects on a web site from outside of the web site itself. In our case this would be links which point to appliances on SUSE Studio. To make this nice and convenient the link needs to have a couple of attributes:
Permanent. The link should not change or depend on the state of the site or attributes of the user session. If you publish the link on another web site, e.g. in your blog, it should not break after a while or for other users.
Pretty. As the permalink is meant to be suitable for publication, it should have a pretty format, so that you can integrate it into text without completely destroying formatting and flow.
Expressive. When you see ...read more...


16 | System & Utilities | http://blog.cornelius-schumacher.de/2010/05/quest-for-perfect-permalink.html | 11532 |
A little more than two weeks ago we released Kraft version 0.40, the first version of Kraft based on KDE 4 software platform. The release went fine as far as I can tell, no terrible bugs were reported yet. Some work went into the new website since then, but in general I need a few weeks break from Kraft and spend my evenings outside enjoying spring time.
Today, Sourceforge posted a blog about Kraft after they kind of mail-interviewed me. It's nice, it really focuses on the things also important to me. This might be another step towards a broader user base for Kraft. I say that because one could have the impression that the number of people actually really using Kraft could be larger. A high number of users is one of the fundamental criteria for a successful free software project and thus I am constantly trying to understand whats the reason for the impression ...read more...
16 | System & Utilities | http://lizards.opensuse.org/2010/05/06/a-blog-on-sourceforge/ | 11530 |
Akademy-es 2010 coordinator interviews me about Okular. Read it in spanish at his blog.
16 | System & Utilities | http://tsdgeos.blogspot.com/2010/05/interviewed-about-okullar.html | 11525 |
Ссылки