Ссылки
After a long development cycle focused almost exclusively on KMid, it's time to give some love to other projects. I've been working lately on KMetronome, a MIDI metronome for KDE and ALSA. It is the oldest project of my little family.

The only issue in KMetronome's tracker is this one year old request, which has suggested the title of this post. The "Weird Metronome" is a popular simple MIDI metronome for Windows, which is the origin of "Open Metronome".

The major advantage of Weird / Open Metronome is the definition of rhythm patterns. The drawback is that it only works on Windows. It may be a good idea to make a Linux port. His definition of patterns is very simple and elegant, if somewhat limited. It has two branches: one producing MIDI events, and the other producing digital audio.

Although I can't rule out porting Open Metronome to Linux in the ...read more...
16 | System & Utilities | http://midi-clorianos.blogspot.com/2010/05/weird-kmetronome.html | 11685 |
"The talk of the town is that the next version of Kubuntu will have a new default browser, replacing Konqueror, the longtime KDE favorite.
16 | System & Utilities | http://www.topix.com/tech/kde/2010/05/rekonq-a-quick-glance-at-kubuntu-next-default-browser-2?fromrss=1 | 11683 |
Not really… It is actually 7 months of "kdelibs/plasma" (or libplasma) repository activity in 15 minutes (but that would not sound really as attractive as a post title).
Today a fellow co-worker showed to me a really nice application: gource (like 'source' but with 'g' letter, maybe for 'graphics') written by Andrew Caudwell. This application offers some really nifty source code control visualization and supports git/mercurial and other source code control systems using some hacks.
Since internet speed (not even talking about latency…) in Manaus/Amazonas is lacking to say the least, I decided to use git-svn to checkout a specific revision of kdelibs/plasma directory and later I did a rebase to update the code with the trunk.
So, for your amusement, enjoy.
I have some hints about this visualization:
in the first seconds there is an explosion of files (because I didn't checkout the code from the very first commit in svn, is like the touched files warped inside of logs)
the code seems to be rather modular (there are a well defined set ...read more...


16 | System & Utilities | http://savago.wordpress.com/2010/05/21/6-months-of-plasma-in-10-minutes/ | 11682 |
It started quite ok, I had a bug in my job that I had to fix just before going to the airport, didn't fixed… I just got no time for losing the flight. took a bus and met
Helio with his brother near the bus station, then we moved torwards the airport with tears in our eyes walking our way to S
16 | System & Utilities | http://liveblue.wordpress.com/2010/05/21/randa-day-1/ | 11680 |
Hi guys.

I don't usually like to cry, or vine (or do I? :P ) but this is special... I got myself into some tough times financially (no, I'm not asking for money :P )
...Bah!!, I never asked for help, so it's kind of awkward...
So, anyhow, if you know of anyone who needs an artist for in-game content, web design, GUI design, fliers, posters, or any other kind of graphic design - please mention me. Preeety please?
And here I put together a small portfolio at http://it-s.deviantart.com/ so you can show them what I can do (and actually see for yourself too :) )

Sorry for littering the planet...
16 | System & Utilities | http://my.opera.com/it-s/blog/show.dml/11590922 | 11679 |
Lokalize, the KDE translation tool, saw an evolutional development during 4.4-4.5 period. Most of the changes are bug fixes. I'd like to say 'thanks' to Papp Laszlo, Hungarian translator and Chakra developer (among other things), for doing a lot of work in this regard.

As for the features, the most essential changes are:
* filestats is cached on a disk now, so the initial project scan is alot faster now.
* translation memories are improved in terms of target language: now Lokalize should be more suitable for separate projects (when .po files for all languages are in the same folder)
* simple project creation is back
* glossary storage is rewritten to use QDom classes (should eliminate any previous related crashes).
16 | System & Utilities | http://shaforostoff.blogspot.com/2010/05/lokalize-in-kde-sc-45.html | 11677 |
Do you like HowtoForge? Please consider supporting us by becoming a subscriber .
16 | System & Utilities | http://www.topix.com/tech/kde/2010/05/the-perfect-desktop-kubuntu-10-04?fromrss=1 | 11678 |
Inspired by Aaron's post I added "solid interface" to the list of features I want to implement until KDE 4.3 in KGpg.
While I had some spare time before the theoretical driving lessons started (my fire department decided to pay my truck driving license) I started digging into this. Well, add a few minutes while the teacher fought with the screensaver of the beamer and the like and I had at least the "key server" action properly disabled at the end. Back home I couldn't wait to plug the cord in and out to see if everything worked properly. To my own surprise I did everything right and it simply worked. Some small cleanups later I added three more places that needed to know about the online status and I was done.
I was absolutely surprised about how easy that was. Copy the right library from the tutorial4 CMakeLists.txt to link to, add one header, some slots, done. Wow. I'm really impressed.
16 | System & Utilities | http://der-dakon.net/blog/KDE/awesome-solid.html | 11675 |
Long time, no post...
So, this probably is the first post *from* the multimedia sprint, after an interesting internet setup which a fire alarm was a crucial component
As usual, lost airplane connections could not be missing in my journey, this time relaxed for the company of two brazilian coleagues, Tomaz e Alexandre. In the end, we passed by two Portugal cities before arrive in Gen
16 | System & Utilities | http://www.kdedevelopers.org/node/4221 | 11672 |
This started as a comment on Ade's blog post about Hugin, but I don't think comments should be bigger than the original blog post, so I've moved it here instead
Ade makes some interesting points about the GPL, particularly the opportunity to exclude certain jurisdictions where the use of the software would infringe a patent. He also raises the question of whether distribution of source code – as opposed to binaries – can be counted as infringement and reflects on the trend to explicitly claim for a medium containing code that would cause the invention to be 'realised' on a computer.
Background
If you'd like an elegant and (generally) very well argued primer and history of what can be patented in UK law see this judgement (from 2006, things have changed a bit since then). The judge in that case, Peter Prescott, was actually only standing in and therefore shouldn't really have rocked the boat by going back to basics as he did and tearing up ...read more...
16 | System & Utilities | http://www.asinen.org/2010/05/patents-and-amarok/ | 11668 |
wow, whta has it been… two weeks since I blogged? two and a half…
life's been busy. the end of that conference was fun, but it kinda burnt me out; I still plan to blog about the rest of it eventaually. since then, it's been a mix of important RL stuff (yes, there do exist things more important than kde), racing to beat the feature freeze, and then racing to fix bugs in those features before the first beta is tagged. oh yeah, and there was a birthday in there somewhere too ;)
I've found some good restaurants in my area… enjoyed the sunshine.. watched crazy wind-storms outside my window… gotten horribly drunk.. had a great time without any alcohol… and other things.
and then there's the code – feature freeze has a way of showign up at times that are reallly damn inconvenient to me personally, so I did something I really hate doing – committed code I knew was buggy and not very well-written, to meet the deadline. since then I've been fixing those bugs and cleaning up ...read more...
16 | System & Utilities | http://chani.wordpress.com/2010/05/20/still-alive/ | 11665 |
I finally got around to tarballing libattica 0.1.4 (ftp://ftp.kde.org/pub/kde/stable/attica/). This is what is required for KDE 4.5 and only contains some small additions and cleanup (now the providers advertise which parts of the api they support).
Now I'm off, because:
16 | System & Utilities | http://blogs.fsfe.org/gladhorn/2010/05/20/attica-014/ | 11663 |
Hello everyone!
In this post I would like to make a quick introduction to my latest project, practical part of my bachelor thesis (which is luckily over by now). Name of the project is Geoweb and its main part is dataengine for KDE Plasma. It comes with few applets, which makes it usefulness little better :). Project started as part of KDE Silk, which is project trying to integrate online web services into Plasma. Geoweb is kind of that application. It is using your position to find places near you. For now it shows food and drink places, but I am almost sure, that later it gets little more informative.



The thing I really like about this application is that you can set your location manually. It sounds weird, I know, why should I do that, there is a geolocation dataengine in KDE, so use it. Right, I am, it is the default ...read more...
16 | System & Utilities | http://acetonik.blogspot.com/2010/05/geoweb.html | 11662 |
Many have already seen this annoying bug in Krita canvas update system. It was seen when you painted with big and complex brushes like Hairy Brush on a multilayer image. Now I'm glad to announce that the patch is produced! And it will be in trunk soon!The bug was caused by a race condition between Image and UI threads. The latter one tried to read the data from the merged projection while the
16 | System & Utilities | http://dimula73.blogspot.com/2010/05/krita-canvas-will-not-flicker-anymore.html | 11660 |
So now that the GSoC community bonding period (the official one, I mean
) is coming to a close, I guess that a small report of my work so far is warranted.
To those who do not know: As part of my GSoC work, I'm committing to libface , an open-source face recognition library made by me and my mentor Alex Jironkin. libface shall be used for the upcoming Face Detection and Recognition support in digiKam.
I finally got around to committing a proper Eigenfaces implementation in libface. To the uninitiated, Eigenfaces is a subspace method for face recognition, that uses PCA for dimensionality reduction in the training set. You can learn more here.
Face detection is done using stock haar cascades that come bundled with OpenCV. An analysis of speed – if you have a pretty slow (1.6 GHz) computer and have set the accuracy to what shall be called 100% in libface (no, it will never be 100% in practice
...read more...
16 | System & Utilities | http://adityabhatt.wordpress.com/2010/05/19/yet-another-gsoc-update-libface-gets-face-recognition/ | 11653 |
Since there were quite some changes in the Network Management machinery in KDE Plasma over the last days, I thought I'd sum them up here, as to update the brave that already use the as of now unreleased Plasmoid.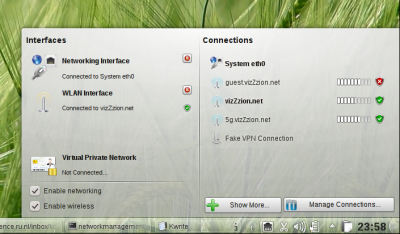 Plugin name changed – We've changed the name of the networkmanagement plasmoid plugin to from "networkmanagement" to "org.kde.networkmanagement" in order to avoid possible future naming conflicts. This means that you might need to re-add the NM widget to your notification area (do that using the config dialog and checking the Network Management plasmoid)
SVN switched from KNM to the Plasma Widget – I've just committed a set of changes that enable the NM Plasma widget by default, this means no more pesky manual loading of the kded service module. It also means that the autostart file for knetworkmanager is not installed anymore, since we're using the Plasmoid now. If you're compiling from SVN trunk, you can use cmake -DINSTALL_KNM_AUTOSTART=ON to get it back. Make sure you prevent the kded module from autoloading (or just ...read more...


16 | System & Utilities | http://vizZzion.org/blog/2010/05/more-plasma-network-management-updates/ | 11649 |
I've spent more than 10 hours in total changing the build system of Trojit


16 | System & Utilities | http://jkt.flaska.net/blog/QMake_Static_Libraries__Unit_Tests_and_Much_Headache__or_the_Tale_of_How_Trojita_Changed_the_Build_System_from_CMake_to_QMake.html | 11647 |
Well, it took ages, but the EBN and the different VMs it hosts are back. Add "sysadmin" to the list of occupations I probably shouldn't attempt without (1) more training (2) a stricter schedule. The NLUUG spring conference on systems administration was quite educational — and fun, too, chatting with various companies and learning about NanoBSD and ZFS — but it didn't give me any magical beans to fix what ailed the EBN.
So what was the problem? Well, the whole thing started (yay, placing the blame!) with Bertjan, who wanted a newer Qt version on the EBN for his software quality checking tools. The EBN ran 6.2-R, and the necessary Qt versions and stuff are not supported on that OS anymore. While the EOL for FreeBSD 6 is still six months away, the ports maintainers don't necessarily want to support that. So we needed to update the OS to something newer.
There's tools to do that now, but I've never used them, and anyway I don't think they support FreeBSD 6. So that means lots ...read more...
16 | System & Utilities | http://blogs.fsfe.org/adridg/?p=866 | 11644 |



Due to the weather and the layout of the hotel grounds at the Ubuntu Developer Summit for 10.10.10 (Maverick Meercat) it was impossible to take the group photo outside and from above (which I prefer). The next best place was the auditorium in which the daily plenary's took place. Unfortunately the room is quite wide and my 24mm objective didn't fit the bill (it was quite dark as well).


I decided to try creating multiple photos and stitch them together....note that the last time I made a stitched image was 13 years ago. I went into this assuming that there would be some Gimp plugin that would take of it, albeit with a lot of post-processing on my part.





I took the photos quite quickly, which turned out to be a mistake. The lights in the room were quite low and my autofocus didn't always do so well. Luckily I made several passes so I had enough

...read more...


16 | System & Utilities | http://kwwii.blogspot.com/2010/05/ubuntu-maverick-uds-group-photo-made.html | 11637 |
On Thursday developers from the KDE-Edu project and from various multimedia parts will go to Randa in the Swiss Alps. Mario Fux organized the sprint and I rather like the idea of not having to move around for food, for hotel,... Everything will be at the same beautiful location. You can see on the webcam (click the top picture) that it's even sunny (which is better than in Toulouse!). The house offers lots of facilities that's why this is a combined event. Thanks a lot to Mario for organizing it, helped by Myriam and Mark. We'll be 12 Edu people + 2 people from Vox Humanitatis who are using several KDE-Edu programs for less resourced languages. This is a great opportunity to meet with Sabine and B
16 | System & Utilities | http://annma.blogspot.com/2010/05/kde-edu-2nd-sprint-with-multimedia.html | 11635 |
It took some wrestling, but the EBN machine is back up, with some of the VMs up and running FreeBSD 8-STABLE. I'm still repairing the EBN itself, since that has many many more packages installed that need recompiling than the other VMs. There's also Java to deal with — it may have become superfluous on the machine, but I need to sort that out or build by hand again (due to license restrictions, you still need to fetch Java distribution sources manually).
In any case, with the server up and running again the KDE4-OpenSolaris folks could push their updates to our Mercurial Repository with specfiles (and patches) for the KDE SC 4.4 series, including dependencies. As always, this is intended to build all of the KDE packages on a recent OpenSolaris (I use 130, others use 134, and I would recommend against anything pre-124). Mark and Ben also work on supporting Solaris 10 (the stable, enterprise OS release) so you can probably build the whole thing on there as well. Both SPARC and amd64 are supported, ...read more...
16 | System & Utilities | http://blogs.fsfe.org/adridg/?p=863 | 11632 |
Google Summer of Code doesn't kick off for a few more days, but that hasn't stopped Siddharth Sharma and I from working on the KPart which our summer of code projects are based around, and any other KDE application can take advantage of.
zomg, it's allliiiiiive
As you can see, I'm still using stock, and sometimes hackish (KTodoList, I'm looking at you!) applets, but those will all be rewritten in due time with actual Kontact applets. These are there to just take up space.
As it is right now, there is no real API for applications to control what applets get placed in the containment by default. You can specify a default layout in a plasma-$app-appletsrc style file which will be loaded by default if no other config is found. However, we're going to be taking this one or two ways:
ECMAscript!
Or as it is more widely known, javascript, is supported in plasma-desktop, allowing you ...read more...
16 | System & Utilities | http://hackersramblings.wordpress.com/2010/05/17/progress-in-gsoc-plasmaland/ | 11630 |
Sorrry for my last post, i didn't know that my blog was on planet KDE.
First i think i must introduce myself. My name is Vavelin K
16 | System & Utilities | http://www.kusa.fr/?p=36 | 11627 |
In case anyone is missing their favourite wallpapers from Ubuntu 9.10 (Karmic Koala) in 10.4 (Lucid Lynx) there is good news!




The ubuntu-wallpapers-extra package is installable from the universe repository. In order to install it from the Software Center, make sure your software sources have the "Community-maintained Open source software (universe)" enabled and then install "ubuntu-wallpapers-extra".
16 | System & Utilities | http://kwwii.blogspot.com/2010/04/ubuntu-wallpapers.html | 11624 |
Toorox is a Linux live-DVD based on Gentoo that starts as a bootable media using KNOPPIX technology.
16 | System & Utilities | http://www.topix.com/tech/kde/2010/05/toorox-05-2010?fromrss=1 | 11625 |
We've all written our own small toolkits, and the like in the past, and today I revisited my glory days: I made a button.

Actually, it was a bit more involved.

Some of you might have heard of a nifty thing called a QGraphicsScene (and friends), a fairly useful tool to allow for complex rendering/manipulating of 2D objects, animations, all the rest of the bling. It's been used for a lot of things over time, and recently I've been getting to know it in my copious "free time" over this weekend.


I decided to see how difficult it would be to create my own button inside a QGraphicsScene (yes, I know QGraphicsProxyWidget exists, but it is fairly slow, so using it isn't the best for many situations), so while I was at it, I decided to make it ...read more...
16 | System & Utilities | http://blog.rburchell.com/2010/05/using-platform-rendering-for-widgets-in.html | 11622 |
Terminator is a cross-platform terminal emulator with advanced features not yet found elsewhere.
16 | System & Utilities | http://www.topix.com/tech/kde/2010/05/terminator-rev-1612-2?fromrss=1 | 11623 |
As you most likely have already read on various other blogs we had one of our Akonadi sprints for the past couple of days.
Most of the time I've been working on Akonadi support for a KMail mail store, basically a local directory where mails are stored in a combination of nested Maildir directories and MBox files.
We already had support for Maildir and MBox in respective resources, but this "mixed mode", interleaved with highly KMail specific index files, made it necessary to either have some way of importing all this data and metadata or to use it directly similar to KMail.
Conceptionally my preference would have been an import process, but of course factors like requiring (at least temporarily) close to twice the storage space, make the direct usage more viable for the upcoming releases.
So after a couple of days of feverish hacking, we've now got a "Mixed Maildir" resource, capable of operating on a local folder tree created by KMail, ...read more...
16 | System & Utilities | http://www.kdedevelopers.org/node/4218 | 11621 |
Hi there!
Three months has passed and there Dimpress 3D got his first cute face! We've developed a plugin structure and a plugin that describes a model for 3D presentations called Sliding Panels. The user interface needs a lot of improvements and we are working on that.In the next weeks we'll present our solution in the college. After that we are free for free it. =)
Below is a picture that describes the process of using Dimpress 3D.
1 – Selection for presentation model.
2 – Definition of presentation content.
3 – Presentation Generation!
4 – Showing Presentation!
This picture is the interface provided by Sliding Panels:
I know that a video is much better, but there are few bugs we want to fix up. Then, we'll post a video. =)
See you soon.
...read more...
16 | System & Utilities | http://liveblue.wordpress.com/2010/05/16/dimpress-3d-sliding-panels-first-results/ | 11620 |
Ссылки