Ссылки
In case anyone is missing their favourite wallpapers from Ubuntu 9.10 (Karmic Koala) in 10.4 (Lucid Lynx) there is good news!




The ubuntu-wallpapers-extra package is installable from the universe repository. In order to install it from the Software Center, make sure your software sources have the "Community-maintained Open source software (universe)" enabled and then install "ubuntu-wallpapers-extra".
Toorox is a Linux live-DVD based on Gentoo that starts as a bootable media using KNOPPIX technology.
We've all written our own small toolkits, and the like in the past, and today I revisited my glory days: I made a button.

Actually, it was a bit more involved.

Some of you might have heard of a nifty thing called a QGraphicsScene (and friends), a fairly useful tool to allow for complex rendering/manipulating of 2D objects, animations, all the rest of the bling. It's been used for a lot of things over time, and recently I've been getting to know it in my copious "free time" over this weekend.


I decided to see how difficult it would be to create my own button inside a QGraphicsScene (yes, I know QGraphicsProxyWidget exists, but it is fairly slow, so using it isn't the best for many situations), so while I was at it, I decided to make it blend in with the rest of the ...read more...
Terminator is a cross-platform terminal emulator with advanced features not yet found elsewhere.
As you most likely have already read on various other blogs we had one of our Akonadi sprints for the past couple of days.
Most of the time I've been working on Akonadi support for a KMail mail store, basically a local directory where mails are stored in a combination of nested Maildir directories and MBox files.
We already had support for Maildir and MBox in respective resources, but this "mixed mode", interleaved with highly KMail specific index files, made it necessary to either have some way of importing all this data and metadata or to use it directly similar to KMail.
Conceptionally my preference would have been an import process, but of course factors like requiring (at least temporarily) close to twice the storage space, make the direct usage more viable for the upcoming releases.
So after a couple of days of feverish hacking, we've now got a "Mixed Maildir" resource, capable of operating on a local folder tree created by KMail, including read-only support for ...read more...
Hi there!
Three months has passed and there Dimpress 3D got his first cute face! We've developed a plugin structure and a plugin that describes a model for 3D presentations called Sliding Panels. The user interface needs a lot of improvements and we are working on that.In the next weeks we'll present our solution in the college. After that we are free for free it. =)
Below is a picture that describes the process of using Dimpress 3D.
1 – Selection for presentation model.
2 – Definition of presentation content.
3 – Presentation Generation!
4 – Showing Presentation!
This picture is the interface provided by Sliding Panels:
I know that a video is much better, but there are few bugs we want to fix up. Then, we'll post a video. =)
See you soon.
...read more...
With the beta release of Qt 4.7 it is quite easy to try out its new features. Qt Quick is the major highlight, allowing to write user interfaces in QML, the Qt Meta-Object language. Fortunately, the name Quick is not one of those marketing-driven buzzwords. Instead, working with QML is just that, quick -- even for the JavaScript illiterate I am.
To get my hands dirty with some non-artificial examples, I wrote a small QtDeclarative plugin for Marble. It exposes MarbleWidget -- designed to be re-used in other applications -- to QML. The first thing I tried was a little game, resembling a game popular in a German TV show.
That went pretty well, but doesn't make too much use of Marble's features yet. Moving on to imitate the user interface of a popular search engine:
I was quite surprised to see how well ...read more...
Five web browsers you may not have even heard of... Konqueror is a browser as well as a file browser.
Day 2 ended with a little bit of pleasure. It all started when Matthew was trying to input some text to his laptop in a way where he treated his laptop more like an old fashioned typewriter. Making a lot of noise and finally banging his fists on the table out of frustration. Thomas then asked on a very interested and calm tone 'So, did it work out?'. After that we used the beamer to look at all the Knut Yrvin YouTube movies and of course we replayed the Qt4 dance while we were there. We decided that it was not as much fun as going to the karaoke bar with Aaron, but it came pretty close :)
After the couple hours sleep ('Is this good for productivity in any way?), we started the last bit of the API review. We reviewed the akonadi changes between the KDE SC 4.4 release and current trunk, renamed method names, watched for const's and made sure we did not do any binary incompatible changes.
After lunch, we had a small talk about deprecating ...read more...
Just like Rich's trick with QNetworkAccessManager, I have done something similar which I call tracenet (around 150 lines of code). Though I have committed this example to X2 some time ago, only now I have the chance to blog about it.
The idea is to subclass QNetworkAccessManager and reimplement its createRequest method so that we can keep track all the network responses and replies. This is useful for your network-based application, or even for e.g. QtWebKit. As a matter of fact, the tracenet example captures the network traffic as you load a URL into a web page.
Now, the next step is how to visualize the result. While it's certainly possible to craft a Qt-based fancy GUI for this (maybe using Qt Quick?), let's think outside the box. Unless you live in a cave, I am sure you are aware that there is this nice tool called Speed Tracer, part of GWT, an extension for Google Chrome or Chromium. For this purpose, ...read more...
It looks like comments sometimes decide not to work here (or, to be more accurate, sometimes they decide to work).
Please notify me on IRC (or mail) when that happens… cheerio
Edit: AKISMET sucks!!!!

Preamble: I have no intention to start a dispute related to the new applet browser in Plasma. Some people like it, some don't, some prefer the old one, some want something completely different…
As you don't already know
, Marco did some great work which I'm not gonna talk about – he said he'll make a screencast of it eventually. So I'll just mention a side-effect of that.
KRunner (and Lancelot, naturally) as widget explorers
From KDE SC 4.5, you'll be able to fire up KRunner or Lancelot, search for some plasma widget and drag it to the desktop.
Well, that's all
Day 2 started early, especially because I could not get to sleep. I always have that when I'm hacking late at night, my mind goes in super active mode, and that needs some time to return to relax mode. Anyhow, we started with the Nokia guys, discussing how we can incorporate their BIC changes to KCal manageable. Basically they now have ended up with a fork of KCal, and they insisted in solving that, and of course we want that too. Basically we came up with a proposal where the KCal Core will be shared by both and there will be a special part that fits the special needs of Nokia/Meego, which will be maintained by them. That's the part which 'we' don't need basically. Fair proposal I think. I was pleasantly surprised by their willingness to work with us and making sure the fork will not remain in the longer future.
After lunch we started fixing bugs.For the first time in a while we managed to sync with my imap server. It is so stupid how tiny little things ...read more...
Hi all,

This is my first post on planetkde. For those who do not know me, I live in Brazil (Minas Gerais state), I am also member of KDE-MG and use KDE since 1997. Although I have been using KDE (now KDE SC) for so long it was only last year I started to contribute more to KDE SC bug fixing and source code.

Last month, during Akademy-br, I started to work on implementing some features in knetworkmanager (knm). I use 3G Internet on traveling and miss some things, such as signal quality indicator (3G here in Brazil can be very unstable), statistics about speed, round-trip time (ping), and a way to force knm to use only HSDPA. Of course those things must be implemented in NetworkManager, or more recently in ModemManager, so that knm can make use of them. Some of those features are already implemented in ModemManager but to use them in knm solid, our hardware independent layer, must support them too.

I have implemented the first part of ModemManager support in ...read more...
The meeting
We are at the Akonadi meeting at the KDAB offices in Berlin right now, which was quite nice so far. We had the first round of API review of new methods in KDEPIMLIBS for 4.5, and already cleaned up quite a bit. Having multiple eyes look at the API is a nice way to improve the overall quality of the API. We met with Andrey Moiseenko and Alvaro Manera of Nokia, who work on calendaring for the next Meego phone from Nokia. They use our KCal library, which they have forked/extended for some special requirements they have. We're now making plans with them to integrate their changes back to our version of KCal, so that both sides will profit from changes and have a single point of maintenance.
The release
Many of you are interested in the state of KMail 2, which is the port of KMail to the Akonadi PIM framework. We haven't communicated much about that lately, ...read more...
Konsole is the app that probably almost every KDE developer uses on a daily basis, but there hasn't been much development on the user interface front during the last releases.
Well its been a pretty crazy week at UDS, with so many sessions to go to and people to have meetings with. Ive been feeling very enthusiastic about a few things that have happened, namely my work with the Ubuntu IRC Council, Ubuntu Bots and of course my beloved Kubuntu.
-
We had a great session about the ubuntu bots today, including talking a bit about the future, and how to rewrite some of the plugins, as well as moving mootbot to be a supybot plugin. It went really well and I'm feeling very positive about th future of Ubuntu bots.
-
Special thanks go to Alan Bell, Gord Allot, James Tatum and of course our ever presents tsimpson and m4v.
-
The Ubuntu IRC Council has been getting some positive feedback recently, which is really encouraging. Thank you to everyone for that. However, I cannot just accept all that positiveness and thank you's, the team has put so much in, done so much work that it continues to amaze me. I want to just acknowledge the ...read more...
No, this is not related to *buntu. But this is looong... and now I've got your attention. :-)


Interacting with Web Services usually implies reading some WSDL (Web Services Description Language) document. Unfortunately, WSDL documents are written in XML and can be pretty complicated, leaving the user with no other choice than to use some graphical development tool in order to understand them.

Lately at italianaSoftware we had to handle a lot of Web Services stuff, equipped with long WSDL documents and complex data types. Jolie already had support for the SOAP protocol, but one had to code the interface and data types of the Web Service to invoke by hand. So we started a new project aiming to enable Jolie for the automatic usage of WSDL documents, mainly composed by two parts: a tool and an improvement to the Jolie SOAP protocol. Of course both things are open source and available in the trunk branch in the Jolie svn repository!

wsdl2jolie (whose executable is now installed by default if ...read more...
Today (well, yesterday now), I'm traveling to Berlin again. I've now been there a dozen times or so and I'm getting the hang of traveling to it. I had a little argument with a passenger about who should sit where. Not that I care much were I sit, ah well, I actually did care, my reserved seat was next to the window and hat a power socket, so you definitely want to claim it. Sorry dude.
In Berlin there is the Akonadi meeting again. We do it twice a year and that seems to be a good interval. Just before each freeze (well, in this case, slightly after). Ah freeze, that reminds me of a) the temperature inside this cabin and b) the silence which arrived after the small argument… Back to topic. I've not hacked much the last couple of months, work work gets in the way sometimes. The spare time I had, I spent mostly on sysadmin tasks, of which Eike Hein is now doing most.
The Akonadi team has a few problems, or challenges if you like. ...read more...
We're now into the complete-and-stabilize phase of the 4.5 development cycle, so things are settling in a bit more and blogging about some of the features becomes easier. I'm writing an article for publication on TheDot about the new activities features that we're working on, but I also wanted to say something about another feature set that's not quite so user-visible: using Javascript for animations.

A set of animations is provided in the Plasma library which build on top of the Qt Kinetic animation system. Qt Kinetic is really a fairly "low-level" set of classes for defining animation timelines and having them push and pull various values around on a curve. To avoid a lot of duplication of implementation for things like "an animation that fades an item on the canvas out" as well as to provide some more semantics based options such as "make something appear", libplasma provides a way to access such animations as well as some additional curves via the Animator class. In previous releases, prior to Qt Kinetic, Animator was the animation engine. Now it's ...read more...
<p>I'm really late with Last Week in Krita, am I not? Yes, I am... There are a couple of reasons, most of them concerned with plain business. Last week I was in Bangalore, <a href="http://www.valdyas.org/fading/index.cgi/urlaub/bangalore_1.html">helping students find their way through the KOffice source code</a>. The week before, I was in Helsinki, trying to figure out which bugs in KOffice should have priority together with Tasos and Lassi from the Nokia mobile office team. The week before that, I was in Magdeburg, for a KO GmbH Board meeting. And in the meantime, a release candidate happened, which is always a reason for a slowdown of development, <i>and</i> we were busy with the Google Summer of Code preparations.

<p>Still, let's get updated on the state of Krita! Since the last instalment, we've had a mere 50 or so commits. And we're at 59 bugs. Well, Luk
Hi!
So after last Akademy-es (which was great BTW o/) I realised that I have to find a new laptop since the current is basically broken in many ways.
I'm writing this blog post for 2 reasons, as a reivindication and as a call for help.
The Reivindication: I'm sure I'm not the first one who finds himself in that ugly position where you're a Free Software hacker and have to pay you want or not for a Win7 license. That sincerely sucks in many levels, it's hard to get to be a proud and solid community when you feel like all the industry is denying you exist. In fact I think that hackers should be a good market (they fix their computer themselves, everyone asks them to know what's the best computer,…) but the truth feels far from that, apparently the segmenation is netbooks, businessmen and hardcore gamers. Well then, the reivindication is this: why isn't there any company that would let our community be part of their market?
Why isn't there any of such free hardware ...read more...
Hi everyone! Today I'll offer my little blogspace to Daniel E. Moctezuma, our mentored student for Google Summer of Code  2010
He'll explain what's about to happen in KMess soon… enjoy!
---
Integration of a plug-in system into KMess
KMess, the Live/MSN Messenger alternative for Linux, has been growing in
the past years as a way of letting the users feel comfortable with
instant messenger programs by providing a messenger with almost a lot of
the features Windows Live Messenger has together with a nice user
interface (and much more of course
). In order to keep this constant
improvement, the developer team has been working on a plug-in system. It
is a major feature as it allows which allows new features without
bloating KMess.
Goal:
The primary goal of this project is to design and write code in a way
that plugins/scripts can get their full functionality, main control of
the following components is considered:
So. I was wondering, which nice distro specific tools do exist in debian/gnome or in $other/kde that debian/kde is missing?
We have kalternatives for managing alternatives, we have a update notifier frontend in progress and after google summer of code, hopefully a package management frontend, aptitude-qt. (Made by Piotr).
But what other distribution specific tools are we missing for Debian-KDE ?
Politics politics. Here in Waloonia we have to spreak French, walk half a kilometre north and you are barred from speaking French and have to speak Dutch. Go a further kilometer north and you're in Brussels where you have to speak French but in practice everyone spreaks English. And they manage this all without bothering to have a government. Almost as crazy as home where the old prime minister resigned to make way for a posh English chap who will doubtless steal our milk and make us pay a poll tax. Really I should have been in London tonight to visit Buckingham palace and put myself forward for the job of Prime Minister and had the chance to found the Pacifist Free Software Kingdom of Scotland (plus southern principalities), but I missed my chance all because I'm at the Ubuntu Developer Summit planning the next six months of Kubuntu.
We've had a guests from a couple of my favourite companies here for the first couple of days. Thiago and Jergen from Nokia's Qt dropped by to convert the world to ...read more...
Hello to all digikam and KDE fans!
My name is Gabriel Voicu, I am 20 years old and I come from Bucharest, Romania where I'm studying Computer Science and Engineering at University Politehnica of Bucharest. I enjoy programming, playing basket-ball and spending time with my girlfriend.
I was very happy when I saw that I was accepted to this year Google Summer of Code with the project "Reverse Geocoding and Improved Map Search" because I consider this feature very useful when talking about images geotagging.
As requested on my earlier blog post here is a guide on how to install scripts in Amarok:
Written version:
Start Amarok
In the menu bar select the Tools menu and there the Script Manager entry
Click the Get More Scripts button towards the bottom of the dialog
Install some script
Quit Amarok
Start Amarok again
(some scripts you will have to activate in the script manager afterwards)
Have fun!
No, we do not skip March, for Kexi it was just too silent month to blog about it alone
Here we go (based on identi.ca notes):
Follow-up on the SQLite the secure delete thing: Oh boy, the guys rock - they have implemented all my requests for 3.6.23. We're going to recommend this version at least.
Fixed visibility of form widget properties in the designer; that was really obscure bug
Kexi 2.2 beta 2 arrives in 2 days with KOffice 2.2 beta 2, please test! Yes because of quantum leap there's no Kexi 2.0 nor 2.1 in the ...read more...


Today at the Maverick Ubuntu Developer Summit (USD) I gave a quick demonstration of a project I have been working on for the next Kubuntu version. It is a DBusMenu-based implementation of a global application menu. This is a feature which was in KDE 3.x but has not yet been ported to 4.x.
Here is a screenshot of Dolphin running with its menu embedded in a Plasma panel.
The nice thing about this implementation is that it takes advantage of DBusMenu: GTK+-based applications running on a KDE desktop will be able to get their menubars displayed in the Plasma panel. Same thing for KDE applications running on the GNOME desktop. My colleagues are busy finishing the GTK+ implementation right now.
The Plasma Menubar widget also features a "Button form factor". Enabling it turns the menubar into a "Menu" button, saving a lot of space in the panel. This makes it possible to pack both the Menubar and the ...read more...
The full program for Akademy 2010 in Tampere, Finland July 3-11 2010 is now available.
The conference talks this year promise to be extremely excellent. We had over 90+ excellent submissions to select from. Unfortunately we only had 38 speaker slots to fill* and many excellent talks could not fit into the program. Many of these talk topics will be featured in BoFs later in the week.
Also remember to register and get your travel requests in as soon as possible.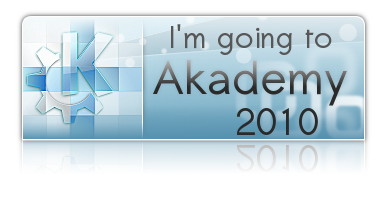 * By the way, this is less than 50% acceptance rate. In many ways this is good because it guarantees many high quality talks!
Ссылки