Ссылки
Hello everyone!
In this post I would like to make a quick introduction to my latest project, practical part of my bachelor thesis (which is luckily over by now). Name of the project is Geoweb and its main part is dataengine for KDE Plasma. It comes with few applets, which makes it usefulness little better :). Project started as part of KDE Silk, which is project trying to integrate online web services into Plasma. Geoweb is kind of that application. It is using your position to find places near you. For now it shows food and drink places, but I am almost sure, that later it gets little more informative.



The thing I really like about this application is that you can set your location manually. It sounds weird, I know, why should I do that, there is a geolocation dataengine in KDE, so use it. Right, I am, it is the default ...read more...
16 | System & Utilities | http://acetonik.blogspot.com/2010/05/geoweb.html | 11662 |
Many have already seen this annoying bug in Krita canvas update system. It was seen when you painted with big and complex brushes like Hairy Brush on a multilayer image. Now I'm glad to announce that the patch is produced! And it will be in trunk soon!The bug was caused by a race condition between Image and UI threads. The latter one tried to read the data from the merged projection while the
16 | System & Utilities | http://dimula73.blogspot.com/2010/05/krita-canvas-will-not-flicker-anymore.html | 11660 |
So now that the GSoC community bonding period (the official one, I mean
) is coming to a close, I guess that a small report of my work so far is warranted.
To those who do not know: As part of my GSoC work, I'm committing to libface , an open-source face recognition library made by me and my mentor Alex Jironkin. libface shall be used for the upcoming Face Detection and Recognition support in digiKam.
I finally got around to committing a proper Eigenfaces implementation in libface. To the uninitiated, Eigenfaces is a subspace method for face recognition, that uses PCA for dimensionality reduction in the training set. You can learn more here.
Face detection is done using stock haar cascades that come bundled with OpenCV. An analysis of speed – if you have a pretty slow (1.6 GHz) computer and have set the accuracy to what shall be called 100% in libface (no, it will never be 100% in practice
...read more...
16 | System & Utilities | http://adityabhatt.wordpress.com/2010/05/19/yet-another-gsoc-update-libface-gets-face-recognition/ | 11653 |
Since there were quite some changes in the Network Management machinery in KDE Plasma over the last days, I thought I'd sum them up here, as to update the brave that already use the as of now unreleased Plasmoid.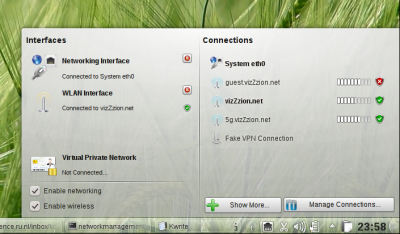 Plugin name changed – We've changed the name of the networkmanagement plasmoid plugin to from "networkmanagement" to "org.kde.networkmanagement" in order to avoid possible future naming conflicts. This means that you might need to re-add the NM widget to your notification area (do that using the config dialog and checking the Network Management plasmoid)
SVN switched from KNM to the Plasma Widget – I've just committed a set of changes that enable the NM Plasma widget by default, this means no more pesky manual loading of the kded service module. It also means that the autostart file for knetworkmanager is not installed anymore, since we're using the Plasmoid now. If you're compiling from SVN trunk, you can use cmake -DINSTALL_KNM_AUTOSTART=ON to get it back. Make sure you prevent the kded module from autoloading (or just ...read more...


16 | System & Utilities | http://vizZzion.org/blog/2010/05/more-plasma-network-management-updates/ | 11649 |
I've spent more than 10 hours in total changing the build system of Trojit


16 | System & Utilities | http://jkt.flaska.net/blog/QMake_Static_Libraries__Unit_Tests_and_Much_Headache__or_the_Tale_of_How_Trojita_Changed_the_Build_System_from_CMake_to_QMake.html | 11647 |
Well, it took ages, but the EBN and the different VMs it hosts are back. Add "sysadmin" to the list of occupations I probably shouldn't attempt without (1) more training (2) a stricter schedule. The NLUUG spring conference on systems administration was quite educational — and fun, too, chatting with various companies and learning about NanoBSD and ZFS — but it didn't give me any magical beans to fix what ailed the EBN.
So what was the problem? Well, the whole thing started (yay, placing the blame!) with Bertjan, who wanted a newer Qt version on the EBN for his software quality checking tools. The EBN ran 6.2-R, and the necessary Qt versions and stuff are not supported on that OS anymore. While the EOL for FreeBSD 6 is still six months away, the ports maintainers don't necessarily want to support that. So we needed to update the OS to something newer.
There's tools to do that now, but I've never used them, and anyway I don't think they support FreeBSD 6. So that means lots ...read more...
16 | System & Utilities | http://blogs.fsfe.org/adridg/?p=866 | 11644 |



Due to the weather and the layout of the hotel grounds at the Ubuntu Developer Summit for 10.10.10 (Maverick Meercat) it was impossible to take the group photo outside and from above (which I prefer). The next best place was the auditorium in which the daily plenary's took place. Unfortunately the room is quite wide and my 24mm objective didn't fit the bill (it was quite dark as well).


I decided to try creating multiple photos and stitch them together....note that the last time I made a stitched image was 13 years ago. I went into this assuming that there would be some Gimp plugin that would take of it, albeit with a lot of post-processing on my part.





I took the photos quite quickly, which turned out to be a mistake. The lights in the room were quite low and my autofocus didn't always do so well. Luckily I made several passes so I had enough

...read more...


16 | System & Utilities | http://kwwii.blogspot.com/2010/05/ubuntu-maverick-uds-group-photo-made.html | 11637 |
On Thursday developers from the KDE-Edu project and from various multimedia parts will go to Randa in the Swiss Alps. Mario Fux organized the sprint and I rather like the idea of not having to move around for food, for hotel,... Everything will be at the same beautiful location. You can see on the webcam (click the top picture) that it's even sunny (which is better than in Toulouse!). The house offers lots of facilities that's why this is a combined event. Thanks a lot to Mario for organizing it, helped by Myriam and Mark. We'll be 12 Edu people + 2 people from Vox Humanitatis who are using several KDE-Edu programs for less resourced languages. This is a great opportunity to meet with Sabine and B
16 | System & Utilities | http://annma.blogspot.com/2010/05/kde-edu-2nd-sprint-with-multimedia.html | 11635 |
It took some wrestling, but the EBN machine is back up, with some of the VMs up and running FreeBSD 8-STABLE. I'm still repairing the EBN itself, since that has many many more packages installed that need recompiling than the other VMs. There's also Java to deal with — it may have become superfluous on the machine, but I need to sort that out or build by hand again (due to license restrictions, you still need to fetch Java distribution sources manually).
In any case, with the server up and running again the KDE4-OpenSolaris folks could push their updates to our Mercurial Repository with specfiles (and patches) for the KDE SC 4.4 series, including dependencies. As always, this is intended to build all of the KDE packages on a recent OpenSolaris (I use 130, others use 134, and I would recommend against anything pre-124). Mark and Ben also work on supporting Solaris 10 (the stable, enterprise OS release) so you can probably build the whole thing on there as well. Both SPARC and amd64 are supported, ...read more...
16 | System & Utilities | http://blogs.fsfe.org/adridg/?p=863 | 11632 |
Google Summer of Code doesn't kick off for a few more days, but that hasn't stopped Siddharth Sharma and I from working on the KPart which our summer of code projects are based around, and any other KDE application can take advantage of.
zomg, it's allliiiiiive
As you can see, I'm still using stock, and sometimes hackish (KTodoList, I'm looking at you!) applets, but those will all be rewritten in due time with actual Kontact applets. These are there to just take up space.
As it is right now, there is no real API for applications to control what applets get placed in the containment by default. You can specify a default layout in a plasma-$app-appletsrc style file which will be loaded by default if no other config is found. However, we're going to be taking this one or two ways:
ECMAscript!
Or as it is more widely known, javascript, is supported in plasma-desktop, allowing you ...read more...
16 | System & Utilities | http://hackersramblings.wordpress.com/2010/05/17/progress-in-gsoc-plasmaland/ | 11630 |
Sorrry for my last post, i didn't know that my blog was on planet KDE.
First i think i must introduce myself. My name is Vavelin K
16 | System & Utilities | http://www.kusa.fr/?p=36 | 11627 |
In case anyone is missing their favourite wallpapers from Ubuntu 9.10 (Karmic Koala) in 10.4 (Lucid Lynx) there is good news!




The ubuntu-wallpapers-extra package is installable from the universe repository. In order to install it from the Software Center, make sure your software sources have the "Community-maintained Open source software (universe)" enabled and then install "ubuntu-wallpapers-extra".
16 | System & Utilities | http://kwwii.blogspot.com/2010/04/ubuntu-wallpapers.html | 11624 |
Toorox is a Linux live-DVD based on Gentoo that starts as a bootable media using KNOPPIX technology.
16 | System & Utilities | http://www.topix.com/tech/kde/2010/05/toorox-05-2010?fromrss=1 | 11625 |
We've all written our own small toolkits, and the like in the past, and today I revisited my glory days: I made a button.

Actually, it was a bit more involved.

Some of you might have heard of a nifty thing called a QGraphicsScene (and friends), a fairly useful tool to allow for complex rendering/manipulating of 2D objects, animations, all the rest of the bling. It's been used for a lot of things over time, and recently I've been getting to know it in my copious "free time" over this weekend.


I decided to see how difficult it would be to create my own button inside a QGraphicsScene (yes, I know QGraphicsProxyWidget exists, but it is fairly slow, so using it isn't the best for many situations), so while I was at it, I decided to make it ...read more...
16 | System & Utilities | http://blog.rburchell.com/2010/05/using-platform-rendering-for-widgets-in.html | 11622 |
Terminator is a cross-platform terminal emulator with advanced features not yet found elsewhere.
16 | System & Utilities | http://www.topix.com/tech/kde/2010/05/terminator-rev-1612-2?fromrss=1 | 11623 |
As you most likely have already read on various other blogs we had one of our Akonadi sprints for the past couple of days.
Most of the time I've been working on Akonadi support for a KMail mail store, basically a local directory where mails are stored in a combination of nested Maildir directories and MBox files.
We already had support for Maildir and MBox in respective resources, but this "mixed mode", interleaved with highly KMail specific index files, made it necessary to either have some way of importing all this data and metadata or to use it directly similar to KMail.
Conceptionally my preference would have been an import process, but of course factors like requiring (at least temporarily) close to twice the storage space, make the direct usage more viable for the upcoming releases.
So after a couple of days of feverish hacking, we've now got a "Mixed Maildir" resource, capable of operating on a local folder tree created by KMail, ...read more...
16 | System & Utilities | http://www.kdedevelopers.org/node/4218 | 11621 |
Hi there!
Three months has passed and there Dimpress 3D got his first cute face! We've developed a plugin structure and a plugin that describes a model for 3D presentations called Sliding Panels. The user interface needs a lot of improvements and we are working on that.In the next weeks we'll present our solution in the college. After that we are free for free it. =)
Below is a picture that describes the process of using Dimpress 3D.
1 – Selection for presentation model.
2 – Definition of presentation content.
3 – Presentation Generation!
4 – Showing Presentation!
This picture is the interface provided by Sliding Panels:
I know that a video is much better, but there are few bugs we want to fix up. Then, we'll post a video. =)
See you soon.
...read more...
16 | System & Utilities | http://liveblue.wordpress.com/2010/05/16/dimpress-3d-sliding-panels-first-results/ | 11620 |
With the beta release of Qt 4.7 it is quite easy to try out its new features. Qt Quick is the major highlight, allowing to write user interfaces in QML, the Qt Meta-Object language. Fortunately, the name Quick is not one of those marketing-driven buzzwords. Instead, working with QML is just that, quick -- even for the JavaScript illiterate I am.
To get my hands dirty with some non-artificial examples, I wrote a small QtDeclarative plugin for Marble. It exposes MarbleWidget -- designed to be re-used in other applications -- to QML. The first thing I tried was a little game, resembling a game popular in a German TV show.
That went pretty well, but doesn't make too much use of Marble's features yet. Moving on to imitate the user interface of a popular search engine:
I was quite surprised to see ...read more...
16 | System & Utilities | http://nienhueser.de/blog/?p=121 | 11619 |
Five web browsers you may not have even heard of... Konqueror is a browser as well as a file browser.
16 | System & Utilities | http://www.topix.com/tech/kde/2010/05/down?fromrss=1 | 11617 |
Day 2 ended with a little bit of pleasure. It all started when Matthew was trying to input some text to his laptop in a way where he treated his laptop more like an old fashioned typewriter. Making a lot of noise and finally banging his fists on the table out of frustration. Thomas then asked on a very interested and calm tone 'So, did it work out?'. After that we used the beamer to look at all the Knut Yrvin YouTube movies and of course we replayed the Qt4 dance while we were there. We decided that it was not as much fun as going to the karaoke bar with Aaron, but it came pretty close :)
After the couple hours sleep ('Is this good for productivity in any way?), we started the last bit of the API review. We reviewed the akonadi changes between the KDE SC 4.4 release and current trunk, renamed method names, watched for const's and made sure we did not do any binary incompatible changes.
After lunch, we had a small talk about deprecating ...read more...
16 | System & Utilities | http://www.omat.nl/2010/05/16/akonadi-meeting-day-3-productivity-is-amazing/ | 11616 |
Just like Rich's trick with QNetworkAccessManager, I have done something similar which I call tracenet (around 150 lines of code). Though I have committed this example to X2 some time ago, only now I have the chance to blog about it.
The idea is to subclass QNetworkAccessManager and reimplement its createRequest method so that we can keep track all the network responses and replies. This is useful for your network-based application, or even for e.g. QtWebKit. As a matter of fact, the tracenet example captures the network traffic as you load a URL into a web page.
Now, the next step is how to visualize the result. While it's certainly possible to craft a Qt-based fancy GUI for this (maybe using Qt Quick?), let's think outside the box. Unless you live in a cave, I am sure you are aware that there is this nice tool called Speed Tracer, part of GWT, an extension for Google ...read more...
16 | System & Utilities | http://ariya.blogspot.com/2010/05/qnetworkaccessmanager-tracenet-speed.html | 11615 |
It looks like comments sometimes decide not to work here (or, to be more accurate, sometimes they decide to work).
Please notify me on IRC (or mail) when that happens… cheerio
Edit: AKISMET sucks!!!!

16 | System & Utilities | http://ivan.fomentgroup.org/blog/2010/05/15/comment-voes-with-wp/ | 11614 |
Preamble: I have no intention to start a dispute related to the new applet browser in Plasma. Some people like it, some don't, some prefer the old one, some want something completely different…
As you don't already know
, Marco did some great work which I'm not gonna talk about – he said he'll make a screencast of it eventually. So I'll just mention a side-effect of that.
KRunner (and Lancelot, naturally) as widget explorers
From KDE SC 4.5, you'll be able to fire up KRunner or Lancelot, search for some plasma widget and drag it to the desktop.
Well, that's all
16 | System & Utilities | http://ivan.fomentgroup.org/blog/2010/05/15/alternative-widgets-explorer-plasma/ | 11612 |
Day 2 started early, especially because I could not get to sleep. I always have that when I'm hacking late at night, my mind goes in super active mode, and that needs some time to return to relax mode. Anyhow, we started with the Nokia guys, discussing how we can incorporate their BIC changes to KCal manageable. Basically they now have ended up with a fork of KCal, and they insisted in solving that, and of course we want that too. Basically we came up with a proposal where the KCal Core will be shared by both and there will be a special part that fits the special needs of Nokia/Meego, which will be maintained by them. That's the part which 'we' don't need basically. Fair proposal I think. I was pleasantly surprised by their willingness to work with us and making sure the fork will not remain in the longer future.
After lunch we started fixing bugs.For the first time in a while we managed to sync with my imap server. It is so stupid how tiny little things ...read more...
16 | System & Utilities | http://www.omat.nl/2010/05/15/akonadi-meeting-day-2-hacking-accountwizard-continued/ | 11608 |
Hi all,

This is my first post on planetkde. For those who do not know me, I live in Brazil (Minas Gerais state), I am also member of KDE-MG and use KDE since 1997. Although I have been using KDE (now KDE SC) for so long it was only last year I started to contribute more to KDE SC bug fixing and source code.

Last month, during Akademy-br, I started to work on implementing some features in knetworkmanager (knm). I use 3G Internet on traveling and miss some things, such as signal quality indicator (3G here in Brazil can be very unstable), statistics about speed, round-trip time (ping), and a way to force knm to use only HSDPA. Of course those things must be implemented in NetworkManager, or more recently in ModemManager, so that knm can make use of them. Some of those features are already implemented in ModemManager but to use them in knm solid, our hardware independent layer, must support them too.

I have implemented the first part of ModemManager support ...read more...
16 | System & Utilities | http://lamarque-lvs.blogspot.com/2010/05/solid-and-modemmanager.html | 11607 |
The meeting
We are at the Akonadi meeting at the KDAB offices in Berlin right now, which was quite nice so far. We had the first round of API review of new methods in KDEPIMLIBS for 4.5, and already cleaned up quite a bit. Having multiple eyes look at the API is a nice way to improve the overall quality of the API. We met with Andrey Moiseenko and Alvaro Manera of Nokia, who work on calendaring for the next Meego phone from Nokia. They use our KCal library, which they have forked/extended for some special requirements they have. We're now making plans with them to integrate their changes back to our version of KCal, so that both sides will profit from changes and have a single point of maintenance.
The release
Many of you are interested in the state of KMail 2, which is the port of KMail to the Akonadi PIM framework. We haven't ...read more...
16 | System & Utilities | http://thomasmcguire.wordpress.com/2010/05/14/akonadi-meeting-and-the-kde-sc-4-5-release/ | 11606 |
Konsole is the app that probably almost every KDE developer uses on a daily basis, but there hasn't been much development on the user interface front during the last releases.
16 | System & Utilities | http://www.topix.com/tech/kde/2010/05/konsoles-user-interface-changes?fromrss=1 | 11603 |
Well its been a pretty crazy week at UDS, with so many sessions to go to and people to have meetings with. Ive been feeling very enthusiastic about a few things that have happened, namely my work with the Ubuntu IRC Council, Ubuntu Bots and of course my beloved Kubuntu.
-
We had a great session about the ubuntu bots today, including talking a bit about the future, and how to rewrite some of the plugins, as well as moving mootbot to be a supybot plugin. It went really well and I'm feeling very positive about th future of Ubuntu bots.
-
Special thanks go to Alan Bell, Gord Allot, James Tatum and of course our ever presents tsimpson and m4v.
-
The Ubuntu IRC Council has been getting some positive feedback recently, which is really encouraging. Thank you to everyone for that. However, I cannot just accept all that positiveness and thank you's, the team has put so much in, done so much work that it continues to amaze me. I want to just acknowledge the ...read more...
16 | System & Utilities | http://jussi01.com/?p=87 | 11601 |
No, this is not related to *buntu. But this is looong... and now I've got your attention. :-)


Interacting with Web Services usually implies reading some WSDL (Web Services Description Language) document. Unfortunately, WSDL documents are written in XML and can be pretty complicated, leaving the user with no other choice than to use some graphical development tool in order to understand them.

Lately at italianaSoftware we had to handle a lot of Web Services stuff, equipped with long WSDL documents and complex data types. Jolie already had support for the SOAP protocol, but one had to code the interface and data types of the Web Service to invoke by hand. So we started a new project aiming to enable Jolie for the automatic usage of WSDL documents, mainly composed by two parts: a tool and an improvement to the Jolie SOAP protocol. Of course both things are open source and available in the trunk branch in the Jolie svn repository!

wsdl2jolie (whose executable is now installed by ...read more...
16 | System & Utilities | http://fmontesi.blogspot.com/2010/05/web-services-for-human-beings.html | 11595 |
Ссылки