Ссылки
Hi,
i've implemented an algorithm to extract the most important colours of an image. Here is an example of what it does: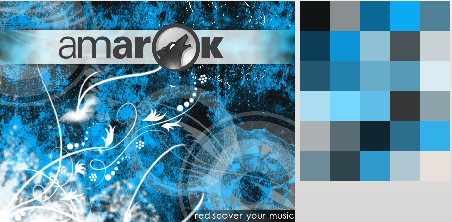 Here are more examples
The algorithm is a slightly modified version of median cut and it is quite the same as the one used in JFIF jpeg library for reducing colours and indexing images. There is a quite good and easy to understand paper from leptonica on this topic. Thanks to pippin for guiding me to median cut

.
I also ported the shade selector algorithm from MyPaint to Krita. This is already a docker in Krita, but it isn't connected yet: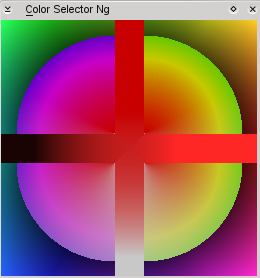 .
Also, Pigment is not yet used, which is important to support colour spaces properly. Anyway, the next step will be to implement all widgets with dummy graphics, so Pigment and connection must wait.
A Linux distribution made out of fluff, bunnies, unicorns and awesome.
First Tour
Parley

It all started out with Parley. We justed wanted to test the amazing theming capabilities in the upcoming 4.5 release of Parley, and eventually we ended up doing a whole distribution
Parley is a wonderful application that helps you learn all those beautiful languages out there using a flash card approach and an incredibly magnificant grading technique, so that you always know where you stand. Our Fluffy Bunny theme will also be part of the regular Parley release. So also users of other distributions will be able to enjoy our work.
KBlocks

Fluffy will by default come with some of the best games the KDE software collection has to offer. For KBlocks, one of these incredibly entertaining KDE Games, there already happened to be a theme which fits our overall branding right away. KBlocks and its Pink Bunny theme will be ...read more...
Ok, finally I take the time to blog again.
The last two weeks have been a busy time for me and I couldn't find as much time for GSOC as I would have wanted. I had to finish up some things at KDAB where I spent the last three months doing an internship (maybe I should write another blog about that eventually…). Afterwards I took five days of vacation, visiting a friend in Lisboa, Portugal - a very good decision to clear my head :) Esp. considering that I directly dropped back into my old job at the IT administration here at my university, where I had to quickly finish another project that I delayed until the last days possible ;-)
But… Even before GSOC officially started I already committed a few small things. But yesterday and today I finally started for good. Thanks to the discussion with Andris (my mentor) I actually think to know what I have to do ;-) Porting Quanta+ is not an easy task, even though there is already a Quanta binary that links against ...read more...
"KDE" and "K Desktop Environment" are trademarks of KDE e.V. for The KDE Project .
Developers have released version 3.2.1 of Amarok, one of the most popular music players.
2 days ago I wrote about the booklet the KDE promo team has been working on.

I noticed a few contributions, really cool!

However, those ppl did not add themselves to the authors list in the document - you should :D

And of course - keep on doing this! I'm looking for some ppl to help out in creating the layout and stuff, meanwhile, the text must be finished...
The Readers' Choice Awards take the current pulse of the Linux Community year. Here are the tools you use every day in your work and play.
Inspired by Troy I did a google blog search about KGpg. With this I found a bug report in openSuSE forums that clipboard encryption was not working at all. Well, too bad, they were right. Two days later I finally found time to dig into this and it was just a broken connect() that was easily fixed for both 4.3 and trunk. I wonder when the bug report will arrive (if at all).
Also I once again hit a think that costed me at least 3 mails ping-pong with Michael while debugging bug 197388 until I noticed that my debug code wasn't broken and I'm not searching at the completely wrong place. Dear openSuSE packager, I really appreciate and honor your work. But it's a rather stupid idea to build a kdelibs that has a kDebug() that doesn't spit out anything when it comes to prerelease packages. At the end we were throwing QStringLists into printf() instead of kDebug().
I recently wrote a post about how Qt could become a more open project, but after writing it, I was left asking myself what more I could do to help further the process.

As a result, I'd like to introduce you to a project I lovingly title the Qt Community Integration System. Its aim: to automatically build, test, and publish community merge requests.

This is an important step in order to help streamline the process of community contribution and get feedback to individual developers quicker. Qt internally use a similar system, but theirs is not (yet?) public.

How does it work? There are a number of components:


A community Qt repository (why not the 'official' one? read on - this is not a fork)

This repository is updated by an integration script, which pulls pristine Qt, applies designated merge requests over the top of it, and then pushes it to the master-proposed branch, if they all merge cleanly.

These lists of merge requests are ...read more...


The Subversion support has been implemented as plugin, which is part of the kdebase package and loaded automatically after starting Dolphin.
For the upcoming KDE SC 4.5 two changes have been done:
The Subversion plugin has been moved from kdebase to kdesdk. If you are updating to KDE SC 4.5 and don't have installed the kdesdk package, the old Subversion plugin from KDE SC 4.4 will of course still work. However it is recommended to install the kdesdk package to get an updated version.
The version control plugins are not enabled by default. Although the loading of the version control plugins is done asynchronously, it still consumes memory and (a little) performance. So if you are updating to KDE SC 4.5 and want to have version control support, you must enable the plugins once inside Configure Dolphin... > Services.
So I have switched to KDE SC 4.5 Beta 1 on my production systems now. This is about the perfect time to play with the system a bit. And looking at my mostly empty Plasma dashboard, I figured that the Search & Launch interface (as known from Plasma netbook) would fit in there quite well.
Looking around, there is no configuration interface to configure the dashboard (apart from the "Show desktop widgets" vs. "Show an independent widget set" option), but the code reveals that the dashboard is just another containment, so one should be able to replace it. And yes, there is a way to do so:
Set the aforementioned option (which you find in System Settings in the workspace options) to "Show an independent widget set".
Run "kquitapp plasma-desktop" (e.g. from KRunner) to shutdown Plasma. I had to do this multiple times because Plasma restarted automatically (which IMO should not happen with kquitapp).
Open plasma-desktop-appletsrc in a text editor. If you do not know where to look for this file, use the following command in a terminal to find it: ...read more...


Google employees have always had a remarkable amount of freedom when it comes to what operating system they wanted to run on company computers - Linux, Windows, Mac OS X, it was all fine.
Linked by Thom Holwerda on 06/01/10 15:10 UTC, submitted by Marquis Linked by Thom Holwerda on 05/31/10 11:37 UTC, submitted by madmalkav Linked by Thom Holwerda on 05/28/10 22:59 UTC, submitted by joekiser KOffice 2.2 , the office suite for KDE, has been released.
Warning: technical babbling following.
As some of you might know from unofficial sources – I am working on bringin Ubuntu One to the KDE workspace. After I spent one month binding with the community it is now time to start talking about the important parts of life.
Namely: "How do I properly work with a JSON object"
It is more of a secret but there is a Ubuntu One server-side REST API to query all sorts of more or less useful information. From my point of view it is not the information that is interesting though, but how to make it useful in a Qt app
.
So, this REST API returns a JSON "object", and of course using JSON objects (which really are just strings, or rather variants of strings and other variant datatypes) is sort of ugly and horrible and defeats the concept of object-oriented programming. What's more is that using those variants directly exposes internals such as actual names, instead of providing stable interfaces indepdent of the backing members. Clearly we want ...read more...
This is just a congratulations blog post to our (in KDE Espa


Hi all,

Found someone for the interview I asked about last time, thanks! You'll see his name on the dot soon ;-)

There is however another writing job I have which is a bit different. At the last KDE marketing sprint we started working on a booklet which has as goal to introduce newcomers to KDE and it's products. This booklet has been shaping up nicely but there are a few things which need some more work and some reviewing would be great. Let me include the todo here:

* Add a few succes stories!

* On the bottom, help is needed from a developer or someone familiar with development to give some clues on how developers can get involved - more practical things. And some teasers like "phonon makes multimedia easy" or something.

* There should be a few more games mentioned in the learn & play section, maybe also some mor edu?

* Communicate needs text about KDE PIM

* Create needs a bit more text about KWord, KSpread etc

...read more...
Ok, maybe it doesn't make sense at the moment, you'll have to wait a few more weeks to get something useful…
A short note.
The KDE Release Team has decided to make a KDE SC 4.4.5 release. So please remember to continue backporting your bug fixes into the 4.4 branch.
The Schedule
June 24th, 2010: Tag KDE 4.4.5
June 29th, 2010: Release KDE 4.4.5
There are some annoying issues and crashes in KDE 4 (and particularly in KRunner and Nepomuk) that are related to the thread-safety (or, rather, thread-non-safety) of libdbus-1.  kde-core-devel has seen some discussion about this recently.
There is a patch that fixes the issue, but it won't make it into D-Bus before dbus-1.4, due to the fact that it changes the library behaviour and could potentially break bindings.  Thiago has confirmed that the change doesn't break the Qt bindings, and (from the bug report), no-one has found any other bindings it breaks.
This is all just background on why, if you are running Arch Linux, you might want to check out the dbus-core-mt package on the AUR.  It's dbus-core-1.2.24, as found in core, but with the afformentioned patch applied.  Note, however, that you use it at your own risk – it should improve KDE, but it may well break other stuff.
...read more...
I spent the first part of last week in a small room in London with Andrea Cimitan, Daniel For
While Microsoft is indeed incredibly profitable, it's not going as well as it seems.
In KDE Partition Manager there are three dialogs dealing with a partition sizes, all of them using the same code base internally. These dialogs are: the dialog to create a new partition, the one to resize an existing partition and the dialog to insert a copied or imported partition.
One thing that was not really optimal in version 1.0 was that partition alignment (and we all remember from the last installment what an important topic that is) took place outside of those dialogs and therefore after the user had accepted the changes.
Alignment Again
In other words, the user makes a size adjustment in one of the dialogs and only after he has finished doing so is alignment taken into account. In an extreme worst-case scenario the alignment code will have to make the partition smaller than the user intended it to be. In that case a warning will be printed. This is a very unlikely scenario, but it can happen.
So that was the situation in 1.0. What has improved with KDE Partition ...read more...
It's time for Computex! This means loads of gadgets and related stuff to flood the internet, so let's get started by focussing on ASUS.
Hi there, after two days of hard working now we have a real ModemManager backend for solid. The first patches I created implement MM support too tied to GsmNetworkInterface class, which means you had to instantiate a NetworkManager class to use ModemManager, that is not necessary anymore. The bad news is that the translate team has a couple of .desktop files to translate besides the source code.

This night was long, I spent several hours trying to fix a difficult to trace bug. I inspected the program and it should work but somehow the kded module crashed when instantiating a ModemGsmNetworkInterface class, in fact it instantiated the class but when it tried to use one of its methods the program crashed. The problem was that ModemGsmNetworkInterface inherited from ModemInterface and declared a d_ptr pointer, which it should not, only ModemInterface class should declare d_ptr. That problem fixed I found an infinite loop in the program hehe, that was easy to fix. After that I had to fight with the signal and slots strings to make them match. If you ...read more...
As in 2008 and 2009, a new digiKam and kipi-plugins developers reunion is planned in Europe. This year, i proud to announce that i will organize the event in south of France, in the nice city of Aix en Provence.
I have said it over and over again, Linux installations needs a Welcome Screen. This would be a huge help for new users who often are not sure where to turn for help, or what Linux is all about.
First sorry people by my late in report something in GSoC, but now i have some results to show to you.
This is my first post about GSoC with some progress, here i will describe a little of the include system in development.
The idea behind Rocs' include system is to make the user capable of reuse the algorithms without copy paste (this make a simple algorithm file become huge and is not guaranteed that a method is the most actual).
To over with all this copy/paste and update all the files with some method, we bring to you this feature.
Now just put your algorithms in a directory and tell to Rocs where is it and just:
include ( my_file.js)
and you got it! all that methods and algorithms very useful
Now to the questions:
How Rocs know where is my files?
To make more confortable to user, he/she just say to Rocs to seek in some directories, like /home/homie/JsScripts;/other/path/.
Rocs will search in that two folder. ...read more...
Since my last blog post, I have managed to migrate all the deep sky information in KStars from ASCII files to a SQLite database.

At first I've encountered some difficulties, until I got more familiar with Qt's SQL Drivers and the SQLite database itself. There are several optimization tricks (indexing instances, efficient queries using joins, etc) which improved the loading time from the database (currently, the database loading is a bit slower than the older way, but scalability represents a far more important achievement).

The main advantage is that now we can have in KStars as many object designations as we want (e.g. multiple designations for the same deep sky object).

Below is the entity relationship diagram of the database, currently in use:





You may see the code I write here. I appreciate any advices from those of you who have played before with ...read more...
KOffice 2.2 , the office suite for KDE, has been released. New features include import filters for Office 2007 thanks to Nokia, and the return of the Access clone Kexi .
Ссылки