Ссылки
One of my goals in my project was to create a colour selector, which has many features but uses little space. However it's hard to select a colour, if the chooser is small, because 1. it's small and 2. a small chooser with view pixels cannot show all colours.
I approached this from two sides: a space efficient and configurable layout, so that the user can select whichever size fits him best and an optional zoom, so that the user can make the widget small and yet simply make the chooser bigger, if he needs it.
So here are some screenshots, on how it looks like currently.
This is a 'big' layout,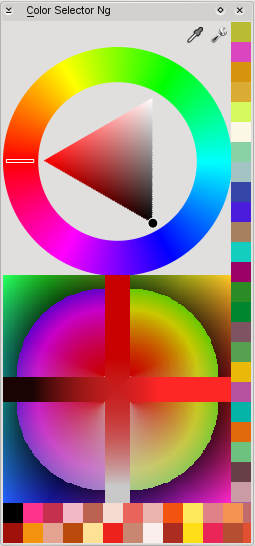 'small' and space efficient,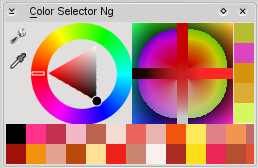 a popup with a bigger selector,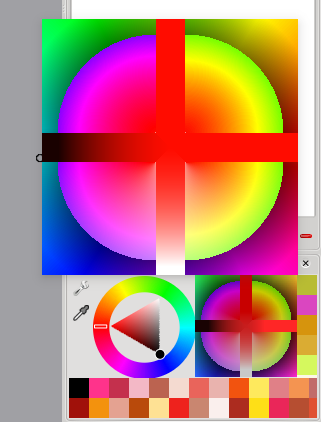 and finally a page from the settings window.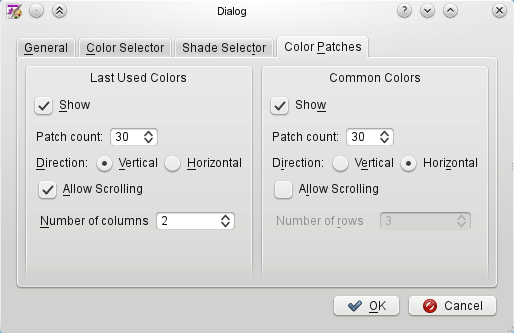 Not all of the settings are connected already, the colour selector (triangle in the images) is just a dummy and ...read more...
Last year around this time everyone was getting ready for the Desktop Summit. I couldn't make it and I could still kick myself for it tbh. Watching it remotely was rather painful as the information flow wasn't as good as it could have been. So I promised myself two things for this year's Akademy: 1) I'm soooooo going to be there. 2) I'm going to help make it easier on the people who can not go for whatever reason.
So here is the run-up of resources you will need to keep up-to-date on all things Akademy while it is happening in 2 weeks:
Hi digiKamers, hi KDErs, hi planet,
few days ago I blogged about the progress of non-destructive editing in digiKam. According to your comments, I take it that there is some misunderstaning in the whole concept. So let me explain it to you :)
The non-destructive editing will be done in such way, that if (and only if) you do some edit to some image, there is automatically created new file, which is a copy of the original with applied changes and with list of edits you've made saved in metadata. Next edit you do, is again applied to the same already-created version and the list of edits in metadata is updated. This is done for example for you to be able to edit the edited file with some external app, let's say GIMP. If there would be only the list of edits stored somewhere, you wouldn't be able to edit it with nothing else until you'd export it from digiKam.
However, when you do some non-reproducible changes, like using some effect, which uses random values for initialization, we need to ...read more...
Hi Planet


In continuation to my introductory post, KDE Marble lacked auto centering feature in Navigation Mode i.e. when the location of the gps device went off the display area, the user had to manually bring the location back to the visual area, which was very inconvenient especially if you are in a car and using Marble for Navigation.


The user now have two options for auto recentering:
1) The gps device location always remains on the center of the map.

Before Auto Centering ( GPS Device Location Represented by arrow on the map)




After Auto Centering the device location is always on the center of the screen.



2) Second, auto centering is done when the gps device reaches a custom rectangular area defined on the visible map area or viewport (which ...read more...
It has been a long time since I blogged last. Life has been chaotic, and as June closes to an end, it is getting worse. However, I've promissed myself to clear all current projects during June (apart from some continously ongoing stuff) to have a fresh start after my summer vacation.
Loads of exciting things are happening this fall. Some highlights are:
I will start working full time at my new employer, Pelagicore.
FSCONS will take place, and this year with more technical contents than ever and a specialized embedded track which I'm co-organizing.
I will continue with my QtLunch concept. If you are in the vicinity of Gothenburg and want to learn more about Qt and enjoy a good meal with fellow Qt users, drop me a mail!
I will blog more frequently… :-)
This tutorial is dedicated to guide users who want to compile current whole digiKam implementation from KDE subversion repository under Microsoft Windows.
I will use Windows Seven and KDE 4.4.1. Windows system is installed to C:, and an empty 10Gb hard drive partition E: is ready to use for KDE4 and digiKam.
Note: this tutorial can be also used under Microsoft Windows XP and Vista.
As I kind of promised in my previous blog - here some notes from LinuxTag, worked out in an opinion :D. Now this blog is different from my usual ones. While I do write about strategical stuff, I try to stay away from controversial things. Not this time, sorry.

KDE in the early days
At LT I spoke with quite a few interesting people, including Georg Greve (the dot will feature an interview with him soon) and Matthias Ettrich (who started this whole KDE thing). The latter had a fairly interesting opinion about his 'kid'. After we started talking about stuff not for this blog (mostly politics and economics) we came on the topic of why he started the KDE project.

Basically, it was to give the common user access to the freedom and power of a better platform (Unix/linux). When Gnome started he was fine with that as some in the KDE community moved over there and added a whole bunch of features he didn't want in KDE anyway. But at some point, Gnome ...read more...
Last weekend my daugther participated to her first school race. She performed well and enjoyed it quite a lot. As a loving dad, I was there to record the performance with my video camera.
Not willing to bore relatives to death…
Since I pity those who get trapped into watching raw video footage (it's even worse than raw photo footage, isn't it?), I decided to create a simple montage to make it more enjoyable. I remembered playing with Kdenlive back in the KDE3 days, but haven't had the occasion to play with the KDE4 version. I was really pleasantly surprised. After closing a few docks (I like simplicity), the interface was quite enjoyable. I especially appreciated the subtle hover animations to add transitions and to crop a sequence.
I see white artefacts…
It was all great except for one thing: the preview was filled with small white artefacts. I initially ignored it because I thought it was a tiny preview bug, but the artefacts were also present in the rendered video… After some ...read more...
In the last years I was hunting the secrets of successful open source communities (for my PhD thesis). The analysis of the principles of those fantastic communities is done. The next (and last step) is:

How could the positive effects of open source communities be transfered to classical organizations. Of cause I have some ideas but I think it would enrich my work if I could discuss those ideas with people from "real life".

Most people are happy to live in an self-determined, passion encouraging, fearless "open source community environment" but are not convinced to privde such an environment to their subordinates, because they fear to loose control etc.

It wouldn't be so difficult to get interviews with empleyees or lower management. The problem is, that these groups generaly like the idea to have such a workenvironment, too, but have very limited possibilities to let their dreams come true. (And it is easier to impress the professors with the opinion of somebody from top management.)

This would be the perfect interview / discussion partner for me:
...read more...
It's been GSoC season for over a month now and I haven't blogged, so now I'm going to try to fix that. After last year's Multilevel playlist sorting project, one of my proposals has been accepted again for GSoC 2010: I'm going to implement on-the-fly transcoding in Amarok.
Amarok is a music player and manager built around very general concepts of tracks and media sources. The collection tries to decouple the format from the data itself and presents the music as tracks (with metadata) rather than files. In other cases, music isn't even stored in local files. These concepts, and others, allow one to truly rediscover music through seamless internet sources and media devices integration, and the user in fact doesn't have to care where the actual data comes from. The many sources at one's fingertips are accessible in a consistent way and playable from the playlist.
However, even in this day and age of stuff in the cloud, there are situations in which the user still has to worry about media formats, e.g. ...read more...
So I finally took a little time to blog about LinuxTag. Still a lot of writing to do/finish (count on a bunch of articles and 1 or 2 longer blogs from me) but I should give a little shout out as to how amazing LinuxTag was.

Yes, for me it was amazing. Last year wasn't that useful (even though it was fun, maybe even more than now) but this year we spoke to a huge number of visitors, got quite a few to sign up for the supporting membership (and hopefully convinced many others to sign up later on), got away with a lot of business cards to follow up on and spoke with many other FOSS people. And as usual, there was a lot of hugging. I'd complain if there wasn't (must admit I had to surprise-hug a few ppl - what's wrong with a hug?).




Eckhard did a good job at organizing the booth ...read more...
Celeste and I were down in the sunny and HOT state of South Carolina for this year's SouthEast LinuxFest.  Before I get started I want to send out a big thanks to the Upstate Carolina LUG.  These folks have been awesome!  They picked us up at the airport, took us to the hotel/conference, and were super responsive about helping us when getting the booth setup.  I'd love to see these guys put in a proposal for Camp KDE at some point because they've definitely got the ability to organize a conference quite well!
Anyhow, Saturday was a pretty long day but very productive.  We had to wake ...read more...
This week I tried to find the reason for yakuake taking >3 seconds before it slides down the first time. I thought that changing the default black text on white ground profile to one with white text on black ground slowed yakuake's sliding down quite a bit. But that might have been an illusion since changing it back did not improve anything. However I guess that the graphics driver plays a part in this issue since the delay seems shorter on Intel graphics than on Nvidia (binary driver).
Also I found some fellow sufferers that experience the same plasma hangs as soon as the network connection is lost. Who would think that plasma becomes really slow without using the CPU just because my network cable slipped out of the plug.
Community:
Unfortunately I could not attend this week's KDE IRC meeting at openSUSE thus I can only quote some things from the meeting minutes.
nepomuk will be off by default in 11.3. Not only its indexing service aka strigi but all of it. ...read more...


This year has been amazingly busy. I had some subjects (9, to say) that required lots, and I mean lots of laboratory time to get done, and finally I got over them pretty successfully. The good thing: they didn't had exam. The bad thing: until the end they take your time out to study subjects that have final exams.
So after last exams this week (still one to go, next week), I'm really glad to be back with this maravelous community. I am strength-full to work like never before.
I am now working on Artesanos del Software, and I am really glad I have been given green-light to work on Qt/KDE SC. This is also great since I'll be working as a scholar for almost three months in order to get lots of hours done and get them recognized by the University as working hours.
So my really full-hearted wish is to work hard in KDE SC and do everything that is possible from my side.
PS: I am really sad I won't be able to attend Akademy this year. ...read more...
KAlarm lets you schedule personal messages to display, audio files to play, commands to execute, or emails to send.
A new feature added to Oxygen for KDE SC 4.5 is the possibility to move windows around by clicking (with left mouse button) in any of its 'empty' area and dragging it around, in a way that is similar to what one usually does with the window decoration titlebar.

How this works is illustrated in the following screencast (sorry for the poor quality of the video):



This feature has been present in bespin (another kde4 widget style) for quite a while. It has been ported (and largely rewritten) to Oxygen, on popular demand.

It is believed to be very useful, notably on touch-screens, for which dragging windows from the sometimes tiny decoration titlebar might end up being problematic.

Now, this is still quite experimental and conflicts might exist between dragging the window and some other mouse actions for some applications. I hope we can identify, and fix, most of these conflicts in KDE SC 4.5 beta cycle, so that a well crafter and fully functional feature can be ...read more...
I have finally finished to implement Modem Manager 0.4 specification in solid. I still need to add more comment in the source code and implement more caching to prevent stress in the DBus bus. Now I need help to test the implementation because my Sony MD300 modem supports less than 1/3 of the specification. Nothing from interfaces Location, Cdma, Gsm.Contacts, Gsm.SMS, Gsm.Hso and Gsm.Ussd work with my modem, but I have implemented them anyway. I am going to commit the patch after trunk is opened for new implementations, which AFAIK is after the first KDE SC 4.5.0 rc release next week.

For those who likes statistics, the patch adds 128 new files, changes other 23 files in trunk, is 400 KB in size and took me eight weeks to reach this stage.
Quick note:
I've just merged all webdevelopment related plugins except PHP & PHP-Docs into Quanta git. You can get them all in one place now by cloning Quanta: http://gitorious.org/kdevelop/quanta
Since I also moved all halfworking plugins to UNPORTED (they don't get installed), you should be fine by just installing all of Quanta to get the plugins. If you only want one of them, going into it's subfolder and building it standalone should hopefully still work though.
In other notes: Thanks to Ruan Styrdom for starting work on a PHP formatter plugin for KDevelop. It uses phpStylist and it's already somewhat working. Awesome :)
/me is off to more GSOC hacking, bye
After blogging about our progress on KMail's data and config migration to Akonadi for a couple of times, I felt that it was time for a screencast showing the migrator in action.
The KMail test setup migrated here has most of the common account types: POP3, IMAP, Disconnected IMAP, local MBox file and, of course, KMail's local folders.
After starting up, the migration tool checks whether it will be dealing with one or more Disconnected IMAP accounts. If there is at least on unmigrated account of that type, just like in this test scenario, it asks the user how to handle the old cache after import.
Bascially, a Disconnected IMAP account in KMail has local copies of the mails on the IMAP server, so it can access them even when offline (hence "Disconnected IMAP").
The migrator imports these copies into Akonadi's cache so you don't have to download them again after the switch to KMail2.
Note:normally you don't need the old copies anymore, but for example if you want to test migration several times, you will want to opt ...read more...
So, i've been trying to ignore the issue, but it is really difficult, so here is my rant, European politicians are about to approve a law that will force search engines to store searches for some time (from 6 month to 2 years). The official reason for that is creating a "early warning system against paedophiles and sex offenders".

There are lots of fishy things in that law:
* Do you really need from 6 months to 2 years of searches for a "early warning system"? I find that a bit contradicting at least
* When someone uses the "think of the children" reason, they are usually going for the lowest instincts of human, because obviously anyone opposing to protect the children is immediately evil. Well, that is going to end up forcing children to stay at home, or even forbidding them at all that way, with no children they won't be molested, right?
* The other thing that you get when you say that you oppose to such intrusive measures is "you should not be ...read more...
Whether this heralds a new range of joint projects between the PC maker and the mobile giant remains to be seen.
Reading blog posts from Aaron or Jos, I notice there has been a discussion lately about corporate sponsorship and how that may influence the direction taken by KDE.
Also, I noticed some messages in identi.ca from Jos about FSF and FSFE. That prompted a small exchange between him and me, and it was also the trigger for this post, which is a very personal opinion piece about corporations and free software projects.
As you all might know or not, KDE is moving to git. With applying for an svn you had the option to choose for a https account with a password. With the move to git now in high gear we have to convert all those accounts to ssh accounts.
What will happen is that we will send every https user personal invitation to go a to a webpage. On this webpage you can upload your public ssh key or indicate that the account should be disabled, because you don't use it anymore.
The invitations will be send in like two weeks. Every invitation that bounces will probably mean that the account will be disabled. So we can not stress enough that you check your email address which is associated with your account. You can find it in kde-common/accounts. You can simply do a checkout and commit changes to your own entry.
Ssh users dont have to do anything, your public keys will migrate automatically. Https users, please wait for the invitation, as we will automate most ...read more...
It's finally here. Qash is officially online.

What does it mean?
I means that everyone can jump to qashapp.com and create their own store for free - and easily have their own cash register.

What now?
We have a list of features on our roadmap which we will implement over time. One of them is creating a default platform for the hardware we are going to sell(which may very well be a KDE-based platform).
Sometimes it is helpful to be able to have several versions of Marble installed and have these versions separated. One possibility is to use different user accounts, one for each Marble version. Another possibility using only one user account involves some minor changes to the Marble source. I'm going to explain how to do the latter. As examples we use the Marbles of KDE 4.4, 4.5 and trunk.
For a Marble version being installed separately it has to have a separate configuration file, a separate user data directory and a separate installation directory. For the first and second part we have to modify the Marble source, the third part is being done by the build system. At the moment of this writing development for KDE 4.5 takes place in svn trunk while development for kdeedu 4.5 (which includes Marble) takes place in the 4.5 branch.
So without further ado:
Setup different kdesvn-build configurations per branch
KDE 4.4.x (Marble 0.9.x): $HOME/.kdesvn-4.4-buildrc

global
source-dir ~/kde-devel/kdesvn-4.4
kdedir ~/kde-devel/kde-4.4
qtdir /usr
branch 4.4
svn-server svn://anonsvn.kde.org/home/kde
cmake-options -DCMAKE_BUILD_TYPE=debugfull
end global

module ...read more...


Last month I found some time to take a look at
osc
to fix issues and add some stuff I was missing since I have to work with
build.opensuse.org
and the SUSE internal buildservice (e.g. for updates and maintenance of our enterprise products).
Yes, I know it's some weeks old and now integrated, but anyway. Here is what I've done:
...read more...
yes, forcing, I'm such an abused little critter, it's so bad, I'll need counseling.
Over the last few weeks I have been putting the finishing touches on the plasma KPart plugin… It looks pretty good now, but still lacks a bit of the bits to really make it shine, including an API to allow applications to interact with the Plasma APIs on a more intimate level, rather than just "load widget foo, and I'll get out of the way".
The current state of our Plasma dashboard is looking pretty good. And, what's that? A special dates plugin! Thanks to the really awesome Akonadi and Calendar plugins (I owe fregl massive amounts of cookies/hugs for the calendar dataengine improvements!) it was mostly simple for me to write that widget. As you can tell, it still needs some layout lovin', and the code is kinda nasty in some places, but it's a great start.
That's where I am this week
=-=-=-=-=
Powered ...read more...


This week was the first week of our examination session at university. Even though I had a quite hard exam on the beginning of the week, I have worked on a class which will be used in KStars for displaying lists of objects, having a particular context menu, adapted for KStars SkyObjects.

Yesterday, together with Dragos, a friend and class mate who is currently a Gnome Google Summer of Code Student we decided to do a whole day coding sprint on our projects, since university exams tend to keep us temporary away from our work.

I consider the overall a result interesting and really useful. The class on which I've worked, KSObjectList extends QTableView and will be used wherever a list of SkyObjects might appear in KStars. For the moment, it replaces the standard QTableView in the Observing List (a tool in KStars which permits users to plan their observing session) and will be used in a more complex search query dialog on the database.

KSObjectList current has the following:

My yesterdays presentation about KOffice Version 2 at the Linuxtag was received overhelming good.
Ссылки