Ссылки
Can Ruby do for Qt and KDE application development what it did with Rails for web development? With the Qt on Rails project we're attempting to achieve this - using the clean domain logic and conventions of Rails combined with the brilliant application framework and widget set of Qt.
So our cool booth dudes and dudettes are regularly hard at work at booths on tradeshows, telling people about our great community.

I've been there many times, and there are a few thoughts I'd like to share. This isn't just meant as a how-to or a finished plan but also to start a discussion - we can improve in some area's and why not discuss it in public so anyone can weight in and add comments ;-)

So here a few insights from others and me since the last happening at Linuxtag:



first of all, the booth must be clean. Either we 'work' at the booth, or sit/hack somewhere else.


We must make sure we know what we're selling. We should have a list of selling points. The promo team is on this, and we'll distribute it to booth attendants once it's done!


Reciprocity: giving something makes ppl want to give something back. If we want to get them to sign up for our supporting membership, having some give-aways is important. This is related to the booth ...read more...


Hunh, so I fired up Konversation on FreeBSD this weekend (after deciding that hanging around via irssi in screen was no longer something I wanted to do) and after three minutes had a list of usage questions a mile long. Jos Poortvliet wrote a little about the last mile and polish last week. That kind of polish applies to Konvi as well. Keep in mind that comments coming from a new user (like me) may not be applicable to old-time users. This applies in particular with regard to moving UI elements around: for new users it might make them easier to find, for old users it means horrifying surprise when something isn't in the old, learned, location. Anyway, here's a list:
Why is server list under File, while identities is under Settings? Why are neither of these configurable through the "Configure Konversation" menu item under Settings?
Why are channel settings under the Window menu?
In the server list dialog, double-clicking a network or server connects to it; in the identities dialog it edits the identity. My ...read more...


For those who like to geek out on technical specs:
I've summarized all the technology use in our, almost complete, solar passive house on a dedicated blog .

The obligatory pretty picture:



And there is more on the linked to post.

Bart
The IFOSSLR — the International Free and Open Source Software Law Review — has published issue #3. The IFOSSLR is the only journal dedicated exclusively to Free Software legal issues. While I was the FTF-Coordinator at the FSFE it was great to see the careful legal thought put into all kinds of issues (from trademarks to license assignment to risk assessment). It's important to have an understanding of the legal issues around Free Software (both development and deployment) that is business compatible. That's not to say that the interpretation is adapted to suit the desires of business — no, it means that the understanding is formulated in a way that businesses understand. It's quite important to state cause and effect or obligations and rights carefully so that businesses understand what to do and how to do it right. After all, most Free Software developers want everyone to play by the rules set out in the license.
Sometimes what's necessary from a business standpoint isn't what we'd like from a Free Software perspective, but there's ...read more...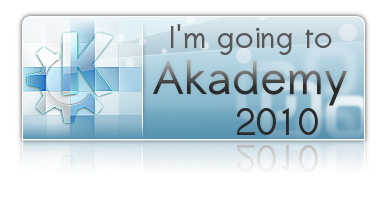 With the big show now only just over two weeks away I wanted to take the time to pimp the programme by talking about the tracks and the talks I am planning to see.
Community

Community is at the heart of KDE. This year it was particularly popular with many talks being submitted. As a result we managed to almost get a day-long track out of it. The track covers community management theory, technologies and legal issues. I'm looking forward to Thomas and Celeste's talks.

Mobile

You might have noticed… Mobile phones are becoming an important platform for KDE. Recently we have seen both KOffice and KDEPIM as well as other parts of KDE SC. I am looking forward to talks from Till Adam, Artur Duque de Souza and Alexis Menard

Development

Want you mind blown by the technical prowess of one of our gurus? This ...read more...



I started coordinating the plasma project's activity at this year's Akademy. In support of this, I started a page on our wiki and a thread on our mailing list. For Plasma contributors, there's a topics area on the wiki page where we are building a list of the topics the various people attending want to address while we are there.

More interesting to the rest of the KDE world (or so I hope :) is the Plasma Frenzy we're planning. Just as we did in 2008 (I missed the 2009 Akademy, sadly), it will be a series of quick presentations, each 3-10 minutes long and about a different aspect of Plasma that we are working on. Anyone doing something interesting with Plasma who will be at Akademy is welcome to present what they are doing, and everyone who is interested in Plasma and wants to keep up with our latest twists, turns, blunders and/or brilliance is welcome to join us in the (hopefully participative) audience. It looks likely to be scheduled right ...read more...
Last week, Krita development really picked up, and if today's commit rate is anything to go buy, this week will be just as good! We had fifty commits in week 24. Our bug count is now 58, but that's after Sven Langkamp closed half a dozen bugs today. People seem to like Krita 2.2 and do very nice work with it. If you give 2.2 a try and you experience a problem, please inform us about it. There's a very cool and handy Report Bug menu option in the Help menu!
Lukas worked on better support for Photoshop brushes and some refactoring of the spray brush. Read his blog!. Our Google of Code students have been busy as well. Adam has been working on the layout for the new color selectors. Dmitry Kazakov has moved mountains with some big refactorings to make Krita thread-safe and much faster: he will blog tomorrow, he promised! Marc Pegon has started fixing bugs in the transform tool. And finally, Pentalis has been ...read more...
"So as you might have heard KDE is going to host its own git infrastructure. This means that the projects currently on gitorious will have to be moved one by one.
I've spent the last few weeks in London with Keith Whitwell and Jos
Kubuntu Tutorials Day is back, and this time it's with special guest star speakers.
Hi all,

Again a little call for help...

Pretty picture
Soon, there will be a new release of our bunch'o'stuff ("KDE SC 4.5). We need a pretty picture for our blogs ;-)

Writing
If you're a writer, we're always looking for new authors. I've often have magazines ask me if I know anyone, you can even make a buck that way. Let me know!

book
The KDE promo team has worked on a booklet with information about the KDE community and our products for a long time. It's mostly done but needs 2 things: someone to push for finishing it, and someone to do layouting. If interested in either or both these tasks, let me know...

openhatch
Some of you might know Openhatch. It's a cool way to help people get involved in FOSS projects. We do have a little presence there, but there could be a lot more. Anyone up for being the official openhatch manager? Contact kde-promo to coordinate ;-)
Beside exploring San Diego, I had done some coding intermittently only. My apology if I do not update X2 with fresh new examples often enough.
Having said that, here is one network-related example: a minor tweak to the previous example of Qt-based proxy server. Basically it adds a minimalistic URL filtering support, in the form of blacklisting certain URLs which start with some predefined strings. The code is available in the usual place, X2 repository, under the directory network/filterproxy.
While major browsers support some variants of content blocking, be it via an extension like AdBlock or as a feature built-in into the browser itself, this new filterproxy should work with any browser that supports proxy. Alas, I did not bother to implement an AdBlock-compatible rule system because it would complicate the code. Again, consider this is a proof of concept only. A challenging exercise would be to fully support the most known subscription filters.
It is unheard that content filtering can dramatically improve your browsing ...read more...
Since I've not been blogging for a while, let me do a post on some pictures (plus the stories) instead.
On a weekend, Balboa Park is a very nice attraction. Rather than explaining it in details, I suggest to just drop the park a visit. Beside a lot of different types of museum, there is also this Japanese Friendship Garden. A small cafe there, the Tea Pavillion, is a very nice place to relax and enjoy the surrounding. They serve sencha and other types of tea. Hungry? Get a rice bowl:
If you are more a beach person instead, then there is a plenty of choices, for example Silver Strand Beach. It is rather small, but it is always a nice spot to enjoy the sunset.
...read more...
Today at 1045 hrs, the board software upgrades were rolled out for public release. This is a feature addition and bug fix update.
Changelog:
* Added guided posting utility (view)
* Added a more prominent global PM notification
* Added a What's new notification for new members
* Updates to KDialogue, the engine behind the forum's KDialogue and KDE Contests areas.
* Numerous performance fixes.
Please report all bugs at bugs.kde.org under the component forum.kde.org.
You can find the official announcement here: http://forum.kde.org/viewtopic.php?f=4&t=88621
Enjoy!
Hi, this is a reminder that the KDE Translation teams are always looking for new contributors, so even if you do not know how code you can help translating the KDE Software to your mother tongue or some other language you are fluent in and make a difference.

This is actually a good moment to join, since the KDE Software Compilation 4.5 sources are frozen for new messages so new messages are going to be introduced before the release and also the release date is close enough (1 month approx until tagging) that you will see your effort be released really soon.

One of the teams specially looking for contributors is the Gujarati team, that met the essential requirements to be shipped with KDE SC for 4.4 but does not to 4.5

And remember, even if the statistics say a team has 100% of the stuff translated, there is always room for reviewing so your help will still be welcome.

So start your e-mail ...read more...
First post with WordPress 3.0 – fingers crossed but so far it looks good!
I've learned a small detail today – QFtp requires login even if you do not have any username or password to give the server. Saves some time from debugging time knowing that calling login once fixes this. (Yes, me stupid)
For those of you learning Qt or wanting to get started with Qt, I will hold a session on the Kubuntu Tutorial Day. I hope to see you there!
Also, great rainy weekend. Got loads of stuff done ranging from catching up on some work to restructuring parts of the garage.
I decided to move my general ramblings you all know and love to my posterous blog. Why you ask? well I like the fact that I can throw stuff in there via email with awesome results.
This will help me post more often I bet, I may even start posting small audio thoughts or podsafe music since the RSS feed encloses audio content right off the bat (still thinking about it).
My main site will still be guillermoamaral.com but it will only host official news about yours truly, talk dates, live recordings, video appearances, etc.
P.S. still plowing through the emails sent to me about my shows, thank you all of you who wrote in with comments and suggestions ( you know who you are ).
When I started blogging in the end of last year, I thought I would write much more frequently than I do: if only I had better marketing habilities, there would certainly be many more posts about what's going on the Ark, KDE's beloved archive manager, and KDE on FreeBSD fronts. At least I seem to be in good company in the occasional bloggers department.
Over the last few months (actually, for the last 1 or 2 release cycles at least), Ark has not received many feature additions (half of our open bug reports are wishlist items -- I'll never get tired of saying that many of them are quite easy to implement and are good junior jobs in case you are looking for a way to get into KDE development). Lack of time from both Harald (who, by the way, is finally getting his university degree one of these days) and me is not the only explanation, though: this may sound weird, but whenever ...read more...
Yesterday, I've released VMPK 0.3.2 with a new D-Bus interface. VMPK is not a KDE application, it uses only Qt4, so a D-Bus interface wasn't included by default. This VMPK feature is far from perfect, and it will require some improvements in future releases, but it is a start.

What can be done with this D-Bus thing? D-Bus provides a mechanism to send and receive messages between processes (it is an IPC, inter process communication mechanism). This allows one application to be controlled from another one, or from a script. This is the classic application automation scenario solved in Windows with COM/DCOM, and in Mac OSX with AppleScript. D-Bus is a cross platform solution, with nice Qt4 bindings: the module QtDBus. The Qt4 SDK for Windows doesn't include this module, and anyway the bus daemon and libraries are external dependencies. D-Bus has been adopted in Linux by the KDE and Gnome desktops replacing other former solutions.

As use case demos, in a directory named "dbus" of the VMPK source ...read more...
Planet, my slave went awry :(I terminated the processes, but is there a way to kill all the notifications at once.
I came across an interesting blog post about the FSF's strategy on LWN, and thought it was worth sharing.
The essential argument is that the FSF does too much preaching about what people shouldn't do, without offering constructive alternatives.
Hi Planet >>
I am Siddharth Sharma (h4xordood) from India and I am working on my GSOC Project "Plasma Dashboard in Skrooge".
Guillaume de Bure (gdebure) is mentoring me on this project
, Stephane(Core developer,designer & architect of skrooge) for explaining me archtecture of skrooge and Aron Seigo (aseigo) has been co mentoring me and throwing ideas about intergration of kpart and skrooge plus Plasma related questions.I feel really great working with all these people as i am new contributer to KDE and Ryan Rix (rrix) as he is the first friend at KDE Plasma who helped me alot in understanding things here.
Rix and I have been working on our GSOC projects.I am hacking skrooge and some part of code in kpart while rrix has been working on kpart applet selector and many more things there plus his project Plasma "Kontact Summary".So far i am able to get my plasmoids on dashboard with the help of my mentors. Right now we have our own plasma dashboad that isnt using kpart ...read more...
Hi everyone!
I have just released Sembrowser version 0.3 (sources here, Ubuntu packages here); not much changes since 0.2, time is always a problem, but it was worth publishing it because of the two most important features added:
text filtering for tags: thanks for all the facilities provided by kdelibs, in few lines of code I have added an edit box for narrowing the tag list by searching through some text;
the facet-term underlying structure is changed, with its classes trying to follow the Model-View-Controller architectural pattern; in this way, it should be easier to add new facets or new views, with less code involved. Please notice that this may not be the final structure: some discussions are happening right now about this, so things may change soon.
Just a reminder: Sembrowser is a (very poor) clone of Dolphin, and it is not meant ...read more...
I'm finally free from exams and back for another summer of KDE-hacking. While I've been gone, Dario has been doing some awesome work on KDE Telepathy integration, and Daniele has got underway with the great "Tubes SoC Project". It's great to see all this stuff happening.
Now for my plans for the summer (I hope to achieve at least half of this list before the new term starts in October):
First, Akademy. I'll be giving a talk and hosting a workshop there. If you are interested in what's going on with Telepathy or how to take advantage of it in a KDE application, then come along and listen to the talk. The workshop will be ideal for people who want to do stuff with Telepathy but don't know where to get started.
Presence Plasma Applet and Dataengine. Abner did some great work getting them into shape last year, but the Telepathy framework has ...read more...


Cool, the bits for Akademy fell into place at just the right time, almost everything is set, just gotta pack and buy a few essentials, and do a bit of itinerarying!
I was kinda hoping that I could turn Akademy into a bit of a mini-vacation of my own; after Akademy visit some friends who won't be attending, friends that I have known way back in the PalmOS days, some of the first people I met online. Unfortunately, it doesn't look like that will pan out. With any luck I will be able to visit one of my friends currently in Kalmar, Sweden, which will be awesome
I'm flying in to Sweden on the 29th, where I will hopefully have a day to kill with a bus ride from Stockholm to Kalmar, and then taking a ferry with Inge Wallin, Chani Armitage, and … someone who I keep forgetting, and arriving in Tampere on Friday the 2nd (1st? 30th?… I nearly got that wrong three times!). Please forgive me, whomever you are, I'll not ...read more...
Another week, another snapshot
As of this morning the KDE4:Unstable repository for openSUSE contains a newer snapshot (4.4.86). As that openSUSE:Factory now contains Qt4 4.6.3, all targets for KDE4:Unstable are build with the same Qt4 version, which brings a lot of stability and bugfixes.
A few people already indicated that they find the latest version becoming more responsive and that things seems much faster than previous versions.
I would say grab the new version and try it yourself.
Enjoy!
Hi again!
Qt for Symbian 4.6.3 has been released since last week, and now I've finally updated the unofficial Qt for Symbian Linux installer to work with this version. I'm glad to share this tutorial, with many thanks to my colleagues
Anderson Lizardo
and
Danilo Cezar
for helping me understand how the Qt for Symbian installer scripts works. This updated "All-In-One" installer installs the following:
Qt for Symbian 4.6.3
Qt Mobility 1.0.0 (opensource)
Nokia Smart Installer 0.18beta
I must advice beforehand that besides everything's woking as expected, I still haven't had time to fix a small issue (don't worry! it's not critical) that outputs when building a source code, which happens to be some annoying warning messages regarding missing include paths:
(WARNING): ../myproject/src/src_0xE4023dec.mmp(53) : SYSTEMINCLUDE path \"../5.0/epoc32/include/osextensions/stdapis/\" not found
(WARNING): ../myproject/src/src_0xE4023dec.mmp(54) : SYSTEMINCLUDE path \"../5.0/epoc32/include/osextensions/stdapis/sys/\" not found
(WARNING): ../myproject/src/src_0xE4023dec.mmp(57) : SYSTEMINCLUDE path \"../5.0/epoc32/include/osextensions/stdapis/stlport/\" not found
(WARNING): ../myproject/src/src_0xE4023dec.mmp(59) : SYSTEMINCLUDE path \"../5.0/epoc32/include/oem/\" not found
(WARNING): ../myproject/src/src_0xE4023dec.mmp(62) : SYSTEMINCLUDE path \"../5.0/epoc32/include/osextensions/\" not found
(WARNING): ../myproject/src/src_0xE4023dec.mmp(63) : SYSTEMINCLUDE path \"../5.0/epoc32/include/domain/osextensions/\" not found
(WARNING): ../myproject/src/src_0xE4023dec.mmp(64) : SYSTEMINCLUDE ...read more...


After my last blog I was asked whether I feel that the migrator is now ready for testing.
One of my goals in my project was to create a colour selector, which has many features but uses little space. However it's hard to select a colour, if the chooser is small, because 1. it's small and 2. a small chooser with view pixels cannot show all colours.
I approached this from two sides: a space efficient and configurable layout, so that the user can select whichever size fits him best and an optional zoom, so that the user can make the widget small and yet simply make the chooser bigger, if he needs it.
Edit2:
The colour patches below the selectors represent common colours from the image and on the right there will be a history of last used colours..
So here are some screenshots, on how it looks like currently.
This is a 'big' layout,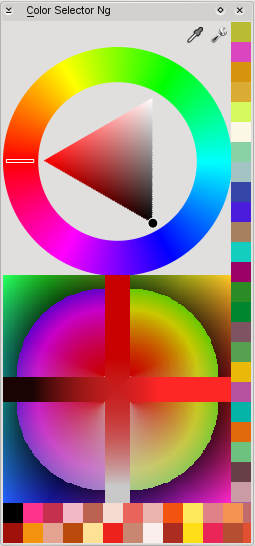 'small' and space efficient,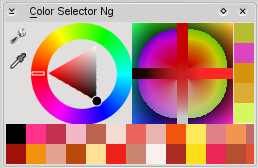 a popup with a bigger selector,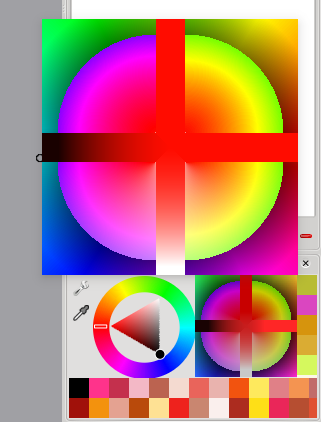 and finally a page from the settings window.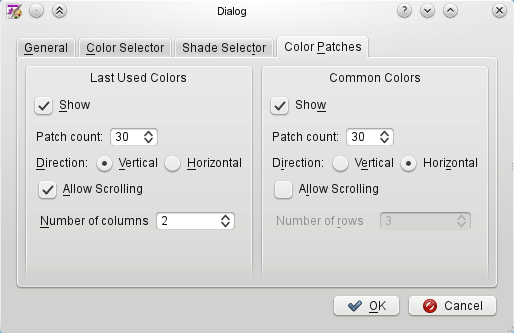 ...read more...
Ссылки