Ссылки
We are happy and proud to announce the immediate availability of Zanshin 0.4.0.
This release marks the end of our port to Qt5 and KDE Frameworks 5. It also means we're now compatible with the newest Akonadi and KDEPIM releases. It doesn't bring any new feature but the port itself is big news.
Despite the lack of features, we wanted to make this version as solid as possible, that's why we spent quite some time running quality tools on the code base to find potential issues. It results in quite a few fixes ranging from potential memory leaks, to pure optimizations.
We also wanted a slightly improved look. Nothing radical or fancy, but we spent time improving the layouts to have a better visual alignment all around and less unwanted margins. It looks even more tidy now!
Of course all the features you grew accustomed to are still here and it's time to rediscover them on this new technical backend.
As usual, you can grab 0.4.0 while it is fresh! You can download the sources obviously, ...read more...
Welcome to this second article in the "Reordering a Qt Quick ListView via drag'n'drop" series. If you haven't read it already, I suggest you start with the first article.
In this article we are going to add a handy feature to our ListView: the ability to automatically scroll the ListView when dragging an item to its top or bottom edge. This is nice when you want to drag an item to a place which is not currently visible.
Here is this new behavior in action: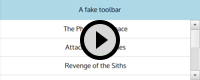 We are going to implement this by using the MouseArea of the DraggableItem introduced in the first article. When the mouse cursor in this MouseArea is close enough to the borders of the ListView we will trigger scrolling animations. This is a bit less elegant than adding MouseAreas at the top and bottom of the ListView, but has the nice advantage of not requiring any change in the ListView.
The first thing we are going to do is add a few properties to our ...read more...
As already suggested in the first article of this series, fixing a bug was just the start of my journey. What I now want to do is help KDE improve our AppStream metadata. Why is this so important to me?
I first got in contact with AppStream as part of my interaction design work on Discover. The fact that all I had for linking the word Discover to was a not very informative quickgit project page perfectly exemplifies one of two big problems that I want to help solve: That only a minority of KDE projects have a proper representation on the web. The other issue is that the default software centers for Plasma (Discover) as well as GNOME and Unity (both use GNOME Software) both draw the information they present on applications from AppStream data, but far from all of KDE's applications provide these data.
The nice thing is that we can reuse the information for AppStream to automatically create a website for each application which ...read more...
1,5 years ago the VDG start with an icon theme for LibreOffice to guaranty an consistent look and feel for Plasma users. Now this new icon theme Breeze was used by default in the KDE Linux distributions and on Mac OS X.
Breeze is a monochrome icon theme and fits well into modern Desktops like Plasma and OS X but the second reason is that the Breeze icon set is a complete icon set. We can support 100 % (and I mean 100 %) of the needed LibreOffice icons. In addition Breeze supports dark colour themes AND 32 px icon size. This is unique because only the default icon set is that much feature complete.
So the breeze icons fit into modern desktop environments and are well maintained and that's the reason Ubuntu 16.04 LTS will ship LibreOffice 5.1.1 with breeze icons for the Unity desktop.
Happy hacking the VDG,
part of the Plasma team and the KDE community
...read more...
The other day at work I was considering how we could setup a simple server to host Git repositories for proof-of-concepts and other one-off projects. Sometimes we create a proof-of-concept just to illustrate a point in a pull request, or to explore options before starting work. Git is handy for this: it makes it easy to try things, fail, rewind, explore other options. It felt overkill to ask our IT teams to create official repositories for such potentially short-lived projects which don't need the full infrastructure required to manage long-term projects.
Since we already have an internal server on which we have SSH access, one alternative I imagined was installing a tool like GitLab but that felt heavyweight: I didn't want to create additional load on the server by adding other services. Gitolite was another option, but using it is a bit more involved, and since we all have SSH access on this server, the main point of Gitolite, providing access without giving all users a shell account, was not required.
Hosting a Git repository on a server ...read more...
Could you tell us something about yourself?
My name is Iván R. Arós, alias "Esfenodon". I have been working in computer graphics for the last 13 years, but I think I've loved art from the first day I can remember something.
I studied Arts at Vigo University, and I have always been using traditional tools to draw and paint. From the first time I realised that as much as I painted with acrylic or oils, watercolors or ink, I become better with digital tools.
That's something I always recommend in my work.
Actually I work as Art Director in a small studio at the Vigo University. In this studio, Divulgare, we create scientific divulgative videos. 3D, 2D, real video… In this Studio I had the incredible opportunity to join my two passions: Science and Art, working closely with scientists. Every day I paint something, and have point five or more ideas I would like to paint the next day.
Do you paint professionally, as a hobby artist, or both?
I think ...read more...
KDE proudly announced the release and immediate availability of a new framework for developers who want to build cross-platform Qt-based applications.
Today I released 1.0.2 of Yokadi, the command-line todo list, it comes with a few fixes:
Use a more portable way to get the terminal size. This makes it possible to use Yokadi inside Android terminal emulators like Termux
Sometimes the task lock used to prevent editing the same task description from multiple Yokadi instances was not correctly released
Deleting a keyword from the database caused a crash when a t_list returned tasks which previously contained this keyword
Download it or install it with pip3 install yokadi.
KDE Plasma is the desktop environment that powers Kubuntu, Chakra Linux and openSUSE . This week sees the release of Plasma 5.6, which brings several tweaks and improvements.
Since it's announcement KDE neon has had some pleasingly positive press coverage (and one not so positive).
First off was Swapnil's article on CIO.com Jonathan Riddell to announce project Neon at FOSDEM
On the Rio Noguera Palasera in sunny Catalunya I learned freestyle kayak by surfing against the current on a standing wave and realized we should go to the source. Upstream is where the beauty comes from so working upstream is where we should be.
Not the force it once was but still a badge of achievement, Slashdot covered it Project Neon Will Bring Users Up-to-Date KDE Packages
KDE neon is a project to give KDE users and contributors a way to get KDE's desktop software while it's still fresh
I gave a talk at FOSDEM and the video is up.
For video podcast views with chatty Americans I did an interview for the Linux Action Show (start 37 minutes in).
And for English audio podcast polite chat with tea and biscuits ...read more...
There's a handful of BSD-oriented, desktop-oriented, developers in the Netherlands that I know of. Koos. Raphael. Perhaps some remnants of KDE-NL, or a wandering GNOME developer. Or other desktop systems. Anyway, I'm launching the idea to have some kind of get-together around mid-april (when the weather is nice) somewhere central(-ish) like Zwolle or Amersfoort. The Dutch BSD Desktop Dev Beer Day, or (DBD)2. The plan would be to occupy a cafe somewhere and talk about BSD on the desktop, and in particular porting and keeping the desktop stack up-to-date on all fronts.
Consider this post a call for "hey, who would be interested?"
Today was an important day for the Krita project! We entered feature freeze! That means that from now on until the release of Krita 3.0, which is planned for April 27th, we won't be working on adding new features, but we'll be fixing bugs, fixing bugs and fixing more bugs! If you want to help us identify and triage bugs, read this article: "Ways to Help Krita: Bug Triaging". It's the first of what's intended to be a series of reference articles on ways to help Krita grow and become better and better.
Since Krita 3.0 is frozen, we know exactly which Kickstarter and Stretch Goal features will be in this release, and which features will be in the 3.1 and following releases. Krita 3.0 will have: Instant Preview, Animation Support, Rulers and Guides, Grid Docker, layer multi-selection handling improvements, loading and saving Gimp brushes as images, and a completely revamped layer management panel! As an extra, originally not part of the Kickstarter Stretch Goals, snapping to guides and grids has also been implemented! Work has already started on ...read more...
KaOS is focused on being a lean KDE distribution that is "a tightly integrated rolling and transparent distribution for the modern desktop, build from scratch with a very specific focus.
Riccardo, this morning, at CERN showing a beatiful post
As you have read in the last post, some funny things happen in the Cafè group of w2l; there are some other nice stories which deserve to be telled, but the one's I'm going to talk about is different from the others. If you have read some of my post you would have understood I'm not mentally sane. Okay, no debate about this, please.
One beatiful day I met a friend who destroyed my mental sanity. Then, I started spamming it overall. In the Cafè group, one nice night, I've posted a funny video, this: http://www.youtube.com/watch?v=ov5pxaIbJlM
The guys really liked it, more than I wondered, and they also started spamming it. Now, you can listen to that music in the short video published this morning: http://www.youtube.com/watch?v=13wqNKkXWNU
(Thanks to Davide Maggiorelli for this beatiful work)
Now, jokes apart, we really are digging a hole. In the academic system. In the spread of knowledge. We are working on a ...read more...
Chakra is a GNU/Linux distribution with an emphasis on KDE and Qt that focuses on simplicity from a technical standpoint and cutting-edge software, bringing the latest technologies to you, the user.
Hello there,
My name is Vincenzo Eduardo Padulano, I'm a student in physics at Milano-Bicocca University. All my life I've been curious about the universe, the unexplored and the unknown. Above all, my interest was in finding new ways of improving our species' adaptive skills against what is yet to come, and there's no better way than uniting  our efforts against it. No wonder then, that when I was contacted by Riccardo Iaconelli in late September 2015, I swiftly join the project WikiToLearn.
Wikiwhat?
Briefly, WikiToLearn is a website that aims to create an online library where everybody in the world should be able to acquire every kind of knowledge, and help to improve the existing one. in fact, the motto of the project is "knowledge only grows when shared": this means that not only everyone can learn from the content of the site, but furthermore everybody is crucial to its upgrading!
What I did for it
So that's how it went: I had a collegue of mine who was already ...read more...
In my previous post, I've written about the new setup I use for activities, and that I have found out that I'm missing the feature of quickly switching back to the previous activity.
I was planning to create a keyboard shortcut for this, but Johan Ouwerkerk had a better idea - that I should make the activity switcher behave like the window switcher (the Alt+Tab thingie) - that the activities should not be alphabetical, but that the most recent ones should go first.
This way, switching to the previous activity is just a single Meta+Tab away.
Details
Now, while the above is the main announcement, I also wanted to mention a tiny change to the Meta+Tab activity switching. Tiny, but important - as people say "the devil is in the detail".
You might have noticed that for some time now, the activity switcher is showing when was the last time you used a particular activity. This information was useful, but not for the people who switch activities with Meta+Tab.
Previously, if you cycled through all activities ...read more...
The WebKit rendering engine used in many Linux applications is a complete security mess. That's the takeaway from a blog post by Michael Catanzaro, who works on GNOME's WebKitGTK+ project.
Hey everyone!
I am a first year computer science undergraduate from BITS Pilani, Hyderabad Campus. I am looking forward to working for KDE for the GSoC.
My project idea is based on solving a problem all file managers have had for years - the lack of an easy to use file selection tool. My project aims to simplify selecting files from multiple directory trees.
I am running a survey to gauge community feedback on my idea and to finalize the user interface and features list.
The link to my idea proposal can be found here:
https://goo.gl/3Y932R
And the link to my survey can be found here:
https://goo.gl/forms/5JSZXNganX
TIA for the feedback : )
KDE Project:
Recently the question was asked in the KDE forums how we handle advanced settings. While there is neither a best practice nor a common approach in KDE software, we actually discussed a similar concept in respect to the Plasma control modules (KCM).
The updated organization of KCMs was implemented by the developers, the community decided about the basic layout, and a couple of proposals were done [1, 2]. So why don't generalize this idea and write a guideline?
The following guideline proposal not only recapitulates what we considered for the KCM but also introduces some new ideas. There is first of all the import/export function. The use case for this function is a system backup where you may want to store application settings too. While installing software is a piece of cake you waste much time to get back your previous look and feel as well as the ...read more...
As expected, Calligra 2.9.11 is only a bugfix release, and it is here to improve the overall performance and compatibility of the office suite used by numerous GNU/Linux users on their KDE desktop environments.
Just a small update on the
Call for Speakers
for the OpenStack Austin summit. The submission period was extended. The new deadline is February 2nd, 2016,11:59 PM PST (February 3rd, 8:59 CEST). You can find more information about the submission and speaker selection process
here
.
Ansible does support Windows with an entire set of modules. Thus it is also possible to run Ansible playbooks targeting Windows systems right from Ansible Tower. However, since Windows does works via WinRM and not SSH, the appropriate variables must be set in the definition of the inventory of the machine:
The given screenshot shows the variables for Ansible 1.9. For 2.0 and above the variables are a bit different. Also, keep in mind that you might need to create an additional set of credentials.


Filed under: Fedora & RHEL, Linux, Microsoft, Shell, Short Tip, Technology
When the streets are covered with snow and ice in many parts of Europe, it's a good time to sit inside in front of our computers and to improve that software we are sharing here with each other.
With the porting of the apps, plugins & libs part of Calligra to Qt5/KF5 roughly done towards the end of 2015, it is now also a good time to work on features again.
Given a few Calligra developers interested in improving the text-handling modules, we looked into doing a developer meeting (a.k.a. "sprint") on that quickly, and given January being a good candidate for snow and ice on the streets, we scheduled it for the 4th week-end of January, so the one that just passed.
In the end it was just three of us who could make it, but small can be also better :)
A big share of time of the sprint was invested into spreading knowledge about the current text-layout system by its architect Camilla, by explaining and discussing the current design and code.
To apply, ...read more...
Earlier this week, the loved one of a man I used to babysit was pushed into the path of an oncoming subway train car, by a stranger, and soon after died of their injuries. While the death seems random, even cruelly so, it's one of many like it: Every year, people die on Berlin's various railways.
Plasma 5 comes with a very cool feature: KWin can set a different colour scheme for title bar of each app (basing on app identity or title of the window). For example, in the image below you can see Gwenview, Dolphin, Ksysguard and Kate each one with a different colour for its title bar:
This has interesting consequences on consistency of third party apps (web apps included) and we'll see it below. Before that let's see how to apply a custom colour for each app.
1. In System Settings > Colours: save your current colour scheme (to re-apply it later), switch from "scheme" tab to "colours" tab and edit the colours of active and inactive window title bar:
2. Save the new colour scheme with your app name (in the example "Dolphin") and restore your previous colour scheme:
...read more...
Plasma 5 comes with a very cool feature: KWin can set a different colour scheme for title bar of each app (basing on app identity or title of the window). For example, in the image below you can see Gwenview, Dolphin, Ksysguard and Kate each one with a different colour for its title bar:
This has interesting consequences on consistency of third party apps (web apps included) and we'll see it below. Before that let's see how to apply a custom colour for each app.
1. In System Settings > Colours: save your current colour scheme (to re-apply it later), switch from "scheme" tab to "colours" tab and edit the colours of active and inactive window title bar:
2. Save the new colour scheme with your app name (in the example "Dolphin") and restore your previous colour scheme:
...read more...
Please join us on #kubuntu-devel on Freenode IRC.
There are many ways to install and run ownCloud. What is best depends on your situation but some general rules of thumb can be given.
Use ownCloud Provided Packages If You Can
The best solution from a security and stability point of view are the official ownCloud packages, provided you have the basic know-how needed to run your own Linux server.
Packages give you the advantage of a relatively clean and easy upgrade process, with the ownCloud team taking care of any special steps which have to be taken. The upgrade itself will still have to be kicked off by the system administrator (see
our latest update
) but you won't risk forgetting to remove old files, correcting file permissions and so on.
We do
not
recommend using distribution packages, for several reasons:
First, there will inevitably be a lag between what distributions ship and what we make available.
Second, it happens that distributions don't grab the right code (like relying ...read more...


Ссылки