Ссылки
The Grantlee community is pleased to announce the release of Grantlee version 0.1.3.
The most interesting part of this release is the support for generating ruby code in the code generator example.
The patch adding ruby support did not touch any C++ code. It did touch some ui files and Qt Resource files. It would be possible to add extra language support without even recompiling the application if not for the Qt Resource usage. Part of the intent of that example application though is to show how to use Qt Resources with Grantlee though, so that is not going to happen for that app
.
I just released Version 0.3.2. Update as usual with sudo gem update
There are two important bugfixes.
Fetching qt failed because it tried to fetch from a pure server url. You need to update your recipe too.
SQLite3 obviously starts to enforce foreign key constraints. After updating to OpenSuSE 11.3 build-tool failed for me because the constrained i declared had a typo. Was never a problem before (for me). Remove all ~/.build-tool/*.db files to get going again if you encounter the problem.
Hi all,

I was wondering - the dot editors have clearly been in a frenzy lately, publishing articles like it's nothing. We've restricted ourselves to 1 article a day at most - but they're often quite a read. I wonder what people think... Since we've turned of anonymous comments I don't see a lot of input from the community, and I'm wondering - do you guys and girls like the articles? Are there things we can improve? Is the frequency to high? Too low? And as usual - wanna help out?

Cheers,
Jos
For the uninitiated, EyeOS is a free, open-source desktop implementation right in the browser. I was recently playing around with my EyeOS installation that I forgot I had installed a while back (v1.x) and like what most people do when they try out a new system, I decided to see what other themes they have.
Turns out they have an Oxygen theme! It's a little dated but I must say I'm impressed. Very impressed.
Now all I have to do is find a practical personal use of EyeOS! Perhaps it might replace a few of my cobbled series of other cloudish hacks.
Related posts:
Interviews
I did some 30 second video interviews at Akademy in Helsinki. You can download them to get a feel for the people and place of Akademy. Unfortunately I've been unable, in the limited time I've devoted to it, to convert them to Oggs, ffmpeg doesn't want to do it. I've also been unable to find a simple HTML5 video gallery script that would make a simple HTML page with the videos embedded. Do let me know if you have the answers to those. I recommend Frank's interview for an insight into what our board spends its week doing.
Eben Moglen Talk
Before Akademy I went to see Eben Moglen give a talk at the Scottish Society for Computers and Law. Eben is a much overlooked rock star of free software, having written the GPL licences and made many other significant contributions.
His talk was about the dangers of embedded software, taking the example of the software in cars because it is a topical issue but also in other life critical areas such as aeroplanes and ...read more...
Jos has been getting very philosophical lately. One post that got me thinking about how odd KDE is (in a good way) was his one about working together.
KDE is quite unlike anywhere else I have worked, for fun or profit. Probably the closest analog is my involvement at university with the student newspaper, the Warwick Boar where I started off writing general features and ended up as Science Editor.
The Boar had a few similarities to KDE. It was staffed by volunteers, was successful (we won awards and stuff), diverse and quite large (I don't know exactly, but well over a hundred contributors). However, unlike KDE, it was hierarchical. At the top was the Editor, who had ultimate power and responsibility. He or she made the call when someone threatened to sue for libel, or when one of the big national newspapers wanted access to one of our sources (it happened). Below the editor, each section had its own head, responsible for organising their team and making sure that their pages got done.
...read more...
For KDE developers, web-based forums are often uncommon workflows. Indeed, for communication among developers mailing lists are much better tools, especially since you can handle everything inside a client (most of the time), compared to forums where you have to use a web browser. The ways of reading, replying and interacting with posters are dramatically different. And that is why some developers find themselves uncomfortable with the KDE Community Forums.
A dedicated application would be usually much better than a browser, because you can work around the intrinsic limitations of the browser itself. The problem is that you can't really access a forum with anything else than a browser. That is, it used to be like this, but now things are changing.
In the past months fellow administrator bcooksley has been working quite hard implementing the Open Collaboration Services (OCS) specification in the KDE Community Forums. For the uninformed, it's the same API that powers OpenDesktop.org and related web pages. This means that you could ...read more...
My summer of code had hit a bit of a dead end between some Nepomuk woes (your week is up Vishesh
) and some general issues with plasma integration in all of the plasma-related SoC projects… Half of that is hopefully solved with a bit of a nice solution, imo, which Aaron came up with at Akademy
At Akademy, Aaron talked a lot about Elegance; in our interface, our applications, our API. Make things fun to work with, easy, organic. It's something we should strive for, and something that I have strove for in my code; sexy code is a hell of a lot more fullfilling than ugly hacks.
Since the beginning of SoC I have had the interesting task of making sure that applications have some sort of way to talk to the KPart I have been working on (which is now feature complete enough for me to start cleaning up the code for kdereview and eventually kdebase-runtime, w00t), which is incredibly difficult because KParts simply aren't designed ...read more...
I've been pretty quite about GSoC progress. But I had a great time at aKademy and forgot all about blog posts. So the current status is thus. If programming was just about getting things done, I am done! But its not, which means although everything I was supposed to do is done in a big picture way, the next few weeks will see bug fixes, optimization and ensuring that certain things can be done faster, more accurately or in a more user-friendly manner. I also have to port the code over to use Solid, now that fellow GSoCer Paulo Romulo has improved UPnP support in it.
Last time I gave a glimpse of the Browse based collection. UPnP MediaServers have two methods of accessing their content. Browse() is similar to going through your hard-disk directory by directory. As you can see, this can be quite inefficient for a Collection since it has to keep track of a large number of tracks. The other method is Search(), wherein users can query the MediaServer to give tracks/media matching certain criteria, such ...read more...
Yakuake is a drop-down terminal emulator based on KDE Konsole. It features smoothly rolling down from the top of your screen, a tabbed interface, configurable dimensions and animation speed, a skinnable GUI, and a sophisticated D-Bus interface.
It's been about a month since my last blog entry, so let me remind you what I'm doing as part of my Google's Summer of Code (which down here is Autumn/Winter!):
A hatching and halftones brush for Krita.
Implementing impasto in Krita.
Part 1 is virtually complete, there's no halftones brush yet, but it's trivial to create one from the hatching brush which is now beta!. That's right!, all GUI is linked and you can start toying with it and have fun, change the settings to anything you like without touching the source code! =D here's a little picture reminding you of what it looked like:
Halftone Brush Beta!
How to install Krita trunk and start playing!
Remember there is no way to download only Krita, you have to download all of KOffice's source code and then you can specify the applications you want to build. If you wonder why this is so, ...read more...
Had been holding off posting on this until I have something reasonably pretty to show for it, but damn, said pretty thing sure took its time. Anyway, GSoC mid-term evaluations just ended, and I finally managed to hack up something that looks somewhat presentable. Here's a short screencast of it.
Some key ideas of the current implementation:
The tray lives in it's own containment separate from the main activities/launchers.
There is a passive "shrunken" form and an active "enlarged" form.
The passive form is not interactive and click/tapping it simply switches it to the active form (with a simple QML animation thrown in). It shows a number of defined "always-show" applets and a limited number of the other applets, prioritized by recent activity.
The active form shows all available applets in large, finger-friendly sizes, and is scrollable in case it doesn't fit the screen (hello Plasma::ScrollWidget!). It behaves more or less like one would expect a systray to behave.
Not a lot to show for one month plus worth of development I admit
...read more...
I ended up taking two "breaks" during the day today to do "30 minute hacks". This is where I do something in the codebase that may or may not end up being useful but which I find interesting to try out, keeping the exercise to a length of 30 minutes or less.

The first one was moving around some of the UI in ksnapshot (after chasing down an annoyance in kdelibs that would pop up a notification every time ksnapshot started if you had last saved a snapshot to a remote location). Here's the result of that "30 minute hack":




The default size is bigger (and it remembers the window size between restarts), the snapshot thumbnail has a bit of a shadow around it and the buttons have been re-arranged. Other than the window size saving, which I consider a bug fix, I'm not sure if the rest will make it into the next release or not. We'll see. I'm currently waiting for feedback from Rich Moore, my KSnapshot partner in crime. ...read more...
This article shows you how to create the GUI of a tiny text editor without being a C++ guru.
Last year we already discovered that Kate is truly the only holy text editor* (again thanks to rms for making us aware of it)! (and btw, xkcd is totally wrong). And now we even have yet another proof: The holy Kate maintainer and the naked woman! Enjoy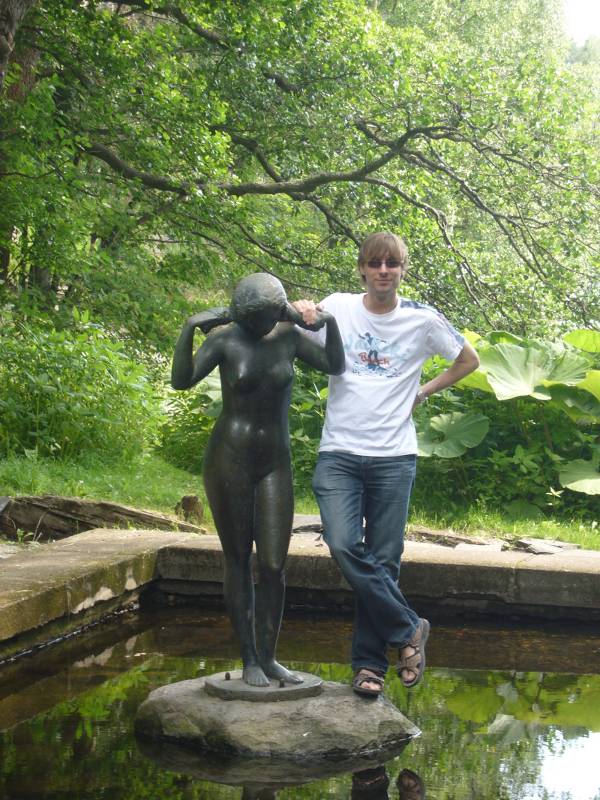 (*) this is an insider from the joint KDE and Gnome conference (gcds) in Las Palmas, Gran Canaria, 2009.
> Adam.prototype
Human
> Adam.timestamp
1281827100
> Adam.length
50.17
> Adam.weight
3.4
> Adam.health
Checking.... Good
> Adam.mother.health
Checking... Good
> Adam.father.status
"Happy"
Hi guys. I'm GSoC student Cyril Oblikov. And this is the first post about my project - Mind Mapping in KOffice. Mid-term evaluations deadline coming soon, and I'd like to describe what is done for this moment.

A key element of mind map is tree which layouts shapes with text. I decided tree may be usefull not only for mind mapping, but for some other things. So I started working on TreeShape plugin. Plugin makes it possible to layout any KOffice shapes in tree structure and manage it.
As my tree can work with any KOffice shape, I prefer using Ellipses or Rectangles (this simple shapes are well suited for debugging).


Let us see, what my plugin can do right now:

There are four types of layouting shapes: OrgUp, OrgDown, OrgLeft and OrgRight. Also layouts can be combined.
Keys 1,2,3,4 change type ...read more...


"KDE" and "K Desktop Environment" are trademarks of KDE e.V. for The KDE Project .
Today openSUSE 11.3 is released, concluding 8 months of intense and enjoyable work. This release has been especially enjoyable for me, as it was the first openSUSE release where the community KDE team really took the driving seat and made decisions about what to include, updated packages and intensively tested. Instead of just being a slave to a feature list this release, I was more occupied in enabling, advising and reviewing others' contributions. I'd like to say "Excellent work!" to the whole openSUSE team here in Nuremberg, Prague, the rest of Novell and to every openSUSE contributor who has tested milestones, reported bugs, learned how to use osc and build.opensuse.org and made a difference.
By our recent standards, openSUSE 11.3 is a conservative release; it doesn't have bleeding edge features shoehorned in at the last minute by product management or novelty for its own sake. Instead it's what a Linux distribution should be: a careful composition of the all the newest stable elements from upstream. The KDE SC 4.4.4 that we ship is ...read more...
Its been about 13 months since KOffice2.0.0 was released, the first in a series of an office suite that is itself over 12
I had some free minutes today at Akademy, so I decided to build an ownCloud appliance. I did a few iterations in SUSE Studio and there you go: ownCloud in a box.

The screenshot shows the ownCloud web interface running in a testdrive on SUSE Studio. The appliances is available as live CD, USB image, virtual image for VMware, VirtualBox or KVM, or as disk image. This should make it really easy to run your own ownCloud server for just having a look or for quickly getting an instance up on some computer.

It's a first version, so don't be too surprised, if there are still some issues. Feedback is welcome as always.
The tasklist I submit to Google was very realistic, but don't know I why didn't suppose to meet any small bugs need to be solved.
So now that I have something 'visible' to show, instead of just internal changes, I thought I'd post an update on my progress with KStars and OpenGL.
In part due to the disorganized nature of the existing codebase and in part due to my under-estimation of some things (not to mention Hofstadter's Law) I ended up not getting as much done as I'd have liked, because I spent a lot — maybe even a bit too much — time refactoring. What I did is to get rid of all calls to QPainter in the individual SkyComponent::draw() functions, and replaced them with calls to a SkyPainter class that acts as an interface, allowing one to draw things on the sky without regard to the actual backend. The actual drawing is done by either a SkyQPainter or a SkyGLPainter, but the sky components (e.g., stars, deep sky objects, constellation lines, &c.) don't know anything about how the drawing is actually done.
Anyways, now I have the OpenGL backend almost up to par with the QPainter one in terms ...read more...
My first, but not my last, Akademy is over and I arrived back in Switzerland. Akademy was really amazing and I want to thank everyone who made that possible. It was a great pleasure to meet you all. Keep on rocking!

One of my good post Akademy intentions is to support the KDE-EDU team. The first step is to get my kids joyfully involved into software development with rubber ducks. They love it! ;-)



And this picture is for you, Tomaz.


Bluecherry, a company that specializes in Linux (Ubuntu-based) surveillance equipment and applications, is currently looking for a full-time cross-platform Qt software developer. If you are a Qt developer who lives in the United States and is looking for a job, let me tell you, this could very well be it! It is a great opportunity to design and develop a new version of their interface and you get to work along side somebody like Ben Collins. Curtis Hall is the founder and owner of Bluecherry and is a really groovy dude. If you live around Fulton, MO, you can work in the office, and if not, you can work from home.
Here is just a brief introduction to the job posting Curtis has posted on Monster:
Bluecherry is seeking a well qualified applicant for cross platform Qt user interface software development. The position will also assist with training and support. The ideal candidate should have excellent communication skills and a strong background developing software applications under Linux. The candidate should also ...read more...



I'm proud to announce the second alpha of both LibQApt and Muon. (For an intro to those who may be seeing this for the first time, read my previous blog post) Packages will be in the same location as before, but are not yet ready. It seems that the PPA service builders have a backlog on the magnitude of 1956 jobs, and won't get to LibQApt or Muon for another 48 hours.
Tarballs can be found here and here, for QApt and Muon respectively.
Bugs are now being tracked at bugs.kde.org (as opposed to in blog comments
). To report a bug in either LibQApt or Muon, you can now use the "Help -> Report bug" menu item in Muon just like any other KDE application.
Here's what's changed since 0.2 (1.0 alpha 1):
QApt
Fixed a bug where entries like "Replaces: libqapt (< 0.3.0-0ubuntu1)" would get cut off at the '(', due to the interpretation of '<' as the ...read more...


I'm sitting in the train from Zurich to Burgdorf (Switzerland) and want to report, dear reader, about my first week of KDE (or atm qt) development. It was not really as I planned it, I did not work a whole day on qt and kde, but several hours during the week.
As I told you last week my first week was about an xml indenter. Some years ago when I started to track routes for OpenStreetMap.org my Garmin GPS device spat out bad formatted xml (GPX) files. Bad means here that all of the content was on one line and as I sometimes wanted to extract single tracks me and the dear editor (Kwrite or Kate) had some problems to read and understand it. So then I wished there was a simple possibility to indent and format this piece of … I'm sure there are tools for this and probably I would have found them quite fast but as I didn't search that much … Now in the ...read more...
Ссылки