Ссылки
While relaxing after the hard-working period that was the GSoC, I came across a comment left by Torsten Rahn of the marble team. He wondered whether it would be possible to adapt image warping functionality so that it can be used to morph some old maps.
Apparently, they would like to add historical maps to Marble. Unfortunately, these maps are most of the time not "plate carrée projections" of the globe, which is a requirement for Marble. Hence they use xmorph to convert those maps "by hand" into plate carrée projections.
Of course, it would be too long and too hard for me to do something like xmorph. Though, after taking a look at some of these old maps and searching on wikipedia, I became pretty sure these were some kind of stereographic projections (actually two stereographic projections : each one representing a half of the globe).
So, I did the maths and wrote a simple command-line program to convert automatically stereographic projections to plate carrée projections.
I was quite convinced the result would be bad, but actually it ...read more...
16 | System & Utilities | http://www.kdedevelopers.org/node/4322 | 12720 |
Kate has been my favorite editor for some time now. And only recently has it not been able to do something I asked it do to. I was working on a rather large project in Perl when things started getting confusing. The classic file list had 50+ files in it, some of them have the same file name, so would have (1) or (2) or even (4) after the file name, and while thats handy, it gets confusing pretty quickly.

So I spent a week to try and bring order to the chaos. And this is what I came up with.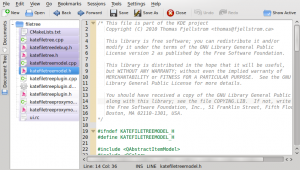 Now I can tell people are thinking, but Thomas, that doesn't look so confusing.. Granted.
Here's what my larger project looks like with the file list: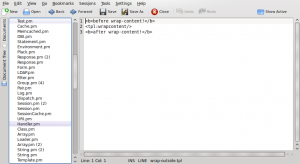 I think anyone will have a hard time working with that unholy mess. After trying to manage that for ...read more...
16 | System & Utilities | http://kate-editor.org/2010/09/10/tree-view-plugin-introduction/ | 12716 |
The KDE-on-Windows website has gotten a facelift !
It now has the same style as the other KDE websites, and a lot of content has been updated in the process, to reflect the latest status of the project and its team.

Thanks to the webmasters and to Ralf Habacker for the updates.

It's a good opportunity to go and download the latest kdewin installer :)

ps: stay tuned for some news from the KDE-Windows team, with a HUGE announcement coming in the following days... ;)
16 | System & Utilities | http://c2143.blogspot.com/2010/09/facelift-for-windowskdeorg.html | 12712 |
Dear friends
It is being almost 3 months since the last public release of both the library and the resources. In the library, no new features on this release, but some improvements and bug fixes. The laundry list goes:
restored ABI (as noted by Fathi Boudra, gcal_contact_get_im was missing after the work in supporting multiple im fields)
CMake and autotools buildsystem will install the library in INCLUDE_DIR/libgcal (as per request of Mario Ceresa so it will adhere to Fedora Core packaging policies). Autotools patch by Ademar Reis.
And a new cleanup function gcal_final_cleanup() to avoid a potentially crash scenario if libgcal is linked with something else that *also* uses libxml. Nice patch by Chris Frey (thanks a lot dude!).
But for the resources, some nice new features:
IM fields are supported (as a matter of fact, this feature was available in libgcal since 0.9.5 release, but it never made into the akonadi contacts resource). Patch by Holger Kral.
Fix a scenario were authentication would fail if both resources (gcalendar + contacts) are set while using different google ...read more...


16 | System & Utilities | http://savago.wordpress.com/2010/09/08/libgcal-0-9-6-plus-akonadi-resources-1-2/ | 12708 |
Continuing Jos's exploration of cool KDE blogs, here are a few more places you can find some nice reviews of KDE software.
Over in Iran the blog of Saeid Zebardast, you will find a variety of free software related articles and occasional tips relating to KDE software.
In India, Swaroop CH is a long time user of KDE software and occasionally reports on happenings in KDE land.
In Italy, Bash follows our development with a keen eye and provide handy tips for Arch and non-Arch users.
Willy Sudiarto Raharjo from Indonesia writes about KDE software on his Unofficial Slackware blog.
Abybashit is not only an openSUSE ambassador but also writes some interesting KDE commentaries from time to time and uses KDE's Blogilo to do so.
Nice, but dormant
There are also a few blogs that were providing great information, but unfortunately seem to be inactive for a while. If you write one of these, why not ...read more...
16 | System & Utilities | http://www.asinen.org/2010/09/webkde-roundup-who-is-kde-part-4/ | 12703 |
The KDE API Reference web site is now providing ".qch" files suitable for loading into Nokia's Qt Assistant.
16 | System & Utilities | http://www.topix.com/tech/kde/2010/09/api-kde-org-and-qt-assistant?fromrss=1 | 12704 |
I bet nobody expected this (I didn't) – the next distro-branded version of stripes is for freeBSD. The freeBSD logo is quite pretty, but distorting it ruins it beyound recognition. For this reason, the wallpaper has much less depth than the previous ones.
One is the obligatory blue (not to say vanilla version) and the other one is redish)
KDE be free…
And here's the first attempt of making a KDE-branded one… I'm not yet satisfied with it, this is only a preview.
16 | System & Utilities | http://ivan.fomentgroup.org/blog/2010/09/05/stripes-kde-be-free-freebsd/ | 12698 |
KDevelop is an integrated development environment which makes the creation and development of applications an easy task even for beginners.
16 | System & Utilities | http://www.topix.com/tech/kde/2010/09/kdevelop-4-0-2?fromrss=1 | 12699 |
A new Drumstick version is in the oven, with two tasty novelties:

1. OVE file parsing support (files created by the Overture program).
The code for this feature has been contributed by Rui Fan. This file format can be played by the included program drumstick-guiplayer, in addition to the SMF and WRK formats. There is also a new drumstick-dumpove CLI utility to inspect the file contents as text.

2. Acquisition of real-time priority, using RealtimeKit.
Until now, the thread processing MIDI input from ALSA tried to acquire real-time priority using the RLIMIT_RTPRIO mechanism, which requires some configuration and administration work. If the above mechanism is not available, now Drumstick tries to acquire real-time priority from RealtimeKit.

This release is scheduled for sometime during next week.

What's next?

At this moment there are two libraries: drumstick-alsa (Linux) and drumstick-file. There will be two more: drumstick-win and drumstick-mac. The foundations of these two new libraries are already implemented in KMid2. On the other hand, it ...read more...
16 | System & Utilities | http://midi-clorianos.blogspot.com/2010/09/drumstick-time.html | 12691 |
"The KDE PIM team has made available a beta version of the next-generation groupware client suite Kontact.
16 | System & Utilities | http://www.topix.com/tech/kde/2010/09/help-test-the-next-generation-of-kdes-kontact?fromrss=1 | 12692 |
When I first started with graphics - I plotted pixels onto the screen by calculating a memory address and then poking the corresponding value.
16 | System & Utilities | http://www.topix.com/tech/kde/2010/09/reply-to-comment?fromrss=1 | 12686 |
Marble is getting closer and closer to become a navigational aid on the N900 (or whatever you want to carry around with you). Todays patch adds support for the generation of turn instructions -- verbal and iconic driving instructions at appropriate points -- to Marble's gosmore and routino plugins, two offline routers. Currently it looks like this (turn instructions displayed on the left):
Turn instructions are useful as a written summary when printing routes. They're even more important in turn-by-turn navigation mode, the feature Siddharth Srivastava added recently during his GSOC project. If you know the routing support in Marble 0.10, you may wonder how these new turn instructions differ from those displayed there. The first difference is that there are different icons, each indicating the turn type. Icons are a great time-saver in stressful situations -- e.g. when navigating through an unknown city. The second difference is that we have full control over the generated text: Marble (or you) can decide ...read more...
16 | System & Utilities | http://nienhueser.de/blog/?p=177 | 12682 |
Do you own a Nokia N900? We just released the first stable* Marble packages for Maemo. If you read this on your N900, they're just one click away:
Like the versions released earlier, the packages are based on the Qt version of Marble. It's the first time we provide one-click install packages, though. They're expected to install seamlessly using the graphical program manager. Marble can be started from the application menu afterwards. Notice that the one-click installer above installs the light version of Marble (5.7 MB) that only has the OpenStreetMap theme installed. Install marble-maps from the Navigation section of the program manager to get all other themes. Please report feedback to marble-devel@kde.org.
*The fine print:
We call the packages stable because they come off the stable (KDE/4.5) Subversion branch. Indeed I don't expect any serious bugs. However, we are aware of some annoyances in the current user interface that we plan to improve in the upcoming versions. Please don't report any ...read more...
16 | System & Utilities | http://nienhueser.de/blog/?p=166 | 12678 |
16 | System & Utilities | | 12673 |
The above combination was never a painless experience, still at some point in past it seemed to be better to have a NVidia card on Linux then anything else, so I continued to buy them whenever my system was upgraded.
16 | System & Utilities | http://www.topix.com/tech/kde/2010/08/kde-and-nvidia?fromrss=1 | 12674 |
After reading Artur's blog post about becoming a supporter of KDE at the Join the Game website, well…I had to shake the rust off and move into action.  A program that sends you a game board piece as a token of appreciation?  Where have I been?
I went to the site and signed up immediately.  The signature from Cornelius is probably worth 50 euro alone.  Or so I assume based off the money I made on ebay from his "SCO is forever" cocktail napkin sketch at the Dublin akademy.
What good is Wade joining if he doesn't also crank out a massive amount of  images hosted at his usual location to celebrate his new KDE sponsorship? (Massive = eight)
...read more...
16 | System & Utilities | http://wadejolson.wordpress.com/2010/08/30/self-actionjoin-the-game/ | 12670 |
During the first semester of this year I've been playing with the idea of creating a "Share" dataengine that would support scriptable plugins. This idea came from the fact that there were a lot of hacks on the pastebin dataengine that at the time were the only "fast" solutions to the problems I was facing. I was also motivated by the amount of bugs/wishes on bko regarding new services.
I started to hack on this new dataengine and now it's ready! Since some weeks ago I moved from kdereview to kdebase and now you can write plugins for your favourite services using any of the scripting languages that Kross supports today. Later I will enable GHNS on the pastebin applet so if you have a special service that you want to write a plugin you don't have to wait for a KDE release (that's what happened with the old dataengine), you will just write it using JavaScript/Python/Ruby/etc and upload to kde-apps.org . Neat!

I hope that a lot of users will use this feature and ...read more...
16 | System & Utilities | http://blog.morpheuz.cc/28/08/2010/updates-on-plasma-land/ | 12667 |
The yubikey is a small usb flash drive like device which can generate a one time password on demand. When it does this it inputs it as though it were a usb keyboard. You can set your own keys on the device and authenticate yourself locally using OTPs which is useful as well as cool.

A little series of hurdles later and I have the key unlocking KDE4. Some of the issues you are likely to see are that /etc/yubikey needs to be +rw by whatever is trying to use it. So making a yubifoo group and setting /sbin/yk_chkpwd to be setuid that group can be a plus. The biggest problem I had was trying to get the YubiPAM module to unlock KDE. It turns out that it was getting the user name and sending that to a child yk_chkpwd to verify instead of sending the current auth token.

To fix it, you might like to mangle pam_sm_authenticate() to use the following to get the authtok and send it through as the one time ...read more...
16 | System & Utilities | http://monkeyiq.blogspot.com/2010/08/yubikeys-and-kdes.html | 12664 |
With all of this talk about KDE 4.5 lately, I thought I should take a moment to mention a tool that hasn't had much talk here on Ghacks.
16 | System & Utilities | http://www.topix.com/tech/kde/2010/08/kontact-how-does-it-compare-to-the-competition?fromrss=1 | 12665 |
After a somewhat difficult day release-wise, I am relieved to announce the release of Muon 1.0.1 as well as QApt 1.0.1, the package management library that Muon uses. For those of you unaware, Muon is a powerful Debian-based package manager with a sane GUI for KDE. A full rundown of its main features can be found here. Packages are available in Maverick proper as well as in my PPA for Lucid. Source tarballs can be found here and here.
Here's a list of what's changed since 1.0.
QApt 1.0.1
Fixed what is hopefully the last of "libapt-pkg gives LibQApt null const char pointers if for some reason libapt-pkg can't get the string we want" crashes. (Bug 247439)
Fixed a typo in the API documentation
Slightly optimized the QApt::Package::isSupported() function by using better logic to reduce the amount of queries we make about package info.
A few coding style fixes
Fixed a bug where the worker would never send a "finished" signal if a download ...read more...


16 | System & Utilities | http://jontheechidna.wordpress.com/2010/08/27/muon-and-qapt-1-0-1/ | 12660 |
The free and open source image management software digiKam has been updated. New features have been added, including an option to remove duplicate items.
16 | System & Utilities | http://www.topix.com/tech/kde/2010/08/digikam-1-4-0-released?fromrss=1 | 12661 |
Thoughts from Macworld about what Apple's really up to, and how parallel moves by Linux are equally easy to miss.
16 | System & Utilities | http://www.topix.com/tech/kde/2010/08/ghds?fromrss=1 | 12655 |
It has been brought to my attention that I have not blogged in a while. That usually means it's time for a new proxy model.
The latest one is KIdentityProxyModel. It maintains an identity relationship to its source model such that the structure in the proxy mirrors exactly the structure in the source model, without sorting, filtering, flattening or otherwise changing the structure.
What the KIdentityProxyModel does provide though is a base class suitable for data proxying. There are many uses for such a class. Typically, an implementation of QAbstractItemModel will have an implementation of the data() method with a large switch statement for returning the decoration, the tooltip, the what's-this text etc. It becomes cumbersome and difficult to maintain. Better of course is to use separate proxy models instead of a switch statement. If your tooltip text is defined in a ToolTipProxyModel, you can compile it in on the desktop, ...read more...
16 | System & Utilities | http://steveire.wordpress.com/2010/08/25/kidentityproxymodel-does-nothing-fast/ | 12654 |
wow, it's been over a month since I blogged. Time flies.
I'm still working away on OdfKit; unfortunately it doesn't lend itself well to screenshots. I could show you the pretty green and red of tests passing and failing, I suppose. ;)
I can't bring myself to work all the time in this beautiful weather, though. At the beginning of august I went to Shambhala, a big music festival out in the woods. :) A week of camping, music, and hugs – it was amazing. The stars… the river… the sets… the food… the people… the costumes… the land… it was beautiful, spiritual, simply amazing. :)
Surprisingly, I also left shambhala with more money than I went in with. :) On the second (or so) day there, I found a guy doing body painting by donation. I wanted my face painted, but didn't have much cash on me, so I gave him a massage instead – and then had the idea of doing massages by donation too :) He let me use his paints to make a sign, and pretty ...read more...
16 | System & Utilities | http://chani.wordpress.com/2010/08/24/still-alive-2/ | 12649 |
"KDE" and "K Desktop Environment" are trademarks of KDE e.V. for The KDE Project .
16 | System & Utilities | http://www.topix.com/tech/kde/2010/08/tagging-kde-sc-4-5-1?fromrss=1 | 12650 |
To mark the KPackageKit series of changes of 0.6.1 version I've very glad to announce that debconf support is now available and working quite well.
For those who followed the long story lots of people got angry/mad or something like that, because PackageKit"s design was not to ask things while installing. Sadly no one of the angry ones put faith into "working around" this problem or even fixing. There were flame wars and lots of people who didn't ever put a hand on the code that said that PackageKit was broken by design (this wording is very common these days..
).
Anyways it was sad that a project with the importance it had, would leave so big distributions like Debian and Ubuntu out of it.  Indeed convincing the author of it to do some changes wasn't easy but in the end I must agree that most API breaks I didn't cause were actually good. The author of PackageKit although some people disagree is really easy to convince that he is wrong when he actually is. ...read more...
16 | System & Utilities | http://dantti.wordpress.com/2010/08/23/debconf-support-on-kpackagekit/ | 12645 |
This was a really cool summer. Actually, a really cool winter, since I live in the southern hemisphere (Brazil, for those whom don't know already). I believe that the most cool thing on this GSoC for me was finally get involved in the community, know the people behind and contribute with the KDE project after about 5 years using it. I'm really glad to see lines of code written by me in the tree and looking forward to do more cool stuff from now on.
As a not so much experienced Qt/KDE developer, I had some problems on the way. However, I think I can say that the basis for a consistent UPnP support on KDE is ready. Obviously, there is more things to do and refine, and I'm happy with that, because it means that I'll keep working with Kevin and the others 'metalworkers' :-D.
Today we have a nearly full media server support on Solid and the KIO slave developed by Nikhil with the Amarok
...read more...
16 | System & Utilities | http://pauloromulo.blogspot.com/2010/08/emit-remmus.html | 12642 |
Klipper is the KDE 4.5 clipboard and it is not your average clipboard tool. Unlike most operating system clipboards, Klippy gives the user quick and easy access to not just the last object copied, but multiple objects copied.
16 | System & Utilities | http://www.topix.com/tech/kde/2010/08/make-use-of-the-kde-4-5-clipboard?fromrss=1 | 12643 |
If you see less of me over the next few weeks, I can explain, I promise:
My dorm, Mr. Coffee, and my awesome roommate, Tyler
It kind of crept up on me, and I had no idea how much work it would be to move in. I moved the Plasma KPart to kdereview right before I moved and I really haven't had much time to hack on Plasma stuff since I settled in. That will begin to change as I get in to a good rhythm and figure out a schedule that works for me. Having the coffee pot automatically brew in the mornings will be a lifesaver
College will be good for me though; I was never very IRL-social in high school, and already that has changed. No, I haven't been drunk the whole time since moving (or at all), but I have met a ton of interesting and awesome people, including my roommate and my two suitemates, and a few other special people, ...read more...
16 | System & Utilities | http://hackersramblings.wordpress.com/2010/08/21/change/ | 12640 |
Ссылки