Ссылки
Smaragd, the Emerald engine for the KDE window manager KWin, is nearing its first alpha release. While there is still no comfortable theme installation procedure, the engine has seen many improvements compared to the first announcement.
In the latest 0.0.7 version, support for shadows, animations, and button glow has been added. Additionally, many bugs have been fixed, and it should now support all Emerald themes, including those that do not provide its own button pixmaps.
If you want to test Smaragd, make sure you first try without custom button positions enabled in System Settings. Smaragd is then able to use the button positions from the theme and this guarantees best results. If you later would like to swap some buttons, or remove some, then you can enable custom button positions.
To manage your downloaded themes, you can use the following command (if you did not install KDE4 to /usr, then you have to adjust the path):
khotnewstuff4 /usr/share/kde4/config/smaragd.knsrc
This downloads .emerald theme files to the .kde/share/apps/smaragd/themes folder. To select a theme, extract one ...read more...
A new Free Software event is born: FrOSCamp . The location is nothing less than the renowned ETH Zurich university, in the beautiful city of Zurich, Switzerland KDE of course could not miss out on the chance of partaking in the first out of a long series of successful FrOSCamp events.
KDevelop is an integrated development environment which makes the creation and development of applications an easy task even for beginners.
In the first part of this series, I listed some of the reasons why you should consider writing your Qt/KDE applications in ruby. This post details some of the technical differences between writing Qt code in C++ and in ruby.
One of the first problems that pop up when starting a new Qt/KDE project in ruby is how to use it in such a way that your code doesn't end up being completely unidiomatic. This can happen very easily if one tries to stick to the usual conventions that apply when writing Qt code in C++.
If you take any piece of C++ code using Qt, you can very trivially translate it into ruby. That works, and sometimes is useful, but writing code in this way completely misses the point of using a dynamic language. You might as well write directly in C++, and enjoy the improved performance.
So I believe it's important to identify the baggage that Qt brings from its C++ roots, and eliminate it when using it from ruby. Here are some ideas to ...read more...
A couple of people have left a comment on my last post saying that the "apply" buttons are not working for them (though i've got some emails through those buttons, so it's probably just you :)).

Anyway, anyone who wants to contribute to the relaunch of the KDE Commit-Digest can send an email to danny -at- commit-digest.org with your details and the volunteer job that you're interested in, and we'll get started!

I also wanted to clear up the uncertainty about reviewing commits on Enzyme: yes, you *can* specify which areas you'd like to review (you can even specify multiple areas), so reviewing just kde-edu or koffice is available for those with specific interests - however if too many people only apply to review certain popular modules there'll be an imbalance, so we're going to need general reviewers too!

There are actually two steps when reviewing commits to create a Digest:
Reviewing, where commits are read to see if they are worthy ...read more...


Qt is a comprehensive, object-oriented development framework that enables development of high-performance, cross-platform rich-client and server-side applications.
I've been silent for over a month now since my last blog entry about bringing back the KDE Commit-Digest, but it was for good reason, as I have been hard at work on two things:
Working on completing the first working version of Enzyme, the web platform for creating Commit-Digests.
Renovating the commit-digest.org website to interface with Enzyme, and making it nicer in general.
These steps have taken longer than I expected - especially step 2, as it involved me rewriting the code of the website (this was needed as I started originally learning PHP by making the Digest website, and I have learnt a lot about web development over the past 4 years!).

The concept of Enzyme is of a project-independent (and eventually SCM-agnostic) tool for creating regular project reports and assisting interesting statistical analysis. I have released Enzyme under an open source licence (Affero GPL version 3, unless anyone has any objections) to allow anyone to view and edit the code, or setup an ...read more...
Developers have released version 2.3.2 of Amarok, one of the most popular music player programs.
Some goodies for the n900 are now in my repository. Yes, I know it's evil to have my own, but if that's all it takes to be George Thorogood then so be it. In the at the aforementioned link you will find unison, gphoto, stldb4, libferris, ocaml, a compiled install of coreutils to avoid battling busybox, xercesc, xalanc, xqilla, and a (more) working soprano.

I'm a tad surprised that unison hasn't made its way into the main repositories yet. I can't imagine that outsiders like me are the only ones who use it or want to. If you follow the "only one me" assumption then unison works well for providing bidirectional data syncing. I have compiled unison without a GUI under the assumption that you will be starting the process from the laptop or other more endowed machine. Although unison is written in ocaml, you shouldn't need to install that to get the unison package going.

The coreutils is just a compile and DESTDIR install wrapped up into a tarball. Shove them into /opt somewhere ...read more...
Since we didn't record a KDE and the Master of the Universe episode this week, we decided to make a B-Sides episode for your listening pleasure.
Hosts: Paul Adams (padams) Guillermo A. Amaral (gamaral)
More: http://webbaverse.com/media/b-sides-0x0006
So, here we go with a few updates and clarifications: Price: FREE . Yes, in the tradition of KDE developer sprints, this will be free as much as possible.
One of the oldest methods of debugging is "printf debugging" -- putting various print statements in the code and then staring at the output. That's useful not only if you can't use a debugger. If the program does not crash, but produces wrong results after long computation, it's hard to figure where exactly the problem lies. In that case, printing intermediate data can be a very efficient method.
The only problem is that after adding print statements the program must be recompiled, and after debugging print statements must be removed. But it's possible to make gdb into printing machine using so called "breakpoint commands". Each breakpoint can have a list of commands that will be executed when breakpoint is hit. The commands can include printing and "continue". Here's a simplified example of gdb script I've used recently:

break main.cpp:1353
commands
print ('lvk::nm_model::NM'*)this
printf \"Entering 'run', proc %dn\", $->processor_number
continue
end
run

After putting this to a file "script", gdb can be run as:
gdb -batch -x script name_of_program > log
producing logs of ...read more...
I'm no longer running Amarok from GIT! Today was tagging for 2.3.2 (yay!), and Nightrose needed tarball testers. A tarball is "A package of files gathered together using the tar utility." (rbt.phs.com.tw/manual/glossary.html) To clarify, once the developers agree that Amarok is ready to release, it is tagged, and compressed for testing, then available to the distribution packagers.

I've never participated in the tarball testing, because I didn't know how, and didn't like the idea of ditching my git version. However, in the last six months, building from git has become almost second nature, and lfranchi helpfully explained how to do it, in three easy steps. Step one, download. If you have never used wget, it is worthwhile learning, because it is super EASY and FAST. In this case, the command was cd ~/kde/src/
~/kde/src$ wget http://xyz.net/~account/amarok-2.3.2.tar.bz2wgetOnce it downloaded, oh so quickly, it was time to untar the file, thus: ~/kde/src$ tar xf amarok-2.3.2.tar.bz2And then build as usual: cd $HOME/kde/build/amarok
~/kde/build/amarok$ cmake -DCMAKE_INSTALL_PREFIX=$HOME/kde -DCMAKE_BUILD_TYPE=debugfull $HOME/kde/src/amarok(I did cmake in case it was needed, perhaps it ...read more...
Toorox is a Linux live-DVD based on Gentoo that starts as a bootable media using KNOPPIX technology.
Hey,
Seems like all the budget submitted to KDE e.V. for the Solid Sprint was approved (yay!). Looking forward to meet some of the metalworkers in person, but there is the possibility of I'm not attend because I've never traveled outside Brazil and guess what? I don't have passport (damn it!). I've asked at the local federal police office to emit it, but these things often take a while here, and I'm afraid that it will not be ready until the likely day for me to travel, September 29th. Let's pray. I'll try to push the guys to hurry up.
See ya.
So. Matthias Fuchs of "Speeding up KGet with Callgrind" fame pointed out to me on IRC the other day that KIconLoader seemed to still be using a lot of time to load icon image data, even when the icon should have already been cached.
I managed to confirm the issue. Turns out that when I ported KIconLoader to use KSharedDataCache, I didn't employ KIconLoader's other cache (a pixmap cache [1]) in all the instances where it made sense. Specifically, the pixmap cache only had things added when an entry was also added to the KSharedDataCache.
But this doesn't always make sense. The KSharedDataCache is shared across all KDE Platform-based processes, but there's a different pixmap cache for every KIconLoader. So, it's perfectly possible to have many processes never have to add an icon to the KSharedDataCache.
Now, new pixmaps that are read from a KSharedDataCache are added to a KIconLoader's own personal pixmap cache to avoid trying to search the KSharedDataCache next time. This has the potential to significantly speedup icon-based operations, especially in situations where an ...read more...
As some of you will know, it has almost become tradition for the Trolls at Nokia's Qt Developer Frameworks division to offer some tickets to Qt Developer Days to community members.
Over a year ago, I showed how to render OpenStreetMap on your Qt application. While there were few follow-ups after that, I never found some time to clean it up. But worry no more, here is one OpenStreetMap-related example (at roughly 250 lines of code) I just made public, freshly available from X2 repository under the graphics/mapsnap. It's operated from command line, basically you pass the center latitude and longitude, zoom level (1..17, with 17 is the detailed, street-level zoom), output filename (e.g. mymap.png), and the size.
The following image is the result of running:
mapsnap 37.45108 -122.15917 12 sample.png 600 450
The tool will grab the tiles, more precisely Mapnik-rendered tile images, and stitch them for the final outcome:
Few weeks ago I wrote about MapQuest embracing OpenStreetMap. One positive impact of this awesome move is that you can show OpenStreetMap-based MapQuest tiles in your application. It's just the same ...read more...
While relaxing after the hard-working period that was the GSoC, I came across a comment left by Torsten Rahn of the marble team. He wondered whether it would be possible to adapt image warping functionality so that it can be used to morph some old maps.
Apparently, they would like to add historical maps to Marble. Unfortunately, these maps are most of the time not "plate carrée projections" of the globe, which is a requirement for Marble. Hence they use xmorph to convert those maps "by hand" into plate carrée projections.
Of course, it would be too long and too hard for me to do something like xmorph. Though, after taking a look at some of these old maps and searching on wikipedia, I became pretty sure these were some kind of stereographic projections (actually two stereographic projections : each one representing a half of the globe).
So, I did the maths and wrote a simple command-line program to convert automatically stereographic projections to plate carrée projections.
I was quite convinced the result would be bad, but actually it ...read more...
Kate has been my favorite editor for some time now. And only recently has it not been able to do something I asked it do to. I was working on a rather large project in Perl when things started getting confusing. The classic file list had 50+ files in it, some of them have the same file name, so would have (1) or (2) or even (4) after the file name, and while thats handy, it gets confusing pretty quickly.

So I spent a week to try and bring order to the chaos. And this is what I came up with.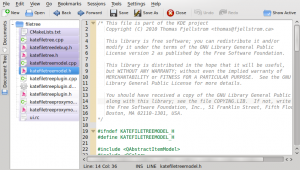 Now I can tell people are thinking, but Thomas, that doesn't look so confusing.. Granted.
Here's what my larger project looks like with the file list: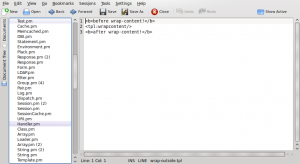 I think anyone will have a hard time working with that unholy mess. After trying to manage that for more than ...read more...
The KDE-on-Windows website has gotten a facelift !
It now has the same style as the other KDE websites, and a lot of content has been updated in the process, to reflect the latest status of the project and its team.

Thanks to the webmasters and to Ralf Habacker for the updates.

It's a good opportunity to go and download the latest kdewin installer :)

ps: stay tuned for some news from the KDE-Windows team, with a HUGE announcement coming in the following days... ;)
Dear friends
It is being almost 3 months since the last public release of both the library and the resources. In the library, no new features on this release, but some improvements and bug fixes. The laundry list goes:
restored ABI (as noted by Fathi Boudra, gcal_contact_get_im was missing after the work in supporting multiple im fields)
CMake and autotools buildsystem will install the library in INCLUDE_DIR/libgcal (as per request of Mario Ceresa so it will adhere to Fedora Core packaging policies). Autotools patch by Ademar Reis.
And a new cleanup function gcal_final_cleanup() to avoid a potentially crash scenario if libgcal is linked with something else that *also* uses libxml. Nice patch by Chris Frey (thanks a lot dude!).
But for the resources, some nice new features:
IM fields are supported (as a matter of fact, this feature was available in libgcal since 0.9.5 release, but it never made into the akonadi contacts resource). Patch by Holger Kral.
Fix a scenario were authentication would fail if both resources (gcalendar + contacts) are set while using different google ...read more...


Continuing Jos's exploration of cool KDE blogs, here are a few more places you can find some nice reviews of KDE software.
Over in Iran the blog of Saeid Zebardast, you will find a variety of free software related articles and occasional tips relating to KDE software.
In India, Swaroop CH is a long time user of KDE software and occasionally reports on happenings in KDE land.
In Italy, Bash follows our development with a keen eye and provide handy tips for Arch and non-Arch users.
Willy Sudiarto Raharjo from Indonesia writes about KDE software on his Unofficial Slackware blog.
Abybashit is not only an openSUSE ambassador but also writes some interesting KDE commentaries from time to time and uses KDE's Blogilo to do so.
Nice, but dormant
There are also a few blogs that were providing great information, but unfortunately seem to be inactive for a while. If you write one of these, why not fire it up again?
First up, ...read more...
The KDE API Reference web site is now providing ".qch" files suitable for loading into Nokia's Qt Assistant.
I bet nobody expected this (I didn't) – the next distro-branded version of stripes is for freeBSD. The freeBSD logo is quite pretty, but distorting it ruins it beyound recognition. For this reason, the wallpaper has much less depth than the previous ones.
One is the obligatory blue (not to say vanilla version) and the other one is redish)
KDE be free…
And here's the first attempt of making a KDE-branded one… I'm not yet satisfied with it, this is only a preview.
KDevelop is an integrated development environment which makes the creation and development of applications an easy task even for beginners.
A new Drumstick version is in the oven, with two tasty novelties:

1. OVE file parsing support (files created by the Overture program).
The code for this feature has been contributed by Rui Fan. This file format can be played by the included program drumstick-guiplayer, in addition to the SMF and WRK formats. There is also a new drumstick-dumpove CLI utility to inspect the file contents as text.

2. Acquisition of real-time priority, using RealtimeKit.
Until now, the thread processing MIDI input from ALSA tried to acquire real-time priority using the RLIMIT_RTPRIO mechanism, which requires some configuration and administration work. If the above mechanism is not available, now Drumstick tries to acquire real-time priority from RealtimeKit.

This release is scheduled for sometime during next week.

What's next?

At this moment there are two libraries: drumstick-alsa (Linux) and drumstick-file. There will be two more: drumstick-win and drumstick-mac. The foundations of these two new libraries are already implemented in KMid2. On the other hand, it is desirable to ...read more...
"The KDE PIM team has made available a beta version of the next-generation groupware client suite Kontact.
When I first started with graphics - I plotted pixels onto the screen by calculating a memory address and then poking the corresponding value.
Ссылки