Ссылки
I have been meaning to add sane support to libferris since I upgraded my scanner to something modern. I now also have an Automatic Document Feeder (ADF) so naturally that needs to be a filesystem too. A quick example of how this might be useful, to turn a document into something on screen quickly:

$ fcat sane:///my-scanner/color/scan.jpg | okular -

The trees under sane:// allow preconfigured scanning units and discovery. If you have setup my-scanner then no device listing is performed with sane, a good thing because discovery can be slow. When you configure a scanner you create one or more directories with specific configurations of how you want the scan to proceed. Incidentally, configuration is of course done with a filesystem. Inside ~/.ferris/sane you create a directory for your scanner, plomp the device name into scanner/device and create directories with scanning options for that scanner.

As well as scan.jpg there is a directory "adf" which chomps new things from the ADF for each file you read. Having this directory allows you to grab 20 documents by ...read more...
Flat things are good. I'm at Tokamak 5 in Nijmegen, the KDE sprint where we plough a deep furrow into the future of the Free Desktop and sow KDE seeds that will grow into exciting, novel interfaces and make the stuff we already have even faster and more reliable.
Two weeks ago Alex Fiestas contacted me for us to fix one of the often requested features in Bluedevil: tethering (use of a bluetooth device, usually a cell phone, to access the Internet wirelessly). Last year during Solid Sprint in Madrid he and Will Stephenson worked on that (I also helped) but we still did not figure out how to make it work as easily as possible. Well, we are getting close...

Tethering needs support from both Bluedevil and Plasma NM, and they must cooperate to a certain degree to register the connection in NetworkManager. After some research and some answers from the NetworkManager's guys we finally got the information we needed. Most of the needed code went to Plasma NM and Solid, the Bluedevil part was already almost done.

To keep the story short here is the screenshot of a tethering connection in Plasma NM:


...read more...
It has been a while since my last blog post, but I hope to blog more regularly from now on. I have been looking at my todo list at KDE, and I have some necessary things to do, and others that are just ideas and need to be developed.
For now, I have been hacking today on the Right to Left support on the categorized view. It was on my todo since the big refactor that I made long time ago. It is indeed very well structured in the inside, but was missing this important piece for Right to Left users.
So, I have fixed this bug on master and backported it to the 4.6 branch. I have also adapted in this case the category drawer of Systemsettings, which was kind of special because of the neat gradients. So, here is the mandatory screenshot:
Left to Right: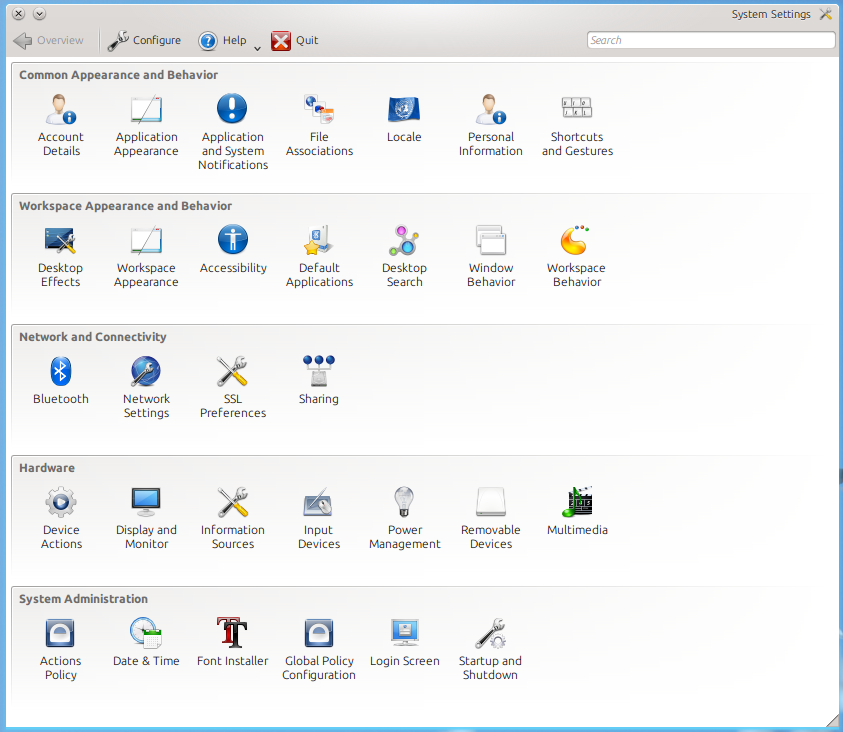 Right to Left:
...read more...
…or shrinking your GRUB list the easy way!
/Going into [K]Ubuntu mode…
Have you ever seen your GRUB list grow into such a monster?
Wouldn't it be great if you could bring it down to this?
The Easter Bunny has the solution:
Simply select your old/unwanted entries and BANG, gone! Can't get any simpler than this!
Boring details follow (that is, no more eye candy screenshots).
I am talking of course about kcm-grub2, the GRUB2 Bootloader Editor. On Git (soon to be released, perhaps in a week) you can find package management integration in this GRUB KConfigModule which enables you to easily get rid of old GRUB entries the easy way (TM), without having to search in package managers about the packages you would normally have to remove in order ...read more...

Thanks to DoctorMo's great blogpost, I just watched another great Ted Talk, by Kathryn Schulz: On being wrong. I've had a similar experience to her opening story, where my brain was stuck in a wrong ... frame, I guess you could call it. A mistaken conceptual frame. And of course, I've made some huge mistakes in my life, and in all of them, I felt totally justified in my actions, as in the Fool of the first Tarot card.

But the reason I decided to discuss this issue here, on my tech blog, has to do with the social costs she mentions in the talk (please watch it!). When we present our case to others, and they disagree, we often feel that they are 1. ignorant, 2. idiots, or 3. malevolent. This series of unfortunate assumptions is played out in our culture over and over again, whether "our culture" means the ...read more...
Mr. Schaaf describes the concept and current development stage of this free business management software.
Following my last post about bugs fixed in Plasma NM, here is the list of bugs fixed after 4.6.2 release date (April 6th):

. Fix crash when stopping NetworkManager-0.8.2.
. Various fixes for adhoc support.
204340: Add systemwide connection support for NM 0.8. Many thanks to Gökçen Eraslan and Andrey Borzenkov for working in this patch. There are still some glitches to fix but it mostly works. One problem I noticed happens if NetworkManager is using the ifnet plugin, then one system connection is changed to user connection and back to system connection. The final connection will not be listed until NetworkManager is restarted. This problem does not happen with the keyfile plugin.
270901: Do not show notification for appearing/disappearing access points if already connected to one.
. Monolithic knetworkmanager is unmaintained. Its code is not compiled by default. Please use the plasmoid instead.
. Fix autoconnect sometimes being disabled without user request when connection is explicitly disconnected by the user.
. Fix autoconnect setting not saved after editing connection settings.


We also have a proposal ...read more...
I am glad to announce the second bugfix release for Muon Suite 1.1. The Muon Suite is a set of package management utilities for Debian-based Linux distributions built on KDE technologies.
The 1.1.2 release fixes a serious bug caused by a regression in Solid, KDE's hardware abstraction library in 4.6.2. This regression has since been fixed for KDE 4.6.3, but as this is a serious bug a hotfix is needed. Also included, as always, is a month's worth of further translations.
Binary packages are available for Kubuntu 10.10 via the usual PPA. Further technical information about the release, including source tarball downloads, can be found at the project pages here and here.
Due to a heavy workload at school I've not been able to put out the next prerelease of Muon 1.2. I do plan on putting a beta out soon, though.
...read more...
4.7_Feature_Plan: kde-workspace

1. Global shortcuts per layout - seems like it's been a wanted feature for a while. This feature has been in master for some time so I am hoping to get some feedback (before 4.7 is released) as global shortcuts is not the most straightforward thing in KDE.

2. Remembering/restoring layouts for session. It was a bit more code than I wanted it to be (due to remembering layouts per application especially if spare layouts are on) but this bug (52095) has been there since 2002 (and couple of others have been duped to it) so those who were that patient definitely deserve it :)
Note: restoring layouts works for all switching modes except "By window". I am not sure if there's an easy way to restore layouts by window: currently keyboard daemon remembers layouts by WId which is transient. Theoretically we could try to store layout information into window properties
and let kcmserver restore them and then keyboard daemon will have to read that but that would be quite different from ...read more...
My daughter of 1 year and 4 months died a week ago in a tragic car accident, so this time I'm going to mix Apper (KPackageKit), packagekit-qt2, aptcc, print-manager and religious in one blog post. Sorry if you don't like religious things, you can skip it if you want but I hope this might help someone passing through a situation like this. (BTW there is an Open Source projects tag so planet.kde.org can filter the next ones).
It's been a while since my last post, since the end of the last year I've been preparing to move from Brazil to Argentina as my wife was studying there with our twins, and I was missing them a lot. As she got a job in the university we thought we would be able to pay the bills with that plus selling books on vacations.
The travel to Argentina was really disturbed, in short we decided to go by car instead of air plane so we could carry more things, our first try was frustrated by an small car accident where the ...read more...
Companies often store their customer information in databases managed by customer relation management tools.
Skype can be useful, I admit. But I haven't been able to get it to work in Maverick, at all. First I could hear callers, but they couldn't hear me. Then their sound got intermittent, and then, no sound at all. Then the other day I was messing with sound settings trying to get it working again for a meeting, but while the pulse tools registered sound, Skype didn't.

The next day, the laptop was silent. No sound in any application, the sample wave didn't work, nothing. I found a helpful page here: https://help.ubuntu.com/community/SoundTroubleshooting, and with some extra help from Himanshu, was able to restore sound. Here is how I did it.

From the page: "Can you play a known-good sound?

aplay is part of the alsaplayer package, and Front_Center.wav is part of the alsa-utils package, so both are pretty standard. So try to run
aplay /usr/share/sounds/alsa/Front_Center.wav." No, it would not play. Next step:

"Can someone else play a known-good sound?

Login with another user account. If this user has sound ...read more...
Epidemic GNU/Linux is a Brazilian desktop Linux distribution based on Debian GNU/Linux. Its main features are the KDE desktop, easy-to-use installer, 3D desktop features with CompizFusion, use of the GFXBoot bootloader, out-of-the-box support for numerous proprietary and non-free kernel drivers, and support for a variety of media codecs.
I'm freshly back from San Francisco, and among other things (like finding a place to live in Redwood Shores) I attended Camp KDE 2011 on Monday. It was great! Thanks again to Celeste, Claudia, Justin, Jeff, and all the people who made this possible - you guys rock ! :)

I was actually invited to give a talk about Kontact Touch as part of the KDE on Mobile track. For those who missed it and are interested, our awesome team of organizers have made it available online already :



You can skip the setup downtime until 1:45, but the really interesting stuff starts at 15:00, when I'm performing a live demo of Kontact Touch on the Nokia N900. Will you manage to find the hidden crash in the demo ?? ;)

At the end of my previous post we left off at the point where we solved all the memory and platform issues on Windows CE. All issues ? Well, not exactly, there was still a small area of resistance...

For an unknown reason, we would get random ...read more...
"The default desktop opens with a shaded cover that is actually a desktop lock. You can drag that away to unlock and reveal these "plasma strips" that are for KDE widgets.
I've been quite busy over the last few months - after Michael Loeffler left and AJ went on parental leave for 2 months life got crazy. Luckily openSUSE doesn't exactly depend on me and while some things slipped, I don't think big things broke down. Ok, my boss wasn't happy with me as especially internal budget things suffered. I've given those sending me interviews and other writing stuff (like my column for LinuxUser) a very hard time too. And personally, I'm unhappy with it because I tried to do to many things which resulted in many of them unfinished.
back on track
But AJ is back, we're getting some processes on track and the 11.4 release worked out great. So it is time to focus again and get things finished. First is the strategy stuff. The openSUSE Board had a few comments we'll look through, then it should go up for voting. Really. I know, it already needs some updating - we'll ...read more...
Wow, what a great follow-up to the first day! The second Ubuntu App Developer Week brought lots of awesome: great speakers and sessions, great participation, improvisation, Python, GTK, KDE, Qt, PyGI, Zeitgeist, Gstreamer, Introspection, Thunderbird, Unity, API Integration, hacking, funa all the buzzwords you can associate when developing in your ...
On Thursday, I'll be travelling to Berlin for the KDE UX sprint, which is kindly hosted by relevantive in their office in the heart of Berlin. I'll be meeting Nuno, Celeste, Hugo and a few others there, and we'll be making plans. Topics are the human interface guidelines, getting more designers involved with KDE, and of course Plasma Active.
A few days after coming back, hell will break loose in Nijmegen, as the Plasma crew holds their Tokamak gathering here. Here means at our new house in Nijmegen in the east of the Netherlands (which is in the west of Europe ;)). I'm really looking forward to having my fellow Plasma hackers here, especially with all the excitement, new ideas and concepts coming along with Plasma Active. I'm sure it will be an epic Tokamak, and a really long one, too. Between first arrivals and least departures, there will be a whopping 12 nights. We'll likely be doing an Open Day, so if you're in the region, drop me an email if you'd like ...read more...
Rodney Gedda 12 April, 2011 10:42 New open source projects have been launched by KDE developers aimed at bringing a consistent user interface across a varied of touch screen interfaces like tablets and entertainment devices and take data integration to a new level.
In the end of February, I pushed a new feature that launches KRunner automatically whenever the user starts typing and no plasmoid is focused, so that one doesn't need to push ALT+F2 before using it.
Now that it's around for some time, I'd like to get some feedback about usability. Is it easy enough to discover? Does it gets in your way? Should I add a setting to enable/disable it, or even remove it completely? Comments, please

So I've been trying to modularize my kdesrc-build Perl script (i.e. actually split it into logical objects/modules) and yet still retain it all into one script, the idea being to get the logic into a more understandable state where possible and overall make the codebase less brittle.
I achieved a large milestone today in finally managing to group together the debugging methods in a way which remains compatible with the rest of the script.
What I mean by this is that I used the prototypes feature of Perl subroutines to allow for methods like:
return 1 if pretending;
(Notice how there are no parentheses after the pretending call), and
info \"tPerforming source update for g[$module]\";
(Likewise no parentheses for the info method call).
Now, in retrospect I probably should have simply not used prototypes, at least for the output methods which would not be significantly less readable with parentheses. All the same however, prototypes were interfering with grouping these debugging routines into their own module.
This is because subroutine prototypes actually affect the ...read more...
K3b is a CD and DVD burning application for Linux systems optimized for KDE. It provides a comfortable user interface to perform most CD/DVD burning tasks, such as creating an audio CD from a set of audio files or copying a CD.
KDevelop is an integrated development environment which makes the creation and development of applications an easy task even for beginners.
The deadline for submission of projects for Google Summer of Code (GSoC) 2011 has ended. Now, I will talk briefly about my proposal – which, in fact, has appeared as a suggestion on other issues of the GSoC program.
Scilab is a major scientific environments mathematical programming in free software available on the market, an alternative of comparable quality to proprietary environment Matlab. Its initial development occurred in 1990, promoted by researchers associated with the french institutions INRIA (Institut National de Recherche en Informatique et en Automatique) and ENPC (École Nationale des Ponts et Chaussées). In 2003 Scilab Consortium was created to promote the scientific software Scilab as a reference for academia and industry.
Scilab is used by various research centers, universities and industries around the world in diverse research as signal processing, simulation of fluid dynamics, combinatorial optimization, computational simulation, machine learning, among others.
...read more...
I'm sitting here at the airport in San Francisco after a very successful week of conferences and talking to people, with some time to kill before my flight leaves. I attended 2 days of Camp KDE and 3 days of the Linux Collaboration Summit, where I spent most of my time attending the MeeGo sessions and talking to other MeeGo collaborators. I also found the time to visit the hotel where the MeeGo Conference San Francisco 2011 will be held and it looks great.
All of this thinking of time available, time to kill, time spent has made me think of some weird, usually timing-sensitive errors that we developers find in programming. These errors usually happen once and never again, so you chalk it up to "spurious error" and never check again. There's one particular error that usually happens twice a year and I expected it to happen two weeks ago, but it didn't.
If a particular failure happens twice a year in thousands or even millions of runs in that ...read more...
This is a follow up to my blog entry from yesterday that quoted two sources talking about communities. If you haven't read it, do so now, otherwise what follows will make very little sense. ;)

Here's the "big reveal": those quotes were talking about studies of isolated human communities that have remained outside the influence of states and which exist (or existed at the time of study) somewhere between being hunter-gatherer societies and being integrated into a modern socio-political power.

The first quote (the one with bullet points) was from a presentation by Dr. Charles Efferson on research done in the New Guinea highlands in search of an answer to the question: how does cooperation evolve if it is seemingly at the expense of the individuals involved in cooperation and, when people don't, those who enforce consequences? Dr. Efferson is an evolutionary ecologist who studies "behavioral dynamics associated with the social transmission of information". In describing the behavior of tribe members of New Guinea, he could just as well have been describing ...read more...
Congratulations to the GNOME team for launching GNOME 3 today. I know it's been a long time comming for them. I'm sure this is just a first step for them on a long and hopefully successful journey. Once I try it I will try to post a detailed analysis of it (Much can be learned about KDE by looking at it's alternatives!) but today is for congratulations to a fellow Open Source project!

You can learn more about GNOME 3 here: http://www.gnome.org/gnome-3/
You can test it using the live Fedora CD here (or OpenSuse!) : http://www.gnome.org/getting-gnome/

Sadly, last I checked you cannot test GNOME 3 in virtual box.

For those of you who have tried it, lemme know what you think. What did you like, what did you hate?
Note in bold: no official plans here, however many continuously maintained software projects start with N+1 version development long before N version is discontinued.
I'm a big fan of Umbrello. It's a Free Software graphical UML (Unified  Modeling Language) editor, one of the very few of it's kind. Most UML tools are proprietary tools written in Java and Umbrello is written in C++/Qt and build on the powerful base of KDE  software. I realized how interesting Umbrello is when I noticed that the  most of my professors suggest proprietary tools or a generic diagramming program with few UML features to study UML at college class. Many companies use UML to help them quickly write applications and Umbrello is (as far as I know) the only Free Software tool which can do the code generation required for that!
Why UML is important?
"Modeling is the designing of software applications before coding. Modeling is an Essential Part of large software projects, and helpful to medium and even small projects as well. (…) Using a model, those responsible for a software development project's success can assure themselves that business ...read more...


Ссылки