Ссылки
What is padding?
Padding refers to the space between a border and an item, and between items. For simplicity we'll call padding, margins and spacing the same thing.
There are a few basic rules to follow:
Leaving room to breathe
If text or an icon ever touches the border it immediately looks wrong, visually you can't tell if something has been cropped, and it just looks generally messy. Anything less than 3 pixels looks cramped.

Being even
The amount of padding on the top and bottom should generally match so things look centred, and with even spacing each side. There are exceptions to this rule, but generally only when it is a conscious decision.

Consistency
This is one of the hardest ones to sort out. Consider the following two buttons. Both of these are perfectly valid, and obey the two rules above, and viewed on their own either of these are great. The problem is, if you put these side by side it looks wrong, one has a smaller icon and ...read more...
16 | System & Utilities | http://www.sharpley.org.uk/node/23 | 15273 |
I am glad to announce the first bugfix release for Muon Suite 1.2. The Muon Suite is a set of package management utilities for Debian-based Linux distributions built on KDE technologies.
This is the second monthly bugfix release for the 1.2 series, and brings several fixes for Multi-Arch packages on 64-bit systems with Kubuntu 11.10, as well as fixes for a few other bugs with package searching, the history view, and the QApt .deb Installer.
Packages for Kubuntu 11.04 will be available soon from the QApt repository. I will try to get 1.2.2 pushed as an official update for Kubuntu 11.10 over the next week or so using the Ubuntu Stable Release Update process. Since this has a more rigorous testing process than my unofficial PPA, regression testing from users will be required. Stay tuned for more info about that if you'd like to help!
Further technical information about the release, including source tarball downloads and a detailed changelog, can be found at the project pages here and here.
I will be releasing the first pre-release of the Muon Suite ...read more...
16 | System & Utilities | http://jontheechidna.wordpress.com/2011/10/25/muon-suite-1-2-2-released/ | 15266 |
"Don't browse, search" is already well known demand and it changes the way people expect to use your app.
16 | System & Utilities | http://www.topix.com/tech/kde/2011/10/dont-browse-search?fromrss=1 | 15267 |
As I wrote during the last Solid Sprint we are working to bring libnm-qt and libmm-qt to Plasma NM. Libnm-qt is a Qt-only wrapper around NetworkManager's API and DBus interface. Libmm-qt is the same for ModemManager's DBus interface. Both libraries were created by Will Stephenson for NetworkManager 0.8 and ModemManager 0.4. Ilia Kats ported libnm-qt to NetworkManager 0.9 API during the Sprint. Thanks to both for working on that.

This week I have started to port Plasma NM to libnm-qt, I had to do some changes in libnm-qt and libmm-qt to allow Plasma NM to compile against it, nothing that special. There is still a long road to go, according to cmake I can compile about 31% of Plasma NM's +57K lines source code, not counting the auto-generated .cpp and .h, nor the .xml files used to generate them. Some parts of Plasma NM are going to be refactored since libnm-qt implements them itself. Fortunately, that also means Plasma NM's source code is going to shrink a bit.

libnm-qt is basically the Solid's NM backend (networkmanagement/solidcontrolfuture/solid/networkmanager-0.9) ...read more...
16 | System & Utilities | http://lamarque-lvs.blogspot.com/2011/10/plasma-nm-what-is-going-on-libnm-qt-and.html | 15262 |
A title that is effectively social-suicide to post on PlanetKDE, but I'll risk it anyway. I spent some time last week trying out Gnome 3.2, and it has a lot of really good ideas that we can steal take influence from.
I think as desktop developers it's always worth spending some time to see what our "competitors" are doing in both the open source and commercial world.
I've shared just a few of the things that stood out in Gnome 3 as things I liked.
Smart use of font colours
In this screenshot, we can see for a list of "label: value" the labels are slightly greyed out. I really like this, as your eyes are instantly drawn to the information you want to see, the values that change not the label. My brain doesn't need to see the label to know that "100 Mb/s" refers to the speed, or see something formatted like an IP address and it makes it quicker to find this information.
The equivalent KDE ...read more...
16 | System & Utilities | http://www.sharpley.org.uk/node/22 | 15260 |
The ZevenOS Team is pleased to announce ZevenOS-Neptune 2.0. This is the first version we ship in two editions: Minimal Edition and Full Edition Both ship with an updated and optimized Kernel 3.0.4. Minimal Edition includes PCManFM 0.9.8, DeaDBeef 0.5.1, GnomeMplayer 1.0.4 , Abiword 2.8.6, Iceweasel 7 & Iceweasel 5 . Full Edition includes KDE ... (more)
16 | System & Utilities | http://www.topix.com/tech/kde/2011/10/torrent-zevenos-neptune-2-0-minimal?fromrss=1 | 15261 |
OK, now KDE is 15 years old, it is time for my work to grow up and start looking at git. One of the questions I get asked from time to time is how much code rewriting I will need to do in order to for with git. Thankfully… none.
All of my scripts parse SVN logs and it is easy enough to get git to give back logs in SVN format. Just like this:
git log –reverse –format="<logentry revision="%H">%n  <author>%ae</author>%n  <date>%ci</date>%n</logentry>"
So as a first brief experiment with git, here is the result of generating the green blobs for KDEPIM (click to enlarge):
16 | System & Utilities | http://blogs.fsfe.org/padams/?p=255 | 15257 |
This tutorial shows how you can set up a Kubuntu 11.10 desktop that is a full-fledged replacement for a Windows desktop, i.e. that has all the software that people need to do the things they do on their Windows desktops.
16 | System & Utilities | http://www.topix.com/tech/kde/2011/10/down?fromrss=1 | 15253 |
So, I thought I would take a quick look at what KDE community "looks" like after 15 years under development. So here I will briefly show off three visualisations with no particular comment. I will just leave them here for your amusement.
So let's start with the now-infamous green blobs (click to enlarge):
For the uninitiated, a quick lesson: Each column in this visualisation represents the commit history of everyone who has committed to KDE SVN. Each row represents a week, with the most recent weeks being at the top. If the contributor committed during that week, they get a green blob, otherwise it is left empty. For each column the committer, the date of their first commit and the % of weeks in which they committed (of those they /could/) is given.
You might remember from my last blog post that I charted the growth in the number of accounts in KDE ...read more...
16 | System & Utilities | http://blogs.fsfe.org/padams/?p=251 | 15252 |
As part of my job at Collabora I am part of a project to port Telepathy to Android smartphones and tables. I'll be giving a talk about that at the GStreamer Conference, in Prague next week. Feel free to contact me if you are around.
16 | System & Utilities | http://soliverez.com.ar/drupal/node/212 | 15247 |
"ownCloud is a free software project developed by the KDE community as an alternative to some proprietary web services.
16 | System & Utilities | http://www.topix.com/tech/kde/2011/10/owncloud-2-your-personal-cloud-server?fromrss=1 | 15248 |
After the previous three articles aboutvery basic previous ideas to take in consideration before designingan engagement program for organizations, we need to think about whatare going to be the concepts to base our program on.
To have a better chance to succeed, wehave to build our program on our strengths and not on our weaknesses.In order to identify those strengths, I've made a simple SWOTdiagram.
This entry will describe the majoropportunities and threats I see that might affect to our plan ofbuilding new ecosystems with organizations.
Opportunities
Free Software culture expansion.
Desktop – web relation.
Free Software business models success.
KDE has millions of users.
KDE cross platform strategy.
Software everywhere.
Increasing market pressure overUniversities to include free software topics.
Free Software seen as strategical forby many countries.
...read more...
16 | System & Utilities | http://toscalix.blogspot.com/2011/10/some-previous-ideas-about-building-new_18.html | 15242 |
Version 1.0 Author: Falko Timme , Christian Schmalfeld This tutorial shows how you can set up a Kubuntu 11.10 desktop that is a full-fledged replacement for a Windows desktop, i.e. that has all the software that people need to do the things they do on their Windows desktops.
16 | System & Utilities | http://www.topix.com/tech/kde/2011/10/the-perfect-desktop-kubuntu-11-10?fromrss=1 | 15243 |
It is time again to prepare for Google Code-in. We have 2 weeks to collect tasks that we'd like high-school students aged 13 to 17 to work on. Last year GCI was an amazing success and I hope we can take part again this year.  For this I need your help.
We need to fill this page with as many tasks as we can in the next 2 weeks: http://community.kde.org/GoogleCodeIn/2011/Ideas  Unlike last year we will not be able to add more tasks for the students until the middle of the program so we really need to have as many as we can by the time the program starts.
We are again looking for tasks in the following areas (we need at least 5 in each of them):
Code: Tasks related to writing or refactoring code
Documentation: Tasks related to creating/editing documents
Outreach: Tasks related to community management and outreach/marketing
Quality Assurance: Tasks related to testing and ensuring code is of high quality
Research: Tasks related to studying a problem and recommending solutions
Training: Tasks related to ...read more...


16 | System & Utilities | http://blog.lydiapintscher.de/2011/10/17/i-need-your-ideas-for-google-code-in/ | 15239 |
It's easy to dismiss digiKam's slideshow functionality as a feature of no particular use. After all, most photographers prefer to publish their photos using the photo sharing service of their choice. But the slideshow feature can come in handy when showcasing photos on your machine is the only option.
16 | System & Utilities | http://www.digikam.org/drupal/node/630 | 15235 |
So today I had noticed I had build failures in quite a few modules that were based on errors linking to libkipi, involving undefined references to KIPI::ImageInfoShared::~ImageInfoShared().
Normally fixing this is as easy as ensuring that the library which provides the symbol has been updated, built, and installed and then running kdesrc-build --refresh-build on the modules that had failed. In this case it didn't work though. Hmm…
Looking at my log/latest/gwenview/error.log showed that it was the same build failure, so I went to the affected build directory and ran make VERBOSE=1, which shows the command line involved.
The output was a whole lot of something like:
/usr/lib/ccache/bin/g++ -march=native -pipe removed .o files
/home/kde-svn/kde-4/lib/libkfile.so.4.7.0
../lib/libgwenviewlib.so.4.7.0 /home/kde-svn/kde-4/lib/libkio.so.5.7.0
/home/kde-svn/kde-4/lib64/libkipi.so more removed stuff
Had I been paying close attention I may have noticed the actual problem right here, but in the event I merely noticed that libkipi had no version number referenced, only the libkipi.so.
The next step for me was to try and figure out why the symbol wasn't defined, but first I wanted to make sure that the symbol wasn't defined, ...read more...
16 | System & Utilities | http://www.purinchu.net/wp/2011/10/16/tracking-down-a-library-bug/ | 15230 |
In the world of Linux desktops , Ubuntu's Unity and GNOME have tended to dominate the headlines in recent months, but there's another contender that many consider an even better choice.
16 | System & Utilities | http://www.topix.com/tech/kde/2011/10/looking-for-a-polished-linux-desktop-consider-kde-2?fromrss=1 | 15231 |
At the desktop summit, many contributors got a ExoPC from Inten, but the software on it was quite a disappointment. Meanwhile, there is an official release of Plasma Active that fills the gap. So I sat down and installed it on the ExoPC. It really works quite nice and smooth. Applications like Amarok and a browser make it usable to hear music and do some quick internet surfing. I documented the steps in order to get everything up and running.
Running Plasma Active One from the USB Stick (LIVE version)
To get a quick impression, you can download the file plasma-active-one.iso from open-slx.com. Then, plug in a USB stick to your computer and run the comand
sudo dd if=PlasmaActiveONE-1.0.0.iso of=/dev/<DEVICE> bs=1M
where <DEVICE> corresponds to the USB stick (in my case, this is sdc). When finished, plug the USB stick into the upper USB port of ...read more...
16 | System & Utilities | http://kate-editor.org/2011/10/15/plasma-active/ | 15223 |
The KDE Wifi Manager is a graphical tool to configure and monitor wireless LAN PC-Cards. This program suite is for the K Desktop Environment, version 3. It is the direct successor of the application suite "KOrinoco", which was designed for KDE 2. Category: Software > Monitoring/Scanning Link Logger is the premier Windows logging tool for the ... (more)
16 | System & Utilities | http://www.topix.com/tech/kde/2011/10/wireless-tools-development-library?fromrss=1 | 15224 |
Looks as though Facebook has banned the use of kipi-plugins as a way to export photos to the social networking site using KDE applications like digiKam and Gwenview.
16 | System & Utilities | http://www.topix.com/tech/kde/2011/06/facebook-bans-kde-application-deletes-user-photos-2?fromrss=1 | 13831 |
Hi KDE Folks,
      I had finally completed the implementation part of tagging and then posted a review to merge it into the master branch. Now, I started working on the Sketchbook Tagging, which is my next part of the GSOC project

.
     Last week I did some code changes like
Changed the tagging Object from ItemChooser class to server class.
Added a function showTaggingBar(), so that the tagging bars can be individually enabled for the ItemChooser Objects.
Decreased some code in preset_chooser file.
Fixed the problem with resources that don't have a filename, by adding some extra changes in the tagging object class.
Changed the comboboxes with KLineEdit instead of the Qt version. The KDE added some extra functionalities for the QlineEdit and created the class KlineEdit.
Fixed the problem that tags in the predefined brush chooser are not reset when a brush is set by a preset.
     After all the changes, the final GUI Look for tagging is like this . . .
16 | System & Utilities | http://sri13atkritadevel.wordpress.com/2011/06/29/posted-the-review-on-tagging-in-krita/ | 13830 |
Well I'm not sure this really qualifies as an update, because it is actually a new plugin. And the plugin I'm talking about is the Search plugin. This is going to be mostly a series of screen-shots.
The first shot contains the "new" feature differentiating itself from the other one. You can now select to search in the currently open files. This is especially good if you are working on files on a remote server.
The "Find in files" plugin opens new searches in new toolviews while this one has a button for adding new tabs if you want to save the old search.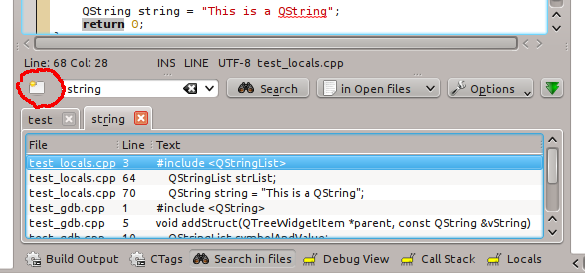 Of course you can also search in a folder as before
When you select to search in a folder the folder searching specific options are displayed. Those options can also be toggled with the rightmost tool-button.
16 | System & Utilities | http://kate-editor.org/2011/06/28/kate-plugin-updates-part-3/ | 13825 |
I'm back now from the KDE Platform sprint in Randa and I have to say it was great.
16 | System & Utilities | http://www.topix.com/tech/kde/2011/06/randa-review-the-buildsystem?fromrss=1 | 13826 |
then
Once, when the KDE4 rush was at its peak, KDEGames was a village of goldrunners, granatiers and card players. No day went by without stories about new porting achievements, here and there a new game was found and the denizens even made it to IRC town regularily to talk about how they could make their village even better, even prettier, the best. And it felt good.
now
Those days are no more. Sometimes people visit the village they had heard of in so many stories, and then they end up taking some pictures of them pretending to cheerlead, run away from or play football with some tumbleweed. Some are still living here. Hiding from the people that come to laugh at them. The dreamers who cannot let go the past, who deny to admit that those times are over.
guilt
Oh the guilt. Whom should it burn? Who brought the misery over the village? Was is sickness? Greed? The Government? Aliens? Steve Urkel? (announcement for those who got this one: you are old :D)
No. It is just ...read more...
16 | System & Utilities | http://looksblo.wordpress.com/2011/06/27/after-the-rush-or-kdegames-needs-you/ | 13821 |
We've managed to push our bugs down from ~430 to ~310 during the last two days. Some bugs are not valid anymore, but lots of bugs also really have been fixed. So in KDE 4.7 we will have the best Kate release ever

16 | System & Utilities | http://kate-editor.org/2011/06/26/bug-squashing/ | 13817 |
KDevelop is an integrated development environment which makes the creation and development of applications an easy task even for beginners.
16 | System & Utilities | http://www.topix.com/tech/kde/2011/06/kdevelop-4-2-3?fromrss=1 | 13818 |
Since 2005 happens Google Summer of Code (GSoC), a program organized by Google in order to provide to the student developers, from around the world, financial support so they can develop Open Source projects. KDE has participated in the program since its inception and achieved a significant number of approved projects. This number has grown with each edition. Decided to check the history of KDE participation in GSoC to get a sense of female participation in the program. I made some graphs to represent the growing of KDE's approved projects over these seven years and the great difference between the number of women  and men. Unfortunately, women's participation is still far below what we would like.
Over these seven years of program the women's participation does not reach 5%. Over 90% of the approved projects are of men. We must find ways to encourage women to participate in this, and many others, projects. Girls, we need to occupy the spaces! And if they want to participate, seek to Camilla Ayres (@camilasan) and ask how. Camila had her project on Umbrello approved in GSoC this year. Congratulations to her!

 And congratulations ...read more...
16 | System & Utilities | http://kdepi.wordpress.com/2011/06/24/kde-women-in-gsoc/ | 13814 |
Both GNOME and KDE recently underwent massive redesigns. GNOME 2 morphed into version 3.0 with a radically different look and feel.
16 | System & Utilities | http://www.topix.com/tech/kde/2011/06/gnome-3-vs-unity-a-schism-in-the-making?fromrss=1 | 13815 |
On Monday this week, something I have been working to make happen for quite some time finally happened: the appmenu Qt patch got merged in the qt/4.8 branch.
Appmenu-qt is both a patch for Qt (now merged in) introducing a plugin system for menubars, as well as a plugin using said plugin system to expose menubars on DBus. This plugin makes it possible to move menubars from the application windows to a top-level panel. It has been part of Ubuntu for the last two releases where it is used to implement the top-level menubar in Unity and to provide the "Menu" button in the panel of Kubuntu Plasma Netbook.
If you want to learn more about appmenu-qt, I invite you to read these two posts I wrote when it was developed:
If you are interested, here is what is necessary to get appmenu-qt working for KDE Plasma:
16 | System & Utilities | http://agateau.wordpress.com/2011/06/23/finally-its-in/ | 13810 |
First,


I'm so happy to be headed to Europe again, especially for this huge event. I look forward to meeting more of my KDE team, but also many Gnome developers. Next month, I'll head down to Portland again and attend both CLS and OSCON. Looking forward to that as well. I'm thinking of doing a lightning talk at CLS, and hope that that springs me forward to start public speaking again.

Finally, I've Joined the Game, and am now supporting KDE quarterly. If you are using a KDE-provided platform and applications, you might join too! See Join the Game for more information.


16 | System & Utilities | http://linuxgrandma.blogspot.com/2011/06/cool-summer-stuff.html | 13806 |
Ссылки