Ссылки

Last weekend I went back to the beautiful city of Toulouse for Capitole du Libre, a free software event made of three co-hosted events: Akademy FR, Ubuntu Party and Drupal Camp. It was great to meet the usual gang of Toulibre KDE people and put faces on people I only knew from #kde-fr, the friendly French-speaking Freenode IRC channel. We even had Aleix Pol, of KDevelop and KAlgebra fame, coming from Barcelona to help us.
Saturday
Saturday, was the busiest day: we had a KDE booth and ran two conference tracks: users and contributors.
Being co-hosted with the Ubuntu Party brought in a different population from previous KDE Release Parties. We had nice conversations on the KDE booth with Ubuntu users who heard about KDE but did not really know what it looked like or even what it really was. We did our best to sell our beautiful products. The Plasma Active powered Wetab tablet made a very good impression. It is interesting ...read more...
We're currently discussing how to give a good visual indicator to users of Marble Touch where their current GPS position is (once it moves outside the visible region of the map). I created a video that shows two possible approaches: The first one (sticky indicator) shows the indicator on the bottom right of the screen and an arrow to point towards it. The second one (moving indicator) also moves the indicator to the nearest border of the screen. Please take a look at the video comparing both and add your comments.
Here are some things to consider:
The sticky indicator has the advantage of a predictable location. Look at the bottom right corner of the map to see the distance to the current position and in which direction it is. A disadvantage is that the distance is measured to the bottom right corner, which is not always intuitive (measuring to the center can be as confusing though). Likewise it's confusing two ...read more...
In today's part we'll have a look at an application, that I've (again) grown so used to, that I consider it part of the Workspace itself - KSnapshot.
I remember doing screenshots on my old Win XP machine - press the print screen key, open up MS Paint, paste the image there and save. That's so last-century. I don't know how it works these days in Win7, but feel free to let me know below in the comments. OS X went one step further - after you press some magic key combo (which I could never remember), the image is saved on your desktop. But the fearless KDE developers went even further. 
After you press the print screen key, the KSnapshot pops up with little window and your screenshot in it. From here you can either save the image to a format and place of your own liking (clever automatic file numbering included). However if you don't like the screenshot you just took, ...read more...
We are pleased to announce the second release of KDE Telepathy.
KDE Telepathy is a suite of applications which together form an instant-messaging client allowing you to talk on Jabber, Gmail, Facebookm, MSN and much more. KDE Telepathy stands out from previous instant messaging clients by being able to integrate into the KDE workspace and plasma, as well as being able to be used like a traditional IM application.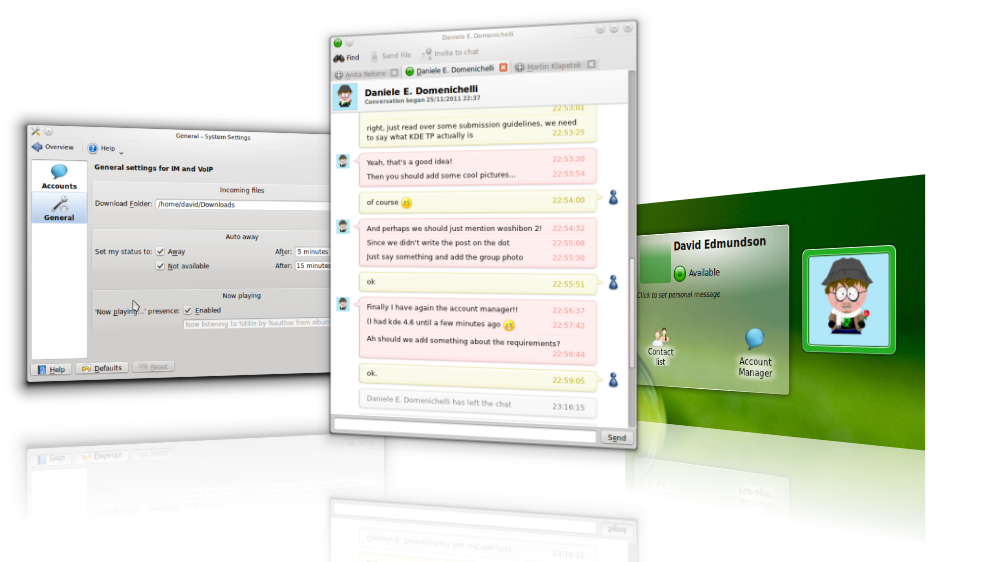 This release features:
KWallet integration for storing of passwords
A plasmoid for instant access to a contact
Ability to set your status to the currently playing track from Amarok, Clementine or any other mpris2-compatiable player
Auto Away
Progress bar and cancel button for file transfers
Over 130 bug fixes and tweaks since 0.1!
Sprints
The whole team met at the Woshibon 2 sprint in Cambridge, UK (14th-18th September). This sprint was sponsored by both the KDE e.V and Collabora and allowed us to not only sort out many of the details in making this release, but planning out more long term ...read more...
"KDE released the first beta for its renewed Workspaces, Applications, and Development Platform.
It may seem obvious but eating our own dog food can definitely be good for your project's condition. Especially when it is maturing over time. How many testers can we have and how many personas for your user-centered design can we define and maintain? Usually just a few with the actual resources. Is only fulfilling needs of more or less fictional actors focusing on few use cases a good direction? Or does it put our vigilance to sleep?
Well, I am convinced you and your co-workers can be good actors if you actually start using your software more.
In the CSS2 presentation I published above there are only few but probably telling examples of what features of Calligra we can start using more in the project and how. There also a 'why'. Never force using apps if there are better (or good enough) tools already in place. Own dog food consumption can also be a risky business if the usage feels ...read more...
Mmmm, after the jerk-flavored roasted turkey for Thanksgiving dinner (with an amazing Paula Dean corn casserole) I got some excellent coding mojo. That is, of course, after the tryptophan wore off. Then I realized that it has been over 6 months since the last bug fix release and it kinda seemed like it was about time to get these fixes I've worked on over the last few months more widely distributed.  So I tagged Bangarang 2.1 beta last night.
There was once a 2.1 target features list, but as I've realized over the last few months, with just myself as the main developer, it just makes sense to work on whatever motivates me, when I'm motivated to work on it.  I'll do target features and and more fixed release schedules if the number of contributors grow. Fun is my biggest motivation and it's gotten quite a bit done thus far.  And yes, I do enjoy knocking out bugs as much as I enjoy adding features.

I think there were enough new features to warrant ...read more...
KBibTeX is a BibTeX editor for KDE to edit bibliographies used with LaTeX. Features include comfortable input masks, starting Web queries , and exporting to PDF, PostScript, RTF, and XML/HTML. As KBibTeX is using KDE's KParts technology, it can be embedded into Kile or Konqueror.
Hi!
It's been a good day today!
First of all I arrived to Toulouse where Akademy-fr is going to happen. I'm really happy of being part of this first (I hope of many) Akademy-fr edition.

Secondly, KAlgebra has been accepted to the OVI store. As far as I know, it's the first (I hope of many, again

) application bundling kde libs in it. So all N9* users can install it without ugly tricks! o/
Proof: KAlgebra at OVI store.
Salutations dès Toulouse!!
"But where else can I look if not to KDE? LXDE and Xfce are good, but they lack that modern, 21st Century desktop look that appeals to me.
It's been a while since my last blog about the Akonadi Google resources and since my last contribution to the project (except for a few minor bug fixes lately). Today I decided to change it (at least the former) and show you that the project is still active (I just don't have much time to work on it) and reveal to you what big changes I plan to do in the near future.
There are two questions people are often asking me: if it is possible to support multiple Google accounts and why are calendars and tasks split to two resources. If you are one of those people, I have good news for you: next release will support multiple Google accounts and the Tasks resource will be merged to the Calendars resource.
Because words are plain, I will rather show you some pictures of how I imagine the resources could look like.
...read more...
Related posts:Sans computer/internet 5-18th. Email, blogging, and projects will be put on hold. What's up with KDE.org & Hello GetKDE.org GetKDE.org progress – Discover KDE! Related posts:
Mirko Boehm has been involved with KDE since 1997 and was a board member of KDE e.V. from 1999 to 2006.
Today Alex Fiestas told me about one problem he has and that I had long ago.

Everybody uses Internet nowadays and and probably most of you know what IP address, netmask, gateway address mean. For example, my notebook is using this configuration right now:
eth0
IP address: 192.168.1.10
Netmask: 255.255.255.0
Gateway: 192.168.1.1
wlan0
IP address: 192.168.1.12
Netmask: 255.255.255.0
Gateway: 192.168.1.1
Yes, two devices in the same local network, but that does not invalidate this post :-)
Although I have the same IP as gateway for my two devices the kernel sees 192.168.1.1/eth0 and 192.168.1.1/wlan0, not 192.168.1.1. When there is only one active device there is no problem, but what happens if you have two, like my notebook?
Only one of those two IP address/device pairs is the default route, that is, the IP address/device pair the kernel resorts to when it cannot find the computer to connect to. Now enters NetworkManager. NetworkManager sorts devices by type when deciding which one to configure as default route. If I am not mistaken it sorts like this: wired, wifi, mobile broadband.
Now the problem:
Suppose you are connected using wlan0 only, with Kmail, Kopete,
...read more...
For the impatient, here is a link to the new page, and for those who missed the last post, here is a link to the GetKDE.org homepage. Finally, here is a screenshot of the newly added Explore page:
The homepage of GetKDE is essentially a hub with a teaser. The site structure itself is split into three sections, Software, Community, and Development.
Those completely new to everything KDE will start off in the Software section, via clicking the "Explore how KDE benefits me" option.
It is then important to market only what is relevant to the user – for KDE, this depends a lot on what device you have. KDE's objective isn't to convert users to Linux, however happy that makes our inner penguin, but instead to help people enjoy and make the most of their computing experience with KDE Software.
As a result, this is the page they will see. It's objective is to make it clear what components make ...read more...
Kubuntu 11.10 is the latest stable release of the desktop Linux distribution sponsored by Canonical Ltd., a Linux software provider based in London, UK.
So many people have been inspirational and helpful. First I must mention my children, who opened me up to learning so much. One of them, Thomas (qubes), is the Ubuntu user who got me using Linux in the first place, and Kubuntu as my present distro. Thanks to you Thomas for all your help through the years.

In Ubuntu-Women, I found not just inspiration, but the examples I needed to get involved with the community. Lydia (Nightrose) in particular has been a beacon to my path. Here ability to pack every day with so many useful activities is an accomplishment to which I still aspire. Thank you Lydia! I learn from you every day. Myriam (Mamarok) with her wealth of technical knowledge and willingness to help one and all, is a daily inspiration as well. Recently, she stepped up to the task of creating and perfecting the spreadsheet we needed to bulk upload tasks for Google CodeIn. It was amazing. Thank you so much, Mamarok. Mackenzie (maco) - how can I thank you enough? Your friendship through the years ...read more...
Over the years, most if not all my presentations on Kexi were aimed at users or power users.
At the palindrom date 11/11/11, WebKit project hit its monumental 100,000-th check in. Now, what happened from the moment it was born till this time? The following chart shows the source code revision (vertical) as the function of time (horizontal). Some icons are there to represent few products associated with WebKit, the position approximately resembles the era those products were made popular.
When I became a WebKit reviewer, back then there were only around 40 other fellow reviewers. These days, the team consists of more than 100 reviewers plus many more contributors. To have some more insight about the heavy activities, I use the mirror git repository and count the number of commits from certain email domains.
Note: commit quantity is a bad code metric (there are commits due to revert, test rebaseline, unrelated fix, etc), the amount of commits only reflects the activities and should not be extrapolated to something else.
...read more...
It has been a bit more than one year since I announced I was reducing my work hours to 4 days per week so that I would get one day to work on what I want to work on. One year after, it is time to look back how it went.
Donations
I was curious to find out how much money could be generated by asking for donations. To this end I wrote monthly wrap-ups, with the idea that people would be more motivated to donate if they knew what would be done. It started out reasonably well, but quickly slowed down. At some point I decided writing those wrap-ups was not worth the pain: They did not generate much, were getting tedious to write and made me look like I was begging for money when there are charities which are much more in need of money than me. I also experimented with Flattr. I like the idea behind Flattr and intend to continue using it.
A book, or not
Another project I worked on for ...read more...
There was not that much activity last week. That is simply because I took a few days off to spend time with my family on a farm - mostly so that my daughter could ride a pony every day.
KDiff3 is a graphical text difference analyzer for up to 3 input files, provides character-by-character analysis and a text merge tool with integrated editor.
FOSDEM is one of the largest gatherings of Free Software contributors in the world and happens each February in Brussels (Belgium). One of the tracks will be the CrossDesktop DevRoom, which will host Desktop-related talks.
We are now inviting proposals for talks about Free/Libre/Open-source Software on the topics of Desktop development, Desktop applications and interoperativity amongst Desktop Environments. This is a unique opportunity to show novel ideas and developments to a wide technical audience.
Topics accepted include, but are not limited to: Enlightenment, Gnome, KDE, XFCE, Windows, Mac OS X, general desktop matters, applications that enhance desktops and web (when related to desktop).
Talks can be very specific, such as developing mobile applications with Qt Quick; or as general as predictions for the fusion of Desktop ...read more...
A few days ago I asked for help how to design the parser used in Marble to try to turn a text string into some geographical coordinates in such a way that it also can parse localized writings of such coordinates.
For those curious what came out of this, read on:
While I then forgot to mention the use-cases I was thinking of, like copying&pasting some pretty-printed string from some text, or entering the coordinates somebody tells you on the phone, still the broad feedback I got, both by those commenting on the blog post as well as those replying on the mailinglist of KDE's translators (thanks to all of you), helped to accumulate quite some testing data, on which based the parser could be designed.
Well, it was done in a short rush, just in time for the translation soft freeze for the upcoming release of KDE Apps 4.8, but non-the-less can parse all of the testing data

Which means basically the parser can parse coordinates in ...read more...
Kdenlive 0.8.2 - released 2 weeks ago - had several annoying issues that were quickly reported, including startup crash on some systems. We did our best to fix these issues and are almost ready to launch a 0.8.2.1 bugfix release.

So if you experienced serious problems with the 0.8.2 version and want to help, we would like you to test our latest development version so that we can make sure the biggest problems are solved for a bugfix release.

If you are on Ubuntu, you can use the Sunab experimental PPA that will bring you the latest MLT and Kdenlive (please note that currently it is an english only release, translations should be back in a few days).

Other users can try the latest code using the Kdenlive build script that was updated to use our new git repository.

You will find detailed infos on the current issues on the 0.8.2.1 info page.

For the Kdenlive team, Jean-Baptiste Mardelle
"I used to be a fan of the K Desktop Environment . I said used to because I could not make the transition from KDE 3.5 to KDE 4. At that time, there were too many issues with KDE 4 that I decided to look elsewhere.
The Ubuntu Developer Summit was in Florida again for a week of sessions, specs, work items, discussions and mouse burgers.

Hacking between sessions, Quintasan, fregl, afiestas
The Ubuntu Developer Summit was in Florida again for a week of sessions, specs,
work items, discussions and mouse burgers. We had a lot of useful Kubuntu
sessions and came up with a long list of things to do over the next six months.
The
list of specs gives the work items, our Todo list for the Precise cycle.
In Kubuntu Precise Packaging we discussed what we should package for the
forthcoming LTS release. Whereas Ubuntu Desktop will not be upgrading to the
latest Gnome we decided that upgrading to the latest KDE releases is safe enough
for an LTS. There's no new library version coming (because of KDE Frameworks 5)
and some packages such as Kontact really need the latest version. We're looking
forward to formal releases from Calligra, qt-at-spi, Plasma Networkmanagement
and more. Integration of bluetooth keyboard on boot and Oxygen-gtk3 should make
some use cases smoother. There are also ...read more...
I've been an Open Source developer and hacker for a loooooong, long time. It has become far more than a part of what I do. It has become part of who I am.
At first, it was mostly about the freedom to run what I want, where I want, how I want. Desktop Linux has always been exciting to me for that reason.
But then it grew beyond that and enabled me to contribute back. Open Source allowed me to teach myself new programming languages. It allowed me to make friends literally all over the world. It became the thing that I enjoyed doing most, technically, especially since my daytime jobs didn't let me do the kind of programming and development that I wanted to do.
It helped me to get the best job of my life.
I've been working at VMware for more than 4 years now. I only have this job because I've taught myself everything I know about programming languages, and most of that has been through my work in the Open Source communities I've participated in ...read more...
OpenSource development is a fun thing to do. You can form the tools for your daily work to your liking. You can make other people happy by fulfilling their wishes. And sometimes you meet the people you work with on a personal level. Those meetings are always a highlight and also a big push forward in development and for motivation.
KDE regularly organizes "Sprints" so that people can meet. Real-world meetings use real-world money, though. So sponsorships and donations are welcome. Currently the German bank DiBaDu offers sponsorship for the most voted 1000 associations.
Only 3 days left (until 15.11.2011, 17:00CET), and KDE needs some more votes to be in.
Please take 3 minutes of your time and vote for KDE. It's easy (english explanation)
You have 3 votes. And all can go to KDE. Thanks for your time.
...read more...
Ссылки