Ссылки
I noticed that the video and slides for my Qt Dev Days 2011 talk in Munich are now online. Here's the video and here are the slides.
I couldn't attend the event in San Francisco because I had to attend to some personal matters. Johannes and Donald covered for me there on very short notice (thanks guys!). For that matter, I have been mostly 'offline' for the last 2 months or so and will continue to be offline for atleast end of this month. So, if you sent me mail, I will get back at some point
16 | System & Utilities | http://blog.forwardbias.in/2011/12/qt-quick-best-practices.html | 15474 |
TechRadar has decided that KDE is the most usable desktop compared to Gnome and Unity. A few days prior to the publication of this article, my friend John emailed me to write:
I'm using Kde on my computer at work and it is amazing. It's improved so much that it's now stable and highly usable.

I tried Unity (I'm using Ubuntu) and it was unusable. Gnome 3 was better but had massive issues with my second screen (dual screen setup with nvdia gpu running in twin view). Gnome 3 was still lacking in the productivity area though. Lxde worked great but I don't want to use a desktop that looks and feels like Windows 95… Also Lxde has few apps so I had to pull in gnome or ode ones…

I also had issues with Ubuntu's lightdm but switching to kdm fixed that. So far Kde is the only desktop that fully works, feels good, looks good and has apps for every task.

John
—
Sent from my phone
Finally folks are ...read more...
16 | System & Utilities | http://blog.zx2c4.com/726 | 15473 |
Qt is a comprehensive, object-oriented development framework that enables development of high-performance, cross-platform rich-client and server-side applications.
16 | System & Utilities | http://www.topix.com/tech/kde/2011/12/qt-4-8-0?fromrss=1 | 15467 |
Howdy,
a quick update just to notify a new release of polkit-qt-1. Release announcement after this link.
This release brings a fix to infamous Bug 258916, thanks to a patch by Nick Shaforostoff. Needless to say distributors are highly encouraged to update their versions.
16 | System & Utilities | http://drfav.wordpress.com/2011/12/15/polkit-qt-1-0-103-0-released/ | 15466 |
Since last November 14 I am working for basysKom. At last a job to work with KDE :-)

I am working in the Contour project, which is part of Plasma Active. One of the things I am working on is a replacement for the shutdown dialog used in KDE. The intention is make it more suitable for touchscreen devices, like the ones that Plasma Active is target to. The current result is this:




Ok, I admit we need to improve this. Well, the fact it has only three big buttons is intentional, the less buttons the less problems to use and big buttons are easier to press. The implementation is in branch ksmserver/qml-shutdowndlg of git://anongit.kde.org/kde-workspace and it is made partially in C++ and partially in QML. This mini-project is being a good way to learn QML, maybe in the (not near) future I can use what I have learnt in Plasma NM.
...read more...
16 | System & Utilities | http://lamarque-lvs.blogspot.com/2011/12/new-job.html | 15462 |
I finally found some time the last days to play with my new PandaBoard ES. As first
Dirk Müller
helped me by providing an image for my SD-card with an image that worked with the normal PandaBord. Thanks! Unfortunately we couldn't get the machine running with this image.
Later I tried a
Linaro Android build
and the machine booted. As I copied some of the files from the boot partition to the SD-card with the openSUSE installation it booted into openSUSE. After a hint from Alexander Graf (to change the console in u-boot to ttyO2) I could also access the serial console.
I could now play around and build on the board to find a fix for the openSUSE image Dirk provided to me: Since it didn't boot with the latest
u-boot
/
x-loader
git code from mainline, I tired the
u-boot git
from Linaro. This step finally solved the issue.
...read more...
16 | System & Utilities | http://dkukawka.blogspot.com/2011/12/pandaboard-es-got-it-up-and-running.html | 15459 |
On the beach, no less! At Copacabana, the most prestigious beach in Rio, I discovered proof of gnomes. It seems they try to hide by stepping in other people's footsteps. That's not working very well, as you see - it's clear they're there. I leave it up to you to decide what this means (but I do agree that the GNOME team deserves a break and Copacabana is a great place for that).



The beach is pretty, we went for a swim at night. Careful with the waves, they're really huge... I lost my flipflops in the water but miraculously found them again :D

Oh, and yes, we've finally seen Jesus! See the picture below, he's the dude in the back playing 'airplane'. We also enjoyed great (and ...read more...
16 | System & Utilities | http://blog.jospoortvliet.com/2011/12/gnome-in-rio-de-janeiro.html | 15456 |
Yes, it seems I'm actually blogging just to announce releases. Free time is a dream in this period for me and I usual relax just on the sofa in front of the tv or reading/writing code


Anyway, as titled, time for the first bugfix release in the 0.8 rekonq browser series: 0.8.1!
You'll find there a dozen of bugs fixed and hopefully all the translations available. In fact I learnt the existence of the releaseme script, a useful tool to release KDE software. Thanks to the i18n guy pointing that out to me (Burkhard?) and to stikonas and apachelogger on IRC for any help to let it work as desired.
While I'm not sure there will be a 0.8.2 (it depends on the bugfixes "0.8 compatible" available), I'd like to say that everything is going well for next feature release (with web apps support, refactored user agent & download management code and obviously… sync) and you'll see a first "technologic preview" of it (I ...read more...
16 | System & Utilities | http://adjamblog.wordpress.com/2011/12/11/rekonq-0-8-1/ | 15454 |
For users on Linux and Unix, KDE offers a full suite of user workspace applications which allow interaction with these operating systems in a modern, graphical user interface.
16 | System & Utilities | http://www.topix.com/tech/kde/2011/12/kde-4-8-beta-2?fromrss=1 | 15452 |
I've just committed a fix to the Calligra Engine, so that font rendering will be without hinting when compiled against Qt 4.8.
And here are the obligatory screenshots to prove it (thanks buscher). Both are with system wide hinting turned on.
First on Qt 4.7:

And here on Qt 4.8:

Big thanks to Eskil Abrahamsen Blomfeldt at Nokia for implementing it in Qt.
16 | System & Utilities | http://blogs.kde.org/node/4514 | 15451 |
For whoever has never heard that expression, unit tests are a way to test the functionality of a program or library in an automated way, by for example checking the evaluation result of test data. This is a great thing and can help massively in identifying coding mistakes. CMake provides a mechanism, and in many KDE packages test routines are included.
So far, so good, this is the theory, now let's look at reality. In Gentoo, the main KDE distribution is split into 295 (!) packages. Many dont have any tests (oxygen-icons comes to my mind as a nice example). Of those that have, 37 now have all the test routines hard disabled, and I guess a few are missing that I still have to add to the list. Why? Well, first of all, you have to know that compilation usually runs in Gentoo as an unprivileged user detached from any graphical desktop session, and this user also runs the test routines. In addition, tests should also run fine "offline", i.e. without internet connection. ...read more...
16 | System & Utilities | http://dilfridge.blogspot.com/2011/12/unit-tests-useful-thing-causing.html | 15448 |
The 0.8.2.1 release of the Kdenlive video editor is now available. This is a bugfix release that solves several startup crashes and other important problems in the 0.8.2 version.
All users should upgrade to that new version that provides an improved stability as well as some threading optimisations that should make some operations slighlty faster.
Source code can be downloaded from our Sourceforge page, and binary packages will be announced when available.
A changelog and details of the resolved issues can be found on the Kdenlive 0.8.2.1 info page.
For the Kdenlive team,
Jean-Baptiste Mardelle
16 | System & Utilities | http://kdenlive.org/users/j-b-m/kdenlive-0821-released | 15444 |
For users on Linux and Unix, KDE offers a full suite of user workspace applications which allow interaction with these operating systems in a modern, graphical user interface.
16 | System & Utilities | http://www.topix.com/tech/kde/2011/12/kde-4-7-4?fromrss=1 | 15441 |
Today I realized Gnome has support for XF86XK_TouchpadToggle, i.e. if you press the key in your keyboard that has the touchpad with an X symbol over it, it toggles the enabled state of the touchpad.

This is very useful if you are like me and attach/detach a mouse various times during the day.

Since as far as I know this is not supported in KDE, this afternoon I decided to write a quick kded module that would listen to XF86XK_TouchpadToggle and call the corresponding XInput2 functions to toggle the state of the touchpad.

Investigating XInput2 was supposed to be the difficult part since it is out of my area of comfort, but at the end it resulted it was not that difficult and the desired effect can be achieved with no more than 10 lines of code.

After getting the correct XInput2 calls I started to build the skeleton of my kded module and when I was going to register the global KAction to listen for XF86XK_TouchpadToggle I realized Qt does not have support for this ...read more...
16 | System & Utilities | http://tsdgeos.blogspot.com/2011/12/sad-story-of-day-qt-and.html | 15440 |
Google Code-In is running and we're busy mentoring lots of Marble tasks. This year we added many data related tasks: Voice navigation speakers for different languages, OpenStreetMap derived map themes, historic map themes and more. Just like last year the results are pretty awesome and a few of the results are already available for public consumption. Earlier today I uploaded the shiny new Public Transport map theme to our GHNS server. The theme was done by Paul Kocialkowski. It uses the public transport (ÖPNV) map http://openbusmap.org/ created and maintained by Melchior Moos, who kindly allows us the usage within Marble. The map data itself is CC-BY-SA 2.0.
Do you miss your local bus? Please add it to OpenStreetMap. Contributing is easy, see Öpnvkarte for details.
If you're using KDE 4.5.1 or later with Marble installed, you can install the public transport map theme easily using the "Download Maps" menu entry in Marble. Older KDE versions before 4.5.1 are not supported right now, though if there is a ...read more...
16 | System & Utilities | http://nienhueser.de/blog/?p=377 | 15435 |
It is a typical problem: we downloaded images from a camera, maybe did not delete them from the camera instantly, then downloaded the same images again next time, maybe created an album by copying images into sub-folders , and so on.
16 | System & Utilities | http://www.topix.com/tech/kde/2011/12/finding-duplicate-images-made-easy?fromrss=1 | 15436 |
Ever since the unicode bug in Virtuoso 6.1.3 many of us have broken unicode strings in our Nepomuk databases.
16 | System & Utilities | http://www.topix.com/tech/kde/2011/12/manually-forcing-the-re-indexing-of-folders-is-easy?fromrss=1 | 15431 |
Ever since the unicode bug in Virtuoso 6.1.3 many of us have broken unicode strings in our Nepomuk databases. Completely re-creating the database is IMHO not an option since that would mean loosing all manual annotations and things like download source URLs. One solution would be restoring a backup but I simply do not trust the Nepomuk backup until I had a deeper look into it. The perfect solution would be if Nepomuk could simply fix the data automatically. While that is of course my goal and I am looking into that it will take a while.
In the meantime I threw together a small desktop file which adds two new actions to the context menu of folders.
(Re-)index Folder contents will make the indexer update all the files in the folder indifferent of their state in Nepomuk. This includes fixed unicode strings.
(Re-)index Folder contents recursive does the same as the above except that it also recurses into sub folders.
Simply put the following into a file called "nepomuk-index-folder.desktop" and save it in "~/.kde/share/kde4/services/ServiceMenus". At the next ...read more...
16 | System & Utilities | http://trueg.wordpress.com/2011/12/05/manually-forcing-the-re-indexing-of-folders-is-easy/ | 15430 |
This is a quick wrap-up entry for Plasma Bug Days which was held over the last two days. First, we accomplished a lot. I mean a lot. The first goal was to drop into third place on the Weekly Bug Report. We accomplished that on the first day and so moved onto another goal suggested by one of the participants: have fewer reports open than we did six months ago. We also accomplished that. Now we have a new goal: break 1000. We're just 120 reports away from that goal right now.

Today has been relatively slow going as it isn't an official Bug Day so just a few showed up to do bug triage today. Quite promisingly, though, some people from the Bug Days showed up today again. I do hope all of them continue to be involved and help with the bug wrangling as their efforts were just fantastic this weekend.

I also set about to fix some of the older and more annoying issues in some of the more commonly used parts of Plasma ...read more...
16 | System & Utilities | http://aseigo.blogspot.com/2011/12/quick-bug-days-wrap-up.html | 15428 |
It's that time of year again, KDE is nearing a new release day and it's time for translators to work on the making sure that new software/features are properly translated so that the thousands of KDE users can enjoy it in their native language.

Unfortunately translators come and go and KDE software continues to grow and grow, meaning that sometimes some languages fall below the line of what we consider an acceptable amount of translations for them to be shipped with the KDE releases.

For this 4.8 cycle this is the list of languages that was in 4.7 and if the release was today would not be released: Arabic, Bulgarian, Galician, Hebrew, Irish Gaelic, Indonesian, Japanese, Kannada, Latvian, Norwegian Nynorsk, Punjabi, Uyghur and Walloon

Obviously this does not mean that they will not released with KDE since each translation team has a different work schedule and some of them only work when really close to a release, but if you are a user enjoying KDE on one of the above languages you should think on volunteering to ...read more...
16 | System & Utilities | http://tsdgeos.blogspot.com/2011/12/join-kde-translate-kde.html | 15425 |
Today was the first of two Plasma Bug Days we're hosting this week in #plasma on irc.freenode.net. It started at noon UTC and people started rolling in. With the help of Ann Marie and Marco, we got the volunteer bug hunters up to speed and working with a high degree of effectivity.

So far (and we're not yet done for the day!) we've closed 62 reports. There were a number of fixes applied for 4.8 (and some for the upcoming 4.7.4 as well) as a result, and duplicates or already fixed bugs were also being caught. A good number of crashers were identified and fixed, and one vastly annoying bug where a panel would mutate and take over the whole screen when the screen count changed was also killed. That's pretty decent for a day's effort.

Big thanks and kudos to all those who participated so far, including asraniel, thijs, BrummbQ, mck182, emilsedgh, mrrub and Adaptee. (Hope I didn't miss anyone, if I did: mea culpa! and let me know :)

We'll be at it again all day tomorrow, so ...read more...
16 | System & Utilities | http://aseigo.blogspot.com/2011/12/plasma-bug-day-1.html | 15422 |

Last weekend I went back to the beautiful city of Toulouse for Capitole du Libre, a free software event made of three co-hosted events: Akademy FR, Ubuntu Party and Drupal Camp. It was great to meet the usual gang of Toulibre KDE people and put faces on people I only knew from #kde-fr, the friendly French-speaking Freenode IRC channel. We even had Aleix Pol, of KDevelop and KAlgebra fame, coming from Barcelona to help us.
Saturday
Saturday, was the busiest day: we had a KDE booth and ran two conference tracks: users and contributors.
Being co-hosted with the Ubuntu Party brought in a different population from previous KDE Release Parties. We had nice conversations on the KDE booth with Ubuntu users who heard about KDE but did not really know what it looked like or even what it really was. We did our best to sell our beautiful products. The Plasma Active powered Wetab tablet made a very good impression. It ...read more...
16 | System & Utilities | http://agateau.wordpress.com/2011/12/01/akademy-fr-at-capitole-du-libre/ | 15418 |
We're currently discussing how to give a good visual indicator to users of Marble Touch where their current GPS position is (once it moves outside the visible region of the map). I created a video that shows two possible approaches: The first one (sticky indicator) shows the indicator on the bottom right of the screen and an arrow to point towards it. The second one (moving indicator) also moves the indicator to the nearest border of the screen. Please take a look at the video comparing both and add your comments.
Here are some things to consider:
The sticky indicator has the advantage of a predictable location. Look at the bottom right corner of the map to see the distance to the current position and in which direction it is. A disadvantage is that the distance is measured to the bottom right corner, which is not always intuitive (measuring to the center can be as confusing though). Likewise ...read more...
16 | System & Utilities | http://nienhueser.de/blog/?p=368 | 15415 |
In today's part we'll have a look at an application, that I've (again) grown so used to, that I consider it part of the Workspace itself - KSnapshot.
I remember doing screenshots on my old Win XP machine - press the print screen key, open up MS Paint, paste the image there and save. That's so last-century. I don't know how it works these days in Win7, but feel free to let me know below in the comments. OS X went one step further - after you press some magic key combo (which I could never remember), the image is saved on your desktop. But the fearless KDE developers went even further. 
After you press the print screen key, the KSnapshot pops up with little window and your screenshot in it. From here you can either save the image to a format and place of your own liking (clever automatic file numbering included). However if you don't like the screenshot you just ...read more...
16 | System & Utilities | http://martys.typepad.com/blog/2011/11/the-great-features-of-kde-workspaces-and-applications-part-iii-ksnapshot.html | 15412 |
We are pleased to announce the second release of KDE Telepathy.
KDE Telepathy is a suite of applications which together form an instant-messaging client allowing you to talk on Jabber, Gmail, Facebookm, MSN and much more. KDE Telepathy stands out from previous instant messaging clients by being able to integrate into the KDE workspace and plasma, as well as being able to be used like a traditional IM application.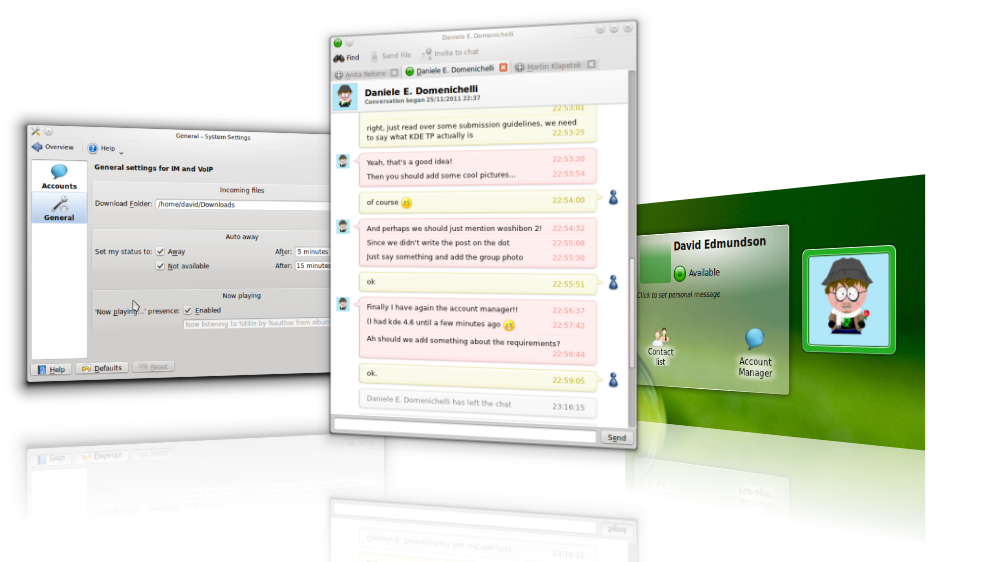 This release features:
KWallet integration for storing of passwords
A plasmoid for instant access to a contact
Ability to set your status to the currently playing track from Amarok, Clementine or any other mpris2-compatiable player
Auto Away
Progress bar and cancel button for file transfers
Over 130 bug fixes and tweaks since 0.1!
Sprints
The whole team met at the Woshibon 2 sprint in Cambridge, UK (14th-18th September). This sprint was sponsored by both the KDE e.V and Collabora and allowed us to not only sort out many of the details in making this release, but planning out more long term ...read more...
16 | System & Utilities | http://www.sharpley.org.uk/node/25 | 15406 |
"KDE released the first beta for its renewed Workspaces, Applications, and Development Platform.
16 | System & Utilities | http://www.topix.com/tech/kde/2011/11/kde-makes-4-8-beta1-available-for-testing?fromrss=1 | 15407 |
It may seem obvious but eating our own dog food can definitely be good for your project's condition. Especially when it is maturing over time. How many testers can we have and how many personas for your user-centered design can we define and maintain? Usually just a few with the actual resources. Is only fulfilling needs of more or less fictional actors focusing on few use cases a good direction? Or does it put our vigilance to sleep?
Well, I am convinced you and your co-workers can be good actors if you actually start using your software more.
In the CSS2 presentation I published above there are only few but probably telling examples of what features of Calligra we can start using more in the project and how. There also a 'why'. Never force using apps if there are better (or good enough) tools already in place. Own dog food consumption can also be a risky business ...read more...
16 | System & Utilities | http://blogs.kde.org/node/4509 | 15404 |
Mmmm, after the jerk-flavored roasted turkey for Thanksgiving dinner (with an amazing Paula Dean corn casserole) I got some excellent coding mojo. That is, of course, after the tryptophan wore off. Then I realized that it has been over 6 months since the last bug fix release and it kinda seemed like it was about time to get these fixes I've worked on over the last few months more widely distributed.  So I tagged Bangarang 2.1 beta last night.
There was once a 2.1 target features list, but as I've realized over the last few months, with just myself as the main developer, it just makes sense to work on whatever motivates me, when I'm motivated to work on it.  I'll do target features and and more fixed release schedules if the number of contributors grow. Fun is my biggest motivation and it's gotten quite a bit done thus far.  And yes, I do enjoy knocking out bugs as much as I enjoy adding features.

I think there were enough new features to warrant ...read more...
16 | System & Utilities | http://bangarangkde.wordpress.com/2011/11/26/thanksgiving-turkey-its-probably-time/ | 15402 |
KBibTeX is a BibTeX editor for KDE to edit bibliographies used with LaTeX. Features include comfortable input masks, starting Web queries , and exporting to PDF, PostScript, RTF, and XML/HTML. As KBibTeX is using KDE's KParts technology, it can be embedded into Kile or Konqueror.
16 | System & Utilities | http://www.topix.com/tech/kde/2011/11/kbibtex-0-4?fromrss=1 | 15399 |
Hi!
It's been a good day today!
First of all I arrived to Toulouse where Akademy-fr is going to happen. I'm really happy of being part of this first (I hope of many) Akademy-fr edition.

Secondly, KAlgebra has been accepted to the OVI store. As far as I know, it's the first (I hope of many, again

) application bundling kde libs in it. So all N9* users can install it without ugly tricks! o/
Proof: KAlgebra at OVI store.
Salutations dès Toulouse!!
16 | System & Utilities | http://www.proli.net/2011/11/25/akademy-fr-ftw/ | 15398 |
Ссылки