Ссылки
Hi everyone. The ideal of sharing propagated by RMS and his fellows has fascinated me for more time than I could remember. I've been always concerned about both the technical and the philosophical side. Therefore, It's resoanable to suppose that I'm also a kind of intellectual property geek.

Moreover, I felt that I could do something different from the boring tasks that my university imposes to me. The knowledge itself is good and I'm very grateful for a lot of things that I've learned in the university. But there is too much effort to make we professional problem solvers, whereas nobody really cares about how to encourage us to search for problems ourselves. Long things made short, what the point to be the best problem solver if you can't even recognise one by yourself.
So as to find my "own" problems, I've decided to contribute with a "real world" thing since the early days of my computer engineering course. FLOSS projects were my first choice, but how I could get into one
...read more...
So today I am in a writing mood. (for some strange reason – these don't come often).
This is a bit of a grumble post, but also a call for help. I've used Libre office and before that Open office in Kubuntu for a long time, including a fair amount of work for my job (I run Kubuntu at work).
There's a lot of things that make me grumble about it, including hard to find options, bad formatting of MS office docs etc, but the one thing where I find a massive problem with that could so easily be fixed – especially with Ubuntu/Canonicals current focus on design is the situation with templates and defaults within the Office (and other creativity) programs shipped.
Have you ever tried creating a document in open office using the default styles (headings etc)? What about the default styles for drawing (horrible light blue boxes anyone?) And the default included templates? not much there… (a few OSS geared ones and some that look like they were made sometime last century – no disrespect meant to ...read more...
I'm happy to announce that KDE has been accepted as a mentoring organization in Google Summer of Code 2012. This is our 8th consecutive year. Congrats to all accepted organizations, and a big thanks to everyone who helped to make this happen for KDE!
Students. Now that you have a list of accepted organizations, it's time to start working on your proposal. KDE maintains an ideas page which is an excellent starting point, and don't forget to check our student guidelines. I've also prepared an article a while ago with a few tips on how to structure your proposal.
You can come up with your own idea or base your proposal on something from the ideas page, but either way it's very important that you get feedback from the team you wish to work with well before the submissions deadline. If you have general questions about getting involved with KDE as a Google Summer of ...read more...
Thanks to XRandR (X Resize and Rotate), it's really easy to get information about display devices, it also generate X events regarding you connecting or removing the connector, KDE already detects this by asking you to configure your monitor and now the KDED module of colord-kde does this too, it will automatically add/remove your display device and also setup the assigned profile. This addition marks near the end of TODOs on this module.
And we even got a few more improvements beside this important step:
Filter profiles by mime type not by extension anymore
Sort and better filter the Add Profile list removing the items already in use
Fix the X atom setup (used by applications like Krita)
Besides all these cool stuff I have also moved from gitorious to KDE git infra-structure's:
https://projects.kde.org/projects/playground/graphics/colord-kde/
With this done I really think it's already possible to start playing with this, surely you won't find a bug free software but if you like testing new things this is for you!
The next step is now polishing the KDED module and improving the KDM ...read more...
The first Ubuntu flavour for tablets is now making daily builds. We even got our first bug reports from our localy Plasma Active upstreams. Images are for i386 only for now, ARMv7 should be added when we know it's a bit more stable and have testers.
The logo above is only an idea, it's the extent of my SVG skills. I also updated the blogs.kde.org poll :)
Another day of work and colord-kde has gained quite nice new features:
It's now able to read the embedded MD5 hash of ICC profiles making import much faster (not slowing our KDE start up)
Import ICC profiles through the KCM, auto assigning them to the desired device
Assign already imported profiles to devices
Remove profiles from device and from collection (if permission allows).
Cool enough sheytan is about to gives insights on GUI improvements to make the module look sexy and usable!
This marks an important step, the basic functionality found on gnome-color is already available to use in KDE (color graphs will be available a bit latter).
Enjoy

...read more...
The best way to calibrate a display device would be by using a colorimeter which precisely measures the color a device outputs, but when you don't have one of these at hand you'd still like to have more accurate colors, which is where the EDID cames in place.
EDID is a chunk of data that most modern display devices provide that give us information about the monitor's model, make, size and even about colors! The colord-kde implementation already makes use of all this info to provide information about which display device you are dealing with, and now it also creates a self-calibration file (ICC) that is automatically loaded when the kded process is started (or when you plug your monitor).
+1 Feature
...read more...
This will be just a short blog post but at least it will be one

. This week first discussions will start about the creation of foundation (legal entity) for the Randa meetings. The following things are quite important for me on this:
To keep it alive for the next years.
Broaden the scope of free software communitites which can use this place.
Make it independent of my person (and thus make it able to to give to people working on this big organizational task at least some expense allowance (and for me to pay the diapers which I need to buy soon )
Find more sponsors to save free software organisations (like the KDE e.V.) from costs.e
Involve more and more locale people, schools and industry.
Bring even more KDE people to Randa in the next years.
And for this I created a new internal mailing list (German only, sorry). So if you're interested send me an email (my lastname at kde dot org) and we'll add ...read more...
In my previous blog, I mentioned that I was finally free of proprietary drivers. But that story wasn't completely over. While basic 3D acceleration and things like glxgears worked fine, wine did not run Windows games yet. So here's a report on the progress since then and some tips on how to get these things to work!



I'm not exactly a gamer. I play two games, each of them approximately 6-7 times a year. One is natively available for Linux and these days even Open Source: Return to Castle Wolfenstein: Enemy Territory, an online 1st person shooter. The second game I have to play through wine: Warcraft III: The Frozen Throne. And if I could, I would be playing a third game: Command & Conquer Generals: Zero Hour. Which, according to Wine's App DB should work fine. Doesn't for me, unfortunately - despite spending more hours on getting the game to ...read more...
Yesterday I have switched from Kopete to KDE Telepathy. At first I only wanted to see what's new, but I was quite impressed and I didn't see any problem that would keep me from using KDE Telepathy instead of Kopete. Except for one -  a contact runner. I'm an incredibly lazy creature and instead of having to remember various shortcuts or even touching mouse, I rather use KRunner for nearly everything, including starting chat with my IM contacts.
In the true spirit of open source, instead of whining about a missing feature I decided to take an action and write the plugin myself
Same as with Kopete Contacts runner, just by typing name of your contact will display matching contacts in KRunner. If you have one contact in multiple accounts, it will display the contact multiple times, with name of the account as well.
The results are sorted by presence, e.g. if a person is online on Jabber, but offline on GTalk, the Jabber contact will be listed first.
If the contact has ...read more...
I spent the last tree days in doing a Ubiquity (the Kde fontend) mockup written in Qt Quick. I have to say it was a nice experience so far. (I didn't really know Qt Quick before)
First a picture of what it looks like:
This is Video of what I got so far:
Video tag not supported. Download the video here.
At the moment it is a clone of the old design, but Qt Quick makes it easy for designers to make bling design and it has way better effects included by now. Also I think using Qt Quick for the frontend of ubiquity would be great for the whole Ubuntu project, because we would only need to maintain one frontend instead of 2.
I plan to integrate the finall mockup into ubiquity and the Kubuntu team might use it in 12.10 as our frontend. If somebody want's to help ping me in IRC (bulldog98 in #kubuntu-devel).
The Communication Bonding period and phase before the first evaluation!



With the results out :-) and my proposal being selected, all i could do was be happy!! :P I was delighted, but i was also a bit nervous. As a newbie with an ambition to finish everything i have promised in my proposal, what lay ahead was a mountain of a task!
It took me some time start with the development as somewhere during the time the results got out, i was experimenting with my linux and i have absolutely no idea what i did that led to breaking of my hard drive. That meant getting a new hard drive, installing linux, then downloading and building kde from source.
Initially i coudnt understand what i was doing with my .bashrc file, the environment variables etc etc, i
...read more...
This is a short one and probably doable as a Summer of Code project.
The idea: add support for the Microsoft compiler and linker and Visual Studio projects and solutions (.sln, .vcproj, et)c in KDevelop, at least in the Windows version.
QtCreator has suport for the first part (compiler and linker).
For the the second part (solutions and projects), code can probably be derived (directly or indirectly) from MonoDevelop's and CMake's. The starting point would be MSBuild support, as it's what VS2010 is based on.
Bonus points if you add C#/.NET support (Qyoto/Kimono).
As already mentioned, Kate Part much better chooses colors from the default KDE color palette configured in System Settings in upcoming KDE SC 4.9. As teaser, here are some examples – hope you like it.
Default "Obsidian Coast" Color Schema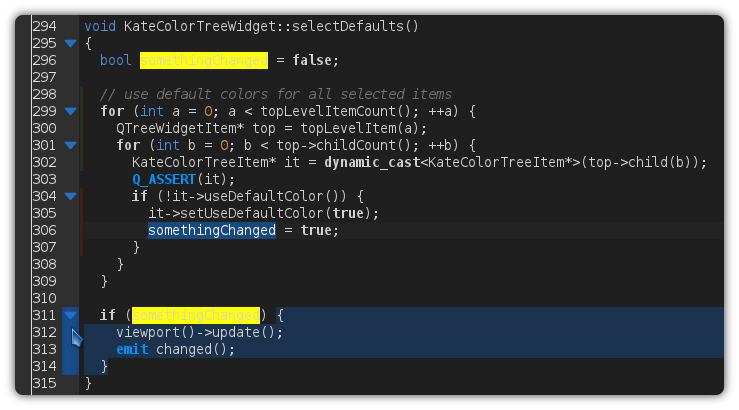 Note: The yellow search background comes from the "Highlight Selection" plugin, which is still a hard-coded yellow. Kate Part's "Search & Replace"chooses more fitting highlight colors for matching and replaced text.
In the Prague office 2 weeks ago I saw our big touch schreen computers. These have NVIDIA video cards, and no proprietary drivers - yet they run composited desktops just fine. As my last attempt at having a composited desktop with nouveau failed I was afraid to try again and I must admit that it took me until 3 at night. I messed up my install quite a bit, it seems. But once done - it works! I can even play RTCW, but Warcraft III refuses to work with an error ("could not open Game.dll") which according to the interwebs is most likely graphics related. I hope I can fix that one day - but for now, I can live without games (almost never play 'em anyway) and I'm quite happy with my proprietary-driver-free system!
We have recently installed a new update of the bugzilla software and we would like to ask you to reactivate your account. This can be done in one simple step: login on the http://bugs.kde.org site.
If you don't reactivate your account before March 30th we will block your account from logging in until the password reset feature is used to set a new password.
Sorry for the trouble, but we hope you will enjoy the upgrade.
While being stuck in text layouting problems during my work on writing an import filter for CDRv4 files for Calligra, I discovered that the import filter for the xfig format is currently disabled from built and needed some porting.
So for some change and a break and the old files I have around in the xfig format I gave it a try, should be just a few hours… Well, of course that became a few days, but now the import filter works at least somehow comparable good as it might have done before.
E.g. this old file


is now imported as

You see that text and arrows still need some work, and so do pattern fills, but otherwise it looks good. Except for:
??? How to translate x-splines to quadratic/cubic Bézier curves ???
XFig was used ...read more...
Recently I've been working on a qt-based project at work that requires ipc in a number of parts of the system. Since we're using Qt this was no problem, we have qdbus right? Unfortunately, qdbus only actively supports unix at this time so that's not an option for our cross-platform solution. Instead of qdbus, we had been using Qxt's rpc peers, and that was okay for initial prototypes but required an adaptor to connect to our web interface. Since our web interface is the primary control point for the system, this was also not ideal. So instead I went about looking for a json alternative, and qjsonrpc was born.

qjsonrpc utilizes the new json classes included as part of qt5 to implement the jsonrpc 2.0 specification. Currently, the project provides a QJsonRpcMessage class as well as a way to setup a simple QLocalServer/QLocalSocket rpc service. The project also includes a backport of the qt5 json classes to qt 4.7.4. I can't take too much credit here, most of the heavy lifting was done by the trolls as usual (thanks Lars ...read more...
The Ubuntu team is pleased to announce the first beta release of Ubuntu 12.04 LTS Desktop, Server, Cloud, and Core products.
Hello KDE community!
First I want to thank everyone who showed interest for my last post and for the "Akregator reborn" project in general.
The good news of today is that Christophe Giboudeaux (krop) did an amazing job in the last week with moving all the stuff that concerns Akregator in a new branch of kdepim. In the following, I will explain more in details what happened. I will also give some tips for the non-experts on how to set up an environment to comfortably hack on Akregator.
As you might remember from my previous post, the plan is porting Akregator to the Akonadi framework. Until the last week, approaching Akregator's code for someone who hadn't followed its development in the last years was something not trivial. Things changed a bit and, as a first step, I am going to explain which repositories you should refer to if you want to hack on Akregator. Before the repositories restyling of the last week, the situation ...read more...
This week I've been on Ubuntu release driver duty for Beta 1. Ubuntu has lots of flavours there days and they all need to be nudged to ensure they get their testing and announcements done in time. We only had a few hiccups, some of the flavours had to be respun late last night for fixes and do lots of testing today. Ubuntu (poor under-resourced flavour that it is) also didn't update their upgrade instructions in good time and some grumping at them was needed (sorry, I get grumpy quickly these days with my traumatised brain). Slashdot linked to the wrong URL for downloading Ubuntu CDs so I had to put in a quick redirect to point them at the announcement where the correct URLs are.
Here is the Kubuntu Beta 1 announcement showing nice features like Telepathy-KDE and a big OwnCloud update.
And for anyone worried about the future of Kubuntu, Kubuntu 12.04 to be Supported for 5 Years reaffirms that we will be treating 12.04 like ...read more...
Qlipboard2 is clipboard monitor/manager, clone of KDE tool Klipper, oriented on Windows users.
When I announced my Conquirere program I got some feedback from Tuukka Verho. Seems I wasn't the first one working on a paper management system with Nepomuk.

Tuukka told me he developed a python plugin based Konqueror system that extracts publication relevant metadata from the currently visited website. If you know Zotero, this should remind you of the translators they are already using.
Extracting metadata from the web is a nice addition to the whole Nepomuk idea. There already exist a few implementations to extract
tvshows
,
websites
, movies and there was once a GSoC fully related to this topic.
One of the comments below Sebastians tvshow extractor was about the extension to also fetch anime data. Of course this is just one idea, there are hundreds of other sources where such data can be retrieved from. Also why stop with video files, there also exist music, publications, books and other files where additional metadata from the web can be a real help.
StartExplorer was developed as an Open Source plugin that is supposed to offer a tight integration of system file manager and the shells into Eclipse.
We have prepared a survey to gather some information about Choqok users and their needs, please participate in it, and help us to improve Choqok


Filed under: Choqok, PlanetKDE
Last year I had a proseminar at university and I do not want the stuff to moulder on my hard drive. It was about randomised algorithms and I had to write about ways to compute maximal independent sets in parallel. The considerations are primarily theoretically, proving runtime complexities on abstract parallel machines—we do not have a problem with using polynomially many cores for a trivial task (we simply have to choose anything that fits) which would in practice be more difficult to distribute to the nodes than computing it sequentially—but it might be interesting to see how randomisation can guarantee uncoupling between different processes resulting in a better runtime complexity, I enjoyed it. What is a maximal independent set? Given a graph it is a subset of the vertices of the graph being both independent and dominating, no two of its members are adjacent, but every other vertex is adjacent to a member of the set—not to be confused with maximum independent sets being maximal independent sets of maximal cardinality, computing maximum independent sets is NP hard. If anybody is ...read more...

Sorry for the old blog posts flooding the planets - was not intentional... Not sure why that happened.

But at least I've got good news: If you're in or around Prague it is time to hurry to the SUSE offices - SuSE LINUX, s.r.o. Lihovarska 1060/12 Prague 190 00 Czech Republicn - for the KDE 4.8 release party!!!

I'll be showing what's new in the latest release and there are a few more talks. On the right proof that the CAKE IS REAL!

Remember - have a lot of fun!


As C.Boemann already said, we met at my place for two days in order to fix some serious issues we had with the undo/redo framework in Calligra Words (and Stage for that matter).
The undo/redo framework is something I wrote when I first started contributing to KOffice about 3 years ago. I have to say that I was not really looking forward having to jump into this stuff again. I am not such a masochist and the memories I have of writing this are not ones of an easy glide.
It actually turned out to be really fun and gratifying. There were some headaches involved to be sure but overall I really enjoyed it.
To summarise a bit (more detailed description bellow for the hard hearted): we use Qt Scribe framework for our document. When an edition is done on a QTextDocument, it emits a signal telling that an undo/redo action was added on the QTextDocument internal undoStack. The application listens to this signal and can create an undo action on its stack to match QTextDocument's internal one.
...read more...
Ссылки