Ссылки
Packages for the May updates of the KDE Platform, Workspaces and Applications 4.8.3 are available for Kubuntu 12.04 in the official repositories. As long as the precise-updates pocket is enabled (this is the default) you should receive this release as part of your normal system updates.
Many thanks go to Jonathan, Philip and Rohan for working on the packages!
Update: Now available in the standard updates repository. Adding a PPA is no longer necessary.
The 0.9.2 version of Kdenlive has been released, the source package is now available from the KDE servers.
This new release fixes the most important regressions found in the 0.9 version as well as a few other issues.
The crashes in the stop motion widget and composite transition are fixed, slideshows and firewire capture work again. For a full changelog, check our Kdenlive 0.9.2 info page.
All users are encouraged to upgrade and report problems, we will prepare another bugfix release in a few weeks.
This is just a short note mostly for packagers and other developers using LibKGoogle (if there are any). Due to possible violation of Google trademark, the LibKGoogle library has been renamed to LibKGAPI. Thanks to Clifford Hansen for inventing such a nice name
Also the license has been changed and the project is now under GPLv2+ instead of GPLv3+.
The entire API is now encapsulated in KGAPI namespace instead of KGoogle and headers were moved to %prefix%/include/libkgapi.
All these changes are now reflected in LibKGAPI 0.4.0 release, which does not contain any other improvements or fixes. I decided to go directly to 0.4 instead of continuing the 0.3 series, as I consider this a big and important change.
The Akonadi resources for Google services in kdepim-runtime will depend on LibKGAPI 0.4.0, the patch has been already submitted for review.
The git repository is still called libkgoogle, it will be renamed when it's moved to KDE extragear (or somewhere else). Stable branch is LibKGAPI/0.4.
Tarball release: libkgapi-0.4.0.tar.bz2 (will be available on ...read more...
The Calligra team is proud and pleased to announce the alpha release of version 2.5 of the Calligra Suite. Since the first release of Calligra the team has worked using a new development model where new features are only introduced into the main sources (known as "master") after a feature or bugfix is "finished" in some sense. The actual development is done in a branch which is kept separate from the main sources while the code is still immature.
This allows us to use shorter development cycles and shorter alpha and beta periods since the master branch should in principle be releasable at any time. However, all software contains bugs and in 3 weeks we will announce the 2.5beta version. This also marks the hard feature freeze for version 2.5. After this there will only be bugfixes on the release branch until the final release in July.
The Calligra team has released version 2.4.2, the second bugfix release of the Calligra Suite, Calligra Mobile and Calligra Active. This release contains a number of important bug fixes to 2.4.1 and we recommend everybody to update as soon as possible.
Bugfixes in This Release
Here is an overview of the most important fixes are in 2.4.2. There are several others that are not mentioned here:
 General:
Speed improvement on layouting large documents (BUG: 298216)
Fix image effects 'grayscale' and 'mono' (BUG: 260434)
Fix saving of patterns
Fix painting artefacts after snapping has been used (BUG: 260418)
Fix adding word to dictionary (BUG: 298794)
Fix crashes when using the color set popup (BUG:298412)
Fix compilation with CLANG compiler
Stage:
Use masterpage background correctly (BUG: 299639)
Kexi:
Krita:
Do not fill layers that cannot be edited (BUG: 300082)

Fix loading of layer name from Gimp files having bad encoding (BUG: 298994)

...read more...


GNOME 3 is a perfect example, but it is not the only one. I could cite many examples from the K Desktop Environment too.
Hot on the heals of the awesome PulseAudio 2.0 release, I am very please to announce Mageia 2! It's been a lot of very hard work and I inadvertently ended up doing a lot more than I had originally intended but I can't complain - while it was a lot of hard work and a massive time sink for the last few months, I certainly learned a great deal and feel I've contributed to a great user experience.So what makes Mageia magic? Well I like to think it's because we've got a great bunch of people involved - not only that, we have clear guidelines about how the whole project can never be owned by a corporate interest - it's a true community distro. If this is important to you, (and it should be!) then I encourage you to get involved and help us make it even more magic.
Not only that, but while we're a young distro we come with a rich history: Mandriva. While the corporate side of Mandriva is still somewhat ...read more...
This post is part of an ongoing series about developments and discussions in Qt.
Some parts of this report are still under discussion, and don't necessarily reflect the final state of Qt 5. The target audience is people involved in Qt development itself, but without the time to follow everything that happens, and others with a strong interest in Qt, Qt 5, and the community.
This week we cover the move of QIcon and consequences that can have, continued work on Qt using UTF-8 by default, more discussions about QPA, and touch events.
QIcon returned to QtGui
With the splitting of the Widgets related classes from QtGui in Qt 5, QIcon had ended up in the widgets module. When a commit arrived which added a new class for multiple-size icons, the rationale was discussed, and the class has now been returned to QtGui. This could conceivably have favorable consequences for using icons in QML 2 code in the future, and possibly a QPA API for loading icons from standard platform-defined ...read more...
Qt is a comprehensive, object-oriented development framework that enables development of high-performance, cross-platform rich-client and server-side applications.


About two weeks ago I went to Re:Publica, a hipster event (can I say that?) in Berlin. It was an interesting event - related to the stuff I usually visit, yet different. I'll go over the differences, then present what I see as the challenge for Free Software events: get those creative, digital and always-online people closer to us!


Audience
The main audience of the event could probably be best described as people interested in the 'digital lifestyle'. People who use smartphones, are always on-line. They find their places-to-go on foursquare, talk to their friends on facebook, share their opinions on twitter, Whatsapp with their love - but they don't hang out on IRC or visit forums very often and they probably have a Macbook Air and a high-end android phone. Yes, not that different from us.


Subjects
The event featured talks on things like the web, new cloud services like on-line ...read more...
As distributions are slowly adopting our instant messaging suite, we get more and more questions from people everyday. And to give a proper support, we need a proper place to do so. So we decided to meet our users half-way and we created a special KDE Telepathy section at http://forums.kde.org - you can find it here, in the Internet & Network section. We're watching that forum and will try to help you, our users, as best as we can. So if you have any questions or want to discuss something, jump over there and ask away.
Big thanks to einar77 and the rest of our KDE sysadmin team for making this happen, as always - you guys rock!
Just read another "forget desktop Linux" piece by a writer trying to cover Free software on a sight ostensibly doing the same. This is exactly the sort of thing I wrote about in a recent blog entry, and it's sad to see it continue.

First off, "world domination" is not the only metric, nor the most useful one in every case. We have tens of millions of users around the world and I'm sure they'd appreciate it if we didn't forget them. I am one of them, and I know I certainly feel that way. You may be as well.

There's another aspect to that article: it suggests concentrating on mobile. Now .. where have I heard that before? Oh, right: everyone saying the desktop is dead, long live the web, we should focus all our efforts there.

Wake up call #1: hundreds of millions of laptop and desktop systems are sold each year. It's a market that isn't going away. Nothing is "killing" it. It is being displaced to some ...read more...
If you tend to want to keep your music running when you log out, or control your music playing on a desktop machine from a laptop, for example, you may well use the Music Player Daemon (MPD).  If you use Ubuntu's Unity desktop or KDE's Plasma desktop, you may well wonder how to get the Ubuntu sound menu or Plasma's Now Playing widget to talk to it.
Both of these use MPRIS2 to communicate with media players.  MPD, however, does not have an MPRIS2 interface.  Even if it did, it would take a bit of work to be able to use it from another computer.  What you need, then, is a "bridge" of some sort to translate.  One such possibility is mpDris2 (which, I hasten to point out, I haven't tested).
You would run such a bridge on the computer you want to control MPD from, and point it to your MPD instance.  And voilà!  Every MPRIS2 client application that you run can ...read more...

Heya!

It's almost that time: in one week LinuxTag opens its doors! Courtesy of your friends at Fedora and openSUSE, there will be 'Beefy Miracle' hotdogs and 'Old Toad' beer. And together with the numerous other projects we bring you talks about Linux and new Free/Open Source technologies, interesting people to talk to and lots of fun and party!


Cool stuff in the booth area, BEER AND HOTDOGS!
This year, openSUSE & Fedora gang up to both support you, the visitors, and LinuxTag, our gracious hosts. We'll hand out 'Old Toad' beer and 'Beefy Miracle' hotdogs for a small donation (€1 per item) to the LinuxTag e.V.! So there you have it:

Come, buy and eat hotdogs and drink beer in support of LinuxTag!
(the openSUSE beer is actually free as the catering didn't like us asking for donations to LinuxTag. However, we strongly suggest to give a donation anyway)
...read more...
In KDE3 times the "scheck" style from kdesdk/scheck could be used by developers and testers to "highlight accel and style guide conflicts", like this (from the README):
Orange shows accel conflicts.
Green proposed accels.
Dotted red lines show nested groupboxes (not prohibited, but not favored ).
Potential style guide violations are marked with yellow, likely ones with red.
Missing colons are drawn with two small red squares.
Errors in window titles are marked with "foo|b|ar".
Violet background show untranslated string.
Just, the scheck style has never been completely ported to Qt4/KDE4! Since the begin of the KDE4 era it has stayed in kdesdk but excluded from any build. And now in the preparation of the migration of kdesdk module to git-based repositories any unported submodules will be moved to tags/unmaintained/4, already next sunday, May 20th.
So take a look at the current sources and consider giving it some Qt4/KDE4 love

If you are interested, please subscribe to the new ...read more...
I spent some free time today getting caught up on the large backlog of phonon-gstreamer bugs. Towards the end, I started to have delusions of grandeur: Imagine a phonon-gstreamer codebase that doesn't require supporting a zillion different audio frameworks, and instead belays that task to something that I don't have to maintain.
My question here, is how many people would throw a fit if phonon-gstreamer dropped support for ALSA and OSS, and forced everyone to use pulseaudio by way of GStreamer's excellent pulseaudio support?
Hold on, lower your pitchforks for a minute. Let us consider the audio framework landscape in the modern world:
Pulseaudio is the One True Way for audio playback in Gnome
For 90% of the support questions we handle in #kde-multimedia, the solution is "use pulseaudio".
Pulseaudio can handle using OSS, ALSA, Bluetooth, or whatever your audio output is, through one consistent entry point
It is a total headache to figure out any bugs in your audio when music goes from Amarok->Phonon->Phonon-GStreamer->(ALSA, OSS, Pulseaudio, god knows what)->Speakers->Earholes
Additionally, I really don't feel like testing phonon-gstreamer ...read more...
Sirko brought up the idea to organise a hackfest together with developers of applications for Linux desktops and experts interested in colour management. The idea behind that event was to bring interested developers together, support them in implementing color management in their software and move forward that topic across desktops and distributions.
During the recent LGM we found a chance to involve Richard Hughes and planed together about what we like to do during the hackfest. We spotted three main areas of interest: desktop applications including window managers, web browsers and printing. These topics are already worked on, but in a scattered way.
As example, Gwenview is a really great application for managing pictures. But it has no color management implemented yet. Color management in KWin is worked on during the GSoC this year, but in the opposite color management in the compositing manager mutter on the GNOME side is far away as can be read here. Not many web browsers support color management and ...read more...
Continuing with my previous post about the Zeitgeist team's improvements with regards to speed, there's a nifty tool in the sources I wrote yesterday that uses a genetic algorithm to find the slowest queries you can throw at the engine.
If you're not familiar with genetic algorithms, here's a brief review of how they work:
Start off with an array of numbers, with each index corresponding to a particular attribute of the problem.
Evaluate the fitness of that genome
Simulate evolution of the successful genomes by crossing, mutations, etc, just as you would with real DNA chromosomes
In the case of this Zeitgeist tool, the chromosome refers to a query, and each allele (index of the array) refers to an attribute of the query. Here's a relevant comment from the sources:
# Chromosome to data mapping:
# 0, 1 - Timerange begin and end. If both are zero, we use timerange.always()
# 2 - The search type. Anything over 30 is a dead individual.
# 3-5 - Specify template properties. Anything besides 0 and ...read more...


J7Z is an alternative 7-Zip GUI. 7-Zip is a high-compression file archiver designed by Igor Pavlov.
In my blog post last week, as well as showing a cool video of Ubuntu for Android in action , I asserted that open source makes the perfect foundation for innovation.
Some of you are surely aware of my work with PolicyKit and my efforts on making privilege escalation in KDE/Linux easy and accessible. The final result of my efforts was KAuth, now part of kdelibs. Although, since quite a lot of time I have been wondering on how to improve the whole escalation/trust experience, also covering a part of our middleware which is still not quite there.
One of the main issues in a Linux system at the moment is that we are not capable of identifying and ensuring that a client application *is* actually the application we are expecting. Anyone can fake a DBus service on the session bus, same goes for the process name and much more. This is also one of the big pitfalls of Polkit – as much as the authorization is guaranteed to be unique for each client, there is no way to determine if a specific client is *actually* supposed to execute a specific action or not.
These days I am at UDS, and I have been talking about the subject with Alex (Fiestas) ...read more...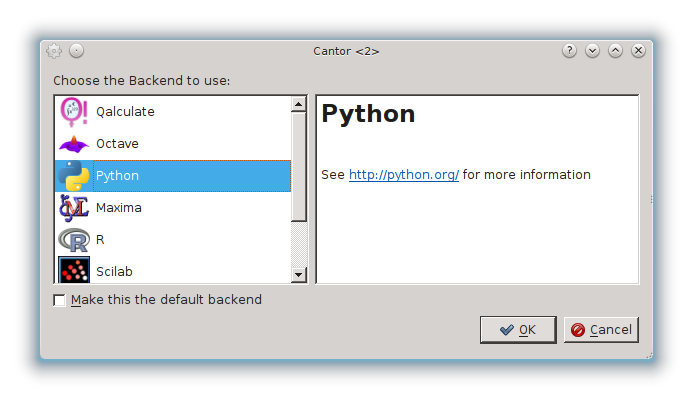 LaKademy is over and I will report about the event in several themed posts. This is about I developed during the Latin American meeting of KDE developers. More posts in LaKademy tag.

In this year I submitted a proposal to Google Summer of Code to develop a Python backend for scientific programming in Cantor. In the last year, I developed a Scilab backend. Unfortunately my proposal was not accepted.
But that's okay, life goes on. This does not discourage me to begin the project.
During the LaKademy, I put as a goal to make communication between Cantor and Python. My first idea was to make a fork of Sage backend, which is also a technology based in Python. But in the evaluation phase of proposal for Google Summer of Code, the Cantor main developer, Alex Rieder, suggested to me take a look ...read more...
Hi everyone,
I'm posting directly from Porto Alegre, Brazil, where it is happening the LaKademy 2012. I came this year as a newcomer (passed in GSoC this year), and expect to keep working hard to help the community and attend to other KDE events too.
I arrived in Porto Alegre on Thursday (April 26th) at night and only had time to rest a little to start working hard on Friday (inauguration day of the event). I did not know anyone that came here (except Lamarque (my GSoC mentor), so, it is a good opportunity to know everybody and integrate myself in the Latin America KDE community.
My GSoC project is to develop a new plasmoid for Plasma NetworkManagement using QML (
link
). So, on Friday (April 27th) I talked to Lamarque about the best way to implement the new connections List Model to show wireless networks in the area. After that we defined the architecture that fits better to our purposes and I started
...read more...
Knights aims to be the ultimate chess resource on your computer. Written for the K Desktop Environment, it's designed to be both friendly to new chess players and functional for Grand Masters.
Everyone here have been working very hard these days. And the difficulties and doubts that appeared gave me the opportunity to learn a lot with the KDE overlords we have here. Yesterday morning we stopped the coding/translation activities a bit to plan what we'll do this year to promote KDE in Latin America.


KDE Promo BOF


During the Promo BOF, Alvaro said that the KDE community is too small in Argentina and it made us remember that the Brazil situation was very similar around 2008. Five years later, we're here at LaKademy with thirteen Brazilians improving KDE in many different ways. The point is that nothing resist to work and we're doing our best towards the strengthening of the KDE communities in Latin America.

Other subjects in question were: the change of the KDE-BR portal from Wikimedia to a CMS format, ...read more...
KMyMoney is the personal finance manager for KDE. It operates in a manner similar to MS Money and Quicken and supports different account types, categorisation of expenses, QIF import/export, multiple currencies, and online banking.
I'm planning on taking the Tallink Silja boat from Stockholm to Tallin to get to (and from) Akademy. It is a all-night boat with restaurants, bars and almost whatever you would like. The boat leaves shortly before dinner and arrives shortly after breakfast and it is full of great fun.
Last time (Akademy 2010 in Tampere), Inge, Ryan, Chani, Martin and me were on such a boat and it was a nice experience.
Anyone up for such a experience this year ?
You hopefully know how to reach me
Alternative title of the post: Yet another "hey, my proposal got accepted to GSoC!" post.
In the next three months I am going to develop a feed aggregator for ownCloud as a Google Summer of Code 2012 (GSoC) project under KDE. The mentors of this project are Frank Osterfeld and Jakob Sack. As you might remember from my previous posts (1 and 2), this belongs to a wider project that aims at synchronizing KDE Akregator on the cloud. If you are interested in more details, you can read my full proposal here.
This is how the web interface of the aggregator is going to look like (in two different views):
There are big changes happening in these days for ...read more...
Kubuntu is a Linux distribution that is based on Ubuntu. The main difference from standard Ubuntu is that KDE Plasma is used instead of Unity.
Ссылки