Ссылки
I spent some free time today getting caught up on the large backlog of phonon-gstreamer bugs. Towards the end, I started to have delusions of grandeur: Imagine a phonon-gstreamer codebase that doesn't require supporting a zillion different audio frameworks, and instead belays that task to something that I don't have to maintain.
My question here, is how many people would throw a fit if phonon-gstreamer dropped support for ALSA and OSS, and forced everyone to use pulseaudio by way of GStreamer's excellent pulseaudio support?
Hold on, lower your pitchforks for a minute. Let us consider the audio framework landscape in the modern world:
Pulseaudio is the One True Way for audio playback in Gnome
For 90% of the support questions we handle in #kde-multimedia, the solution is "use pulseaudio".
Pulseaudio can handle using OSS, ALSA, Bluetooth, or whatever your audio output is, through one consistent entry point
It is a total headache to figure out any bugs in your audio when music goes from Amarok->Phonon->Phonon-GStreamer->(ALSA, OSS, Pulseaudio, god knows what)->Speakers->Earholes
Additionally, I really don't feel like testing phonon-gstreamer ...read more...
Sirko brought up the idea to organise a hackfest together with developers of applications for Linux desktops and experts interested in colour management. The idea behind that event was to bring interested developers together, support them in implementing color management in their software and move forward that topic across desktops and distributions.
During the recent LGM we found a chance to involve Richard Hughes and planed together about what we like to do during the hackfest. We spotted three main areas of interest: desktop applications including window managers, web browsers and printing. These topics are already worked on, but in a scattered way.
As example, Gwenview is a really great application for managing pictures. But it has no color management implemented yet. Color management in KWin is worked on during the GSoC this year, but in the opposite color management in the compositing manager mutter on the GNOME side is far away as can be read here. Not many web browsers support color management and ...read more...
Continuing with my previous post about the Zeitgeist team's improvements with regards to speed, there's a nifty tool in the sources I wrote yesterday that uses a genetic algorithm to find the slowest queries you can throw at the engine.
If you're not familiar with genetic algorithms, here's a brief review of how they work:
Start off with an array of numbers, with each index corresponding to a particular attribute of the problem.
Evaluate the fitness of that genome
Simulate evolution of the successful genomes by crossing, mutations, etc, just as you would with real DNA chromosomes
In the case of this Zeitgeist tool, the chromosome refers to a query, and each allele (index of the array) refers to an attribute of the query. Here's a relevant comment from the sources:
# Chromosome to data mapping:
# 0, 1 - Timerange begin and end. If both are zero, we use timerange.always()
# 2 - The search type. Anything over 30 is a dead individual.
# 3-5 - Specify template properties. Anything besides 0 and ...read more...


J7Z is an alternative 7-Zip GUI. 7-Zip is a high-compression file archiver designed by Igor Pavlov.
In my blog post last week, as well as showing a cool video of Ubuntu for Android in action , I asserted that open source makes the perfect foundation for innovation.
Some of you are surely aware of my work with PolicyKit and my efforts on making privilege escalation in KDE/Linux easy and accessible. The final result of my efforts was KAuth, now part of kdelibs. Although, since quite a lot of time I have been wondering on how to improve the whole escalation/trust experience, also covering a part of our middleware which is still not quite there.
One of the main issues in a Linux system at the moment is that we are not capable of identifying and ensuring that a client application *is* actually the application we are expecting. Anyone can fake a DBus service on the session bus, same goes for the process name and much more. This is also one of the big pitfalls of Polkit – as much as the authorization is guaranteed to be unique for each client, there is no way to determine if a specific client is *actually* supposed to execute a specific action or not.
These days I am at UDS, and I have been talking about the subject with Alex (Fiestas) ...read more...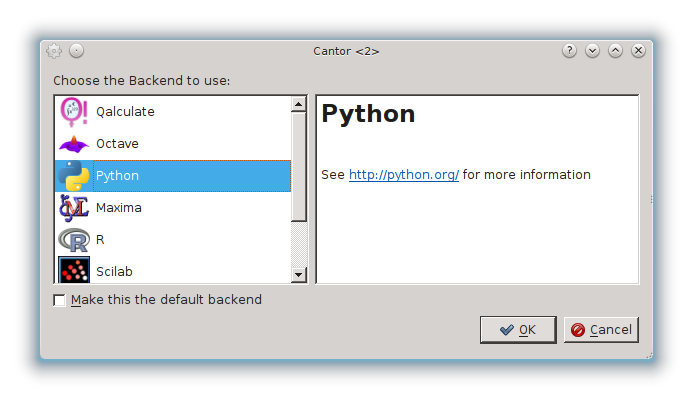 LaKademy is over and I will report about the event in several themed posts. This is about I developed during the Latin American meeting of KDE developers. More posts in LaKademy tag.

In this year I submitted a proposal to Google Summer of Code to develop a Python backend for scientific programming in Cantor. In the last year, I developed a Scilab backend. Unfortunately my proposal was not accepted.
But that's okay, life goes on. This does not discourage me to begin the project.
During the LaKademy, I put as a goal to make communication between Cantor and Python. My first idea was to make a fork of Sage backend, which is also a technology based in Python. But in the evaluation phase of proposal for Google Summer of Code, the Cantor main developer, Alex Rieder, suggested to me take a look ...read more...
Hi everyone,
I'm posting directly from Porto Alegre, Brazil, where it is happening the LaKademy 2012. I came this year as a newcomer (passed in GSoC this year), and expect to keep working hard to help the community and attend to other KDE events too.
I arrived in Porto Alegre on Thursday (April 26th) at night and only had time to rest a little to start working hard on Friday (inauguration day of the event). I did not know anyone that came here (except Lamarque (my GSoC mentor), so, it is a good opportunity to know everybody and integrate myself in the Latin America KDE community.
My GSoC project is to develop a new plasmoid for Plasma NetworkManagement using QML (
link
). So, on Friday (April 27th) I talked to Lamarque about the best way to implement the new connections List Model to show wireless networks in the area. After that we defined the architecture that fits better to our purposes and I started
...read more...
Knights aims to be the ultimate chess resource on your computer. Written for the K Desktop Environment, it's designed to be both friendly to new chess players and functional for Grand Masters.
Everyone here have been working very hard these days. And the difficulties and doubts that appeared gave me the opportunity to learn a lot with the KDE overlords we have here. Yesterday morning we stopped the coding/translation activities a bit to plan what we'll do this year to promote KDE in Latin America.


KDE Promo BOF


During the Promo BOF, Alvaro said that the KDE community is too small in Argentina and it made us remember that the Brazil situation was very similar around 2008. Five years later, we're here at LaKademy with thirteen Brazilians improving KDE in many different ways. The point is that nothing resist to work and we're doing our best towards the strengthening of the KDE communities in Latin America.

Other subjects in question were: the change of the KDE-BR portal from Wikimedia to a CMS format, ...read more...
KMyMoney is the personal finance manager for KDE. It operates in a manner similar to MS Money and Quicken and supports different account types, categorisation of expenses, QIF import/export, multiple currencies, and online banking.
I'm planning on taking the Tallink Silja boat from Stockholm to Tallin to get to (and from) Akademy. It is a all-night boat with restaurants, bars and almost whatever you would like. The boat leaves shortly before dinner and arrives shortly after breakfast and it is full of great fun.
Last time (Akademy 2010 in Tampere), Inge, Ryan, Chani, Martin and me were on such a boat and it was a nice experience.
Anyone up for such a experience this year ?
You hopefully know how to reach me
Alternative title of the post: Yet another "hey, my proposal got accepted to GSoC!" post.
In the next three months I am going to develop a feed aggregator for ownCloud as a Google Summer of Code 2012 (GSoC) project under KDE. The mentors of this project are Frank Osterfeld and Jakob Sack. As you might remember from my previous posts (1 and 2), this belongs to a wider project that aims at synchronizing KDE Akregator on the cloud. If you are interested in more details, you can read my full proposal here.
This is how the web interface of the aggregator is going to look like (in two different views):
There are big changes happening in these days for ...read more...
Kubuntu is a Linux distribution that is based on Ubuntu. The main difference from standard Ubuntu is that KDE Plasma is used instead of Unity.
Hello people,
First, i was a bit away of blogs (near a year now), but not away from KDE.
At the end of the last year, I and my wife (a newcomer here in LaKademy), started to work as teachers. A good way to spread the FOSS among students. As result of being teacher, i wrote a new plugin to rocs, the Rooted tree data structure to teach trees to my students. Also, in this period, i am giving a class about development tools and good practices (all using FOSS tools and communities as examples). I hope to see some patchs in KDE's review board from my students.
The rooted tree plugin was presented to other students (another class) and they like a lot (they can 'see' the pointers), but i will talk more about it in another post (maybe with some photos).
Well, as you all should know (unless you live in another planet), today LaKademy started, here is some pics http://t.co/PL70O7a0 and http://t.co/PL70O7a0 .
Today i moved the Rooted tree plugin, that was in my scratch repo, to ...read more...
With a few minor tweaks, one can now edit the contents of XML files and PostgreSQL tables with the libferris REST interface. The YUI web interface has been updated to allow that to easily happen. In the below video, example.xml is first shown and then instead of viewing it as a file, I choose to "read" it as a directory, causing libferris to sniff it out and work out that it can mount that file as a directory for you. The same can be done using "ferrisls example.xml" at the command line.
Notice that the read link is only offered on the XML files. This is because libferris tells the client that those are not natively "directories" but can be seen that way if you like.
I then simply click down to the "barry" XML element in the mounted XML file. Editing the barry entry will write the data back to the server asynchronously. The terminal is used to verify that things went on back.
The second browser tab shows a mounted PostgreSQL table which has ID and Message columns. ...read more...
The Skrooge team is pleased to announce the release 1.3.0 of its popular personal finances management application
New features
Colors in "Incomes and Expenditure" dashboard widget
Skrooge is now able to import file have amounts with unit symbole (example: -$8.35)
"Base 100" mode for graphs, allowing to compare the evolution of two items. For example the following graph compares relative evolutions of my salary versus food and transportation expenses :
Bugfix & Enhancements

We had several good proposals related to KDE Telepathy for Google Summer of Code 2012, but unfortunately we only got 2 slots! But hey, we got 2 slots! That's great!
Thanks to Google for organising and sponsoring it.
The first accepted project is "Message Filtering Plugin System" by Lasath Fernando (shocklateboy92), the author of the chat plasmoid that will be released in KDE Telepathy 0.4. He will be mentored by David Edmundson and
"will create a completely asynchronous modular and extensible system that enriches messages before they're displayed to the user. These includes embedding images and videos from links, Translating messages, (re)-formatting them nicely, reading out loud etc."
The second project is "Enhancement to peer-to-peer DBus for Telepathy DBus Tubes" by Puneet Goyal. Puneet worked on the Payment Detection use-case of project Alkimia in Season of KDE 2011. I will be his mentor for this interesting project which aim is to ...read more...
Quassel IRC is a modern, cross-platform, distributed IRC client, meaning that one or more clients can attach to and detach from a central core, much like the popular combination of screen and a text-based IRC client, but graphical.
Since I started blogging I've talked many times about KAlgebra. Usually it's not to display it's awesome features but to discuss its portability. I've always considered that it's important for KDE not to lock down its applications to a platform. That's why I've put my efforts into ensuring KAlgebra will work properly on different platforms so far, like the N9 and Plasma Active.
– TL;DR: you can jump to the video

–
I think we've done a great job so far. It hasn't been easy and we are not there yet, but I think that being able to do things like this is an awesome opportunity for projects like KDE Edu where we want to target the widest audience possible.
Android offers this, a widespread audience where we will be able to put our things. That's why I put my interest in it, anyway.
Regarding the actual implementation, it's far from perfect. It's using KAlgebra Mobile, which has different backends. I created a new one that doesn't require any components present. QtQuick ...read more...
I'm syndicating to planet KDE because things in the post might be of interest for KDE. I'd be overjoyed to see some of the features in KDE too, the more powerful the tools available to folks the better the future tools will be ;) So, on with the show... I decided to add REST and YUI stuff to libferris. This is still very much a work in progress in spare time... Luckily the heavy lifting is all done already in the libferris library.
The initial web interface is still fairly basic, the back and forward buttons are handled by the browser leaving only the parent button in the apps toolbar. Home and Heart are your home dir and bookmarks respectively.
Clicking on a row allows arbitrary annotation of that file. The annotations are stored in either native kernel level Extended Attributes or RDF. A feature I find very useful is that all metadata is presented via the same interface. As you can see the "Annotation" column in the listview is showing your own description of each file. You can filter or sort ...read more...
I have been thinking this over for quite a while, and have written this post several times over in my mind. As an undergraduate student I remember admiring scientists and imagining how amazing it must be to have a job where you got to discover new things, think of better solutions to problems facing our society and making the world a better place. As my studies continued I aspired to become one of those researchers, and made the decision to take my studies further and applied to do a PhD.
As a PhD student I enjoyed learning more about materials, and was excited to be working with gold nanoparticles and research into how we might make real devices out of this novel new material in the Nanomaterial Engineering Group. It was exciting, challenging and fascinating using techniques such as X-ray and neutron reflectometry, electron and atomic force microscopy and Langmuir-Blodgett troughs. As I learned more through my work I became frustrated with the quality of the software I used, and had always imagined that "real scientists" had ...read more...
A reader send me an email, because he wanted to know what I think about an image he prepared. The graphic has an explicit title "Internet ruining your brain" (by the way: the image can be found at the address http://www.forensicpsychology.net/internet-ruining-your-brain/). Now, what to say about this work?
I can agree with the informations (and the graphic is nice), but I absolutely disagree about the opinion expressed:
sure, the internet is reducing our use of memory. But this is not a bad thing.



It's obious that, for someone, internet is still a new thing, and as every news it could be considered scary. For example, the legend says that when writing have been invented, many people believed it would kill the memory skills of men. But where would we be, now, without writing? Everything in our life is based on the possibility to write. The fact is that, every time we reduce the use of ...read more...
Chakra Linux is a Linux distribution that combines the simplicity of Arch Linux with KDE.
This is the fourth post in my blog series: bugs.kde.org for developers.
Yesterday we looked at how to search in bko if there is useful information in it. Today we start adding the useful information: components. Now again I assume you will say that you know everything about components, but I have assigned bugs to so many products with too few components, that I decided components deserve an own post in this series.
Components can be used to group your bugs. You can use any grouping which might make sense to you. You could add components for the parts exposed to the user interface, components for implemented concepts (e.g. a protocol) or components for specific parts of the code base. My recommendation is to remember that the bugtracker is there to help you and that means you should use what makes sense to you and not what might make sense to users. Please don't expect that users or triagers will find the right component – setting the component is something the developers have to ...read more...
I'll be attending LAkademy, the first KDE Latinamerica summit for KDE developers, old and new.
Unfortunately, I'll be the only one from Argentina. I wasn't able to convince any more people to sign up. It is on my TODO list for next year.
During the summit I'll be working on the long list of bugs of KMyMoney reports. Also, I can help with KDE Telepathy. I'm not part of that project, but I have been involved in developing a similar application for MeeGo that was never released, and know a bit or two about Telepathy nuances, which might come handy.
The Linear Feedback Shift Register might appear to be "random" but it is of course far from it. The first two words should make you suspicious of how random things are. Version 1 does the actual production on the arduino chip. I'm hoping to break out the logic onto the breadboard for a future version. The arduino would then be relegated to a provider of voltage and ground.



Since it is all rather predictable, it would be fun to have a second arduino with light sensors on it be able to come close to the existing model and then sync its own LFSR and output to the LFSR.
There has been a lot of discussion in the Kdegames mailing list regarding the porting of the games from deprecated libraries like KGameRenderer and KGameTheme to new rendering methods and Graphics stack. This is a very good opportunity for new contributors to start contributing to Kdegames. Although some of the ports might be a bit difficult but there are easy ones too once the code of a game specially the rendering portion of the code is understood. The port table is available here http://community.kde.org/KDE_Games/Porting. A basic understanding of Qt/C++ would be required, but the junior jobs should get one up to speed for tackling the ports.
For people who want to start contributing to Kdegames , it is advisable to go through the following steps in order
1. Subscribe to the Kde-games-devel mailing list (https://mail.kde.org/mailman/listinfo/kde-games-devel) . For those who do not know what it is, a mailing list is basically a kind of a forum where people post their queries or doubts or submit their patches. When they do that, all ...read more...
Little introduction first: I'm a student of theoretical computer science from Prague/Czech Republic and I've started contributing to Amarok last autumn by fixing some of its (mainly iPod-related) bugs.

It turned out that maintaining the iPod collection plug-in was rather painful due to its complexity that accumulated over time - and I got motivated to rewrite it from scratch by Amarok's Bart Cerneels. The effort is now over. Welcome the all-new iPod collection plug-in! (supports iPads and iPhones, too!)

Mandatory screen-shot of the rewritten iPod collection plug-in

What does the rewrite bring? Well, working playlists, transcoding, multiple concurrent transfers, working stale & orphaned tracks detection and elimination plus many more enhancements and bug-fixes. Thanks to the rewrite, some bugs in USB Mass Storage collection got fixed, too.

You'll get all these goodies with Amarok 2.6, which is slated for release in a month or (rather) two. But if you're ...read more...
In the wake of what has been claimed to be leaked screenshots of Microsoft Office 2014 and the continued growth of both OpenOffice and its LibreOffice fork, there is still more choice out there in the "productivity suite" applications market if you go looking for it.
Ссылки