Ссылки
Here's some good news. The code for the whole Social Feed thing is now clean & stable enough, so I decided to finally put it online, where the development will now continue.
Right now it consists of several parts (which you all need in order to have it working):
This is a library handling the OAuth stuff in Twitter/Identi.ca. It's a modified version of the Microblog dataengine auth mechanism. The code is quite heavy and can be simplified significantly with the help of QtOAuth library, so I plan to refactor it on top of QOAuth class.
The nice thing about this approach is that we don't need to store user's password/credentials. User still has to put them in, but then it will authorize him with the service and return an OAuth token, which is stored in KWallet and that's all that is stored (well the username is stored as well, but that's for convenience only, the password is never saved anywhere).
This one provides several utilities ...read more...
Keeping on top of the news has never been easier, thanks to the advent of RSS readers.
Hi! With almost a year delay as life was pretty good at distracting me, here's a short heads up on what we've been doing.
Those that don't know yet what Project Neon is should read Michal's introductory post.
Oneiric builds have been suspended and the packages will be removed in a week. If you want to continue to use Project Neon please upgrade to Precise Pangolin
As of today Project Neon is fully running for Quantal Quetzal, enjoy your daily dose of builds on the devel release
We now have pre-built KVM Images for Project Neon so you don't need to separately install Kubuntu first before using it!
As people keep asking for it, we're working on the Python bindings (pykde4). As this requires more work than I initially hoped it will take a while until we're done. You'll hear from me again once you can use them.
If you have questions or just want to tell ...read more...
Review Mint 13 KDE and it soon becomes clear that it's a release that contains so many good things in a single package Hot on the heels of its Xfce build , the final release of Linux Mint 13 KDE is now available for download.
 This post is part of an ongoing series about developments and discussions in Qt.
Some parts of this report are still under discussion, and don't necessarily reflect the final state of Qt 5. The target audience is people involved in Qt development itself, but without the time to follow everything that happens, and others with a strong interest in Qt, Qt 5, and the community.
This week we cover some features made possible in QML, greater possibilities for platform configuration integration, discussion about the use of color profiles in Qt, and various efforts towards release-readiness.
New QML 2 showcase
A new showcase of QML 2 applications from the Qt team were publicized last week. The applications are already available in the qtdeclarative repository as example applications. The applications and video show the changing and new possibilities made possible for QML 2.
Native API for event filtering
KDAB engineer David Faure added API for native event handling to Qt. The rationale behind the new API is well explained in the commit message. It is intended ...read more...

Plasma NM 0.9.0.3
SHA256Sum: d8ad2dd89521dbe21e17131ef24bd7d792e90a150e15f0fbdab1bfa4a46e00f7

This release should fix the crash when opening kwallet bug in all known cases. The last release (Plasma NM 0.9.0.2) fixed the problem in the most common case. Upgrade to 0.9.0.3 or at least 0.9.0.2 before reporting crashes related to kwallet. We receive duplicates of this bug twice a day because users have not updated their Plasma NM installations. Unfortunately, some distributions still have not created updates for 0.9.0.2, which was released more than 40 days ago. Please distributions, help me and provide updates for your users, ok?

Kubuntu packages:
https://launchpad.net/ubuntu/quantal/i386/plasma-widget-networkmanagement/0.9.0.3-0ubuntu2


Changelog:
302006
: fix crash when importing VPNC configuration files.
. Remove licence-incompatible OpenSSL usage from OpenConnect support.
301723
: Avoid unneeded repaints when updating systray icon.
301666
,
301478
: Fix connection list if the plasmoid is launched before the kded module.
. Fix updating mayfail setting for IPv4 and IPv6 widgets.
. Fix updating ignoredhcpdns setting for IPv4 and IPv6 widgets.
297424
: Add "Automatic (DHCP only)" as
...read more...
Yes, I'm still working on my GSoC project about statistics synchronization in Amarok. I've somehow skipped the last report (I was too deeply immersed in coding), to this one will be a bit more beefy. In short, I've fixed some bugs of the EngineController (the thing actually responsible for playback) that negatively affected Last.fm scrobbling first and then I've rewrote the class that actually scrobbles the tracks.

Little side-effect of Last.fm improvements: correction suggestions
What I've done in week 8:
The rather big patch series that fixed data-loss bugs was finally merged to master to be included in Amarok 2.6 release candidate. Please give it a good testing.
Improved EngineController and Phonon interaction with regards to meta-data changes.
Improved MetaStream classes that represent audio streams. They now implement statistics (and some other fields) so that you can for example see how many songs you've listened to on particular stream. The statistics ...read more...


Linux Mint is one of the most popular distributions on the list these days, no doubt in part due to its variety of editions.
Hi,
I'm so excited to tell you I'm now part of the Lunatics project animation team


All useful informations on the project website: http://lunatics.tv/
This week I've made some work for the teaser that you'll can see soon.
The production of the pilot episode should start in September, and I'll work mostly on the storyboard and some 2D animation scenes
(using Krita and Synfig-Studio, and maybe a few of the other usual cool FLOSS graphics software where needed…).
The Kickstarter to finance the production of the pilot episode will be launched tomorrow if everything goes right, more infos to come then.
Stay tuned

For the last month I've been working on a hash table which is stored in shared memory and can thus easily be used across applications. This is ideal for simple caches of data that reside in multiple applications. My specific use case was the Nepomuk Resource class, which is a glorified cache of key value pairs and uses a hash table. A considerable amount of effort has gone into making sure that each application's Resource classes are consistent with the other applications.
I always thought something this basic would have been implemented, but I just couldn't find a shared memory hash table which actually supported resizing.
Basic Hash Table
Hashing is arguably one of the most important concepts of computer science. If you aren't aware of how it works here are some nice links -
I spent last week and part of this one making tests to see how Marble gets on with Vector Tiles. There are vector tiles up to 5.8MB size depending on the planet zone and its detail level, so the need for a new logic for storing and managing tiles was obvious.
As talked in the previous blog entrance, TextureLayer keeps all the image tiles in memory and that would be impossible for vector tiles. Depending on the map projection selected (Marble's map can be viewed as a Globe, Plane Map or Mercator) image tiles had three different mappers that "blended" the images to fit the map and a logic for downloading image tiles. In our case, parsed geometries are inserted into Marble's treeModel which takes care of those three projections so we didn't have to worry about that and it made possible to create a single mapper (VectorTileMapper) and create it's logic in it.
...read more...
The Calligra team is proud to announce the release candidate of the Calligra Suite. Compared to the beta, this new release contains many bug fixes. However, a regression was made in this release and will be fixed in the next release (see bug 303696).
Try It Out
The source code of this version is available for download here: calligra-2.4.92.tar.bz2. Also many binary packages are available for various operating systems and distributions. This release is packaged for Windows by KO GmbH, and you can find it on their download page.
We would welcome volunteers who want to build the Calligra Suite on OSX.
About the Calligra Suite
Calligra is a KDE community project. Learn more at http://www.calligra.org/.
The Nepomuk development process has been fairly closed to outsiders. This was never a conscious decision made by the Nepomuk Team, we just never took the effort to open up the development, and make it more appealing to new comers.
For most of the last 2 years, the development model has been Sebastian and I working on our own personal list of things, and occasionally sending private emails to each other or communicating via IRC.
I'm trying to change all of this. The aim is to make Nepomuk development more open and friendlier to new developers. Getting developer feedback at the Nepomuk BOF at Akademy was the first step.
Compiling Nepomuk
One of the largest hurdles in contributing to Nepomuk was that the code resided in kdelibs. Fortunately, with 4.9, we have our own repository - nepomuk-core, where most of the Nepomuk related code has moved.
For most of Nepomuk development, you just need to compile nepomuk-core. However for some stuff like ...read more...
KDE Software Compilation 4.9 will be released in August and it will contain features such as Qt Quick in Plasma Workspaces, improved searching, sorting, display and inline rename on Dolphin, better integration of Activities for files, as well as lots of performance improvements and bugfixes to improve the overall user experience.
Qt Quick Training The main event of the Monday was KDAB running a Qt Quick training session.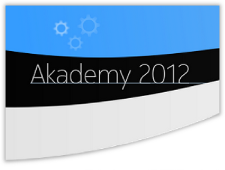 A week in Estonia, the lovely sunshine, the magical forest and all the BoFs you could want.
Qt Quick Training The main event of the Monday was KDAB running a Qt Quick training session. Qt Quick continues to be full of swish bling although the widget sets are all a bit incomplete. The good news is there's not a lot of QML change in Qt 5. Kevin even showed us some new bling from Qt 5 which makes snowflakes, pretty.
Tuesday was the KDE e.v AGM. Amazingly enough we had a volunteer for treasurer. This is such a valuable job to have filled so we're very lucky to have Augustin actively want to do it.
On Wednesday I sat in on the KDE Telepathy BoF which made a challenging TODO list for 0.5 which we expect to include in Kubuntu. vhanda also ran a BoF on Constructive criticism for Nepomuk that looked at the many problems it causes and where best to start fixing them.
Thursday saw the Plasma Media Center BoF and I went ...read more...
This post is part of an ongoing series about developments and discussions in Qt.
Some parts of this report are still under discussion, and don't necessarily reflect the final state of Qt 5. The target audience is people involved in Qt development itself, but without the time to follow everything that happens, and others with a strong interest in Qt, Qt 5, and the community.
This week we cover documentation for the new plugin system, Qt Contributor Summit reports, buildsystem improvements and standards-conformant Cookie handling.
New Plugin system documentation
The plugin loading system has changed entirely in Qt 5, as I wrote previously in porting notes. The new system is now documented more completely by removing references to the old API which no longer works (Q_EXPORT_PLUGIN2 etc).
Notes from Qt Contributor Summit
On the mailing list, many results from discussions about the Qt Contributor Summit were posted.
Really quick post just to say that I'm back from Akademy were I meet old friends and made new ones, (as usual), had lots of fun, made my presentation, helped in a training, and still managed to do some work :)

So I'm back home and not as stressed with real day to day work as i was in the pass few months, And this gets me some time for bug killing in Oxygen icons.... today's victim..... A smart phone.....


So in the center I feature Necessitas Qt's port for Android Operating System:) ....
I was in the beautiful town of Tallinn last week, attending Akademy 2012. It was great to hang out again with other KDE developers around a laptop or a drink.
We had an awesome Karaoké night which started slowly but got a lot more fun when MC Aaron grabbed the microphone and convinced us to sing… Sébastien Renard and I even thought we could sing "Born in the USA". our interpretation was later described to us as "courageous"

. There are pictures of us in action, hopefully no video of this performance is online…
On a more serious note, I noticed a recurring topic during this Akademy: Bugzilla. Jeroen van Meeuwen delivered a great presentation explaining the way Kolab Systems AG uses Bugzilla and how KDE could benefit by doing the same, we also had further discussions on how to take advantage of milestones, setting appropriate bug statuses, or integrating bugs.kde.org with our wikis. All those discussions got me ...read more...
Hello,
On the fifth week of my GSoC, i have added support for CMakeLists.txt and for plasmapkg on the KWin Scripting.
Until now the user wasn't able to install or create a CMakeLists.txt for the KWin Scripting packages. Now he is able
to both generate a CMakeLists.txt and install the package through the Publisher. Below i describe the main difference between the
CMakeLists.txt and the plasmapkg.
Plasmapkg will install the KWin Script locally, so the other users will not be able to run your KWin Script.
CMakeLists.txt will install the KWin Script globally, so the other users will be able to run your KWin Script.
The Plasmate's Publisher
...read more...
It was an awesome trip to Akademy 2012. Had lots of fun during travelling as well as at Akademy. The fun started early on when I started meeting fellow contributors at Helsinki airport during transit. Call it the KBus - we all came together in bus from airport to the pre-registration event :D
Next day, we had keynote, talks and GSoC student lightning talks. Even I gave a lightning talk on Plasma Media Center (PMC) which included brief overview of PMC features and future work. Thanks to Lydia and fellow contributors who helped me in giving the presentation.
I was happy that people liked the PMC work and wanted to help in its improvement in different ways. Interest got reflected during the PMC BoF which was held on Thursday. With the ideas and suggestion from the participants, various improvement have been identified in PMC. Here's few snapshots showing the outcome:-
A lot of things have happened in my life since the last time I blogged. Some were good. But most of them have been really trying and tiring, causing me to take a step back from most of my online presence, especially in FOSS (and, ironically, picking up again some old pastimes).
But that phase of my life has ended. Last month, my grandmother died. She has been with us even before I was born and has been an important part of my life. I have been with her day in and day out at home for the past 6 to 7 years, acting as both guardian and caregiver. I do not deny that there were really painful moments during that time and I would whine and complain and even blame her for some things in my life. But I persisted. Because, deep down inside, I loved her. The last two weeks of her life was especially painful, not only for us, but for her as well, as her health very quickly deteriorated. My name was the last word she ...read more...
Hi all!

It's been a long time since my last post. Lots of things happened since then: I got sick, start a chapter in my university project, finished my short experience as teacher, saw family and friends... and kept working on the sand brush (just forgot to blog about it :P).

The project changed a few things for the sake of simplicity. Since the brush have some similar aspects with games, I'll use the Qt4 Graphics Framework in Krita. Since collision detection, shape modification and object (particle) transformations will be features that the brush has to have, instead of reinventing the wheel, I saw that the Graphics Framework already have these functions.

I did some tutorials about the QGraphicsView to better understand how the QGraphicsItem, QGraphicsScene and QGraphicsView interact and how I can modify Krita's nodes and layers to work with it. I modified my previous Particle class to work in a more simple way and now I'm putting some inheritance from QGraphicsItem to proper use the Graphics Framework advantages. For instance, the ...read more...
Favourite talks: Jeroen van Meeuwen gave a talk about bug management, something we're often not very good at in free software due to lack of manpower.
Hi,
just yesterday I got asked by one long time contributor, if he can at all join the KDE e.V. or if he needs to do something special for that. He thought it would be more an invitation only club.
It's not
Anybody who does contribute to KDE can join us.
KDE e.V. definition from its homepage:
"KDE e.V. is a registered non-profit organization that represents the KDE Community in legal and financial matters."
If you want to have a vote on such stuff and are ok with the rules and goals of the e.V. like you can read on the e.V. homepage, please join.
You just need to fill out the questionaire on the e.V. page and send it to some e.V. member you know and that will support your application.
Even if you are no contributor, but want to support us with money to make our conferences & sprints possible (and our infrastructure), ...read more...
It was with great joy I received the Akademy award for Calligra Words today. The acknowledgement is much appreciated, and is for sure a great motivator.
I may have been the one accepting this award, but it is just as much an award for the entire Calligra Suite and an recognition of the entire team of developers, artists, bugreporters, testers, translators, sponsors. Calligra would not be what it is today without the effort of every single one of you. Out of fear of missing someone I'm not going to list specific names. If you have done something for Calligra then this award is for you too.
When I held a presentation about Calligra in Brussels a couple of months ago, I said that one of the things we pride ourselves of is that we are inclusive of everyone. We want users to feel as contributers as well. Be it reporting bugs, or writing a sentence or two for the manual. Every contribution counts and is valued.
But we are also aware that we are not done yet. I hope this ...read more...
So, its that time of year again, the annual meeting of all things KDE… Akademy! This year it is coming to you from Tallin, Estonia. This year will be my 6th outing to the event
Of course, KDE is very dear to me and to Kolab and so, in addition to me, there will be a few other members of the Kolab community will meet at this year's Akademy. Key contributors Christian Mollekopf and Jeroen van Meeuwen will be present and available to discuss Kolab related issues. Jeroen will also give a talk about release engineering processes using KDE as an example. His experience from the Fedora Project, Cyrus IMAP, Cyrus SASL and from his roleas a Systems Architect at Kolab Systems provides him with ample experience to give some insight into how release engineering and quality assurance within the fast-paced KDE project could be improved further.
The Kolaborators will also be taking part in a Task Management sprint featuring ...read more...

Humps for 1 mile by Wendy on Flickr
If you have been reading my blog for a while, you know I tend to get obsessed with fixing little details in KDE applications which annoy me. I like doing this, but this is the kind of task which cannot be done by a lonesome coder if one wants to make a significant difference.
Other free software projects have launched initiatives in the past to get those little details ironed out. You may have heard about Ubuntu Papercuts, Fedora Fit and Finish or Gnome Every Detail Matters initiatives.
I want to start a similar initiative for KDE. To do so, I registered a BoF this year at Akademy, named "the Extra Mile". The goal of this BoF is not to get started at fixing bugs right away, but rather discuss how we can organize ourself to make this initiative a success. I want to discuss topics such as:
Wow!!
Release soon and release often wasn't really the case of print-manager, I started this project 2 years ago, and this is the first official release. I've been waiting for this moment for so long which I can't say I'm not super happy!!!
First off I REALLY want to give a BIG THANK YOU to all who contributed to my fund raising campaign, without it, this project would have to wait even more, because without a real printer testing the "Add New Printer" feature is real hard, even tho I don't have all printer models available out there with a printer I can at least guess what s-c-p (system-config-printer) did.
It's been a while since my last blog, but the truth is that there is a lot I'm doing under the hood of the applications I develop, for example PackageKit is passing through some real deep changes which will change a ...read more...
Pretty incredible... I've been working on Krita for over nine years now, and it's over ten years since I did my first hack in KDE. I'm starting to feel like a dinosour. And this will be my sixth Akademy!
I've been to Malaga, which was awesome until I got sick, then I skipped Dublin (where Krita got App of the Year award!), went to Glasgow (where my luggage got caught in the terrorist attack on the airport), skipped Sint-Katelijne-Waver, skipped Gran Canaria, went to Tampere, went to Berlin and now to Tallinn.
Every Akademy I've attended was different, not just because the venues were different, but because KDE as a project is always on the move. Malaga was the first time I heard of the plans for KDE4, and they sounded awesome, and in Glasgow people presented the first results of all that effort, which turned to be -- awesome! And I think that KDE has gone from strength to strength. Sure, we need more polish and we need to take better care of bugs. But I maintain that for ...read more...
Ссылки