Ссылки
FOSDEM is one of the largest gatherings of Free Software contributors in the world and happens each February in Brussels (Belgium). One of the tracks will be the CrossDesktop  DevRoom, which will host Desktop-related talks.
We are now inviting proposals for talks about Free/Libre/Open-source Software on the topics of Desktop development, Desktop applications and interoperativity amongst Desktop Environments. This is a unique opportunity to show novel ideas and developments to a wide technical audience.
Topics accepted include, but are not limited to: Enlightenment, Gnome, KDE, Unity, XFCE, Windows, Mac OS X, general desktop matters, applications that enhance desktops and web (when related to desktop).
Talks can be very specific, such as developing mobile applications with Qt Quick; or as general as predictions for the fusion of Desktop and web in 5 years time. Topics that are of interest to the users and developers of all desktop environments are especially welcome. The FOSDEM 2012 schedule might give you some inspiration:
https://archive.fosdem.org/2012/schedule/track/crossdesktop_devroom.html
Please include the following information when submitting a proposal:
Your name
The title of your talk (please be descriptive, as titles will be listed with around 250 from other projects)
...read more...


I'm proud to present the very first screen cast on how to implement a KWin Effect in JavaScript using current git version of Plasmate. As an example I'm using the new Maximize effect for 4.10. When watching the video, please note that this has been the first screen cast I have ever made

Tutorials on techbase to be added quite soon.
It's UDS time again and we're in sunny Copenhagen. You can join in by looking at the sessions and look up on the schedule when to join, then you can listen in to the audio and type into the IRC channel which is projected into each room.
Today, I suddenly thought of an idea, to extract the performance of individual players from a scorecard displayed on a website. This was conceived as part of improving the cricket simulation web application I developed ('Freepl') but that"s on a different context
So I downloaded a scorecard from Cricinfo and started analyzing the page and it was pretty nicely structured with each data being stored in tags having proper CSS classes and ids.
e.g. the name of a batsman batting in the 1st innings could be found in this hierarchy: "#inningsBat1 .inningsRow .playerName" (for those who do not have much idea about CSS selectors, a '.' represents a class and a '#' represents an id These selectors are applied to different HTML tags for styling and javascript accessibility.) .
I first started testing out the patterns using jquery and it was really easy getting all the information I needed. But my objective was to do this in a back end technology which would also update databases on the go. For this I turned to django/python and while ...read more...
This blog post is for you if:
 you want to help to improve Dolphin, no matter if you have programming skills or not,
you want to know more about how quality assurance in a free software project works,
you've always wanted to contribute to KDE, but could not find a good place to get started.
Like every software project, Dolphin unfortunately has bugs. Bug reports are filed by users at bugs.kde.org, then we (the developers) read the reports and fix the bugs, and everyone is happy, right? Well, it's not quite that easy.
Carefully reading a single bug report, including all comments, extracting all relevant information, and trying to reproduce and then analyze the bug usually takes quite a bit of time. It gets worse if a report is incomplete, i.e., if important information is missing, or if the bug just cannot be reproduced on the developer's machine for some reason. Now consider how many open bug reports there are (currently 305 for Dolphin, not even mentioning wishes), that new bug reports are filed every day, and ...read more...
New KDevelop Ruby language support plugin is now production ready :) Why? Because it opens my huge (and proprietary) Rails-based project without any single crash.
Thanks to Miquel and Milian who helped to make it happen!
Get it here and try it out for yourself now.
Old stable Ruby support plugin for KDevelop is still available here in case you're not feeling adventurous.
Recently I've blogged about the usage of KMessageWidget in the data recovery process in Kate Part. Finally, we decided to stick with KMessageWidget, since it is a standard kdelibs widget, used by a lot of KDE applications. Besides, it is visually appealing and attracts the user's attention. In KDE SC 4.10, it will look like this: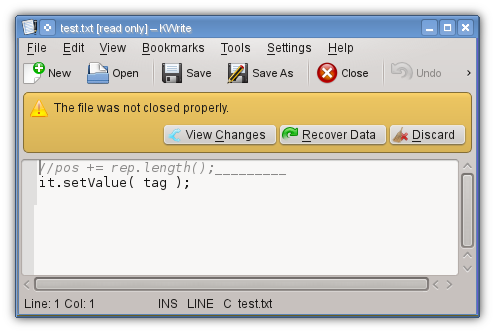 Now if you recover the data, it may happen that the swap file is broken, e.g. because it was accidently manipulated for whatever reason. Then you get notified like this: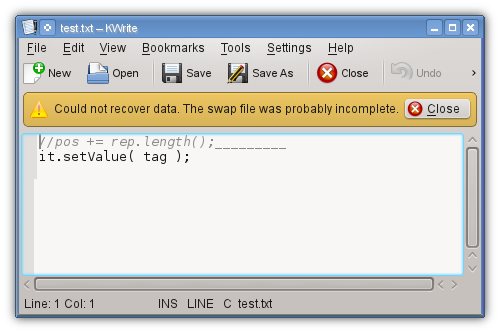 Besides that, we are currently at our Kate/KDevelop meeting in Vienna. Lots of exciting stuff is happening, so expect more in the next days
Its nice to be here in Vienna with all the other hackers

Most have already arrived and are busy fixing issues in Kate & KDevelop, some more will arrive tomorrow.
Already got bit work done on existing bugs, one bug was really nasty: a nearly 8 year old typo by myself messing around with highlighting in combination with line continuation.
But a guy did a really perfect bug report: Bug 300009
He wrote even a example highlighting file + test to trigger the issue, with that help, the fix was trivial to do, after I got time to read the bug
Thanks to all people reporting bugs in such a useful way!
Today I've finally merged my next branch into the master branch. Lately the differences between the two branches became increasingly huge:
1
2
3
4

$ git log origin/master..origin/next --oneline --no-merges | wc -l
402
$ git --no-pager diff origin/master..origin/next --shortstat -- src/
252 files changed, 23468 insertions(+), 14282 deletions(-)

Merging all that into the master branch took a huge pressure from me. After spending all that time I spend on working on KTouch it's really important to me get the fruits of my work out to the end-users. Getting my stuff in the the branch KDE SC 4.10 will be released from is first the important step towards that goal.
My next step is clearing out the Bugzilla entries against KTouch. The vast majority of the bug reports can be closed since they don't apply anymore, and also a fair share of the reported wishes are met by the new version.
Yakuake is a drop-down terminal emulator based on KDE Konsole. It features smoothly rolling down from the top of your screen, a tabbed interface, configurable dimensions and animation speed, a skinnable GUI, and a sophisticated D-Bus interface.
Kubuntu is a GNU/Linux operating system built by a worldwide team of expert developers.
Razor-qt is a lightweight desktop environment that's based on the Qt framework, much like KDE, and it is "tailored for users who value simplicity, speed, and an intuitive interface," in the project's own words.
Three weeks have passed since the Multimedia sprint, and KMix keeps happily evolving. The TODO list is melting at the same amazing speed as the bug list. There are about 20 items on my TODO list left, so lets show what we have of today.
Multimedia Control MPRIS2:
The multimedia control "MPRIS2″ is now officially part of KMix. It is activated by default on all systems that support it, for example you get ALSA + MPRIS2 or OSS + MPRIS2. Pulseaudio has its own application stream volume control, so MPRIS2 is disabled to avoid showing the same stream twice.
Sound Menu Setup:
Are you a power user, or do you rather prefer a classical single master control?
Everything is possible – configure your Sound Menu now. See the image on the right – it allows to select which Master Controls you will see, and whether you also want to see the application volumes to get a full Sound Menu.
...read more...
KDE Project:
Last weekend I've met with some of our old timer KDEPIM developers and some of the newer ones who are interested in KDEPIM or related technologies in the KDAB offices in Berlin.
Being a KDAB employee for a few years already (wow, time is passing quickly), the place was familiar, the people looked familiar. The foosball table was slightly familiar, although some players changed their dresses in order to spread confusion inside the visitor's heads. That is the only reason we've lost against locals with 5-0, 5-0.
Suprisingly enough, the table wasn't used that much. Why? Because people were busy either working and talking. What they talked about I don't know too much, as I focused on some issues I planned to fix, but others can testify that Volker did not sit too much in front of his computers, but was dragged from one place to another for various discussions.
Most of us ...read more...
My head trauma showing itself with a pre-ticked publish box on the Kubuntu release story that just escaped long enough to make it onto Planets KDE and Ubuntu.
Hi all.
While we all love and cherish our KDE browsers (Konq and rekonq) there are many users of Firefox and Chromium. And they can not use share-like-connect, they can not have their web-pages linked to activities, they can not …
Is there a brave soul in our community (or a few brave souls) that are willing to write a small addon for any of the aforementioned programs that will
know when a URL is loaded in a tab
know when the user switches between tabs
know the windowID of the window in which the tab resides, and
and report those events to the activity manager?
Talking to the activity manager is the easiest part of it all, it has C bindings, it is a d-bus service, so take your pick.
If you're interested, please write to us on plasma-devel at kde.org
Hi,
Last weekend from friday 12th till sunday 15th i attended the KDE PIM meeting in Berlin. I never had attended to any KDE meeting yet and i never went to a place that far away. I went there with a main focus on learning a lot about Akonadi, how it works and what it's goal actually is. Obviously also to meet the people behind akonadi and just to socialize a bit with people that share a common interest: KDE.
When i arrived in Berlin (Thursday evening) i received a warm welcome from Jos Poortvliet and his girlfriend Camila. They generously allowed me to stay at their house during the kde pim meeting days. On the evening/night before the first meeting day Jos and I had a long discussion about various KDE subjects. Conversations like that are really awesome and that alone is already worth attending a meeting like this! The evening ended with a little code hacking in QML Calendar by hacking up a quick way to tie all my – thus far separate - components in a nice overview. Screenshots of that are ...read more...
KDE Project:
My head trauma showing itself with a pre-ticked publish box on the Kubuntu release story that just escaped long enough to make it onto Planets KDE and Ubuntu. We're still testing and will be needing more CD testers tonight, come and join us in #kubuntu-devel
KBibTeX is a BibTeX editor for KDE to edit bibliographies used with LaTeX. Features include comfortable input masks, starting Web queries , and exporting to PDF, PostScript, RTF, and XML/HTML. As KBibTeX is using KDE's KParts technology, it can be embedded into Kile or Konqueror.
Along with todays ownCloud 4.5 release we released the new ownCloud Client 1.1.0 with a new syncing concept.
This blog will shed some light on the details. I apologize, it's a long read.
Time Issues
ownCloud Client versions 1.0.x worked with csyncs traditional way of using the file modification times to detect updates between the two repositories that should be synced to each other. That works fine and conforms to our idea to ideally not use any other metadata in syncing than what the file system has anyway.
However, there is one drawback which we all know from daily life: If at least two parties sync on time its important that all clocks are set exactly the same way. Remember good crime movies where a bank robbery always starts with a clock adjustment of all gangsters? We have exactly the same in ownClouds syncing: All involved have to have the same time setting, otherwise modification times ...read more...
Heya,

In the last week I've been doing some video interviews with a bunch of interesting people who will speak at the upcoming LinuxDays/oSC/Gentoo/SUSE conf in Prague. Except for Agustin they all speak at the special 'Future Media' track which I proposed after having visited Re:Publica in Berlin. At Republica I saw a challenge for Free Software: connect better to people outside of our 'usual' crowd. This track was initially more ambitious but due to my recent health issues it hasn't turned out all that I wanted - still, it features a number of really interesting speakers and subjects.

In the following video's you can hear these speakers explain what they will talk about. Note that there are a few more speakers, most notably Shane Coughlan who will talk about open source flying Drones to help people in disaster area's and Ramon Roca who build up a 'free and open' broadband network in Spain!!!


Bas van Abel: If you can't open it, you don't own it!
Bas van Abel told me to ...read more...
Just a quick service announcement: it seems that Twitter, in their infinite wisdom decided to completely kill the old RSS feed style which was used by the vast majority of Twitter feeds on planetkde.org. Unfortunately, while it is still possible to get RSS feeds out of Twitter there is absolutely no way to convert the old feeds into the new style.

So we've been forced to remove all of the now broken feeds - which was done in this commit. For those who are affected - you can easily restore your feed using the new syntax: https://api.twitter.com/1/statuses/user_timeline.rss?screen_name=<name>.

A real pity that they have not even tried to migrate anything over or provide any compatibility what so ever - my apologies to those who are affected.
Amarok, popular KDE music manager, is turning 10 years old this month and the project is taking this opportunity to review the last year and look head to the future.
When the initial preview version of ImageZero (IZ) was announced, most readers where interested in benchmarks against other compression algorithms, such as JPEG-2000 or Google's new lossless WebP. At that time, however, the WebP software was not yet ready for testing; it was not possible to benchmark the decompression time, because the software could only convert back to PNG (and PNG encoding is known to be slow), and the compression crashed on large photos.

Luckily, the 0.2 version of the WebP tools has been released, and with this, the Lossless Photo Compression Benchmark has been updated to include results for WebP and ImageZero. Here are the most interesting results:

Software / License
Size (% of 3.46 GB)
Compression
Decompression
uncompressed
100.0%
-
-
bzip2 -1 (bzip2 License)
56.3%
476 s
218 s
PNG (libpng License)
42.5%
844 s
72 s
ImageZero (BSD)
41.3%
23 s
...read more...



During my short summer holidays I had the opportunity to perform overdue bug triage for Kexi.




KDE Project:

During my short summer holidays I had the opportunity to perform overdue bug triage for Kexi.
Funny enough, that alone dominated (by numbers) the Commit-Digest's Bug Killers list for 12th August :) Some bug reports were really dated, 2006 or so, anyway the Calligra 2.6 series is a good occasion for such cleanup.

Now "only" 130 bugs of 426 are opened. Below I'd like to discuss some software development workflow-related topics. I think it may be most interesting for people new to the KDE project or those who so far only contribute sporadically and would like to do more.

I am curious how do you look at the bugs.kde.org KDE Bugtracking System. Is it "just" a bug tracking site for you or a project management tool? There were numerous blog entries on the topic but I will share some thoughts on the Project Management aspect.

One can argue ...read more...




I've never been a fan of forums, but it seems our users like them so we've created the Okular subforum inside the awesome KDE Community Forums.

It shows that moving existing topics to the okular forum we already have 61 of them .D

Of course bugzilla is still the place for bugs and wishes and the mailing list is still the place for development, but if you have other user questions, don't hesitate to share them in the forums!




I have just found out that upower mark hibernation as not possible when there is no swap space available. Well, although most suspend to disk (hibernation) implementations use swap space to store the RAM image TuxOnIce is able to store the image in a dedicated file, which is not a swap space. This week I upgraded my notebook from 4 GB to 8 GB of RAM to compile webkit (one of my work for basysKom from now on :-)). 4 GB used to be enough for almost all my needs, only when I boot up a machine my notebook started to use part of the 2 GB of swap file I set up. Now with 8 GB I really do not need a swap file anymore (not even when compiling webkit), so I decided to remove my swap file and consequently upower disabled hibernation :-( As far as I could figure out there is no option in upower for force hibernation to be enable, so I created a patch to disable the swap check :-) If ...read more...




KchmViewer Portable was created as a simple and open source CHM files viewer written in Qt .




Two weeks until the final thing and we need lots of testing of the beta, now featuring the latest and greatest KDE Platform and Applications 4.9.2. This place is a blogging platform for KDE contributors.




Ссылки


Генерация: 0.221 сек. и 41 запросов к базе данных за 0.129 сек.
Powered by SLAED CMS © 2005-2007 SLAED. All rights reserved.