Ссылки
Packages for the release of KDE SC 4.10 Beta 2 are available for Kubuntu 12.10 and our Raring development release. You can get them from the Kubuntu Beta PPA for 12.10.
Bugs in the packaging should be reported to kubuntu-ppa on Launchpad. Bugs in the software to KDE.
16 | System & Utilities | http://www.kubuntu.org/news/kde-sc-4.9.90 | 8754 |
About one year ago, the 1st December 2012 I graduated, and by the same dates I started working for BlueSystems. Since we usually consider year periods like achievements, I thought it was a good occasion for a flashback, so there we go!

The KDE GTK Config KCM was my first assignment. It was something new for me but still interesting otherwise. I was more used to work into making applications, there I worked right into helping integrate an important part of the software we have available to KDE. I think it was successful in the sense that many people are starting to take advantage of it and hopefully enjoying the possibility to fully customize the look of all applications, haven't you tried it already?
The second project I worked on was Muon Discover. There I spent most of my time this year, by bringing to KDE a new way to ...read more...


16 | System & Utilities | http://www.proli.net/2012/12/13/my-first-year-at-bluesystems/ | 8746 |
A few weeks ago, I woke up in the middle of the night and could not sleep (fortunately, this happens very rarely). I took the advice that I once read, got up and tried to do something useful. I checked my e-mail and found a new bug report about a random crash that had been reported many times before, but whose cause had always been a mystery. Therefore, I was quite excited when I saw that this report contained step-by-step instructions to reproduce the crash. Once I could use GDB and Valgrind to investigate the crash, fixing it was easy (while handling events, never ever delete a QObject unless you are 100% sure that no event is waiting to be delivered to that object). Many thanks to G. Christ for making this fix possible!
In other news, David Faure fixed a bug in KDirLister that sometimes caused Dolphin to not notice changes in the current directory. This bug had been discussed intensively in Dolphin's forum, and this discussion actually led to the discovery of a reliable way ...read more...
16 | System & Utilities | http://freininghaus.wordpress.com/2012/12/12/how-to-make-dolphin-crash-less-and-other-changes-in-kde-4-9-4/ | 8745 |
More than a year ago I started an experiment: to bring KDE Education to the kids in Kindergarten.
Now my son was starting exactly at the same time his own adventure in Kindergarten, so I jump at the opportunity and suggest to the educators to have a period of testing. They accepted and I installed a Kubuntu 11.10 on an old PC, the Kindergarten bought a 22" Touchscreen, and I also installed the first alfa version of Pairs (selfcompiled) that I was working on.

Now, I am computer scientist, so to comply to the scientific method I needed:

1- an Hypotheses: KDE Edu is good for children
2- an Experiment: give the children a computer and KDE Edu
3- a Thesis that tells me if the hypotheses is right or not.

So after two months of testing, I asked the educators to tell me what was the value of this computer. I was actually surprised to see that even the skeptical educator, not so "into" computers, had a ...read more...
16 | System & Utilities | http://marcuzzokde.blogspot.com/2012/12/kids-size-kde.html | 8744 |
KDE is once again taking part in Google Code-in this year, a contest to bring 13 to 17 year-olds closer to Free Software. I asked some of our students to write about their experience with KDE. Here's the fourth one by Thomas.
---
Google Code-In 2012 marks the first time in which I have participated in the Code-In or any similar program. Having some experience with smaller organizations and personal development, I did not know what to expect, but I signed up ready to learn and be challenged. Less than two weeks into the program I have completed two tasks (and now a third!) with KDE. More specifically, I have worked with the team behind ownCloud, a personal cloud
service, to help test and design new features for an upcoming release.
My first task was to help test and debug a RSS reader for ownCloud that was actually developed as part of this year?s Google Summer of Code program. The News app runs within the ownCloud instance and allows for each user to have their own RSS reader ...read more...
16 | System & Utilities | http://blog.lydiapintscher.de/2012/12/12/guest-post-google-code-in-experience-4-thomas/ | 8741 |
Now, Trojit is officially a part of the KDE project, and one of the first applications in the whole suite to support Qt5.
16 | System & Utilities | http://www.topix.com/tech/kde/2012/12/kde-welcomes-trojita-offers-multiple-e-mail-clients?fromrss=1 | 8742 |
Alpha 1 of our 13.04 development version is available for download and testing. It comes with the latest testing release of KDE's Plasma desktop and applications.
16 | System & Utilities | http://www.kubuntu.org/news/13.04-alpha1 | 8738 |
Every release KDE users are treated like red-headed stepchildren over there at Linux Mint.
16 | System & Utilities | http://www.topix.com/tech/kde/2012/12/linux-mint-14-for-kde-users-is-almost-ready?fromrss=1 | 8733 |
Some people have approached me about problems to activate vpn connections using Plasma NM. I have just found a workaround that enables vpnc (Cisco VPN) connections to work: just remove the /usr/libexec/nm-vpnc-auth-dialog file that comes with networkmanager-vpnc package. Yeah, that sounds strange but it works here. That seems an upstream problem, maybe that dialog is not working properly and yet blocking the dialog from Plasma NM. Do the same for the other vpn types, the workaround should work for them too.
16 | System & Utilities | http://lamarque-lvs.blogspot.com/2012/12/workaround-for-vpn-problem-with.html | 8730 |
It's been a while since my last post, which is mostly because not much has happenend in neon lately as it's running mostly by itself and life is keeping me busy. I originally intended to write a post when I'm done with the python bindings, but it turnes out that configuring SIP and dbus right takes more time than I could spare for neon lately. So here goes:

Builds for Kubuntu Raring are up, so enjoy your daily dose of KDE on the dev release!
Precise builds will be kept running until 4.10 RC1, after that please upgrade to Quantal if you wish to use neon.
Following that, the VM images are now based on Quantal.
Sadly not much progress on the python bindings. All of us are rather short on time lately thanks to kubuntu and real life.

If you have questions or just want to tell us how you are using Project Neon feel free to leave us a note ...read more...
16 | System & Utilities | http://kyofel.wordpress.com/2012/12/05/project-neon-updates-and-early-st-nicholas-day/ | 8729 |
The second beta of Simon was scheduled for today but since the last couple of weeks were extremely busy for me and other core contributers to Simon, we simply don't have enough changes that would justify another release right now.

Therefore, I have decided to move the release of the second beta to Sunday, December 9th.
Everything else, most importantly the release date of 0.4.0, stays the same.

Please do keep reporting bugs in the mean time - I am sure there are lots of them and yet we only received two reports since the first beta. Come on, guys, you can do better than that!
16 | System & Utilities | http://simon-listens.blogspot.com/2012/12/simon-04-beta-2-update.html | 8726 |
We've taken you through a tour of Window Managers in Linux, and now it's time to show you the Window Manager's bigger brother: the desktop environment, or DE for short.
16 | System & Utilities | http://www.topix.com/tech/kde/2012/12/how-to-picking-a-desktop-environment-in-linux?fromrss=1 | 8727 |
I posted a couple of blog entries the other week about how to show grouping in the task bar. The feedback was fantastic and we now have a "winner", at least for 4.10.

Many noted that knowing there is a group of windows just by glancing at the task bar is important to them. Very, very few find value in the little number, however. So putting it all together, in 4.10 a small arrow will be shown drawn over the window icon when there is a group, as is seen in many other dock apps. This preserves the most useful information while also limiting visual noise, creating a more compact layout in the window listing and finding consistency with other implementations out there in the wild.

As a bonus, the arrow is no longer the (in my opinion) ugly black thing that was specific to the window list but the standard arrow used throughout the rest of the Plasma workspace interface.

Thanks to everyone for your feedback!

Bonus time! ;) A curious little walk down memory lane: in ...read more...
16 | System & Utilities | http://aseigo.blogspot.com/2012/11/quicky-update-on-window-grouping.html | 8723 |
My favorite desktop environment just turned 15. The K Desktop Environment has come a long way.
16 | System & Utilities | http://www.topix.com/tech/kde/2012/11/the-k-desktop-environment-is-15?fromrss=1 | 8722 |
A quick update to my previous blogs about trying to get Qt ported over to the wonderful Emscripten, so that a Qt + C++ app can be compiled to Javascript and HTML5, and so run in a browser. When last we met, I had QtCore ported, and was starting to look at making QtGui work, using QWS. I quote:
Qt's QWS, at a cursory glance, seems like it does a *huge* amount of stuff for you, mainly leaving the tasks of flushing pixels to screen (using Canvas's "putImageData" method, in this case) and providing it with mouse and key events. I'm sure that there's a whole host of little devils lurking in the details, though :)
I was right on both counts - QWS is awesome, and fundamentally there is very little that one needs to do, but I certainly have been beset my devils along the way :) I'm pleased to report that I've (mostly) got it working, with some caveats.
16 | System & Utilities | http://ssj-gz.blogspot.com/2012/11/quickie-qtguijs-it-mostly-lives.html | 8718 |
Last week-end, I was at "Minecon 2012″ in Disneyland Paris, doing some Krita sketch demos at the Intel booth.
The demos topic was drawing people's portrait in a speedpainted minecraft style, which was a fun work.
People looked very interested in Krita sketch and touch painting, so I think it was successful.
Also it was a very cool place to be, thanks to the great minecraft community

Here's a little video showing the booth:

16 | System & Utilities | http://timotheegiet.com/blog/illust/krita-demo-minecon.html | 8715 |
It has been a quite month for KTouch, with the Feature Freeze in place for the greater part of the month. But this doesn't mean nothing has been done at all.
Last Features
First, I did some work on the layouting code for the training screen.
Previously KTouch picked a font and laid out the sheet so the lesson text fit into it. This approach had a few problems:
If the lesson contains very long lines the sheet didn't fit into the view port.
If the window is maximized on large screens the sheet used only a small amount of the available space.
The new version does it the other way around: the sheet will always fill the horizontally available space and we scale the text so it fits perfectly in there. Especially the latter was way more complicated to implement when I imagined. Calculating the required scaling factor is easy, but naïvely applying a value to the scale attribute to an QML text element results in severely degraded rendering quality. The default transformation origin ...read more...
16 | System & Utilities | http://blog.sebasgo.net/blog/2012/11/28/november-update-for-ktouch/ | 8713 |
Sadly, syntax highlighting for GLSL shaders in QTCreator and Kate didn't catch up with the latest language definitions.
16 | System & Utilities | http://www.topix.com/tech/kde/2012/11/better-syntax-highlighting-for-glsl?fromrss=1 | 8714 |
Linux GUI testing is known to work on GNOME / KDE / Java Swing / LibreOffice / Mozilla application on all major Linux distribution Windows GUI testing is known to work on application written in .NET / C++ / Java / QT on Windows XP SP3 / Vista SP2 / Windows 7 / Windows 8 development version Mac GUI testing is known to work on OS X Snow ... (more)
16 | System & Utilities | http://www.topix.com/tech/kde/2012/11/ldtp-3-0-0?fromrss=1 | 8707 |
When I started on getting ID file support into Kate, my need was to efficiently navigate source code indexed using an ID file a bit over 100 MB in size. The bad news is that I now have ID files over 300 MB in size, but the good news is even that is not a problem! Not only that, but by combining the ID file with dynamic invocation of etags, I can have all the TAGS functionality I care about without needing to pre-generate a 600 MB TAGS file as well.
It even works reasonably well even when the ID files and the source files are mounted via SSHFS over a WAN link!
But best of all, you can have it too, from today's Kate 4.10 beta, using a shiny new Python plugin. Here is how…
16 | System & Utilities | http://kate-editor.org/2012/11/22/id-etags-id-etags/ | 8706 |
Google Code-In is about to start on Monday. Here's a sneak preview of some Marble tasks — please forward to any 13-17 year old teenagers who might want to become proper mappers!
Do a usability overhaul for the measure tool: Improve the contrast to the various map backgrounds with the help of semi-transparent backgrounds, use alternating colors for neighboring line segments and show intermediate distances.
The mockup animation on the right shows the current measure tool and a possible improved version. Adjusting the line segment colors and improving the contrast of the vertices will be quite straightforward. Calculating suitable positions to draw the distance labels for each line segment will is more of a challenge.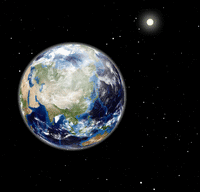 Finding patterns in prominent stars within apparent proximity on Earth's night sky is a human tradition dating back as far as the Neolithic Age. Marble already shows prominent stars — now teach it which to connect to form popular constellations!
To realize this, you first have ...read more...
16 | System & Utilities | http://nienhueser.de/blog/?p=517 | 8705 |
One of the biggest advantage of desktop translation tools is that they don't have delays rendering the interface – at least not in such a scale as websites have. In translatewiki.net it is crucial that our pages load very fast. In certain places we can and do use intelligent preloading to remove the delays, in other places we have to employ complex caching algorithms to reach that target. I am regularly monitoring the automatically collected profiling information to avoid regressions and to pick low-hanging fruit from time to time.
In the last sprint my main task was to convert the way we handle the translation of MediaWiki extensions in translatewiki.net to use the same processes and interfaces as pretty much everything else. MediaWiki and MediaWiki extensions were the first things supported in translatewiki.net and now they are among the last things to get modernized to take advantage of better interfaces built on the years of experience supporting various kinds of products.
The only user visible change is improved performance. The new interfaces are more efficient and enable more optimizations, which allows us ...read more...
16 | System & Utilities | http://laxstrom.name/blag/2012/11/21/performance-tuning-translatewiki-net/?utm_source=rss&utm_medium=rss&utm_campaign=performance-tuning-translatewiki-net | 8699 |
Only a short information for you: I have a new home project on the openSUSE buildservice. Therefore I've took the chance and deleted my old home project and a lot of old packages I've build for no longer supported (open)SUSE releases with it.
That also means: some of the links to packages in this blog are may broken and I don't plan to fix them. You can find the new project
here
. Since the most of my former packages already moved into the distribution or other devel projects feel free to search
here
for them if you can't find them in my new home.
16 | System & Utilities | http://blog.bisect.de/2012/11/my-new-opensuse-buildservice-home.html | 8696 |
What is your excuse for still using Kopete instead of KDE Telepathy? Oh, you can't live without your old conversation logs? Not a problem anymore!
KDE Telepathy is now able to import your AIM, MSN, ICQ, Yahoo, Jabber or GaduGadu logs from Kopete into Telepathy logger.
When you add a new account in the Accounts KCM, we will convert the new account ID into Kopete account ID and check, whether there are any logs in Kopete folder for this account. And if there are, we ask you whether you want to import them or not.
That's nice, right? But what about our current users, who just silently weep, longing for their old Kopete logs? Well, we thought about them, too! After starting the KDE IM Log Viewer, you will be prompted with initial logs import dialog. The dialog will appear only once. Whether you click "Import Logs" or "Cancel", we won't bother you ...read more...
16 | System & Utilities | http://www.progdan.cz/2012/11/importing-kopete-logs-to-kde-telepathy-sure/?utm_source=rss&utm_medium=rss&utm_campaign=importing-kopete-logs-to-kde-telepathy-sure | 8692 |


And then they drive like mad with their cars, and wonder what? They hit one of their own http://youtu.be/xr_lRr-4_5k?t=1m56s

Yes, I am aware that there are cops out there that do a good work, but sharing the work with these people should make them sad.
16 | System & Utilities | http://tsdgeos.blogspot.com/2012/11/and-this-is-why-one-needs-cops.html | 8687 |
Heya,

As I wrote in my blog yesterday, on Thursday the 15th I'll be leading a discussion session about open governance in the Open Innovation track at the 'Summit of new thinking' in Berlin.


Open Innovation
I'm actually looking forward to that: the 'open innovation' thing was what once got me professionally interested in Free Software communities (while studying Organizational Psychology) and I still consider it an exciting topic. I did my thesis on open innovation but 10 years ago there was barely any research done in the area of open source governance and when I asked questions to my professors, blank stares where the result. These days, things are different (see for example this interview): the Academic world has seen what open source organizational methods can do and there is quite a bit to read about it.


Open Governance
The idea behind Open Innovation is to involve the entire organisation with innovation and improving things. Both big and small - we're not just talking about creating ...read more...
16 | System & Utilities | http://blog.jospoortvliet.com/2012/11/on-open-innovation-and-open-governance.html | 8686 |
Today I am happy to present you the result of a few months of Shaun Reich and I work: Homerun, a fullscreen launcher.
Quoting the homepage:
Homerun is a fullscreen launcher with content organized in tabs. A tab is composed of several "sources". A source can provide one or more sections to a tab. Homerun comes with a few built-in sources, but custom sources can be written using libhomerun.
Homerun can be opened from its applet: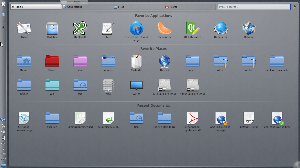 Or used as a containment: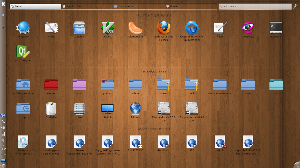 I also created a screencast explaining how it works:
can't see the video? click here
Getting it
Homerun currently requires kdelibs 4.8, 0.2.0 will likely require 4.9 or 4.10.
Version 0.1.0 is now available from download.kde.org.
Git repository is on projects.kde.org. There is also a nightly PPA for Kubuntu users. Of courses, packages for other distributions are welcome.
For more information, check ...read more...
16 | System & Utilities | http://agateau.com/2012/11/14/introducing-homerun | 8684 |
If you have used plasmoidviewer, plasamengineexplorer or plasmawallpaperviewer from past releases of KDE Workspaces while developing Plasma components, you may be surprised to find them gone in the upcoming 4.10 release.

Well, they aren't actually gone: they have been moved to the plasmate git repository. This is where the streamlined Plasma add-ons creator has lived in nearly perpetual alpha/beta for longer than I care to admit. It's finally in the release review process (aka "kdereview") and we decided to take this time to remove all the bits that are only interesting to developers from kde-workspace and put them in one place.

This also opens the way for us to share more code between these developer tools, such as the Plasmoid previewing that is in both plasmoidviewer (obviously :) and Plasmate.

If you are concerned that you use plasmoidviewer to run individual Plasmoids in a window, do not despair! You ought to be using plasma-windowed which does a much better job of this and which has been available in kde-workspace for quite a few releases by now.

...read more...
16 | System & Utilities | http://aseigo.blogspot.com/2012/11/plasma-sdk-accreting.html | 8681 |
Free software has a history of creating and supporting cults of personality. Since it is a widespread human phenomenon, it is easy to understand how this happens. It is, however, unhelpful and destructive and we really ought to actively discourage it, starting by putting aside the current cults.

The most recent, though certainly not the only example, of this retrograde behavior was seen when Linus Torvalds started posting on Google+ about his recent sampling of various Free software desktop options. This made the rounds on various blogs, Slashdot, Linux Today, etc. Why do we care what Linus uses? Simply put: he's a super star in F/OSS and people hang on his every word as a result as if he's an oracle of all things technology. Spoiler alert: he's not.

His opinion on desktop software is as meaningful as his opinions on rocket ships, film production, oil recovery techniques, sociology, religious history, automobile engineering or any of the other topics he has no meaningful expertise in. Everyone will hold an opinion on things they use, such ...read more...
16 | System & Utilities | http://aseigo.blogspot.com/2012/11/ending-cults-of-personality-in-free.html | 8680 |
Hey all, just a quickie: KDevelop 4.4.1 is available!
It comes with mostly crash fixes and a few other bug fixes. I'd say: use it!
Cheers
16 | System & Utilities | http://milianw.de/blog/kdevelop-441-released | 8679 |
Ссылки