Ссылки


And then they drive like mad with their cars, and wonder what? They hit one of their own http://youtu.be/xr_lRr-4_5k?t=1m56s

Yes, I am aware that there are cops out there that do a good work, but sharing the work with these people should make them sad.
Heya,

As I wrote in my blog yesterday, on Thursday the 15th I'll be leading a discussion session about open governance in the Open Innovation track at the 'Summit of new thinking' in Berlin.


Open Innovation
I'm actually looking forward to that: the 'open innovation' thing was what once got me professionally interested in Free Software communities (while studying Organizational Psychology) and I still consider it an exciting topic. I did my thesis on open innovation but 10 years ago there was barely any research done in the area of open source governance and when I asked questions to my professors, blank stares where the result. These days, things are different (see for example this interview): the Academic world has seen what open source organizational methods can do and there is quite a bit to read about it.


Open Governance
The idea behind Open Innovation is to involve the entire organisation with innovation and improving things. Both big and small - we're not just talking about creating 'The Next Big ...read more...


Today I am happy to present you the result of a few months of Shaun Reich and I work: Homerun, a fullscreen launcher.
Quoting the homepage:
Homerun is a fullscreen launcher with content organized in tabs. A tab is composed of several "sources". A source can provide one or more sections to a tab. Homerun comes with a few built-in sources, but custom sources can be written using libhomerun.
Homerun can be opened from its applet: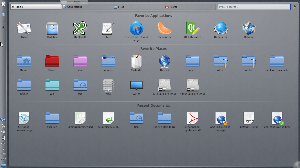 Or used as a containment: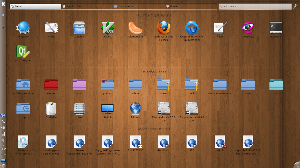 I also created a screencast explaining how it works:
can't see the video? click here
Getting it
Homerun currently requires kdelibs 4.8, 0.2.0 will likely require 4.9 or 4.10.
Version 0.1.0 is now available from download.kde.org.
Git repository is on projects.kde.org. There is also a nightly PPA for Kubuntu users. Of courses, packages for other distributions are welcome.
For more information, check Homerun homepage.
If you have used plasmoidviewer, plasamengineexplorer or plasmawallpaperviewer from past releases of KDE Workspaces while developing Plasma components, you may be surprised to find them gone in the upcoming 4.10 release.

Well, they aren't actually gone: they have been moved to the plasmate git repository. This is where the streamlined Plasma add-ons creator has lived in nearly perpetual alpha/beta for longer than I care to admit. It's finally in the release review process (aka "kdereview") and we decided to take this time to remove all the bits that are only interesting to developers from kde-workspace and put them in one place.

This also opens the way for us to share more code between these developer tools, such as the Plasmoid previewing that is in both plasmoidviewer (obviously :) and Plasmate.

If you are concerned that you use plasmoidviewer to run individual Plasmoids in a window, do not despair! You ought to be using plasma-windowed which does a much better job of this and which has been available in kde-workspace for quite a few releases by now.

...read more...
Free software has a history of creating and supporting cults of personality. Since it is a widespread human phenomenon, it is easy to understand how this happens. It is, however, unhelpful and destructive and we really ought to actively discourage it, starting by putting aside the current cults.

The most recent, though certainly not the only example, of this retrograde behavior was seen when Linus Torvalds started posting on Google+ about his recent sampling of various Free software desktop options. This made the rounds on various blogs, Slashdot, Linux Today, etc. Why do we care what Linus uses? Simply put: he's a super star in F/OSS and people hang on his every word as a result as if he's an oracle of all things technology. Spoiler alert: he's not.

His opinion on desktop software is as meaningful as his opinions on rocket ships, film production, oil recovery techniques, sociology, religious history, automobile engineering or any of the other topics he has no meaningful expertise in. Everyone will hold an opinion on things they use, such as ...read more...
Hey all, just a quickie: KDevelop 4.4.1 is available!
It comes with mostly crash fixes and a few other bug fixes. I'd say: use it!
Cheers
Last week I attended my first TPAC ever – in Lyon, France. Coming from the open-source world and such events like Fosdem or the ever brilliant Akademy I was not sure what to expect. Should I pack a suite? On arrival all my fears were blown away by an incredibly well organized event with a lot of nice people. I felt very welcome as a newbie, there was even a breakfast for the first-timers with some short presentations to get an overview of the W3C's work in general and the existing working groups. So before getting into any details: I would love this to become a regular thing (not sure it will though, seeing that next year the TPAC will be in China).
My main reason for going to the TPAC was identity on the Web, or short WebID. OpenLink Software is a strong supporter of the WebID identification and authentication system. Thus, it was ...read more...
This is a guest post from Kevin Carillo, a researcher I've been working with to help us improve KDE's newcomer experience. If you fit the criteria please do take the survey. It'll help improve the experience of new contributors and thereby help improve KDE. Thanks!
---
My name is Kevin Carillo. I am a PhD student currently living in Wellington (New Zealand) and I am doing some research on Free/Open Source Software communities.
If you have joined the KDE community after January 2010 (within approximately the last 3 years), I would like to kindly request your help. I am interested in hearing from people who are either technical or non-technical contributors, and who have had either positive or negative newcomer experiences.
The purpose of the research is to work out how newcomers to a FOSS community become valued sustainable contributors.
The survey can be found at:
https://limesurvey.sim.vuw.ac.nz/index.php?sid=65151&lang=en
A quest for community citizens
KDE is a successful community that keeps attracting new contributors and that has a reputation of being extremely newcomer-friendly. But is this enough to make ...read more...
The bug triaging event which I announced here recently has already yielded a number of very nice results:
About 50% of all Dolphin bugs have been triaged already.
Some of them were fixed just after they had been analysed.
A huge number of reports now has updated and more accurate information, which makes life a lot easier for me and other people who are working on improving Dolphin's quality.
Many reports which were obsolete or which were about issues that are not Dolphin bugs could be closed or reassigned.
All in all, the number of open bug reports has dropped from 305 to 278 since my last blog post, which is even more remarkable if you consider that new reports get filed all the time (19 since my last blog post). Moreover, some more can probably be closed when the results listed on the wiki page that we use to coordinate the triaging are double-checked. Many thanks go to Adrián Chaves Fernández, Bryan Cuneo, Grigoris Grigoriadis, Jaime Torres, and Marco Zühlke, whose ...read more...
Strigi has always been a large part of Nepomuk. In fact a lot of users still do not understand the difference between the two. It's quite common to see bug reports saying mentioning "Strigi/Nepomuk". Lots of blog posts do the same.
Strigi consists of a number of differents parts. In Nepomuk we just used to use libstreams and libstreamanalyzer. These were pure C++ libraries. The great thing about Strigi is that it is based on streams, instead of files. So one can theoretically even extract metadata from the album image embedded inside an audio files. It's very powerful. Unfortunately, everything comes at a price, and this increased "awesomeness" comes with increased complexity. Additionally with it being a pure C++ ( no Qt or KDE ) library, contributing is harder.
For 4.10, We decided to take a very drastic change and move away from Strigi. There are a large number of reasons for doing so. Apart from the technical ones there was also an economic one - A large code base like Strigi is ...read more...
Hi all,

since a week I have moved the current MetaData Extractor into KDE Review and tagged it with 0.3. As you might have read, Jason moofang already blogged about his anime changes in the extractor plugins.

A few things that changed in my side since the last release:


Limit the background processes that will fetch the data at the same time
Disable the Nepomuk2::Service on first run.
This means the user has to activate it in the KCM to make it work and it won't fetch data for all files once it is installed
Allow to specify which resource types should be used in the automatic fetching (documents, videos, music)
Add a general configuration KCM to the system settings module
Save not processed queries on kde shut down and start them again next time
Added a docbook to explain most parts of the UI
Fix several bugs and crashes
Allow to restrict online searches to preferred plugins only and not fetch all the other plugins if the lookup failed
Slax is a modern, small, and fast Linux operating system with a modular approach and outstanding design.
The Calligra team is proud and pleased to announce the beta release of version 2.6 of the Calligra Suite. This means that the calligra/2.6 branch has been created andfrom now on Calligra 2.6 will only see bufixes but no new features. The final release of 2.6 is planned within a month.
News in This Release
As expected, this release has a number of new features that were not ready in time for the alpha release. Here are some of the most important ones:
Plan, the project management application, has updated scheduling information, improved scheduling granularity, improved performance charts, improved project creation, improved usability in the report generator and many bug fixes.
In Kexi, the visual database creator, overwriting objects with the same name is now possible. See community.kde.org for complete list of changes.
There are two general improvements in handling of the Open Document format: Calligra will now load and save 3D shapes and annotations. This means better interoperability with other office applications.
Finally Calligra Active, the ...read more...
FOSDEM is one of the largest gatherings of Free Software contributors in the world and happens each February in Brussels (Belgium). One of the tracks will be the CrossDesktop  DevRoom, which will host Desktop-related talks.
We are now inviting proposals for talks about Free/Libre/Open-source Software on the topics of Desktop development, Desktop applications and interoperativity amongst Desktop Environments. This is a unique opportunity to show novel ideas and developments to a wide technical audience.
Topics accepted include, but are not limited to: Enlightenment, Gnome, KDE, Unity, XFCE, Windows, Mac OS X, general desktop matters, applications that enhance desktops and web (when related to desktop).
Talks can be very specific, such as developing mobile applications with Qt Quick; or as general as predictions for the fusion of Desktop and web in 5 years time. Topics that are of interest to the users and developers of all desktop environments are especially welcome. The FOSDEM 2012 schedule might give you some inspiration:
https://archive.fosdem.org/2012/schedule/track/crossdesktop_devroom.html
Please include the following information when submitting a proposal:
Your name
The title of your talk (please be descriptive, as titles will be listed with around 250 from other projects)
...read more...


I'm proud to present the very first screen cast on how to implement a KWin Effect in JavaScript using current git version of Plasmate. As an example I'm using the new Maximize effect for 4.10. When watching the video, please note that this has been the first screen cast I have ever made

Tutorials on techbase to be added quite soon.
It's UDS time again and we're in sunny Copenhagen. You can join in by looking at the sessions and look up on the schedule when to join, then you can listen in to the audio and type into the IRC channel which is projected into each room.
Today, I suddenly thought of an idea, to extract the performance of individual players from a scorecard displayed on a website. This was conceived as part of improving the cricket simulation web application I developed ('Freepl') but that"s on a different context
So I downloaded a scorecard from Cricinfo and started analyzing the page and it was pretty nicely structured with each data being stored in tags having proper CSS classes and ids.
e.g. the name of a batsman batting in the 1st innings could be found in this hierarchy: "#inningsBat1 .inningsRow .playerName" (for those who do not have much idea about CSS selectors, a '.' represents a class and a '#' represents an id These selectors are applied to different HTML tags for styling and javascript accessibility.) .
I first started testing out the patterns using jquery and it was really easy getting all the information I needed. But my objective was to do this in a back end technology which would also update databases on the go. For this I turned to django/python and while ...read more...
This blog post is for you if:
 you want to help to improve Dolphin, no matter if you have programming skills or not,
you want to know more about how quality assurance in a free software project works,
you've always wanted to contribute to KDE, but could not find a good place to get started.
Like every software project, Dolphin unfortunately has bugs. Bug reports are filed by users at bugs.kde.org, then we (the developers) read the reports and fix the bugs, and everyone is happy, right? Well, it's not quite that easy.
Carefully reading a single bug report, including all comments, extracting all relevant information, and trying to reproduce and then analyze the bug usually takes quite a bit of time. It gets worse if a report is incomplete, i.e., if important information is missing, or if the bug just cannot be reproduced on the developer's machine for some reason. Now consider how many open bug reports there are (currently 305 for Dolphin, not even mentioning wishes), that new bug reports are filed every day, and ...read more...
New KDevelop Ruby language support plugin is now production ready :) Why? Because it opens my huge (and proprietary) Rails-based project without any single crash.
Thanks to Miquel and Milian who helped to make it happen!
Get it here and try it out for yourself now.
Old stable Ruby support plugin for KDevelop is still available here in case you're not feeling adventurous.
Recently I've blogged about the usage of KMessageWidget in the data recovery process in Kate Part. Finally, we decided to stick with KMessageWidget, since it is a standard kdelibs widget, used by a lot of KDE applications. Besides, it is visually appealing and attracts the user's attention. In KDE SC 4.10, it will look like this: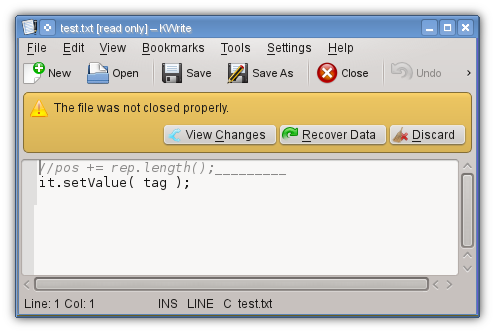 Now if you recover the data, it may happen that the swap file is broken, e.g. because it was accidently manipulated for whatever reason. Then you get notified like this: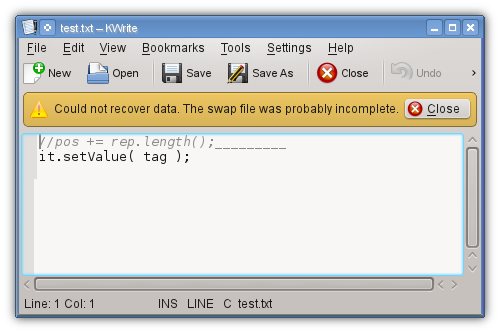 Besides that, we are currently at our Kate/KDevelop meeting in Vienna. Lots of exciting stuff is happening, so expect more in the next days
Its nice to be here in Vienna with all the other hackers

Most have already arrived and are busy fixing issues in Kate & KDevelop, some more will arrive tomorrow.
Already got bit work done on existing bugs, one bug was really nasty: a nearly 8 year old typo by myself messing around with highlighting in combination with line continuation.
But a guy did a really perfect bug report: Bug 300009
He wrote even a example highlighting file + test to trigger the issue, with that help, the fix was trivial to do, after I got time to read the bug
Thanks to all people reporting bugs in such a useful way!
Today I've finally merged my next branch into the master branch. Lately the differences between the two branches became increasingly huge:
1
2
3
4

$ git log origin/master..origin/next --oneline --no-merges | wc -l
402
$ git --no-pager diff origin/master..origin/next --shortstat -- src/
252 files changed, 23468 insertions(+), 14282 deletions(-)

Merging all that into the master branch took a huge pressure from me. After spending all that time I spend on working on KTouch it's really important to me get the fruits of my work out to the end-users. Getting my stuff in the the branch KDE SC 4.10 will be released from is first the important step towards that goal.
My next step is clearing out the Bugzilla entries against KTouch. The vast majority of the bug reports can be closed since they don't apply anymore, and also a fair share of the reported wishes are met by the new version.
Yakuake is a drop-down terminal emulator based on KDE Konsole. It features smoothly rolling down from the top of your screen, a tabbed interface, configurable dimensions and animation speed, a skinnable GUI, and a sophisticated D-Bus interface.
Kubuntu is a GNU/Linux operating system built by a worldwide team of expert developers.
Razor-qt is a lightweight desktop environment that's based on the Qt framework, much like KDE, and it is "tailored for users who value simplicity, speed, and an intuitive interface," in the project's own words.
Three weeks have passed since the Multimedia sprint, and KMix keeps happily evolving. The TODO list is melting at the same amazing speed as the bug list. There are about 20 items on my TODO list left, so lets show what we have of today.
Multimedia Control MPRIS2:
The multimedia control "MPRIS2″ is now officially part of KMix. It is activated by default on all systems that support it, for example you get ALSA + MPRIS2 or OSS + MPRIS2. Pulseaudio has its own application stream volume control, so MPRIS2 is disabled to avoid showing the same stream twice.
Sound Menu Setup:
Are you a power user, or do you rather prefer a classical single master control?
Everything is possible – configure your Sound Menu now. See the image on the right – it allows to select which Master Controls you will see, and whether you also want to see the application volumes to get a full Sound Menu.
...read more...
KDE Project:
Last weekend I've met with some of our old timer KDEPIM developers and some of the newer ones who are interested in KDEPIM or related technologies in the KDAB offices in Berlin.
Being a KDAB employee for a few years already (wow, time is passing quickly), the place was familiar, the people looked familiar. The foosball table was slightly familiar, although some players changed their dresses in order to spread confusion inside the visitor's heads. That is the only reason we've lost against locals with 5-0, 5-0.
Suprisingly enough, the table wasn't used that much. Why? Because people were busy either working and talking. What they talked about I don't know too much, as I focused on some issues I planned to fix, but others can testify that Volker did not sit too much in front of his computers, but was dragged from one place to another for various discussions.
Most of us ...read more...
My head trauma showing itself with a pre-ticked publish box on the Kubuntu release story that just escaped long enough to make it onto Planets KDE and Ubuntu.
Hi all.
While we all love and cherish our KDE browsers (Konq and rekonq) there are many users of Firefox and Chromium. And they can not use share-like-connect, they can not have their web-pages linked to activities, they can not …
Is there a brave soul in our community (or a few brave souls) that are willing to write a small addon for any of the aforementioned programs that will
know when a URL is loaded in a tab
know when the user switches between tabs
know the windowID of the window in which the tab resides, and
and report those events to the activity manager?
Talking to the activity manager is the easiest part of it all, it has C bindings, it is a d-bus service, so take your pick.
If you're interested, please write to us on plasma-devel at kde.org
Ссылки