Ссылки
- Use bsd.tcl.mk infrastructure
- Support all Tcl versions 8.0 and higher
- Bump PORTREVISION
Earlier this week, SpeedCrunch 0.10 was released. Helder and all the other contributors have made a great job to make a good application even better. There are lots of new features, but some of my favorites are:

- The maths book, look up any formula and click it. Viola! It appears in your expression entry field.
- Automatic generation of a high contrast palette (this was alot of work for Helder). And it works like a charm.
- A reorganized, fresher looking user interface.

My humble contributions are the Swedish translation and a Windows installer. SC is available on all Qt-supported platforms, so there is no excuse for not using it. In fact, it is a really good example of a Qt project that is fully portable between all the supported platforms being built with CMake.
On Sunday April 6th 2008, there will be a bug triage day running from 0:00 UTC to 23:59 UTC (that's starting at 16:00 Saturday PST, 02:00 CEST). The focus of this day will be Konqueror bugs. The aim is to create test-cases or verify as many bugs as possible. This will help the Konqueror developers be able to fix more bugs more quickly.
All help will be hugely appreciated, and there are minimal requirements to take part. You don't need to be a programmer to take part - this is a perfect opportunity for users wanting to support KDE to help out. You can stay for as long or as short a time as you like, and can join at any point during the 24 hour period.
All that you need to take part is a computer running KDE 4.0.x or SVN trunk. We will coordinate the day via irc on the channel #kde-bugs on irc.freenode.net. Please be sure to join that channel if you want to join in.
For more information, please see the ...read more...
According to this, the ISO are now calling a "standard" the Microsoft Office format (which is cynically called "Office Open XML"). I won't elaborate on the reasons why this thing is the opposite of what a standard should be, as this is clear to anybody not influenced by Microsoft.

What is interesting is that TeX, LaTeX, OGG/Vorbis, OGG/Theora, Perl, Python, PHP, Ruby, OCaml, are not standardized by any organization. Yet everybody knows that they are "self-standardized" by the free availability of extensive documentation and/or a by free-as-in-freedom unobfuscated reference implementation.

This shows that standardization organizations are no longer relevant in the software field. What really matters is free full documentation, free full implementation source code, and of course the absence of any patent risk. In other words, coming back to the fundamentals of what a standards is, what matters is evidence that any independent third-party can create and distribute a fully-conforming implementation. When this is the case, nobody needs an organization to certify that it is a standard.

That the ISO just ...read more...
As Friedrich Kossebau wrote I adjusted okteta to work on windows. But I must correct him in the number of adopted lines. In fact there are only two lines which are platform specific changes. The changes in khe_export.h were only needed because he forgot to change them as he changed the library names. It doesn't hurt on linux but it was wrong. So in the end there're only two changes left to make okteta compile on windows :)

I've also created new binaries (4.0.67). They should appear soon in the installer. kdesdk is missing because it was not compilable, but I already fixed it in svn.
. Fix how the packing list is done with respect to the Gnome desktop file.
This is extermely unlikely to have been broken in practise, but it was
affecting pointyhat. I think I now understand why the correct way is
breaking my test script.

Pointed out by: pointyhat (via pav)
-Bump epic4 to 2.10
-Change default OPTIONS to match wishes of upstream maintainers
-Change Makefile to actually disable features turned off in OPTIONS instead of lazily using them
-use available bz2 distfiles

PR: ports/122356
Submitted by: Josh Paetzel <josh@tcbug.org> (maintainer)
Obey filename convention.
http://development.openoffice.org/releases/filenames.html
Obey filename convention.
http://development.openoffice.org/releases/filenames.html
- Fix compile with Tcl versions other than 8.4
- Bump portrevision

PR: ports/122354
Submitted by: Frank Fenor <frank@fenor.de>
- Add missing files for 2.2.1 update
Time to blog about the iParty the KDE community in Spain went to this weekend. I was there from thursday to sunday, and I only have amazing words for them. Everything, absolutely everything was perfect. It has been the place where I have felt so warm with the rest of the community, the organization and the event itself. Amazingly organized, probably from organizing it 9 times before. And if everything was perfect, at some point they turn off the lights and start to sing "happy birthday" because of mine while bringing a chocolate-cake… I ended up with no words.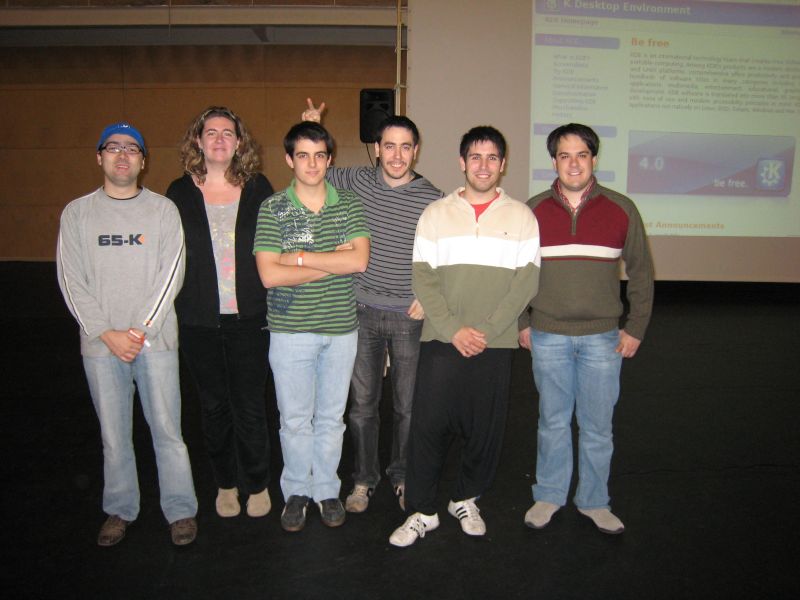 And yes, we did it… we danced the qt4 dance
The longest journey starts with the first step. Or: The biggest program starts with the first line. (Just: These terms do not contain any mentioning of the category time. I definitely need other proverbs which complement these to help me with life.)
Now, that a lot of lines have been collected in the subdirectories of the Okteta project, a new milestone is approached: The stand-alone program Okteta is heading for inclusion in kdeutils. Since Monday its code resides in kdereview, awaiting your objections or change requests.
Christian Ehrlicher already did what looks like almost every KDE4 module is having to cope with: He adopted 5 lines (in words: five, really only) and now it compiles also under another platform, delivered from Redmond. Impressive. CMake, Qt and KDE, your friends for almost-instant-multiplatforming, obviously.
Instead of an image (for a screenshot just go and build the code yourself) this time some words (just not thousands) for those, like Thomas Z., who are still curious what Okteta is at all:
Okteta ...read more...
I spent the last along with tsdgeos, ana`, ereslibre, pgquiles and nefertum to the Aditel IParty X that happened in Castell
Ok, so because the old notebook is starting to fall apart (it is probably around 5 years old or so) I need a new one.
So, I want to buy a new notebook, nothing too fancy: 14 inch, non-glossy, Intel Core Duo, Intel Graphics, Intel WLAN, 1GB RAM, price at most 800 Euro.
I guess it's obvious to everybody reading this that I'd like to have fully Intel chipset because of the free drivers. This will actually be my first non-AMD CPU I buy new since 1994 or so.
Now to the tough part: the last MS product I bought was Win95, now I'm running 100% Linux since around 1997 on all my private computers, so does my girl friend. Oh, that's not true, from time to time I also install FreeBSD somewhere, but that's not the point. Add to that that I spend basically all of my spare time working on free software, so that people can create, share and access their data, information and communication freely without having to pay a company to let them do ...read more...
- Re enable IGNORE when PACKAGE_BUILDING is set

Submitted by: pavbot
- Mark BROKEN: hits internal compiler bug on FreeBSD 5.X/amd64

Reported by: pointyhat
Add more mirror sites.

PR: 122352
Submitted by: Esa Karkkainen <ejk@iki.fi>
* Add an addon to poll mouse device files to see if moused or Xorg owns them.
This allows hal to properly reflect the correct access device, and prevents
X from opening the same device twice
* Use the less expensive clock_gettime() instead of gettimeofday() in hal's
pollers [1]
* Add support for locking storage devices
* Fix the path to the installed documentation

Submitted by: jkim [1]
Tested by: jkim, cokane, and a host of others
As every year, one can see all kinds of articles related to today's date everywhere, ranging from quite amusing ones (it's a pity I knew what day it was when visiting dot.kde.org) to really old boring ones without anything interesting in them. I guess many people are running out of ideas or something. Rather that doings things like that, I think such people should simply stay serious. Like myself, I'm a pretty boring person usually, so I won't join the crowd, but I'll rather try to fight back by trying to be serious.
People who have tried KWin's compositing have different views on how well it performs. I have seen comments starting from "it's so unusably slow, and Compiz runs fine here" to "it runs so great, unlike Compiz". I guess it really depends on one's luck and the gfx card, X version and drivers in use. Here KWin runs comparably to Compiz, and that's with several different setups (and gfx cards, and drivers). Quite hard to do something for people where it's bad for some reason, really. My crystal ...read more...
Linked by Thom Holwerda on Sun 30th Mar 2008 20:34 UTC, submitted by michuk Thread beginning with comment 307300 To read all comments associated with this story, please click here . via OSNews.com
In recent studies from a random and important university it has been found that KDE project supports privative software. As the studies say: almost a 87% of developers prefer Microsoft Windows Notepad to Kate. Same happens with Microsoft Windows Media Player to Amarok in a heavier percentage: 93%.
On the other hand, as the study points out it is really amazing that almost a 100% of KDE developers prefer C# to C++. As the asked developers answered, almost a 96% would rewrite KDE in plain C.
The 24% of developers would vote "No" if they were asked to support the OOXML spec. On the other hand, a 76% would vote "Yes".
Anyway, what's really impressive on the study is that we are working with SVN when the 105% of developers prefer CVS.
Happy fools day
During the Akonadi meeting in Berlin we decided that Akonadi needs a separate crash handler to handle Akonadi crashes. The reason is that nobody 'owns' the Akonadi instance. It could be accessed by Mailody, KMail, KNode or the plasma applet. Besides, Akonadi isn't a real KDE application as it is cross-desktop and cross-platform, but that means the Akonadi crash it self can not be handled by the default KDE crash handler.
So, let me hereby present to you our new crash handler:



Some of the things in there, I want to discuss a bit more in detail. The first thing you notice is that we will be using clear error codes and error numbers. This is done because up front we don't know which errors will occur. Before the release we will create a spot on our Akonadi website which lists those errors and the solutions so the user will know exactly what is going on. In a later version we will probably add a simple 'feedback' button so the user does not have ...read more...
Update to 0.7 - adds state display filters. While here also add a patch to
support dynamic ALTQ (by ignoring INACTIVE queues).

Approved by: flz
Quoting from www.slamd64.com:
"I am happy to announce that thanks to superior hardware support, especially for modern Creative sound cards, Slamd64 Linux will become Slamd64 GNU/Hurd in 12.1."
- update to 20071211
- update to 20071211
Google have extended the Summer of Code 2008 student application deadline until April 7 so if you were busy last week or concerned your application wasn't good enough, now's your chance to get it in.
And I took the opportunity this morning to add an idea that we could really use on the Free desktop - a way to sync wallet secrets between different computers, and maybe between KDE and other secure stores like GNOME keyring and the Mozilla password manager. If you think you're hard enough, please apply. It's a non-GUI job, and involves getting your hands dirty with various APIs and solving some tricky problems - just the kind of skills needed to make yourself useful as a professional Linux hacker.
Today's Kubuntu Hug Day looks at bugs in Launchpad with comments regarding the KDE bug tracker. Join #kubuntu-devel and #ubuntu-bugs to help out.
Ссылки