Ссылки
In the kate.git master branch the text folding is now new and shiny.
In addition to be faster and less memory hungry (no folding tree is around if you fold nothing, it is only created on-demand exactly for the folded regions), the new code is less complex and smaller (and hopefully better documented + unit tested, it actually has a test for most internal operations).
There is actually now a clean separation, the folding does not mix with highlighting and can be used without it, too.
This allows for a better integration of indentation based foldings like in Python (and already fixes the most ugly miss-placements of folding regions there) and empowers the user to fold arbitrary regions manually.
This can be done at the moment with two kate commands (for the F7 command line):
"fold" will create persistent fold for the current selection, this fold will stay until next reload of document (will implement some dfold command later, to delete it)
"tfold" will create temporary fold for the current selection, this fold will disappear again on unfolding
This should allow ...read more...
Hi,
I'd like to show you what we are doing for network management in KDE. With Lukáš Tinkl we started to write a new plasma applet for managing your network connections. It's a long road to have some stable release or something for daily usage, but we have already wired and wireless connections and some basic functionality for other connection types. The entire applet is written in QML except for C++ model and some classes for working with NetworkManager. For that purpose we are using libnm-qt library which is Qt library for NetworkManager. We are also working on a new connection editor which will be as a standalone application. This editor uses some components from the old Plasma NM applet but it's redone to use libnm-qt library.
If you want to try it, you can get it from our git repository git://anongit.kde.org/plasma-nm.git and you should disable the kded module from the old Plasma NM applet but we are not supporting secrets for VPN connections for now.
You will have to also compile libmm-qt git://anongit.kde.org/libmm-qt.git and libnm-qt (settings ...read more...
Bienvenue au Planet KDE Francais, un grand planet pour tout la monde francophone.
"C'est cool ça un planet en français pout KDE!" Cédric Bellegarde
"Une planète en français s'il vous plait!" Jean-Nicolas Artaud
"Une planète en français s'il vous plait!" afiestas
Noticing the bug
Some time ago I worked on a problem with the mouse over animation in Dolphin. It was mostly visible with hidden files, because icons for hidden files are semi transparent. The bug caused icons for hidden files to "blink" when one moved the mouse over them.
I thought the fix was simple, filed this review request, which got in.
But that was too easy. Two weeks ago it was pointed out to me that the fix was wrong, and was causing a blink at the end of the hover animation. It's the kind of subtle bugs which you don't see at first, but can't ignore once it has been pointed out to you. Here is a short video demonstrating it:
Understanding the bug
How does one debug such a bug? If you are smart enough, you look at the code, let it sink in you and at some point yell: "AH! THE BUG IS THERE!"
On the other hand, if you're like me, you need more information. Over the years I built ...read more...
Myself and Paul and Nicky and Carry judged the entries. They were all winners. They all showed what could be done when you put people with ideas together with people who can hack.
KMix is KDE's forgotten redheaded stepchild.
It is old, has been maintained my Christian Esken since early 2001, and has grown organically. Through no fault of Christian's or anyone else's, it is buggy, messy, and nobody else wants to help fix it, or at least has the constitution to do so.
Us redheads need to stick together.
At last year's Randa, I started working on refactoring and rebuilding KMix from the ground up. Why should adjusting the volume in your desktop be so frustrating? It shouldn't, thats why.
That is the prototype for the new KMix. The UI design has been shamelessly stolen from pavucontrol:
As you can see, there is much work left to do. However, I feel ...read more...

This week's Luminosity of Free Software show will be recorded tomorrow on Friday, instead of the usual Thursday time slot. I have another engagement tonight, and it will be interesting to see how viewership changes, if at all, on Fridays.

Topics tomorrow will include:


Plasma Media Center: .. or "PMC" as we lovingly refer to it, had its first stable release this week We'll take a peek behind the scenes to see what drives it. We'll also glance at it's goals, purpose and future.
freedesktop.org Summit: If you haven't heard of this event that's happening in three weeks time, don't feel bad as it wasn't announced very broadly at all. I'll share with you what I've learned about the event and speculate on what we can hope to come from it.
Lernstick: Not just "Bootable Linux on a USB device", but also a log in key that can automatically create the user on the stick and mount the USB device as the home directory. Pulling this off is trickier than one might think. I'll examine how this device designed for ...read more...


If not, read this. This sounds like it's going to be an awesome project, and I'm going to contribute in any way I can.

To quote some highlights from the initial announcement:

Tanglu will be based on Debian Testing and follow the Debian development closely. It will have a 6-months release-cycle and it's target audience are Linux desktop users. We will make installing and setting up the distro as easy as possible.
Tanglu will be usable for both developers of upstream software and the average Linux user and Linux newbie. This is possible because in our opinion developers and users don't have different needs for a desktop system. Both kinds of users like a polished desktop which "just works". We will, hwever, not apply any kind of fancy modification on upstream software, we will basically just distribute what upstream created, so users can get an almost "pure" GNOME and KDE experience.
Tanglu is designed to be able to solve the issue that Debian is frozen for a long time and Debian Developers can't make new ...read more...


Sometimes I get the best e-mails...

From: \"Przemek (cojack)\"
Date: Mon, 11 Mar 2013 09:42:19 +0100
Subject: Big request
To: jr@jriddell.org

Hello,
I have big request to you, please don't ever stop working on/for Kubuntu.

Thanks in advance,
Best regards, Przemysław Czekaj.

There's been chat that my NHS Hack Scotland post implies there's no point in going to the event, that in light of the NHS Lothian FOI request anything created at the weekend has no chance of being used in the NHS.
This post is dedicated to the memory of Aaron Swartz. Among all his contributions towards a more open Internet, Aaron was also one of the creator of RSS 1.0. Thanks, Aaron.
The first news of the day is that the fantastic ownCloud community has released ownCloud Server 5.0.0. Congratulations everyone!
The second news is that Google has decided to power down Google Reader. This is a sad news for the users of the Reader, but it's a great opportunity for ownCloud! Google Reader will cease to exist on July 1st and their users are looking for alternatives. As you already know if you have been following this blog, in the last year I have been working on an RSS/Atom reader for ownCloud (News app). The project started as a Summer of Code project sponsored by Google itself. Actually, the original idea and most of the design choices were inspired by Google Reader. It couldn't be otherwise, since I have been a user of that service myself for long time.
Hello every one,
I have just tested the new openSuSE 12.3 version by making an upgrade on my laptop.  After having updated it by doing:
zypper refresh
zypper up
I upgraded it by doing:
sed -i 's/12.2/12.3/g' /etc/zypp/repos.d/*
zypper ref
zypper dup
You can find a larger desciption of the way to proceed on the official suse wiki upgrade page. I had no errors, and after having rebooted my computer I had WOUAW the best KDE integration ever. No personnal settings had been changed so I directly felt at home.  I'm really happy of open SuSE 12.3 which is really cleaned and polished! I have to test it a little deeper, but after my first overview, I had to blog it!
I also recommand this good article about opensuse 123 getting better and better! I do agree with all the points he developed and it's interesting.
Thanks for reading.
Today we released ownCloud 5, a very important milestone for the ownCloud community and perhaps the most important release so far. But before going into the details I want to take a step back and look at what the original idea of ownCloud was at the beginning.
The idea of ownCloud was and is to enable everybody to host, control and sync and share their personal data without giving control away to the big data silos like Dropbox, Google Drive, Skydrive and iCloud. I think today we have all the features in place to say that we reached this goal. Everybody from a home user to a big enterprise can host their own personal cloud installation. I'm also super happy about the integration into KDE and GNOME because this is important to provide a really seamless experience for users.
It's a coincidence that CERN invited me to give a talk about ownCloud and data silos that I will give here in a few hours at the exact same day ownCloud 5 is released. CERN
...read more...
For up- and downloading documentation files in kdev-python, I wanted to implement support for the KDE GHNS dialog (you know, this thing). In addition to a good GUI dialog which makes it easy for people to generate raw versions of docfiles and edit them a bit, this could be quite effective in supporting binary python modules correctly in the IDE. Sounds easy enough to do, right? The widgets are there... so just use them. It's not quite as easy tough...
Most applications which use the GHNS widget host their data on kde-*.org (e.g. kde-look.org for wallpapers). However, I didn't want to do that, because

I don't think this program's data is particularily valuable to be browsable (is that even a word, browsable?) on a website like that -- it's not what people are looking for, it's nothing you would see there and say "hey cool, I gotta download that and try it"
The sites are not maintained by KDE, and are sort of closed -- I can't access the underlying data with a script easily, but I'd ...read more...


Me again. I haven't been online for a week – went on some pub crawls in Dublin : ) – so I haven't been able to reply to the comments to my last post which showed some nice things coming to Plasma.
BSmith1012: I love the simplicity and extra effort you put into making it flexible. I know how much you hate icon views, and yet still made it possible to use in your example, so I appreciate that.
http://forum.kde.org/viewtopic.php?f=83&t=89572
I posted this in the kde Brainstorm ages ago. If you release something like the screenshot that can include all of my favorite applications as Icons, I'd prolly be happy with that and I feel like many others will appreciate it as well. Thanks for all of the hard work!
Answer: True, I'm not a fan of icon views, but there were a lot of requests to have those in both lancelot and kickoff. This didn't take much effort now that we ...read more...
This is part of the "Case for KDE" series of blog entries in which I explore various non-technical aspects of KDE. What follows are my personal thoughts and observations rather than an officially sanctioned position statement by the KDE community.

I figured I would start with the topic of branding as it is a fairly simple topic .. a nice way to ease into this little adventure. It's also a topic that has been getting increasing amounts of attention in the Free software communities in the last few years as products become more successful, projects progress and more companies appear on the scene.

So where does KDE stand on branding?

Brand as Reflection
Branding is used to communicate a message to the outside world. "What message?" is the million dollar question. Some use branding as a way to project an image of what they wish to be, sometimes without concern about whether that is reality or not. Some use branding simply as an abstract identifier that says "This is us" without embodying a given message. Others use branding to ...read more...
The Calligra team has released version 2.6.2, the second bugfix release of the Calligra Suite,  and Calligra Active. This release contains a number of important bug fixes to 2.6.1 and we recommend everybody to update.
Bugfixes in This Release
Here is an overview of the most important fixes that are in 2.6.2. There are several others that are not mentioned here.
General:
Mime types were synced between the Words, Sheets and Stage applications and the Calligra application.
Filters:
A bugfix in the import filter for the old KSpread file format that led to styles being treated wrong.
Sheets:
Fix for a bug that sometimes made the error #CIRCLE appear on a cell even when there was no circular dependency (bug 316244)
Krita:
Fix for a bug with the OpenGL drivers that led to the user sometimes have to remove their kritarc file manually (bug 308713).
Krita now correctly remembers the layer box status.
A crash fix for empty layers
A fix in the autosave code
Fix for ...read more...


Edit: So, now, really, the smoke is green and openSUSE 12.3 is out!

It's been an interesting release cycle for me. It was my first full release cycle (ok, short one, just 6 months) with the new openSUSE team. Interesting ride.

But today, it is party time. Tonight I will finally see the famous Artefakt as that's where the party will be - see the event here. Yay!



In the last days we released three sneak previews of what's new in openSUSE 12.3, each getting a lot of reads and comments:

Kanotix is a Debian-based desktop distribution originally designed to support a wider selection of hardware and provider newer packages than Debian.
Very fast note to just say I released rekonq 2.2.1 this afternoon. It is just rekonq 2.2 with a "dot 1″ at the end


Naaahh… it is rekonq 2.2 with just 1 bugfix (2 lines of code) letting the bookmark toolbar sub-folders work again. Code is here. Every other info about can be found in the 2.2 release blog post.

Sorry for the noise, guys.


Filed under: international, rekonq
Mark says that Jonathan is being a divisive leader.
So, Mark, let us take a step back and look at what actually happened.
Kubuntu has always taken pride in being the link between the Ubuntu and KDE communities, and looking out for each's best interest in order to facilitate the creation of exciting and revolutionary free software products. Jonathan personally has been a great advocate of the Ubuntu way even at times when KDE did not find it appealing; right now appears to be such a time.
Recently members of the Ubuntu community raised concerns about the path we are on as a project and Ubuntu Desktop as a product that Canonical has a great interest in. Not because they were being melodramatic, or because they disagreed, but because presenting divisive software after 8 months of development as a new key part of the software stack is nothing more than infantilizing the community.  Jonathan as a result suggested to join a different part of the Ubuntu project rather than leaving altogether.
You may think that KDE and other upstreams failed to deliver what ...read more...
Packages for the release of KDE SC 4.10.1 are available for Kubuntu 12.10, 12.04 and our Raring development release. You can get them from the Kubuntu Backports PPA for 12.10 and 12.04.
Bugs in the packaging should be reported to kubuntu-ppa on Launchpad. Bugs in the software to KDE.
Some people mis-read (or I mis-wrote) my previous blog as critisising Ubuntu for not caring about its community any more. That's not what I wanted to say and it wouldn't make any sense, Ubuntu is a large community, it can hardly stop caring about itself. Rather I was saying that Canonical has done some moves recently which show a lack of concern for the Ubuntu community. Numerous other blogs on Planet Ubuntu say the same thing today. Mark did too today by saying that Canonical is taking more of a lead in development because GNOME and KDE et al were failing to take over the world, an entirely sensible decision to make. So if you want to be able to take a strong part in contributing then Ubuntu Unity is not the best part of Ubuntu to go. That's fine as there are many parts which are waiting for more people to help out, ...read more...
Today began in a virtual UDS session (Google Hangout) with the Xubuntu team. The video can be seen here: http://summit.ubuntu.com/uds-1303/meeting/21666/community-xubuntu-contingencies/ . Xubuntu devels stopped by #kubuntu-devel and asked us to bring our list of concerns to share. The list we developed:


The new system will do away with releases for each upstream KDE release, which is a prominent feature of Kubuntu. One idea is to do releases of LTS+PPA with latest KDE but that's against policy and needs technical changes to make happen. Or will there be a way to create ISOs from PPAs?
Mir is a worry since KWin will clash with it (a compositing manager inside a compositing manager). How good will continued Wayland and X support be?
In general relation there are few thing we take for grated with your relatives, friend, colleagues etc.
Few of these things can be understood but few are really not.
Here is one which I really can't understand.
As Indian who is staying outside India I face this question every time I call back home. (not to parents, but to other relatives where my frequency of calling is very poor I think once in 1-2 months)
"Tu Call hi nahi karta, bhul gaya hamko? " (translation: you don' t call, have you forgotten us?)
Well is there any unwritten rule or culture that Indian who is staying outside India is the only one who is responsible to keep in touch/ calling to the folks back home?
If he/she doesn't call it means he/she forgotten them, isn't that one sided?
Can't he/she say that folks back home has forgotten him/her they are not calling?
Why this assumption?
Please explain.
Note: Don't assume that he/she is rich or has free calling to India.
...read more...
These updates are the first in a series of monthly stabilization updates to the 4.10 series.
Together with the developers of Dolphin we are planning to improve the sidebars in Dolphin with a special focus on the concept of 'recents'.

Dolphin, the default KDE file browser, targets to be efficient and intuitive. It is designed to be most beneficial for two types of users, represented by the Personas Lisa and Simon, who are at least a bit familiar to the concept of files and folders, but not necessarily with the file structure of Linux itself.
For quick access, Dolphin contains a couple of sidebars allowing to reach different places, devices or recently used files. Recently, on some mailing lists the 'recent sidebar' has been the target of some discussions. The point has been made that the 'recent sidebar' is rarely used and it hence should be improved.
Now this is where we want to step in and find out how developers and users can contribute in finding a new and better approach for the problem of accessing files that have been used in the past. ...read more...

A Zarafa groupware does workin complex setup you most likely have spam filtering software like Spamassassin running on the main MTA in front of Zarafa. Modern spam filters however need to be trained with ham and spam examples – and Zarafa has no simple way to export stored mails in a txt or mbox format, and the database does not store mails but mapi objects.

Luckily, a coworker of mine here at credativ has written a script to extract mails from a Zarafa to mbox as long as some header information are known: [Howto] Zarafa mail extraction.


Filed under: Business, HowTo, Linux, Office, Shell, Technology
There's a lot of people who are very careful to never delete a single line from an e-mail they are replying to, always quoting the complete history. There's also a lot of people who believe that it wastes time to eyeball such long, useless texts. One of the fancy features introduced in this release of Trojitá, a fast Qt IMAP e-mail client, is automatic quote collapsing. I won't show you an example of an annoying mail for obvious reasons :), but this feature is useful even for e-mails which employ reasonable quoting strategy. It looks like this in the action: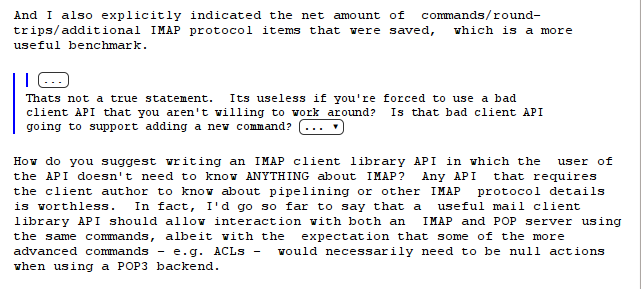 When you click on the ... symbols, the first level expands to reveal the following: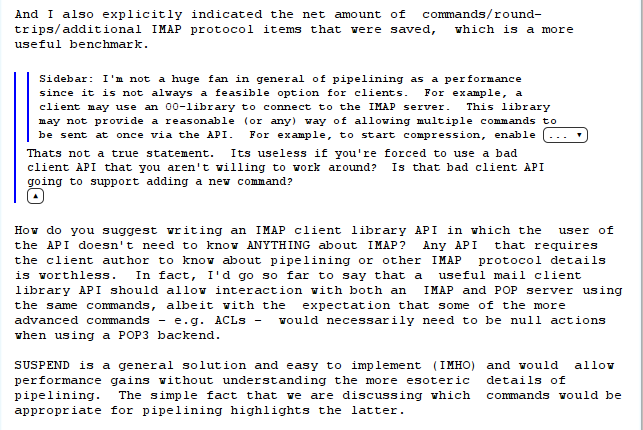 When everything is expanded, the end results looks like this: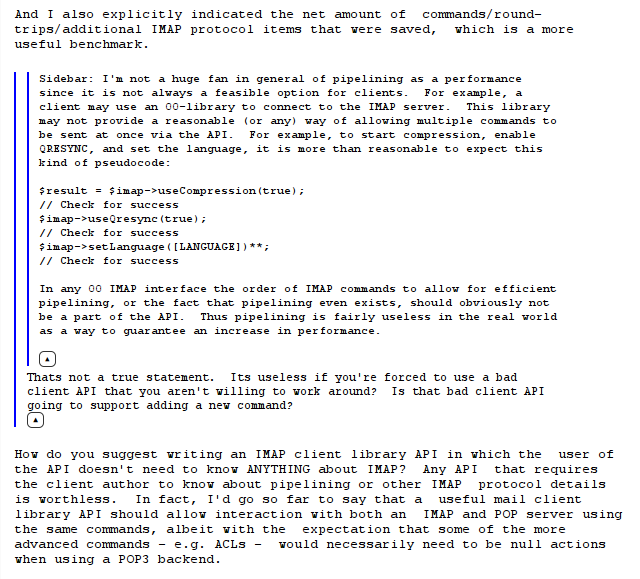 This concept is extremely effective especially when communicating with a top-posting community.
We had quite some internal discussion about how to implement this feature. For those not familiar with Trojitá's architecture, we use a properly restricted QtWebKit instance for e-mail rendering. The restrictions ...read more...
Ссылки