Ссылки
WireGuard is participating in Google Summer of Code 2018. If you're a student — bachelors, masters, PhD, or otherwise — who would like to be funded this summer for writing interesting kernel code, studying cryptography, building networks, making mobile apps, contributing to the larger open source ecosystem, doing web development, writing documentation, or working on a wide variety of interesting problems, then this may be appealing. You'll be mentored by world-class experts, and the summer will certainly boost your skills. Details are on this page — simply contact the WireGuard team to get a proposal into the pipeline.
The most recent Linux Questions poll results are in. Steven J. Vaughan-Nichols, writing for ZDNet: LinuxQuestions, one of the largest internet Linux groups with 550,000 members, has just posted the results from its latest survey of desktop Linux users .
With the new Plasma LTS came an update to KDE neon LTS Edition and lots of people asking which edition to use and what the difference is.  This caused us to review the purpose of LTS and as a result we've just hidden LTS from the download page.  The only difference with the LTS edition is that it stays on Plasma's LTS release but apps and libraries still get updates.  This doesn't fit well with the main use cases of an LTS which is that it only gets bug fixes and no new features.  Further we test Neon LTS edition less than any other edition so it's more likely we'll miss some problem, which is the opposite of what most people would expect. There are distros whose release model fits better with the needs of Plasma LTS but the constant updates of Neon don't fit too well.  We'll keep the edition around and don't expect to make any changes to the repositories or builds, they're useful for devs testing Plasma LTS, but we're not advertising it for download since it ...read more...
Choqok is a Free, fast, efficient and simple to use micro-blogging client for K Desktop Environment. The name comes from an ancient Persian word and means Sparrow! Currently, Choqok support Twitter.com and Identi.ca micro-blogging services.
Choqok is a Free, fast, efficient and simple to use micro-blogging client for K Desktop Environment. The name comes from an ancient Persian word and means Sparrow! Currently, Choqok support Twitter.com and Identi.ca micro-blogging services.

Could you tell us something about yourself?
Hello. I'm Maria, more often I use my nickname: Owly Owlet. I have a youtube channel, where I make video tutorials (in Russian) about how to use art software, mostly Krita.
Do you paint professionally, as a hobby artist, or both?
Art is my hobby, but I wish I could become a professional artist someday. For now there is much to be learned.
What genre(s) do you work in?
My art usually is more cartoony-like. I like fantasy world, fairy tales with medieval clothes, castles and magical creatures.
Whose work inspires you most — who are your role models as an artist?
There are so many incredible artists, whose art makes me want to learn and practice drawing more and more, it's immensely hard to pick just a single one. But for now I really found of Andreas Rocha's work. I also love the art style of David Revoy.
'akregator' is a fast, lightweight, and intuitive feed reader program for KDE. It lets you browse quickly through hundreds of thousands of internet feeds quickly, efficiently, and in a familiar way.
Igor Ljubuncic of Dedoimedo published his review of the Plasma 5.12 beta recently. As always, he's very thorough, and points out out issues that keep Plasma from being A+ quality. A major part of our Usability and Productivity initiative is honestly acknowledging user feedback and criticism with humility instead of defensiveness or dismissal. That way, rather than engaging in pointless arguments, we can focus on fixing problems!
With our aggressive focus on user satisfaction, we read these kinds of reviews very carefully and take their comments seriously. I wanted to provide a look at all the issues that Igor raised in his review. I went through every issue and made sure that if it was a legitimate bug, it was tracked with a Bugzilla ticket. Many already were, but some weren't, so I filed tickets for them. Here's the full list, along with the bugs' status and our plans for fixing them, where applicable:
Can't easily reset everything to default settings: (KDE bug 389568)
Default bottom panel isn't optimal for using a global ...read more...


Today is the release day KEXI 3.1.0 Beta & its frameworks: https://community.kde.org/Kexi/Releases#3.1.0_Beta_1 Since version 3 it becomes KEXI not Kexi to suggest becoming a standalone app. It's standalone status includes being first-class app also outside of KDE Plasma.
Today I had to repair my most important debugging tool. Here's the result:
That's three strands (red, white, black) from a USB-to-serial converter, soldered on to a 3-pole screw-tightened connector. Clamped into that are the serial lines (red, green and blue) which were originally crimped straight to the lines. After a few months of use, the crimping failed and the red cable (RX) broke off.
So I had to fix it, and in the process decided to make it more sturdy, more ugly, but also easier to use.
The three grey wires clamped into the connector are part of a 10-pin flat cable which I scavenged out of a 9-pin serial connector I had left in the box-of-old-parts.
The flatcable, and especially the 10-pin connector at the end, is nice and sturdy for connecting to the headers on single-board-computers, like here:
That's why I need a serial cable for debugging. The frontmost board is a Pine64+. It runs FreeBSD and ...read more...
I've been working on a small music player named Babe for a while now, it started as an idea of a bare simple music player, and as the time has passed it has become a project I hope to expand beyond a simple music player. Last year I presented the project to the KDE community at Akademy 2017 that took place in Almeria-Spain, I wanted to highlight back then the idea of a multimedia desktop application that was aware of its content by making use of the wide knowledge that could be found on the internet, by making use of a music information retrieval system called Pulpo together with AI techniques.
With all the happiness after being selected for SoK 2018, I was looking forward to start working on my project with whole dedication. My project aims to complete port of a brain-boosting memory activity called "Railroad" (in which kids have to observe the given train and memorize it within given time and then try to rebuild it) from Gtk+ to Qt version. It is a part of project GCompris(a high-quality educational software suite, including a large number of activities for children aged 2 to 10). My mentors are Timothée Giet and Rudra Nil Basu, along with them I'd like to thank a lot to Johnny Jazeix and Divyam Madaan for helping me with my project. My SoK proposal can be found here –> SoK Proposal. And my progress can be tracked at –> Railroad branch.
I started with introducing myself to the GCompris community and discussing my implementation plans with the mentors. My mentors ...read more...
By default, the terminal looks as follows on my Linux distribution: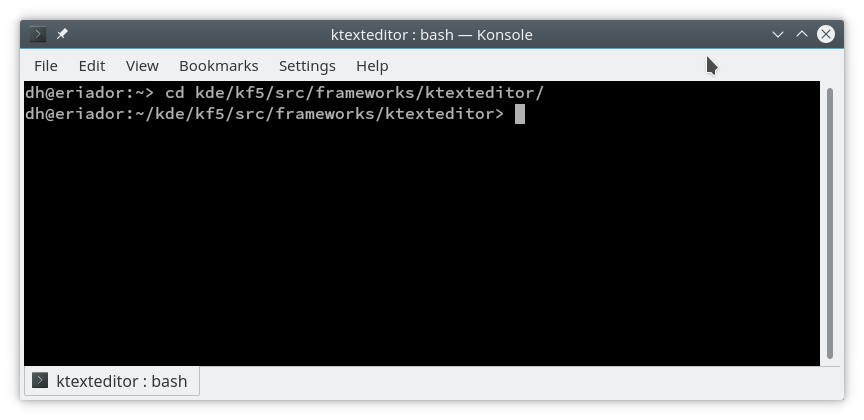 However, if you are working a lot on the terminal, there are a lot of scripts and tricks available in the net that improve the information displayed in the terminal in many ways. For instance, since many many years, I have the following at the end of my ~/.bashrc:
# use a fancy prompt
PS1=\"[\033[01;32m]u@h[\033[00m]:[\033[01;34m]W[\033[00m]\"
PS1=\"$PS1 `if [ $? = 0 ]; then echo -e '[\033[01;32m]:-)';\"
PS1=\"$PS1 else echo -e '[\033[01;31m]:-(' $?; fi`[\033[00m]\"
PS1=\"$PS1 $(__git_ps1 \"(%s)\") $ \"
Once you open a new terminal, then the appearance is as follows: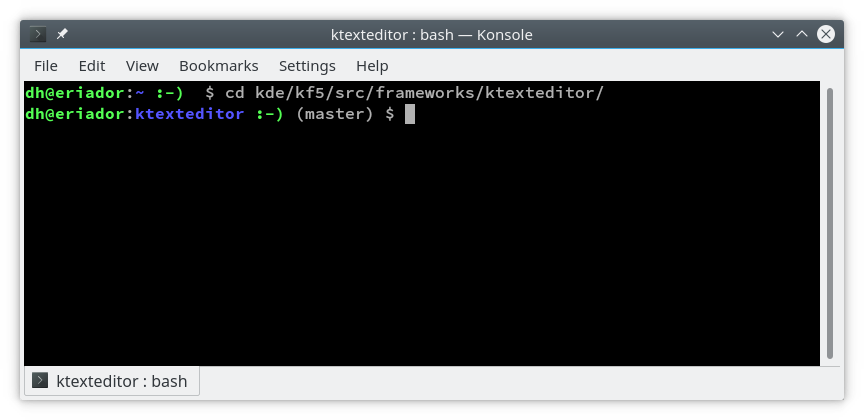 As you can see, now I have nice colors: The hostname is green, the folder is blue, the return value of the last executed command is a green

in case of success (exit code = 0), and a red

in case of errors (exit code != ...read more...
Tobias and Raphael have spent the past month or so hammering on the Qt 5.9 branch, which has (finally!) landed in the official FreeBSD ports tree. This brings FreeBSD back up-to-date with current Qt releases and, more importantly, up-to-date with the Qt release KDE software is increasingly expecting. With Qt 5.9, the Elisa music player works, for instance (where it has run-time errors with Qt 5.7, even if it compiles). The KDE-FreeBSD CI system has had Qt 5.9 for some time already, but that was hand-compiled and jimmied into the system, rather than being a "proper" ports build.
The new Qt version uses a new build system, which is one of the things that really slowed us down from a packaging perspective. Some modules have been reshuffled in the process. Some applications depending on Qt internal-private headers have been fixed along the way. The Telegram desktop client continues to be a pain in the butt that way.
Following on from Qt 5.9 there has been some work in getting ready for Clang 6 support; in general the KDE and Qt ...read more...
At the beginning of 2017, I was a programmer (mostly Python, and a little bit of C++) and spent most of my day at my desk, with an IDE open and a cup of coffee at hand. At the end of 2017, I'm a programmer (mostly C++, and a little bit of Python) and spend most of my day at my desk, with an IDE open and a cup of espresso at hand.
At some level of abstraction, not much has changed this year.
Of course, now I spend my entire day working on Free Software, in three different but partly-overlapping communities: KDE, FreeBSD, and Calamares. Basically you can track everything I do each day by looking in the relevant repositories on GitHub (read-only mirrors in the case of FreeBSD and KDE). Inspired by Michael, Krita, Matthieu Gallien (with the this-week-in-Elisa series) and Dominik Haumann, I've collected a list of things I did this year, in no particular order:
Released two versions of the proprietary application I worked on previously, and quit my job. Started working for ...read more...


Could you tell us something about yourself?
My name is Rositsa (also known as Roz) and I'm somewhat of a late blooming artist. When I was a kid I was constantly drawing and even wanted to become an artist. Later on I chose a slightly different path for my education and career and as a result I now have decent experience as a web and graphic designer, front end developer and copywriter. I am now completely sure that I want to devote myself entirely to art and that's what I'm working towards.
Do you paint professionally, as a hobby artist, or both?
I mainly work on personal projects. I have done some freelance paintings in the past, though. I'd love to paint professionally full time sometime soon, hopefully for a game or a fantasy book of some sort.
What genre(s) do you work in?
I prefer fantasy most of all and anything that's not entirely realistic. It has to have some magic in it, something from another world. That's when I ...read more...
Obviously I still use FreeBSD on the desktop; with the packages from area51 I have a full and modern KDE Plasma environment. We (as in, the KDE-FreeBSD team) are still wrestling with getting the full Plasma 5 into the official ports tree (stalled, as so often it has been, on concerns of backwards compatibility), but things like CMake 3.10.1 and Qt 5.9 are sliding into place. Slowly, like brontosauruses driving a '57 Cadillac.
In the meantime, I do most of my Calamares development work — it is a Linux installer, after all — in VMs with some Linux distro installed. Invariably — and especially when working on tools that do the most terrible things to the disks attached to a system — I totally break the system, the VM no longer starts at all, and my development environment is interrupted for a bit.
That's always a good moment to switch distro's .. since I'm going to spend an hour or so re-invigorating the VM anyway, reminding myself that this time I'll make a clone and keep snapshots and whatnot, I ...read more...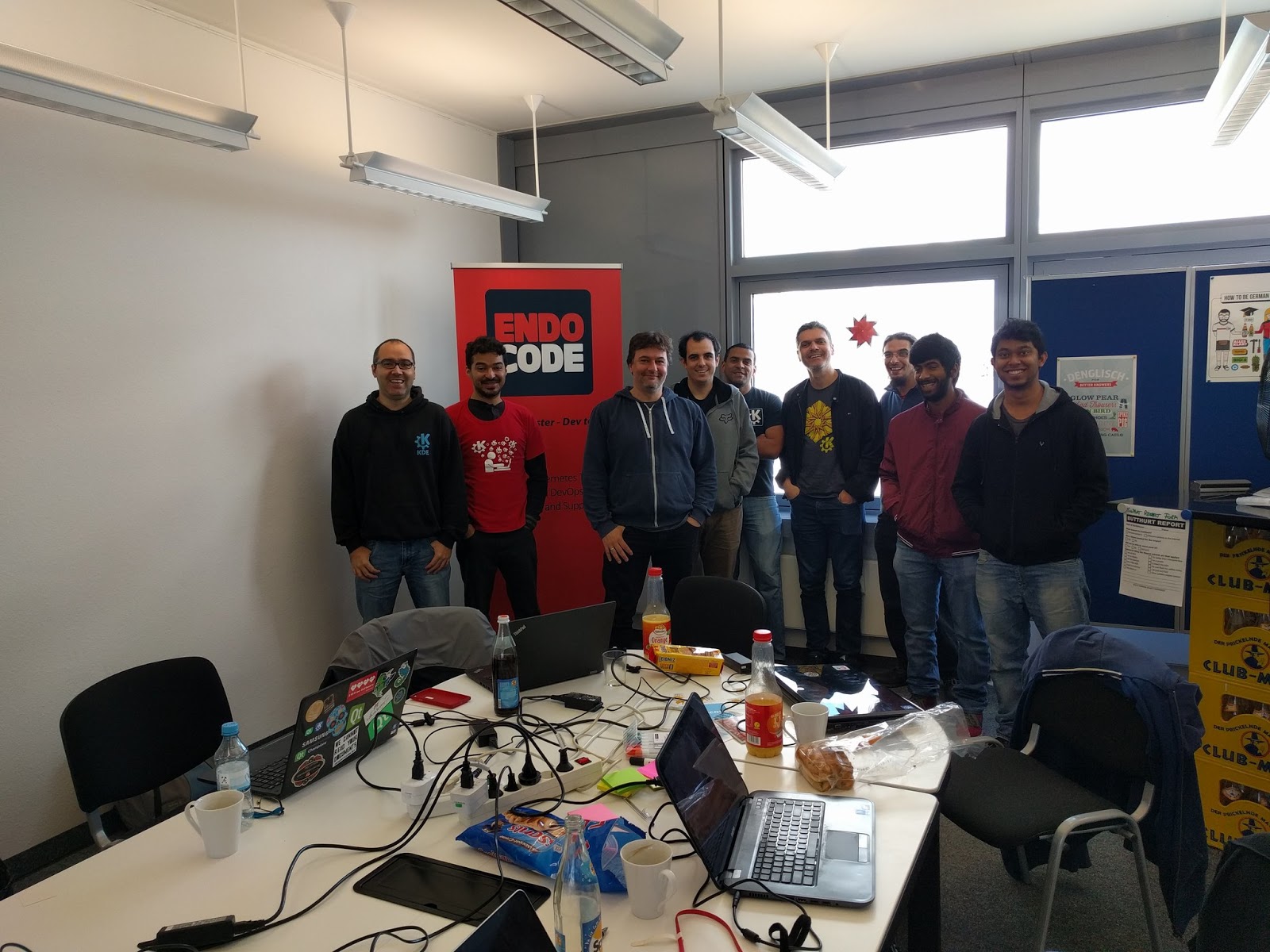 Two months ago I attended to KDE Edu Sprint 2017 at Berlin. It was my first KDE sprint (really, I send code to KDE software since 2010 and never went to a sprint!) so I was really excited for the event.
KDE Edu is the an umbrella for specific educational software of KDE. There are a lot of them and it is the main educational software suite in free software world. Despite it, KDE Edu has received little attention in organization side, for instance the previous KDE Edu sprint occurred several years ago, our website has some problems, and more.
Therefore, this sprint was an opportunity not only for developers work in software development, but for works in organization side as well.
In organization work side, we discuss about the rebranding of some software more related to university work than for "education" itself, like Cantor and Labplot. There was a wish ...read more...
The KTextEditor Framework uses the syntax highlighting files provided by the KSyntaxHighlighting Framework since the  KDE Frameworks release 5.28.
The KSyntaxHighlighting Framework implements Kate's highlighting system and meanwhile is used in quite some applications (e.g. LabPlot, KDE PIM). What is quite nice is that the KSyntaxHighlighting framework is nicely unit tested. And while we do not have tests for all highlighting files, we still provide some quality assurance through a compile time checker.
How does it work? Well – in former times, Kate loaded all highlighting .xml files from disk (through the KTextEditor framework). This lead to a slow startup over time, since there are >250 .xml files that needed a stat system call at startup.
With the KSyntaxHighlighting Framework, all these xml files are compiled into a Qt resource (qrc file), that then is included into the KSyntaxHighlighting library.
In order to create the Qt resource file, we need to iterate over all available xml files anyways. So what happens is that we take this opportunity and also scan the highlighting files for common mistakes.
As of today, ...read more...
Since Akademy in Almería we have been going through the process of defining goals for KDE for the next 3 to 4 years. Different ideas were proposed and refined. 10 of them made it into the community-wide vote to select 3 of them. Today I am proud to announce the result based on the 684 submitted votes.
The 3 goals KDE will be focusing on over the next 3 to 4 years are:
Top-notch usability and productivity for basic software: We want our users to love our software and enable them to do their day-to-day work hassle-free. As part of this goal we will focus on polishing our basic software so everyone will be delighted to use it. For more details see the proposal.
Privacy Software: A central part of KDE's vision for the future is privacy. As part of this goal we will work on improving privacy-related features, settings and applications all over KDE's software. Once done KDE software enables and promotes privacy, which is crucial for a free and open society and protecting our users from ...read more...


Continuing the introduction of the new features coming soon with the next release of LabPlot (see the previous blogs here and here), we want to share today some news about the developments we did for the data fitting (linear and non-linear regression analysis) in the last couple of months.
Data fitting, one of the most common and frequently used data analysis tasks, got a lot of improvements. As already mentioned in the previous blog, all analysis functions benefited from the recent general UX improvements. Instead of going through the many manual steps, the final fit result can now be quickly produced via the context menu of the data spreadsheet or directly in the plot in the context menu of the data curve:

Until now, the fit parameters could in principle take any values allowed by the fit model, which would lead to a reasonable description of the data. However, sometimes the realistic regions for the parameters ...read more...
Latte Dock, the very popular doc/panel app for Plasma Desktop, has released its new bugfix version 0.7.2. This is also the first stable release since Latte Dock became an official KDE project at the end of August.

Version 0.7.1 was added to our backports PPA in a previous round of backports for Kubuntu 17.10 Artful Aardvark.
Today that has been updated to 0.7.2, and a build added for Kubuntu 17.04 Zesty Zapus users.
The PPA can be enabled by adding the following repository to your software sources list:
ppa:kubuntu-ppa/backports
or if it is already added, the updates should become available via your preferred update method.
The PPA can be added manually in the Konsole terminal with the command:
sudo add-apt-repository ppa:kubuntu-ppa/backports
and packages then updated with
sudo apt update
sudo apt full-upgrade
Upgrade notes:
~ The Kubuntu backports PPA includes various other backported applications and Plasma releases, so please be aware that enabling the backports PPA for the first time and doing a full ...read more...
Release binaries below
Linux (x86_64, AppImage) – rt.click and "Save as"  Make it executable.
SHA256[ae9dde58f38853230be36acb5f2ef6975e4fa90a6ade1e2bef92351f2f01c567]
SHA1[9856db9dc7d1e62669acb4233932cf181d37e034]
MD5[805064ea4951c9b3268d238862b56aef]
Windows(Win7+, portable folder) SHA256[ae025199c1055cedfaf7dfaefe5e1862fb07ca218d66d59b0ec9da152332d596]
SHA1[0bee4054bbec97be2c01891d73ab4b99dbf4f326]
MD5[d610b14c479a7c0136f651c45edc9922]
Mac OSX(osX 10.8+)  SHA256[33c95205be977da0ffa60f7022cf7a965f7c1922b1fbe04e53add641462d5c56]
SHA1[478fdb5e719fbaec8f7c9ce8300cd1075c71d1bf]
MD5[32049e0ff6a02f2f45d29ad890454598]
The 2nd bugfix update (5.11.2) of the Plasma 5.11 series is now available for users of Kubuntu Artful Aardvark 17.10 to install via our backports PPA.
Please note that 3 more bugfix releases are scheduled by KDE for Plasma 5.11, so while we feel these backports will be beneficial to enthusiastic adopters, users wanting to use a Plasma release with more stabilisation/bugfixes 'baked in' may find it advisable to stay with Plasma 5.10.5 as included in the original 17.10 Artful release.
See the Plasma 5.11 release announcement and the release video below for more about the new features available.
In particular the new Plasma Vault can be installed – Install the plasma-vault package, and restart Plasma to make it available in the system tray. Note that an upstream issue means deletion of vaults must be done manually; see KDE bug 385444 for instructions.
The update also comes with an upgrade to the latest KDE Frameworks 5.39.
Other goodies are also included in the backports PPA:
– Kio GDrive – "KIO GDrive is a KIO slave ...read more...
In a blog post written Oct 25, the Linux Mint team has announced that Linux Mint will be ending the KDE flavor after 18.3 is released. "In continuation with what's been done in the past, Linux Mint 18.3 will feature a KDE edition, but it will be the last release to do so."
A few months ago, I had the opportunity to give a talk on Input Methods in Plasma 5 at Akademy 2017 in lovely Almeria in Spain. If you were interest in my talk but were unable to attend, there's now video available courtesy of the Akademy conference team.
Do you spend a good amount of your time at the command line? These terminal emulators will help make it a better experience. Are you a system administrator, Linux power user, or someone who just spends a lot of time at the command line? Chances are your choice of terminal emulator says something about you.
Following on from yesterday's 1st spin of the 17.10 RC images by the ubuntu release team, today the RC images (marked Artful Final on the QA tracker) have been re-spun and updated.
Please update your ISOs if you downloaded previous images, and test as before.
Please help us by testing as much as you have time for. Remember, in particular we need i386 testers, on "bare metal" rather than VMs if possible.
Builds are available from:
http://iso.qa.ubuntu.com/qatracker/milestones/383/builds
the CD image

to left of the ISO names being a link to take you to download urls/options.
Take note of the Ubuntu Community ISO testing party on Monday 16th at 15:00 UTC:
https://community.ubuntu.com/t/ubuntu-17-10-community-iso-testing/458
Please attend and participate if you are able. The #ubuntu-on-air IRC channel on irc.freenode.net can be joined via a web client found beneath the live stream on ubuntuonair.com, or of course you can join in a normal IRC client.
Happy testing,
Rik Mills
Kubuntu Developer
Kubuntu Release team
KTextEditorPreviewPlugin 0.2.0 has been released.
The KTextEditorPreviewPlugin software provides the KTextEditor Document Preview Plugin, a plugin for the editor Kate, the IDE KDevelop, or other software using the KTextEditor framework.
The plugin enables a live preview of the currently edited text document in the final format, in the sidebar (Kate) or as tool view (KDevelop). So when editing e.g. a Markdown text or an SVG image, the result is instantly visible next to the source text. For the display the plugin uses that KParts plugin which is currently selected as the preferred one for the MIME type of the document. If there is no KParts plugin for that type, no preview is possible.
Download from:
https://download.kde.org/stable/ktexteditorpreviewplugin/0.2.0/src
sha256:
ab54382dfd8e88247b53b72fdd9b259feb7c0266300b604db899edf0828677ae ktexteditorpreviewplugin-0.2.0.tar.xz
Signed with my new PGP key
E191 FD5B E6F4 6870 F09E 82B2 024E 7FB4 3D01 5474
Friedrich W. H. Kossebau
ktexteditorpreviewplugin-0.2.0.tar.xz.sig
Change since 0.1.0
Add dropdown menu to toolbar with the main menu of the KParts plugin
...read more...


Ссылки