Ссылки
I had busy months after KDE 4.10, alas it was all about  KMix unrelated actions, like my Java Job and theatre performance in Jekyll & Hyde. So work has piled up, but I am happily announcing that I am back on track. I did an initial cleanup session some weeks ago and will continue this weekend. So what will happen (I'll keep it short):
Prepare for  KDE 4.11
Cleanup Reviewboard
Fix MPRIS2 polling: Trunk has a working version, but it consumes too much CPU.
API documentation: Especially about how to write a proper Backend, including polling versus event-based mode (the latter is strongly preferred).
So everybody who still waits for an answer from me should have it next week – don't hesitate to contact me – I will promise not to bite.

...read more...
16 | System & Utilities | http://kmix5.wordpress.com/2013/06/12/back-on-track-for-sound-menu/ | 9123 |
It lets the same high-level code work with a number of different underlying GUI toolkits.
16 | System & Utilities | http://www.topix.com/tech/kde/2013/06/plib-gui-0-9-1?fromrss=1 | 9122 |
With the rising popularity of speech recognition in cars and mobile devices it's not hard to see that we're on the cusp of making speech recognition a first-class input method across our devices.
However, it shouldn't be forgotten that what we're seeing in our smart phones or laptops today is merely the beginning. I am convinced that we will see much more interesting applications of speech recognition technologies in the future.
So today, I wanted to ask: What application of speech recognition technology are you looking forward to the most?
For me personally, I honestly wouldn't know where to begin.
First I'd probably go for a virtual assistant. Yes, there's Google Now and Siri already, but those are still obviously not as good as an actual assistant. Especially Siri also suffers from being constrained to the same interaction method than an actual assistant. A virtual assistant can arguably be of much greater value when it takes a more pro-active role, exploiting the vast amount of information it ...read more...
16 | System & Utilities | http://grasch.net/node/15 | 9121 |
The Calligra team announces the third beta release of version 2.7 of the Calligra Suite. This release is a bugfix release in preparation for the final release of Calligra 2.7 in June.
Updates in This Release
Calligra 2.7 beta3 has a number of important fixes from the second beta. Here is an excerpt of the most important ones.
A fix in the common code that makes calligra not hang on some faulty documents, and fixes that make it work better on ARM.
Words, the word processing application, has a fix in the WordPerfect import, which makes the filter work (and being enabled) again.
Krita, the 2D paint application, has an updated splash screen, a fix for the file layer (#320017), a fix for alpha color space conversion, a fix for merging layers with inherited alpha (#318318), a fix in the layout of tool option panels, an update of the scRGB profile (#319579), an improvement in the transformation while rotating (#319444), and several crash fixes (#319764, #319855, #320037).
16 | System & Utilities | http://www.calligra.org/news/calligra-2-7-beta-3-released/ | 9120 |
KDE Project:
I still get the best e-mails :)

From: Tibor
To: jriddell@ubuntu.com
Subject: Thank you!
Hello Kubuntu/Ubuntu-Team,
i only want to say thank you for the great operating system Kubuntu, you
are the best. I`m very happy with this.
Best regards
Tibor from germany

---
My flights are booked for the Basque Country..
for
Kubuntu Developer Summit @ Akademy
16 | System & Utilities | http://blogs.kde.org/2013/06/12/nice-e-mail | 9117 |
It lets the same high-level code work with a number of different underlying GUI toolkits.
16 | System & Utilities | http://www.topix.com/tech/kde/2013/06/plib-gui-added-to-pypi?fromrss=1 | 9118 |
This post is to explain to the readers more about Artikulate. Artilkuate is the pronunciation trainer software for different languages. Currently supported languages are: French, German, Spanish, Italian, Dutch, Catalan, Greek, British English and American English. The user can choose the language that he would like to perfectionate and follow the units prepared for this language course such as: Tourism, Alphabet, numbers, sports, etc. In each of the units the user can choose between practicing words, expressions, whole sentences or paragraphs (2-3 sentences) which all together are called phrases. The phrases are pre-recorded by native speakers and the user can listen to them. The user can also record himself speaking the same phrase and compare how close he is to a native version. There is also an option of practicing a particular phoneme that the user has particular difficulties with.


This all looks great!!!!! BUT most of the features are not ready so unfortunately you cannot use Artikulate yet…My job this summer is to make it work. The ...read more...
16 | System & Utilities | http://konkiewiczm.wordpress.com/2013/06/06/a-bit-more-about-artikulate/ | 9113 |
Yesterday Google announced that it will not restrict the CalDav access to their calendars to registered partners only, but that they will continue to provide it for everyone. Additionally, Google now offers CardDav support.
A couple of weeks ago Google announced that they would restrict CalDav access to their calendars to registered developers only. That resulted in a huge uproar among developers, users and open standards advocates and made many people wondering if Google will become a closed standards/software company in the future.
However, the pressure (and most likely the bad press and reputation) Google got worked, and they announced that the CalDav API will be continued as an API open for everyone:
In response to those requests, we are keeping the CalDAV API public.
And it becomes even better: CardDav support is added as well, meaning the address data can be accessed via open protocols as well:
And in the spirit of openness, today we're also making CardDAV – an open standard for accessing contact information ...read more...



16 | System & Utilities | http://liquidat.wordpress.com/2013/06/06/google-continues-caldav-support-for-everyone-now-also-adds-carddav/ | 9112 |
These posts kind of sound like a broken record, right? ;) Anyway, since KDE has released new versions of Platform, Workspaces and Applications as part of the stable release cycle, thanks to the OBS we have packages available for openSUSE 12.2 and 12.3. The 4.10.4 update will also be released as an official update for 12.3 in due time.
Where you can get the packages? Two places, as usual:
KDE:Distro:Factory in case you are interested in contributing to packaging for the next openSUSE release;
KDE:Release:410 (openSUSE 12.3 or openSUSE 12.2) in case you just want to upgrade to the latest and greatest version
What to look forward to in this release? More than 50 bugs being fixed, including:
CSS compliance fixes in KHTML
Bug fixes in Gwenview (display after image rotation, duplicate entries in recent folders)
Assorted fixes in KMail: polishing of external editor support, CalDAV fixes, UI adjustments…
16 | System & Utilities | http://www.dennogumi.org/2013/06/kde-platform-workspace-and-applications-4-10-4-for-opensuse | 9110 |
After missed Akademy last year because of my daily work I am happy to say I'm going to Akademy 2013 :-) Today I have bought my flight tickets after two days trying (problem with by credit card). Damn those tickets are expensive and that two days delay made them even more expensive :-( The dollar climbing fast against the Brazilian Real does not help either. Well, now is waiting for the bill to come next month :-/
One of the things I want to do by Akademy date is releasing
libnm-qt, libmm-qt
and
plasma-nm
(new applet for network management). Unfortunately, due to personal issues in the past months I could not work on Plasma NM as much as I used to. I am still not pushing many commits to the new Plasma NM repo (git://anongit.kde.org/plasma-nm), just testing, searching for bugs and warning other Plasma NM developers about the problems I find (specially regressions compared to the (now)
...read more...
16 | System & Utilities | http://lamarque-lvs.blogspot.com/2013/06/im-going-to-akademy-2013.html | 9108 |
Since Martin blogged about the new scripting related features in kwin coming to 4.11 today, I figured that I would do the same for plasma-desktop.

Plasma Desktop Scripting
After having been asked for the ability to read and write from other user config files in
Plasma Desktop Scripting
for the Nth time, I finally buckled down and implemented it. It is documented on the desktop scripting wiki page and using it looks something like this:
// open the kickoffrc file
var config = ConfigFile('kickoffrc');

// switch to the RecentlyUsed group
config.group = 'RecentlyUsed';

// write an entry into it
config.writeEntry('MaxApplications', 25);


// now put Yes=20 into RecentlyUsed/Test
var config2 = ConfigFile(config, 'Test);
config2.writeEntry('Yes', 20);

This is actually re-using the KConfig bindings written by Sebastian Kügler for QML that we ship in the Plasma Active Settings QML import, so it turned out to be very little work to add it, test it and push it for 4.11.
QML
QML is
the
way write visual Plasma addons such as plasmoids these days, and so it
...read more...
16 | System & Utilities | http://aseigo.blogspot.com/2013/06/new-plasma-scripting-features-in-411.html | 9107 |

It's that time again: Luminosity! In episode 14 I'll be visiting the following topics as well as taking your questions as we go:

Grass roots Free software promotion: A lot of the effort of introducing and generally marketing Free software to the public lands on the shoulders of companies these days. They tend to be able to grab a larger audience than the average individual and they can keep pounding out a message for an extended period of time. Yet .. Free software as a concept and many of the best Free software products are not very well known. Is there an opportunity for effective grass roots promotion?
Wesnoth: Looking at my list of possible topics, I realized that I had been covering a fair number of serious topics and very few frivolous and fun ones. So why not .. let's have some fun this week and take a look at Wesnoth, what makes it tick and keeps people not just playing it but still developing it after all these years. We'll try not to get sidetracked into an actual game ...read more...


16 | System & Utilities | http://aseigo.blogspot.com/2013/06/the-luminosity-of-free-software-episode.html | 9106 |
It is dangerous as well as exciting to invite more people to your first ever talk in any major conference, and that is what I'll be doing here.

So, yes I'll be going to Akademy this year (if my visa application doesn't betray me)! I will be speaking about how I used QtQuick with C++ in my project for KStars during GSoC 2012. Please find more details about my talk here, and if you are planning to attend, do not forget to register yourself here.
Also, thank you so much KDE for supporting my travel and accommodation expenses. This will be my first ever Akademy and my 2nd KDE conference after the awesome conf.KDE.in, 2011 in Bengaluru, India. So, really looking forward to this one!

Cheers!
16 | System & Utilities | http://samxan.wordpress.com/2013/06/05/i-going-to-akademy-2013/ | 9105 |
About six weeks from now the yearly KDE conference 'Akademy' will kick off in Bilbao, Spain! Looking forward to that. I had to ramble a bit on why I think it's worth going there. And a tip for if you still have to book!


Have not booked yet?
Aw, I was late, and I'm paying the price, in terms of money and convenience. There's work and family and in my case a dose of always-lateness with this stuff that got in the way. Probably not different for others. But keep in mind - I never met anybody who who was sorry they went through the trouble of going to Akademy! It's worth it...


Relevant
Akademy is relevant, useful and fun above and beyond just another Free Software event. Seriously. Even in a world of Android, KDE still builds major Free Desktop stuff. Think about Krita going places lately. Think about how KDE PIM still is arguably the only serious Free enterprise-ready mail-calendar-etc solution on the market. There is plenty more at the ...read more...
16 | System & Utilities | http://blog.jospoortvliet.com/2013/06/akademy-for-everybody.html | 9102 |
I have done some improvements in the plugins: python_console_ipython, python_autocomplete, python_utils, js_utils, xml_pretty and django_utils. These plugins I added a month and a half ago (except python_console_ipython) to the kate repository. I have done two improvements and a new feature:
Now they work with Python2 and Python3 (except python_autocomplete, this only works with Python2, due pysmell dependence)
Now they have a configuration page (except python_autocomplete, this should not have configuration parameters)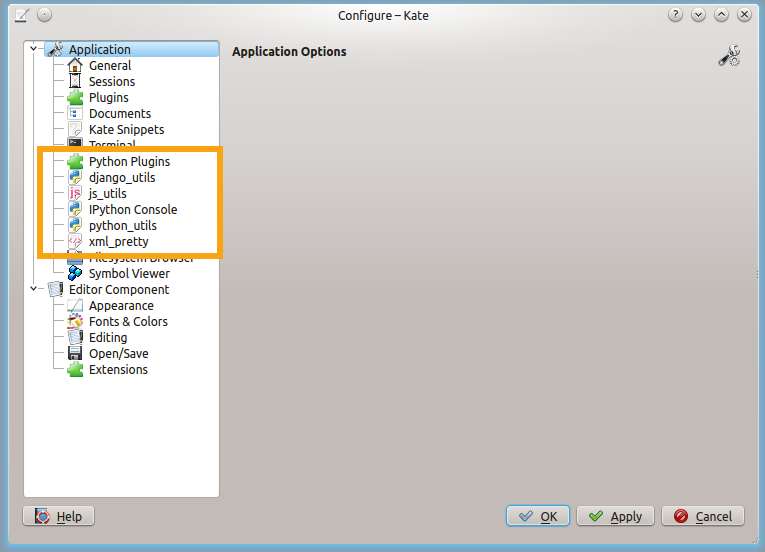 Page Config Plugins
The new feature is the integration of the python_autocomplete and python_console_ipython plugins with the project plugin. The behaviour of these plugins depends of the loaded project. That is to say, the python_autocomplete plugin autocompletes with our project modules. Currently the kate community is working to add a new python autocomplete  using jedi (this will work with Python2 and Python3).
...read more...
16 | System & Utilities | http://kate-editor.org/2013/05/30/a-rich-python-console-and-more-in-kate-editor/ | 9096 |
During development of Plasma Active, I resurrected an idea that a couple of us had tinkered with a year or two earlier: creating an open content store. We have ended up creating something fairly different than what is available out there right now and none of these differences are accidental. Before launching into a description of what this system is and how it works, I thought I'd start with a short blog entry describing the things we were not happy with in the state of the art of app stores. Later in the week I'll follow up with a description of our solution. For now, here is a little list of disappointments:



Proprietary implementations. For some reason there haven't been significant Free software offerings in this area, even in Free software contexts!
Centralized control. Trusting your content delivery to a gatekeeper entity's whims is madness.
It's a store. Emphasis on "a": one front end, one catalog of content.
App stores are .. well .. app stores. Music and books and art and other things are usually presented separately.
Feedback mechanisms are quite obviously afterthoughts. ...read more...


16 | System & Utilities | http://aseigo.blogspot.com/2013/05/app-stores-disappointments.html | 9095 |
This is a test post to debug/fix this error
16 | System & Utilities | http://kate-editor.org/2013/05/30/this-is-a-test-post-to-debug-an-error-ignore-please/ | 9094 |
Last week we had our monthly Gentoo KDE team meeting; here are few details that are probably worth sharing.

So far we've provided the useflag "semantic-desktop" which in particular controls the nepomuk functionality. Some components of KDE require this functionality unconditionally, and if you try to build without it, bugs and build failures may occur. In addition, by now it is easily and reliably possible to disable e.g. the file indexer at runtime. So, we've decided that starting with KDE 4.11 we will remove the useflag and hard-enable the functionality and the required dependencies in the ebuilds. The changes are being done already in the KDE overlay in the live ebuilds (which build upstream git master and form the templates for the upcoming 4.11 releases).
After recent experiences the plan to drop kdepim-4.4 is off the table again. We will keep it in the portage tree as alternative version and try to support it until it finally breaks.
In the meantime we (well, mainly Chris Reffett) have started in the KDE overlay to package ...read more...


16 | System & Utilities | http://dilfridge.blogspot.com/2013/05/news-from-201305-gentoo-kde-team-meeting.html | 9090 |
As you might have read, the 4.11 release of Nepomuk is a lot faster while doing writes and therefore indexing is going to much faster. However, read performance was nearly the same.
This weekend, I decided to optimize the read performance.
Architecture
All application communicate to Nepomuk via the Storage Service which acts like a server. It is responsible for loading the ontologies, managing virtuoso and sending change notifications. The read communications happen over a local socket whereas the writes are sent over dbus.
The Storage service communicates with virtuoso via odbc, which interally also uses a local socket. This architecture is quite similar to that of Akonadi.
Cutting the middle man
I initially started with many optimizations in Soprano where we use ODBC to communicate with virtuoso. These gave a good 30% increase in performance. However, the largest increase in performance was by removing the local socket communication between applications and the storage service.
All applications now directly communicate ...read more...
16 | System & Utilities | http://vhanda.in/blog/2013/05/more-nepomuk-performance-upgrades | 9089 |

I frequently get the question, by mail or over social networks:

But how do I get involved in $PROJECT?
Now a common answer is 'just do it' while others often point to resources like the KDE Developers Beginners Guide and Contribute to openSUSE, or write a simple how-to for building a package. But I usually don't actually reply with links to any of those. Mostly, people have found these resources by themselves.

What they want to know now is how to, you know, actually do it! And as that question can actually be answered rather project-independent so I thought it would be useful to write it down here.


Step one - Build the Code and get Familiar
After reading the various guides and how-to's, you set up a development environment. Be sure you can run the unstable application(s) ...read more...
16 | System & Utilities | http://blog.jospoortvliet.com/2013/05/getting-involved-in-free-software.html | 9086 |
The changes in an overview: *New kernel 3.9.2 *KDE SC 4.10.3 with customized notification center *updated Debian base to 7.0 Wheezy *Added f2fs filesystem support *Upgraded Gparted to handle new filesystems and load faster *fixed zevenos-hardwaremanager *Updated LibreOffice to version 4.0.3 *Added knetworkmounter *Added Apper as default software ... (more)
16 | System & Utilities | http://www.topix.com/tech/kde/2013/05/torrent-neptune-3-1?fromrss=1 | 9085 |
We are nearing the soft feature freeze for the 4.11 release, and that seemed like a good time to share some news. Plasma Workspaces 4.11 is going to significant for two reasons:


It will be the last feature release in the 4.x series of Plasma Workspaces. Feature development will switch fully to the Qt5 and KDE Frameworks 5 based Plasma Workspaces 2.
We will be providing stabilization releases (bug fixes, translation improvements, etc.) for two years for the 4.11 release of KDE Plasma Workspaces.
Before going into more details, let me offer a preemptive clarification:

This does not effect, in any way, anything other than the code currently in the kde-workspace repository. Applications are not affected, kdelibs and kderuntime will continue on as they currently are (with kdelibs in a feature freeze of its own already). I fully expect there to be a 4.12 and likely a 4.13 release of the applications, and how long that goes on will be up to the application developers and release team.
With that out of the way, some details!

Long Term Release
16 | System & Utilities | http://aseigo.blogspot.com/2013/05/plasma-workspaces-411-long-term-release.html | 9081 |
Krita was the first painting application with an OpenGL accelerated canvas. We had that before Photoshop... Which also meant that the code was getting quite old fashioned. These days, life is supposed to be better. More flexible in any case. However, even though a 2D canvas is a simple thing, once you factor in rotation, zooming, panning and so on, the potential for bugs is quite big, and we've been fixing bugs for ages in the old code.
So I didn't want to throw that away, but have as clean and straightforward as possible a port from the old code to start with. The old code mostly looked like this (for painting the transparency checkers background):

KisCoordinatesConverter *converter = coordinatesConverter();

QTransform textureTransform;
QTransform modelTransform;
QRectF textureRect;
QRectF modelRect;

converter->getOpenGLCheckersInfo(&textureTransform, &modelTransform, &textureRect, &modelRect);

KisConfig cfg;
GLfloat checkSizeScale = KisOpenGLImageTextures::BACKGROUND_TEXTURE_CHECK_SIZE / static_cast(cfg.checkSize());

textureTransform *= QTransform::fromScale(checkSizeScale / KisOpenGLImageTextures::BACKGROUND_TEXTURE_SIZE,
checkSizeScale / KisOpenGLImageTextures::BACKGROUND_TEXTURE_SIZE);

glMatrixMode(GL_PROJECTION);
glLoadIdentity();
glViewport(0, 0, width(), height());
glOrtho(0, width(), height(), 0, NEAR_VAL, FAR_VAL);

glMatrixMode(GL_TEXTURE);
glLoadIdentity();
loadQTransform(textureTransform);

glMatrixMode(GL_MODELVIEW);
glLoadIdentity();
loadQTransform(modelTransform);

glBindTexture(GL_TEXTURE_2D, m_d->openGLImageTextures->backgroundTexture());
glEnable(GL_TEXTURE_2D);

...read more...


16 | System & Utilities | http://www.valdyas.org/fading/index.cgi/2013/05/16#gl2 | 9078 |
Regular PCWorld readers may recall Cinnarch , a Linux distribution I covered last fall that combined Arch Linux with the relatively new and alternative Cinnamon desktop environment.
16 | System & Utilities | http://www.topix.com/tech/kde/2013/05/so-long-cinnamon-cinnarch-linux-is-reborn-as-antergos?fromrss=1 | 9077 |
Hi there, while we've been working very hard on the next Amarok feature release, the 2.8, we also haven't forgot the majority of our users using the stable versions.

Welcome Amarok 2.7.1, a very close relative of 2.7.0 with just a couple of very important bug fixes. The 2.7.1 is also an opportunity for Arch Linux to package it correctly. :-)

Don't fear that we've made just 8 commits since 2.7.0. In fact, we've made over 300 by 25 different people! Look forward for better transcoding, ASX playlist and Opus audio format support, improved MusicBrainz tag guessing and improvements of existing features all over the place for Amarok 2.8.0.
16 | System & Utilities | http://strohel.blogspot.com/2013/05/amarok-271-released.html | 9074 |
Remember the 4.11 Soft Feature Freeze is in 7 days so try to get your features ready for merging as soon as possible. If you add your features to the Feature Plan you get two weeks more until Hard Feature Freeze. Even if you don't need those two weeks you should add them anyway since it really helps other teams like promo, Q/A, etc. to have the features listed in one place.
16 | System & Utilities | http://tsdgeos.blogspot.com/2013/05/411-soft-feature-freeze-in-7-days.html | 9072 |

I stumbled across an old blog post of mine about using grep with more than one expression: in the old days I used -e several times, one for each new expression. But as stressed in the comments that way is neither convenient nor reliable on ll platforms. And I have developed as well, so today I usually use egrep if I need to grep for several expressions. Thus, here are some short notes about using it.
The multiple arguments you are searching for a passed to egrep separated by pipes. For example, if you want to grep the output of lspci for all audio and video controllers, the correct command is:

$ lspci|egrep -i 'audio|vga'
00:05.0 Audio device: NVIDIA Corporation MCP61 High Definition Audio (rev a2)
00:0d.0 VGA compatible controller: NVIDIA Corporation C61 [GeForce 6150SE nForce 430] (rev a2)

( Yes, I know, I write my blog post on pretty old hardware right now

)
egrep does understand more than ...read more...
16 | System & Utilities | http://liquidat.wordpress.com/2013/05/15/short-tip-egrep-using-grep-with-more-than-one-expression/ | 9069 |
KDE Project:
Me and Rohan and Harald spent the day playing with the cheapo Sony Vaio laptop I got with Windows 8 and UEFI firmware.
This laptop has many partitions:
sda1 is fat32 and contains a Boot and a Microsoft EFI boot loaders
sda2 is ntfs and contains Windows Recovery bits
sda3 is efi/fat32 and contains a Boot, a Microsoft, a kubuntu and a ubuntu EFI boot loader
sda4 is a Microsoft reserved parition and won't mount, spooky
sda5 is an ntfs partition and has Windows 8 on it
sda6 is ext4 and I install Ubuntu and Kubuntu to it
sda7 is a linux-swap partition
I've no idea why there are two efi partitions
I've no idea why there's both an ntfs windows recovery partition and a microsoft reserved partition.
We installed Kubuntu but it didn't set up Grub and we couldn't do much useful at the Grub command line.
So we installed ...read more...
16 | System & Utilities | http://blogs.kde.org/2013/05/09/breakouts-uefi | 9066 |
Posted on May 9, 2013
Everybody(using a picture as wallpaper) has experinced it once. You found an awesome new Wallpaper, but in the settings you can't find it properly (with all the info). Or you did an wallpaper and simply uploaded it. This problem is now over.
Wallpaper-tool is here.
As you can see it's a really simple app only a few fields and so. After you have set all up you press create and you are done. For artists or people who want to upload that wallpaper. The folder you want is in ~/.kde/wallpaper/
You can get it via
git clone git://anongit.kde.org/scratch/kolberg/wallpaper-tool

I hope you can enjoy it. If you want to give feedback mail me.
16 | System & Utilities | http://bulldog98.strangled.net/blog/posts/2013/05/09/wallpaper-tool/index.html | 9065 |
One of the big things we've accomplished on the road to Plasma Workspaces 2 is making all the desktop "chrome" use Qt Quick (nee QML). The log out dialog, the lock screen, the splash screen, the log in screen, the activity manager and widgets explorer .. everything.

(Well, with the exception of KRunner, which I actually have rendering with QML in a branch in kde-workspace, though it is not quite complete yet. You can do searches, results come back, etc. but a few things like configuration are missing.)

We recently defined a new package type, the Look and Feel package, that will hold all of the QML used to render these various components. The idea is simple: by having everything in one package, you will only need to select your preferred look in one place and the entire desktop will conform. This is a natural extension of the ideas behind the SVG theming, bringing consistency to the user interface itself.

I'm very excited about this as it will allow us to put some of the professional, elegant touches ...read more...
16 | System & Utilities | http://aseigo.blogspot.com/2013/05/visual-harmony-in-plasma-workspaces-2.html | 9064 |
Ссылки