Ссылки
- Fix package list
- Bump PORTREVISION
Update to 2.44
I have attended Guademy 2008 in the beautiful city of Valencia this year and presented a talk on WebKit and the Qt integration, produced some demos showing to embed QWidgets and QObjects into the QWebPage and how to interact with it, my other talk was a look at Qt 4.4. While preparing the slides I was in a constant wow mode. It is incredible what the Trolls added to Qt 4.4. It was probably a bit too much but it highlights what a team of excellent programmers can achieve when they focus on a common goal. Qt developers keep on rocking!

It was nice to catch up with some of my fellow KDE developers, see some GNOME developers, talk with local developers. I think events like the Guadec are really helpful, not only you can catch up with developers from your village, but also to see people from other villages and projects and discuss and get inspired. It inspired ...read more...
- Update to 0.97
- Pass maintainership to perl
- Update to 1.13
- Pass maintainership to perl
Dear all digiKam fans and users!

The digiKam development team is happy to release 0.9.4-beta4. The digiKam tarball can be downloaded from SourceForge as well.


NEW FEATURES (since 0.9.3):

General : Updated internal CImg library to last stable 1.2.8 (released at 2008/04/18).
General : New search text filter for all metadata sidebar tabs.
- Clean up Makefile, use SF macro
- Assume maintainership
- Augment port description, kill attribution
This is something as rare as a non-technical blog post from me, but I though this was worth posting!

yesterday Magnatune and Amarok decided that it was time Amarok received its first payout of the money earned as commission by selling Magnatune albums through Amarok. This came out to $1155.70 which is 10% of the $11,557 (!!) in sales that Amarok has generated so far. That is actually really good I think! This money will be used to cover hosting and conference costs of the Amarok project and thus will help further improve Amarok.

Besides giving Amarok a 10% commission, Magnatune also employs me, and allow me to spend about half my time Hacking on Amarok, so they truly are a very big supporters of Amarok, and we are delighted to be working with someone who really "gets" free software and free culture.

With the greatly improved Magnatune integration in the upcomming Amarok 2, and the eventual release of Amarok 2 on Windows and Mac, it will be really interesting ...read more...
- USE_LDCONFIG should be there
. Update to 1.6.0_06/6u6.
Reset jylefort's port maintainerships. portmgr has taken his commit bit
into safekeeping due to inactivity.
Whenever one creates something, the question "who is my audience?" is pretty important. Even if you don't ask it explicitly, there is an answer implicit in your performance. It is one of those "no answer is an answer" scenarios; the answer can not be escaped even if the question is avoided.

So I like to ask myself that question explicitly... and a lot. The answer changes both from project to project as well as over time. I used to play music for other people to listen to, but these days I play it just for myself. (I'm pretty sure the world is a happier place for it, too. ;) Plasma, however, it meant as a public participation project and we have only bigger plans for it down the line. As such, it's always interesting to see other people's take on it, such as in this article by Brian Proffitt the other week. I can't tell anyone what Plasma is for them, really, and ...read more...
Unlike poor old Humpty Dumpty, Plasma was able to put itself back together again. Over the weekend the poor thing devolved into a pile of mush. Thanks to the amazing dedication and work of the Plasma developers, however, it's back to functional and we can start making forward progress again.

While this page is pretty fun to look at right now, I'm also struck at how much time and energy has gone into that. Having a good API that is consistent and sensible is important for longevity and for third party usage, so it was certainly worth it. That doesn't mean it wasn't a lot of hard running to just end up in the same place functionally, or that breaking other people's plugins is cool.

The goal is to transition libplasma to kdelibs in 4.2, and my personal goal is to prove we can keep both source and binary compatibility while increasing the number of add-ons by another great leap during 4.1. ...read more...
On the very previous post I was suggested to create a dot story and poll there people with this question. Well, I don't know if this could be a "dot story"
I guess this time I got to a final approach (on what the "continuous bar" is concerned). I added another gradient (vertical) so it doesn't look so 90's. I used KColorScheme and QPalette to correctly use colors, and it seems I get good results with all the color schemes I have on KDE 4.
Maybe a border to clearly mark where the widget starts and where ends.
Nuno Pinheiro had given me some input on how to draw a nicer approach. This is the one I like most
He told me to use a solid color for the capability bar itself, but after trying the green-to-red gradient I just couldn't resist to it.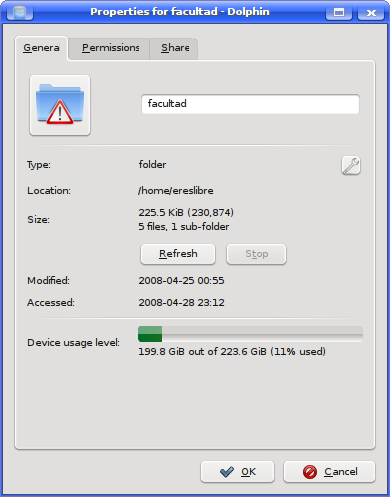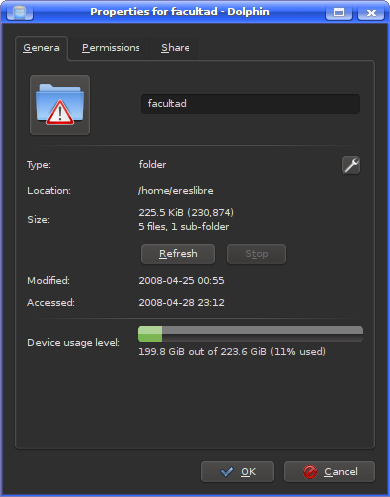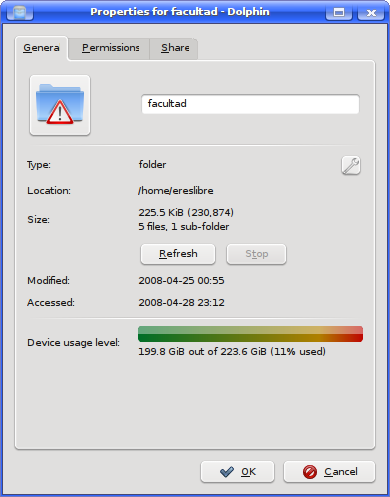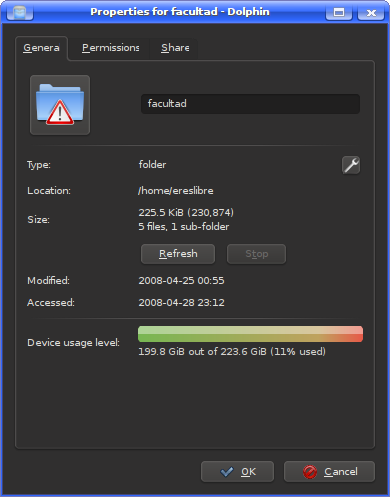 ...read more...
- Correct maintainer's email

Submitted by: maintainer via private mail
Update to 1.1.12, which (partially) fixes some potential security
flaws...
Add WITH_CURL option

PR: 123180
Submitted by: Michael Stowe <mstowe@chicago.us.mensa.org>
Add missing MASTER_SITE_SUBDIR.
Hoping this effort makes most of the people be more happy with how this is going… I have adapted the KCapacityBar to be capable of drawing as shown here, what I think is easy to read, and it gives a very fast idea about how full the device is. Mandatory screenshot: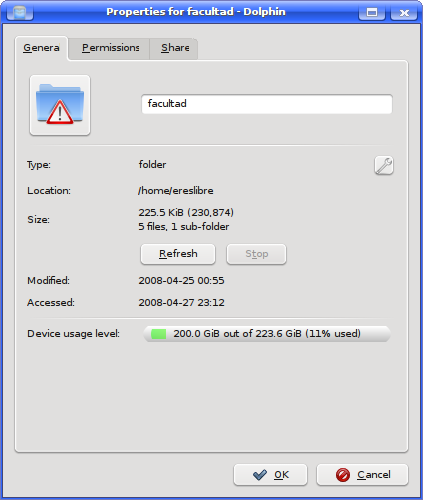 Since I am very cautious about getting crap into my hard disk (:P), I have forced the capacity bar to the max value, so you can see how it is drawn (and how text is readable).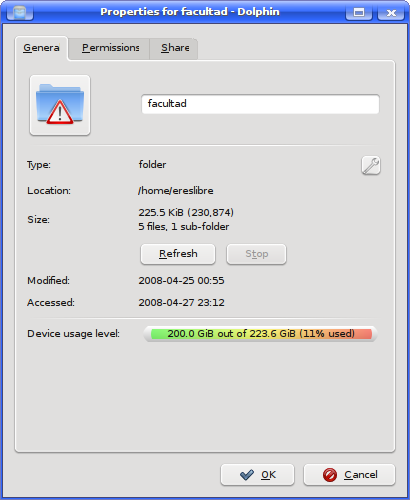 So… as you know, ideas, comments and suggestions are always very welcome
Update to 2.01.01a39. For the changes since 2.01.01a38 see:
ftp://ftp.berlios.de/pub/cdrecord/ALPHA/AN-2.01.01a39

Approved by: netchild
- Unbreak and Fix build

PR: 122929
Submitted by: Ganael Laplanche <ganael.laplanche@martymac.com>
Didn't get a chance to blog about day 2 of the OTST2008 meeting yesterday since everything has been so hectic. Day 2 was similar in order to Saturday, hearing lots of excellent talks about open hardware and software. I found the talks on Freifunk.net and Open Street Map particularly exciting and look forward to seeing how the future plays out.
Later in the afternoon Pradeepto spoke about the kde-edu project, and Ian and I spoke about Amarok 2. It was a little unfortunate that the number of attendees waned towards the end of the day but I still think the event was more than fantastic. Ellis and the folk from Asus treated us all to a wonderful Taiwanese dinner by the seafront in the waterfront town of Danshui. It was great fun :). Here's most of the team in a group photo:
...read more...
The IRC talks series Ubuntu Open Week is under way now in #ubuntu-classroom. Coming up at 20:00UTC is Kubuntu Development - Richard Johnson. See the timetable for a whole week's worth of talks.
- A new Firefox vulnerability currently affects 10 of our ports, on
average. A new VuXML entry usually forgets about 8 of them.

Wiki: http://wiki.freebsd.org/VuXML
- Fix conflicts

Submitted by: Alexey Shuvaev <shuvaev@physik.uni-wuerzburg.de>

There are several audio players out there capable of playing Ogg Vorbis. One of these which works perfectly together with Linux is the Meizu M3.

Originally I had an iAudio U2 player - that device was close to perfect: long battery life time, 2 GB storage, small, beautiful, capable of playing MP3 and Ogg Vorbis, and so on. Unfortunately, that one was stolen quite some time ago (the first thing ever stolen from me :/ ).
Later my girlfriend wanted to have a MP3 player and settled for the Samsung YP-T9JQB (which has of course Ogg Vorbis support). With a new firmware this one also worked pretty well with Linux. The only shortcoming is that you have to invoke a rescan of the music database manually after unplugging the device and that it is detected as two drives by Linux.
Now it was time to get myself a new player ...read more...
Update to 0.75
- Update to 1.1

PR: 123168
Submitted by: Tor Halvard Furulund <squat@squat.no> (maintainer)

Introducing Alejandro Wainzinger (xevix on IRC), who is going to be working on media device support in Amarok for SoC 2008:


My name is Alejandro Wainzinger, and I'm going for a Computer Science B.S. at the University of California Santa Cruz, USA. This summer, I'll be bringing back media device support to Amarok for Apple iPods, MTP and generic devices, and making them fly. I chose this project because I own an iPod, and got frustrated with the speed of loading an iPod with a large database, sync'ing of songs/playlists and album art, unlogged crashes after trying to put a 10,000 song queue onto the iPod, and slightly unreliable iPod model detection. That said, I loved having iPod capability in Amarok, and I couldn't see Amarok 2 without media device support.


Alejandro is going to work on getting normal functionality for all three types of devices, and then really taking the iPod plugin to town.

Rumor has it he's then going to attempt making collections ...read more...
KDE TechBase is the top resource for KDE development specific content. It is an effort originally started by Dominik and me. Since then, we (well, mostly it's him, while I am in charge of causing all the annoying URL changesupgrades and maintenance) regulary monitor the at TechBase, moving pages into the correct place, hinting people to merge pages with similar content, etc. Even though the TechBase is a Wiki, it needs people that take responsiblity on the overall Layout.

However, Since he will be gone for 3 months and I can't manage it all on my own, we are in need of more TechBase admins. So if you drew knowledge from TechBase, this is your chance to contribute back.

PS: we also need a fancy name for TechBase admins. Something along the lines of the KDE bug squad. "Techsters" was my first idea but that sounds a ...read more...
Ссылки