Ссылки
This is what you might find at Akademy 2008...





More info on Akademy 2008 on http://akademy2008.kde.org
- Use fresh RTEMS patches to allow RTEMS 4.9 to compile fine
- bump PORTREVISION.

Submitted by: Mark Fullmer <maf@eng.oar.net>
Last May 2, 2008, Ubuntu users from all over Metro Manila gathered for what was to be the Ubunu-Ph Hardy Heron Release Party. Ok, so it wasn't really a release party in the strictest sense of the term. For one, there were no Hardy CD's going around (except for a burned Kubuntu DVD). And there was no beer! (But lots of caffeine to go around). Nevertheless, it was still lots of fun and an event worth remembering, and most of all, repeating.
We really didn't have a concrete plan of where to go and what to do. And most of us will only be meeting each other in real life for the very first time. So it was decided earlier on to meet at McDonald's first (Filipino time, anyone?). There was free wifi at McDo, but only one of us had the pleasure of being able to connect, allowing us to monitor the IRC channel and forums for anyone who needs to catch up. Once we've waited long enough, we "formally" opened the release part. And then came the most ...read more...
Mail header patch for 5.2.6 released. No-op.
So this evening we set out excited and anxious for the Radiohead show. The venue was 45 minutes away (+30-45 minutes in weekday traffic which we didn't have since it was Sunday). Torrential downpours screwed with traffic and the roads, with the police redirecting traffic all over mother earth, basically in circles around the arena. 3 hours later, we turned around having been 5 miles from the arena for the last 2 hours. When we turned around, it was already 1 hour in to Radiohead's set (we had called to see if the set would be postponed because of weather) and we still had 3 miles to go, then park, then get in to the arena. Basically we would miss the show regardless of our actions since Virginia has noise ordinances which requires shows to be over by 11/11:30PM. There were still hundreds (not exaggerating) of cars lined up trying to gain entrance to the arena and park when we turned back to go home. The lady on the ...read more...
Trueg is the KDE-Nepomuk dude, and has been running a few cool blogs, for example about Nepomuk Virtual Folders - The Next Level, We Don't Search... and Fetch, Nepomuk, fetch!

Tagging is the future. Overcoming typos in tags, synonyms is a conflicting feature, but does not limit the wide applicability of being able to tie information together. Now, Nepomuk is a bit strict on the type of metadata allowed, which is why Strigi has a super ontology (as in super set), to which we can add chemistry bits.

I have yet to install KDE 4.1, assuming that a good deal of truegs work found its way into that. At least, the virtual folders bit, I hope. But just imagine tying together PDFs, PDB entries, etc, I have on my desktop, all belonging to a diabetes, by just typing this URL: nepomuksearch:/diabetes.

On a different note, this tagging ...read more...
so tonight i was thinking/daydreaming a bit. daydreaming is a very underrated past-time / skill, imho. anyways... i was thinking about laptops and it occurred to me that i'd love a laptop with two screens: one where it usually is, and one where the keyboard is. kind of like a great big nintendo DS.

the "bottom" screen would be a multitouch surface so that i could put a keyboard there. when the keyboard layout switched, the keys could actually change. the touchpad would also be on the "screen", and though could simply be "put away" when i didn't want it (e.g. when i have a mouse plugged in). perhaps it could even autohide when i have a mouse plugged in? hm.

best of all, those "multimedia buttons" could be replaced with real software. i'd be able to put any set of buttons i wanted there. perhaps even the toolbars from apps. imagine how useful that would be in a word processor! no taking the hands off the ...read more...
- Update to 2.25
Upgrade to 1.3.
There was a TODO on KPluginSelector. Internally is a beautiful mess. Is where you had to add some widgets inside itemviews and there was no "right way" of doing it. Since Goya will be probably moved to kdelibs this friday if everything goes OK, I recalled this TODO and have started to rewrite it. Very few code has been saved from the old version. Right now this has a very more useful face: plugins are sorted by title name, and you can actually filter with the search box that is above the list view. It also uses KCategorizedView. After Goya is moved into kdelibs, I will make the buttons come again, but using this library. This is all in my hard disk yet… so there is no public place where you can see it, but is amazing how the code has become this simple… You can take a look at couple shots:
Here you can see how plugins are automatically sorted by name: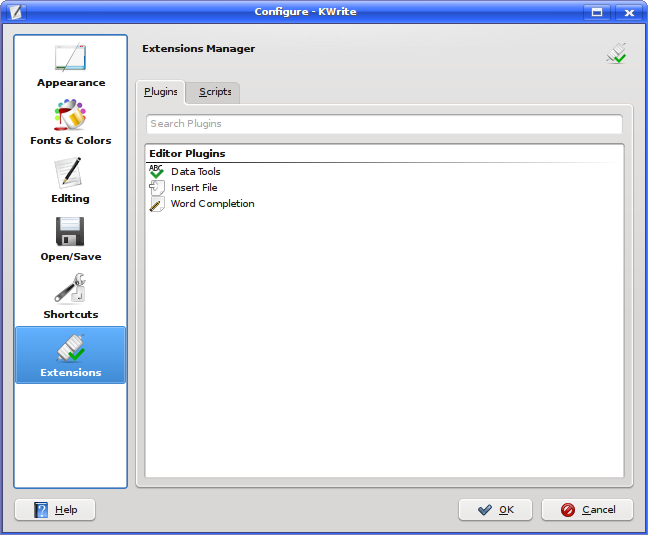 And in this screenshot ...read more...
I have been a happy user of a Lex Neo fanless server for a few years until two weeks ago, when it froze. It produced a continuous beep when I tried to reboot it, symptom of memory problems. It accepted to boot on an old 64Mbyte stick, but would not start on anything bigger :(. I left it running in this state until today, when it definitely stopped…
This tiny machine has been serving various duties at home, ranging from git server, backup relay to the (excellent) rsync.net service, file server, address book, note taker… and mail server, thanks to a combination of getmail, dovecot and spamassassin. This is where the story might affect you: Some of my email is trapped in the server for now, so you will have to wait even longer than usual for an answer from me.
I ordered a replacement one which should be there in the next week. Hopefully transition will be smooth and everything will be up and running quickly. Meanwhile ...read more...
Linked by Thom Holwerda on Sat 14th Jul 2007 20:06 UTC, submitted by AdamW "PC users have volumes of information saved on their computers, most of it disconnected and disparate save for a basic directory ... via OSNews.com
- Adjust OSVERSION from where wi(4) is not supported by this port. [1]
- pass maintainership to last PR submitter. [1]

Submitted by: Luke Dean <LukeD@pobox.com> [1]
- Update to 0.3.

* Add recent microcodes from Intel.
Upgrade to 0.85.

Changelog at
<http://developer.berlios.de/blog/archives/173-Pinot-0.85-is-out..html>.
Upgrade to 4.3.3.

Changelog at <http://bouml.sourceforge.net/historic.html>.
All KMail users will know this widget to setup their signature:
Yesterday evening I moved this widget to kdepimlibs. One of the few classes within KMail that can be moved without untangling at least 40 other classes.
The result of that move and integrating it into Mailody means that Mailody gained support for signatures coming from files or from the output of a command.
Then I looked at the KRichTextWidget which is now in review. I know the author will give more info about it in one of the next digest, so I won't spoil all the fun, but basically it is the start of a wysiwyg html editor for KDE. I decided to implement that in Mailody's composer. That means that from the moment the class moves to kdelibs, it will be possible to send html-mails from within Mailody.
Integrating it in the sending parts of Mailody was easy, as Mailody already had the option to automatically send a html-part of the message with each message. For those wondering: yes ...read more...
Update to the 20080509 snapshot of GCC 4.4.0.
- update to 0.04
So you think Ken Lee is the best Internet meme? Hold on, you haven't seen Benny Lava yet!
- update to 0.16
- Update to 0.9.7.1

PR: ports/123589
Submitted by: Aleksandr Stankevic <alex@braske.net>
Just want to point out four improvements of the YaST Qt package selector in the upcoming openSUSE 11.0 that were missing too long, much requested (at least by me) and now added
:
The first screenshot shows the new special package groups "Suggested packages" and "Recommended packages" to list packages which enhance your installed packages. Also the strange "zzz All" package group of previous releases is renamed to "All packages" and visible without endless scrolling.
On the second screenshot you can see the new "@System" meta repository to list all installed packages only. And note the new secondary filter "Unmaintained packages" to detect which packages are not contained in your activated repositories (also a nice way to detect which old packages were wrongly not obsoleted by a ...read more...
Almost everyone at LGM is using Gnome -- there are few KDE desktops to be seen. And no KDE4 desktops at all. Until now: Dave Coffin of DCRaw fame uses KDE4! And XV -- ages since I last saw that.
Dave's presentation was another very satisfying, very technical and deep presentation. This year had quite a good mix of presentations at different levels.
I'm just following up on my last post - thanks to everyone commenting!

Regarding points #1 and #3, this was compiz running and wm. I'm back to kwin after having removed the file $HOME/.kde/share/config/compizasWM.

For point #2, I'll deal with it as well, but is seems to be an issue in the proprietary ATI driver's package. When changing to the free ATI driver I cannot get the resolution I want (I admit - I did not hunt for mode lines for very long).
git-svn is a wonderful tool. It allows me to have the flexibility of Git in a Subversion environment.
One downside I mentioned in my blog some time ago was that it didn't scale well with larger repositories (huge amounts of diskspace). But that was version 1.5.3.x. I can tell you this has been fixed in the 1.5.5.x series.
So now I'm using this tool for a real project and getting more and more experience with it. Because git-svn isn't a trivial command, it requires some discipline from the user. This is because Subversion has no notion of a non-linear history, so you have to be careful with merging back your changes. The dcommit subcommand will choke when you're trying to commit merge points.
Here I'll describe how you can accomplish certain branching tasks with git-svn, such that the history remains linear. It assumes you're already familiar with checking out Subversion repositories with git-svn. If you're not, I think Flavio Castelli's posting is a nice introduction.
Branching
To prevent hassle ...read more...
- Get rid of the infamous "fpudna in kernel mode" messages on amd64 by
calling fpudna()/npxdna() directly instead of programmatically invoking
int 7 (should also speed up the i386 case a tiny little bit that didn't
print a message) [1]
- Rename kqemu_tss_workaround to kqemu_tss_fixup [2]
- Bump PORTREVISION

Looked over by: bde [1]
Prodded by: jhb [2]
For the third day of Libre Graphics Meeting 2008, there were two presentations from people coming from KDE: Emanuele about colors, and Gilles about Digikam.

This picture was taken near the conference center, when we tried to go to a Japanese garden.









That day started by a presentation about the distribution fonts along with HTML page, which triggered a discussion about fonts licensing, and license in general, where some people became very aggressive over the subject, that's why I think license and politics really needs to be moved out of free software, people are nice unless licenses are discussed. Then Peter Sikking discussed how to change the Gimp UI to improve its usability, there are some nice ideas on how to minimize the space lost by dockers, toolbars and toolboxes. Then Andy Fitzsimon made a demonstration of the new stuff in Inkscape like path effect where you can ...read more...
Update to 0.9.24 release.
Ссылки