Ссылки
I've always had a dream that Qt's widget system would be based on a powerful 2D, or possibly even 3D, graphics engine, reaping all the benefits and optimizations that make games run fast. The reason is, coming from a 3D graphics background originally (alright, I was 16 at the time), I've always been puzzled by how poor application UIs perform, and how constrained they are, compared to the most basic 2D and 3D graphics engines out there. I think there are many reason for why graphics toolkits provide limited capabilities, and performance, and I've been studying this, hoping to help find ways for Qt to be better than the rest. If you ask me why oh why, be warned, I will talk all night.
I think I could get shot for saying this, but IMO widgets are monolithic beasts. Input, painting, clipping, geometry, events and all are almost always packed into just one class. And that class plugs into a framework that works in only one way. It's hard to change the way a ...read more...
Back in .nl again; Calgary was definitely worth it for spring: I arrived with snow, had a day of 18 degrees and sunshine, picked up 2 feet of snow and another thaw and then flew out again. Holland is hot and muggy and green.

There will be gnashin of teeth and writing of articles in the coming days. After that, KDE will pick up again: talking to Aaron over coffee was somewhat inspiring, although my life over in portability land and sometimes QA doesn't seem to allow me much space for "fun" hacking. Maybe I need to think outside the containment more.
Next week will be the Dutch Ubuntu Release Party. Not sure where that link points too - it shows the dutch release party page for me, but being a rather generic URL - www.releaseparty.eu - I guess one could expect to get a local page served or something. If that's true it would be both neath and annoying.

Anyway. I also gave a talk about KDE 4.1 at Guademy in Valencia (Spain) a couple of weeks ago. It went relatively well, except for the live preview. Shouldn't have done that - not only didn't it work very well, it also destroyed the whole 'flow'. Got lost, so to say. That's why for the Ubuntu Release Party I've spend the last 2 days making video's of what I want to show. Took a lot of time so I began uploading them to Youtube. They were made in 1024x768 resolution (My little laptop uses that res natively, and I hope to encounter beamers with the same resolution) for a sharp image.

Guess what Youtube did ...read more...
- Update to 0.2.1

PR: ports/123593
Submitted by: az
Approved by: Mikolaj Golub <to.my.trociny at gmail.com> (maintainer)
- Fix multiple qemu processes on amd64 SMP by actually using seperate
per-cpu gdts (the previous fix was only stable for one qemu process
at a time)
Relevant thread:
http://lists.freebsd.org/pipermail/freebsd-emulation/2008-May/004902.html
- Bump PORTREVISION

PR: ports/113430
thomasz just posted a link to this email from a KDE-on-Kubuntu user. Honest and heartfelt, it's one of the most beautiful things I've read in a while.

The person writing, Robert, bought his daughter a computer for her 14th birthday. He got what they could afford, and due to financial constraints that meant not much. Price often isn't the compelling selling feature for business users in the "first" world (gah, I hate that term), but for many others it is. In this case, it made all the difference. The best part is that this family is not getting cheated because they don't happen to have endless amounts of disposable income: they get to participate on their terms without limitation.

So just what difference does free-as-in-freedom software make? Robert speaks eloquently and clearly:


"I cant tell you how much I appreciate
the work you all have done. Its a work of art. If I could thank each and every one of
you I would. ...read more...


If you are compiling kde strigi analyzers and installing them into a different path where strigi is installed on, you should be aware that strigi won't find your kde analyzers unless you instruct it to.

Let's say your strigi is in /usr, so it is looking for plugins in /usr/lib/strigi and your kde is in /home/kdesvn/installed/ so the KDE strigi analyzers are on /home/kdesvn/installed/lib/strigi.

You should define the environment variable STRIGI_PLUGIN_PATH to /home/kdesvn/installed/lib/strigi:/usr/lib/strigi

That in case you use strigi 0.5.9 that supports more than one path to be defined in STRIGI_PLUGIN_PATH, in case you are using 0.5.7 like Ubuntu users, you are out of luck as STRIGI_PLUGIN_PATH can only be one path, so you might want to define STRIGI_PLUGIN_PATH to /home/kdesvn/installed/lib/strigi and then go there and create symbolic links from all the ones in /usr/lib/strigi.

Anyway if you are using Ubuntu strigi your analyzers won't work because what seems to be a packaging bug.
- Improve fontconfig support.
- Clean up fonts.dir handling.
- Use $PORTDOCS.
- Add fontconfig support.
- Clean up fonts.dir handling.
- Use $PORTDOCS.
- Take maintainership.
So, as a final follow-up to my desperate out-cry, I've solved problem #2. Thanks to nosrednaekim for pointing me in the right direction. Also, to jucato, setting TerminateServer to true did not help, however I'm using an ATI card.

So, now everything works again and I will not try to achieve window wobbliness for another couple of months :-)

- fix custom apache_flags
PR: 121479
Submitted by: Laurent Frigault
I'm still learning the power of gdb. It's an immensely useful tool for debugging programs (funny, that…).
Today I wanted to find out the contents of a QString. "print s", where "s" is a QString, doesn't do much for you, though. The data is stored as an array of ushorts inside a shared data member. But all I want is to print out the string as it would appear if I did "qDebug() << s", for example.
Solution: head over to the kdesdk module, and into the scripts directory, where mountains of useful bits reside. The script you want is kde-devel-gdb.
Now copy this to your home directory and put the line "source ~/kde-devel-gdb" into your ~/.gdbinit file. Or, if you're building KDE in the manner prescribed on techbase, you can just put "source /home/kde-devel/src/KDE/kdesdk/scripts/kde-devel-gdb" into your ~/.gdbinit file.
To use, check out "help user-defined".  For example, to print a QString called s, type "printq4string s".  Ta-da!
...read more...
Never forget how important it is to communicate through SVN....
Recently there was a short thread on kde-devel@ about how one should go about obtaining some form of record of activity within KDE. Immediately svn log seemed like the obvious choice. svn log is usefuil for all sorts of stuff.
How often have you looked at a piece of code and not understood it (at least in part)? It happens quite often, right? Generally when this happens we get a reaction which can be neatly placed somewhere on the hackers' scale of dismay:
svn log can be a great way of getting to the bottom of problems like these. This is not far removed from how I do a lot of my research... I think I have mentioned in the past how much empirical research can end up being like trying to solve a mystery. Well the clues are in the log....
For research purposes it is much better to get an XML log: svn log --xml, they're easier to parse. Each entry ...read more...
This is what you might find at Akademy 2008...





More info on Akademy 2008 on http://akademy2008.kde.org
- Use fresh RTEMS patches to allow RTEMS 4.9 to compile fine
- bump PORTREVISION.

Submitted by: Mark Fullmer <maf@eng.oar.net>
Last May 2, 2008, Ubuntu users from all over Metro Manila gathered for what was to be the Ubunu-Ph Hardy Heron Release Party. Ok, so it wasn't really a release party in the strictest sense of the term. For one, there were no Hardy CD's going around (except for a burned Kubuntu DVD). And there was no beer! (But lots of caffeine to go around). Nevertheless, it was still lots of fun and an event worth remembering, and most of all, repeating.
We really didn't have a concrete plan of where to go and what to do. And most of us will only be meeting each other in real life for the very first time. So it was decided earlier on to meet at McDonald's first (Filipino time, anyone?). There was free wifi at McDo, but only one of us had the pleasure of being able to connect, allowing us to monitor the IRC channel and forums for anyone who needs to catch up. Once we've waited long enough, we "formally" opened the release part. And then came the most ...read more...
Mail header patch for 5.2.6 released. No-op.
So this evening we set out excited and anxious for the Radiohead show. The venue was 45 minutes away (+30-45 minutes in weekday traffic which we didn't have since it was Sunday). Torrential downpours screwed with traffic and the roads, with the police redirecting traffic all over mother earth, basically in circles around the arena. 3 hours later, we turned around having been 5 miles from the arena for the last 2 hours. When we turned around, it was already 1 hour in to Radiohead's set (we had called to see if the set would be postponed because of weather) and we still had 3 miles to go, then park, then get in to the arena. Basically we would miss the show regardless of our actions since Virginia has noise ordinances which requires shows to be over by 11/11:30PM. There were still hundreds (not exaggerating) of cars lined up trying to gain entrance to the arena and park when we turned back to go home. The lady on the ...read more...
Trueg is the KDE-Nepomuk dude, and has been running a few cool blogs, for example about Nepomuk Virtual Folders - The Next Level, We Don't Search... and Fetch, Nepomuk, fetch!

Tagging is the future. Overcoming typos in tags, synonyms is a conflicting feature, but does not limit the wide applicability of being able to tie information together. Now, Nepomuk is a bit strict on the type of metadata allowed, which is why Strigi has a super ontology (as in super set), to which we can add chemistry bits.

I have yet to install KDE 4.1, assuming that a good deal of truegs work found its way into that. At least, the virtual folders bit, I hope. But just imagine tying together PDFs, PDB entries, etc, I have on my desktop, all belonging to a diabetes, by just typing this URL: nepomuksearch:/diabetes.

On a different note, this tagging ...read more...
so tonight i was thinking/daydreaming a bit. daydreaming is a very underrated past-time / skill, imho. anyways... i was thinking about laptops and it occurred to me that i'd love a laptop with two screens: one where it usually is, and one where the keyboard is. kind of like a great big nintendo DS.

the "bottom" screen would be a multitouch surface so that i could put a keyboard there. when the keyboard layout switched, the keys could actually change. the touchpad would also be on the "screen", and though could simply be "put away" when i didn't want it (e.g. when i have a mouse plugged in). perhaps it could even autohide when i have a mouse plugged in? hm.

best of all, those "multimedia buttons" could be replaced with real software. i'd be able to put any set of buttons i wanted there. perhaps even the toolbars from apps. imagine how useful that would be in a word processor! no taking the hands off the ...read more...
- Update to 2.25
Upgrade to 1.3.
There was a TODO on KPluginSelector. Internally is a beautiful mess. Is where you had to add some widgets inside itemviews and there was no "right way" of doing it. Since Goya will be probably moved to kdelibs this friday if everything goes OK, I recalled this TODO and have started to rewrite it. Very few code has been saved from the old version. Right now this has a very more useful face: plugins are sorted by title name, and you can actually filter with the search box that is above the list view. It also uses KCategorizedView. After Goya is moved into kdelibs, I will make the buttons come again, but using this library. This is all in my hard disk yet… so there is no public place where you can see it, but is amazing how the code has become this simple… You can take a look at couple shots:
Here you can see how plugins are automatically sorted by name: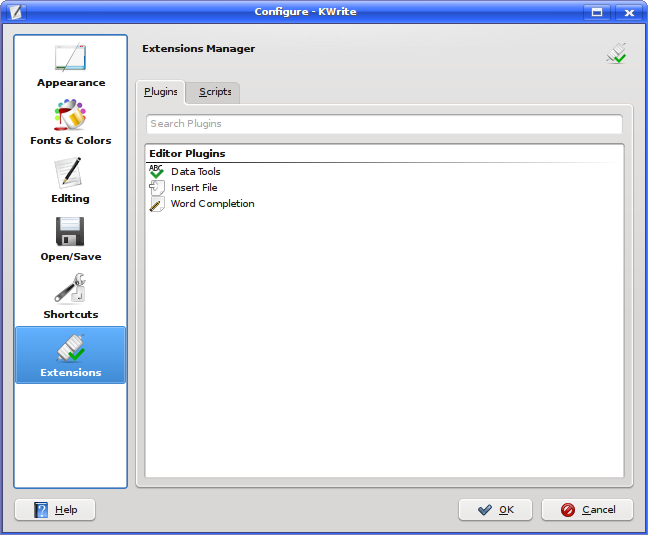 And in this screenshot ...read more...
I have been a happy user of a Lex Neo fanless server for a few years until two weeks ago, when it froze. It produced a continuous beep when I tried to reboot it, symptom of memory problems. It accepted to boot on an old 64Mbyte stick, but would not start on anything bigger :(. I left it running in this state until today, when it definitely stopped…
This tiny machine has been serving various duties at home, ranging from git server, backup relay to the (excellent) rsync.net service, file server, address book, note taker… and mail server, thanks to a combination of getmail, dovecot and spamassassin. This is where the story might affect you: Some of my email is trapped in the server for now, so you will have to wait even longer than usual for an answer from me.
I ordered a replacement one which should be there in the next week. Hopefully transition will be smooth and everything will be up and running quickly. Meanwhile ...read more...
Linked by Thom Holwerda on Sat 14th Jul 2007 20:06 UTC, submitted by AdamW "PC users have volumes of information saved on their computers, most of it disconnected and disparate save for a basic directory ... via OSNews.com
- Adjust OSVERSION from where wi(4) is not supported by this port. [1]
- pass maintainership to last PR submitter. [1]

Submitted by: Luke Dean <LukeD@pobox.com> [1]
- Update to 0.3.

* Add recent microcodes from Intel.
Upgrade to 0.85.

Changelog at
<http://developer.berlios.de/blog/archives/173-Pinot-0.85-is-out..html>.
Upgrade to 4.3.3.

Changelog at <http://bouml.sourceforge.net/historic.html>.
Ссылки