Ссылки
After having ported KPluginSelector to use Goya for showing the widgets it needs to show on the item view, I have worked on removing all unneeded stuff. The code is amazingly more clear now and it now sorts plugins alphabetically. Less code lines, and more features: it can search through the search box on the top. Nowadays this is a must, since it seems plugins are going to appear everywhere
KWin, Kopete, Konqueror have a good number of plugins. And more to come…
Since lots of users suggested before that rows were very high, now I made them be less tall. I guess this improves visibility, since you can see more plugins with a fast sight.
So, you can find the patch here. Some screenshots: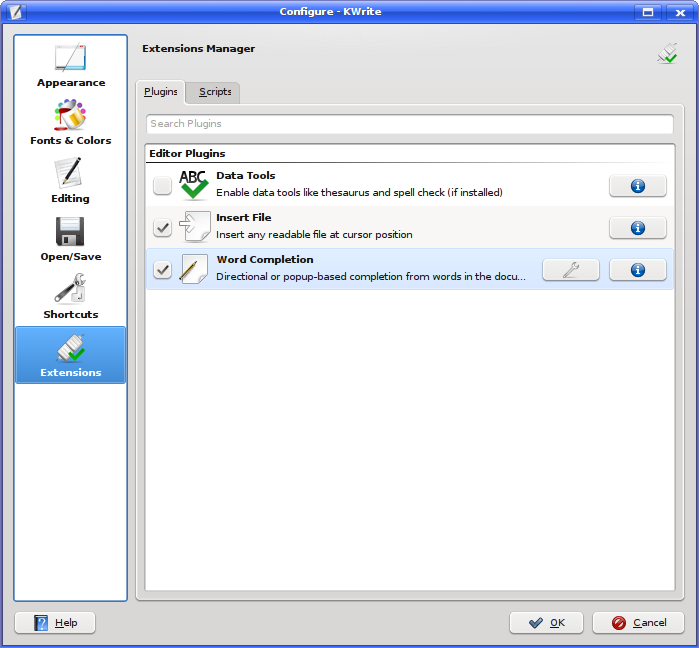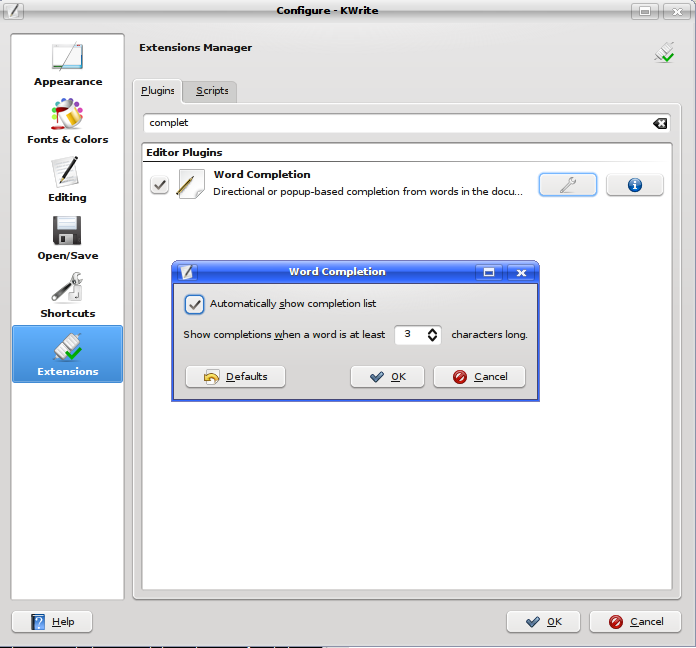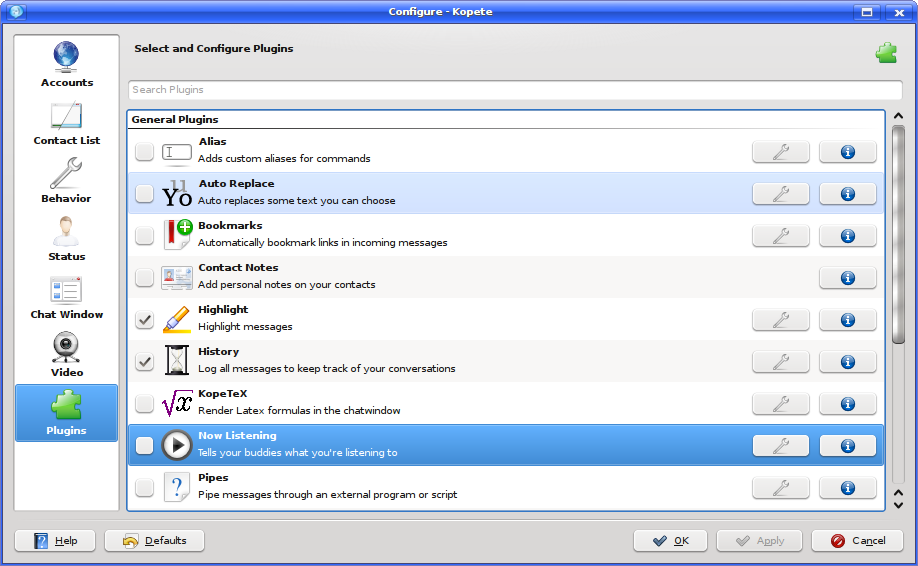 This is very probably (almost ...read more...
- Update to 5.4.2b1
- Update to 6.4.1-1
Yesterday, i have recieve a private mail from an Italian photo-journalist named Claudio Giovannini who use digiKam under an Asus eeePC




Claudio use eeePC as a computer relay with photo agencies. He download pictures on the computer, mark files using IPTC, reduce image sizes, and sent files on the web by FTP. Sound like eeePC is a perfect compagnon for photo-journalists.
- Update to 1.03.
- Update to 2.12.0.
Linux Journal is polling when people first used Linux. I must shamefully admit that would be version 0.99pl13. No X. Just use consoles to program. Throw in curses for good measure. I must be getting old.
- Depend on pkg-config [1]
- Add a debug knob

Reported by: pointyhat via pav
So I should probably say something about it: We're doing another BugDay this weekend to see how many of the old Konqueror bugs (unsorted "general") we can finish off. Whoever Finex* is, he's been tearing through bugs lately, but I don't think he'll have closed everything by then, so come join in and get your name in the top 20 of the daily Bugzilla stats!

But wait, there's more! The following week we're doing a Krush day on the kdepim apps, so come help us find bugs in them! You really need a copy of trunk for this, which you can get by following the instructions on techbase. If you have problems, you can drop by #kde-devel for help, and then walk over to #kde-bugs to join us.

#kde-bugs:
We tend to be more active in Europe and PST evenings. Feel free to drop by anytime and we'll point you to the documentation and give you a feel for what you're doing. If you're trained ahead of time, I can do more ...read more...
Update to 1.23
Update to 0.5.0.

PR: ports/123622
Submitted by: Alexander Logvinov <ports@logvinov.com> (maintainer)
Approved by: garga (mentor, implicit)
Update to 0.3.6.
Implement OPTIONS menu.

Implement options that will allow the user to:

- rename ftp and ftpd to kftp and kftpd
- rename telnet and telnetd to ktelnet and ktelnetd
- rename rlogin to krlogin
- rename rsh to krsh
- rename rcp to krcp

This avoids shadowing by or being shadowed by, depending on one's PATH,
system utilities of the same name.
Fix the build (also for -daemon) by add pkg-config.

Reported by: pointyhat via pav
Update to 0.17
Update to 20080509.
Supports 'grid' command and new examples in the keynavrc.

Approved by: garga (mentor, implicit)
Great summary of how KDE4 and Fedora 9 are working together to rapidly improve the Linux desktop, kudos Rahul!

read more | digg story
- Update to 3.05.

PR: ports/119449
Submitted by: bz@ (maintainer)
Today we're proud to announce the winners of the Trolltech Open Source Development Award!
A while ago Espen announced the finalists for the award. The vote is over now and the ballots were counted (electronically).
The third place goes straight to the editor of choice: VIM. Much of Qt's source code and documentation was loaded, edited, syntax highlighted and saved by Vim, without using the CTRL or X key at all. :wq!
Once platform dependent code is written it may be necessary to implement similar functionality on the remaining platforms. This pattern is typical for Trolltech engineers and therefore the choice of Synergy for the second place comes natural. The lines between different operating systems blur when we use the same keyboard and mouse on Mac OS X, Windows or Linux. That's very much in the spirit of Qt. As a bonus we have less keyboards and mice to ...read more...
- Unbreak and fix plist

PR: ports/122303
Submitted by: Mark Daniel Reidel <ports@mark.reidel.info>
They call it a feature, but it's really just a pain in the ass.
So in a moment of idle curiosty I decided to look into the proliferation of mailing lists within the KDE universe. Currently we appear to have 132 lists. I don't know how many of those are active or not.
Having lists focused on particular topics is obviously a good thing. I'm sure the good folk of kde-francophone@ would be slightly annoyed if I was to come on list and exclaim "Hilfe! Meine Handtasche wurde gestohlen!"
OK, plotting time....
Messages/Month on kde-devel@ (click to enlarge)
So messages on kde-devel@ are falling over time. At this stage my guess is that this is because the conversation from this list has been spread out over time onto other application-specific lists. Fair enough. This does present us with a problem though...
If I were a newcomer to the KDE project and wanted to know which lists I would find out where all the cool kids hung out, kde-devel@ would seem like a good choice. And, in actuality, it's not ...read more...
- Update to 2.61

PR: ports/123580
Submitted by: Oleg Gawriloff <barzog@telecom.by>
NJplot is a tree drawing program able to draw any phylogenetic tree expressed
in the Newick phylogenetic tree format (e.g., the format used by the PHYLIP
package). NJplot is especially convenient for rooting the unrooted trees
obtained from parsimony, distance or maximum likelihood tree-building methods.

The package contains the following programs:
njplot - draw phylogenetic trees and interactively modify them
newicktops - non-interactive version rendering into a PostScript file
newicktotxt - non-interactive version rendering into a text file
unrooted - draw unrooted circular trees

If you use NJplot in a published work, please cite the following reference:

Perriere, G. and Gouy, M. (1996) WWW-Query: An on-line retrieval system for
biological sequence banks. Biochimie, 78, 364-369.

WWW: http://pbil.univ-lyon1.fr/software/njplot.html

PR: ports/118438
Submitted by: Motomichi Matsuzaki <mzaki@biol.s.u-tokyo.ac.jp>
Would you know it, its almost 2 weeks since the last bug day, so its time to get psyched up for the next one. Bug Day 4. We'll be continuing the work started last time on the Konqueror-general bugs. There's an article on the dot that gives the details of exactly what's going on. I won't repeat that all here, but the important point is, anyone can do Bug Triage… that includes you! So come along to #kde-bugs on Sunday and help make KDE rock even more.
two comic strips (via slashdot):






Now back to key regeneration
- Update to 20080514 snapshot
This fix the XSS vulnerability

Security: http://www.vuxml.org/freebsd/f49ba347-2190-11dd-907c-001c2514716c.html
Notified by: delphij
- Update to 0.96.1
This fix the XSS vulnerability

Security: http://www.vuxml.org/freebsd/f49ba347-2190-11dd-907c-001c2514716c.html
Notified by: delphij
Dear Free Software loving Nokia,

first of all congratulation for acquiring Trolltech. You have gained a great team of highly motivated and passionate people. Many from us in the Free Software and OpenSource community care a lot for Trolltech. Recently I have acquired something as well, the money was not enough for all of Nokia so I started with getting a Nokia SU-33W. This is a bluetooth based DVB-H (Digital Video Broadcast for Handhelds) receiver.

While I know a lot about mpeg transport stream, multiprotocol encapsulation (MPE), FLUTE, OMA BCAST, RTP, h264 and have seen quite some DVB-H/DVB-T chips, I'm unable to make any use of my acquisition because the bluetooth protocol (directly on top of L2CAP) used is not documented.


Please give me access to the protocol specification to allow me writing a Free Software driver for your bluetooth device as I would like to watch TV with a HTML5 Video Element inside a QtWebKit KPart.
Ссылки