Ссылки
I would like to explain some of the work I've done some more, so I can address some questions people have asked, and hopefully give people a better idea what this is all about.
First to make clear: the kuiserver itself is just a visualization of kjobs. A kjob can be anything that takes some time: file transfers, checking of email, rendering of fractals, stuff like that. Most applications currently use a simple progressbar or a dialog as visualization of kjobs. With kuiserver, they can also register a kjob with the kuiserver so it can display the job.
An application explicitly needs to register a job with kuiserver to avoid a lot of entries in the kuiserver where the user is probably not interested in. For example: A mail client can, if you have multiple mail accounts, only register the parent job for all those mail accounts to kuiserver, and have only that job shown in kuiserver, while still showing the progress of the different accounts in the application itself. A way to visualize subjobs in kuiserver ...read more...
After some hacking I have got a nice requested feature for the folder view containment. Mime type filter support. I took some screenshots so you can have a look yourself.
The filter is set to "show all file type folder that starts with kde".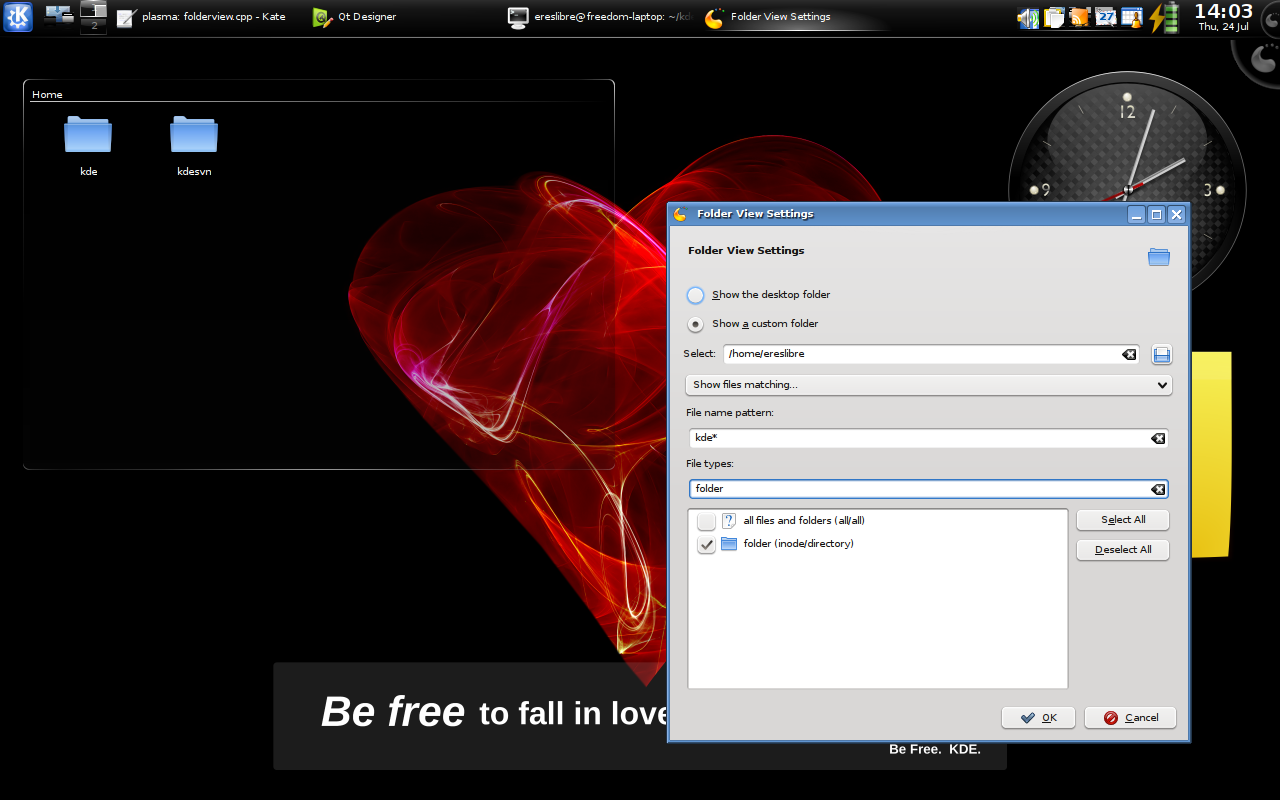 This time the pattern filter is null, so the folder view shows all folders on my home directory.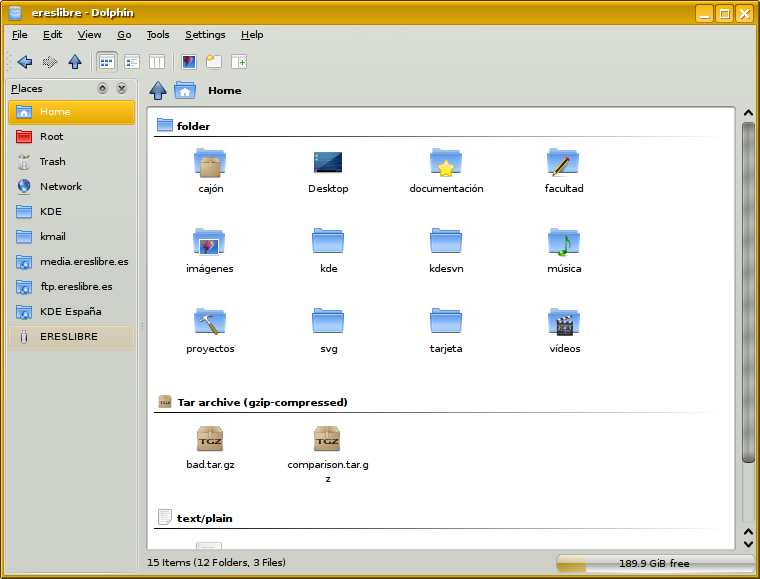 I set a "hide all folders on my home directory".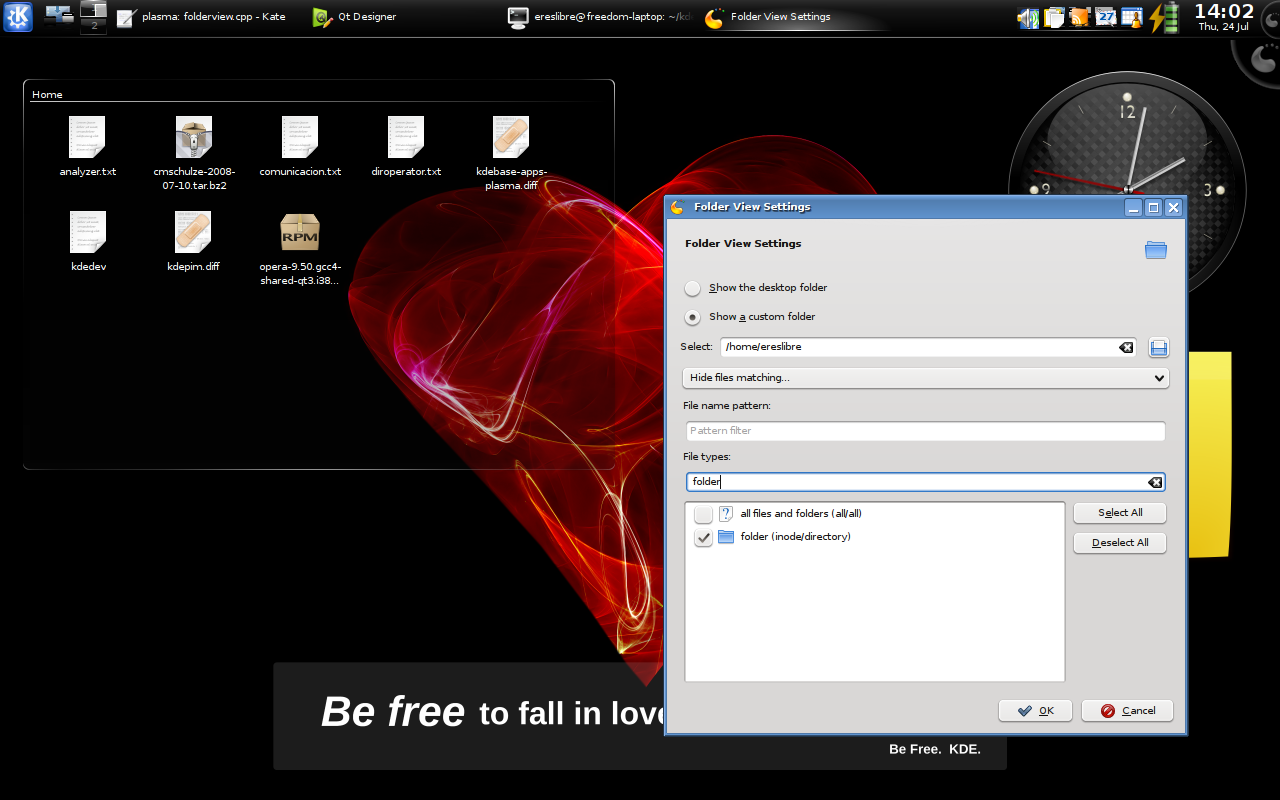 You will see this very soon on trunk, 4.2.
Submitted by oever on Thu, 07/24/2008 - 07:49. KDE General Sebastian is apologizing to me for writing code.
Sebastian is apologizing to me for writing code. This is a bit strange and I need to reply to his post. The discussion below is really more suited for a mailing list, but since I did not start it I have no choice in the matter.
First of all, why do you apologize for writing code? That is no reason for apology.
What you could apologize for is not what you present, but how you present it.
You have written some code and talk about it like it is the solution for a big problem. You fail, however, to clearly analyze these problems. The title of the blog is "Strigi Reloaded - The Answer to all our Problems?". This is a title which is worthy of the Bild newspaper. Any title with a question mark behind a sentence which is not a question is a sign that the title is meaningless agitation. It is a method to gather support of fanboys in the absense of real arguments and to sow confusion. I'm not ...read more...
To stir or not to stir? July 22, 2008 7:39 pm Dave Neary gnome , humour , libre graphics meeting , maemo , marketing That is the question I am honoured to have become the latest GNOME personality to catch the ...
The sun has come out again in the Netherlands, which means I'm off to do some sailing and rest my tired mouse hand (by holding a tiller instead).

The past few days have been hectic in a way: we held our n-th annual "toetjesmaal" or "dessert dinner" where 10 or 12 people gang together and make nothing but desserts and call it a well-balanced meal (oddly enough, this works fairly well). Usually we hold it in the winter when the high-calorie approach makes sense; now in midsummer we had more fresh fruit at our disposal but didn't really use it. The line-up:
lemon rice with custard; double-chocolate brownie cake; steamed golden syrup pudding; strawberry-pear crumble; dulche da leche; fruit pavlova; rhubarb crumble; chocolate fountain fondue; mango trifle; rose pudding.


The "dulche da leche" (spelling, whatever) thing is what you get when you bake a tin of sweetened condensed milk. The result is brown and rubbery and sweet. One of the participants has a chocolate fountain thingy which uses an Archimedes screw to move the chocolate ...read more...
The Answer to all our Problems? Hopefully to a few of them. Submitted by trueg on Wed, 07/23/2008 - 10:40. KDE General It took me one and a half day and Jos will not be happy about it.
Sebastian Kuegler
It took me one and a half day and Jos will not be happy about it. That is because I have to start this blog entry with apologizing to him:
"Jos, I am sorry, you will probably not like what I am about to present here. But this makes it so much easier for me and all the KDE people. And strigidaemon simply does not provide the needed features, which I can understand since you are doing this in your spare time. But I cannot wait any longer and in the end really want to reuse all the nice KDE features instead of reimplementing it all just to keep away from QT/KDE dependencies. I hope you understand."
Now that the tension is built up. What did this guy do? Well, essentially I reimplemented strigidaemon as a KDE Nepomuk service. Why would I do that? Why would I reimplement an existing working application? Simple. For the following reasons:
The parts that I copied from strigidaemon are rather small since all the work is done in the streamanalyser library. So "reimplementing" ...read more...


On Monday, I drove to Guelph to hang out with some friends and then take the VIA Train to Ottawa. We arrived around 5pm today.
About the only thing done that was productive today was order a Pizza and sync rawhide and pray wireless will work tomorrow morning.
I wish Other KDE people where here
[ Insert I'm Going to OLS! banner here ]
Pictures to come ...
So, this weekend just gone was the weekend of LugRadio Live. Here's how it went for me. Friday morning, I got up, finished packing my stuff into my suitcase and headed off to the airport to go and pick up Myrtti. After missing a couple of buses, eventually got there, just in time to meet her as she was coming out of Arrivals.
We then headed off to Wolverhampton, with Myrtti being amazed by English houses (don't ask me - I don't know either) arriving in Wolverhampton 20 minutes before we could check into the hotel. So we went for food. Well, actually, I went for food, and Myrtti came with me. Moon Under Water has nice food, as do most Wetherspoons.
Anyway, from there on, Myrtti and I went and checked into the hotel, and then had a bit of a chat  (and checked on the CaveyCam) while waiting ...read more...
There has been a lot of development work this past week with Kobby.  After posting about some design issues I was attempting to clear up before diving into code, Armin Burgmeier (Creator of infinote) pointed out that the term 'session' in infinote is used to describe the editing 'session' of a single document, unlike in Kate where it is used to describe a set of documents.  Instead of deciding whether confuse either users or developers, I came up with a new naming scheme for the control dialogs which might actually better represent the actions being performed.
After getting the control dialogs worked out I went to connect the infinote functionality for an XmppConnection and ran into some issues with sigc++ and Qt.  Luckilly this was a quick (albeit somewhat dirty) fix.  It wasnt much longer before I got the connection functionality working, and ran into the next issue: Needing to use the Glib event system from my ...read more...
One of the goals of my GSoC is to let Akonadi do the storage handling for KPilot. At least for the PIM conduits. In my previous blog I already mentioned that Akonadi entered KPilot. However yesterday and today I had to dive into the code of Akonadi itself.
Akonadi stores a revision number of for each item that is stored with it. KPilot however, does not have a notion of revisions. What it does store is the last time that the handheld was synced. So to see if a record on the pc side is changed it looks if the modification time of that record is after the last time that there occurred a sync. The dirty and quick solution (read work around) would be to store the modification time in a custom attribute of Item.
Well, Akonadi had *some* code already there for modification time but not yet on the client side and also not completely on the server side. Behold! =:) That has changed. (Thanks to a lot of patient of vkrause). Patches are send to the ...read more...
Emmanuele Bassi has summarized a discussion that happened on IRC after my Gtk+ 3.0 post.
So I am back in Berlin writing my thesis at the Trolltech office here. Lately I've been pretty busy with exams, but now I can concentrate on my thesis, with the notable exception of two weekends: One is FrOSCon 2008, which I will attend on the 23. and 24. of August, but even before I will be in Belgium because...


I've never been able to successfully run SUSE or openSUSE, on any of my machines. I don't understand why; it just doesn't work. My latest attempt was to download and burn the openSUSE KDE Four Live CD, last night.
Download ISO. Verify checksum. Burn ISO. Reboot machine. Wait several minutes (more than five) for the boot process.....
Finally! I was greeted by the functional, friendly and green openSUSE KDE4 desktop. Woohoo, right?
I eagerly fired up my favorite app (Alt+F2, "kstars"), but before I could get through the Startup Wizard, my speakers emitted a short burst of rather distressed-sounding chirps, and then the machine was totally unresponsive. I had to hard-reset.
On the second attempt to boot the live CD, it hung during the boot process. Sigh.
I just tried a third time this morning, and it seemed to be working fine this time. However, I'm planning to send this to someone with whom I'd like to make a good impression, so the flakiness is a bit troubling.
Can anyone recommend another LiveCD that includes ...read more...

KDE 4.1 was released as a RC recently and will soon be released. While it will be a very usable and stable desktop environment ready to be used almost everywhere most users with NVIDIA cards will not be pleased: their proprietary driver spoil the fun.

The Current Situation
KDE 4.1 will be the first major release since KDE 4.0 and will come along with quite some features many people missed in the 4.0 release, most notable the KDE PIM suite. Besides, many performance and stabilization fixes went into the release, and with RC 1 KDE is already usable on a daily base (although there are hick ups once in a while, of course). To get an idea about the current state a safe way is to install KDE4Daily in a virtual machine. It is snappy, fast and simply works.
However, if you install it afterwards on a real machine, you might be surprised to see that ...read more...
whenever people ask me that question, I have trouble answering. what is KDE? it's not just a desktop environment any more, not by a long shot. it's a whole universe of software projects (one of which is a desktop environment). it's the libraries that we use to make that software, that helps make a KDE program really *feel* like a KDE program. it's the community around that software, people we work with and care about.
I love kde's approach to software. it was the beauty of the underlying design that drew me in… I want to use, and make, software that works for me instead of against me. software that integrates and works together, so that the whole is greater than the sum of its parts. software that shares code, shares standard behaviours, etc. software that'll remember things for me - I don't have to know the whole name of a program if I can type the first few letters or the category, kontact will remind me of appointments, rsibreak tries to make me rest once in a ...read more...
While I was cranking out my recent blog post on Plasma, I came about this definition of plasma on wikipedia.  We all know that when Aaron came up with the name Plasma he was (5%) thinking about how to viscerally define and relay his goals for a new desktop (energy, fluidity, etc) and then (95%) thinking about how cool it sounded.
The wikipedia page has a really interesting set of properties that define/describe a plasma.  Interesting enough that I made a corresponding image in the 15 minutes between returning from swimming tonight and going to bed.  So here's about 13 minutes' worth of work (and 2 left to type this entry).  Kinda interesting considering what it takes to build a new community rather visible so early in its nascent state.  The original size can be found here.
...read more...
Eclipse has grown up for C++ development and is what I'm using most of the time, even for KDE. One thing that was driving me crazy in the last days however was copying things to the clipboard: Often it didn't work on the first key press, but a second one was needed. Countless times later I was annoyed enough to ask Google for it and found this workaround. Now someone please enlighten me who to blame, Eclipse or Klipper. I guess this won't be a problem with the upcoming KDevelop 4.0, looking forward to it
People running KDE SVN with plasma/playground can enjoy an early version of the contacts plasmoid, I checked in the code earlier.
After not having written for a longer time I can say that I spent the time on a very interesting and usefull matter:

In the beginning of the week I worked on some missing packages for our already some weeks old release 4.0.83 which still is the most recent release before the next major version 4.1. I rebuild kdegraphics and added new packages for kdeutils, kdemultimedia and kdepim. Especially interesting is kdemultimedia as I fixed phonon the weekend before and so KDE windows platform supports sound output now. Kdepim was really easy since KDAB has fixed nearly everything (except the packaging bugs that I introduced;-)).

Then somehow Carlo Segato (_Brandon_) came to the idea that he could take another look again at plasma. I tried this before but I didn't invest a lot of time and so it was still unknown which wonders were awaiting us there. After _Brandon_ came through really well and most of the problems I hit last time had magically vanished (thanks to aseigo probably) _Brandon_ showed me the first picture of the analog ...read more...

Once in a while there is the need for vim on machines which are usually under control of someone else. In such cases it is handy to have the most important lines for vimrc right at the hand:
[sourcecode language='css']
set laststatus=2 " grey status bar at the bottom
syn on " syntax highlighting
filetype indent on " activates indenting for files
set ai " auto indenting
set nu " line numbers
set ic " case insensitive search
colorscheme desert " colorscheme desert
[sourcecode]
Once again, the idea of these short lines is to have the basic functionality in vim - if there is the time to set up a properly vimrc with tens of lines, I could also copy mine over. But if you just need to do some quick things these lines are useful.
If anyone has other really helpful lines please leave a comment (and explain the lines with a few words, ...read more...
Another leap forward in KDevelop version 4 is the interface. We've tried to make it both highly flexible (to fit most people's requirements) and reliable (kdev3 suffered from a difficult to maintain ui library, prior to a simplified rewrite), and the current state is pretty good (certainly better than kdev3). Features include:
"Ideal" mode - one central view, surrounded by collapsable tool views. The tool views can be shown/hidden, switched between, maximized (one toolview takes up the whole screen temporarily), and made to auto-hide (when the editor gains focus), all via keyboard shortcuts as well as mouse clicks. Each tool view has its own action tool bar, if it has any actions to expose. I also recently fixed the last known focus bugs, which makes the toolviews now particularly nice to work with.
Arbitrarily splittable central view - you can split vertically or horizontally as many times as you like. (Still some bugs on closing the last document in a split view to be worked on). I've found this useful although I didn't initially think I would use it. We ...read more...


The world has seen a significant amount of complaining about NVidia cards (the 8600 has had it's fair share of whippings).
However, I've come to a great realisation:
with my exceptionally slow nvidia card I can see absolutely every draw that occurs on the screen. Great for debugging paint events, and no need to export QT_FLUSH_PAINT=1.
All you devs should go out and get one
Went to see Hancock today. Enjoyable movie. The Dark Knight is up next. Tons of people waiting in line for the next showing (1.5 hours from when we got to the theater). Completely crazy. I want to see it, but I'll wait until the theaters are a bit more empty.
Completely skipped out on the Kopete bugday today. I figured I was going to have to miss one of them, and it was just too busy today for me to make it.
Started setting up development stuff on the OS X side of the laptop today. Fink has gotten pretty nice since the last time i tried it.
GTD reboot is the reason for going back to the OS X side of things. A few nice applications there that I need that there aren't open source (or even Linux-based) replacements for. If I can stay better organized and contribute to KDE more by using OS X rather than Linux, then that's what ...read more...


I've just ironed out the last few creases (that I've found so far) in my MPRIS tester. It should now thoroughly test all parts of the MPRIS spec. Well, none of this testing is automated, but there's only so much automated tests will do for you with something like this.
I've already used it to find a problem in Amarok's handling of structs of ints (the same problem the first version of the MPRIS tester had).  I found some handy documentation about how to do just that.  It shows up a few more bugs in Amarok's MPRIS interface that I'll attack at some point if peterzl doesn't get there first.
Note that this can be used as a rather rough-and-ready controller for any MPRIS-capable players on the local system, but it isn't geared towards that and isn't pretty.  It deliberately exposes all the internals of the MPRIS interface.
You can grab the code (only a 10K download!) at ...read more...
Found some time this weekend to continue working on the contacts plasmoid and some basic functionality is now there. Kudos to the plasma team for the great API. The data engine now supports querying kopete, but is designed to support other contact backends in the future. Rumors say there's going to be a nepomuk backend, and sooner or later a decibel backend should take care of the rest (including kopete).
Besides writing the kopete backend (and extending the kopete dbus api a bit for that), I focused on building the plasmoid itself in a generic way. Think of it as a table where each row represents a contact and each column some kind of information or a way to interact with a contact. Rows are each their own object (to ease a later integration of extenders), and cells (information or actions) are created by a factory. This makes integration of new content and customization of the look very easy. See this screenshot:
Both plasmoids shown are instances of the contacts ...read more...
Developers of the open source KDE desktop environment have responded to the ongoing controversy around their handling of the transition from KDE 3 to the current generation of the system, KDE 4, which began ...
It all started on Friday when I had a look at the pictures I took in Berlin, during the KDE-Bindings meeting and on my way to the airport in the city center. I found them incredibly noisy, my digital camera is starting to age, it's more than four years old, so I was wondering if it wouldn't be a good idea to replace it. At first, I had decided to wait a little bit before buying a DSLR, but seeing how poorly hand-held camera still behave, yay they have more mega-pixels, but why is it useful if the results is completely noisy and blurry ? And you can't tell yourself that you will buy one of the low mega-pixels camera, since they also have crap results, since they sell their product on the number of mega-pixels, no manufacturer will take the time of making a good hand-held camera, sad. So I turned myself to a DSLR (help with the fact that price have considerably dropped recently).

Since new babies are introduces with a picture:
...read more...
Ссылки