Ссылки

In a comment I was recently asked where Gallium3D does fit in in regards to Mesa and OpenGL. Given that I'm not an expert the answer was short and simple but might interest others as well.

There is quite some information flowing around regarding Gallium3D. Tungsten Graphics has for example a project wiki page and there are of course talks and presentations available.
However I was recently asked by Max what Gallium3D is and tried to fit it into a short and handy answer:
Currently Mesa3D implements the specifications of the OpenGL API on Linux. Mesa3D has backends for each hardware driver type, so implementing parts of the API again and again for each driver.
Gallium3D will now hop in by being the only backend Mesa3D needs to focus on. At the same time Gallium3D will also provide a single API to the driver developers: ...read more...
Since Nokia will be giving 100 n810 devices tomorrow at the Embedded and Mobile day at Akademy, I thought it would be a good idea to describe a bit how you can get KDE working on your brand-new device.
These days at akademy i really couldn't do that much in the code perhaps i'm lazy and i left the laptop turned off (and the brain too:) from quite some days.
By the way so far it's really fantastic and insanely tiring, yaaawn (i don't ride the bike THAT much usually) :)
A little thing i managed to get done it's a graphics change in plasma widgets and applets that have a scrollbar in it.
The Oxygen scrollbar was not really suited in plasma applets, both for its style and its colors, arrow button black on black with a flashing blue handle wasn't really it in the plasma style... so now it's svg themed too as other widgets.
it's not really pretty as code but was really the least worst way, it uses a qstyle that must be explicitly set for each scrollbar, but it's totally hidden from the api, since only widgets in kdelibs uses this thing, so just use widgets/ScrollBar or TextView and all is done (hmm, i suppose i'll have to provide also a ...read more...
So, there's much interest in the Phonon + Quasar code - as I had hoped
To reproduce the result on your computer you need to get current phonon, current phonon-xine (with libxine >= 1.1.12) and current quasar from SVN. For those that don't know where Quasar lives, you can find it here: http://websvn.kde.org/trunk/playground/base/quasar/. To compile quasar you need to set the KDEDIR environment variable to the prefix where you installed phonon and then run qmake and make in the source dir. Then go to the examples/phonon subdir and run ./phonon /path/to/video.ogg. With S and Shift-S you can change the edge detection threshold.
Have fun detecting edges in your videos ...
I've got it working a long time ago, but since this Akademy it is finally available in KDE trunk: Phonon now can give the raw video frames (as RGB, YV12 or YUY2) to an application and Quasar gained a node to upload those frames as textures and uses Shaders to convert YUV formats to RGB and then do arbitrary effects with them. The cool part about that, obviously, is that the data intensive calculations are happening on the graphics card (you need OpenGL 2 for this to work). To demonstrate the power of this I wrote a simple example that connects the PhononInputNode to an EdgeDetection node and then to a RenderNode. I did a screencapture of the result, but that looks a lot worse than the real performance, which is totally smooth and, of course, doesn't show much CPU usage.
You can also see me adjusting the threshold value of the edge detection filter with a keyboard shortcut.
Here's the code:
...read more...
Final notes from me.
Rule of thumb: When $number_of_beers > $hours_of_sleep, you may be in trouble regardless of the values.
Thanks to our sponsors for Akademy 2008.  Everything they've done is appreciated.
In between beer and beer+1 last night, I noted to Sebas that our board seems to be working really well together.  I like the complimentary strengths.  With my job, a big part of how I grade my success is how I shield my employees from the pain points, obstacles, and difficult situations.  In the same way, our board takes care of plenty of issues, from complex to custodial.  These efforts keep the eV and the community at large from getting tied down - and they deserve our thanks (as if a free dinner isn't enough).
Riddell raced a taxi car to the event this morning and nearly won.  Well, to be fair, it was an American car.
Attended a Bof on event organization.  I'm really  impressed with the amount of work done by our Akademy 2009 coordinator.  It looks to be in ...read more...


Today I've been eating cheap'n'good Chinese food at a restaurant near the central train station of this beautiful town of Mechelen, togheter with a nice bunch of German KDE people. A few hours later I had to go back to the Roosendael place but outside some kind of almost-but-not-yet-a-storm was raging and everything looked cold and rainy; so I decided to go order a 'small' French Fries at a frietkot near so I had something warm for during the biketrip.
And well, I got myself into a really cultural SHOCK. In the Netherlands, when you are ordering a small fries you do get as less fries as possible covered in this fat fluid called Mayonaise. But the defenition of the word 'small' has still to be invented here in Belgium (just like proper roads and clear roadsigns).
To make it easier for everybody I've made this French Fries size comparison. If you wan't to go for 'small' fries here, be sure to ask for 'zeer kleine frieten' (very small frites), perhaps that saves you a calorybomb.
Dutch Standards
Small Size
...read more...
One of the release process improvements that happened with KDE 4 is the move to have module maintainers. This has ment some of the lesser loved modules now have a greater sense of community which helps a lot for those apps which are otherwise developed all alone. Here is the kdeutils members who were at Akademy.
Jonathan Riddell: Printer Applet author. Although secretly I just copied it from Red Hat.
Michael Leupold: KWallet maintainer. He knows all your passwords.
Friedrich Kossebau: Okteta maintainer. He uses Okteta to code Okteta.
Daniel Laidig: KCharSelect. He has memorised unicode.
Michael Zanetti: Klirc maintainer. He can control your computer without you knowing.
From KDE News : At Akademy 2008 in Belgium, Qt developers Simon Hausmann and Andreas Aardal Hanssen announced dramatic improvements in the web browser engine in Qt and the canvas that is used by, for example, ...
Short set of notes; there's a train to catch:
Booth box contents suck.  This is not a shocking statement.  We're going to do something about it.
Knut gave a speech that I only caught half of.  Which is unfortunate because it's exactly a topic that I'm interested in (from what I did hear).  I need to find him and discuss.
Jos did a couple of new interviews that sounds great.  They're longer ones, so they may take a couple several days to refine and post.
Ruphy is going start walking the other way when he sees me. Or running.   Every time I spot him, I grab him and talk about work to be done.  I hav a feeling he's going to lecture Nuno, David, Ken and others for throwing him alone to the wolves for this conference.
Some discussions went on already about next year's Grand Canaria event from what I gather.  Didn't get to sit in, but I'm just nosey enough to find out more tonight.
Aaron just walked by and asked, "Did you see ...read more...


It's been some time since I last updated you on Eigen2...

We just released alpha6. At this point, Eigen2 can do all what Eigen1 did (and much, much more) so everyone is encouraged to use it for new code, and to port existing code to it.

We plan to release Eigen 2.0 during this fall, in time for the releases of the software projects which plan to use it (tentatively: KDE 4.2, Avogadro 1.0, KOffice 2.0, OpenBabel 3.0).

Eigen2 is a c++ pure-template-library (all the code in headers) for matrix/vector math (linear algebra) developed by Gael Guennebaud and myself.

Usually I get questions about "how is it different from other libraries" and "you'll never have the resources to compete against $OTHER_LIBRARY which is developed by a huge team". So let me answer them here...

"how is it different from other libraries?"

Other libraries tend to each be specialized on a particular aspect of linear algebra. The first specialization is between fixed-size ...read more...
Thanks Nokia for the N810. I'll have a go at making Mailody4 available there!
ps. The internet connection is almost down now. Would that be caused by handing out the 100+ internet tablets?
Like every year Akademy is really fun. It
KDE.news has a report of the first day of Akademy the annual KDE desktop summit.


...and fails, as apparently he was then picked up and thrown immediately after. Hopefully he was not injured too badly, as he is in charge of setting up an aKademy BugDay on Wednesday for KMail. Perhaps this gave him practice, as his plan is to corner some developers to help, by dealing with "needs dev judgement" and policy issues on the spot as we go through bugs. People from around the world are welcome to join in. We haven't actually triaged kmail yet, so this might be a bit of a test run.

(That's Bram in the background, btw. And yes, I finally got my BugSquad group shot. But this one is more entertaining to post. Maybe George will get a fanclub too now. :)
Imagine the suspense and action of Snakes on a Plane, but without Samuel L. Jackson.  And both the snakes and people are eV board members and the plane is a boring gray auditorium and the movie lasts eight or nine hours.  This is almost exactly how my day was today.
The entire day, there must have been between 50 and 75 people down in the cafeteria talking and on laptops.  Were they hacking or playing sudoku?  I guess we'll have to wait for more commit numbers from Paul Adams.  But a fair share of people were staring intently at their displays - a fairly convincing game face if it actually was sudoku.
The number of people that I heard comment that the key signing party went well exactly equaled the number of people that told me I was wearing great plaid pants.  Wait, let me do a quick recount with Sebas.  One less.
I wouldn't go so far as to call the general assembly meeting a necessary evil, but it isn't exactly a walk ...read more...


Novell has recently released SUSE Linux 9.2 LiveCD/DVD edition. In line with its impressive track-record, SUSE managed to make yet another step forward each time.
Since Nokia will be giving 100 n810 devices tomorrow at the Embedded and Mobile day at Akademy, I thought it would be a good idea to describe a bit how you can get KDE working on your brand-new device. Since it is already quite some weeks ago I first did this, I might be missing some crucial steps, so if you have any questions after reading this/playing with your n810, feel free to ask me, I'll be at Akademy for the entire week. Writing this I've discovered how bad I am at writing any kind of howto/documentation, but hopefully it will still be a bit helpfull, and else you should just ignore it
So, the first step on getting KDE compiled to run it on your n810 would be to get scratchbox and the maemo SDK from maemo.org by just following the install instructions.
Next you'll need to get all the dependencies of kde installed. To get Qt you'll need to add some extra repositories to your /etc/apt/sources.list, ...read more...

The Khronos Group has released a new mile stone version of the OpenGL API: version 3.0, codename Long Peaks. While this is really good news, Khronos is still unable to communicate with the community.

The Good: a new release
The Long Peaks release of OpenGL API was announced more than a year ago and was supposed to be released last fall. However, despite the official announcement Khronos never made this release - and never published any note, hint or even unofficial statement.
Today, during the SIGGRAPH conference Khronos he published the new API version and made it available for download. The new version is described as an evolutionary step which includes many new features while still supporting old hardware.
The new features include, among others:
Vertex Array Objects to encapsulate vertex array state for easier programming and increased throughput
non-blocking access to Vertex ...read more...


MPRIS Tester 1.2 is now available at Qt-Apps.org.
Changes since 1.1: Clear Console now works, and the log of received signals now shows the argument to the signal (well, except for trackChanged() where I didn't want to flood the log with all the metadata of the new track).
You can find out more about MPRIS Tester from an older post.
Yesterday the '
KDE Contributors Conference
' of the Akademy 2008 ended. And there where of course again several really interesting talks as e.g. '
Location-aware applications with GeoClue
' or '
Gallium3D - Graphics Done Right
'. But for me the most interesting and impressive talk was the keynote from Cliff Schmidt: '
Digital Audio to Reduce Illiteracy, Poverty and Disease
'.
He spoken about the Literacy Bridge, a nonprofit organization which try to fight against illiteracy, poverty and disease by empowering people in the developing world with affordable tools for knowledge sharing and literacy learning. The goal is advancing education, health, economic development, democracy, and human rights.
Currently they are building the 'Talking Book Device', a robust/rugged low cost audio player and recorder. The plan is to produce the device for 5 Dollar, so that the people can buy the device themselves. It would allow local organizations and users to produce the content themselves as e.g. to help people to learn reading. An other example: it would enable a doctor to speak
...read more...
I've finished building the first Belenix (an OpenSolaris Live Distro that also installs to hard disk) KDE 4.1 (with packages from the KDE4 Solaris team) Live (it boots and doesn't need to touch your hard disk; I haven't tested if it will still install to hard disk) USB Stick (It's 2GB, where the original Belenix fits in less than 1GB). The first four copies have been put together and I've given them to the KDE-Solaris and KDE-India people here at Akademy. It's slow as a dog running debug builds off a compressed filesystem on a cheap USB stick, but it works and shows you can run a pretty KDE 4.1 desktop on OpenSolaris.

The rest of Akademy is way to busy to really blog, so I'll have to trust Wade to provide the right level of innuendo and bad taste.
Hi,
That's new feature in ktank:
- Map Loader in ktankbattle
- Start IA ( not very intelligent)
- KGLParticuleItem more performant ( using GL_Point) ! Now bullet has smokes and enemy can explose!
- using kdegames lib framework
- Now, we have a nice 2d animation background at the begining of ktank
- Add a listItem in ktankeditor…. and more bug!
- And… I forgotten my SVN key, I cannot commit! I WANT JOSEF for KGAMES NETWORK!!!! A price for the the man who capture them during akademy!:D
Oh, and this is a snapshot of "kapman", A game created by a french team, near to be finished!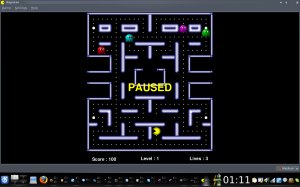 I'm currently at Akademy 2008. The event is located in Belgium near Mechelen (in sounth of Anvers).
This is really a big event about KDE community. It's very well organized (memoral social event in a begium bravery, with a lots of beer sponsored by Nokia which connecting peoples really (:=)))...
The beer in the small bowls is around 8% - 9%, don't drink more than 20 of those.
Have a water once in a while (you can drink the tapwater in the university building)
Get foodtickets before you queue up for sandwiches, saves you a lot of time
Writing a music manager / player doesn't save you from having mediocre taste in music
When hung over, don't even try to play ping pong with Seb
Lunchbreaks feel a lot like the Ministry of silly Talks
Don't write long blog entries when there's a keynote coming up shortly
Marble.
By the way, if anyone found my badge after yesterday's piss-off, I'll get you a candybar in return...
Sitting in the room 1 at the Akademy St. De Nayer institute. Actually Torsten was supposed to have a talk about Marble, though unfortunately the beamer broke so his talk has been delayed till further notice.
To keep it short, the atmosphere, the people and of course the beer and early-morning coffee beverages are simply great.
I'm not having any numbers on the commits being made at the moment, though the network is actually quite active. This graph should resemble that at least!
Last night I managed to have nearly 100 people sign Lydia's little black notebook at the Akademy beer-event. It was fun and a perfect example of how beer can give you a reason to do practically anything.
Coming up: Amarok talk. Must write notes.
August 16th and 17th, Chicago is holding its annual BarCamp Chicago event. It will start Saturday and run all the way through Sunday evening. FREE FOOD AND DRINK! Great talks and a lot of super cool IT people all getting together and hanging out. I went last year and it was awesome! So if you are able to next week, come on out and hang out with the various area user groups, Ubuntu Chicago, and me
A BitTorrent client is a program that manages torrent downloads and uploads using the BitTorrent protocol.
Ссылки