Ссылки
Apart from well-known editions such as the normal Ubuntu and Kubuntu, the Ubuntu project includes several other variations as well.
Today I have moved MetaService from JOLIE's playground source tree to the main source tree, the one that gets installed when you type ant install.

A short description for people that do not know what MetaService is: MetaService is a JOLIE service that allows you to dynamically bridge applications that speak different protocols (sodep, soap, http, etc.) or use different communication transports/mechanisms (sockets, local sockets, Java RMI, etc.). It has been developed as an answer to the Plasma project's needs to have a transparent means to introduce Plasma to the Service-oriented world. The project turned out to be so useful that I have built a Java library for interacting with and dynamically loading it (metaservice-java, to be found in trunk/support/metaservice-java) which we, as italianaSoftware, have already used in the scope of web application development (I can not say much more on this topic... yet ;).

As a bonus, *nix users get a launcher script for MetaService when installing JOLIE with ant install. Just type metaservice -h and a help ...read more...
On complete bed rest, will not be able reply to mails on time.
bilirubin in my blood is around 4 whereas it is supposed to be 0.1-0.2, it may go up as jaundice is detected in the ea1rly stage.
The downside of Jamaica: Bugs. Big bugs. Not the kind you put in bugzilla, either. :D Everyone but me seems to be allergic to mosquito bites or something. And tonight we saw a cockroach that seemed bigger than the ones I saw in Texas.

Maybe that's why everyone decided to suddenly start hacking? At least, I see code up on screens, and people have passed up karaoke for laptops. Which is good, I don't want to think of what the 4.2 release announcements will end up with...

Not to say that we haven't been doing work per se. It's really interesting to see how this all works. Tons of informal planning and discussion. I talked to all the "weird" OS ports that were here and asked them about their bug situations and future plans: answers tended to be that they need people who are willing to triage for them and provide user support. I'd like to point out that could be you. ;)

Since I've done some parallel computing stuff, I found till's training talk on QtConcurrent ...read more...
It seems in every version of Amarok 2 we have released there is at least one comment that sounds something like:
"But, the best feature of amarok 1.4 is still missing! Without --Insert one of the zillion and a half features Amarok 1.4 had-- Amarok 2.0 is useless!"
It is interesting for me to observe just how many "best features" Amarok 1.4 had, and also to observe exactly how many different ways Amarok was used. One of the issues with Amarok 1 development was that Amarok was trying to be a jack of all trades, and not really mastering any of them. This was well and good for the average Linux user, many of whom, when Amarok 1 was originally created, had no problem digging into the source to add their own little tweaks, features, or bug fixes. However, it is a problem for people that just want to listen to music, and leave the text editors and compilers at the door. With Amarok 2, our goal was not just to have features, but to perfect them.
Just watched the inauguration of Obama on the beach. Interesting to see it. It is quite a bit more nationalistic and religious than I'm used too, and there was singing & music in there, but his speech was good. Now see if he can actually do something different...



Geeks are easy to spot :D

Weather here still good, we had a windy yesterday but it's more quiet now. Personally I've hit a little snag - seems like my body somehow didn't appreciate me going from dark & cold Netherlands to sunny & warm Jamaica. I've developed a mild form of sun allergy. Like having a cold during my first few days here wasn't ironic enough... Aaah well, I'm lucky in that it doesn't itch, and as long as I'm a bit careful with sun it's ok. And to be honest, I'd much rather be intolerant to sun than to food, I've never been the sunloving type anyway.
...read more...
The past week wasn't as packed with events and shows as the previous one, but luckily for us, that didn't mean there wasn't enough to report on.
Have you ever been a bit irritated by a wart on an API, that gives you a slightly uncomfortable feeling when you think about it, and an itch to try an fix it? Once such wart was in the way standard Plasma plasmoid packages worked; you could call the main script any name you like as long as it was 'main'. That meant that if you looked at your Ruby, Python or JavaScript applet code in Kate it didn't have any syntax highlighting as the editor depends on a '.rb', '.py' or '.js' suffix.
An additional problem with Ruby is that the name of the applet's class is derived from the source file name, and so the class could be called anything as long as it was 'Main'. I had added a custom package for Ruby called 'Ruboid' whose sole purpose was to allow you to name your script 'main.rb', so that at least the syntax highlighting problem was solved.
I pleased to say that last week Aaron and his assistant David Palacio fixed this particular wart. The Ruboid code ...read more...
Hello Planet! If all goes well, this post should be showing up on PlanetKDE.
A little bit about myself: I've been following the KDE project for years but only recently have I done any work with developing. At the moment I'm working on the following:
a Remember The Milk plasmoid that is currently in playground. (for more info see http://blog.chatonka.com/2009/01/remember-the-milk-plasmoid-in-playground/ )
a KDE-based backup application using rdiff-backup (it lives at http://launchpad.net/TimeVaultNG )
I'm most interested in user interaction and interfaces, and I initially got hooked on KDE due to the beauty of the Qt4 library and its excellent documentation.
I use a Lenovo X61 Tablet and am very pleased with it. I think that tablet pcs allow for some very interesting usage and interaction models and I'd like to see better out of the box Linux support (and application support) for tablet PCs.
The "conference" ended yesterday as the final presentations were given, however we still have 4 days left here among the sunny beaches. Today Till Adam gave a fantastic lecture-slash-hands-on-workshop of Qt's Model/View and plugin architecture. Just a couple weeks ago I was slamming my head against the desk trying to wrap my head around Qt's M/V concepts, the results of which can be seen in Amarok's new last.fm service browser. Through the creative use of roleplaying (thanks Ade, Jeff, Sebas, and Leo!) and two helpful hands-on exercises I've finally gotten a decent grasp of the system. Tomorrow morning we hope to sip QtConcurrent knowledge from the cup that is Till.
I'd write more, but the ocean is calling and I still need to get a Pina Colada. But before I go, check out some photos from the past couple days.
An Ubuntu-based mobile phone still a way off. Rodney Gedda 20/01/2009 07:58:00 The Ubuntu Mobile operating system is undergoing its most radical change with a port to the ARM processor for Internet devices and ...
Coding in comfort.  It continues to happen here.  Not this comfortable, but life is still good.  I've almost forgotten the snow back home.  So to the experts who are a little down on January 19, I can confidently say there's a group of people that are statistical anomalies and are doing just fine today.
The morning started a little later than usual, as people found the wireless signal just fine on the beach deck, and had little or no incentive to go inside to do the same work.
But today's events were dominated by Till Adam's tutorial and presentation on Qt concepts.  Mainly a model/view tutorial in the morning followed by a coding exercise.  Proxy models after lunch.  I haven't seen Till in action as an instructor before, and he's really quite talented.  Translation: I can see why he gets paid to do this.  He is much more fluid and coherent in explanations than I would be; and I'm the native speaker.  He makes sure to engage the listeners ...read more...
I just sent this to the KDE PIM mailing lists, but I know not everyone who uses KPilot subscribes, so I'll re-post it here…
Howdy all,
I just wanted to get a note out to as wide a distribution list as possible to spread some important news about the upcoming KDE 4.2 release and KPilot's (exciting!!) part in it. If you don't care about KDE PIM, data syncing, Palm devices, or KPilot, you may stop reading now and I won't be offended. =;P
For the last 2 years, the talented Bertjan Broeksema and I have spent our Google Summer of Code months doing some major rework and redesign for KPilot. You can see our sync algorithm redesign Use Case here: http://snurl.com/acftl and some UML sequence and class diagrams that we used here: http://snurl.com/acfwd. Previous to our redesign, each conduit in KPilot contained all of the logic necessary for the syncing of record-based data, as well as the transformation, comparison, and resolution of that data. This means that each conduit did things its ...read more...
Hi all,
This is not a KGLEngine news... sorry! Big Big exam are comming.... But I created in one day, a very usefull small application, for help some guy, like me, who have some difficult to read and speak english ..

It's "gtranslate", a line-command qt application, for translate a text using google translator. g = google and not gnome.. You can download it here! or here.

How is it work ?
just to type in konsole : gtranslate en fr "hello". It will return bonjour.

Some trick to be very fast!
1- KhotKey + xsel : Select and Press for translate!
I created 2 small shell scripts : translator_in.sh translator_out.sh
After, installing "xsel" application, you can run this script by using KHotKey...
Now, I have just to select the text, press Meta+F1 (call translator_out), and a dialog box appears with the translation and copy it into the clipboard.
The second one, "translator_in", show me a dialog input box, for translate very fast.

...read more...
I spent a crapload of time this weekend, going through all the old and crufty KPilot bugs we've done a really horrible job of keeping up-to-date on, and triaged the bejeebers out of the list. I think we had ~ 150+ a few months ago. I went through the last 100 of them individually today, and was able to close out 93 of them, woot! A lot of them were problems that had been fixed in KDE 3.5.x, or had been directly addressed  more recently in our KDE 4.2 work, or had been indirectly fixed via our KDE 4.2 work. A lot of them were also the low-hanging fruit you'd expect with "it don't work so good" and not much more to go on. But all told, we now have a very clean KPilot bugzilla bucket, with 12 open bugs (of which, 10 are wishlist items). We're all set for the next onslaught of bugs from the upcoming KDE 4.2 release. =;D
I also did some more sync testing with KPilot today and am quite pleased with the results. Thanks ...read more...
The past week wasn't as packed with events and shows as the previous one, but luckily for us, that didn't mean there wasn't enough to report on.
I have just finished my talk at Camp KDE, Jamaica about "KDE and Distros" with great partnership of Marcus D. Hanwell (slide is here), I talked about Pardus Technologies and showed people our plasmoid for service-manager which works with our sub-system COMAR.
When great projects come together results comes great !
Also I have a great video while it is working .. All of these written in Python, PyQt4 and of course PyKDE4 ;) You can grab the source from here.
it's day… 2? now, and near the end of the presentations I got the urge to write code. so now I bet everyone else is in the ocean, but I just can't tear myself away until I get a few more bits working. :) perhaps it's a good thing the internet is being crap, or I'd end up on irc… although not being able to commit is a PITA, and will make it harder for me to show incremental code improvements. we need git.
anyways, I started a new plasmoid. I think I might rewrite the other one in C++ - it's either that or write a bunch of bindings or write a dataengine. but this new one should be more suited to scripting. it's something pete calls a "victory calendar". the idea is that you have a list of tasks that you need to do every day (like studying a language or doing pushups), and every day you record whether you did a lot, a little or nothing for each task, and so long as you don't ...read more...
A week or so ago I blogged about making Plasma components that are designed for classrooms and younger people. Since then, we've had some draft code dropped into playground, a good amount of information written on the wiki and some commitments made to testing the results in real world settings.

It is very heartwarming to see such immediate and voluminous response to a simple blog posting. I'll be taking these early results with me to Tokamak in a couple of weeks to discuss them with others there.

I hope we can get something ready for production use, even if it is something simple and basic but an improvement over the current situation, in 2009.

Input, both of the data gathering as well as the code writing variety, are still welcome, desired and needed.
Camp KDE is great!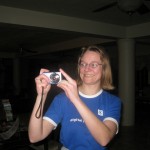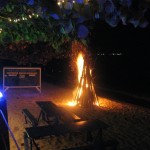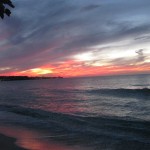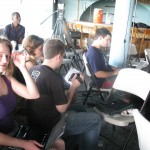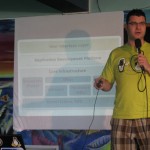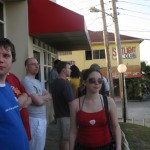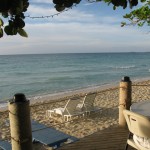 The past week wasn't as packed with events and shows as the previous one, but luckily for us, that didn't mean there wasn't enough to report on.
This is a tiny plasmoid hacked on a boring sunday afternoon in about 20 mins, perhaps a too silly name but i think the effect is kinda fun :)
It's an on-screen magnifying glass with the difference from the usual ones that it doesn't actually grab the screen, but it just views the Plasma canvas (just another view on the scene, that is), that gives some peculiarities, shown in this video:
OGG version
All the windows are totally transparent to it, so while is useful to view/magnify just what there is on desktop it can give a quick access on it, when you need both your windows and stuff on desktop (think about a non-fullscreen dashboard, and then think about drag and drop between dolphin and folderview even when you have a maximized window :P)
And the more cute thing is due to the vector nature of the QGraphicsView, you see all the proper vector-based elements like the text to be smoothly scaled and still looking like text, not that usual pixelated/blurry mess that kinda hinders the ...read more...
"GNOME theme engine designer Andrea Cimitan has implemented support for transparent widgets in the Murrine GTK theme engine, bringing Vista-like translucent glass effects to the GNOME desktop .
And I'm finally at Camp KDE. American Airlines sucked. Really, don't ever take them if you can avoid it.
In more cheery news meeting the "North American" KDE Krew was pretty cool. Oh, and wifi works. And the sea is awesome. Did I mention there's a water park just down the street? Yeah.
I have a small confession to make: I love playing Guitar Hero and Rock Band. We recently got Rock Band 2 for the household here, unfortunately the drums were defective. A quick visit to the support website followed by a fair amount of traipsing about their pages led to a form to fill out. A couple weeks later and a new set of drums showed up at the door. I didn't even send them my receipt to provide proof of purchase within the warranty period either, even though they said I'd have to. Odd. Still .. yay!

I very much understand why people love to play these games and why they sell so well: it's a way to participate with a very low barrier to entry with something that a lot of people enjoy a lot (music) wrapped up in a fairy tale story (the rock star dream). I think it's fascinating that these games are introducing people to entire bodies of music fr the first time, both old and new, driving popularity and sales for the artists. The ...read more...
When the alarm woke me up at 5 yesterday morning, I found it hard to believe that I would be spending most of the day on various planes and crossing several timezones. To be honest, it felt close to impossible to get out of bed. But I convinced myself at last and crawled down the ladder of my loft bed.
At 7.55 and -6° C Thomas and me got onto the plane to Heathrow. Surprisingly enough I didn't have to hurry this time: I actually was early enough at the airport in Oslo to have a nice cup of coffee and call home.
Arriving at our gate in Heathrow, we met Leo who boarded the flight to Miami with us. I have never been on a plane for more than 4 hors before and I must say: it's pretty boring. Especially when there is not much to see outside apart from clouds, water and empty icy Canada.
In Miami I had trouble finding my suitcase which could not be checked through to Montego Bay and going through customs took ages. ...read more...
Working on the articles there were a few things I didn't put in there.

And some things I did :D

Last night I'm sure the Plasma team had their weirdest location for discussing code - ever. The Caribean sea. Now I'm all for technical talk but that went a bit too far for me, Others however, on hearing there was a discussion about plasma going on, joined them. Aaah well. I've been drinking Jamaican Rum and beer, pretty good stuff.




The morning here was interesting, as many ppl had arrived late last night. I just heard Zack appologize for being Zack ("I'm sorry, I'm Zack"), there is a guy sitting next to me with a "One Laptop Velicoraptor per child" t-shirt and I'm sure there have never been so many laptops on this beach. The food is very good. I had a Jamaican breakfeast yesterday just like today, loved it despite having no idea what ...read more...
wheeee! I got off the plane in jamaica, and felt the relaxed atmosphere at once. :) the customs line was horrendous, but I met up with some other gearheads there :) and after much delay we were off to the resort. I wasn't expecting it to be such a long drive… we got to see some of jamaica before dozing off, though. it kinda looks like a clean non-asian version of china, to me. ;) oh, and we bought peanuts from one of the street vendors who run alongside the cars to sell their stuff.
the resort has a beautiful little sandy beach by the bar/restaurant, and the water is only a few yards away. lovely mild water (I won't call it warm, but it's not freezing), hardly any rocks or seaweed or driftwood or other annoyances that are everywhere in vancouver waters… there was a bonfire on the beach, and after dinner several of us ended up going out for a swim… god, looking up at the stars from the water on a warm night is just… ...read more...
You would know someone better, not from the way he treats his friends, but rather the way he deals with his enemies.
Ссылки