Ссылки
After the official release of KDE 4 last year, I took a close look at nascent projects that aimed to port the desktop environment to other operating systems.
16 | System & Utilities | http://www.topix.com/tech/kde/2009/01/hands-on-testing-the-kde-4-2-release-candidate-on-windows?fromrss=1 | 6722 |
I have finally recovered from the trip to Jamaica. It took me the whole weekend, though. Maybe staying up late didn't really help… Or I'm just getting old.
CampKDE was a cozy but great meeting and I really enjoyed spending time with people I already knew rather well and those I hadn't met before.
Although distractions were many, I got to all the topics I had on my list and learnt a lot from Mauricio and - I must admit - Wade. Quite some new ideas take shape in my head and I really hope to make at least a part of those reality.
For example: what do members of the Spanish speaking communities think about a Spanish blog aggregation around KDE? What about Portuguese? Is there already a place for this on the web? Please, comment with thoughts and hints, I am not really at home in both languages…
And speaking of the net: there is a flickr group collecting photos from campKDE. So if you happen to have your pics uploaded there, shoot me ...read more...
16 | System & Utilities | http://feeds.feedburner.com/~r/UntangledBlog/~3/524309248/ | 6721 |
How did everything end?
Sebas was forcibly removed from his laptop; we made him interact with other humans.
We went to Rick's Cafe to watch cliff diving.  I chickened out.  Jeff Mitchell and Pardus Dude #1 (not to be confused with Pardus Dude #2 who never got his luggage) manned up and dove in from about 14 Leaning Tower of Pisas in altitude.  That 22 bathtubs full of rope in height for those that need help with the conversion.
After Rick's we went to visit a lighthouse and Jeff bought some cool trinkets.  Unbelievable views.  I need to upload my photos.
Went to the Appleton Rum Estate for a tour.  Sit down because I've got some shocking news: they serve rum samples there.  That's right, I said it.  We learned that Ade and Chani combine to make one C++ savvy mule.  And peacocks are lazy.  Would it hurt to strut around a bit?
I eventually got used to the way people drive there.  If I wasn't placed in a ...read more...


16 | System & Utilities | http://wadejolson.wordpress.com/2009/01/27/camp-kde-2009-final-two-days/ | 6716 |
Well, I just had to put a provocative title so that you open this post. In a nutshell, the plasma binary is from now on called plasma-desktop.
For more info, visit Aaron's blog
16 | System & Utilities | http://ivan.fomentgroup.org/blog/2009/01/26/plasma-is-no-more/ | 6714 |
We are organizing release parties for KDE 4.2 at different locations in Brazil: São Paulo, Salvador and Aracaju are confirmed, with more to come. If you want to organize one, add it here, and announce it at the kde-br mailing list.

[pt_BR]
Estamos organizando festas de lançamento do KDE 4.2 em diferentes lugares no Brasil: São Paulo, Salvador e Aracaju já estão confirmadas, e tem mais vindo por aí. Se você quiser organizar uma, adicione aqui, e anuncie na lista kde-br.


16 | System & Utilities | http://piacentini.livejournal.com/11642.html | 6711 |
I had to think long and hard about being part of FOSDEM this year... Why? Well it turns out that one of the organisers has some pretty odd views on Free Software and those that care about Freedom.
My favourite gems of wisdom from Philip are:
Since a fair number of free software activists also happen to be open source software developers, there are a number of free software people and projects at FOSDEM too. There is even an FSF Europe stand every year and we even let Richard Stallman give a keynote a number of times.
Well, well, well... How big of you for allowing the father of the Free Software movement (which came long before "Open Source" by the way, Philip) a slot for presenting. It's worth pointing out here that those Free Software activists who "happen" to be open source developers are in the majority. GPL (and related FSF licenses) plus BSD (and related), Apache... All are Free licenses and between them make up the vast majority of the ...read more...
16 | System & Utilities | http://hemswell.lincoln.ac.uk/~padams/index.php?entry=entry090126-112848 | 6709 |
I've rounded up some useful tips, none of which are really important enough to warrant a post just by themselves. So without further ado…
If you're running kdesvn-build, you can use the –refresh-build option to force the given modules to be built with a clean build directory. But what if you didn't want to do that for all of the modules on the command line? What you can do instead is create a file called .refresh-me in the toplevel of the module's build directory (e.g. build/kdelibs/.refresh-me). When kdesvn-build rebuilds the module, if it finds that file it will perform the build process as if –refresh-build had been passed. Since –refresh-build involves deleting the build directory this is a one-time-only event. Next time you build everything will work normally.
Konqueror deserves several posts on its unique gems just on its own. But one thing I'll mention is the address bar. There are two different keystrokes that I know of to quickly select the address bar: Ctrl - O will select the address in the address bar, ...read more...


16 | System & Utilities | http://www.purinchu.net/wp/2009/01/25/quick-tips/ | 6706 |
About a week ago I updated the KDE 4.1 backports for Lenny with the fourth and last revision of KDE 4.1.
As previously announced, this will be the last update available at http://kde4.debian.net
What is next?
The repository will continue there, so Lenny users can choose between KDE 3.5.9+ and KDE 4.1.4. But since 4.1.4 packages are not official, they do not have support: no bugs in the BTS or security updates.
If you are using Debian Lenny for stability and security purposes, you should use KDE 3.5.
Testing users (future squeeze, current Lenny) can continue using them until KDE 4.2 reaches testing. Again, remember, no bugs in the BTS or security updates, but they will get a clean upgrade to KDE 4.2 in the near future.
Unstable users. I have found that there are people using unstable with the backports, when they should be using experimental KDE 4.1. If this is your case, you can stick with 4.1.4 until KDE 4.2 reaches unstable or switch to experimental in a few days and get ...read more...
16 | System & Utilities | http://ekaia.org/blog/2009/01/25/end-of-backports-and-about-kde-in-lenny/ | 6703 |
Maybe everybody already heard about the shiny new 4.2 release, and maybe even more people are already using it in the RC version, like myself.

But this event needs to be celebrated even more! Unfortunately not everybody of us can attend one of the release parties all over the globe. So we, the team of the KDE forum, decided to add something to the release parties...

We believe that this release is a milestone in KDE development, so we decided to open the forum (at least in a part) to the whole world. Yes, you read it right, not even a registration is needed. We will open a thread just the day 4.2 will be released and it will be open for 24 hours. And there you can write whatever you want to write about the new release.

Of course, to overcome some sort of trolling, we will moderate very new post, but of course every constructive criticism is welcome.

NOTE: This thread will be ONLY about the 4.2 release, no talk about present releases.

...read more...
16 | System & Utilities | http://neverendingo.blogspot.com/2009/01/kde-42-release-event.html | 6699 |
LZMA is a relatively new compression algorithm. It is used in more and more places: 7-zip, the Linux kernel and deb and RPM packages. So adding LZMA to Strigi was a desirable step. The code for LZMA can be downloaded from the 7-zip website. It is in the public domain.
For decompression, only 3 c files are required. I've added these to the Strigi repository directly. The decompression interface of LZMA is similar to that of GZip and BZip2. It nevertheless cost me quite a bit of time to figure out how to use it exactly. The result is a Strigi::InputStream class that can be used in the same way as the other decompression classes.
Once the InputStream was written, adding LZMA support to .deb files, .rpm files and jstream:/ was simple.
This improvement, along with a better index, will be released in Strigi 0.6.4 this week.
16 | System & Utilities | http://www.kdedevelopers.org/node/3853 | 6696 |
More than a year ago I wrote a post about KDE 4.0 , I was quite unsatisfied with how in was and that we are going to release a product that has defects and in the eyes of the users will be a step back.
16 | System & Utilities | http://www.topix.com/tech/kde/2009/01/kde-4-2-progress-in-a-year?fromrss=1 | 6697 |
It's been quite a long time since my last blog entry.. University, family and love took me a little away from the KDE scene.. Anyway i was able to follow the great success the incoming KDE 4.2 release is getting. You all have done a great job and we all should be proud of what KDE is and will be for the Open Source world. Unfortunately i'm in my exam period at university and i hope it'll last soon.. Btw i was able to get back in touch with Plasma and committed two little patches this morning.. Nothing really relevant, just to feel i'm back to KDE development
.
Due to this busy period i've left Lukas all alone with our KConfigEditor port to KDE4 which is still there, just ported but not improved. I'll get back working on it soon, i promise!
PolicyKit-KDE is another big project i was contributing to till the end of the last year. Daniel Nicoletti, helped by Lukas, is doing a ...read more...
16 | System & Utilities | http://alediaferia.wordpress.com/2009/01/25/some-hobbies-are-easier-than-others/ | 6695 |
I've received some great feedback on the Remember The Milk plasmoid and I thought I would share some of my more recent changes.
My university courses started last Monday, and with it the inevitable shrinking of free time to hack. However, the workload hasn't quite piled on yet and I've spent some time in the last few days on the core of librtm. Its handling of tasks is vastly improved, and it is now possible to work directly with RTM::Task objects, as they will send their updates (i.e. new names, due dates, tags, etc…) to the server. When the server responds to these requests, the RTM::Session receives the replies and keeps the internal state of tasks consistent. It helpfully emits taskChanged(RTM::Task*) so that any frontend application can stay up-to-date in whatever way it handles tasks.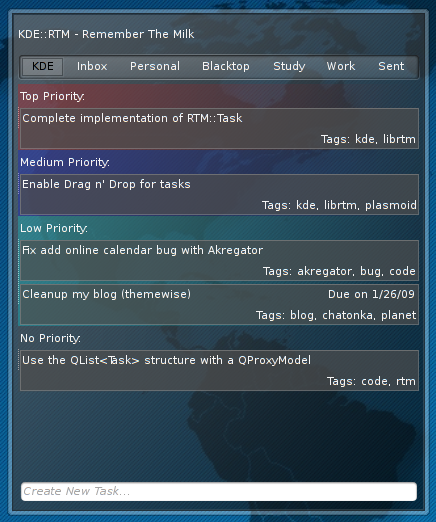 I also made some enhancements to the plasmoid, the most visible of which is the new task configuration widget, shown below. When you click on a task, ...read more...
16 | System & Utilities | http://blog.chatonka.com/2009/01/more-on-rtm-plasmoid/ | 6692 |
After I received a lot of positive feedback about my
Akonadi Resource Tutorial, or probably more accurate outright praises
, I knew I had to write another one.
This time I chose a topic that is probably less relevant for the majority of developers, however it should be helpful for people who either work on PIM applications with data types not yet covered by our current code or who want to use Akonadi for non-PIM data.
Akonadi, or more precisely its central component the Akonadi server/cache, can deal with any kind of data, basically treating it as array's of bytes.
At the client side, i.e. in applications, resource and agents, an item's MIME type is being used to decide how to process the data, e.g. how to convert it into a programming language's data structure.
This conversions are delegated to so-called "serializer plugins" and the tutorial is about writing such a converter.
As the example used as the custom data type to create support for I chose a simple ...read more...
16 | System & Utilities | http://www.kdedevelopers.org/node/3849 | 6690 |
So apparently Linus is using GNOME right now. He mentioned it in the middle of an interview with Computer World and then Slashdot (and I'm sure others) picked it up and ran with it. On Slashdot, the entire six page interview was boiled down to "Linus Switches From KDE To GNOME".

Let me address the "Linus issue" first, because it's the simpler and less critical issue. Linus is precisely one user. For every Linus Torvalds (there's exactly one of them), we have 10s of millions of other KDE users and a few billion who don't use any F/OSS solution at all yet. I don't like losing any user, though, and such a happening can be deflating and make one second guess what they are doing (which isn't an entirely bad thing either, as long as it doesn't result in bad decision making or paralysis).

The decisions made in KDE 4.0 were for the future. A future which we are about to be living in with 4.2 released on the 27th. KDE 4.2 is a ...read more...
16 | System & Utilities | http://aseigo.blogspot.com/2009/01/choices-and-punishment.html | 6688 |
[en]

I am back in Brazil, after 5 wonderful days at Negril. CampKDE surpassed every expectation I had, and it was probably the best conference (KDE or not) I ever attended. There was something really special about the location, the relative small number of people and the timing that made it very easy to connect with others. Even with the ones that stayed for fewer days, like Guillermo (respect man!) Maybe it was something they put in the food :) The e.V. was present and QtSoftware/Nokia as well: I look forward for more opportunities to work with Adriaan, Sebas, Thomas and Alexandra, among others. And the organizers did a wonderful job: thanks to Jeff, Wade, Roger, Dmitry... I am not going to talk about everyone, but this was a conference where we could get to know and interact with people in meaningful ways, and the effects of this would be surely felt on KDE for years to come, as the projects and ideas nurtured there mature into reality. Not to mention the babies, right Marcus and Louise?
I ...read more...
16 | System & Utilities | http://piacentini.livejournal.com/11272.html | 6686 |
Several of us at Camp KDE?myself included?owe a great debt to Till Adam . When he came to the sunny, beautiful beaches of Jamaica, instead of spending his days lounging on the shore or swimming in the warm ...
16 | System & Utilities | http://www.topix.com/tech/kde/2009/01/the-lessons-of-a-master?fromrss=1 | 6685 |
Anybody interested in some sort of NYC release event for 4.2? If so, leave a comment and maybe if there's enough interest we'll organize something.
16 | System & Utilities | http://blog.jasondonenfeld.com/80 | 6684 |
Well I would like to thank everybody that came to Camp KDE, It was great fun and I loved being close to friends new and old. :-)
I know everybody involved in getting the event ready worked very hard, that includes it-s the man behind the website design and shell logo.
I will post some pictures as soon as I get some free time this weekend, thanks again and I hope to see *YOU* next year.
16 | System & Utilities | http://blog.guillermoamaral.com/2009/01/23/camp-kde/ | 6682 |
Just in case you missed the announcement on the dot (or chose to forget):
This sunday, January the 25th, we'll be having our second KOffice Bug Day. It will all be about finding as many of the remaining bugs in KOffice Beta 5 as possible. To contribute, just read the bug day's techbase page, check the requirements and visit #kde-bugs somewhen on sunday (starting around 10am CET). As always, no programming skills required.
Is it worth it?
Most definitely. Our last KOffice bug day was a what I'd call a big success with the KOffice developers starting to iron out the bug while we were still triaging and krushing. They are really passionate about delivering good quality release.
16 | System & Utilities | http://www.confuego.org/archives/15-KOffice-krush-reminder.html | 6681 |
If you're trying to use local unix sockets using libmatthew with a Java program (as it's the case for JOLIE and thus MetaService), you might get a similar error:

Exception in thread "main" java.lang.UnsatisfiedLinkError: /usr/lib/libunix-java.so: /usr/lib/libunix-java.so: undefined symbol: __stack_chk_fail_local

I get it using the libmatthew-java package from openSUSE 11.1. It looks like Ubuntu users are suffering of the same problem (there causing a bug in dbus-java). If you read their bug thread, you'll find that they appoint the problem to a compilation flag. I've tried to simply download libmatthew sources from here and compiling them: they just work (except that you have to fix the Makefile by substituting the java compiler flag -source 5.0 with -source 1.5).

This problem really looks worth going into some official update repository for each bugged distro. I have already filed a bug for openSUSE, but I cannot confirm it for other distros. Could *you* (dear reader) check for it and send an appropriate bug report? =)
16 | System & Utilities | http://fmontesi.blogspot.com/2009/01/major-distribution-bug-in-java-support.html | 6680 |
Dear all digiKam fans and users!
After another bug triage where around 49 bug reports have been closed since 0.10.0-beta8 release, digiKam development team is happy to release the release candidate dedicated to KDE4 desktop. The digiKam tarball can be downloaded from SourceForge.
16 | System & Utilities | http://www.digikam.org/drupal/node/422 | 6678 |
<tryingToBeGeek>
i am trying to chart weirdest [read : geekiest ,yeah i know i am still a noob  ;) ] things i ever did with my Linux box [ref:open suse :) , i am big time open SUSE fan  ]
/dev/urandom is a pipe file :) and generates in non-blocking mode random numbers . .. so a
16 | System & Utilities | http://techfreaks4u.com/blog/?p=1179 | 6675 |
(for camp kde coverage: there will be a talks day 1 article on the dot in like 5 minutes, and there will be another two asap - due to the dot moving to a new interface (yay!) that can mean something like sunday or even later as me and sebas travel on monday/tuesday...)

adymo writes about KDE 4.2 - excellent interview. I agree with most of his criticism (not all) but I think he is wrong on Akregator. He sais:

Akregator is definitely useful for RSS reading, but so far it doesn't give any compelling reason to us

Now, I've always been used to the two features I'm about to show, but apparently several people here at Camp KDE weren't, and they were impressed. So I think these two deserve some mention.

Advantage nr. 1: it is a KDE application. Thus why not show the full blog using KHTML?

...read more...
16 | System & Utilities | http://nowwhatthe.blogspot.com/2009/01/akregator.html | 6673 |
Prologue

I didn't expect the previous part of this review to be so popular. Huge thanks to everyone who read, linked and commented it!

I know I promised you to write about KDE4 applications, so without further ado, here is the continuation.

Table of Contents:

Dolphin

I'd like to start my applications review with Dolphin, as it was the most prominent change in the applications area. It was planned to make Dolphin the default file manager since KDE3, but I never tried it then. I got Dolphin with 4.1 and started using it.

Probably I'm too old, but I always liked two-panel console Norton Midnight Commander-alike file managers. They always worked for me in the most efficient way, or at least I felt so. Maybe this was the reason I never liked to use Konqueror in KDE3 for file management, maybe no. I don't know now. What I know now is that for file management today I use ...read more...
16 | System & Utilities | http://adymo.blogspot.com/2009/01/kde-42-review-from-inside-out-part-2.html | 6671 |
One of the nice jobs I have had to do this side of the new year was to be a jury member for Linux New Media's awards. From recent correspondence I gather there is about 200 of us on the jury, so it should be a reasonably comprehensive cover of the Free Software world.
Linux New Media provided us with 6 categories for which we had to suggest suitable winners:
Outstanding contribution to Open Source / Linux / Free Software
Most Linux / Open Source-friendly hardware vendor
Most innovative Open Source project
Best Open Source contribution to mobile devices
Best Open Source programming language
Most significant contribution to security in Open Source
Once all the candidates were gathered, the second stage of the process was simply to vote. The jury were provided with a list of the most-occurring candidates from each category in the first round and we had to pick our one winner. The one additional rule here was simple... Don't vote for anything that you are directly involved with. Sorry KDE, you couldn't get my vote.
...read more...
16 | System & Utilities | http://hemswell.lincoln.ac.uk/~padams/index.php?entry=entry090122-183815 | 6668 |
Last Monday 15th, Tuesday 16th and Wednesday 17th of December several GNOME and KDE boards members were in Gran Canaria to prepare the Gran Canaria Desktop Summit: GUADEC + Akademy 2009. This is not great news only from the organisation of the event point of view, but also because it is a working meeting between two relevant community projects with huge impact worldwide. We will have another meeting during FOSDEM. When I think about this, I realise that events like the GCDS'09 should happen once in a while between different free software projects in order to open new and different ways of collaboration. Many community have great relations with IT companies so improving relation between them will also improve the relation between these companies, which is something positive.

We are used to collaboration between developers but this event can be seen as the first big step toward a more global relation between projects. A new step forward in the software libre path to world domination :)

Just stop and think about the companies involved in GNOME and KDE, ...read more...
16 | System & Utilities | http://toscalix.blogspot.com/2009/01/gran-canaria-desktop-summit-keep-going.html | 6666 |
Granular 1.0 After a long wait, Granular 1.0 is finally out. And we are pretty much excited about this release because this is the first stable Granular release since about a year, and because it's version 1, ...
16 | System & Utilities | http://www.topix.com/tech/kde/2009/01/torrent-granular-1-0-cd?fromrss=1 | 6667 |
Just learned that the window flags Qt::FramelessWindowHint | Qt::WindowStaysOnTopHint isn't enough in X11 (seems to work on WinXP). You also need to add the Qt::Tool window flag. Just so that you know.
16 | System & Utilities | http://www.thelins.se/johan/2009/01/lesson-learned.html | 6664 |
Ссылки