Ссылки
A Windows man, a Linux man and a Mac man walk into a bar... Posted in Software , 28th January 2009 16:55A GMT The Linux K Desktop Environment project is hoping to bag a few ordinary computer plebs with the ...
16 | System & Utilities | http://www.topix.com/tech/kde/2009/01/kde-hopes-to-fill-boots-with-4-2-release?fromrss=1 | 6748 |
Everyone, at least in the free software world, probably knows by now that KDE 4.2 has been released yesterday. It was released just a few moments after the release party started in Kiberpipa/Cyberpipe multimedia centre here in Ljubljana, Slovenia. Just in case you still don't know about KDE 4.2 release, you should definitely read KDE 4.2 release announcement and take a look at the excellent visual guide to new features in KDE 4.2. You'll see that the solid new foundations laid out with KDE 4.0 are really showing through now and the work invested into them is starting to pay off heavily. At this fast rate of development it is hard to imagine what KDE 4.3 will bring us. And it's only 6 months away.
The party in Kiberpipa was also a similar success. Everything was not perfect, though. Computers that would be used for workshops didn't have ...read more...
16 | System & Utilities | http://jlp.holodeck1.com/blog/2009/01/28/kde-42-release-party-in-slovenia-a-big-success/ | 6746 |
"Torvalds' comment produced a flood of response across the web, including an apologia from leading KDE developer Aaron Seigo.
16 | System & Utilities | http://www.topix.com/tech/kde/2009/01/torvalds-kde-4-and-the-media-circus?fromrss=1 | 6745 |
KDE 4.2 has been released and gives "The Answer".
With the usual openSUSE KDE4 packages available comes also a new release of KDE Four Live, the most comprehensive KDE4 Live-CD, with following changes:
x86_64 version available for the first time
kdelibs3 is not contained anymore, NetworkManager-kde4 is responsible for managing network connections
qt3 is not contained anymore, as result YaST Control Center doesn't show icons and offer search currently
the freed space is used for new stuff not contained before: kepas, krename, krusader, yakuake, ...
kdebluetooth4 version working with bluez4
Have a lot of fun...
16 | System & Utilities | http://www.kdedevelopers.org/node/3865 | 6744 |
Currently I have this kind of setup:




I have been happy with it, but since I have GeForce 6150 on the mother board I was thinking adding one more display so my setup would look like this:




After reading about multi screen setups it seems that it is currently impossible though. Supposing that I want to move my windows from screen to screen (xinerama/twinview) and have composite enabled. Please correct me if I'm wrong.
16 | System & Utilities | http://pdamsten.blogspot.com/2009/01/triple-head-setup.html | 6743 |
The developers behind the open source KDE desktop environment have announced the official release of version 4.2. This new version, which arrives one year after the original 4.0 release, delivers a ...
16 | System & Utilities | http://www.topix.com/tech/kde/2009/01/kde-4-2-officially-released?fromrss=1 | 6740 |
It's rather odd to be scratching the ice from the windshield of a car while you still feel like going for a swim during lunchbreak.

My body agrees on the weirdness – yesterday it refused to accept the 25 degrees decrease in temperature. Despite both London and Schiphol not being particularly warm, I still felt rather warm while walking home in shorts and a t-shirt.

I'm back to my old self now, in part thanks to my current office space. It's colder here than in an American Airlines plane (and the citizens of the USA like their airco – if it has button, you have to turn it to max).


Thursday on the way back from the rum factory tour: fresh coconut!

Either way, the way back wasn't too bad, considering my bloodloss. Yeah, I've left at least a litre of blood back at the restaurant in Port Royal in Kingston. We had a meet ...read more...
16 | System & Utilities | http://nowwhatthe.blogspot.com/2009/01/in-jamaica-no-more.html | 6739 |
I was going to make it "Konsole Tabs Are Session Managed Again" but it's a restored KDE 3 feature and all the kids know that commandline hacking is not cool.
16 | System & Utilities | http://www.topix.com/tech/kde/2009/01/my-favourite-kde-4-2-feature-task-bar-and-window-grouping?fromrss=1 | 6736 |
Woohoo! KDE 4.2 is released!! I only wish the last few KPilot bug fixes would have made it into the 4.2.0 release, but we were too late. Still, if you think you knew what KDE4 was all about, think again. Check out KDE 4.2.0. =:)
16 | System & Utilities | http://movingparts.net/2009/01/27/kde-42-released/ | 6735 |
Now, It's probably obvious to anyone reading this blog what my thoughts on Open Source and Licencing are, so I won't go into that. However, I've recently found a new author, who I'm liking a LOT.
His name is Cory Doctorow, and after reading some of his short stories, I thought I'd look into his longer stuff. As I've mentioned before, I'm a fan of feedbooks.com - and, as an author who's releasing his works under a Creative Commons licence, his stuff is also there.
I started reading one of his books called "Little Brother" (http://www.feedbooks.com/book/2466). I read the intro, and I was hooked.
It's kind of hard to explain what I mean, so I'd suggest if you're interested, goto the link above, and click on the PDF link, then read pages 4 through 12 (the introduction/foreword to the book) and you'll see what I mean.
I'll probably review the book once I've finished it (curled up in bed with my trusty eeePC), but from what I've read, and that intro, Cory ...read more...
16 | System & Utilities | http://www.sourceguru.net/archives/195 | 6733 |
The release of KDE 4.0 was not a smooth one, and left a number of users a bit disgruntled.
16 | System & Utilities | http://www.topix.com/tech/kde/2009/01/kde-4-2-released-short-interview-aaron-seigo?fromrss=1 | 6734 |
Over at the KDE Forums there is a record attempt to have 2000 posts in 24h in one thread.
So if you want to congratulate KDE, you can do it in the forum and help to make the record succeed in one go!
Go here. You don't need to register to post!
16 | System & Utilities | http://www.omat.nl/drupal/content/KDE-42-Record-Attempt | 6731 |
In the last few days, KDE developers have been actively discussing usability issues for KDE 4. Here are some thoughts, and some more are here .
16 | System & Utilities | http://www.topix.com/tech/kde/2009/01/re-as-a-kde-user?fromrss=1 | 6729 |
---
Dear KDE,

KDEgames wishes you all a happy release. Party hard, but responsibly. Remember - your KDE needs you in one peace :P

Also, I would like to personally thank the entire KDEGames crew for yet another great job, and the whole of KDE for making this happen.

And now something very special for the very special people:

I call it "The Flight of KDE" ;)



Seems to me I forgot to add a link to the full version :D How silly.
16 | System & Utilities | http://my.opera.com/it-s/blog/show.dml/2935227 | 6728 |
KDE 4.2 has been released and there is neat stuff all over the place.
The thing I think rocks most? Definitely automatic translation and image fetching in Parley. Typing all those vocabulary by hand can be a pain. Thanks to scripting support in Parley you now can let Parley fetch those translations for you. And while we are at it: Why not also get a nice image on top of it?
So now tell me: Which feature do you think is the best? Got a small feature that risks getting unnoticed? Or a feature that makes your live 10 times easier? Tell us about it in the comments and your blog!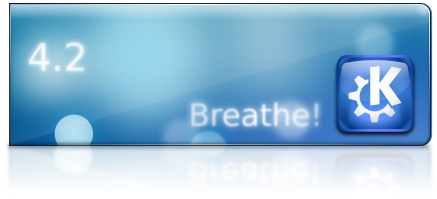 16 | System & Utilities | http://blog.lydiapintscher.de/2009/01/27/tell-me-all-the-ways-you-rock/ | 6724 |
Thread beginning with comment 345657 To view parent comment, click here . To read all comments associated with this story, please click here .
16 | System & Utilities | http://www.topix.com/tech/kde/2009/01/re-3-will-they-ask-to-unbundle-konqueror-etc?fromrss=1 | 6725 |
After the official release of KDE 4 last year, I took a close look at nascent projects that aimed to port the desktop environment to other operating systems.
16 | System & Utilities | http://www.topix.com/tech/kde/2009/01/hands-on-testing-the-kde-4-2-release-candidate-on-windows?fromrss=1 | 6722 |
I have finally recovered from the trip to Jamaica. It took me the whole weekend, though. Maybe staying up late didn't really help… Or I'm just getting old.
CampKDE was a cozy but great meeting and I really enjoyed spending time with people I already knew rather well and those I hadn't met before.
Although distractions were many, I got to all the topics I had on my list and learnt a lot from Mauricio and - I must admit - Wade. Quite some new ideas take shape in my head and I really hope to make at least a part of those reality.
For example: what do members of the Spanish speaking communities think about a Spanish blog aggregation around KDE? What about Portuguese? Is there already a place for this on the web? Please, comment with thoughts and hints, I am not really at home in both languages…
And speaking of the net: there is a flickr group collecting photos from campKDE. So if you happen to have your pics uploaded there, shoot me ...read more...
16 | System & Utilities | http://feeds.feedburner.com/~r/UntangledBlog/~3/524309248/ | 6721 |
How did everything end?
Sebas was forcibly removed from his laptop; we made him interact with other humans.
We went to Rick's Cafe to watch cliff diving.  I chickened out.  Jeff Mitchell and Pardus Dude #1 (not to be confused with Pardus Dude #2 who never got his luggage) manned up and dove in from about 14 Leaning Tower of Pisas in altitude.  That 22 bathtubs full of rope in height for those that need help with the conversion.
After Rick's we went to visit a lighthouse and Jeff bought some cool trinkets.  Unbelievable views.  I need to upload my photos.
Went to the Appleton Rum Estate for a tour.  Sit down because I've got some shocking news: they serve rum samples there.  That's right, I said it.  We learned that Ade and Chani combine to make one C++ savvy mule.  And peacocks are lazy.  Would it hurt to strut around a bit?
I eventually got used to the way people drive there.  If I wasn't placed in a ...read more...


16 | System & Utilities | http://wadejolson.wordpress.com/2009/01/27/camp-kde-2009-final-two-days/ | 6716 |
Well, I just had to put a provocative title so that you open this post. In a nutshell, the plasma binary is from now on called plasma-desktop.
For more info, visit Aaron's blog
16 | System & Utilities | http://ivan.fomentgroup.org/blog/2009/01/26/plasma-is-no-more/ | 6714 |
We are organizing release parties for KDE 4.2 at different locations in Brazil: São Paulo, Salvador and Aracaju are confirmed, with more to come. If you want to organize one, add it here, and announce it at the kde-br mailing list.

[pt_BR]
Estamos organizando festas de lançamento do KDE 4.2 em diferentes lugares no Brasil: São Paulo, Salvador e Aracaju já estão confirmadas, e tem mais vindo por aí. Se você quiser organizar uma, adicione aqui, e anuncie na lista kde-br.


16 | System & Utilities | http://piacentini.livejournal.com/11642.html | 6711 |
I had to think long and hard about being part of FOSDEM this year... Why? Well it turns out that one of the organisers has some pretty odd views on Free Software and those that care about Freedom.
My favourite gems of wisdom from Philip are:
Since a fair number of free software activists also happen to be open source software developers, there are a number of free software people and projects at FOSDEM too. There is even an FSF Europe stand every year and we even let Richard Stallman give a keynote a number of times.
Well, well, well... How big of you for allowing the father of the Free Software movement (which came long before "Open Source" by the way, Philip) a slot for presenting. It's worth pointing out here that those Free Software activists who "happen" to be open source developers are in the majority. GPL (and related FSF licenses) plus BSD (and related), Apache... All are Free licenses and between them make up the vast majority of the ...read more...
16 | System & Utilities | http://hemswell.lincoln.ac.uk/~padams/index.php?entry=entry090126-112848 | 6709 |
I've rounded up some useful tips, none of which are really important enough to warrant a post just by themselves. So without further ado…
If you're running kdesvn-build, you can use the –refresh-build option to force the given modules to be built with a clean build directory. But what if you didn't want to do that for all of the modules on the command line? What you can do instead is create a file called .refresh-me in the toplevel of the module's build directory (e.g. build/kdelibs/.refresh-me). When kdesvn-build rebuilds the module, if it finds that file it will perform the build process as if –refresh-build had been passed. Since –refresh-build involves deleting the build directory this is a one-time-only event. Next time you build everything will work normally.
Konqueror deserves several posts on its unique gems just on its own. But one thing I'll mention is the address bar. There are two different keystrokes that I know of to quickly select the address bar: Ctrl - O will select the address in the address bar, ...read more...


16 | System & Utilities | http://www.purinchu.net/wp/2009/01/25/quick-tips/ | 6706 |
About a week ago I updated the KDE 4.1 backports for Lenny with the fourth and last revision of KDE 4.1.
As previously announced, this will be the last update available at http://kde4.debian.net
What is next?
The repository will continue there, so Lenny users can choose between KDE 3.5.9+ and KDE 4.1.4. But since 4.1.4 packages are not official, they do not have support: no bugs in the BTS or security updates.
If you are using Debian Lenny for stability and security purposes, you should use KDE 3.5.
Testing users (future squeeze, current Lenny) can continue using them until KDE 4.2 reaches testing. Again, remember, no bugs in the BTS or security updates, but they will get a clean upgrade to KDE 4.2 in the near future.
Unstable users. I have found that there are people using unstable with the backports, when they should be using experimental KDE 4.1. If this is your case, you can stick with 4.1.4 until KDE 4.2 reaches unstable or switch to experimental in a few days and get ...read more...
16 | System & Utilities | http://ekaia.org/blog/2009/01/25/end-of-backports-and-about-kde-in-lenny/ | 6703 |
Maybe everybody already heard about the shiny new 4.2 release, and maybe even more people are already using it in the RC version, like myself.

But this event needs to be celebrated even more! Unfortunately not everybody of us can attend one of the release parties all over the globe. So we, the team of the KDE forum, decided to add something to the release parties...

We believe that this release is a milestone in KDE development, so we decided to open the forum (at least in a part) to the whole world. Yes, you read it right, not even a registration is needed. We will open a thread just the day 4.2 will be released and it will be open for 24 hours. And there you can write whatever you want to write about the new release.

Of course, to overcome some sort of trolling, we will moderate very new post, but of course every constructive criticism is welcome.

NOTE: This thread will be ONLY about the 4.2 release, no talk about present releases.

...read more...
16 | System & Utilities | http://neverendingo.blogspot.com/2009/01/kde-42-release-event.html | 6699 |
LZMA is a relatively new compression algorithm. It is used in more and more places: 7-zip, the Linux kernel and deb and RPM packages. So adding LZMA to Strigi was a desirable step. The code for LZMA can be downloaded from the 7-zip website. It is in the public domain.
For decompression, only 3 c files are required. I've added these to the Strigi repository directly. The decompression interface of LZMA is similar to that of GZip and BZip2. It nevertheless cost me quite a bit of time to figure out how to use it exactly. The result is a Strigi::InputStream class that can be used in the same way as the other decompression classes.
Once the InputStream was written, adding LZMA support to .deb files, .rpm files and jstream:/ was simple.
This improvement, along with a better index, will be released in Strigi 0.6.4 this week.
16 | System & Utilities | http://www.kdedevelopers.org/node/3853 | 6696 |
More than a year ago I wrote a post about KDE 4.0 , I was quite unsatisfied with how in was and that we are going to release a product that has defects and in the eyes of the users will be a step back.
16 | System & Utilities | http://www.topix.com/tech/kde/2009/01/kde-4-2-progress-in-a-year?fromrss=1 | 6697 |
It's been quite a long time since my last blog entry.. University, family and love took me a little away from the KDE scene.. Anyway i was able to follow the great success the incoming KDE 4.2 release is getting. You all have done a great job and we all should be proud of what KDE is and will be for the Open Source world. Unfortunately i'm in my exam period at university and i hope it'll last soon.. Btw i was able to get back in touch with Plasma and committed two little patches this morning.. Nothing really relevant, just to feel i'm back to KDE development
.
Due to this busy period i've left Lukas all alone with our KConfigEditor port to KDE4 which is still there, just ported but not improved. I'll get back working on it soon, i promise!
PolicyKit-KDE is another big project i was contributing to till the end of the last year. Daniel Nicoletti, helped by Lukas, is doing a ...read more...
16 | System & Utilities | http://alediaferia.wordpress.com/2009/01/25/some-hobbies-are-easier-than-others/ | 6695 |
I've received some great feedback on the Remember The Milk plasmoid and I thought I would share some of my more recent changes.
My university courses started last Monday, and with it the inevitable shrinking of free time to hack. However, the workload hasn't quite piled on yet and I've spent some time in the last few days on the core of librtm. Its handling of tasks is vastly improved, and it is now possible to work directly with RTM::Task objects, as they will send their updates (i.e. new names, due dates, tags, etc…) to the server. When the server responds to these requests, the RTM::Session receives the replies and keeps the internal state of tasks consistent. It helpfully emits taskChanged(RTM::Task*) so that any frontend application can stay up-to-date in whatever way it handles tasks.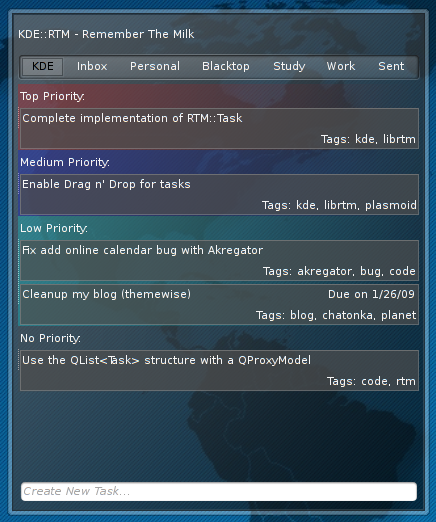 I also made some enhancements to the plasmoid, the most visible of which is the new task configuration widget, shown below. When you click on a task, ...read more...
16 | System & Utilities | http://blog.chatonka.com/2009/01/more-on-rtm-plasmoid/ | 6692 |
Ссылки