Ссылки
Last night we were at the Philipp Poisel gig in Schwetzingen. Great music and excellent musicians. It was great fun to listen and watch.
If you have a chance to see Philipp as he's doing the remaining gigs from his tour, don't miss it!
I'm puzzled... Why is the KWin desktop grid (which I discovered yesterday) so much more convenient and pleasant to use than Apple's Spaces? It could be the difference in screen resolution -- my Mac is 1920xsomething, my Thinkpad 1024x768, it could be that the whole virtual desktop thing is better implemented in KWin... But I really am not sure what it is that makes me shun spaces because it sucks and actively enjoy KWin's desktop grid...
I haven't written a blog entry for ages - so long in fact that it almost resulted in a mutiny against me in #kde-bugs. So, with the fear of angry triagers trying to RESOLVE me and a vaguely relevant BBC article to inspire me, here goes…
This morning I happened to be reading a BBC article when multiple mentions of the "open source software" buzzword caught my eye. It starts like more of the typical ranting about the ever lasting NHS computer system saga, that anyone vaguely aware of British politics will be bored stiff with hearing about by now, but then it goes on:
Instead of awarding long-term contracts to large IT companies they could open up the procurement process to smaller firms using "open source" software.
Grrr… why do they have to mention "smaller firms" and "open source software" together like that (or perhaps I'm just being paranoid).
It recommends the adoption of open data standards across government, in effect creating a common "language" for government IT systems.
This would reduce licensing costs ...read more...



Today I accepted a job offer from Torch Mobile as a software developer in Toronto working alongside a few other KDE developers on WebKit/Qt.
So, pending my visa application, I'll be relocating to Toronto in August. I can't wait - here's to pastures new!


The release of Eigen 2.0 will happen this Sunday!

Just in case you want to join our IRC channel (#eigen on irc.freenode.net) and celebrate, here's roughly the timespan in which we expect to make the release, depending on your timezone:

Los Angeles: between 9:00 AM and 10:00.
Toronto/New York: between 12:00 (noon) and 13:00.
London: between 17:00 and 18:00.
Paris/Berlin/Rome/Madrid: between 18:00 and 19:00.
Helsinki: between 19:00 and 20:00.
Moscow: between 20:00 and 21:00.
We've been working on Krita 2.0 since 2006; it looks like we'll release early 2009, which means it'll contain three years of work. That's about as much time as went in to 1.4, 1.5 and 1.6! (If you start counting the work towards 1.4 from when I started hacking krita.)
Thread beginning with comment 346064 To view parent comment, click here . To read all comments associated with this story, please click here .
Every two weeks I get a question about the state of (no, not Okteta, he) the port of the Mac-style menubar to KDE 4. Obviously because I once tried to work on it, but then stopped (and nobody took it up).
In the time around the KDE 4.2 release the frequency of this question has risen, including one email from Markus Slopianka, who pointed me to the "Global Menu Bar for GNOME" project, thanks for the hint.
Guess it's time for me to at least place some information about the state of global menubars for KDE/Qt in a Planet KDE-feeded and googleable document, to have the information flowing and perhaps create some more action somewhere
Because myself I won't work on this anytime soon, given my TODO list and the priorities attached.
Personally I would like it very much if there is a Mac-style global menubar as option also for the FLOSS desktops/shells. One that is supported by all the common FLOSS toolkits, like Qt/ ...read more...
Dear all digiKam fans and users!
A new digiKam beta release is out. for KDE3, It's a bug fix and translations updates.
digiKam 0.9.5-beta3 tarball can be downloaded from SourceForge at this url
Compared to digiKam 0.9.4, closed files and new features are listed below:
Hi !
Last weeks were busy with real-life for the whole KGLEngine crew, and DrIDK will be busy with his exams for at least a few more days.
I, however, have finally found an internship (in New York city, 22th floor of the Empire State building, which is really something I'm looking forward to).
So now I don't have to look for an internship, I'll have more free time to spend on the engine. And for the next 2 month, before I leave for New York, I will have Thuesdays and Fridays free, which I will try to use for KGLEngine developement.
Now that KDE 4.2 is out, we will have to enter kdereview if we want inclusion into KDE 4.3, and I hope we will male it (but I don't see why we would not).

More about the engine now ! :)
We have realized it is still hard to work with KGLEngine. So we have continued documenting the engine, and I am trying hard to use QtScript generator to generate bindings, which would make things easier ...read more...
After our record attempt our 24 hours lasting thread about congratulations to the KDE 4.2 release is slowly coming to an end. Did we meet our target of 2000 posts? No... As of now we are at 370 posts... Well, we still have it open to finally come to 420 posts, that would be cool.

But let me sum up:

- When i first time entered the forum yesterday, i noticed people already trying to do posts in this particular forum... (it was ~10:00 UTC). Luckily we decided to wait with opening it till the official release announcement arrives. :)
- Unfortunately we found out that the new Dot is hosted right on the same server with us... That made us a bit worried about server load etc, since the new Dot as well as our Release Party was meant to arrive at the same time. And both are known for high traffic on such days. Well, as most of you probably saw... it put the server to it's knees. Some issues were tested ...read more...
A Windows man, a Linux man and a Mac man walk into a bar... Posted in Software , 28th January 2009 16:55A GMT The Linux K Desktop Environment project is hoping to bag a few ordinary computer plebs with the ...
Everyone, at least in the free software world, probably knows by now that KDE 4.2 has been released yesterday. It was released just a few moments after the release party started in Kiberpipa/Cyberpipe multimedia centre here in Ljubljana, Slovenia. Just in case you still don't know about KDE 4.2 release, you should definitely read KDE 4.2 release announcement and take a look at the excellent visual guide to new features in KDE 4.2. You'll see that the solid new foundations laid out with KDE 4.0 are really showing through now and the work invested into them is starting to pay off heavily. At this fast rate of development it is hard to imagine what KDE 4.3 will bring us. And it's only 6 months away.
The party in Kiberpipa was also a similar success. Everything was not perfect, though. Computers that would be used for workshops didn't have KDE 4 installed on them, ...read more...
"Torvalds' comment produced a flood of response across the web, including an apologia from leading KDE developer Aaron Seigo.
KDE 4.2 has been released and gives "The Answer".
With the usual openSUSE KDE4 packages available comes also a new release of KDE Four Live, the most comprehensive KDE4 Live-CD, with following changes:
x86_64 version available for the first time
kdelibs3 is not contained anymore, NetworkManager-kde4 is responsible for managing network connections
qt3 is not contained anymore, as result YaST Control Center doesn't show icons and offer search currently
the freed space is used for new stuff not contained before: kepas, krename, krusader, yakuake, ...
kdebluetooth4 version working with bluez4
Have a lot of fun...
Currently I have this kind of setup:




I have been happy with it, but since I have GeForce 6150 on the mother board I was thinking adding one more display so my setup would look like this:




After reading about multi screen setups it seems that it is currently impossible though. Supposing that I want to move my windows from screen to screen (xinerama/twinview) and have composite enabled. Please correct me if I'm wrong.
The developers behind the open source KDE desktop environment have announced the official release of version 4.2. This new version, which arrives one year after the original 4.0 release, delivers a ...
It's rather odd to be scratching the ice from the windshield of a car while you still feel like going for a swim during lunchbreak.

My body agrees on the weirdness – yesterday it refused to accept the 25 degrees decrease in temperature. Despite both London and Schiphol not being particularly warm, I still felt rather warm while walking home in shorts and a t-shirt.

I'm back to my old self now, in part thanks to my current office space. It's colder here than in an American Airlines plane (and the citizens of the USA like their airco – if it has button, you have to turn it to max).


Thursday on the way back from the rum factory tour: fresh coconut!

Either way, the way back wasn't too bad, considering my bloodloss. Yeah, I've left at least a litre of blood back at the restaurant in Port Royal in Kingston. We had a meet & ...read more...
I was going to make it "Konsole Tabs Are Session Managed Again" but it's a restored KDE 3 feature and all the kids know that commandline hacking is not cool.
Woohoo! KDE 4.2 is released!! I only wish the last few KPilot bug fixes would have made it into the 4.2.0 release, but we were too late. Still, if you think you knew what KDE4 was all about, think again. Check out KDE 4.2.0. =:)
Now, It's probably obvious to anyone reading this blog what my thoughts on Open Source and Licencing are, so I won't go into that. However, I've recently found a new author, who I'm liking a LOT.
His name is Cory Doctorow, and after reading some of his short stories, I thought I'd look into his longer stuff. As I've mentioned before, I'm a fan of feedbooks.com - and, as an author who's releasing his works under a Creative Commons licence, his stuff is also there.
I started reading one of his books called "Little Brother" (http://www.feedbooks.com/book/2466). I read the intro, and I was hooked.
It's kind of hard to explain what I mean, so I'd suggest if you're interested, goto the link above, and click on the PDF link, then read pages 4 through 12 (the introduction/foreword to the book) and you'll see what I mean.
I'll probably review the book once I've finished it (curled up in bed with my trusty eeePC), but from what I've read, and that intro, Cory Doctorow is ...read more...
The release of KDE 4.0 was not a smooth one, and left a number of users a bit disgruntled.
Over at the KDE Forums there is a record attempt to have 2000 posts in 24h in one thread.
So if you want to congratulate KDE, you can do it in the forum and help to make the record succeed in one go!
Go here. You don't need to register to post!
In the last few days, KDE developers have been actively discussing usability issues for KDE 4. Here are some thoughts, and some more are here .
---
Dear KDE,

KDEgames wishes you all a happy release. Party hard, but responsibly. Remember - your KDE needs you in one peace :P

Also, I would like to personally thank the entire KDEGames crew for yet another great job, and the whole of KDE for making this happen.

And now something very special for the very special people:

I call it "The Flight of KDE" ;)



Seems to me I forgot to add a link to the full version :D How silly.
KDE 4.2 has been released and there is neat stuff all over the place.
The thing I think rocks most? Definitely automatic translation and image fetching in Parley. Typing all those vocabulary by hand can be a pain. Thanks to scripting support in Parley you now can let Parley fetch those translations for you. And while we are at it: Why not also get a nice image on top of it?
So now tell me: Which feature do you think is the best? Got a small feature that risks getting unnoticed? Or a feature that makes your live 10 times easier? Tell us about it in the comments and your blog!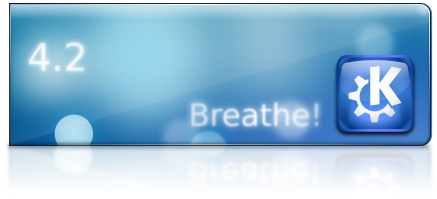 Thread beginning with comment 345657 To view parent comment, click here . To read all comments associated with this story, please click here .
After the official release of KDE 4 last year, I took a close look at nascent projects that aimed to port the desktop environment to other operating systems.
I have finally recovered from the trip to Jamaica. It took me the whole weekend, though. Maybe staying up late didn't really help… Or I'm just getting old.
CampKDE was a cozy but great meeting and I really enjoyed spending time with people I already knew rather well and those I hadn't met before.
Although distractions were many, I got to all the topics I had on my list and learnt a lot from Mauricio and - I must admit - Wade. Quite some new ideas take shape in my head and I really hope to make at least a part of those reality.
For example: what do members of the Spanish speaking communities think about a Spanish blog aggregation around KDE? What about Portuguese? Is there already a place for this on the web? Please, comment with thoughts and hints, I am not really at home in both languages…
And speaking of the net: there is a flickr group collecting photos from campKDE. So if you happen to have your pics uploaded there, shoot me a ...read more...
How did everything end?
Sebas was forcibly removed from his laptop; we made him interact with other humans.
We went to Rick's Cafe to watch cliff diving.  I chickened out.  Jeff Mitchell and Pardus Dude #1 (not to be confused with Pardus Dude #2 who never got his luggage) manned up and dove in from about 14 Leaning Tower of Pisas in altitude.  That 22 bathtubs full of rope in height for those that need help with the conversion.
After Rick's we went to visit a lighthouse and Jeff bought some cool trinkets.  Unbelievable views.  I need to upload my photos.
Went to the Appleton Rum Estate for a tour.  Sit down because I've got some shocking news: they serve rum samples there.  That's right, I said it.  We learned that Ade and Chani combine to make one C++ savvy mule.  And peacocks are lazy.  Would it hurt to strut around a bit?
I eventually got used to the way people drive there.  If I wasn't placed in a near death ...read more...


Ссылки