Ссылки
I am actually in Porto (Portugal) for the Tokamak version 2.0. Tokamak is a developer meeting for the Plasma KDE project. I arrived Friday and the first day was talks, people explaining on what they are working on for KDE 4.3. There will have some awesome features that make Plasma the best desktop ever. From my side i gave a talk about Qt Kinetic to introduce them the project. The first feedback i had was that this project is warmly welcome, and miss to plasma developers (and i guess to others). I introduced the Qt State machine framework, the Qt Animation API and talked about improvements in QGraphicsView. I had nice feedback from people and they were pretty happy about the API. I wrote all their remarks on a paper to work on them with other trolls. I have already implemented some of them inside my local copy of Qt Kinetic :D. The team is ...read more...
16 | System & Utilities | http://labs.trolltech.com/blogs/2009/02/08/qt-kinetic-hits-plasma/ | 6863 |
One of the features of the webmasters toolbar in Firefox, I use a lot is the option to clear the http auth data. When developing websites I often create a website that shows certain features depending on the login which is given. That automatically means that I need to switch often between different logins. I can achieve that with different browsers for example, but that's limited too.
For Konqueror the only solution was to close the browser and restart it. But then, there is always our great KWallet integration, which automatically authenticates you. To solve this I made a new plugin which you can add to the toolbar which clears the http auth data, removes the data from the KWallet en reloads the webpage so you can relogin with different data immediatly.
konqueror++. Source can be found in /trunk/playground/base/konq-plugins. A tarball is available on request. Opensuse uses can simply add my home project to get binaries.
The plugin does not work in 4.2.0, but works on 4.2.1 and ...read more...
16 | System & Utilities | http://www.omat.nl/drupal/content/New-Konqueror-plugin-clear-http-auth | 6861 |
I've finally succumbed to social trend and created Identi.ca and Twitter accounts over the weekend, just in time to listen in on the Tokamak2 dents (Identi.ca term for "tweets"). Not hearing anything from FOSDEM though.
I've been considering micro-blogging for quite some time now, considering how many times I've wanted to blog about something very short but didn't have the time (or energy) to do a full blog post. So I thought that micro-blogging would be better for me. And so far, I think I'm right.

I think it's also almost perfect for Filipinos here, who are used to sending out 160-character SMS to friends about a lot of things, both the important and mundane. Unfortunately, it comes at the price of writing/spelling properly (u kno? dis kind of txt). Gotta try advertising it though. Maybe they'll like it and finally get rid of the prehistoric bloat that is Friendster.
Currently using choqok ...read more...
16 | System & Utilities | http://jucato.org/blog/tweet-dent-twittica/ | 6858 |
I just read Pl
16 | System & Utilities | http://www.tictric.net/2009/02/07/ktouch-at-school | 6855 |
"While the industry is distracted by the ongoing tussle between Microsoft and OpenOffice.org over document formats, the KDE project is quietly preparing the next generation of its own office suite , KOffice, ...
16 | System & Utilities | http://www.topix.com/tech/kde/2009/02/re-4-old-news?fromrss=1 | 6856 |


Plasma developers at work! We defined individual goals and a work group had a brainstorming session about Plasmate. Leo who was delayed all day yesterday in London because of bad weather eventually arrived in the night and gave us an update on current Amarok. The network is good but slow and I started git clone on Qt Kinetik but this is not even 50% done after several hours. Kinetic is the QAnimation new framework and will allow the flipping of the picture really easily.
From my personal goals for the Picture Frame Plasmoid, Alexis the Qt guy helped for the graphics stuff and even profiled it into KCacheGrind pointing to me what areas could be speeded. We have some local people joining us which is very nice. My goals are taking shape!
16 | System & Utilities | http://annma.blogspot.com/2009/02/tokamak-day-2.html | 6853 |
For the last few months, when I was not busy hacking on Gwenview or other parts of KDE, I spent some time together with S
16 | System & Utilities | http://agateau.wordpress.com/2009/02/07/and-now-for-something-different-introducing-yokadi/ | 6852 |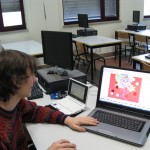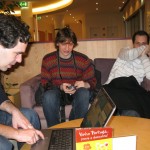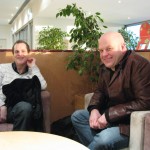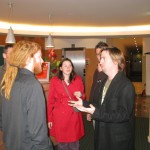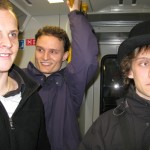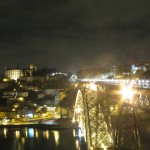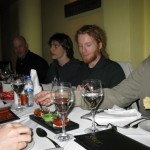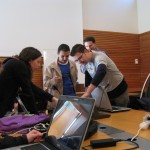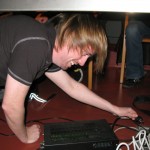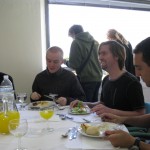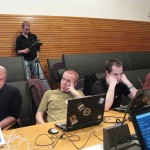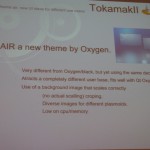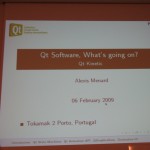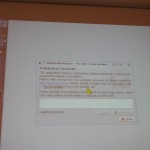 16 | System & Utilities | http://blog.uninstall.it/2009/02/07/tokamak-day-0-1/ | 6851 |

Sorry to post this but it was too amusing not to share.
In Obama's autobiography he quotes a friend who used to swear a lot. Obama read's the audiobook version of his own book.
(I'm not saying swearing is good/bad or that Obama is therefore good/bad because of this. However I'm still childish enough that this makes me giggle like an idiot…)
16 | System & Utilities | http://mikearthur.co.uk/2009/02/obama-swears-in/ | 6849 |
Due to new employment (Zivildienst) I'll be unable to continue my work on the various projects I am a proud contributor of. Well, until mid-October at least.

I'll most likely not be able to follow mailing lists, nor will I be online on IRC when I am not really available. If you want to reach me, you better drop me a mail personally... the inbox is pretty much everything I kind of read. Should you be lucky enough to actually get a hold of me: don't expect me to do or say anything useful :P

By 2010 I should be able to attend conventions and fairs again, so you can worship me live and in action ;-)

So long...
16 | System & Utilities | http://apachelog.blogspot.com/2009/02/i-am-disappearing.html | 6848 |
On my homepage I have for awhile mentioned that I wanted to get my symposium project posted someday.
I've finally had a chance to touch up the code I used in the symposium and I'll briefly mention here what this is all about.
In the late 60's IBM developed a random number generator for its System/360 computers called RANDU. The algorithm was designed to be fast and have an easy implementation. Unfortunately it had a lot of deficiencies associated with it as well, including some glaring anomalies which are visible if you plot RANDU-generated points in 3 dimensions.
(click to enlarge)
This view of a RANDU-derived point distribution doesn't look so bad. But if you rotate around the view a little bit, you'll see this:
(click to enlarge)
That doesn't look very random at all. This type of testing ...read more...
16 | System & Utilities | http://www.purinchu.net/wp/2009/02/06/the-randu-pseudo-random-number-generator/ | 6847 |
I'm "live blogging" today's Tokamak presentations and other events on identi.ca, so if you'd like to keep a voyeuristic eye on what we're doing you know where you can go now. ;)
16 | System & Utilities | http://aseigo.blogspot.com/2009/02/follow-tokamak-on-identica.html | 6845 |
When we are coming up with terms to use for various aspects of the system, the first thing we ask ourselves is, "Is this a word or phrase the user sees, or is this a developer issue?"

For things that the user sees, we use words and phrases that describe what the object or action is and avoid technical jargon. So, for instance, we don't use the word "Plasma" in the Plasma user interface except in the About Box. The person logging in probably doesn't really care what that the wonderful thing they see is called, they just like using that thing that, to them, is their "desktop".

For things that the user doesn't see, we try and use technically useful terms. So because the plugin metaclass is call Applet, the .desktop files are plasma-applet-*.desktop by convention. The user never sees this and it helps developers understand the technical path things take. Another example from Plasma is "Containment" versus "Activity": the former is a literal technical term describing the class structure, while the latter is the ultimate functionality ...read more...
16 | System & Utilities | http://aseigo.blogspot.com/2009/02/user-vs-technical-language-aka-more-on.html | 6843 |
Davide posted a (micro-)blog entry noting to use the word "widget" rather than "applet" which caused a small flurry of conversation in the comments around the possible reasons for this. In Plasma we rarely do things without thought and conversation and so, yes, there are good reasons for this.

First off, Applet is not a well known word in the user populace. I've actually done semi-formal surveys of people to figure out which words are recognized by them and which aren't, and despite "Java applet" being a part of our technology vocabulary for quite a while, the average person doesn't really connect the word "applet" with anything overly meaningful. Many KDE users know "applet" from kicker, but that's not a huge percentage of the world population. "Plugin", thanks to web browsers, is probably the winning word but because it's associated with web browsers so strongly and has a well understood it wasn't really an option.

Widget, however, is increasingly used by people to mean "those little mini-apps that you put on your desktop, in our browser, on your ...read more...
16 | System & Utilities | http://aseigo.blogspot.com/2009/02/why-widget-brother.html | 6840 |
Well,,this post can be considered as introduction of a twitter/facebook client we have been working on since very long ,
though far from complete , we thought it would be good  to have  some constructive comments from community regarding Ui and styling :) ,
so please try http://code.google.com/p/qttwitter/source/browse/#svn/branches/abhijit
[ svn co http://qttwitter.googlecode.com/svn/branches/abhijit qttwitter-read-only ]
branch : abhijit in svn
16 | System & Utilities | http://techfreaks4u.com/blog/?p=1267 | 6838 |
"The Mojave Experiment."  Sounds like science fiction.  Like the Manhattan Project.  But with lasers.
Does anyone remember more innocent times (a couple of months ago) when Microsoft was still trying to get you believe that Vista was a consumer perception problem and not a debacle?  Their sleight-of-hand marketing campaign that boiled down to, "It's not us, it's you."  There's a reason it doesn't work in break-ups and a reason that doesn't work with multi-million dollar ad campaigns.  The results of that experiment were so conclusive and reassuring that they promptly decided to release a brand new OS ASAP.  Why didn't they use this experiment on their own execs?
Well, some cheeky bastards at ZDNet Australia have taken this experiment and turned it on its head.  Or done an orthogonal experiment.  Or made a perpendicular point.  Here's the video (in flash on their site).  If only WordPress would let me directly embed their video.
Now, I'm sure this will fuel the fire that ...read more...
16 | System & Utilities | http://wadejolson.wordpress.com/2009/02/06/a-twist-on-the-mojave-experiment/ | 6836 |
http://flickr.com:80/photos/blauzahl/sets/72157613171373906/
Enjoy! And maybe I'll get around to putting up more.

Plus one video of the flaming drink. Although I haven't checked to see what format they put that into and how restrictive it is.
16 | System & Utilities | http://blauzahl.livejournal.com/13307.html | 6834 |
I just finished my small presentation for tomorrow and I'm already at the boarding gate. It looks like that the fligth is empty, just a few people here and most of them are europeans going back home after holidays.
At this time nobody stopped me at the security check, what is a miracle because every time I have to open my handbag. It's really hot here and very cold at Porto so I'll problably have what they call 'thermal shock' hehe.
I have to board now, so…..see you

Ah, almost forgot to say that this is my first post from my n810..
16 | System & Utilities | http://labs.morpheuz.eng.br/blog/05/02/2009/tokamak-ii/ | 6832 |
January 29, 2009, 08:32 PM - Computerworld Australia - Recent developments in the OpenChange and KDE open source projects are set to bridge a "missing link" in messaging and groupware compatibility from ...
16 | System & Utilities | http://www.topix.com/tech/kde/2009/02/openchange-kde-bring-exchange-compatibility-to-linux?fromrss=1 | 6833 |
With the awesome Qt Software guys in Oslo shipping a Release Candidate for Qt 4.5, we here at Qt Software Berlin couldn't help but release a RC on our own. Presenting Qt Creator RC 1, a.k.a. 0.9.2 (Don't ask, we just like the number). This version has seen quite some polishing, e.g.
Improved user interface with feedback option for your feedback
"Fake Vim" mode for VIM lovers
Improved Version Control Support (Perforce, Git and Subversion)
If you got curious you can get more details from our lovely team-member-in-Norwegian-exile Kavindra and the binaries from the Qt Creator page.
16 | System & Utilities | http://daniel.molkentin.de/blog/archives/133-Qt-Creator-RC-1-Out-For-Your-Testing-Pleasures.html | 6830 |
Yes, finally we managed to get the code into shape to do a first beta release of KDevelop4. See the dot article for some more information and where to get the source/binaries. The highlights are of course the awesome things David did for C++ support and the cmake support by Aleix.
On a side note: I'm also getting back to working on KDevelop4/win32, currently debugging some problems with DUChain. The good news is: Latest trunk already compiles and opens projects, the bad news: This is not part of the beta. I'm pretty confident though that the next beta will include win32 support.
16 | System & Utilities | http://apaku.wordpress.com/2009/02/05/kdevelop4-beta1/ | 6828 |
I'm increasingly getting an urge to expanding my hackings into other parts of kde, as to actually fix the small things that annoy me myself. There is only one problem though; I am very happy with the updated packages the kubuntu team supplies, and especially with my small laptop being my only available system, keeping a constantly complete self-compiled environment is something I don't want to do.
So I'm wondering, maybe there is a middleway? Maybe there is a way I can for example get the source for the plasma package, hackety-hack up a small feature patch, send the patch off to review, commiting and whatnot, and while all this is happening, be able to keep these few patches in my own system easily, even with all the other parts of the system being based on packages.
For the apps that I regularly hack on (ark and kiten) I actually have placed empty placeholder packages in the system and compile them myself, but for larger system packages I also want the various improvements and settings that the packagers ...read more...
16 | System & Utilities | http://metelliuscode.wordpress.com/2009/02/05/a-binary-package-based-system-with-own-patches/ | 6825 |
I just committed a KDE 4 port of the SLP kioslave into playground. The KDE 3 version might be at least known to the OpenSuse users, as Novell is a strong supporter of the Service Location Protocol (SLP, srvloc), and so it had been developed in some Suse repository and always been installed with the OpenSuses.
So far it's a 1:1 port, perhaps with new bugs introduced by the port:

Why did I do this port? I am looking to see of there could be a better presentation of the units and services in a network, e.g. in Konqueror, Dolphin and the filedialog. I was at least impressed by the environment view of Sugar.
Before I ported the SLP kioslave I had made myself a little familiar with the zeroconf kioslave residing in the module kdenetwork, ...read more...
16 | System & Utilities | http://frinring.wordpress.com/2009/02/04/bonjour-what-services-are-in-this-location/ | 6824 |
With the next Akademy and GUADEC being co-located in Gran Canaria, I thought it would be nice to do a bit of 'cross-desktopping'. My Gnome friend, Alberto Ruiz, is organizing the Gtk+ 3.0 Theming API Hackfest with some GTK hackers along with Jens Bache-Wiig from Qt Software. That is really good news as it means they'll be thinking about making the toolkits apis compatible at the look and feel level right from the start.
My own idea for improving toolkit inter-operability is so see if it is possible to generate Qt's runtime introspeciton data in the form of QMetaObjects, from a GObject introspection repository and vice versa. So a Qt program looking at a GTK class would see slot names in camel case using Qt datatypes such as QStrings, qreals and QList types, and it would be able to connect Qt signals to the GTK slots as though they were native.
I began looking into how GObjects worked when Norbert Frese started a discussion on the kde-core-devel mailing list about a GIO-KIO bridge that he was ...read more...
16 | System & Utilities | http://www.kdedevelopers.org/node/3878 | 6821 |
so in three hours my alarm is going to go off, and I'll have to head out to the airport yet again. somehow I find myself blogging instead of sleeping, though.
I haven't touched plasma this week - I've been busy catching up on homework, then trying to get ahead so that I can ignore it during tokamak. :) it'll be great to see the plasma team in person and get some solid hacking time in. whee :)
so, um, yeah. I'm still alive, and I get to go to portugal! woo! the amount of travel I've done in the last year has been kinda crazy. crazy awesome.
I think I'm gonna pass out now. more blogs will come, with code. mmm, code. (actually, I did some haskell programming on hte weekend for homeork. that was fun. and hurt my brain.)
also, my desktop is prettier than your desktop ;P here's my main activity and one of my school activities
...read more...
16 | System & Utilities | http://chani.wordpress.com/2009/02/04/on-the-road-again/ | 6819 |
I actually went through all my blog entries and removed spam. That means that you won't be able to find anymore links to stuff that can enlarge your penis. I hope this action will not shatter your lives and you'll find consolation in all the spam that you're getting via email anyway. And if not I saved some of the links. You never know, I say.
I also changed the template, I'd slap something ninja related on it, but I don't have anything that fits. Besides nowadays everyone is a graphics ninja. I'm counting hours until the term will be added to the dictionary. So my new nickname will be "The Lost Son of Norway, Duke of Poland and King of England". Aim high is my motto.

As a proud owner of exactly zero babies I got lots of time to think about stuff. Mostly about squirrels, goats and the letter q. So I wanted to talk about some of the things I've been thinking about lately.

Our friend ("our" as in the KDE communities, if you're not ...read more...
16 | System & Utilities | http://zrusin.blogspot.com/2009/02/latest-changes.html | 6817 |
Missing Include Completion
C++ is a great and powerful programming-language. Yet it has the downside against some other languages, that you always have to deal with include-directives or forward-declarations before you can use a class.
This is a factor that often motivates me not to create too many different source-files, although design-wise that would make sense. Wouldn't it be nice if you could just start hacking without caring about the whole visibility stuff? Especially when you have to do the same includes again and again, and already know the library you're using and it's classes, this is nothing more than an annoyance.
I had implemented a feature to automatically add include-directives within KDevelop 4 about a year ago, but it wasn't as comfortable and useful as it could be. During the last days, I've taken the time to polish up this feature so it's worth a blog-post.
The whole thing is based on the DUChain, and it respects all declarations from within the global duchain store. This means that from the moment on that KDevelop has processed ...read more...
16 | System & Utilities | http://zwabel.wordpress.com/2009/02/04/automatic-include-directives-and-forward-declarations/ | 6816 |
Last Friday, January 30, Dominik Haumann and me went from Darmstadt to Frankfurt am Main to join the KDE 4.2 Release Party in the Brotfabrik. It wasn't the biggest such event, but had a nice mix of users and contributors, of locals and guests.
I had my N810 with me, which was unfortunately out of battery that evening, as well as a similarly-spec'd subnotebook which proves that the latest KDE compiles and runs just fine on a 400 MHz processor with 256 MB RAM. Not fast as light, but a lot more usable than it might appear at first.
The photo below shows, in clock-wise order starting from the lower left: Meinhard, Andreas (openSUSE website guy), Manuel (Quassel IRC client guy), Claudia (e.V. office), Jens-Michael (Marble hacker), Isabel (Linux-something, sorry can't decipher, and not visible on this photo), Andreas (a KDE-Win32 user), Thomas (DE-CIX), Lukas (Linux Lancers captain), Alex (of CMake fame), Dominik (of Kate fame), myself and Michael (KHotKeys). Aren't they a great bunch of people whom you'd entrust the fate of your desktop? (At least compared to making ...read more...
16 | System & Utilities | http://www.kuarepoti-dju.net//blog/2009-02-03-kde42frankfurt/ | 6814 |
Thanks to a good earphone playing lots and lots of loud and good trance music, i'm providing Mandriva 2009.0 KDE 4.2.0 packages.
For now only i586 packages are available, x86_64 packages will be provided after initial feedback.
A standard urpmi repository is available.
README for some detailed information.
16 | System & Utilities | http://www.kdedevelopers.org/node/3877 | 6811 |
I suppose we all have come across that "red button" on websites asking you to download Acrobat Reader to read a PDF document.
16 | System & Utilities | http://www.topix.com/tech/kde/2009/02/free-alternatives-to-proprietary-pdf-readers-now-easy-to-find?fromrss=1 | 6812 |
Ссылки