Ссылки
I'm back to you today to show something that we have been baking lately for KDevelop. It is its new documentation integration.
With KDevelop 4 we have been focusing on putting together the information that the user will be willing to read every moment. Until now, while browsing the code, we were only showing the information gathered by the C++ support. Since the last week this is no longer true, we can now show the documentation provided by the different documentation plugins. We only have a QtHelp plugin for now, but I hope the architecture will be flexible enough for the new plugins we will have on the future, such as, maybe, a Doxygen's, cmake's or anything the reader can imagine.
Here you can see a couple of screenshots that might give you an idea of how does it work so that you can see KDevelop 4, love it and try it.
- The information shown when hovering the DUChain: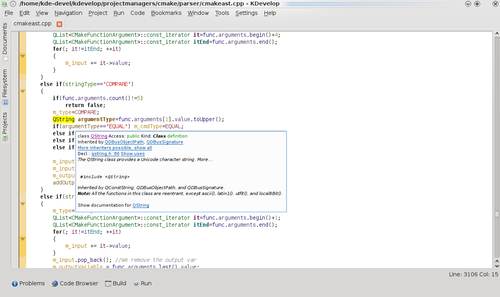 - The tool view on the right showing ...read more...
Since I've got myself a T-Mobile G1, I've had several people ask me if they too should get one. And the answer, as it often is, is: It depends.

If you want a phone with good battery life, this is definitely not the phone for you. If you have GPS and Wifi and 3G and all the bells and whistles turned on and you're using the phone constantly, you'll probably only get four or five hours of use out of it. I turn GPS and Wifi off and turn the screen brightness down (because even when it's turned right down it's pretty bright), and don't use it non-stop, just a fair bit of twittering and the odd bit of internet browsing and some texts and phone calls. And usually it's down to around 40% battery by the end of the day. Of course, it depends completely on how you use it. I usually plug the phone in at night so that it's fully charged in the morning. Last night I forgot to switch the charger on, and when I ...read more...
It is not too surprising that Ubuntu came in first in DesktopLinux.com's 2007 Desktop Linux Market Survey , or that Firefox was the topmost browser by far.
A long-requested feature has been a way to decouple Amarok's collection scanning from its GUI.  There are various use-cases for this.  For one, it can actually help us with debugging, by allowing us to control the inputs into the scan parser.  For another, many people have all of their music stored on a single machine, and would like to do the scanning locally where it's fast instead of on their e.g. laptop running Amarok, where it's over wireless and slow.
Yesterday and today (as of r933010) I put half of the solution into trunk.  I say half, because full collection rescans are now supported in batch modes, but I am still working on the methodology for incremental scans (I have a few ideas, but have to sort out which is the most reasonable/doable/makes the most sense). Below, I'll explain how to do it.  Keep in mind that this is designed to be (lightly) scripted, not done by hand...so it can be done by hand (which I did during testing) but it has some safeguards in place so that if ...read more...
Over at Ars Technica they've written an article titled "Microsoft suit over FAT patents could open OSS Pandora's Box" (http://lxer.com/module/newswire/ext_link.php?rid=116455).

They love their sensationalism over at Ars, that's for sure. Firstly, I don't believe there is a "Pandora's Box" to begin with. Microsoft would love us to think there was though.

This is all about Microsoft loosing out. They know there is a threat to their profits from Free and Open Source Software, so they try and discourage companies and businesses pursuing it by creating this overwhelming FUD aura around it.

No doubt, if Microsoft win this I see two things happening:

1) them using this win as 'proof' that Linux is dangerous and illegal. And that Microsoft themselves will possibly pursue you if you utilise it.

2) them using this as a testing ground against IBM. These two companies are at a stand-off with their respective patent portfolios and if Microsoft can win in one court against Linux then they can take this and bolster their attack on the big one, IBM. I wouldn't ...read more...
Sometimes there is nothing you can do. Sometimes people, no matter how blatant the facts are, are incapable of change. Today is one of those days.

I manage IT for one of the largest single Real Estate offices in Australasia. Being well acquainted with Open Source and knowing what it can and can't do, I have been able to replace some of the proprietary applications that we use with free software. That means no licensing costs, free upgrades and feature parity with proprietary counterparts.

Here's a few issues that are having me retreat to the bathroom to contain myself from bursting out in utter frustration at the stubbornness of the humans around me:

1. Firefox:

We all know that this browser is perfectly capable of holding its own against IE. Not many dispute that. Especially for our company, none of the sites we frequent or need are incompatible in any way with Firefox. And you know what? Firefox is so much quicker at rendering the pages than IE. I'm not just saying that - I manually ...read more...
Last week we finally had the first demo of our current work. We are working on animated layouts with the Qt Software guys. It has been a great great time. We are really happy with this work and the results that will come in the near future.
When we talk about animated layouts, we mean that when you change the layout of your widget you want that to have that change in a fancy and animated way (at least when you talk about Qt Kinetic). So we just finished the basic work to allow that and the next step is to define the API of setting animations between the changes of layout.
Right now we use the concept of states (using QStateMachine), a new way of setting a layout without destroying the old one and also a little hack to use QAnimation (this hack will go away as soon as we define a nice API).
Basically all you have to do is to use our concept of "proxies" and instead of adding your widgets to the layout you add this ...read more...
UBUNTU IS NOT JUST A COMPLETE operating system; it is also the center of a growing ecosystem of distributions.
I just wanted to brag about my new blog theme. It was heavily inspired by the new DOT design (made by Philip Tyrer and Nuno Pinheiro), but is done in a bit /different mood/
The second thing is that Identi.ca is now my primary microblogging service which you can see in the box on the right. Twitter will be updated simultaneously because I've set Identi.ca to pass the posts to it, so there's no need for you to follow me on both places (if you're not already).
...read more...
Thread beginning with comment 350768 To view parent comment, click here . To read all comments associated with this story, please click here .
So two weeks ago my HD did a huge CRACK and it stopped working. The system did not boot up and it just did CRACK CRACK CRACK all the time. So i browsed a bit and saw that ddrescue was a dd variant able to skip failing sectors. So i picked up a new HD the double size of the old one and a RIP CD and started the process of dumping the old filesystem into a file. Two weeks after ddrescue told me i had lost 77MB and thankfully after dumping the file into a newly created filesystem and some fsck later i did not lost anything important.

So thanks a lot ddrescue devels!
openFATE is now up and running for a few days. openFATE is, in case you missed the announcement, the community accessible feature- and requirements tracking for the openSUSE distribution. We developed and used the FATE system (which has some more components than just openFATE) before internally, but since we want ...
After a month's delay, they're done.
In the interim (after the delays mentioned in my last post on this topic), my poor, underpowered desktop machine has endured transcode after transcode (from the original source material) and my Internet connection upload after upload as I tried to figure out just why Blip.tv wouldn't work with X or Y.  (In fact, I can quantify these: X is Vorbis/Theora, which produced awful audio and very desynchronized audio/video upon their conversion to .flv; Y is a lot of things related to the original anamorphic encoding of the videos, which Blip.tv can't handle, and finding the right combination of settings and flags and adjustements to make the aspect ratios come out so that everyone didn't look like Gumby®.)
This was followed by a few days of uploading; Blip seems to max out uploading speeds somewhere between 100kbit and 200kbit, so uploading almost 6GB of data, one chunk at a time, took a bit.
The end result is thirteen videos, each Xvid-encoded (at least it's OSS, although patent-encumbered...see Vorbis/Theora problems above) with a Matroska ...read more...
Like last year and the years before that KDE participates in the Google Summer of Code. And like before project ideas are gathered independent from the Google process on techbase. And like last year Nepomuk will be part of the KDE projects proposing ideas. This is where you come in! I already posted two ideas in the list (scroll all the way to the bottom). That is not enough. I will try to come up with more but I think you have way more ideas up your sleeves (I noticed that much in Oslo where we had a lively discussion about the topic).
So, this is the opportunity to comment on this blog post and give your ideas for GSoC Nepomuk projects. You can, of course, even post the ideas directly on the techbase page (but then you should be available to mentor, too ;)
Thank you for your input.
...read more...
In a series of articles during the month of July, OfB's Timothy R. Butler explained why he felt that KDE needed to move beyond the Qt toolkit it uses as a foundation.
At the moment the KPresenter PowerPoint-Filter is broken, which means that KPresenter 2.0 will not be able to import ppt files directly. Unfortunately many users have PowerPoint presentations around and every day a few million new ones are made. At the moment the only way to import ppt files in KPresenter is to use OpenOffice to convert them to odp.
On the other hand many users already have a very capable filter on their disk namely the one included in OpenOffice. Very often some user suggested to use the OpenOffice filters, but getting just the filter out of the apps is practically impossible. Yesterday vandenoever proposed on IRC that we could use OpenOffice in batch mode to convert the files. At first I found it pretty ridiculous as that filter would need the OpenOffice installed and it would be pretty heavyweight, but vandenoever insisted that he rather use that one than a faster but half-working native filter. So I decided that it could be interesting to give it a try.
So I started to hack a new ppt ...read more...
Today we is a day that will be remembered for a long time in Qt history (I expect that we'll remember it all the way until next week at least — that's at least a thousand commits). I made today two 280,000-line changes to Qt, touching over 6500 files in each. At the end of the day, three Qt branches (4.6, 4.5 and 4.5.0) now contain the LGPL license header in all Qt's .cpp and .h files, plus an assorted set of scripts. Third-party code is obviously excluded from this change. That means the GPL era of Qt comes to its end — and LGPL starts.
Today, I stopped the cron job that creates and publishes the Qt snapshots. Mostly because the LGPL and other changes are very likely to break stuff. And that we don't want the snapshots published under the LGPL until we actually release 4.5.0 next month. What's more, I don't know if snapshots will ever come back: maybe we will go directly to the open repository. That's the end of the snapshot era.
Today, ...read more...
Thanks to everyone who responded to the column GNOME and KDE revisited . I got a broad range of responses.
Having a strong service-oriented background, my interest in reusable software is rather high. Ideally, most parts in service and component development would be reusable with well-defined interfaces and loose coupling.
In KDE land, we're now forging plans for 4.3 features and are faced with the undesirable dilemma of growing social software on the one hand (good!), but horrible widget inconsistencies on the other hand (not good!). The area of chat widgets is such an inpatient in need of consistency-increasing medication. Chat widgets are used in (drumroll...) chat applications, but also in online games, collaborative text editors and office applications, and just about anything else which has humans connected to it. In short, we do have a need for a chat widget set shared at the kdelibs level to increase consistency and cut down the number of redundant codelines in the already infinitely growing codebase. SoC candidates, anyone?
However, the search for a suitable candidate with a reasonable set of features is not easy. Let's follow good habits here by looking at the candidates:
Howdy Everybody,
As some of you know ( thanks to my live feeds ) I decided to go help out the KDE USA team at SCALE 7x, SCALE is an Open Source Community conference located in Los Angeles, CA USA. I got to mingle with great people from many projects and companies including Debian, PC-BSD, GNOME, Ubuntu, Haiku, IBM, SUN, Open-BSD, Fedora and many others.
On Saturday I arrived with one of my KDE Mexico members ( Lu ) and recent convert to help out with the Spanish speaking audience, I was happy to see that we had a pimped out booth setup: Two great looking LCD monitors sponsored by Qt Software, Ian took two wicked fast thin-clients ( I hope you will send me one for my birthday next week ), Aaron took his posters from last years event and we had more swag and expected, we decided to go in uniform, blue KDE shirt + black pants.
By 9:30 AM we got ...read more...
"That's not our usual postman at the door, and why is she carrying a plant?" What a fun thing to have delivered in the morning, and whoever the mystery sender was full marks on potted plant over wasteful disposable non-potted one.
Also arrived is a batch of Kubuntu stickers. Canonical is sending these out to Kubuntu contributors as a wee thank you. Now my laptop can be complete in showing my geeky loyalties.
Blogging fever seems to have infected me, too. And I'm getting tired of the "The week in" titles because they're occuring so often, so I'll drop that meme now.
In other news, I have over the last week been busy to port Kolf to use the Open Dynamics Engine. I originally planned to let the old homegrown collision engine work while the ODE support is being prepared, but it turned out that I had to make more intrusive changes that did not allow for a coexistence. So ODE is now required, and it seems to work out very well. I had to do quite some work before any results become visible, but the work pays off: Every object is now three-dimensional (internally!!), and collision works again for most objects (not walls). I still have to make the ball stop, there is no friction currently, but things start to shape up.
And now for something completely different: For this Google's Summer of Code, I offer two projects about Kolf 2. This is your chance if you want to start ...read more...
My slides for freed.in talk
"Revolutionise your KDE desktop with Super Shortcuts One of KDE's best features is the ability to use shortcuts in either KLauncher or Konqueror to quickly access dozens of functions quickly.
Thank you to everyone who participated in yesterday's KDE Usability meeting on IRC. I feel that the meeting very productive and that we Got Stuff Done. We got through 5 agenda items, all with resolutions/action items, and minimal off-topicness. A summary of the meeting topics covered, their resolutions, actions, and a copy of the IRC log are now posted on Techbase.
The next KDE Usability Meeting will be March 18 20UTC. The meeting topic will be Usability Bugs. If you have any usability bugs you would like to discuss, please add them to the list of meeting topics.
If you happen to visit Malang (East Java), do not skip the chance to visit Bakpao Telo right in Lawang, a small city just before Malang. The shopping complex is located conveniently on the main street, its enormous size makes it impossible to miss. What is unique there? A lot of assorted snacks (cakes, cookies, chips, and many more), made of highly-nutritious sweet potatoes, known here as ubi jalar or ketela rambat, often shortened to tela or telo, hence the name.
Needless to say, the following delicious steamed sponge cake (bolu kukus), which costs me a fortune (20 Eurocents or a quarter dollar), is my favorite.
"The KDE Project today announced the release of KOffice 1.5 beta 1, the first preview release for KOffice 1.5, scheduled for release this March.
Saturday was the first day of booths. As you can see once I link in my to-be-uploaded pic, we had a pretty impressive looking booth. It was really neat to meet more people who are in California!

We were deluged even before the floor officially opened: other exhibitors came over. And from there it was almost non-stop talking to people and demoing KDE. The interesting thing is that people seemed to be either total newbies to Linux, or they knew a fair amount about KDE. There didn't seem to be much in the way of middle ground --- it was a very informed crowd. And very supportive too.

Gamaral started doing live feeds from his camera (http://qik.com/video/1088813 ?), and Aaron Johnson went to give his talk, and I stayed in the booth. After the floor finally closed, we met up with Dilip, one of the Redwood City Qt guys. Where he promptly won a case of Cocaine for us (OK, it's a soft drink!). We socialized some more and all crashed.
Hi! I'm Valerio Pilo, one of the developers of KMess - a KDE alternative to Windows Live Messenger.
This is my first post syndicated on the Planet, and incidentally also the first after an entire year of inactivity in my kmess-related blog. Having a lot of readers is quite a good incentive to writing
This post will first show you the next upcoming version of our fav msn client (first beta will be out this week probably), then tell you about a new project we're slowly starting, libISF, which will be a library to encode and decode Microsoft's ISF format (the spec is open now).
1. KMess 2.0 beta
Since 1.5.1 has been released - a couple months short of a year ago - KMess has changed immensely. It is only barely recognizable! After the porting effort, we've rewritten practically everything, bringing it to a whole new level. It is now a lot more integrated in KDE 4,  has undergone (multiple) reviews to improve its usability, and contains a whole lot of new ...read more...
Ссылки