Ссылки
You may start by reading The Tailor, off of Planet GNOME.
Back? Good. Let's deconstruct the points :) (Quotes are abridged and not direct quotes because I don't feel like doing the copy-editing required)
Methods should be virtual by default so inheritance works. Well, inheritance at run-time, since inheritance still works just fine. To be honest this is probably one other thing that could have been different between class and struct, is class having all methods be virtual while you need to specify it with struct, so that you can still write simple classes with little to no overhead, such as QColor for instance. Then again, you could actually spend the 5 minutes it takes to understand non-virtual functions (hey wait, we already know how non-virtual functions work! :) and move on with your life. Also, this is snark's most frustrating issue with C++… I don't know if he's referring to the same language I am but there's about a half-million things more annoying than virtual in C++.
You need to ...read more...


16 | System & Utilities | http://www.purinchu.net/wp/2009/03/03/yay-its-been-so-long-since-an-uninformed-c-rant/ | 7133 |
Recently, a new version of Gnash was uploaded to Debian by Miriam Ruiz.
The most important thing in the changelog from my point of view is the following:
Using KDE4 instead of KDE3
So I kind of had to test how the KDE 4 thingies works.
Youtube: The "videos being watched right now"-animation works, but I can't actually watch the movies.
Random flash advertisements plays nicely. Unfortunately. I was happy to avoid those.
Conclusion: Some things works, but mostly the annoying things.
16 | System & Utilities | http://pusling.com/blog/?p=100 | 7131 |
Hello Planet KDE!
I want to give you a little insight on the current state of PHP support in KDevelop4:
Me and Nikolaus Sams (nsams) are working diligently on a plugin for PHP support in playground. It's somewhat stable, i.e. we fix any crashes we stumble upon, but I would call it Alpha state at most. It may eat your babies so to speak. Yet I'm happy to say that at least one user is already using it for production (hi leinir ;-) ).
implemented PHP support
Well, here's a (not complete) list of features that are already working. Though I have to warn you: no screenshots included ;-) It's actually all very similar to the C++ screenies you can see on the web.
sematic highlighting
Let's start with a feature that only very recently was added for PHP - semantic highlighting. Niko moved some language independent parts of the C++ plugin from KDevelop to KDevplatform and now PHP has the same code highlighting features as C++.
I personally love this feature since it makes it ...read more...
16 | System & Utilities | http://milianw.de/blog/php-support-for-kdevelop-4-and-eventually-quanta | 7129 |
My blog rate has dropped significantly. That's caused by the fact that microblogging is much more accessible. It's short and to the point. So, the Midi (or Maxi?) blogs are now reserved for longer or more important blogs I guess.
I've a couple of points I want to Midi blog about, for example a view about PIM in the future, or how I hate that everyone tells everyone how bad 4.0.0 was. Maybe something I will do soon, although I better leave the second topic alone, better for my health I guess.
So, now back to subject. Matt Rogers has created a special sysadmin 'product' in bugzilla. Bugs reported against this will end up on sysadmins plate. This way we can quickly assign a certain sysadmin to the task or include other KDE contributors in the conversation. Also we have a quick and accurate view about pending issues, something that tends to get lost in a mailbox quickly.
The bugs are not public, due to the fact that sometimes passwords are in there or sysadmin internals, and we don't ...read more...
16 | System & Utilities | http://www.omat.nl/drupal/content/Sysadmin-requests | 7128 |
So I was notified that commits to KDE are HOT, and I am in serious need of some hotness.
16 | System & Utilities | http://www.topix.com/tech/kde/2009/03/givin-some-kiosktool-lovin-and-how-you-can-give-some-too?fromrss=1 | 7122 |
So I was notified that commits to KDE are HOT, and I am in serious need of some hotness. What could be more hot than working on Kiosk Tool? Well maybe KHTML, but I don't need love that badly. So back to kiosk tool. Back in KDE 3 Waldo Bastian made up this nice little tool that could give administrators a GUI interface around the kiosk functionality in KDE 3. Well 5 years have passed and the tool was in need of some love. First step was to get the last of the KDE/Qt 3 compatibility code removed. That took most of the day yesterday. Today was spent trying to add a few features to make it easier for 3rd party application developers to add their application's settings to the Kiosktool UI. I broke up the old monolithic XML file into modular ini files that can be installed into the kiosktool application data directory. This allows any application developer to create a custom set of options for administrators to lock down their application.
Now for those of you who have ...read more...
16 | System & Utilities | http://www.kdedevelopers.org/node/3907 | 7119 |
"KDE 4.0 is very exciting, though not yet production ready, and that shows with this weeks' release of the first beta.
16 | System & Utilities | http://www.topix.com/tech/kde/2009/03/kde-4-is-looking-damn-good?fromrss=1 | 7120 |
Roland Wolters (liquidat): Playing the numbers game 2008: number of Linux installations world wide
16 | System & Utilities | http://liquidat.wordpress.com/2008/12/03/playing-the-numbers-game-2008-number-of-linux-installations-world-wide/ | 7117 |
No, we're not!
We're back working on the thing that was rumoured to be dead, Raptor!
After some months of idling because all people had different other stuff to do, we finally got back to work!
I'm taking over the job to inform you about that, Alessandro refused to do that: after his last blog post about Raptor, the project died again.
So here we go with a current Screenshot:

It's still work in progress, but what you see is your new view. It's completely based on a QGraphicsWidget, aka painting on it. Currently the new view is pretty basic: no hover animation, no partial item showing, but it's getting there.
So far…
Lukas
...read more...
16 | System & Utilities | http://boom1992.wordpress.com/2009/03/01/are-you-dead-yet/ | 7116 |
While working through my backlog of articles on Planet GNOME on my way to Nuremberg (yes, again), I came across a blog entry of Philip Van Hoof.
In it he asserts that soon the era of email clients will be over, which I think some people misinterpreted as application for reading and managing email messages becoming obsolete.
However, what I think he intended to say and what he tried to explain in the following paragraphs, is that monolithic, end-to-end functionality, clients will be succeeded by applications specialized in displaying, creating and editing PIM data such as emails, but that other tasks like fetching emails from servers, filtering, etc. will be offloaded to services specialized in those domains.
Until now applicaton developers had to consider distracting isuses like how to get emails from servers, different protocols and capabilities of these servers, how to store the downloaded messages locally, how to search through potentially huge amounts of headers and message bodies, etc.
Since Philip's blog entry focuses on the search and filtering part, so ...read more...
16 | System & Utilities | http://www.kdedevelopers.org/node/3906 | 7115 |
This time I am ok, but my 400GB external HDD is gone and along with it I lost all the photographs that I took in the last two year and the videos including meetthegimp and inkscape and bijra related videos. I somehow managed to kick it while it was connected to the system. It fell from 1 and half feet above the ground.
From /var/log/messages

Mar 1 15:02:15 localhost kernel: usb 2-1: USB disconnect, address 17
Mar 1 15:02:17 localhost kernel: usb 2-1: new high speed USB device using ehci_hcd and address 18
Mar 1 15:02:17 localhost kernel: usb 2-1: configuration #1 chosen from 1 choice
Mar 1 15:02:17 localhost kernel: scsi19 : SCSI emulation for USB Mass Storage devices
Mar 1 15:02:17 localhost kernel: usb 2-1: New USB device found, idVendor=0d49, idProduct=3200
Mar 1 15:02:17 localhost kernel: usb 2-1: New USB device strings: Mfr=1, Product=2, SerialNumber=3
Mar 1 15:02:17 localhost kernel: usb 2-1: Product: Maxtor 3200
Mar 1 15:02:17 localhost kernel: usb 2-1: Manufacturer: Maxtor ...read more...


16 | System & Utilities | http://kushaldas.in/2009/03/01/yet-another-accident/ | 7113 |
After posting my last entry, I thought I'd elaborate on the G1's power usage. There's a useful little tool available on the Android Market called Watts, which logs the battery level and shows a graph of it. The image below is two screenshots from Watts.

The one on the left is the device's power usage last night, when I wasn't using the phone at all since I was asleep, but the phone was still checking my email and twitter regularly.

The one on the right was this afternoon, when I was watching the rugby at my parents', but also using my G1 a far amount for twittering, checking emails, texting, and looking up things like the words of 'God Save the Queen' and what a drop goal is.

As you can see, the standby life is pretty good, and you can probably get a good eight hours of reasonably intensive use out of the battery. Which is pretty poor, but I can live with it, since I don't usually use the phone that intensively.
...read more...
16 | System & Utilities | http://jamesots.blogspot.com/2009/02/g1-power-usage.html | 7107 |
I'm back to you today to show something that we have been baking lately for KDevelop. It is its new documentation integration.
With KDevelop 4 we have been focusing on putting together the information that the user will be willing to read every moment. Until now, while browsing the code, we were only showing the information gathered by the C++ support. Since the last week this is no longer true, we can now show the documentation provided by the different documentation plugins. We only have a QtHelp plugin for now, but I hope the architecture will be flexible enough for the new plugins we will have on the future, such as, maybe, a Doxygen's, cmake's or anything the reader can imagine.
Here you can see a couple of screenshots that might give you an idea of how does it work so that you can see KDevelop 4, love it and try it.
- The information shown when hovering the DUChain: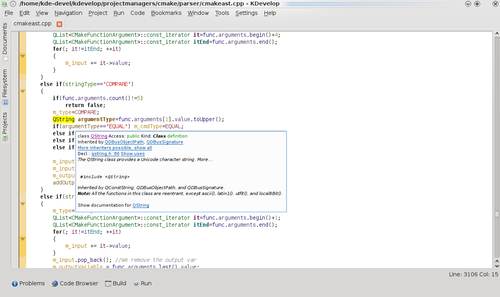 - The tool view on the right ...read more...
16 | System & Utilities | http://www.proli.net/2009/02/28/kdevelop4s-documentation-integration/ | 7106 |
Since I've got myself a T-Mobile G1, I've had several people ask me if they too should get one. And the answer, as it often is, is: It depends.

If you want a phone with good battery life, this is definitely not the phone for you. If you have GPS and Wifi and 3G and all the bells and whistles turned on and you're using the phone constantly, you'll probably only get four or five hours of use out of it. I turn GPS and Wifi off and turn the screen brightness down (because even when it's turned right down it's pretty bright), and don't use it non-stop, just a fair bit of twittering and the odd bit of internet browsing and some texts and phone calls. And usually it's down to around 40% battery by the end of the day. Of course, it depends completely on how you use it. I usually plug the phone in at night so that it's fully charged in the morning. Last night I forgot to switch the charger on, and when I ...read more...
16 | System & Utilities | http://jamesots.blogspot.com/2009/02/should-i-buy-g1.html | 7103 |
It is not too surprising that Ubuntu came in first in DesktopLinux.com's 2007 Desktop Linux Market Survey , or that Firefox was the topmost browser by far.
16 | System & Utilities | http://www.topix.com/tech/kde/2009/02/re-6-gnome-is-back?fromrss=1 | 7104 |
A long-requested feature has been a way to decouple Amarok's collection scanning from its GUI.  There are various use-cases for this.  For one, it can actually help us with debugging, by allowing us to control the inputs into the scan parser.  For another, many people have all of their music stored on a single machine, and would like to do the scanning locally where it's fast instead of on their e.g. laptop running Amarok, where it's over wireless and slow.
Yesterday and today (as of r933010) I put half of the solution into trunk.  I say half, because full collection rescans are now supported in batch modes, but I am still working on the methodology for incremental scans (I have a few ideas, but have to sort out which is the most reasonable/doable/makes the most sense). Below, I'll explain how to do it.  Keep in mind that this is designed to be (lightly) scripted, not done by hand...so it can be done by hand (which I did during testing) but it has some safeguards in place so that if ...read more...
16 | System & Utilities | http://amarok.kde.org/blog/archives/894-Amarok-Power-User-Feature-Batch-mode-collection-scanning.html | 7099 |
Over at Ars Technica they've written an article titled "Microsoft suit over FAT patents could open OSS Pandora's Box" (http://lxer.com/module/newswire/ext_link.php?rid=116455).

They love their sensationalism over at Ars, that's for sure. Firstly, I don't believe there is a "Pandora's Box" to begin with. Microsoft would love us to think there was though.

This is all about Microsoft loosing out. They know there is a threat to their profits from Free and Open Source Software, so they try and discourage companies and businesses pursuing it by creating this overwhelming FUD aura around it.

No doubt, if Microsoft win this I see two things happening:

1) them using this win as 'proof' that Linux is dangerous and illegal. And that Microsoft themselves will possibly pursue you if you utilise it.

2) them using this as a testing ground against IBM. These two companies are at a stand-off with their respective patent portfolios and if Microsoft can win in one court against Linux then they can take this and bolster their attack on the big one, IBM. I wouldn't ...read more...
16 | System & Utilities | http://socceroosd.blogspot.com/2009/02/on-microsoft-and-suing.html | 7096 |
Sometimes there is nothing you can do. Sometimes people, no matter how blatant the facts are, are incapable of change. Today is one of those days.

I manage IT for one of the largest single Real Estate offices in Australasia. Being well acquainted with Open Source and knowing what it can and can't do, I have been able to replace some of the proprietary applications that we use with free software. That means no licensing costs, free upgrades and feature parity with proprietary counterparts.

Here's a few issues that are having me retreat to the bathroom to contain myself from bursting out in utter frustration at the stubbornness of the humans around me:

1. Firefox:

We all know that this browser is perfectly capable of holding its own against IE. Not many dispute that. Especially for our company, none of the sites we frequent or need are incompatible in any way with Firefox. And you know what? Firefox is so much quicker at rendering the pages than IE. I'm not just saying that - I manually ...read more...
16 | System & Utilities | http://socceroosd.blogspot.com/2009/02/frustration-is-mounting.html | 7094 |
Last week we finally had the first demo of our current work. We are working on animated layouts with the Qt Software guys. It has been a great great time. We are really happy with this work and the results that will come in the near future.
When we talk about animated layouts, we mean that when you change the layout of your widget you want that to have that change in a fancy and animated way (at least when you talk about Qt Kinetic). So we just finished the basic work to allow that and the next step is to define the API of setting animations between the changes of layout.
Right now we use the concept of states (using QStateMachine), a new way of setting a layout without destroying the old one and also a little hack to use QAnimation (this hack will go away as soon as we define a nice API).
Basically all you have to do is to use our concept of "proxies" and instead of adding your widgets to the layout you add this ...read more...
16 | System & Utilities | http://labs.morpheuz.eng.br/blog/26/02/2009/animated-layouts-with-qt-kinetic/ | 7091 |
UBUNTU IS NOT JUST A COMPLETE operating system; it is also the center of a growing ecosystem of distributions.
16 | System & Utilities | http://www.topix.com/tech/kde/2009/02/the-official-ubuntu-book-3e-ubuntu-related-projects?fromrss=1 | 7090 |
I just wanted to brag about my new blog theme. It was heavily inspired by the new DOT design (made by Philip Tyrer and Nuno Pinheiro), but is done in a bit /different mood/
The second thing is that Identi.ca is now my primary microblogging service which you can see in the box on the right. Twitter will be updated simultaneously because I've set Identi.ca to pass the posts to it, so there's no need for you to follow me on both places (if you're not already).
...read more...
16 | System & Utilities | http://ivan.fomentgroup.org/blog/2009/02/26/my-new-blog-theme/ | 7089 |
Thread beginning with comment 350768 To view parent comment, click here . To read all comments associated with this story, please click here .
16 | System & Utilities | http://www.topix.com/tech/kde/2009/02/re-9-some-software-optimization-will-make-them-snappy?fromrss=1 | 7086 |
So two weeks ago my HD did a huge CRACK and it stopped working. The system did not boot up and it just did CRACK CRACK CRACK all the time. So i browsed a bit and saw that ddrescue was a dd variant able to skip failing sectors. So i picked up a new HD the double size of the old one and a RIP CD and started the process of dumping the old filesystem into a file. Two weeks after ddrescue told me i had lost 77MB and thankfully after dumping the file into a newly created filesystem and some fsck later i did not lost anything important.

So thanks a lot ddrescue devels!
16 | System & Utilities | http://tsdgeos.blogspot.com/2009/02/ddrescue-to-rescue.html | 7079 |
openFATE is now up and running for a few days. openFATE is, in case you missed the announcement, the community accessible feature- and requirements tracking for the openSUSE distribution. We developed and used the FATE system (which has some more components than just openFATE) before internally, but since we want ...
16 | System & Utilities | http://lizards.opensuse.org/2009/01/21/openfate/ | 7077 |
After a month's delay, they're done.
In the interim (after the delays mentioned in my last post on this topic), my poor, underpowered desktop machine has endured transcode after transcode (from the original source material) and my Internet connection upload after upload as I tried to figure out just why Blip.tv wouldn't work with X or Y.  (In fact, I can quantify these: X is Vorbis/Theora, which produced awful audio and very desynchronized audio/video upon their conversion to .flv; Y is a lot of things related to the original anamorphic encoding of the videos, which Blip.tv can't handle, and finding the right combination of settings and flags and adjustements to make the aspect ratios come out so that everyone didn't look like Gumby®.)
This was followed by a few days of uploading; Blip seems to max out uploading speeds somewhere between 100kbit and 200kbit, so uploading almost 6GB of data, one chunk at a time, took a bit.
The end result is thirteen videos, each Xvid-encoded (at least it's OSS, although patent-encumbered...see Vorbis/Theora problems above) with a ...read more...
16 | System & Utilities | http://amarok.kde.org/blog/archives/893-Camp-KDE-videos-Come-and-get-em.html | 7076 |
Like last year and the years before that KDE participates in the Google Summer of Code. And like before project ideas are gathered independent from the Google process on techbase. And like last year Nepomuk will be part of the KDE projects proposing ideas. This is where you come in! I already posted two ideas in the list (scroll all the way to the bottom). That is not enough. I will try to come up with more but I think you have way more ideas up your sleeves (I noticed that much in Oslo where we had a lively discussion about the topic).
So, this is the opportunity to comment on this blog post and give your ideas for GSoC Nepomuk projects. You can, of course, even post the ideas directly on the techbase page (but then you should be available to mentor, too ;)
Thank you for your input.
...read more...
16 | System & Utilities | http://trueg.wordpress.com/2009/02/25/nepomuk-in-the-google-summer-of-code-2009/ | 7074 |
In a series of articles during the month of July, OfB's Timothy R. Butler explained why he felt that KDE needed to move beyond the Qt toolkit it uses as a foundation.
16 | System & Utilities | http://www.topix.com/tech/kde/2009/02/re-2-about-your-devils-advocate-position?fromrss=1 | 7071 |
At the moment the KPresenter PowerPoint-Filter is broken, which means that KPresenter 2.0 will not be able to import ppt files directly. Unfortunately many users have PowerPoint presentations around and every day a few million new ones are made. At the moment the only way to import ppt files in KPresenter is to use OpenOffice to convert them to odp.
On the other hand many users already have a very capable filter on their disk namely the one included in OpenOffice. Very often some user suggested to use the OpenOffice filters, but getting just the filter out of the apps is practically impossible. Yesterday vandenoever proposed on IRC that we could use OpenOffice in batch mode to convert the files. At first I found it pretty ridiculous as that filter would need the OpenOffice installed and it would be pretty heavyweight, but vandenoever insisted that he rather use that one than a faster but half-working native filter. So I decided that it could be interesting to give it a try.
So I started to hack a new ppt ...read more...
16 | System & Utilities | http://slangkamp.wordpress.com/2009/02/25/kpresenter-powerpoint-filter-the-other-way/ | 7068 |
Today we is a day that will be remembered for a long time in Qt history (I expect that we'll remember it all the way until next week at least — that's at least a thousand commits). I made today two 280,000-line changes to Qt, touching over 6500 files in each. At the end of the day, three Qt branches (4.6, 4.5 and 4.5.0) now contain the LGPL license header in all Qt's .cpp and .h files, plus an assorted set of scripts. Third-party code is obviously excluded from this change. That means the GPL era of Qt comes to its end — and LGPL starts.
Today, I stopped the cron job that creates and publishes the Qt snapshots. Mostly because the LGPL and other changes are very likely to break stuff. And that we don't want the snapshots published under the LGPL until we actually release 4.5.0 next month. What's more, I don't know if snapshots will ever come back: maybe we will go directly to the open repository. That's the end of the snapshot era.
Today, ...read more...
16 | System & Utilities | http://labs.trolltech.com/blogs/2009/02/25/the-end-of-an-era/ | 7067 |
Thanks to everyone who responded to the column GNOME and KDE revisited . I got a broad range of responses.
16 | System & Utilities | http://www.topix.com/tech/kde/2009/02/gnome-kde-docs-themes?fromrss=1 | 7064 |
Ссылки