Ссылки
Since KDE SC 4.10, Kate ships with the Projects plugin. This plugin provides an automatically generated structured list of files belonging to a project. Currently, in Kate 5, the Projects plugin looks like this: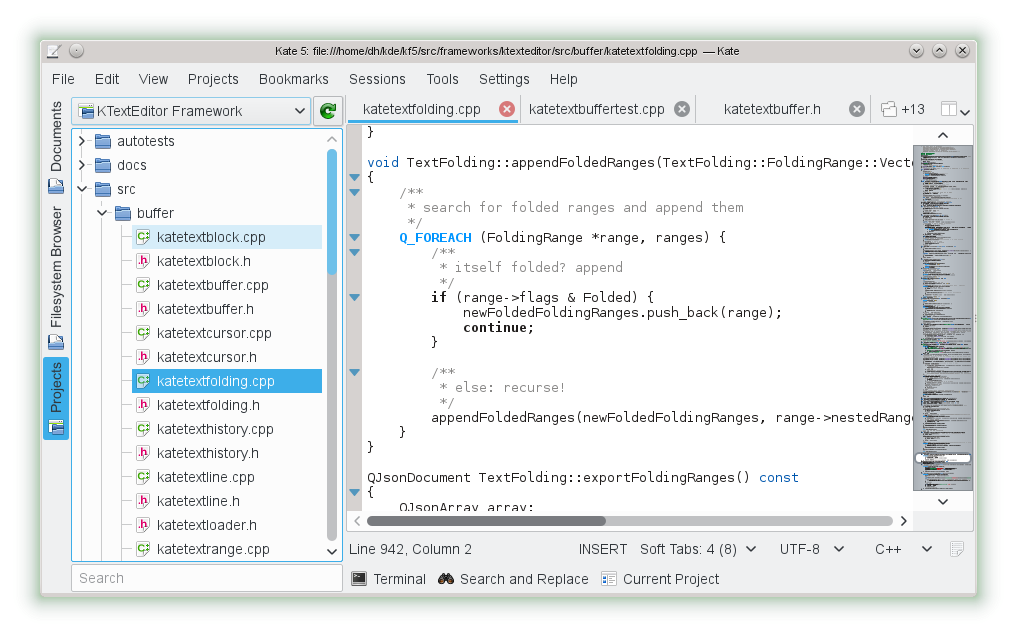 What's new in the Project plugin in Kate 5 since some weeks is an auto-loading feature. In 4.x times you needed to create a .kateproject file that was then read by the Projects plugin to populate the listview. This still works in Kate 5, of course. But if a .kateproject file does not exists, you can now still read the file list from the version control system. To this end, auto-loading for the respective version control system needs to be enabled in the settings (enabled by default):
Final lovely quote from Creativity, Inc. by Ed Catmull. Please get the book for yourself if you want to know how to foster creativity in a community or company.

In the very early days of Pixar, John, Andrew, Pete, Lee, and Joe made a promise to one another. No matter what happened, they would always tell each other the truth. They did this because they recognized how important and rare candid feedback is and how, without it, our films would suffer. Then and now, the term we use to describe this kind of constructive criticism is "good notes."
A good note says what is wrong, what is missing, what isn't clear, what makes no sense. A good note is offered in a timely moment, not too late to fix the problem. A good note doesn't make demands; it doesn't even have to include a proposed fix. But if it does, that fix is offered only to illustrate a potential solution, not to prescribe an answer. Most of all, though, a good note is specific. "I'm writhing with boredom," is ...read more...


I just noticed a couple of features today and yesterday in plasma next and kwin that I appreciate and wanted to thank whoever thought of adding them. Both are simple but very handy to have. I'm talking about the little X buttons on both the wallpaper configuration dialog and the kwin present windows effect. I don't use either of these features very often, but yesterday when I was testing knewstuff with the wallpaper config it was very handy to be able to delete the installed wallpaper from the wallpaper selection dialog. Then just now it was very handy to be able to close extra windows I had open that I no longer need when I was in the present windows effect looking at what I need to be doing next. Makes it very simple to clean up a workspace.

Just throwing this out there, thanks whoever added these simple nice features.
As you may recall, I recently switched to GitBook.io as my primary publishing platform. Alas, my GitBook.io experiment didn't last long. Everything worked smoothly until I encountered a rather serious issue: for some reason, EPUB, MOBI, and PDF files generated by the service didn't include any images. I duly submitted a bug report and tried to contact the developers via Twitter, but I got no response.
This is not the end of the world, of course, but it's a good reason to find a better and more reliable alternative. I did some research, considered the available options, and decided to go the DIY way. Continue to read
The 5.3.0 release includes fixes and enhancements to 21 components and modules of KDE Frameworks including KArchive, KConfig, KCoreAddon, KIO, KNotifications, KTextEditor, KWindowSystem.
When software goes slow, generally, the first reaction is to profile. This might be done through system tools (like Instruments on OS X, perf/valgrind/etc on Linux, VTune, etc). This is fine and good, but just because you have the output of a tool does not necessarily correlate to understanding what is going on.

This might seem like an obvious distinction, but all too often, efforts at improving performance focus on the small picture ("this thing here is slow") and not the bigger picture ("why is this so slow"). At Jolla, I had the pleasure of running into one such instance of this, together with Gunnar Sletta, my esteemed colleague, and friend.

As those of you who are familiar with Jolla may know, we had been working on upgrading to a newer Qt release. This also involved quite a bit of work for us, both in properly upstreaming work we had done on the hurry to the late-2013 release, and in isolating problems and fixing them properly in newer code (the new scenegraph renderer, and the ...read more...
… is the best in the whole wide world!

With a series of icon tests we currently study effects on the usability of icon design. This article however does not focus on these general design effects but presents findings specific to the Treepata icon set.

Keep on reading: Intermediate results of the icon tests: Treepata
I'm writting this article sitting on 3 hour flight to Madrid where I'm going to spend next week being on holidays. Still on my mind there's one thought How am I suppose to live and be happy not writing patches for Kexi??? Actually I know I will find answer to this question. Just want to make a point how spending two days at Akademy 2014 affected my attitude towards programming and life. But to start with..

Who am I?

My name is Wojciech Kosowicz (wkosowicz, wojak). I'm software engineer. About half year ago I met Jaroslaw Staniek who I asked on the ways I can learn qt and next thing I remember was email confirming my devloper account at kde. I'm actively contributing to Kexi project.

Akademy 2014

Being enthusiatic about qt, kde, open source I decided to attend Akademy 2014. Never expected it gonna affect me so much in so many ways. I attended only first two days of Akademy. Actually you cannot learn a lot in such short time in the form the first ...read more...
If your mail inbox was quiet during the last month, it could have two causes: Either nobody contacted you, or your KDEPIM made holidays!
Jokes aside, KDEPIM 4.14.0 was released with a refactored IMAP fetching code, in preparation for a planned GMail IMAP plugin. The refactoring includes a more modern way to fetch the mails from the server, which unfortunately broke with some specific IMAP servers not completely conforming to the IMAP RFCs.
The effect of this bug is that no mails are fetched from some IMAP servers when you check for new mail, despite new mail arrived. If you were using such a server, be prepared that with the coming KDEPIM 4.14.1 update, the bug is fixed, and your inbox might get flooded with accumulated mail.
For details and patch, see KDE bug 338186. Thanks to to Christian for the prompt fix, and all reporters and testers for providing valuable feedback!
KDE Project:
KDE Project:
Mixed character set text
Not long ago, the various language spheres engaged in computing maintained seperate, private standards for encoding the characters and symbols used in their written communication. This made it hard or impossible to author documents (or provide a user interface) mixing characters from multiple spheres. Unicode and its various encodings have mostly addressed this problem (though not to everyone's satisfaction, keeping some narrower encodings alive for some time yet), which has been wonderful for information sharing across the globe.
However, we have a similar situation to the old imcompatible-encodings mess on the presentation layer. Font files typically only include glyphs for one or a small number of writing systems, e.g. Latin and its offshoots, or the Korean Hangul alphabet and the hanja sometimes used by Korean speakers. There are efforts to create more comprehensive "Unicode fonts", for example Google's Noto family, but it's likely they'll remain few: Type ...read more...
Based on a popular request, here's massive list of 10 new Junior Jobs for Kexi. Now they are mostly related to Kexi Report Designer, which receives a lot of love recently as an unique Free Software solution of this kind.
For the PlanetKDE readers, this posts is written by Philipp Stefan
Breeze C++
Something wonderful happened, Hugo Pereira has volunteered to implemented the Breeze UI controls style in C++ and has shown off some screenshots of his work in the
forum.
The basis of this theme is the old oxygen style, so he was able to reuse most of the code. Below are some screenshots of his work (without the Breeze window decoration).
Plasma Addons
The plasma developers are currently porting plasma addons from the 4.X series to Plasma 5. This is of course a great opportunity for us to look at the design of these ...read more...
Packages for the release of KDE SC 4.13.3 are available for Kubuntu 14.04LTS. You will recieve them from the regular update channel.
Bugs in the packaging should be reported on Launchpad. Bugs in the software to KDE.
Time flies when you're in good company, i planned to blog every day and now i realize we're on day 4 already.

Well, here comes some of the things i've been doing
* Participated in a few discussions about "the KDE SDK" Aleix seems very promising to recruit new developers :) Let's see if I can convince Aleix to blog about it
* KGeography port to KF5 started by David Gil is now complete.
* Started and finished Blinken port to KF5
* Made some patches for some frameworks while porting KGeography

Some of the cool things I've seen:
* kdenlive cleaning up their code to ease maintaince
* GCompris, a nice educational tool for children
* The KF5 Book is shaping up nicely
* Lots of KF5 porting and refining everywhere

Let's keep rolling!
This week end I started to implement a script which allows to convert old connect api to new qt5 connect api (see http://qt-project.org/wiki/New_Signal_Slot_Syntax)
So it's still in progress and it's not perfect.
It will search variable from ui file, look at current class from .h file and parses connect line.
It will convert to new api.
But after that you need to verify if it compiles.
It will failed when slot is protected, or when there is "overloads"
I was able to port a lot of connect in kdepim*.
I will continue to improve this script. There is still a lot of work to do
Volume controls. Based on PulseAudio. For Plasma 5.


Built in Randa.
I've been steadily chipping away at creating Python bindings for the many libraries which make up KF5.
Hello,  this is my third report for my GSoC. I was idle for the past 3 weeks, because I was in an exam period. So this week I implement the launcher for the Plasma Active.  The launcher doesn't come with a new UI, it is more or less a port of the old one.  At the moment there is a bug with the search field (sometimes it loses the focus based on the application that is running in the background) but it will be fixed soon.
You can find us on #plasma or irc.freenode.net
I just finished patching the Tags sidebar widget it now supports "No Tags", As you can see here:
When you click on the "No Tags" radio button, the tags tree is disabled and all the images which have no tags are shown in the main view as shown here.
When you click on "Existing Tags" radio button, The tree is activated and the previously selected Tag album is set to the main view, as you can see in the following snapshot.
That's all.
Wait that's not all, Those features will be available in the next release of digiKam 4.2.0, and it's so soon.
Ready to receive your feedback about it.
As a teenager, I wasted much of my life and loved every minute of it. Rather than do anything productive, I would vegetate in front of the TV watching movies like Smokey and the Bandit on WPIX.
On our Plasma 5 build status page most of the packages are now a pleasing green colour.
Introduction
Recently, we ran a study on the reorganization of the KDE system settings (Re-sort KDE control modules and Results of Card Sorting the KDE System Settings). Both the number of participants as well as the discussion in the forum proved the huge interest in this topic.
Based on these information some design proposals have been developed. Their impact on navigation needs to be carefully considered. Following we introduce two possible alternatives how the system settings could look like in the future as (partly) interactive mockups and ask you to vote for your favorite option.
Description
Primary goal of the project is to get a clear organization of the different modules. The system settings should work with the minimum screen resolution of 1024 x 768px (mockups have exactly this size). To facilitate usability both alternatives got rid of hidden features and avoid using tabs, for instance. Furthermore, we want to provide ...read more...
Remember People behind KDE? It was a interview series with members of  the community. I always enjoyed reading it because it showed, that KDE is software produced by dedicated and enthusiastic people and that it is possible to become one of them. So eventually I did.
I have to do some interviews for an anthropology class this year and I decided to take the chance and revitalize the series. Instead of written interviews I will do video sessions. The idea is to have two parts. One is about the person and the other one is about a topic that is related to that person. KDE is no longer the product, but the name for the community so I decided to rename the series as well.
Let me present to you:
People of KDE – Episode 0
This is my very first interview. I will try to improve over time and I need your help for this.
was it interesting to you?
how do you like the format? Is 35~ minutes a good length for you?
...read more...


I am working under KDE community and my GSoC project is Add support for importing tables from LibreOffice Base to Kexi. My mentor for this project is Kexi maintainer and developer Jaroslaw Staniek. Here is the brief overview about this project and my current status in this project.
Project description
Kexi is an open source visual database creator. In kexi we can create database applications and perform queries. It also provides functionality to import database from other database sources. Currently kexi needs to add support to import database tables from odb files generated by LibreOffice Base. It is very important to have this functionality for kexi as more and more open source users are shifting to kexi. So, my task is to enable database migration from LibreOffice Base to Kexi.
Project details
My agenda is to implement classes which will enable database migration from .odb format to kexi. The main thing to note here is .odb format stores data in HSQLDB database format. There is not any functionality available to read hsqldb files from cpp code ...read more...
I'm writing from a warm and sunny Berlin, having attended my first Qt Contributors Summit. It is always nice to meet the Qt developer team, and to get a chance to hang out with the Pelagicorians from our Munich office.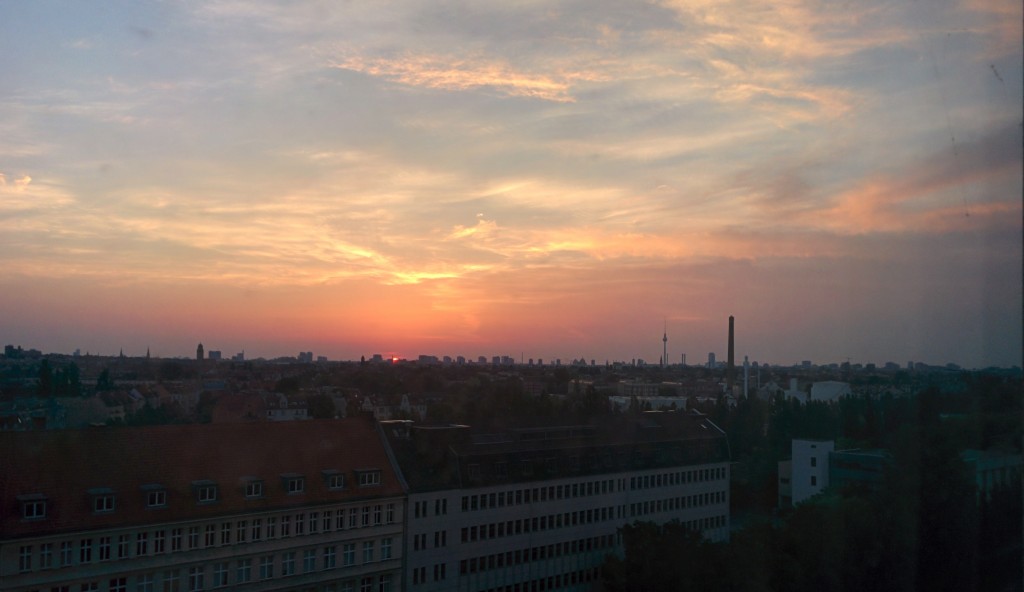 This conference really acts as a good balance to Qt Developer Days. Where QtDD consists of speeches and focuses on information for the users of Qt, the QtCS consists of open discussions focusing on the development of Qt. I, personally, will take two things with me from here: the vibrant community and the openness of Qt.
It is nice to see the community in action. There are people from KDE, Digia, KDAB, ICS, Intel, Canonical, Jolla, Pelagicore and more attending.  This really shows how strong Qt has grown through the qt-project. Opening up development to people outside what was Trolltech / Nokia really has resulted in a strong community.
Having people from potentially competing companies at a joint developer conference can be a difficult thing. Here, however, the discussions have ...read more...
Ubuntu Online Summit starts today with talks and sessions on all matter of stuff related to Ubuntu.
A new cycle and lots of interesting possibilities! Will KF5 and Plasma 5 be supreme? All welcome at the Kubuntu kickoff meeting this european evening and american afternoon at 19:00UTC .
Ссылки