Ссылки
ESE Kongress 2016
I've just returned from Meeting C++.
There were couple of really nice talks – some less technical like the one from Jon Kalb of CppCon to the low level ones like the Rainer's talk about the memory model of C++. Also, seing Bjarne Stroustrup in-person was a pleasure.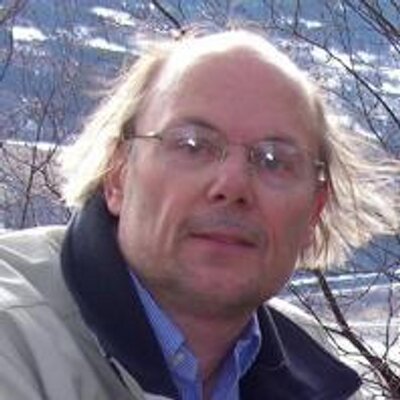 Sadly, I was not able to watch all the talks that I wanted (including Arne's), but I plan to do so once the recordings are posted online.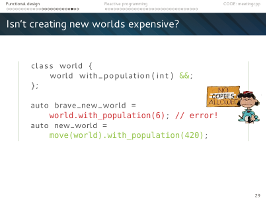 My talk was about functional design and reactive programming. The slides are available here. I'll post the link to the recording as soon as it is uploaded.
Unfortunately, there was no support for DisplayPort nor VGA at the venue, and I didn't have a HDMI adapter on me, so I had to give my presentation from a friend's computer (thanks Goran!) without any demos, but I'd say it all went well.
Next year, I'll probably give ...read more...
ABCL — реализация языка программирования общего назначения Common Lisp, которая работает на JVM (включает интерпретатор и компилятор) и поддерживает JSR-223 (Java scripting API) и, таким образом, может быть встроена в приложения на Java.
>>> Официальный сайт
В пятницу авторы Linux-дистрибутива Zorin OS анонсировали выпуск Zorin OS 12 Core и Ultimate, названный самым крупным релизом в истории проекта. Проект Zorin OS стартовал в 2008 году с целью «привнести самую продвинутую технологию [Linux] в руки каждого». Для этого разработчики предлагают пользователям максимально простой в работе (и похожий на Windows) интерфейс, выпуская свой дистрибутив в двух редакциях: Zorin OS Core…
Earlier this month with openSUSE 42.2 RC2 they made the decision to disable Nouveau 3D support by default . They decided to disable this open-source NVIDIA Gallium3D support due to bugs with KDE like KDE crashing on some cards, some Qt applications not working, etc.
Could you tell us something about yourself?
My name is Katharina and I am from Germany. I study in Cologne and share a flat with my fiancé and three rabbits.
Do you paint professionally, as a hobby artist, or both?
Drawing is mainly a hobby for me, to express myself and getting my thoughts together. But from time to time I do a little freelance work, mostly fanart of games.
What genre(s) do you work in?
My works are mainly fantasy inspired, and I try to communicate through them. I like to address topics such as environmental protection and animal rights. For me, perfect fantasy drawings are not too cheesy but invite you to dream and contemplate.
Whose work inspires you most — who are your role models as an artist?
When it comes to my role models I am rather focused on artists who create esthetical, dramatic and dark images. Even though I love vibrant colours, I am also a fan of ghoulish and gloomy works. I am mostly inspired ...read more...
Выпущена новая версия PyPy — транслятора языка Python, использующего подмножество языка RPython (статически типизированный Python).
PyPy использует встроенный JIT-компилятор для трансляции кода в машинные инструкции во время исполнения программы.
( читать дальше... )
Вчера, 12 ноября, команда разработчиков ARK Crew, насчитывающая более 30 энтузиастов из 15 стран, объявила об открытии исходного кода своей «экосистемы для криптовалюты» ARK. Авторы подчёркивают, что ARK — это не просто криптовалюта, а экосистема и «платформа для криптовалюты и децентрализованных приложений следующего поколения». Экосистема ARK Ecosystem, создаваемая в рамках этого проекта, ориентирована на лучшее принятие потребителями (consumer adoption) связанных с криптовалютами…
Based on the latest software repositories from Debian GNU/Linux 8 "Jessie," Netrunner Desktop 16.09 "Avalon" is powered by the Linux 4.7 kernel and built on top of the KDE Plasma 5.7.5 desktop environment, which is accompanied by the KDE Applications 16.08 software suite, KDE Frameworks 5.26.0 collection of add-on libraries for Qt 5.7. However, users can update to KDE Plasma 5.8.2 LTS and KDE Frameworks 5.27.0. A complete tutorial for upgrading your new Netrunner Desktop 16.09 "Avalon" installation to the KDE Plasma 5.8.2 LTS desktop environment and KDE Frameworks 5.27.0 is provided on the distribution's homepage.
Appstream has had a long history of getting its very sensible features into the hands of users. It's an XML format which describes applications so that projects such as KDE can ship files with their apps which give a name, description, translations of this and pretty screenshots.
The first step is getting the Appstream metainfo files into the applications. KDE has this in many places but not all, if you spot an application please add one. It's been supported in Extra CMake Modules for a while but the install directly changed recently just to confuse matters.
Then your archive has to extract the appstream files, in Neon we use Appstream Generator written by the Appstream master Matthias Klumpp and Harald set up some time ago but it broke last month.  That meant we had to update to a new version so Scarlett had to add a load of new packages to Neon to get Appstream Generator to build and I had to work out how to debug D to convince it to work. Then we moved our archive to ...read more...
Состоялся релиз независимого от протокола фреймворка обработки email — GNU Mailutils 3.0.
( читать дальше... )
В ближайшую среду, 9 ноября, в СПбПУ пройдет встреча для пользователей и системных администраторов свободной СУБД MySQL. На мероприятии Percona, организованном при поддержке ГНУ/Линуксцентр, выступят два технических специалиста компании с докладами, посвящёнными вопросам производительности MySQL: «Методы и инструменты повышения производительности в MySQL 5.6 и 5.7» (Николай Ихалайнен, старший специалист службы технической поддержки): от методов оценки производительности баз данных до применения различных инструментов…
Состоялся релиз n7t328IIpnwd 0.3 — утилиты для lossless дампа UTF-32 данных в KOI8-R/ASCII.
( читать дальше... )
В пятницу вышла новая версия популярной Open Source-системы для создания резервных копий (бэкапов), управления ими и восстановления данных — Bareos 16.2.4. Bareos (Backup Archiving REcovery Open Sourced) — форк проекта Bacula, созданный в 2010 году из-за несогласия с политикой компании-разработчика. Релиз 16.2.4 — пятая крупная версия Bareos. Обновления в этом выпуске затронули как внутренние возможности системы резервного копирования, так и пользовательский интерфейс. Среди наиболее…
The desktop package provides desktop environment detection and resource opening support for a selection of common and standardised desktop environments. The desktop package provides desktop environment detection and resource opening support for a selection of common and standardised desktop environments.
Minnesota Medical Info Day
18 лет назад, в октябре 1998 года, был зарегистрирован домен Linux.org.ru.
По традиции просьба написать в комментариях, что бы вы хотели изменить на сайте, чего не хватает и какие функции стоит дальше развивать. Интересны и идеи по развитию, и мелочи, которые хотелось бы поменять, например, мешающие проблемы юзабилити и баги.
Getting the correct dependencies and up to date version of required libraries has always been a challenge for Kdenlive users. So we are pleased to announce that we now provide binary packages for download. These packages contain the latest Kdenlive development version (git master), as well as current development versions of MLT, Frei0r, OpenCV. The GPU movit library is not included at this stage. There might be some performance hit due to the nature of the formats, but these packages will be most helpful to debug and test the alpha/beta versions so that we can provide better releases. It will also help to identify issues linked to missing dependencies or outdated libraries on your system.
So if you are ready, you can download Kdenlive's first AppImage here:
http://download.kde.org/unstable/kdenlive/16.12/linux/
Then, simply make the file executable and run it! In a terminal:

chmod a+x kdenlive-16.12-alpha1-x86_64.AppImage
./kdenlive-16.12-alpha1-x86_64.AppImage

We also provide a Snap package available ...read more...
The gift and curse of desktop Linux-based operating systems is the ability to change the desktop environment. On one hand, having the choice to pick your favorite user interface, such as Unity, GNOME, or KDE Plasma, can be a huge positive.
В начале этой недели некоммерческая организация The Linux Foundation объявила о создании нового проекта для продвижения технологий, связанных с языком программирования JavaScript, — JS Foundation. JS Foundation — это новая организация, имеющая открытую структуру управления и созданная для того, чтобы помогать проектам на JavaScript (как клиентским, так и серверным решениям) развивать лучшие практики и политики, направленные на поддержку качественных стандартов, сотрудничество и долгосрочную…
KDevelop 5.0.2 released for Windows and Linux
Four weeks after the release of KDevelop 5.0.1, we are happy to announce the availability of KDevelop 5.0.2, a second stabilization release in the 5.0 series. We highly recommend to update to version 5.0.2 if you are currently using version 5.0.1 or 5.0.0.
Along with the source code, we release an updated 64-bit AppImage for Linux as well as updated installers for Microsoft Windows. We've got the pleasure to announce a 32-bit version of KDevelop for Windows now, too!
You can find all the downloads on our download page.
Notable issues fixed in 5.0.2 are:
Fix a locking issue in the background parser, causing frequent crashes on Windows (3c395340d)
Fix broken search in the documentation view (0602281c)
Fix various issues with the breakpoints view (cba54572)
Fix a possible crash when activating a clang FixIt (BR: 369176)
Fix a crash when performing various actions with the Make plugin disabled (BR: 369326)
Update Sonnet in the Windows installer which led to crashes with ...read more...


4 октября на конференции LinuxCon EU 2016 Соломон Хайкс (Solomon Hykes), автор Docker, анонсировал проект InfraKit, который ранее был известен под названием libmachete. Авторы характеризуют InfraKit как «набор инструментов для создания декларативной, самовосстанавливающейся (self-healing) инфраструктуры и управления ею». Идея заключается в том, чтобы разбивать процесс автоматизации инфраструктуры на простые подключаемые компоненты, статус которых должен соответствовать пользовательским спецификациям. В качестве активных процессов…
Состоялся релиз легковесного http-сервера с расширяемыми через модули возможностями — Lighttpd 1.4.42.
( читать дальше... )
No use in beating around the bush: Yakuake is currently not in great shape. While the codebase made the jump to KDE Frameworks 5 quite early, it took a long time to get releases out, and the latest still suffers from some annoying, if minor, regressions and bugs.
TU-Automotive Japan 2016
Состоялся релиз Poezio 0.10 — консольного XMPP-клиента, написанного на Python 3.
Kube is a next generation communication and collaboration client, built with QtQuick on top of a high performance, low resource usage core called Sink.
It provides online and offline access to all your mail, contacts, calendars, notes, todo's etc.
Kube has a strong focus on usability and the team works with designers and Ux experts from the ground up, to build a product that is not only visually appealing but also a joy to use.
To learn more about Kube, please see here.
Kube's Account System
Data ownership
Kube is a network application at its core. That doesn't mean you can't use it without network (even permanently), but you'd severely limit its capabilities given that it's meant to be a communication and collaboration tool.
Since network communication typically happens over a variety of services where you have a personal account, an account provides a good starting point for our domain model. If you have a system with large amounts of data that are constantly changing it's vital to have a clear understanding of data ownership within the ...read more...
В субботу Линус Торвальдс (Linus Torvalds), основатель и ведущий разработчик ядра Linux, опубликовал «нумерологическую» заметку, в которой рассказал о том, когда появится релиз 5.0. Публикация Линуса выглядит следующим образом: «Сегодня мы на полпути от Linux 4.0 до 5.0. Почему? Оказалось, что всё это время мы выпускали крупные версии ядра по шаблону, делая релиз практически ровно каждые 2 миллиона объектов в базе…
В субботу Линус Торвальдс (Linus Torvalds), основатель и ведущий разработчик ядра Linux, опубликовал «нумерологическую» заметку, в которой рассказал о том, когда появится релиз 5.0. Публикация Линуса выглядит следующим образом: «Сегодня мы на полпути от Linux 4.0 до 5.0. Почему? Оказалось, что всё это время мы выпускали крупные версии ядра по шаблону, делая релиз практически ровно каждые 2 миллиона объектов в базе…
NetBeans — это удобная кроссплатформенная интегрированная среда разработки с открытым исходным кодом, позволяющая создавать настольные, мобильные и веб-приложения на различных языках программирования (Java, PHP, Javascript, C, C++ и других). Графический интерфейс переведён на несколько языков, среди которых есть и русский.
Сегодня стала доступна версия 8.2. В этом выпуске появилась долгожданная мультикурсорность в редакторе, а большая часть функциональных изменений коснулась поддержки Javascript.
( читать дальше... )
>>> Скачать NetBeans
Ссылки