Ссылки
It's that time of year again, KDE is nearing a new release day and it's time for translators to work on the making sure that new software/features are properly translated so that the thousands of KDE users can enjoy it in their native language.

Unfortunately translators come and go and KDE software continues to grow and grow, meaning that sometimes some languages fall below the line of what we consider an acceptable amount of translations for them to be shipped with the KDE releases.

For this 4.8 cycle this is the list of languages that was in 4.7 and if the release was today would not be released: Arabic, Bulgarian, Galician, Hebrew, Irish Gaelic, Indonesian, Japanese, Kannada, Latvian, Norwegian Nynorsk, Punjabi, Uyghur and Walloon

Obviously this does not mean that they will not released with KDE since each translation team has a different work schedule and some of them only work when really close to a release, but if you are a user enjoying KDE on one of the above languages you should think on volunteering to ...read more...
Top 5 Planet V12N blog posts for week 48
Scott Lowe - Examining VXLAN - It's taken me far too long to write this post, that's for sure. Since the announcement of VXLAN at VMworld earlier in the year, I've been searching for additional information on these questions: "What is VXLAN? How does it fit into the broader networking landscape? Why did we need a new standard?"
Cormac Hogan - Upgraded VMFS-5: Automatic Partition Format Change - By now, regular readers of this blog will be aware that VMFS-5 supports a single extent volume size of 64TB. In an earlier post, I mentioned that newly created VMFS-5 partitions use a GUID Partition Format, GPT. This partition format allows for the creation of large partition sizes to cater for the new single extent 64TB VMFS-5 volume.
Andre Leibovici - Use Flash Drives (SSD) for Linked Clones, not Replicas - In my previous article EMC FAST Cache ...read more...
Драйвер создан путем портирования для Linux оригинального ODBC-драйвера для Windows, известного под именем SQL Server Native Client (SNAC). Тестовая версия пакета доступна в 64-разрядной сборке для платформы Red Hat Enterprise Linux 5 и поддерживает работу с MS SQL Server 2008 R2 и MS SQL Server 2012. В дальнейшем будет подготовлена 32-разрядная версия, пакет для Red Hat Enterprise Linux 6 и версия с поддержкой технологии обеспечения отказоустойчивости AlwaysOn.
( читать дальше... )
8 декабря 2011 года в 18:30 состоится третья встреча Одесской Java группы.
Программа мероприятия:

"Overview of PaaS: Java experience" Анищенко Игорь, HP SiteScope Content Team R&D Manager at Lohika, Вадим Лотарь, HP QC Backend Engineer at Lohika, Александр Конопко, OKTA Backend Engineer at Lohika
"Google Web Toolkit. Введение в средство разработки пользовательского WEB интерфейса" Антонов Антон, Senior Java Developer компании Sigma Ukraine
"Geohash algorithm in mapping applications" Игорь Лужанов, Senior Java Developer, Ciklum, project TIS
Адрес мероприятия: Одесса, улица Еврейская 3
Top 20 Articles for November 2011
Here is our Top 20 KB list for November 2011. This list is ranked by the number of times a VMware Support Service Request was resolved by following the steps in a published Knowledge Base article.
...read more...


Today was the first of two Plasma Bug Days we're hosting this week in #plasma on irc.freenode.net. It started at noon UTC and people started rolling in. With the help of Ann Marie and Marco, we got the volunteer bug hunters up to speed and working with a high degree of effectivity.

So far (and we're not yet done for the day!) we've closed 62 reports. There were a number of fixes applied for 4.8 (and some for the upcoming 4.7.4 as well) as a result, and duplicates or already fixed bugs were also being caught. A good number of crashers were identified and fixed, and one vastly annoying bug where a panel would mutate and take over the whole screen when the screen count changed was also killed. That's pretty decent for a day's effort.

Big thanks and kudos to all those who participated so far, including asraniel, thijs, BrummbQ, mck182, emilsedgh, mrrub and Adaptee. (Hope I didn't miss anyone, if I did: mea culpa! and let me know :)

We'll be at it again all day tomorrow, so ...read more...
Опубликован новый выпуск электронного приложения к журналу «Системный администратор», полностью посвященного программному обеспечению с открытым кодом, — «Open Source» 096.В этом выпуске «Open Source» (впервые для издания он свёрстан в 1 колонку): «Новости мира Open Source» (Дмитрий Шурупов). «Hugin: сшивка панорам и не только. Часть 1» (Семен Есилевский). «AMD и Open Source» (Денис Силаков). «Фильтры Wireshark: отделяем зёрна от плевел» (Андрей Бражук). «Жизнь замечательных программистов. Часть 2: Пол Дэвис» (Петр Семилетов). Выпуск «Open Source» 096 доступен подписчикам для скачивания на сайте «Open Source». Бесплатный доступ к нему будет автоматически открыт через месяц.
Несколько дней назад вышла библиотека Avout он небезызвестной команды clojure/core. Библиотека представляет собой реализацию Distributed Software Transactional Memory. На сайте проекта доступна документация и примеры кода, исходный код самой библиотеки доступен на гитхабе и распространяется на условиях лицензии Eclipse Public License.
Напоминаю, что clojure - это современный диалект лиспа, поощряющий функциональный стиль программирования и упрощающий разработку многопоточных программ. Clojure работает на платформах JVM и CLR. Руководит разработкой языка Рич Хикки (Rich Hickey), который ранее трудился над javac.

Last weekend I went back to the beautiful city of Toulouse for Capitole du Libre, a free software event made of three co-hosted events: Akademy FR, Ubuntu Party and Drupal Camp. It was great to meet the usual gang of Toulibre KDE people and put faces on people I only knew from #kde-fr, the friendly French-speaking Freenode IRC channel. We even had Aleix Pol, of KDevelop and KAlgebra fame, coming from Barcelona to help us.
Saturday
Saturday, was the busiest day: we had a KDE booth and ran two conference tracks: users and contributors.
Being co-hosted with the Ubuntu Party brought in a different population from previous KDE Release Parties. We had nice conversations on the KDE booth with Ubuntu users who heard about KDE but did not really know what it looked like or even what it really was. We did our best to sell our beautiful products. The Plasma Active powered Wetab tablet made a very good impression. It is interesting ...read more...
Sharing a virtual machine between users in Mac OS (1005196)
cannot-use-shared-folders  cannot-use-shared-vm  how-to  user-permissions  use-shared-folders  use-shared-vm This article provides steps for locating and accessing a virtual machine from
Download VMware Products | Privacy | Update Feed Preferences
Copyright © 2010 VMware, Inc. All rights reserved.

We're currently discussing how to give a good visual indicator to users of Marble Touch where their current GPS position is (once it moves outside the visible region of the map). I created a video that shows two possible approaches: The first one (sticky indicator) shows the indicator on the bottom right of the screen and an arrow to point towards it. The second one (moving indicator) also moves the indicator to the nearest border of the screen. Please take a look at the video comparing both and add your comments.
Here are some things to consider:
The sticky indicator has the advantage of a predictable location. Look at the bottom right corner of the map to see the distance to the current position and in which direction it is. A disadvantage is that the distance is measured to the bottom right corner, which is not always intuitive (measuring to the center can be as confusing though). Likewise it's confusing two ...read more...
A week in virtualization
As of last Wednesday, VMware Fusion 4.1.1 is available for download or via "Check for updates" inside the application itself. The Fusion Team blog links to a useful KB article that Snow Leopard and Leopard users should consult before upgrading. Read more on blogs.vmware.com/teamfusion
Our Fusion team is also driving a three-day cyber-Monday sale and offering Fusion at a 30% discount. The offer is valid until midnight Pacific time today, so go get the special offer link off facebook.com/vmwarefusion
Today is the last day of the three-day cyber-Monday sale on VMware Workstation 8. Until midnight Pacific time today, you can snag your own copy of Workstation at 30% off. With VMware Workstation you can move to the internal cloud, build and test your VMs locally, then drag and drop them to vSphere when you're ready. Share VMs with your team by running Workstation as a server, connect to vSphere and vCenter to access remote VMs, ...read more...
GNUnet — это фреймворк для организации безопасной P2P-сети. GNUnet призван защитить частную информацию пользователей и оградить их от атак и вмешательства. В данный момент GNUnet предоставляет два основных приложения, основанных на этом фреймворке:
Сервис для анонимного, бесцензурного файлового обмена. Файлы, поисковые запросы и их результаты шифруются для предотвращения контроля за действиями пользователя. К тому же протокол GNUnet'а разработан так, чтобы затруднить вычисление пользователя на основании его активности.
VPN-сервис позволяет предоставить скрытые сервисы внутри сети GNUnet (в домене .gnunet) и может быть использован для туннелирования IPv4- и IPv6-трафика через P2P-сеть.
Есть и другие приложения, но они пока ещё находятся в разработке.
Новая версия имеет множество существенных изменений в архитектуре, включая переписывание большей части системы. Наиболее интересные улучшения:
Новая архитектура: мультипроцессная архитектура с ARM-супервизором.
Новое приложение: VPN.
Новая утилита для настройки: gnunet-setup (является частью gnunet-gtk).
Новый сервис: mesh-маршрутизация.
Новые транспорты: HTTPS и WLAN.
Поиск пиров в сети с помощью broadcast (IPv4) и multicast (IPv6).
Существенное улучшение операций с базой данных за счёт новой структуры таблицы данных и индекса.
Улучшена возможность подключения за ...read more...


Вышла новая версия этого небыстрого, но качественного кросс-платформенного эмулятора x86 PC. Bochs включает в себя эмуляцию процессоров x86, x86-64, устройств ввода-вывода и возможность использовать различные BIOS. Поддерживает инструкции MMX, SSEx, AVX и 3DNow!.
Изменения:
Эмулируемый CPU полностью настраивается одной опцией в .bochsrc
Ускорение эмуляции от 10% (ST) до 50% (SMP)
Реализована поддержка новых инструкций x86 ISA (см. Intel Architecture Manual (rev 040, AVX rev 011)), а именно: XSAVEOPT, AVX/AVX2/FMA/F16C, BMI1/BMI2, SMEP, INVPCID, TSC-Deadline, VMX: VMX Preemption Timer, Pause Loop Exiting и VM Functions
Реализована поддержка инструкций AMD SSE4A/XOP/FMA4/TBM
Сеть: появился новый сетевой модуль 'slirp'
Диск: исправлено переполнение буфера, вызывавшее падение Bochs в LBA48 mode
Видео: К биосам cirrus and pcivga добавлена поддержка PCI ROM
Звук: портирована эмуляция звуковой карты ES1370 из Qemu.
Changelog: sourceforge.net
In today's part we'll have a look at an application, that I've (again) grown so used to, that I consider it part of the Workspace itself - KSnapshot.
I remember doing screenshots on my old Win XP machine - press the print screen key, open up MS Paint, paste the image there and save. That's so last-century. I don't know how it works these days in Win7, but feel free to let me know below in the comments. OS X went one step further - after you press some magic key combo (which I could never remember), the image is saved on your desktop. But the fearless KDE developers went even further. 
After you press the print screen key, the KSnapshot pops up with little window and your screenshot in it. From here you can either save the image to a format and place of your own liking (clever automatic file numbering included). However if you don't like the screenshot you just took, ...read more...
В минувшую субботу, 26 ноября, вышла новая версия популярного дистрибутива Linux, основанного на разработках Ubuntu, — Linux Mint 12 (под кодовым названием «Lisa»).Главной «фишкой» релиза Linux Mint 12, основанного на Ubuntu 11.10, стало использование в качестве рабочего окружения по умолчанию GNOME 3.2 и MGSE. MGSE (Mint Gnome Shell Extensions) — это специальная «прослойка» для GNOME 3, созданная разработчиками Linux Mint и призванная предоставить пользователям «традиционную» графическую среду на базе GNOME 3 (в отличие от оконного менеджера Unity в Ubuntu). В составе MGSE — нижняя панель, меню приложений, список окон, ориентированный на задачи десктоп (возможность переключаться между окнами, а не приложениями), видимые иконки в системном трее. Кроме того, в MGSE включены разнообразные...
We are pleased to announce the second release of KDE Telepathy.
KDE Telepathy is a suite of applications which together form an instant-messaging client allowing you to talk on Jabber, Gmail, Facebookm, MSN and much more. KDE Telepathy stands out from previous instant messaging clients by being able to integrate into the KDE workspace and plasma, as well as being able to be used like a traditional IM application.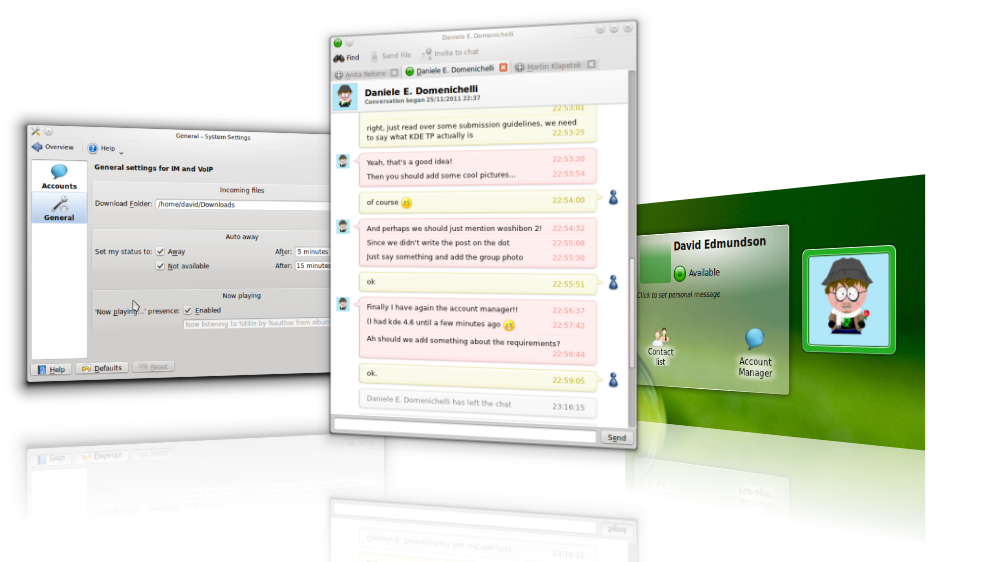 This release features:
KWallet integration for storing of passwords
A plasmoid for instant access to a contact
Ability to set your status to the currently playing track from Amarok, Clementine or any other mpris2-compatiable player
Auto Away
Progress bar and cancel button for file transfers
Over 130 bug fixes and tweaks since 0.1!
Sprints
The whole team met at the Woshibon 2 sprint in Cambridge, UK (14th-18th September). This sprint was sponsored by both the KDE e.V and Collabora and allowed us to not only sort out many of the details in making this release, but planning out more long term ...read more...
+ Статья: Перенос виртуальной машины на физический жесткий диск + + Релиз веб-редактора Bluefish 2.2.0 + + Статья: Установка Linux на USB-флешку + + Статья: Замена сервера SSH на Netgear Stora + + Журнал Linux Format Ноябрь 2011 (CentOS 6, Tiny Core Linux 3.8.1, Mandriva 2011 (Установочный DVD) + + Linux Mint 12 "Lisa" + + Бесплатный on-line семинар по универсальному Интернет-шлюзу Интернет Контроль Сервер (ИКС) + + Для ядра Linux представлена реализация IPv6 NAT + + Межсетевой экран - Специализированный сетевой процессор для телематических сетей ССПТ-2-69 + + Анонсирован открытый колориметр ColorHug + + Релиз GNOME 3.2.2. Интервью с одним из основателей GNOME + + Краткое руководство по GNOME Shell в Ubuntu 11.10 + + Новейшая версия Fedora 16 "Verne" + + Статья: Прозрачное кэширование в nginx для всех и каждого + + Статья: Кеширующий прокси-сервер на nginx. Хитрая конфигурация + + Конвертация электронных книг для e-Ink устройств (PDF и др.) + + Новая версия openSUSE 12.1 + + Войны ёжиков: Hedgewars 0.9.17 + +...
"KDE released the first beta for its renewed Workspaces, Applications, and Development Platform.
vExpert Spotlight: Sohrab Kasraeian Fard
Twitter: @Kasraeian
Blog URL: http://www.kasraeian.com 
How did you get into IT?
It was about two years before school when for the first time I saw "Computers" in my father's working place. When I was in the 1st year of my high school, I get the chance of playing games on the computer and one year after that I get some lessons about computer and MS DOS.
I can say those event's changed my life completely as I leaved my first university after 2 years of studying "Material Engineering – Ceramic Field" and went to the new university for studying "Computer – IT Field" and later on one of my professors invited me to his company and from then my IT career started. 
How did you get into working with VMware and becoming a 2011 vExpert?
I started using VMware products "VMware Workstation 6.x" and "VMware Server 1.x" before I'm moving to the new university for studying ...read more...
Вышел LICQ 1.6.0. Список изменений касается, в основном, улучшений в работе протоколов и Qt-GUI. Самое интересное изменение:
ICQ: исправлено несколько проблем при использовании unicode.
Теперь пользователи официального ICQ-клиента нормально читают сообщения, например, по-русски, которые посланы из LICQ. Проблема появилась несколько лет назад, при очередном обновлении официального ICQ-клиента.
It may seem obvious but eating our own dog food can definitely be good for your project's condition. Especially when it is maturing over time. How many testers can we have and how many personas for your user-centered design can we define and maintain? Usually just a few with the actual resources. Is only fulfilling needs of more or less fictional actors focusing on few use cases a good direction? Or does it put our vigilance to sleep?
Well, I am convinced you and your co-workers can be good actors if you actually start using your software more.
In the CSS2 presentation I published above there are only few but probably telling examples of what features of Calligra we can start using more in the project and how. There also a 'why'. Never force using apps if there are better (or good enough) tools already in place. Own dog food consumption can also be a risky business if the usage feels ...read more...
Приближаются новогодне-рождественские праздники. По такому случаю в блоге SourceForge появился обзор свободных игр, которыми можно занять детей, чтобы не мешали смотреть телевизор :)
( читать дальше... )
Mmmm, after the jerk-flavored roasted turkey for Thanksgiving dinner (with an amazing Paula Dean corn casserole) I got some excellent coding mojo. That is, of course, after the tryptophan wore off. Then I realized that it has been over 6 months since the last bug fix release and it kinda seemed like it was about time to get these fixes I've worked on over the last few months more widely distributed.  So I tagged Bangarang 2.1 beta last night.
There was once a 2.1 target features list, but as I've realized over the last few months, with just myself as the main developer, it just makes sense to work on whatever motivates me, when I'm motivated to work on it.  I'll do target features and and more fixed release schedules if the number of contributors grow. Fun is my biggest motivation and it's gotten quite a bit done thus far.  And yes, I do enjoy knocking out bugs as much as I enjoy adding features.

I think there were enough new features to warrant ...read more...
Состоялся релиз на данный момент самого популярного дистрибутива Linux — Linux Mint 12 "Lisa"!
Из основных изменений следует отметить:
переезд на GNOME 3;
создание своего пакета расширений для него, именуемого MGSE (Mint GNOME Shell Extensions), который превращает непривычный GNOME Shell в привычное окружение рабочего стола;
поддержку MATE (форк GNOME 2) с возможностью установки вместе с GNOME 3;
Две новые темы рабочего стола Mint-Z и Mint-Z-Dark, основанные на Mint-X и Zukiwto;
Использование по умолчанию поисковика Duck-Duck Go;
Апстрим:
Ubuntu 11.10;
GNOME 3.2;
Linux 3.0;
Скачать:
>>> 32-bit torrent
>>> 64-bit torrent
KBibTeX is a BibTeX editor for KDE to edit bibliographies used with LaTeX. Features include comfortable input masks, starting Web queries , and exporting to PDF, PostScript, RTF, and XML/HTML. As KBibTeX is using KDE's KParts technology, it can be embedded into Kile or Konqueror.
Hi!
It's been a good day today!
First of all I arrived to Toulouse where Akademy-fr is going to happen. I'm really happy of being part of this first (I hope of many) Akademy-fr edition.

Secondly, KAlgebra has been accepted to the OVI store. As far as I know, it's the first (I hope of many, again

) application bundling kde libs in it. So all N9* users can install it without ugly tricks! o/
Proof: KAlgebra at OVI store.
Salutations dès Toulouse!!
Менее чем через пять месяцев после предыдущего выпуска VisIt 2.3 состоялся выпуск новой версии 2.4 открытого инструмента для визуализации данных.
VisIt — это система визуализации данных на двумерных и трёхмерных структурированных и неструктурированных расчётных сетках, позволяющая выводить скалярные и векторные поля, а также проводить с ними различные операции (вычисление градиентов, интегрирование и т.п.). С описанием программы, руководством пользователя и примерами применения можно ознакомиться на официальном сайте.
Следует отметить, что VisIt, так же как и другая распространённая система визуализации ParaView, использует библиотеку VTK, и в данном выпуске был осуществлён переход на новую версию VTK 5.8.0. Кроме того, разработчиками программы было исправлено большое количество ошибок и добавлено несколько новых возможностей, среди которых можно отметить улучшение визуализации двумерных данных за счёт вывода только тех ячеек сетки, размеры которых больше заданного пользователем значения.
Полный список изменений можно посмотреть здесь.
VisIt распространяется под лицензией BSD.
>>> Скриншоты
>>> Wiki-проект
vExpert Spotlight: Michael Letschin

Blog URL: www.thesolutionsarchitect.net
Twitter handle: @mletschin
Current employer: Convergence Technology Consulting

How did you get into IT?

As a cadet at the Air Force Academy, each cadet squadron has a computer clerk and in my sophomore year, that was my job.  Essentially a help desk tech for the 60+ person squadron for small computer issues.

After transferring to the University of Maryland, I needed a job to pay for school. I found a position working on websites for the university and so began my IT career. After a few strokes of good luck and moving into systems part-time in college and then full-time through my senior year, I had become a systems admin.

After college, I took a position doing small to medium outsourcing and moved through the ranks into IT management. Over the past few years, I have moved into more of a pre-sales/architecture position.

How did you get into working with VMware and becoming a ...read more...



Ссылки


Генерация: 0.349 сек. и 40 запросов к базе данных за 0.222 сек.
Powered by SLAED CMS © 2005-2007 SLAED. All rights reserved.