Ссылки
Packages for the release of KDE SC 4.10.1 are available for Kubuntu 12.10, 12.04 and our Raring development release. You can get them from the Kubuntu Backports PPA for 12.10 and 12.04.
Bugs in the packaging should be reported to kubuntu-ppa on Launchpad. Bugs in the software to KDE.
16 | System & Utilities | http://www.kubuntu.org/news/kde-sc-4.10.1 | 8924 |
KDE Project:
Some people mis-read (or I mis-wrote) my previous blog as critisising Ubuntu for not caring about its community any more. That's not what I wanted to say and it wouldn't make any sense, Ubuntu is a large community, it can hardly stop caring about itself. Rather I was saying that Canonical has done some moves recently which show a lack of concern for the Ubuntu community. Numerous other blogs on Planet Ubuntu say the same thing today. Mark did too today by saying that Canonical is taking more of a lead in development because GNOME and KDE et al were failing to take over the world, an entirely sensible decision to make. So if you want to be able to take a strong part in contributing then Ubuntu Unity is not the best part of Ubuntu to go. That's fine as there are many parts which are waiting for more people ...read more...
16 | System & Utilities | http://blogs.kde.org/2013/03/07/ubuntu-many-communities | 8922 |
Pragmatic Perl - первый в мире русскоязычный журнал, посвященный проблемам программирования на языке perl.
Содержание номера:
Возрождение Perl
YAPC::Europe 2013 «Future Perl»
Moo — современный минимальный ООП-фреймворк
Dancer2 — Революция (1 Comment и 0 Reactions)
Padre IDE. В шаге от релиза 1.0
Всё, что вы хотели знать об AnyEvent, но боялись спросить
Что нового в Perl 5.17.9
Обзор CPAN за февраль 2013 г.
Интервью с Tatsuhiko Miyagawa
Perl Quiz
15 | Unix News | http://feedproxy.google.com/~r/org/LOR/~3/K36IIRB-1MI/8930015 | 8921 |
На прошедшем на этой неделе онлайн-UDS обсуждалась замена ConsoleKit на systemd-logind.
Оба компонента предназначены для отслеживания пользовательских сессий и автоматического предоставления процессам пользователей доступа к периферийным устройствам, связанным с рабочими местами, на которых они запущены. Разработка ConsoleKit была фактически заброшена еще до появления systemd - в результате он представляет собой заглушку, способную отслеживать лишь одну сессию. Systemd-logind уже имеет всю заявленную функциональность, позволяя настраивать мультисит-системы с распределением периферийных устройств между местами на уровне udev.
При этом разработчики Ubuntu по-прежнему не желают интегрировать сам systemd. Так как systemd-logind использует логику systemd для взаимодействия с cgroups, они собираются переписать эту часть своими силами.
15 | Unix News | http://feedproxy.google.com/~r/org/LOR/~3/eQzJZpnZGkA/8929891 | 8920 |
Уже во второй раз пройдет масштабная всероссийская конференция Стачка. Участие бесплатное.
Первая конференция стала одной из самых больших в России, собрав около 1500 участников и 70 докладчиков. В этом году в технических потоках (30 докладов за два дня) будут выступать представители компаний: skype, badoo, mamba, echo, undev, rambler, sphinx, scrumtrack, mail.ru, avito, express 42 и другие.
Темы докладов: методологии, devops, big data, highload, языки, архитектура кода и проектов, client-side, мобильные и облачные технологии.
Несколько завлекающих фамилий:
Лев Валкин (echo)
Макс Лапшин
Руслан Фазлыев (ecwid)
Андрей Аксенов (sphinx)
Андрей Смирнов (skype)
Андрей Шетухин (rambler)
Константин Осипов (mail.ru)
Александр Бындю
Для иногородних мы подготовили страницу как доехать и где жить. Регистрация тут
Так же можно подать заявку на доклад 2.0, который попадет на общее голосование (участниками конференции). При достаточной популярности он будет добавлен в общую сетку.
15 | Unix News | http://feedproxy.google.com/~r/org/LOR/~3/EyLn44AZo8E/8929721 | 8919 |
Today began in a virtual UDS session (Google Hangout) with the Xubuntu team. The video can be seen here: http://summit.ubuntu.com/uds-1303/meeting/21666/community-xubuntu-contingencies/ . Xubuntu devels stopped by #kubuntu-devel and asked us to bring our list of concerns to share. The list we developed:


The new system will do away with releases for each upstream KDE release, which is a prominent feature of Kubuntu. One idea is to do releases of LTS+PPA with latest KDE but that's against policy and needs technical changes to make happen. Or will there be a way to create ISOs from PPAs?
Mir is a worry since KWin will clash with it (a compositing manager inside a compositing manager). How good will continued Wayland and X support be?
16 | System & Utilities | http://linuxgrandma.blogspot.com/2013/03/thoughts-and-worries-about-proposed-new.html | 8918 |
Спустя два года после предыдущего релиза представлена новая версия мультиплатформенной децентрализованной системы управления приложениями Zero Install, распространяющейся под лицензией LGPL.
Zero Install позволяет разработчикам распространять приложения непосредственно со своих веб-узлов, одновременно предоставляя такие возможности, как автоматические обновления, разделяемые библиотеки, обработка зависимостей, верификация источников по цифровым подписям. Zero Install не заменяет собой традиционные системы управления пакетами и не пересекается с ними, он дополняет их. Также он не создаёт новый формат пакетов, он оперирует привычными архивами tar.gz/zip в комплекте с метаданными в формате XML. На данный момент на зеркале Zero Install доступно более тысячи пакетов для операционных систем Linux, Windows, MacOS X, FreeBSD и Solaris. Более того, в дистрибутиве GoboLinux Zero Install используется в качестве основного средства управления пакетами.
( читать дальше... )
>>> О Zero Install
15 | Unix News | http://feedproxy.google.com/~r/org/LOR/~3/x1Qs6aqUjhE/8928774 | 8917 |
Вот и вышла новая версия популярной игры в жанре песочницы Minetest. Игра вдохновлена такими проприетарными играми, как Minecraft, Dwarf Fortress, Dungeon Keeper.
Основные изменения включают:
Генерация деревьев при помощи L-систем
Внутриигровое меню регулировки громкости
Частицы (видны при копании и разбивании блоков)
Список серверов в меню
Поддержка конечных жидкостей (finite liquids)
Автоматическое получение списка серверов
Генерация карты, основанная на шуме Перлина (ускорение генерации)
Многопоточная генерация карты (по умолчанию отключена)
Биомы
Меню выбора модов
Mese кристаллы и фрагменты месе кристаллов (теперь в большинстве рецептов крафта используются они вместо блоков Mese)
Поддержка TTF-шрифтов, в чате наконец можно писать кириллицей
Двери открываются правой кнопкой
Возможность писать многострочный текст на знаках
Также произведены исправления ошибок и другие менее значительные изменения. Полный список доступен здесь.
Напомним, что Minetest написан на C++ с использованием движка Irrlicht и распространяется под лицензиями LGPL 2.1 и выше (исходный код) и CC-BY-SA 3.0 (ресурсы).
В игре разделены движок и игровые моды. Доступен базовый (официальный) мод, но он не обязателен и может быть заменен на другой. У игры ...read more...
15 | Unix News | http://feedproxy.google.com/~r/org/LOR/~3/Dkn4DB_JDjQ/8928219 | 8916 |
Motor Press Guild Panel - Automotive Apps: Getting Cars Up to Speed panel
15 | Unix News | http://www.motorpressguild.org/?elq=0a392f4ef76f4d1faec3aaa079b839c0elqCampaignId= | 8915 |
In general relation there are few thing we take for grated with your relatives, friend, colleagues etc.
Few of these things can be understood but few are really not.
Here is one which I really can't understand.
As Indian who is staying outside India I face this question every time I call back home. (not to parents, but to other relatives where my frequency of calling is very poor I think once in 1-2 months)
"Tu Call hi nahi karta, bhul gaya hamko? " (translation: you don' t call, have you forgotten us?)
Well is there any unwritten rule or culture that Indian who is staying outside India is the only one who is responsible to keep in touch/ calling to the folks back home?
If he/she doesn't call it means he/she forgotten them, isn't that one sided?
Can't he/she say that folks back home has forgotten him/her they are not calling?
Why this assumption?
Please explain.
Note: Don't assume that he/she is rich or has free calling to India.
...read more...
16 | System & Utilities | http://thezeroth.net/blog/2013/03/06/unwritten-rule-by-indians/ | 8913 |
Произошло обновление стабильной ветки R313 проприетарного видео-драйвера NVIDIA, а также недавно выделенной в категорию «legacy» ветки R304 (поддерживает карты NVIDIA до 8xxx). В них поддерживается работа с последними версиями ядра Linux и графического X-сервера. Кроме того, драйверы доступны для других UNIX-подобных ОС.
Выпуск за номером 304.84 включает следующие изменения:
добавлена поддержка X-сервера версии 1.14;
исправлена ошибка, которая могла приводить к повреждению изображения, например, в случае выхода из X-сессии после того, как работа всех X-клиентов была завершена;
удалена «паразитная» зависимость libpangox от бинарных файлов утилиты nvidia-settings, распространяемой в составе установочного пакета драйвера;
исправлена ошибка, которая могла становиться причиной краха X-сервера во время применения операции поворота дисплея после отсоединения подключённого последним монитора (например, так: xrandr --orientation left) при использовании RandR версии 1.0;
исправлена ошибка, которая могла вызвать формирование пустой man-страницы nvidia-xconfig(1);
увеличена производительность рендеринга шрифтов и исправлены проблемы с повреждением изображения при работе совместно с X-сервером с бекпортированной поддержкой кэширования новых глифов, добавленного в Pixman версии 0.27;
исправлено потенциально возможное возникновение краха X-сервера во время инициализации (когда к графической карте с TV-выходом не подключено устройство вывода); ...read more...


15 | Unix News | http://feedproxy.google.com/~r/org/LOR/~3/iWKiMFOMWQY/8926832 | 8911 |
These updates are the first in a series of monthly stabilization updates to the 4.10 series.
16 | System & Utilities | http://www.topix.com/tech/kde/2013/03/kde-launches-monthly-updates-for-version-4-10?fromrss=1 | 8914 |
Проект популярного дистрибутива Debian объявил о внесении изменений в правила использования своих логотипов и торговых знаков: теперь их можно свободно применять и в некоммерческих, и в коммерческих целях.Энтузиасты из Debian известны своим внимательным отношением к вопросам свободы и легальности различных аспектов, связанных с деятельностью проекта. Теперь, в результате успешного сотрудничества со специалистами из некоммерческих организаций SPI (Software in the Public Interest) и SFLC (Software Freedom Law Center), представителям Debian удалось добиться «хорошего баланса в политике по отношению к [имеющимся у проекта] торговым знакам».Новые правила «позволяют все возможные варианты коммерческого использования» логотипов и торговых знаков Debian. Единственная рекомендация авторов новой ...
15 | Unix News | http://www.nixp.ru/news/12098.html | 8912 |
Together with the developers of Dolphin we are planning to improve the sidebars in Dolphin with a special focus on the concept of 'recents'.

Dolphin, the default KDE file browser, targets to be efficient and intuitive. It is designed to be most beneficial for two types of users, represented by the Personas Lisa and Simon, who are at least a bit familiar to the concept of files and folders, but not necessarily with the file structure of Linux itself.
For quick access, Dolphin contains a couple of sidebars allowing to reach different places, devices or recently used files. Recently, on some mailing lists the 'recent sidebar' has been the target of some discussions. The point has been made that the 'recent sidebar' is rarely used and it hence should be improved.
Now this is where we want to step in and find out how developers and users can contribute in finding a new and better approach for the problem of accessing files that have been used in the ...read more...
16 | System & Utilities | http://user-prompt.com/quo-vadis-dolphin-preparation-of-the-developer-study/ | 8910 |

A Zarafa groupware does workin complex setup you most likely have spam filtering software like Spamassassin running on the main MTA in front of Zarafa. Modern spam filters however need to be trained with ham and spam examples – and Zarafa has no simple way to export stored mails in a txt or mbox format, and the database does not store mails but mapi objects.

Luckily, a coworker of mine here at credativ has written a script to extract mails from a Zarafa to mbox as long as some header information are known: [Howto] Zarafa mail extraction.


Filed under: Business, HowTo, Linux, Office, Shell, Technology
16 | System & Utilities | http://liquidat.wordpress.com/2013/02/28/howto-extracting-entire-mails-in-mbox-format-from-zarafa-link/ | 8909 |
SeedDMS — система управления документами с веб-интерфейсом, наследница LetoDMS (в связи с уходом основного разработчика этого проекта) и полностью совместимая с ней.

Возможности:
поддержка нескольких баз данных с помощью ADOdb;
система контроля доступа к документам (ACL);
просмотр и удалённое редактирование документов;
уведомление пользователей о новых/обновлённых/просроченных документах по электронной почте;
хранение любых типов файлов с сортировкой по категориям с бесконечной глубиной вложения;
возможность автоматического конвертирования документов MS Word в HTML;
возможность одновременной работы несколькими пользователями;
возможность блокировки/разблокировки документов;
работа с метаданными (создатель, владелец, дата создания и т. п.);
расширенный поиск документов (по содержимому, заголовкам, индексам и пр.), сортировка результатов по заданным критериям.
В этой версии:
новый пользовательский интерфейс с возможностью перераспределения базы уже имеющихся документов (старый интерфейс по-прежнему доступен);
новый движок контроля/визирования;
добавлена поддержка sqlite 3-ей версии;
возможность замены ADOdb на PDO;
добавлена история буфера обмена и функция drag&drop для перемещения файлов документов.
15 | Unix News | http://feedproxy.google.com/~r/org/LOR/~3/Z4iHU1UchPA/8902050 | 8908 |
There's a lot of people who are very careful to never delete a single line from an e-mail they are replying to, always quoting the complete history. There's also a lot of people who believe that it wastes time to eyeball such long, useless texts. One of the fancy features introduced in this release of Trojitá, a fast Qt IMAP e-mail client, is automatic quote collapsing. I won't show you an example of an annoying mail for obvious reasons :), but this feature is useful even for e-mails which employ reasonable quoting strategy. It looks like this in the action: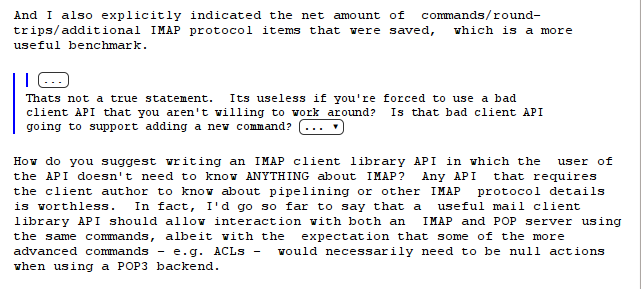 When you click on the ... symbols, the first level expands to reveal the following: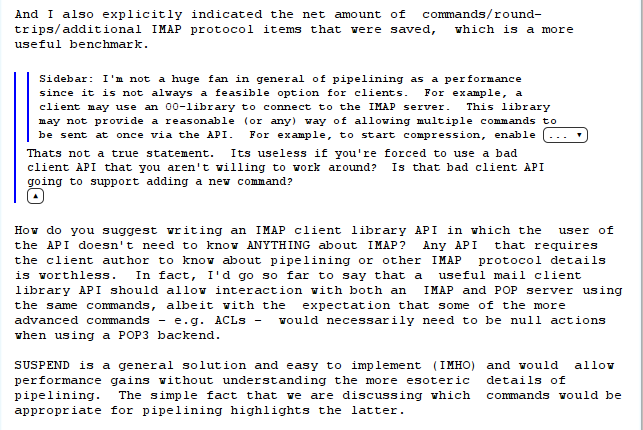 When everything is expanded, the end results looks like this: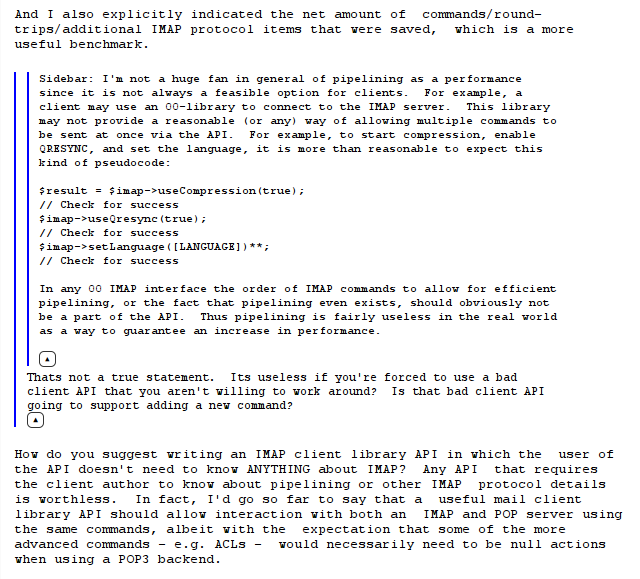 This concept is extremely effective especially when communicating with a top-posting community.
We had quite some internal discussion about how to implement this feature. For those not familiar with Trojitá's architecture, we use a properly restricted QtWebKit instance for e-mail rendering. The ...read more...
16 | System & Utilities | http://jkt.flaska.net/blog/Collapsing_long_mail_quotes_in_pure_CSS_and_other_new_features_in_Trojita_0_3_92.html | 8907 |
A few years ago when I was attending at UDS-M, the Kubuntu guys and I tried to understand why KDE took so long to start, we used bootchart and started debugging startkde & friends, after disabling lots of kded modules and a bunch of stuff we couldn't get rid of the ~10 seconds marker.
Time has passed and no matter how fast your computer is we still have to wait a lot for KDE to start, is KDE slow? Is Qt Slow? Is C++ slow? All these questionings kept coming to my mind, and well lots of friends ask why is KDE slow to start, after it has started it's fast. So the other day I decided to try Unity to know if all the FUD were true or not, and I got stunned with a desktop bloated with python scripts and stuff it was much faster than KDE to start, it's really fast to load, after a few hours trying to use it and not being able to even move the panel to the bottom I gave up and ...read more...
16 | System & Utilities | http://dantti.wordpress.com/2013/02/27/1-2-3-plasma/ | 8906 |
I'm Gabriel Poesia, a Brazilian Computer Science undergrad student at
UFMG
who is passionate about algorithms (I compete in programming contests, like
ICPC
) and free software. At the end of the last year, I started contributing to
Nepomuk-KDE
. I created this blog primarily to describe my first steps in the world of free software and talk about my work inside Nepomuk. Both writing here and contributing to KDE have been very interesting experiences for me, and I hope this blog can be useful and motivating to others, too. KDE is great, but still
...read more...
16 | System & Utilities | http://g-poesia.blogspot.com/2013/02/hello-planet.html | 8905 |
Компания Sony объявила о разработке своего первого смартфона под управлением мобильной платформы Firefox OS. Выпуск продукта на рынок запланирован на 2014 год. Его распространением займётся крупный испанский сотовый оператор Telefonica, широко представленный в Европе, США и Латинской Америке.Между Sony Mobile и Telefonica заключен многолетний договор, согласно которому компании не только продолжают работу над линейкой Android-продуктов, но и предпринимают совместные усилия по разработке смартфона на базе новой Open Source-платформы Firefox OS. Как отметил Боб Исида (Bob Ishida), один из руководителей Sony Mobile, «в данный момент инженеры работают с Firefox OS и HTML5 — растущими технологиями, демонстрирующими большой потенциал».О подобной инициативе официально сообщили представители др...
15 | Unix News | http://www.nixp.ru/news/12094.html | 8903 |
Hey people! I want to write some lines about a very new Edu application that I recently started.
Disclaimer: everything that follows is work-in-progress and if you are one of the braves who try to compile the code and test it: The program will eat all data that you put in for sure

The project I am talking about is named "ArtiKulate" and is a new kind of language learning application. It shall help students, adults, professionals, etc. to improve their foreign language pronunciation skills. This shall be done as follows: A user gets a text phrase and a corresponding sound file that is recorded by a native speaker. Then the user can play the sound (or if she/he feels lucky, this step can be omitted) and tries to speak that phrase by herself/himself. This trial is recorded by the application and the user can then compare both recordings (for now I only plan to implement a comparison done by the user by listening to both sound files, but surely an automatic highscore that ...read more...
16 | System & Utilities | http://cordlandwehr.wordpress.com/2013/02/27/ever-heard-about-artikulate/ | 8904 |
In 2012, Kate had a GSoC project with the aim of adding a Scripting IDE plugin. The idea was to make it easy to write Kate Part scripts (command line scripts, indenters), that should include rudimentary code completion and a gui to manage available scripts. As detailed in the blog post, a rudimentary list that showed all available scripts is available. However, due to changes in Kate Part's scripting framework (e.g. changes in the folder structure, require() function to load libraries), the plugin in its current form is not applicable anymore. Still, the idea of having a better JavaScript support is valid.
So this blog post is about some ideas how we can add possibly really cool JavaScript support to Kate as a plugin. This plugin should provide the following features:
provide code completion
support for loading additional modules (jQuery, Node.js, Prototype, Kate Scripting API, …)
specialized support for Kate Part scripting
outline in terms of a function and prototype browser
JavaScript Code Completion
Providing code ...read more...
16 | System & Utilities | http://kate-editor.org/2013/02/27/idea-code-completion-for-javascript/ | 8902 |
Now the statistics of the kate.git are online for public viewing.
They will be updated daily, located on: http://kate-editor.org/stats/
Unfortunately, the statistics of the last years are not that "representative", as the moves of Kate around in SVN and to Git biased the statistics, as I did a lot of the commits for syncing and moving and so on.
Still it is amazing how MANY people did contribute during Kate's history! (see Kate Authors)
A big THANK YOU to all contributors that appear there (and all the people that provided patches others merged in, did the testing, bug reporting, translations, …).
16 | System & Utilities | http://kate-editor.org/2013/02/27/kate-git-statistics/ | 8901 |
A new episode of The Luminosity of Free Software will be recorded tomorrow at the usual place and time: Google+ Hangouts at 20:00 UTC. Immediately after recording, it will appear on Youtube as well as at the end of this blog entry.

Last week's episode was a little heavier on the philosophical meanderings than usual, but this week the pendulum will swing the other way slightly as I focus on more technical topics. The planned agenda goes something like this:




Developer Driven APIs: How the emerging world of openly developed, Free software mobile platforms presents a new kind of opportunity to application developers
Memory Lane: when Fonts and video editors were problems for Free software .. and the awesome things we have now.
PostgreSQL: Why it is the only Free software database I care about .. and the completely valid reasons why it isn't used more by desktop applications.
Question Period: Ask the questions that are on your mind, and I'll respond with what is on mine!

The audience delivered up some terrific questions last week and it really made ...read more...
16 | System & Utilities | http://aseigo.blogspot.com/2013/02/the-luminosity-of-free-software-episode_27.html | 8900 |
"Distribution agreement expands customer access to medical, industrial automation and general embedded software and tools

-- QNX Partner News Release --

BELLEVUE, WA and OTTAWA, Canada February 26, 2013 BSQUARE Corporation NASDAQ: BSQR, a leading enabler of smart connected systems, and QNX Software Systems Limited, a leader in software platforms for connected embedded systems, today announced that Bsquare has become an authorized distributor of QNX operating system and development tool products in the United Kingdom. Bsquare will also continue to provide engineering services for QNX-based development within the medical, industrial automation and general embedded markets worldwide.

The QNX Neutrino realtime operating system RTOS is the platform of choice for high reliability and high performance systems. QNX technology drives mission-critical applications for a variety of vertical market solutions:


Medical devices: primary life support, in vitro and healthcare
Lifestyle products: automotive infotainment and telematics systems, BlackBerry 10 smartphones
Industrial control: safety-critical systems requiring certification to standards such as IEC 61508 SIL3
Networking and gateway products
The QNX Neutrino RTOS is based ...read more...
15 | Unix News | http://www.qnx.com/news/pr_5498_1.html?rss=0 | 8899 |
Платформа Erlang/OPT обновилась до версии R16B.
Изменения:
неблокирующая загрузка кода: раньше загрузка модуля производилась в однопоточном режиме и блокировала работу виртуальной машины Erlang;
HTTP клиент поддерживает HTTPS через прокси;
многочисленные улучшения механизма портов;
компилятор ASN.1 теперь будет автоматически включать необходимые функции в сгенерированный модуль.
Этот релиз содержит некоторые изменения, которые ломают обратную совместимость с более ранними версиями Erlang/OPT. Для получения дополнительной информации обратитесь к подробному списку изменений.
15 | Unix News | http://feedproxy.google.com/~r/org/LOR/~3/A0Mk5lsAmfc/8900495 | 8896 |
Российская компания «Информатик», занимающаяся разработкой лингвистического программного обеспечения, представила первое за свою историю решение для Linux-систем. Объявлено о начале открытого бета-тестирования Linux-версии плагина проверки орфографии ОРФО-Lite для офисных пакетов LibreOffice и OpenOffice.org.Плагин проверки орфографии русского языка ОРФО позиционируется как замена стандартному в составе свободных офисных пакетов (hunspell). Модуль был разработан в сотрудничестве с Институтом русского языка имени В.В. Виноградова в соответствии с действующими рекомендациями орфографической комиссии РАН. Разработчики утверждают, что в их плагине реализован интеллектуальный механизм многоместной подсказки для слов с ошибками.Плагин проверки орфографии для LibreOffice является проприетарным...
15 | Unix News | http://www.nixp.ru/news/12093.html | 8897 |
Last weekend, the KDE community in India organized KDE Meetup at DAIICT, Gandhinagar. There were three primary motives behind this-
Spread awareness about Open Source software among students
Lot of students have misconceptions about real world software (the myth that its very difficult to work on a big project), try to address them
Usually all tech conferences, especially FOSS ones are centered around places like Bangalore, Pune etc - give a chance to people in another region
I am happy to announce that the event was a huge success, not just in terms of number but in the quality of response we got and that we met all the three things we wanted to do!
...read more...
16 | System & Utilities | http://www.shantanutushar.com/content/kde-meetup-daiict-gandhinagar-was-amazing | 8898 |
Sometimes it happens that you take photos with a camera, and realize right in the middle of your session that the time of the camera is totally offset. In such cases: just keep taking photos and make sure that you take a photo of a clock at some point.

Afterwards, download the images, check the actual time offset by comparing the photographed clock and the time and date given in that image, and use exiftool to correct the time stamps of the photo. For example, imagine you have to change teh time by adding two hours and fifteen minutes:


$ exiftool -AllDates-='2:15' *.JPG


You can check the actual date of the image either by the usual GUI programs or on command line:

$ exiftool MyImage.jpg|grep Time
File Modification Date/Time : 2011:11:03 13:00:39+01:00
Exposure Time : 1/100
Date/Time Original : 2009:09:05 07:07:49



Filed under: Linux, Shell, Short Tip, Technology ...read more...
16 | System & Utilities | http://liquidat.wordpress.com/2013/02/21/short-tip-changing-the-original-time-of-a-photo-at-cli-level/ | 8895 |
Which function do you expect when you see a pencil? To draw something or perhaps fill the background… But in the context of a word processor?

Functions with similar icons
Instructions for icon design, including the Tango Icon Theme Guidelines for instance, require a set of icons to be homogeneous not only in lighting, perspective etc. but also in general style and the basic idea. But, of course, every icon of the set needs to be unique and distinct from others.
The functions Format Paintbrush and Show Draw Functions in Libreoffice (and other word processors) are assigned to icons with a broad pencil and a small brush respectively. Actually, the function Format Paintbrush is used to copy formatting of a passage and paste it somewhere else. And Show Draw Functions is just a switch to show or hide the toolbar for draw functions.
Results
When ...read more...
16 | System & Utilities | http://user-prompt.com/what-is-a-pencil-used-for/ | 8894 |
Ссылки