Ссылки
It lets the same high-level code work with a number of different underlying GUI toolkits.
16 | System & Utilities | http://www.topix.com/tech/kde/2013/06/plib-gui-added-to-pypi?fromrss=1 | 9118 |
Наконец-то он вышел! Дистрибутив, по праву считающийся «швейцарским ножом», который должен иметь у себя каждый уважающий себя системный администратор. Среди ключевых изменений по сравнению с версией 3.6.0:
Стандартное ядро — с длительном сроком поддержки, linux-3.4.47 (rescuecd + rescue64).
Альтернативное ядро обновлено до последнего стабильного, т.е. до 3.9.4 (altker32 + altker64).
Версия gcc откатилась до 4.4 — для того, чтобы делать исполняемые файлы меньшего размера.
Исправлена ошибка краха при загрузке через NBD (большое спасибо Gernot'у за предоставленное исправление).
В сборку добавлен пакет sys-fs/safecopy для восстановления данных с поврежденных устройств (с ошибками ввода/вывода) или файлов.
15 | Unix News | http://feedproxy.google.com/~r/org/LOR/~3/vxzQkuuECs0/9235814 | 9114 |
This post is to explain to the readers more about Artikulate. Artilkuate is the pronunciation trainer software for different languages. Currently supported languages are: French, German, Spanish, Italian, Dutch, Catalan, Greek, British English and American English. The user can choose the language that he would like to perfectionate and follow the units prepared for this language course such as: Tourism, Alphabet, numbers, sports, etc. In each of the units the user can choose between practicing words, expressions, whole sentences or paragraphs (2-3 sentences) which all together are called phrases. The phrases are pre-recorded by native speakers and the user can listen to them. The user can also record himself speaking the same phrase and compare how close he is to a native version. There is also an option of practicing a particular phoneme that the user has particular difficulties with.


This all looks great!!!!! BUT most of the features are not ready so unfortunately you cannot use Artikulate yet…My job this summer is to make it work. The ...read more...
16 | System & Utilities | http://konkiewiczm.wordpress.com/2013/06/06/a-bit-more-about-artikulate/ | 9113 |
Yesterday Google announced that it will not restrict the CalDav access to their calendars to registered partners only, but that they will continue to provide it for everyone. Additionally, Google now offers CardDav support.
A couple of weeks ago Google announced that they would restrict CalDav access to their calendars to registered developers only. That resulted in a huge uproar among developers, users and open standards advocates and made many people wondering if Google will become a closed standards/software company in the future.
However, the pressure (and most likely the bad press and reputation) Google got worked, and they announced that the CalDav API will be continued as an API open for everyone:
In response to those requests, we are keeping the CalDAV API public.
And it becomes even better: CardDav support is added as well, meaning the address data can be accessed via open protocols as well:
And in the spirit of openness, today we're also making CardDAV – an open standard for accessing contact information ...read more...



16 | System & Utilities | http://liquidat.wordpress.com/2013/06/06/google-continues-caldav-support-for-everyone-now-also-adds-carddav/ | 9112 |
Компания KnCMiner планирует выпустить новый современный bitcoin-майнер. Перыве модели, названные Jupiter и Saturn, будут использовать 28нм ASIC чипы, имеющие производительность 350 GHash/s и 175 GHash/s соответственно.
Работа по разработке микросхем для майнера была выполнена командой ORSoC. На данный момент доступен прототип, построенный на FPGA.
15 | Unix News | http://feedproxy.google.com/~r/org/LOR/~3/SKKfHMj8JUo/9234242 | 9111 |
These posts kind of sound like a broken record, right? ;) Anyway, since KDE has released new versions of Platform, Workspaces and Applications as part of the stable release cycle, thanks to the OBS we have packages available for openSUSE 12.2 and 12.3. The 4.10.4 update will also be released as an official update for 12.3 in due time.
Where you can get the packages? Two places, as usual:
KDE:Distro:Factory in case you are interested in contributing to packaging for the next openSUSE release;
KDE:Release:410 (openSUSE 12.3 or openSUSE 12.2) in case you just want to upgrade to the latest and greatest version
What to look forward to in this release? More than 50 bugs being fixed, including:
CSS compliance fixes in KHTML
Bug fixes in Gwenview (display after image rotation, duplicate entries in recent folders)
Assorted fixes in KMail: polishing of external editor support, CalDAV fixes, UI adjustments…
16 | System & Utilities | http://www.dennogumi.org/2013/06/kde-platform-workspace-and-applications-4-10-4-for-opensuse | 9110 |
After missed Akademy last year because of my daily work I am happy to say I'm going to Akademy 2013 :-) Today I have bought my flight tickets after two days trying (problem with by credit card). Damn those tickets are expensive and that two days delay made them even more expensive :-( The dollar climbing fast against the Brazilian Real does not help either. Well, now is waiting for the bill to come next month :-/
One of the things I want to do by Akademy date is releasing
libnm-qt, libmm-qt
and
plasma-nm
(new applet for network management). Unfortunately, due to personal issues in the past months I could not work on Plasma NM as much as I used to. I am still not pushing many commits to the new Plasma NM repo (git://anongit.kde.org/plasma-nm), just testing, searching for bugs and warning other Plasma NM developers about the problems I find (specially regressions compared to the (now)
...read more...
16 | System & Utilities | http://lamarque-lvs.blogspot.com/2013/06/im-going-to-akademy-2013.html | 9108 |
Since Martin blogged about the new scripting related features in kwin coming to 4.11 today, I figured that I would do the same for plasma-desktop.

Plasma Desktop Scripting
After having been asked for the ability to read and write from other user config files in
Plasma Desktop Scripting
for the Nth time, I finally buckled down and implemented it. It is documented on the desktop scripting wiki page and using it looks something like this:
// open the kickoffrc file
var config = ConfigFile('kickoffrc');

// switch to the RecentlyUsed group
config.group = 'RecentlyUsed';

// write an entry into it
config.writeEntry('MaxApplications', 25);


// now put Yes=20 into RecentlyUsed/Test
var config2 = ConfigFile(config, 'Test);
config2.writeEntry('Yes', 20);

This is actually re-using the KConfig bindings written by Sebastian Kügler for QML that we ship in the Plasma Active Settings QML import, so it turned out to be very little work to add it, test it and push it for 4.11.
QML
QML is
the
way write visual Plasma addons such as plasmoids these days, and so it
...read more...
16 | System & Utilities | http://aseigo.blogspot.com/2013/06/new-plasma-scripting-features-in-411.html | 9107 |

It's that time again: Luminosity! In episode 14 I'll be visiting the following topics as well as taking your questions as we go:

Grass roots Free software promotion: A lot of the effort of introducing and generally marketing Free software to the public lands on the shoulders of companies these days. They tend to be able to grab a larger audience than the average individual and they can keep pounding out a message for an extended period of time. Yet .. Free software as a concept and many of the best Free software products are not very well known. Is there an opportunity for effective grass roots promotion?
Wesnoth: Looking at my list of possible topics, I realized that I had been covering a fair number of serious topics and very few frivolous and fun ones. So why not .. let's have some fun this week and take a look at Wesnoth, what makes it tick and keeps people not just playing it but still developing it after all these years. We'll try not to get sidetracked into an actual game ...read more...


16 | System & Utilities | http://aseigo.blogspot.com/2013/06/the-luminosity-of-free-software-episode.html | 9106 |
It is dangerous as well as exciting to invite more people to your first ever talk in any major conference, and that is what I'll be doing here.

So, yes I'll be going to Akademy this year (if my visa application doesn't betray me)! I will be speaking about how I used QtQuick with C++ in my project for KStars during GSoC 2012. Please find more details about my talk here, and if you are planning to attend, do not forget to register yourself here.
Also, thank you so much KDE for supporting my travel and accommodation expenses. This will be my first ever Akademy and my 2nd KDE conference after the awesome conf.KDE.in, 2011 in Bengaluru, India. So, really looking forward to this one!

Cheers!
16 | System & Utilities | http://samxan.wordpress.com/2013/06/05/i-going-to-akademy-2013/ | 9105 |
Telematics Detroit 2013
15 | Unix News | http://www.qnx.com/news/events/telematics2013.html | 9103 |
"Enables automotive companies to tap into vast ecosystem of mobile developers creating Android, HTML5, OpenGL ES, and Qt apps

DETROIT, Telematics Detroit Conference, June 5, 2013 QNX Software Systems Limited, a global leader in software platforms for in-car electronics, today demonstrated how the new version of its QNX CAR Platform for Infotainment will enable developers of car infotainment systems to leverage an even broader choice of mobile apps and content.

The QNX CAR Platform already supports both HTML5 and OpenGL ES, the two most popular open standards for mobile app development. With the new version, 2.1, the platform extends its reach to support Android apps, as well as apps and human machine interfaces HMIs built with the popular Qt 5 application framework.

Automakers need to tap into the rapid innovation of the mobile app community its the surest way to keep vehicles fresh with new and engaging features, stay connected with consumers, and, ultimately, build greater brand loyalty, said Andy Gryc, senior automotive product marketing manager, QNX Software Systems. From the beginning, the QNX CAR Platform ...read more...
15 | Unix News | http://www.qnx.com/news/pr_5602_1.html?rss=0 | 9104 |
About six weeks from now the yearly KDE conference 'Akademy' will kick off in Bilbao, Spain! Looking forward to that. I had to ramble a bit on why I think it's worth going there. And a tip for if you still have to book!


Have not booked yet?
Aw, I was late, and I'm paying the price, in terms of money and convenience. There's work and family and in my case a dose of always-lateness with this stuff that got in the way. Probably not different for others. But keep in mind - I never met anybody who who was sorry they went through the trouble of going to Akademy! It's worth it...


Relevant
Akademy is relevant, useful and fun above and beyond just another Free Software event. Seriously. Even in a world of Android, KDE still builds major Free Desktop stuff. Think about Krita going places lately. Think about how KDE PIM still is arguably the only serious Free enterprise-ready mail-calendar-etc solution on the market. There is plenty more at the ...read more...
16 | System & Utilities | http://blog.jospoortvliet.com/2013/06/akademy-for-everybody.html | 9102 |
Спустя почти месяц после предыдущего выпуска вышел очередной корректирующий релиз KDE SC за номером 4.10.4. Было исправлено более 50 ошибок, в основном в Kontact и Dolphin.
Несколько примеров исправленных ошибок:
невозможность просмотреть содержимое архивов tar.gz в Dolphin и Konqueror;
падение Keditbookmarks при drag'n'drop;
падение Plasma или Amarok при выходе;
падение Dolphin из-за Nepomuk и при копировании 10001 файла.
Общий список исправленных проблем можно просмотреть здесь.
А отсюда можно скачать исходники.
15 | Unix News | http://feedproxy.google.com/~r/org/LOR/~3/RKXJYDlob-8/9231689 | 9100 |
Специалисты Mozilla запланировали всерьёз обновить пользовательский интерфейс своего веб-браузера Firefox. Ожидается, что интерфейс релиза Firefox 25, имеющего кодовое название «Australis» и запланированного на октябрь этого года, получит крупнейшее обновление со времён Firefox 4, вышедшего в марте 2011 года.Джонатан Найтингейл (Johnathan Nightingale), вице-президент по разработке Firefox в Mozilla, так комментирует грядущие новшества: «Australis — это наше внутреннее кодовое название для набора изменений в пользовательском интерфейсе, призванных ответить на вопрос, как мы видим веб-браузер, отвечающий сегодняшним потребностям пользователя».Два основных направления в грядущих новшествах — это упрощение основного интерфейса и улучшения в возможностях кастомизации (настройки внешнего вида...
15 | Unix News | http://www.nixp.ru/news/12206.html | 9101 |
Лаборатория разработки игр Массачусетского технологического института (MIT) выпустила бесплатную Linux-версию игры A Slower Speed of Light (~«Медленный свет»). Это трехмерная «игра» от первого лица, в которой игрок перемещается по некой (надо сказать, довольно симпатично нарисованной) местности. В ней можно встретить шары, при подбирании которых происходит постепенное замедление скорости света (!). Последствия этого замедления аккуратно моделируются согласно законам физики. Это позволяет наглядно увидеть различные эффекты специальной теории относительности (которые в реальности, разумеется, наблюдаются только при значительно больших скоростях). Рекомендуется как людям, не знакомым с СТО, которые испытают сильное удивление, наглядно увидев, как же странно устроен наш мир (потому что наш реальный мир устроен точно так же, только с другим масштабом скоростей), так и людям, хорошо разбирающимся в предмете, которые получат удовольствие, узнав знакомые им явления.
Кроме того, был открыт под свободной MIT-лицензией исходный код проекта. Это дополнение к движку Unity, которое, в частности, работает и на бесплатной версии этого движка.
>>> Страница игры, где ее можно скачать
15 | Unix News | http://feedproxy.google.com/~r/org/LOR/~3/0QUcVsUPsmI/9213750 | 9099 |
Начата регистрация на ЗБТ пошаговой стратегии Moon Rising для GNU/Linux. Разработка ведётся на движке Unity, официально поддерживаемый дистрибутив — Ubuntu 12.10 и новее. Игра находится в состоянии активной разработки, текущий релиз — 0.7 beta. Для Windows и Mac OS X уже доступны публичные бета-версии.
>>> Регистрация на тестирование
>>> Steam GreenLight
15 | Unix News | http://feedproxy.google.com/~r/org/LOR/~3/T5x_7bULEgk/9209134 | 9098 |
Вышла новая версия коробочного URL-фильтра для провайдеров Carbon Reductor.
Согласно заверениям разработчиков из Carbon Soft фильтр позволяет обрабатывать до 900 000 пакетов в секунду на ядро процессора, при количестве URL в списке не более 10000, что является большим запасом, поскольку у большинства провайдеров это количество редко превышает 400 страниц/сайтов.
Основные изменения версии для CentOS 6.4
Установка из RPM-пакета.
Улучшен алгоритм распознавания URL.
В пакете поставляется включаемый файрвол, снижающий нагрузку на модуль.
Исправлена ошибка обновления списков сайтов, в случае указания кириллических URL в разных кодировках.
Исправлена проблема с повышением нагрузки при добавлении большого количества URL с длинным GET-запросом.
Файл XML-запроса в единый реестр запрещённых сайтов теперь автоматически генерируется из шаблона.
Всё, что требуется для работы добавлено в chroot-jail с целью работы из коробки.
15 | Unix News | http://feedproxy.google.com/~r/org/LOR/~3/hQZbJLBHu8M/9213802 | 9097 |
I have done some improvements in the plugins: python_console_ipython, python_autocomplete, python_utils, js_utils, xml_pretty and django_utils. These plugins I added a month and a half ago (except python_console_ipython) to the kate repository. I have done two improvements and a new feature:
Now they work with Python2 and Python3 (except python_autocomplete, this only works with Python2, due pysmell dependence)
Now they have a configuration page (except python_autocomplete, this should not have configuration parameters)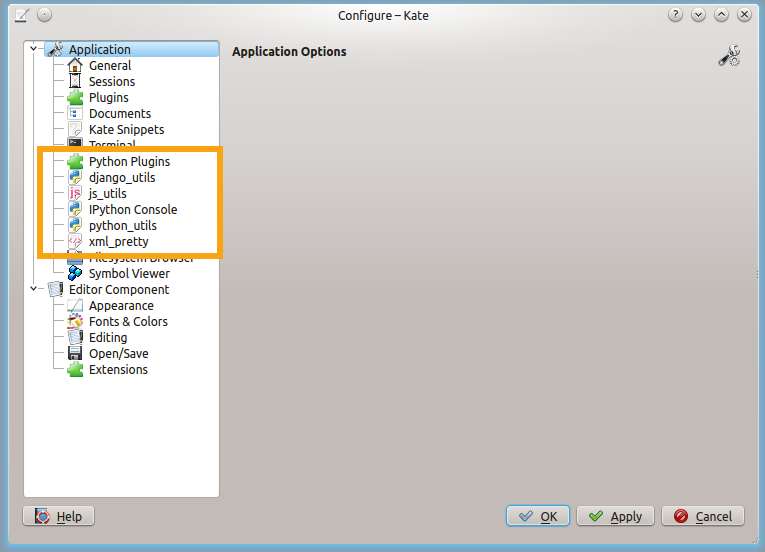 Page Config Plugins
The new feature is the integration of the python_autocomplete and python_console_ipython plugins with the project plugin. The behaviour of these plugins depends of the loaded project. That is to say, the python_autocomplete plugin autocompletes with our project modules. Currently the kate community is working to add a new python autocomplete  using jedi (this will work with Python2 and Python3).
...read more...
16 | System & Utilities | http://kate-editor.org/2013/05/30/a-rich-python-console-and-more-in-kate-editor/ | 9096 |
During development of Plasma Active, I resurrected an idea that a couple of us had tinkered with a year or two earlier: creating an open content store. We have ended up creating something fairly different than what is available out there right now and none of these differences are accidental. Before launching into a description of what this system is and how it works, I thought I'd start with a short blog entry describing the things we were not happy with in the state of the art of app stores. Later in the week I'll follow up with a description of our solution. For now, here is a little list of disappointments:



Proprietary implementations. For some reason there haven't been significant Free software offerings in this area, even in Free software contexts!
Centralized control. Trusting your content delivery to a gatekeeper entity's whims is madness.
It's a store. Emphasis on "a": one front end, one catalog of content.
App stores are .. well .. app stores. Music and books and art and other things are usually presented separately.
Feedback mechanisms are quite obviously afterthoughts. ...read more...


16 | System & Utilities | http://aseigo.blogspot.com/2013/05/app-stores-disappointments.html | 9095 |
This is a test post to debug/fix this error
16 | System & Utilities | http://kate-editor.org/2013/05/30/this-is-a-test-post-to-debug-an-error-ignore-please/ | 9094 |
Вчера была представлена новая версия популярного дистрибутива Linux Mint — 15 под кодовым названием «Olivia». Сами разработчики называют этот релиз «наиболее амбициозным с момента запуска проекта».Среди самых значимых новшеств в Linux Mint 15 отмечаются: три новых приветствия в дисплейном менеджере MDM 1.2: на базе GTK+, с темами GDM, на базе HTML (оформляется с помощью HTML5, CSS, JavaScript и WebGL — последние позволяют делать их анимированными); новая утилита «Источники программного обеспечения» (Software Sources или MintSources), написанная с нуля, заменяющая software-properties-gtk и специально адаптированная для управления источниками пакетов ПО в Linux Mint (официальные и дополнительные репозитории, PPA, ключи аутентификации к ним и т.п.); новая утилита «Менеджер драйверов» (D...
15 | Unix News | http://www.nixp.ru/news/12200.html | 9093 |
Вчера российская компания «1С» анонсировала выпуск новой версии своего флагманского продукта — платформы «1С: Предприятие» 8.3. Очередной релиз популярнейшего в России проприетарного продукта для бухгалтерского и управленческого учёта примечателен расширенной поддержкой свободной операционной системы GNU/Linux.Разработчики сообщают, что в релизе «1С: Предприятие» 8.3 были реализованы клиентские приложения и инструменты администрирования для Linux. Если раньше пользователи Linux могли подключаться к серверу «1С: Предприятие» только с помощью клиента с веб-интерфейсом (или запуская Windows-приложение в эмуляторе), то теперь у них появился полный набор клиентских приложений, который аналогичен имеющимся в Windows: тонкий клиент для работы в режиме управляемого приложения; толстый клиент ...
15 | Unix News | http://www.nixp.ru/news/12199.html | 9092 |
Состоялся релиз Linux Mint 15 — наиболее значимый выпуск с момента старта проекта. Значительно улучшен MATE 1.6, Cinnamon 1.8 содержит множество изменений, таких как хранитель экрана и единый центр управления.
Некоторые изменения:
MDM содержит три новых компонента:

GTK greeter;
GTK greeter с поддержкой множества тем оформления;
HTML greeter поддерживает анимированные темы оформления, созданные с использованием HTML5, CSS, Javascript, WebGL.

В новый выпуск включено приложение Software Sources (MintSources) для управления источниками приложений.
Новое приложение MintDrivers призвано упростить установку драйверов оборудования, включая проприетарные и альтернативные драйверы.
Подробный иллюстрированный обзор новшеств и изменений доступен на официальном сайте проекта.
15 | Unix News | http://feedproxy.google.com/~r/org/LOR/~3/fWIPmqx_VTY/9212092 | 9091 |
Last week we had our monthly Gentoo KDE team meeting; here are few details that are probably worth sharing.

So far we've provided the useflag "semantic-desktop" which in particular controls the nepomuk functionality. Some components of KDE require this functionality unconditionally, and if you try to build without it, bugs and build failures may occur. In addition, by now it is easily and reliably possible to disable e.g. the file indexer at runtime. So, we've decided that starting with KDE 4.11 we will remove the useflag and hard-enable the functionality and the required dependencies in the ebuilds. The changes are being done already in the KDE overlay in the live ebuilds (which build upstream git master and form the templates for the upcoming 4.11 releases).
After recent experiences the plan to drop kdepim-4.4 is off the table again. We will keep it in the portage tree as alternative version and try to support it until it finally breaks.
In the meantime we (well, mainly Chris Reffett) have started in the KDE overlay to package ...read more...


16 | System & Utilities | http://dilfridge.blogspot.com/2013/05/news-from-201305-gentoo-kde-team-meeting.html | 9090 |
Вышел финальный релиз платформы для автоматизации учёта 1С:Предприятие с полной поддержкой Linux. Заявлена работа тонкого и толстого клиентов, средств разработки и администрирования.
Основные изменения Linux-версии платформы:
Поддержка буфера обмена Primary Selection
Сбор сведений об оборудовании и получение программных лицензий для базовых версий конфигураций
Возможность публикации информационных баз на веб-сервере Apache непосредственно из среды разработки
Создания дистрибутивов тиражируемых решений и установочных дисков
Поддержка работы с DBF для 64-разрядных версий
Новое в версии для всех поддерживаемых ОС:
Для пользователя
Для разработчика

Поддержка фолдинга и методические ссылки в синтакс-помощнике
Изменение архитектуры хранилища конфигурации
Поддержка автоматизированного тестирования конфигураций
OLAP-источники в механизме внешних источников данных
...read more...
15 | Unix News | http://feedproxy.google.com/~r/org/LOR/~3/OwuFKQ_z5Ss/9209851 | 9087 |
As you might have read, the 4.11 release of Nepomuk is a lot faster while doing writes and therefore indexing is going to much faster. However, read performance was nearly the same.
This weekend, I decided to optimize the read performance.
Architecture
All application communicate to Nepomuk via the Storage Service which acts like a server. It is responsible for loading the ontologies, managing virtuoso and sending change notifications. The read communications happen over a local socket whereas the writes are sent over dbus.
The Storage service communicates with virtuoso via odbc, which interally also uses a local socket. This architecture is quite similar to that of Akonadi.
Cutting the middle man
I initially started with many optimizations in Soprano where we use ODBC to communicate with virtuoso. These gave a good 30% increase in performance. However, the largest increase in performance was by removing the local socket communication between applications and the storage service.
All applications now directly communicate ...read more...
16 | System & Utilities | http://vhanda.in/blog/2013/05/more-nepomuk-performance-upgrades | 9089 |
Новая версия популярного симулятора управления футбольными клубами Football Manager появится и для свободной платформы GNU/Linux.Об этом стало известно от Майлза Якобсона (Miles Jacobson), возглавляющего студию Sports Interactive в компании Sega, которая отвечает за разработку и выпуск Football Manager. Первые версии этой игры появились еще в 90-х годах (тогда под названием Championship Manager), а нынешний последний релиз — Football Manager 2013 — состоялся в конце прошлого года и стал самым популярным из всего цикла. Анонсируя новую версию игры, Майлз не стал распространяться насчет грядущих изменений, но появление редакции под Linux отметил отдельно.Официально для Football Manager 2014 будет поддерживаться Linux-дистрибутив Ubuntu 12.04 LTS.
15 | Unix News | http://www.nixp.ru/news/12198.html | 9088 |
Ждем настройки зоны от Романа.
А тем временем на этой планете месяц назад вышла новая версия 5.3
13 | Developing | http://www.obsd.ru/8/?q=node/2101 | 9109 |

I frequently get the question, by mail or over social networks:

But how do I get involved in $PROJECT?
Now a common answer is 'just do it' while others often point to resources like the KDE Developers Beginners Guide and Contribute to openSUSE, or write a simple how-to for building a package. But I usually don't actually reply with links to any of those. Mostly, people have found these resources by themselves.

What they want to know now is how to, you know, actually do it! And as that question can actually be answered rather project-independent so I thought it would be useful to write it down here.


Step one - Build the Code and get Familiar
After reading the various guides and how-to's, you set up a development environment. Be sure you can run the unstable application(s) ...read more...
16 | System & Utilities | http://blog.jospoortvliet.com/2013/05/getting-involved-in-free-software.html | 9086 |
Ссылки