Ссылки
KDevelop with Cppcheck Integration
Starting with 5.1 release KDevelop supports built-in integration with static-analysis tool Cppcheck. Cppcheck provides unique code analysis to detect bugs and focuses on detecting undefined behaviour and dangerous coding constructs. The goal is to detect only real errors in the code (i.e. have very few false positives). Such analysis is very useful for all projects, especially for projects with complex structure and large code volume. Convenient integration with the development environment greatly simplifies and speeds up the process of code checking, as there is no need to study the analyzer documentation, its manual configuration and code navigation when processing the analysis results.
To use cppcheck integration in KDevelop, you only need to:
Install cppcheck with using standard tools of your operating system.
Select the required check parameters in the project properties.
Run the check and analyze the code for found (potential) errors.
Let's take a closer look at the process of setting up and running the analyzer (we suppose that cppcheck is already installed).
Configure cppcheck in KDevelop (optional)
First, you must verify ...read more...
With KDE Plasma 5.12 that openSUSE Tumbleweed has picked up, there is much better Wayland session support compared to previous releases.
We have released the Qt VS Tools version 2.2.0.
Important changes include:
Parallel execution of moc, rcc and uic
Support for Universal Windows projects
For details of what is included in this version, please refer to the change log.
The installation package is available in the Visual Studio Marketplace and can be installed directly from within VS (through the 'Tools > Extensions and Updates…' menu). Alternatively, it can be downloaded from this page.
The post Qt Visual Studio Tools 2.2.0 Released appeared first on Qt Blog.
Первый релиз в 2018 году. Значительным новшеством стало поддержка в одном репозитории нескольких пакетов. Теперь можно указать ?subdir=<dir> в конце вашего репозитория и Nimble будет знать что смотреть в директории для вашего пакета.
( читать дальше... )
В установщике Ubuntu 18.04 появится по умолчанию активный флажок, через который пользователь сможет выразить разработчикам свое согласие о сборе некоторых данных про конфигурацию ПК, таких как
Вид Ubuntu (Ubuntu GNOME, Ubuntu Unity, etc.);
Версия Ubuntu;
Кабельное ли подключение;
Семейство процессоров;
Размер ОЗУ;
Размер диска;
Разрешение экрана;
Модель GPU;
Производитель OEM;
Местоположение, выбранное пользователем;
Длительность установки;
Включен ли автовход в систему (вход без пароля);
Разметку диска;
Выбрал ли пользователь установку дополнительного ПО (к примеру, проприетарных драйверов);
Загружены ли обновления во время установки;
Включен ли LivePatch;
Эти данные могут потребоваться разработчикам для улучшения качества работы дистрибутива.
Вся статистика будет полностью открытой и публикуемой; а статистика будет отправлена только один раз, во время установки.
Также по умолчанию будет включена отправка анонимной статистики через Apport.
WireGuard is participating in Google Summer of Code 2018. If you're a student — bachelors, masters, PhD, or otherwise — who would like to be funded this summer for writing interesting kernel code, studying cryptography, building networks, making mobile apps, contributing to the larger open source ecosystem, doing web development, writing documentation, or working on a wide variety of interesting problems, then this may be appealing. You'll be mentored by world-class experts, and the summer will certainly boost your skills. Details are on this page — simply contact the WireGuard team to get a proposal into the pipeline.
The most recent Linux Questions poll results are in. Steven J. Vaughan-Nichols, writing for ZDNet: LinuxQuestions, one of the largest internet Linux groups with 550,000 members, has just posted the results from its latest survey of desktop Linux users .
With the new Plasma LTS came an update to KDE neon LTS Edition and lots of people asking which edition to use and what the difference is.  This caused us to review the purpose of LTS and as a result we've just hidden LTS from the download page.  The only difference with the LTS edition is that it stays on Plasma's LTS release but apps and libraries still get updates.  This doesn't fit well with the main use cases of an LTS which is that it only gets bug fixes and no new features.  Further we test Neon LTS edition less than any other edition so it's more likely we'll miss some problem, which is the opposite of what most people would expect. There are distros whose release model fits better with the needs of Plasma LTS but the constant updates of Neon don't fit too well.  We'll keep the edition around and don't expect to make any changes to the repositories or builds, they're useful for devs testing Plasma LTS, but we're not advertising it for download since it ...read more...
9 февраля 2018 года представители The Document Foundation анонсировали выход LibreOffice 5.4.5 и LibreOffice 6.0.1, корректирующего релиза свободного офисного пакета.
Релиз был выпущен раньше запланированного и ожидаемого для решения нескольких задач, которые считались достаточно значительными, чтобы изменить обычно предсказуемый график выпуска.
Первая проблема была связана с уязвимостью, вторая проблема была связана с увеличением числа сбоев на Windows только что объявленного LibreOffice 6.0.
Choqok is a Free, fast, efficient and simple to use micro-blogging client for K Desktop Environment. The name comes from an ancient Persian word and means Sparrow! Currently, Choqok support Twitter.com and Identi.ca micro-blogging services.
Choqok is a Free, fast, efficient and simple to use micro-blogging client for K Desktop Environment. The name comes from an ancient Persian word and means Sparrow! Currently, Choqok support Twitter.com and Identi.ca micro-blogging services.
Hugin — набор программ, предназначенный для сшивки панорам, преобразования проекций, создания HDR-изображений. Построен вокруг библиотеки libpano из проекта panotools, но значительно расширяет её функциональность. Включает в себя графический пользовательский интерфейс, менеджер пакетной обработки и ряд утилит командной строки.


Could you tell us something about yourself?
Hello. I'm Maria, more often I use my nickname: Owly Owlet. I have a youtube channel, where I make video tutorials (in Russian) about how to use art software, mostly Krita.
Do you paint professionally, as a hobby artist, or both?
Art is my hobby, but I wish I could become a professional artist someday. For now there is much to be learned.
What genre(s) do you work in?
My art usually is more cartoony-like. I like fantasy world, fairy tales with medieval clothes, castles and magical creatures.
Whose work inspires you most — who are your role models as an artist?
There are so many incredible artists, whose art makes me want to learn and practice drawing more and more, it's immensely hard to pick just a single one. But for now I really found of Andreas Rocha's work. I also love the art style of David Revoy.
'akregator' is a fast, lightweight, and intuitive feed reader program for KDE. It lets you browse quickly through hundreds of thousands of internet feeds quickly, efficiently, and in a familiar way.
12 января проект lowRISC объявил о релизе 0.5. В этом релизе доступны:
Удаленная загрузка
Многопользовательская Linux-система
Minion core временно удалена из-за проблемы с производительностью.
Igor Ljubuncic of Dedoimedo published his review of the Plasma 5.12 beta recently. As always, he's very thorough, and points out out issues that keep Plasma from being A+ quality. A major part of our Usability and Productivity initiative is honestly acknowledging user feedback and criticism with humility instead of defensiveness or dismissal. That way, rather than engaging in pointless arguments, we can focus on fixing problems!
With our aggressive focus on user satisfaction, we read these kinds of reviews very carefully and take their comments seriously. I wanted to provide a look at all the issues that Igor raised in his review. I went through every issue and made sure that if it was a legitimate bug, it was tracked with a Bugzilla ticket. Many already were, but some weren't, so I filed tickets for them. Here's the full list, along with the bugs' status and our plans for fixing them, where applicable:
Can't easily reset everything to default settings: (KDE bug 389568)
Default bottom panel isn't optimal for using a global ...read more...


Today is the release day KEXI 3.1.0 Beta & its frameworks: https://community.kde.org/Kexi/Releases#3.1.0_Beta_1 Since version 3 it becomes KEXI not Kexi to suggest becoming a standalone app. It's standalone status includes being first-class app also outside of KDE Plasma.
Today I had to repair my most important debugging tool. Here's the result:
That's three strands (red, white, black) from a USB-to-serial converter, soldered on to a 3-pole screw-tightened connector. Clamped into that are the serial lines (red, green and blue) which were originally crimped straight to the lines. After a few months of use, the crimping failed and the red cable (RX) broke off.
So I had to fix it, and in the process decided to make it more sturdy, more ugly, but also easier to use.
The three grey wires clamped into the connector are part of a 10-pin flat cable which I scavenged out of a 9-pin serial connector I had left in the box-of-old-parts.
The flatcable, and especially the 10-pin connector at the end, is nice and sturdy for connecting to the headers on single-board-computers, like here:
That's why I need a serial cable for debugging. The frontmost board is a Pine64+. It runs FreeBSD and ...read more...
I've been working on a small music player named Babe for a while now, it started as an idea of a bare simple music player, and as the time has passed it has become a project I hope to expand beyond a simple music player. Last year I presented the project to the KDE community at Akademy 2017 that took place in Almeria-Spain, I wanted to highlight back then the idea of a multimedia desktop application that was aware of its content by making use of the wide knowledge that could be found on the internet, by making use of a music information retrieval system called Pulpo together with AI techniques.
Инженеры компании Google перешли с Ubuntu на Debian в качестве ОС для своих рабочих машин.
Ранее в течение нескольких лет компания использовала Goobuntu, кастомизированную версию Ubuntu. Теперь же она переходит на базирующуюся на Debian Testing сборку gLinux.
Google была подписчиком Ubuntu Advantage Program, но при этом не вносила вклад в Ubuntu. После перехода на Debian планируется, что Google станет активным участником проекта и будет участвовать в разработке и тестировании Debian.
Как считает Chris Merriman из издания The Inquirer, уход такого крупного коммерческого клиента будет большой потерей для Canonical.
Тем временем, несмотря на то, что gLinux является предпочтительной ОС для рабочих станций Google, она является далеко не единственной системой, используемой на них.
With all the happiness after being selected for SoK 2018, I was looking forward to start working on my project with whole dedication. My project aims to complete port of a brain-boosting memory activity called "Railroad" (in which kids have to observe the given train and memorize it within given time and then try to rebuild it) from Gtk+ to Qt version. It is a part of project GCompris(a high-quality educational software suite, including a large number of activities for children aged 2 to 10). My mentors are Timothée Giet and Rudra Nil Basu, along with them I'd like to thank a lot to Johnny Jazeix and Divyam Madaan for helping me with my project. My SoK proposal can be found here –> SoK Proposal. And my progress can be tracked at –> Railroad branch.
I started with introducing myself to the GCompris community and discussing my implementation plans with the mentors. My mentors ...read more...
В последний четверг (11 JAN 2018) AMD сообщила что ее чипы чувствительны к обоим варинатам Spectre. Днем позже AMD сообщила что риск от одного из них «близок к нулю». А патчи для Ryzen и EPYC исправляющие другой из них будут на этой неделе. Патчи для более старых процессоров обещаны на следующей неделе.
Эти новости привели к падению стоимости акций на 4%.
By default, the terminal looks as follows on my Linux distribution: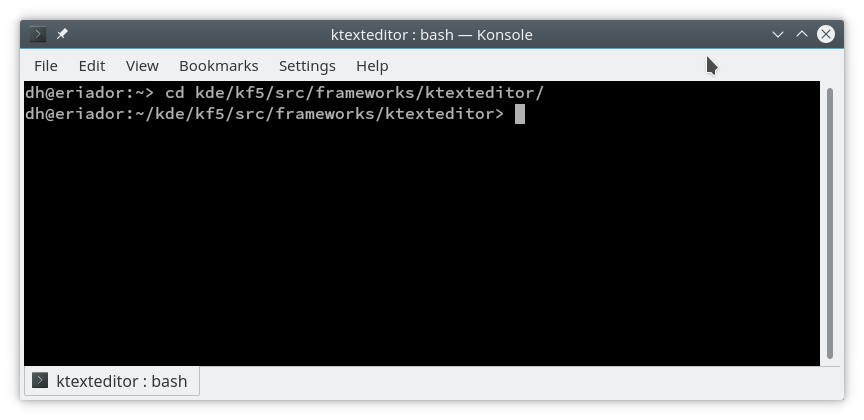 However, if you are working a lot on the terminal, there are a lot of scripts and tricks available in the net that improve the information displayed in the terminal in many ways. For instance, since many many years, I have the following at the end of my ~/.bashrc:
# use a fancy prompt
PS1=\"[\033[01;32m]u@h[\033[00m]:[\033[01;34m]W[\033[00m]\"
PS1=\"$PS1 `if [ $? = 0 ]; then echo -e '[\033[01;32m]:-)';\"
PS1=\"$PS1 else echo -e '[\033[01;31m]:-(' $?; fi`[\033[00m]\"
PS1=\"$PS1 $(__git_ps1 \"(%s)\") $ \"
Once you open a new terminal, then the appearance is as follows: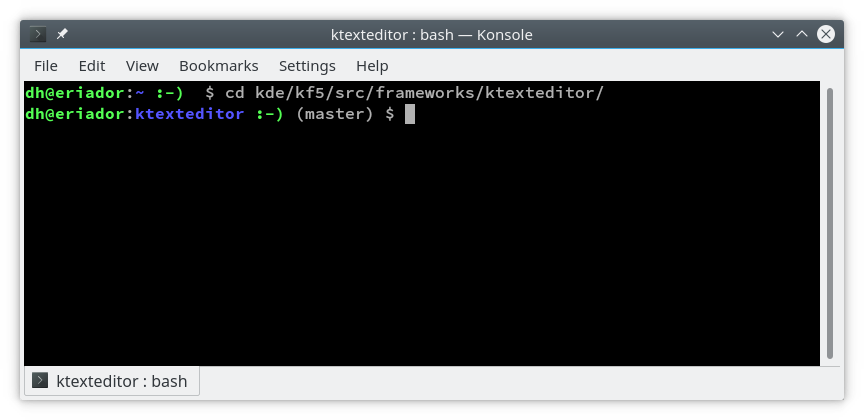 As you can see, now I have nice colors: The hostname is green, the folder is blue, the return value of the last executed command is a green

in case of success (exit code = 0), and a red

in case of errors (exit code != ...read more...
Tobias and Raphael have spent the past month or so hammering on the Qt 5.9 branch, which has (finally!) landed in the official FreeBSD ports tree. This brings FreeBSD back up-to-date with current Qt releases and, more importantly, up-to-date with the Qt release KDE software is increasingly expecting. With Qt 5.9, the Elisa music player works, for instance (where it has run-time errors with Qt 5.7, even if it compiles). The KDE-FreeBSD CI system has had Qt 5.9 for some time already, but that was hand-compiled and jimmied into the system, rather than being a "proper" ports build.
The new Qt version uses a new build system, which is one of the things that really slowed us down from a packaging perspective. Some modules have been reshuffled in the process. Some applications depending on Qt internal-private headers have been fixed along the way. The Telegram desktop client continues to be a pain in the butt that way.
Following on from Qt 5.9 there has been some work in getting ready for Clang 6 support; in general the KDE and Qt ...read more...
На 7-м международном семинаре, посвященном RISC-V, компания Western Digital объявила о намерении использовать чипы с ISA RISC-V в своих продуктах; детали и конкретные сроки пока не называются, но планируемый объем выпуска превышает миллиард единиц.
На этом же семинаре Western Digital объявила о своих инвестициях в стартап Esperanto Technologies - компанию, основанную Дэвидом Дитцелем (David Ditzel), в число сторудников которой входят бывшие сотрудники Transmeta, Sun, Intel, и молодые дарования. Esperanto разрабатывает высокопроизводительную гетерогенную SoC, которую планирует лицензировать и самостоятельно использовать в приложениях машинного обучения и графики.
At the beginning of 2017, I was a programmer (mostly Python, and a little bit of C++) and spent most of my day at my desk, with an IDE open and a cup of coffee at hand. At the end of 2017, I'm a programmer (mostly C++, and a little bit of Python) and spend most of my day at my desk, with an IDE open and a cup of espresso at hand.
At some level of abstraction, not much has changed this year.
Of course, now I spend my entire day working on Free Software, in three different but partly-overlapping communities: KDE, FreeBSD, and Calamares. Basically you can track everything I do each day by looking in the relevant repositories on GitHub (read-only mirrors in the case of FreeBSD and KDE). Inspired by Michael, Krita, Matthieu Gallien (with the this-week-in-Elisa series) and Dominik Haumann, I've collected a list of things I did this year, in no particular order:
Released two versions of the proprietary application I worked on previously, and quit my job. Started working for ...read more...


Ubisoft опубликовал исходники сервера World in Conflict, Massgate, стратегии реального времени из 2007 года. Теперь можно поднять свой сервер, официальные сервера были отключены в 2016м. Лицензия GPLv2.
В декабря отмечает свой первый день рождения альтернативная операционная система LineageOS для Android-смартфонов, основанная на CyanogenMod. В честь этого руководители проекта опубликовали статистику использования системы в виде инфографики. Первые 4 места среди пользователей занимают страны BRICS (Индия, Китай, Бразилия, Россия), замыкает пятерку Германия. Всего поддерживается более 180 устройств от 23 производителей, зарегистрировано 1.7 млн активных установок и более 700 разработчиков.
Could you tell us something about yourself?
My name is Rositsa (also known as Roz) and I'm somewhat of a late blooming artist. When I was a kid I was constantly drawing and even wanted to become an artist. Later on I chose a slightly different path for my education and career and as a result I now have decent experience as a web and graphic designer, front end developer and copywriter. I am now completely sure that I want to devote myself entirely to art and that's what I'm working towards.
Do you paint professionally, as a hobby artist, or both?
I mainly work on personal projects. I have done some freelance paintings in the past, though. I'd love to paint professionally full time sometime soon, hopefully for a game or a fantasy book of some sort.
What genre(s) do you work in?
I prefer fantasy most of all and anything that's not entirely realistic. It has to have some magic in it, something from another world. That's when I ...read more...
Состоялся релиз программы для проявки цифровых негативов Darktable 2.4.0. Одним из основных изменений стало то, что теперь библиотека RawSpeed развивается под крылом Darktable. Новую версию отделяют от предыдущей почти 3000 коммитов, включая коммиты в RawSpeed.

Основные нововведения:
( читать дальше... )
Ссылки