Ссылки
Last week I was fixing bugs. Let me summarize.
279485 Amarok trusts CDDB too much
Since I do not have exact the same CD which user reported this bug has, I did following steps in order to reproduce and test it:
1) I have following disc and as already was told last entry in CDDB match is invalid.
I do not see "what can possibly go wrong", but order to test this case I've hardcoded that 5th match instead of first one has to be taken. So, nothing unusual had happend. Amarok displayed wrong names, but was able to play tracks normally.
2) Second problem I wanted to address was "what if CDDB match has less tracks than number of tracks on cd". So as before I've hardcoded this situation and as before nothing unexpected had happend: so track with missed CDDB info has just "standard" name Track n.
290216 Amarok doesn't detect that Audio CD is inserted on Window
s
Oh. Obviously, first thing you
...read more...
16 | System & Utilities | http://melandory.blogspot.com/2013/08/last-week-i-was-fixing-bugs.html | 9240 |
I'm working on a fun little side project (related to my recent hacking for good article) as an excuse to teach myself Django and Android development -- specifically focusing on building client APIs which Android applications consume. Until I have a real idea of the workflow behind this application, I'm focusing on a web frontend as MVP, building it out with what I would think is a fairly standard stack barring the HAML and SCSS obsession I have:
celery
djaml
django-facebook
django-pipeline
django-registration
django-scss
django.contrib.auth
south
One of the things I've focused on in my early MVP was making the signup/login flow very very smooth. Initially, I went a route of only allowing Facebook Connect logins because the application needs some social graph features that I didn't necessarily want to build out at the time. Based on initial feedback, that seemed like a showstopper because of the target market of this application.
Since that initial MVP, I've taken a break to focus on other projects, and also spend some time figuring out how to properly tackle this project. ...read more...
16 | System & Utilities | http://rix.si/2013/08/15/django-tidbit-logging-in-after-user-activation/ | 9234 |
In previous post, I mentioned about dynamic keywords in python backend. The idea is, after import a python module in Cantor workspace, functions, keywords, variables, and more from this module are load by Cantor and available to syntax highlighting and tab complete.
This feature is implemented for now. You can test it compiling Cantor from python-backend branch.
But, let me show more information about this feature.
There are several ways to import a python module in python console. You have "import modulename", "import modulename as modulevariable", "from modulename import *", "from modulename import function_1, function_2, …", and more. Each import way causes different consequences to user experience.
The four import ways mentioned in previous paragraph are supported by python backend. I will show these different import ways and how python backend behave for each one.
import modulename
The more basic import way. After this command, a variable named "modulename" is defined and the functions and more keywords of this ...read more...
16 | System & Utilities | http://blog.filipesaraiva.info/?p=1097 | 9233 |
Here is an update of the first pages of my new comics project. I released those last month in french only, and with almost only "auto-colors" (with the new G'mic filter…).
So I've updated the colors adding some simple shadings, and added the english version for all the non-frenchies ;.)
Freestyle Fiction – Episode 01 – part A FRENCH
Freestyle Fiction – Episode 01 – part A ENGLISH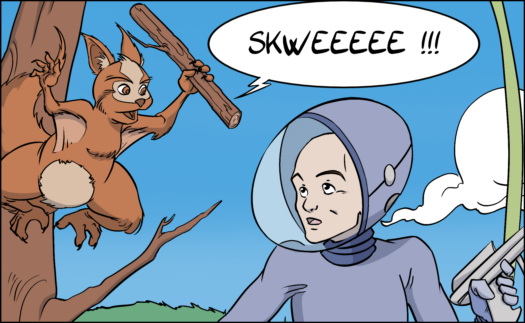 The next pages are not ready yet but have made good progress, stay tuned for next news!
16 | System & Utilities | http://timotheegiet.com/blog/comics/freestyle-fiction-first-pages-update.html | 9232 |
This version of Plasma Workspaces will be supported for at least two years, and delivers further improvements to basic functionality with a smoother taskbar, smarter battery widget and improved sound mixer.
16 | System & Utilities | http://www.topix.com/tech/kde/2013/08/130814S92685?fromrss=1 | 9230 |
Why we need new design?
Player has no ability to play white.
You can't play with friend (I mean hotseat mode).
Why we can't do changes at existing code?
Because current design has very bad level of abstraction: KReversiView controls part of game-flow, all code based on Computer-Player system with special code for computer and player moves, so to simply implement player-player mode we need to add many IF-statements to KReversiView, KReversiGame and mainwindow code.


What is new design?
I am going to bring especially new level of abstraction to KReversi:

KReversiGame will control all of game-flow and game rules checking
There will be KReversiPlayer interface. KReversiGame will have two such objects, that represent players
There will be two implementations of KReversiPlayer class: KReversiHumanPlayer (for actual player sitting in front of computer), KReversiComputerPlayer (for AI player)
KReversiView will not control any game rules, only UI and simple signal to indicate that somebody had pressed some cell on field
All this stuff will use qt signals and slots to connect to each other according to scheme below:

16 | System & Utilities | http://kreversiqml.blogspot.com/2013/08/new-kreversi-design.html | 9231 |
Компания Google выпустила под лицензией Apache 2.0 библиотеку Gumbo, представляющую собой реализацию разбора HTML5 на языке программирования C.
В качестве причин для её создания указывается на фрагментацию существующих уже библиотек, либо их неоптимальность. Так, большинство реализаций привязаны к определённым браузерам или движкам, а некоторые были написаны на весьма специфичных скриптовых языках, что сильно усложняло их интеграцию в развивающиеся проекты.
Gumbo представляет собой простую и легковесную библиотеку, не имеющую зависимостей от сторонних приложений и библиотек.
Возможности, на которые указывают разработчики:
Полная совместимость со спецификациями HTML 5
Качественный обработчик ошибок
Простой API с возможностью интегрирования в различные языки программирования
Легковесность и отсутствие зависимостей
Прохождение html5-tests
Возможность получения обратных ссылок на исходный код фрагмента
Тщательно протестировано на более чем 2.5 миллиардах страниц из поискового индекса Google
>>> Gumbo на GitHub
15 | Unix News | http://feedproxy.google.com/~r/org/LOR/~3/AQfboWMWH8Q/9465976 | 9229 |
Packages for the release of KDE SC 4.11 are available for Kubuntu 12.04LTS, 13.04 and our development release. You can get them from the Kubuntu Backports PPA.
Bugs in the packaging should be reported to kubuntu-ppa on Launchpad. Bugs in the software to KDE.
16 | System & Utilities | http://www.kubuntu.org/news/kde-sc-4.11 | 9228 |
"Panasonic leverages flexibility of QNX CAR platform to deliver infotainment systems for variety of markets and customer requirements

OTTAWA, August 13, 2013 QNX Software Systems Limited, a global leader in software platforms for in-car electronics, today announced that Panasonic Automotive Systems Company of America has chosen the QNX CAR platform to develop infotainment systems for automakers in North America, Europe, and Japan. The two companies also announced their intent to collaborate on the research and development of advanced technologies that will enhance the capabilities of next-generation in-car applications.

The QNX CAR platform is based on QNX technology proven in tens of millions of vehicles. Designed for flexibility, the platform supports a rich choice of application environments and smartphone platforms, as well as a comprehensive set of pre-integrated components to help automotive companies build connected, media-rich infotainment systems.

We wanted a platform that would let us quickly customize our infotainment systems for a variety of markets and customer requirements the QNX CAR platform, with its modular architecture and support for mobile connectivity standards, ...read more...
15 | Unix News | http://www.qnx.com/news/pr_5657_1.html?rss=0 | 9227 |
By integrating classic KDE desktop performance with Web-based applications and cloud services, Netrunner 5 "Enigma," released last month, does what many distro retreads fail to do: It achieves a distinctive quality that makes it stand apart from other distros.
16 | System & Utilities | http://www.topix.com/tech/kde/2013/08/130814JKFRPB?fromrss=1 | 9226 |
Hello everyone, welcome to my new blog. In case you don't know me yet, I'm Mark Kretschmann, known in KDE mostly as the Amarok guy (I started it about 10 years ago). I used to contribute regularly to Planet KDE, back then on our Amarok server, but what happened then is Google Plus, and a server move. As I became more active again in Amarok development after a hiatus I figured I could start blogging again, now that the "huge" release 2.8 is approaching really fast. If you'd like to follow me on G+ where I'm very active, you can do it here.

Now an important message for Amarok users: If your Amarok has started to crash after upgrading to KDE 4.11, please upgrade your Amarok to version 2.8-Beta. Due to a change in a library, the older 2.7 series is not compatible with KDE 4.11 at this time, but the 2.8 series is. You can find the Beta release packaged for many ...read more...
16 | System & Utilities | http://mark-kretschmann.blogspot.com/2013/08/important-note-about-amarok-and-kde-411.html | 9225 |
Sabayon Linux – легковесный, дружественный к пользователю дистрибутив, основанный на Gentoo. Как и последний, он поддерживает сборку из исходных кодов, однако начальная установка происходит из бинарных пакетов. Совместимость с Gentoo полностью сохранена.
Список изменений:
В качестве системы инициализации по умолчанию выбрана systemd. Openrc по-прежнему доступна, однако со следующей версией GNOME её планируют убрать.
Совершен переход на ядро 3.10.4. Ускорен процесс обновления нестабильных ядер, и задержка теперь не превышает 36 часов.
Разработчики отказались от поддержки UEFI в 32-битной версии Sabayon – чтобы использовать SecureBoot, необходимо выбирать 64-битную.
Графическая оболочка по умолчанию – GNOME 3.8. Также доступны:

KDE 4.10 (скоро будет доступен 4.11);
MATE 1.6.2;
Xfce 4.10.

Текущая версия LibreOffice – 4.1.
15 | Unix News | http://feedproxy.google.com/~r/org/LOR/~3/hGaXC3XQzSA/9459377 | 9223 |
Компания Zynga, специализирующаяся на социальных онлайн-играх (особенно известная по FarmVille, выпущенной в 2009 году), опубликовала исходный код своей утилиты zPerfmon для мониторинга производительности серверов.Продукт zPerfmon используется в Zynga для мониторинга многочисленных (счёт идёт на тысячи) серверов, обслуживающих социальные игры компании. Утилита периодически собирает различные данные и представляет их визуализацию в виде графиков и таблиц с подробностями. По словам Бину Филлипа (Binu Phillip) из Zynga, инсталляция zPerfmon на одном сервере ежедневно обрабатывает 150 гигабайт данных, добавляет 100 миллионов строк в базу данных (используется MySQL) и предлагает 50 миллионов профилей с сотнями видов представления данных.Система zPerfmon состоит из двух основных компонентов: ...
15 | Unix News | http://www.nixp.ru/news/12252.html | 9224 |
После четырёх лет разработки Sam Geeraerts анонсировал выход новой версии gNewSense - полностью свободно GNU/Linux дистрибутива, разрабатываемого под руководством FSF (Free Software Foundation) и лично Ричарда Столлмана.
Основные изменения/улучшения данной версии:
Перенос дистрибутива на пакетную базу Debian 6 (прошлые выпуски были основаны на Ubuntu). Основные причины - четкое разделение свободных и несвободных пакетов и поддержка MIPS.
Сборка дистрибутива для архитектуры MIPS, оптимизированная для Lemote Yeelong - нетбука, которым пользуется RMS.
Добавлена возможность запуска установщика из Live-режима.
Linux-libre 2.6.32.
15 | Unix News | http://feedproxy.google.com/~r/org/LOR/~3/bFIlj1kFMgU/9445197 | 9222 |
Hello planet,


Well I think it's time for a small update on porting the FolderView applet to QML.

First of all, I've dubbed it QuickFolder for now, this is the name under which it exists in the kde-baseapps repo. The reason is that both codebases need to coexist for a while for me to carry over the old (existing) code to the new applet.


The repository I'm currently working in is a personal clone, and can be found via quickgit.kde.org:


http://quickgit.kde.org/?p=clones%2Fkde-baseapps%2Fisemenov%2Ffvqml.git


Branch plasma/isemenov/qml.


Now my impression of this work is that it's quite, I'd even say *very* challenging at times, since for me, QML is an unknown technology and I'm lazy to thoroughly read through all the docs (of which there are lots, as usual). So big thanks goes to all the people who help me out on irc in #plasma and #qt-quick.


For now we are sticking to QML1, well there is no solid reason that I could name out of my head, although the QML1 ...read more...
16 | System & Utilities | http://isemenov.blogspot.com/2013/08/folderview-update.html | 9221 |
Season of KDE is now officially open for applications.
To apply head to http://season.kde.org register as a student and click "Submit a proposal"
What is Season of KDE?
Season of KDE is a community outreach program, much like Google Summer of Code that has been hosted by the KDE community for five years straight.
It is meant for people who could not get into Google Summer of Code for various reasons, or people who simply prefer a differently structured, somewhat less constrained program. Season of KDE is managed by the same team of admins and mentors that take care of Google Summer of Code and Google Code-in matters for KDE, with the same level of quality and care.
Who can take part?
Everyone can apply for Season of KDE. We give preference to those who have applied for Google Summer of Code and to students, but we will gladly consider applications from anyone.
What do I get out of this?
A great summer working on a really cool KDE project and gaining valuable experience. If ...read more...
16 | System & Utilities | http://www.sharpley.org.uk/blog/sok-2013 | 9220 |
Those that have been following my blog for a longer time know that I've been talking a lot about making the Linux desktop and mobile platforms location aware.
Thanks to the amazing advances in adoption of mobile platforms, this dream has more or less become true, especially in the more widespread Apple and Android ecosystems. All these devices know where they are, and developers are coming up with different smart applications to utilize this information.
The free software world has been at risk of getting left behind. GeoClue, the location framework designed for these environments was in a state of flux for a long time with very little happening to it. But now we have GeoClue2, a rewritten implementation of the original idea.
Zeeshan Ali spoke about GNOME's geo-awareness, which is undergoing a rewrite. Geo-awareness consists of four major pieces, he said. The ...read more...



16 | System & Utilities | http://bergie.iki.fi/blog/geoclue2/ | 9219 |
Back in May I had to travel to Bariloche, my hometown, due to family issues. While there, I met Javier Barcenas, a local FLOSS advocate and developer.
We talked about KDE, and I told him about QML, and the beautiful interfaces you could build with it. He was so bold as to go and develop his next project using QML, which he had to learn from scratch.
It is a tourist information kiosk, and it looks extremely good.
Javier asked me to thank the community, which was very helpful to him, and made this possible.
16 | System & Utilities | http://soliverez.com.ar/home/2013/08/an-information-kiosk-in-qml/ | 9218 |
Conserve — это утилита для резервного копирования. Изначально основной функцией было делать полный бэкап системы, использующей LVM, на лету и отсылать отчёты по электронной почте. В дальнейшем появился дополнительный функционал.

Сейчас Conserve умеет:
Бэкап блочного устройства с помощью снепшотов LVM и dd.
Бэкап MBR.
Бэкап файлов, по возможности используя снепшот LVM.
Бэкап файлов с помощью rsync.
Бэкап на SMB (CIFS) или NFS сетевой ресурс.
Собирать информацию полезную для восстановления системы.
Автоматически определять ресурсы, которые нужно зарезервировать для восстановление системы с нуля.
Отправлять отчёт о выполнении задания по электронной почте.
Страничка на GitHub.
Инструкция по установке.

Сайт программы.

( читать дальше... )
15 | Unix News | http://feedproxy.google.com/~r/org/LOR/~3/3kBwDDxNEng/9439623 | 9217 |
Last week, I presented an idea about indexing messages from webmails in Nepomuk. The summary of this idea is to implement a browser extension for Firefox, Chrome and Konqueror. This extension parses the DOM tree of every page visited by the user that belongs to a webmail. When e-mails are found, they are extracted and stored in a temporary file. Nepomukfileindexer then quicks in and indexes these e-mails in the Nepomuk database.
The reason why I started this experiment is because many users use webmails instead of mail client programs like KMail or Thunderbird. The information about these emails cannot therefore be indexed by Nepomuk. As there are many different webmails, the biggest part of the project is to implement parsing rules for each of them. The browser plugin itself is quite small.
Last week, I implemented the file indexers that are responsible of indexing mbox files and MIME files into the Nepomuk database. These indexers are now in a fairly good shape. This week, I started to implement the browser plugins. ...read more...
16 | System & Utilities | http://steckdenis.be/post-2013-08-07-a-nepomuk-integration-plugin-for-konqueror.html | 9215 |
Вышла новая версия браузера Mozilla Firefox: 23.
Основные изменения в этой версии:
HTTP-контент на HTTPS страничках теперь блокируется по умолчанию. Ожидается, что данное изменение защитит пользователей от некоторых man-in-the-middle атак и уменьшит возможности слежения за пользователями. Настройка может быть выключена для отдельных сайтов.
Убраны настройки выключения Javascript'а и загрузки изображений. Использование этих функций приводило к невозможности пользоваться большим процентом современных веб-сайтов и их наличие в панели настроек позволяло неопытным пользователям привести браузер в нерабочее состояние. Тем, кому необходимо выключение Javascript, рекомендовано использовать расширение NoScript. Так же ожидается, что убранные опции появялся в инструментах разработчика в Firefox 24.
Улучшение рендеринга <input type='file'>, поддержка <input type='range'>
Убрана поддержка мигающего текста — тега <blink> и CSS свойства text-decoration: blink. Тег blink был придуман инженерами Netscape в 1994 году и, к счастью, не получил широкого распространения за пределами браузеров Mozilla.
В инструменты разработчика была добавлена начальная поддержка source maps для отладки javascript'а, новая панель для мониторинга сетевой активности и некоторые другие функции.
...read more...
15 | Unix News | http://feedproxy.google.com/~r/org/LOR/~3/8p7HZn11usg/9440128 | 9213 |
The crafters of the LinuxMint distro are in a ticklish position. Mint is based on Ubuntu, which in turn, is based on Debian, which in turn, has the moveable feast of the Linux kernel as its underpinning.
16 | System & Utilities | http://www.topix.com/tech/kde/2013/08/linuxmint-15-delivers-smooth-alternative-to-ubuntu?fromrss=1 | 9216 |
22 июля компания Canonical начала crowdfunding-кампанию по сбору средств от всех желающих помочь в выпуске смартфона Ubuntu Edge. На данный момент, когда до конца кампании осталось 20 из 30 дней, заявленная цель достигнута лишь на четверть.Linux-специалисты из Canonical решили воспользоваться онлайн-сервисом Indiegogo, чтобы собрать рекордную для crowdfunding-проектов сумму — 32 миллиона USD. Активный старт инициативы позволил к сегодняшнему дню «получить» около 8 млн USD, однако при сохранении этой тенденции миссия окажется невыполнимой. Средства нужны Canonical для того, чтобы выпустить первый Linux-смартфон «собственного производства». Проект получил название Ubuntu Edge.Заявленные технические характеристики смартфона Ubuntu Edge таковы: 4,5-дюймовый дисплей (Sapphire crystal glass ...
15 | Unix News | http://www.nixp.ru/news/12248.html | 9214 |
Porting more plugins
In my last blog posting I wrote about the port of Marble's Graticule and MeasurementTool plugins to an object based scene management. These ports change how the plugins draw their visual representation. The ported plugins used to draw directly to the scene. After porting they now create geometric objects and add them to the scene. These objects are then drawn by the rendering engine. Well, this is not the whole truth. At least not for now. The "scene" is a simple list of geometric objects at the moment and is meant to be a placeholder. Thats where the scenegraph will be plugged in. But lets get back to the render plugins I have ported during the last weeks.
The APRS plugin
The APRS plugin does collect and visualize APRS data (Automatic Packet Reporting System). The port was rather trivial with all the knowledge from previous ports. I also thought about using placemarks with track information for the data points. Since this will require a lot of refactoring to ...read more...
16 | System & Utilities | http://zombofant.net/blog/2013/8/gsoc-2013-more-plugin-ports | 9212 |
Project Neon приступил к формированию ежедневных сборок KDE Frameworks 5. Сборки доступны в репозитории для Ubuntu Saucy (13.10) и Raring (13.04).
Для установки проекта следует выполнить
sudo apt-add-repository ppa:neon/kf5
sudo apt-get install project-neon5-session

и выбрать соответствующую сессию через LightDM (следует обратить внимание, что на данном этапе для выхода следует убить LightDM). Пакеты будут установлены в директорию /opt и не заденут основную систему.
Согласно планам, первый стабильный релиз KDE Frameworks 5 будет выпущен летом следующего года.
15 | Unix News | http://feedproxy.google.com/~r/org/LOR/~3/cbIUzi_ISBA/9422736 | 9211 |
Your donations help fund travel to developer meetings.
We've been asked many times how to contribute to Kubuntu financially so we are now open for donations. Your donations will help finance project expenses such as hardware, travel and cloud computing.
16 | System & Utilities | http://www.kubuntu.org/news/now-open-donations | 9210 |
The openSUSE conference had some chats about strategy. Ralf talked about suggestions from SUSE in his keynote and there were more suggestions discussed in person between various people. I'd like to summarize some of the things I heard. In this blog I will talk about the directions of Factory, what Ralf mentioned as SUSE's ideas from his keynote; later this week I will blog about the openSUSE releases.

This is a combination of stuff I heard (not just at oSC but also earlier - even from the first strategy discussion, 3 years ago) and ideas I have. I just attempt to put it into text so it is easier to shoot at, comment upon, think about.

Factory
Let's start with talking about Factory.

Who is it for
We need to think about who factory is for, how these people are supposed to be using it etcetera. Right now, we have a shared understanding - but it probably ...read more...
16 | System & Utilities | http://blog.jospoortvliet.com/2013/07/osc13-strategy-and-factory.html | 9209 |
In recent versions of Dolphin, the view sometimes looked like this just after entering a directory.
Some of the files and sub-directories have "unknown" icons, which are replaced by the correct icons later.
This will not happen any more in Dolphin 4.11.
Why did we show you "unknown" icons at all in the first place?
Dolphin can show you a lot of information about your files. Some of this information can be obtained quite easily, like, e.g., the name, the file size, and the modification time.
However, some other properties of a file or directory might be more expensive to determine. Examples are:
The type of a file: if it cannot be determined unambiguously from the file name, we have no choice but to read the contents of the file.
The icon that has to be shown for a file depends on the type. A directory icon, on the other hand, can be chosen by the user in the "Properties" dialog. The chosen custom icon is then ...read more...


16 | System & Utilities | http://freininghaus.wordpress.com/2013/07/31/no-more-unknown-icons/ | 9208 |
KDE Project:

Project Neon is a fantastic resource for KDE developers giving daily builds for KDE software. It's maintained by the lovely Kubuntu community on the lovely Launchpad infrastructure. KDE developers can install the various bits they need to develop their part of KDE without having to worry about compiling everything themselves. It installs everything into /opt so it doesn't touch your normal software installation.
Thanks to the hard work of Harald and others we have the first KDE Frameworks 5 builds on Neon! I expect this to prove a vital resource in developing Frameworks 5.
As with any daily build bits will break occationally (or quite often until Frameworks 5 settles down). Take a look at the Packages in "Project Neon KDE Frameworks 5" to see the current state.
To give it a try go

sudo apt-add-repository ppa:neon/kf5
sudo apt-get install project-neon5-session

and log into a Neon ...read more...
16 | System & Utilities | http://blogs.kde.org/2013/07/31/project-neon-5-daily-builds-ubiquity-wireless-setup | 9207 |
Взломанный ранее ubuntuforums.org возобновил свою работу.
Теперь авторизоваться на форуме можно только используя учетную запись Ubuntu SSO (Ubuntu One single sign). При совпадении адресов электронной почты старой регистрации форума и Ubuntu SSO совмещение двух аккаунтов произойдет автоматически.
В данный момент на ubuntuforums.org около 25 тысяч пользователей онлайн.
15 | Unix News | http://feedproxy.google.com/~r/org/LOR/~3/3Y1tHgcV47M/9419101 | 9206 |
Ссылки