Ссылки
Thanks Nokia for the N810. I'll have a go at making Mailody4 available there!
ps. The internet connection is almost down now. Would that be caused by handing out the 100+ internet tablets?
Like every year Akademy is really fun. It
KDE.news has a report of the first day of Akademy the annual KDE desktop summit.


...and fails, as apparently he was then picked up and thrown immediately after. Hopefully he was not injured too badly, as he is in charge of setting up an aKademy BugDay on Wednesday for KMail. Perhaps this gave him practice, as his plan is to corner some developers to help, by dealing with "needs dev judgement" and policy issues on the spot as we go through bugs. People from around the world are welcome to join in. We haven't actually triaged kmail yet, so this might be a bit of a test run.

(That's Bram in the background, btw. And yes, I finally got my BugSquad group shot. But this one is more entertaining to post. Maybe George will get a fanclub too now. :)
Imagine the suspense and action of Snakes on a Plane, but without Samuel L. Jackson.  And both the snakes and people are eV board members and the plane is a boring gray auditorium and the movie lasts eight or nine hours.  This is almost exactly how my day was today.
The entire day, there must have been between 50 and 75 people down in the cafeteria talking and on laptops.  Were they hacking or playing sudoku?  I guess we'll have to wait for more commit numbers from Paul Adams.  But a fair share of people were staring intently at their displays - a fairly convincing game face if it actually was sudoku.
The number of people that I heard comment that the key signing party went well exactly equaled the number of people that told me I was wearing great plaid pants.  Wait, let me do a quick recount with Sebas.  One less.
I wouldn't go so far as to call the general assembly meeting a necessary evil, but it isn't exactly a walk ...read more...


Novell has recently released SUSE Linux 9.2 LiveCD/DVD edition. In line with its impressive track-record, SUSE managed to make yet another step forward each time.
Since Nokia will be giving 100 n810 devices tomorrow at the Embedded and Mobile day at Akademy, I thought it would be a good idea to describe a bit how you can get KDE working on your brand-new device. Since it is already quite some weeks ago I first did this, I might be missing some crucial steps, so if you have any questions after reading this/playing with your n810, feel free to ask me, I'll be at Akademy for the entire week. Writing this I've discovered how bad I am at writing any kind of howto/documentation, but hopefully it will still be a bit helpfull, and else you should just ignore it
So, the first step on getting KDE compiled to run it on your n810 would be to get scratchbox and the maemo SDK from maemo.org by just following the install instructions.
Next you'll need to get all the dependencies of kde installed. To get Qt you'll need to add some extra repositories to your /etc/apt/sources.list, ...read more...
OpenGL 3.0 включает в себя GLSL™ 1.30 (новую версию языка шейдеров).

Среди новых возможностей: массивы вершин, массивы текстур, новое сжатие текстур, неблокирующий доступ к объектам буфера вершин с возможностью обновить диапазон из него, 32-битные текстуры с плавающей точкой и буферы рендеринга.

Из плохого: как утверждает Phoronix, Intel пока даже не обращает внимания на OpenGL 3.0; Nvidia и ATI/AMD тоже пока используют старую версию, расширенную несколькими новыми возможностями, которые были документированы ранее.

Также в ближайшие 12 месяцев обещают набор новых расширений для OpenGL 3.0 и 2.1, реализующие похожий набор возможностей на старых видеокартах.

Спецификации можно взять отсюда: http://khronos.org/opengl/
Более подробная информация: http://khronos.org/news/press/release...

The Khronos Group has released a new mile stone version of the OpenGL API: version 3.0, codename Long Peaks. While this is really good news, Khronos is still unable to communicate with the community.

The Good: a new release
The Long Peaks release of OpenGL API was announced more than a year ago and was supposed to be released last fall. However, despite the official announcement Khronos never made this release - and never published any note, hint or even unofficial statement.
Today, during the SIGGRAPH conference Khronos he published the new API version and made it available for download. The new version is described as an evolutionary step which includes many new features while still supporting old hardware.
The new features include, among others:
Vertex Array Objects to encapsulate vertex array state for easier programming and increased throughput
non-blocking access to Vertex ...read more...


The Incredible Shrinking Data Center
Prex это портативная операционная система реального времени для встраиваемых систем, предназначенная специально для маленьких, с ограниченными ресурсами, платформ. Небольшая, надежная, она написана на языке C на основе микроядра традиционной архитектуры. Микроядро Prex предоставляет только основные функции для выполнения задач, потоки, управление памятью, IPC, исключения и синхронизации. Другие основные функции ОС - процессы, файловую систему, загрузку приложений и сетей, предоставляют сервисы пользовательского режима. Кроме того, Prex предусматривает слой эмуляции POSIX в целях использования существующих *nix приложений. Эта конструкция системы позволяет выполнять одновременно как родные задачи реального времени, так и общие POSIX процессы, не уменьшая производительности в режиме реального времени.

Минимальные системные требования:
Процессор: 32-bit процессор
Память: 128KB RAM (ядро < 25k байт)
Таймер: таймер с программируемыми интервалами
MMU и устройства постоянного хранения данных не являются обязательными компонентами. Они могут присутствовать опционально.

Изменения: Добавлена поддержка файловой системы FAT и функции FIFO/pipe.

Распространяется под лицензией BSD.
Windows IT Pro Names VMware ESX Product of the Year . PALO ALTO, Calif., August 11, 2008 — VMware, Inc. (NYSE: VMW), the global leader in virtualization solutions from the desktop to the datacenter, today announced that the industry's most popular and reliable hypervisor, VMware ESX, has been named Product of the Year by Penton Media's Windows IT Pro magazine.
"The 2008 Editor's Best Awards utilize our editors' product knowledge and subject matter expertise to identify exceptional products that benefit the Windows IT Pro and SQL Server Magazine reader communities," said Jeff Lewis, group publisher, Penton Media. "Our editors selected winners based on the product's strategic importance to...
MPRIS Tester 1.2 is now available at Qt-Apps.org.
Changes since 1.1: Clear Console now works, and the log of received signals now shows the argument to the signal (well, except for trackChanged() where I didn't want to flood the log with all the metadata of the new track).
You can find out more about MPRIS Tester from an older post.
Yesterday the '
KDE Contributors Conference
' of the Akademy 2008 ended. And there where of course again several really interesting talks as e.g. '
Location-aware applications with GeoClue
' or '
Gallium3D - Graphics Done Right
'. But for me the most interesting and impressive talk was the keynote from Cliff Schmidt: '
Digital Audio to Reduce Illiteracy, Poverty and Disease
'.
He spoken about the Literacy Bridge, a nonprofit organization which try to fight against illiteracy, poverty and disease by empowering people in the developing world with affordable tools for knowledge sharing and literacy learning. The goal is advancing education, health, economic development, democracy, and human rights.
Currently they are building the 'Talking Book Device', a robust/rugged low cost audio player and recorder. The plan is to produce the device for 5 Dollar, so that the people can buy the device themselves. It would allow local organizations and users to produce the content themselves as e.g. to help people to learn reading. An other example: it would enable a doctor to speak
...read more...
I've finished building the first Belenix (an OpenSolaris Live Distro that also installs to hard disk) KDE 4.1 (with packages from the KDE4 Solaris team) Live (it boots and doesn't need to touch your hard disk; I haven't tested if it will still install to hard disk) USB Stick (It's 2GB, where the original Belenix fits in less than 1GB). The first four copies have been put together and I've given them to the KDE-Solaris and KDE-India people here at Akademy. It's slow as a dog running debug builds off a compressed filesystem on a cheap USB stick, but it works and shows you can run a pretty KDE 4.1 desktop on OpenSolaris.

The rest of Akademy is way to busy to really blog, so I'll have to trust Wade to provide the right level of innuendo and bad taste.
Snowl — новый экспериментальный проект Mozilla по интеграции процесса обмена сообщениями с браузером.

Основные идеи проекта:
Не имеет значения источник сообщения — это могут быть традиционные серверы E-Mail, RSS ленты, форумы, социальные сети и прочее.
Snowl предлагает расширенные возможности для поиска сообщений, поэтому пользователю не требуется группировать их, чтобы затем их находить.
Доступны возможности браузера, например, табы, закладки, история.
Также планируется тесный обмен кодом и идеями с проектом Thunderbird.

Уже готов первый протип в виде расширения для Firefox. Он выпущен под тройной лицензией MPL/GPL/LGPL. Использованы иконки Silk, доступные по лицензии СС Attribution 2.5.
На конференции Akademy 2008, проходящей сейчас в Бельгии, разработчики Qt Simon Hausmann и Andreas Aardal Hanssen объявили о громадных улучшениях в браузерном движке и canvas-библиотеке, которые используются, например, технологией рабочего стола KDE — Plasma. Поддержка видео, анимаций и трансформаций, оптимизации, направленные на ускорение отрисовки и анимаций, новые графические эффекты открывают поистине необъятные новые возможности по отображению графического интерфейса для разработчиков.

новость взята с opennet.ru
Hi,
That's new feature in ktank:
- Map Loader in ktankbattle
- Start IA ( not very intelligent)
- KGLParticuleItem more performant ( using GL_Point) ! Now bullet has smokes and enemy can explose!
- using kdegames lib framework
- Now, we have a nice 2d animation background at the begining of ktank
- Add a listItem in ktankeditor…. and more bug!
- And… I forgotten my SVN key, I cannot commit! I WANT JOSEF for KGAMES NETWORK!!!! A price for the the man who capture them during akademy!:D
Oh, and this is a snapshot of "kapman", A game created by a french team, near to be finished!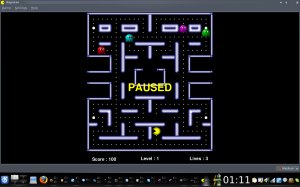 I'm currently at Akademy 2008. The event is located in Belgium near Mechelen (in sounth of Anvers).
This is really a big event about KDE community. It's very well organized (memoral social event in a begium bravery, with a lots of beer sponsored by Nokia which connecting peoples really (:=)))...
The beer in the small bowls is around 8% - 9%, don't drink more than 20 of those.
Have a water once in a while (you can drink the tapwater in the university building)
Get foodtickets before you queue up for sandwiches, saves you a lot of time
Writing a music manager / player doesn't save you from having mediocre taste in music
When hung over, don't even try to play ping pong with Seb
Lunchbreaks feel a lot like the Ministry of silly Talks
Don't write long blog entries when there's a keynote coming up shortly
Marble.
By the way, if anyone found my badge after yesterday's piss-off, I'll get you a candybar in return...
Sitting in the room 1 at the Akademy St. De Nayer institute. Actually Torsten was supposed to have a talk about Marble, though unfortunately the beamer broke so his talk has been delayed till further notice.
To keep it short, the atmosphere, the people and of course the beer and early-morning coffee beverages are simply great.
I'm not having any numbers on the commits being made at the moment, though the network is actually quite active. This graph should resemble that at least!
Программисты представляют Вашему вниманию Zembly, среду разработки приложений (social application development environment), выполняющуюся в броузере. Среда позволяет создавать приложения, предназначенные для работы с сайтами социальных сетей Facebook, meebo, OpenSocial, iPhone и прочими.

Например, к Олимпиаде 2008 создано приложение My Picks Beijing 2008 http://apps.facebook.com/mypicksbeiji..., позволяющее участникам играть в предсказание количества медалей разного достоинства, завоёванных участниками Олимпиады из разных стран

Нет нужды напоминать, что Facebook работает на бесплатном и открытом сервере приложений Sun AS aka GlassFish
Last night I managed to have nearly 100 people sign Lydia's little black notebook at the Akademy beer-event. It was fun and a perfect example of how beer can give you a reason to do practically anything.
Coming up: Amarok talk. Must write notes.
August 16th and 17th, Chicago is holding its annual BarCamp Chicago event. It will start Saturday and run all the way through Sunday evening. FREE FOOD AND DRINK! Great talks and a lot of super cool IT people all getting together and hanging out. I went last year and it was awesome! So if you are able to next week, come on out and hang out with the various area user groups, Ubuntu Chicago, and me
A BitTorrent client is a program that manages torrent downloads and uploads using the BitTorrent protocol.
First post at akademy i can only say this thing is amazing at the moment non on my laptop and the ethilic grade is uhm nice.... probably i will write a more "meaningful entry" waaay later...

Actually at the moment our Plasma on mobile devices GSOC god is very busy porting Plasma to these particular soda bottles. After hours of hard labour Martijn already got a initial version running - using the nice curly backround (which blends in perfectly!!).


These are the changes or updates made to the Guest Operating System Installation Guide since it was last published: Added new ESX Server 3.0.3 release. See supported guest operating systems. PDF: http://www.vmware.com/pdf/GuestOS_guide.pdf HTML: http://pubs.vmware.com/guestnotes/
По согласованию с редакцией Linux Format выложил в открытый доступ "Типы данных в R и принципы работы с ними" — третью часть из цикла статей по R. Там же по ссылке лежат исходные коды команд к статьям в Rnw-формате и результаты их выполнения в pdf.

Из Википедии: R — язык программирования для статистической обработки данных и работы с графикой, а также свободная программная среда вычислений с открытым исходным кодом в рамках проекта GNU.

С сентябрьского номера LXF цикл статей будет продолжен. Он откроется со статьи "Работа с двумя переменными (часть I)" в которой будет рассказано про "Проверку гипотез однородности" и "Проверку гипотез нормальности распределения". Основной автор Антон Коробейников.

P.S. Если в тексте будет найдена ошибка, то дайте знать — исправлю. Сам текст немного отличается от журнальной статьи и в дальнейшем будет развиваться.
Not much to tell right now (attending the Plasma Frenzy talk, heading off to the social event in a bit), still managed to get some photos up. Feel free to use those in your coverage, if you need special permission or a larger version (I've got them in 12MP on my box), drop me an email at sebas kde org.
Ссылки