Ссылки
Hi,
That's new feature in ktank:
- Map Loader in ktankbattle
- Start IA ( not very intelligent)
- KGLParticuleItem more performant ( using GL_Point) ! Now bullet has smokes and enemy can explose!
- using kdegames lib framework
- Now, we have a nice 2d animation background at the begining of ktank
- Add a listItem in ktankeditor…. and more bug!
- And… I forgotten my SVN key, I cannot commit! I WANT JOSEF for KGAMES NETWORK!!!! A price for the the man who capture them during akademy!:D
Oh, and this is a snapshot of "kapman", A game created by a french team, near to be finished!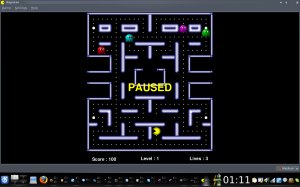 I'm currently at Akademy 2008. The event is located in Belgium near Mechelen (in sounth of Anvers).
This is really a big event about KDE community. It's very well organized (memoral social event in a begium bravery, with a lots of beer sponsored by Nokia which connecting peoples really (:=)))...
The beer in the small bowls is around 8% - 9%, don't drink more than 20 of those.
Have a water once in a while (you can drink the tapwater in the university building)
Get foodtickets before you queue up for sandwiches, saves you a lot of time
Writing a music manager / player doesn't save you from having mediocre taste in music
When hung over, don't even try to play ping pong with Seb
Lunchbreaks feel a lot like the Ministry of silly Talks
Don't write long blog entries when there's a keynote coming up shortly
Marble.
By the way, if anyone found my badge after yesterday's piss-off, I'll get you a candybar in return...
Sitting in the room 1 at the Akademy St. De Nayer institute. Actually Torsten was supposed to have a talk about Marble, though unfortunately the beamer broke so his talk has been delayed till further notice.
To keep it short, the atmosphere, the people and of course the beer and early-morning coffee beverages are simply great.
I'm not having any numbers on the commits being made at the moment, though the network is actually quite active. This graph should resemble that at least!
Программисты представляют Вашему вниманию Zembly, среду разработки приложений (social application development environment), выполняющуюся в броузере. Среда позволяет создавать приложения, предназначенные для работы с сайтами социальных сетей Facebook, meebo, OpenSocial, iPhone и прочими.

Например, к Олимпиаде 2008 создано приложение My Picks Beijing 2008 http://apps.facebook.com/mypicksbeiji..., позволяющее участникам играть в предсказание количества медалей разного достоинства, завоёванных участниками Олимпиады из разных стран

Нет нужды напоминать, что Facebook работает на бесплатном и открытом сервере приложений Sun AS aka GlassFish
Last night I managed to have nearly 100 people sign Lydia's little black notebook at the Akademy beer-event. It was fun and a perfect example of how beer can give you a reason to do practically anything.
Coming up: Amarok talk. Must write notes.
August 16th and 17th, Chicago is holding its annual BarCamp Chicago event. It will start Saturday and run all the way through Sunday evening. FREE FOOD AND DRINK! Great talks and a lot of super cool IT people all getting together and hanging out. I went last year and it was awesome! So if you are able to next week, come on out and hang out with the various area user groups, Ubuntu Chicago, and me
A BitTorrent client is a program that manages torrent downloads and uploads using the BitTorrent protocol.
First post at akademy i can only say this thing is amazing at the moment non on my laptop and the ethilic grade is uhm nice.... probably i will write a more "meaningful entry" waaay later...

Actually at the moment our Plasma on mobile devices GSOC god is very busy porting Plasma to these particular soda bottles. After hours of hard labour Martijn already got a initial version running - using the nice curly backround (which blends in perfectly!!).


These are the changes or updates made to the Guest Operating System Installation Guide since it was last published: Added new ESX Server 3.0.3 release. See supported guest operating systems. PDF: http://www.vmware.com/pdf/GuestOS_guide.pdf HTML: http://pubs.vmware.com/guestnotes/
По согласованию с редакцией Linux Format выложил в открытый доступ "Типы данных в R и принципы работы с ними" — третью часть из цикла статей по R. Там же по ссылке лежат исходные коды команд к статьям в Rnw-формате и результаты их выполнения в pdf.

Из Википедии: R — язык программирования для статистической обработки данных и работы с графикой, а также свободная программная среда вычислений с открытым исходным кодом в рамках проекта GNU.

С сентябрьского номера LXF цикл статей будет продолжен. Он откроется со статьи "Работа с двумя переменными (часть I)" в которой будет рассказано про "Проверку гипотез однородности" и "Проверку гипотез нормальности распределения". Основной автор Антон Коробейников.

P.S. Если в тексте будет найдена ошибка, то дайте знать — исправлю. Сам текст немного отличается от журнальной статьи и в дальнейшем будет развиваться.
Not much to tell right now (attending the Plasma Frenzy talk, heading off to the social event in a bit), still managed to get some photos up. Feel free to use those in your coverage, if you need special permission or a larger version (I've got them in 12MP on my box), drop me an email at sebas kde org.

I don't blog often, but when I do it tends to be meaty.  I won't disappoint.  I'll be covering Amarok, Amarok history, and a possible future part of kdelibs.

"We can rebuild him. We have the technology. Better than before. Better, stronger, faster."

A little-known feature in Amarok 1, starting at about 1.4.3, was what was known as Amarok File Tracking, or AFT.  For every single file in your collection, on scan, a unique identifier (UID) was generated from some of the file's attributes.  If you moved your tracks around your folders, as the incremental scan kicked in, the UID would allow for the file to be identified, and integration throughout Amarok would mean that your statistics, your cached lyrics, and the current playlist would all be updated with the new path.  No longer did you have to worry that moving around your files would mean losing years of statistics.  Or losing your files.

But I'm getting ahead of myself.

See, AFT wasn't born AFT.  AFT could not track both a file metadata change ...read more...
I'm flying to Akademy as I'm writing this post (but I'll be able to post it only when I'll be there).
Just turned on my laptop to have a look at my presentation, and.. surprise surprise, with KDE 4.1 my battery actually can last 20 minutes longer than with KDE 3.5. Plasma drains almost no power. Hooray for KDE 4!

On the other side, my flight switch in Munich was not so easy... did it ever occur to you that your flying company "does not really know if your flight has been cancelled or not" ? =)
Проект Openmoko представил новую версию официальной прошивки для своих смартфонов (Neo FreeRunner и Neo 1973) -- Om 2008.8...
I figure this will instantly scroll off planetkde due to aKademy (which I'm not at!), but oh well. Linuxworld 2008, my report:

We didn't have a booth because people went to Belgium and stuff. But Gnome didn't have a booth either, so oh well. Instead I walked around wearing my KDE hat and shirt and had a few people ask me, "Is that a KDE logo?" Um....yes. I did have a few people be happy to meet a random KDE person, so that was nice.

Wednesday had a nice party put on by The Linux Foundation. Someone there came up with the great idea of having a person dressed as a penguin run around. She was friendly:




There was also some bizarre contest put on by omb.org to win a Playstation 3 if your picture is voted craziest:




So more penguins. And I suppose I could abuse my position and send you all to vote for me.
...read more...
08.08.08 вышло обновление Om 2008.8 для телефонов Neo FreeRunner.
Оно основано на стеке ASU (April Software Update), поддерживает запуск програм с интерфесами GTK+, QT, а так-же EFL (Enlightenment Foundation Libraries). Количество приложений в системе минимально, но присутствует графический менеджер пакетов. Из заявленых фич стоит отметить улучшение стабильности системы в целом и suspend'а в частности.
QtScript Bindings

If you've been following Peter Zhou's blogs, you know that he has been implementing QtScript support for Amarok. Probably the neatest thing we did is give access to almost the entire Qt API via the QtScript Binding Generator from Trolltech Labs. It uses technology from QtJambi; if you have Qt 4.4.1 and were wondering why Amarok gives a bunch of MetaJavaBuilder errors, this is why. (The bindings are disabled for Qt 4.4.0; we'll bump the Amarok dependency once 4.4.1 is more widespread).

I do think that the QtScript API is probably the most difficult Qt API to get the details right on. Your mind swirls with QScriptValue, QObjects and QVariants. But it is also quite powerful.

Since I had been sending the generators creator Kent Hanson emails regularly, I thought a mailing list would be a good idea to make it more public and useful. Join qtscript-bindings for discussion on the QtScript bindings in general. Kent also created a bug tracker and a ...read more...
http://www.vmware.com/pdf/vi35_systems_guide.pdf Last Updated: August 8, 2008 What's New Changes since the last edition of this guide include: Added specific information regarding VMware
Akademy is starting :)


We arrived at Katelijne Waver!!! Time to head towards bed...
Even though I'm sitting here in a hotel room actually paying for wireless access, it's well worth my time to remind my gentle readers that: with Akademy starting tomorrow, the Planet will likely be cycling through blogs pretty quickly.  Be sure to stop back frequently as Ferris Bueller said (paraphrasing): "Blogging sites move pretty fast.  Do something something or you could miss something."  Deep - no wonder that movie made so much money.
PS - I'm in the Novotel Centrum in Mechelen.  If people want to share rides to and from the conference, let me know.  I wanted to bike, but the bikes don't sound all too cheap to rent.  I'll be cabbing tomorrow morning to give myself time to figure out this scary new city I don't yet understand after being here for 15 minutes (insert Caveman lawyer quote here).
...read more...
В блоге одного из разработчиков свободного драйвера radeonhd для видеокарт ATI/AMD Matthias'a Hopf'a сегодня появилось небезынтересное сообщение. Вкратце:

Программирование 3d для чипов r6xx/r7xx совершенно отличается от такового для чипов r5xx, поэтому приходиться писать код практически с нуля. Уже реализована поддержа командного процессора, DMA, адресации памяти и пр., всё работает замечательно.

Но по какой-то причине треугольники не рендерятся. Один из разработчиков ATI с помощью программы TCore, которая нормально рендерит треугольники, сделал лог доступа к памяти и регистрам. Matthias скопировал этот алгоритм программирования чипа в r600_demo, но почему-то треугольников не было даже в этом случае.

Публичная документация тоже появится не скоро, так как проверка на наличие объектов интеллектуальной собственности заняла значительно большее время, чем предполагалось.

Так что, несмотря на колоссальную помощь ATI/AMD, ситуация с поддержкой новых видеокарт свободными драйверами до сих пор совсем не позитивная.
Category: Linux OpenSource Technology Posted on: August 7, 2008 9:46 PM, by Greg Laden Linux has powerful graphics tools For the average user or the professional image manipulator, there is a range of ...
I know that I'm being a bit boring, but I just had to write another post. While everyone is writing about Akademy, unfortunately I am not going this year and I have to focus my mind on something else (to avoid jealousy). That is the main reason Lancelot has been improved this much in the past week or so.
Today's topic is the great return of the Parts applet. As you can see in the screenshot, my desktop has two different lists from the Lancelot menu - favourite applications and storage media.
There isn't a pleasant way of adding those to desktop yet (you would need to edit the plasma-appletsrc file to get them), but soon it will be a matter of Drag and Drop, or right click -> "Add to desktop".
As I previously mentioned, Microsoft had a talk in August Penguin 2008. They said that Silverlight is available for free from Microsoft's site. Which is a lie, since the site clearly says you are running a non supported browser/operating system.
Here, look at this page: http://channel9.msdn.com/shows/Continuum/Building-NBCOlympicscom-with-Silverlight/ and click the link to install Silverlight.
So lets install Moonlight from Novell/Mono. Here is the link: http://www.go-mono.com/moonlight/. I tested version 2 on Firefox 2, Mandriva 2008.1, and when playing the video on Channel9 Firefox crashed. Don't worry, version 1 also kills Firefox when I click the play button.
But… but.. even if it did… I went to http://www.nbcolympics.com/ and tried viewing a video (they are telling for months that they will provide the best experience for the Olympics using this technology) and I get an error from the site telling me I am not running Firefox (1.5,2,3) on Windows (2003, Xp, Vista). ...read more...
Crossroads - это демон, работающий в пользовательском пространстве, служит для балансировки нагрузки для любых, основанных на TCP сервисов. Гибкий, он способен просыпаться от звонков с выдачей статусного отчета и т.п. Он не зависит от других служб и может быть использован для любых TCP сервисов, HTTP(S), SSH, SMTP, и соединений с базами данных. Может быть запущен как самостоятельный демон при помощи inetd.

Эта версия полностью переписана. Значительно повышает производительность и снижает загрузку системы. Может настраиваться при помощи командной строки (отлично от конфигурационного файла). Исторически стабильные версии 1.xx все еще доступны.

Распространяется под лицензией GNU General Public License v3.

At the Ottawa Linux symposium the current state of Wlan in Linux was highlighted in detail. In the meantime, the development version of the Linux kernel included the gspca webcam drivers.

Wlan in Linux
The Ottawa Linux Smyposium was at the end of July and dealt with all kinds of Linux (kernel) related topics. Heise's Thorsten Leemhuis made an excellent review in German about the main topics of the symposium, and you also find detailed background information at the symposium archive

and at the proceedings page.

One topic which struck me was the current state of Wlan in Linux: Wlan in Linux was horrible and broken for years. Or, to cite a Linux Wlan developer: "Linux was a wireless Lan ghetto." But it changed a year ago when the new Wlan stack mac80211 was integrated into the mainline kernel. Since then, things have improved very much, and today Wlan on Linux ...read more...
You might need to change the IP address of the existing VirtualCenter Server connected to Stage Manager. To change the IP address of the existing VirtualCenter...
I just wanted to say hi to everyone going to Akademy. I once again cannot go this year but I figured to compensate I'd regale you with a story from my Officer Candidate School days.
When I first got to OCS, my eating habits were, uh, modified (to say the least) by the Officer Candidate Regulations manual. Instead of being able to eat food with a knife and a fork, I, as a newly minted worse-than-dirt OC got a spoon to eat with. The spoon was used to eat everything.
It was not sufficient that the spoon was the only utensil you had either. As an Officer-in-training you were not allowed to do anything as barbaric as pick up your food with your fingers. In fact you had a regimented, ...read more...
Ссылки