Ссылки
Today is the release day KEXI 3.1.0 Beta & its frameworks: https://community.kde.org/Kexi/Releases#3.1.0_Beta_1 Since version 3 it becomes KEXI not Kexi to suggest becoming a standalone app. It's standalone status includes being first-class app also outside of KDE Plasma.
Today I had to repair my most important debugging tool. Here's the result:
That's three strands (red, white, black) from a USB-to-serial converter, soldered on to a 3-pole screw-tightened connector. Clamped into that are the serial lines (red, green and blue) which were originally crimped straight to the lines. After a few months of use, the crimping failed and the red cable (RX) broke off.
So I had to fix it, and in the process decided to make it more sturdy, more ugly, but also easier to use.
The three grey wires clamped into the connector are part of a 10-pin flat cable which I scavenged out of a 9-pin serial connector I had left in the box-of-old-parts.
The flatcable, and especially the 10-pin connector at the end, is nice and sturdy for connecting to the headers on single-board-computers, like here:
That's why I need a serial cable for debugging. The frontmost board is a Pine64+. It runs FreeBSD and ...read more...
I've been working on a small music player named Babe for a while now, it started as an idea of a bare simple music player, and as the time has passed it has become a project I hope to expand beyond a simple music player. Last year I presented the project to the KDE community at Akademy 2017 that took place in Almeria-Spain, I wanted to highlight back then the idea of a multimedia desktop application that was aware of its content by making use of the wide knowledge that could be found on the internet, by making use of a music information retrieval system called Pulpo together with AI techniques.
Инженеры компании Google перешли с Ubuntu на Debian в качестве ОС для своих рабочих машин.
Ранее в течение нескольких лет компания использовала Goobuntu, кастомизированную версию Ubuntu. Теперь же она переходит на базирующуюся на Debian Testing сборку gLinux.
Google была подписчиком Ubuntu Advantage Program, но при этом не вносила вклад в Ubuntu. После перехода на Debian планируется, что Google станет активным участником проекта и будет участвовать в разработке и тестировании Debian.
Как считает Chris Merriman из издания The Inquirer, уход такого крупного коммерческого клиента будет большой потерей для Canonical.
Тем временем, несмотря на то, что gLinux является предпочтительной ОС для рабочих станций Google, она является далеко не единственной системой, используемой на них.
With all the happiness after being selected for SoK 2018, I was looking forward to start working on my project with whole dedication. My project aims to complete port of a brain-boosting memory activity called "Railroad" (in which kids have to observe the given train and memorize it within given time and then try to rebuild it) from Gtk+ to Qt version. It is a part of project GCompris(a high-quality educational software suite, including a large number of activities for children aged 2 to 10). My mentors are Timothée Giet and Rudra Nil Basu, along with them I'd like to thank a lot to Johnny Jazeix and Divyam Madaan for helping me with my project. My SoK proposal can be found here –> SoK Proposal. And my progress can be tracked at –> Railroad branch.
I started with introducing myself to the GCompris community and discussing my implementation plans with the mentors. My mentors ...read more...
В последний четверг (11 JAN 2018) AMD сообщила что ее чипы чувствительны к обоим варинатам Spectre. Днем позже AMD сообщила что риск от одного из них «близок к нулю». А патчи для Ryzen и EPYC исправляющие другой из них будут на этой неделе. Патчи для более старых процессоров обещаны на следующей неделе.
Эти новости привели к падению стоимости акций на 4%.
By default, the terminal looks as follows on my Linux distribution: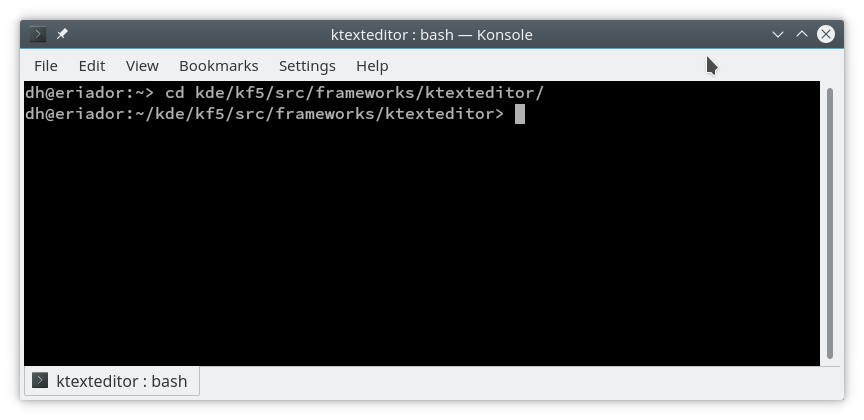 However, if you are working a lot on the terminal, there are a lot of scripts and tricks available in the net that improve the information displayed in the terminal in many ways. For instance, since many many years, I have the following at the end of my ~/.bashrc:
# use a fancy prompt
PS1=\"[\033[01;32m]u@h[\033[00m]:[\033[01;34m]W[\033[00m]\"
PS1=\"$PS1 `if [ $? = 0 ]; then echo -e '[\033[01;32m]:-)';\"
PS1=\"$PS1 else echo -e '[\033[01;31m]:-(' $?; fi`[\033[00m]\"
PS1=\"$PS1 $(__git_ps1 \"(%s)\") $ \"
Once you open a new terminal, then the appearance is as follows: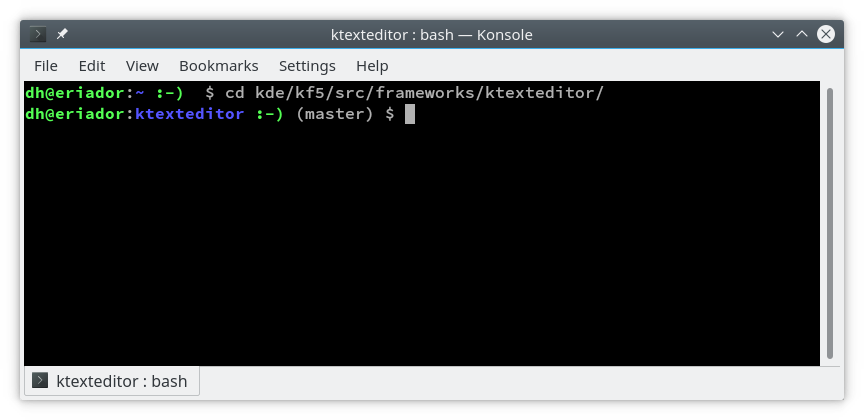 As you can see, now I have nice colors: The hostname is green, the folder is blue, the return value of the last executed command is a green

in case of success (exit code = 0), and a red

in case of errors (exit code != ...read more...
Tobias and Raphael have spent the past month or so hammering on the Qt 5.9 branch, which has (finally!) landed in the official FreeBSD ports tree. This brings FreeBSD back up-to-date with current Qt releases and, more importantly, up-to-date with the Qt release KDE software is increasingly expecting. With Qt 5.9, the Elisa music player works, for instance (where it has run-time errors with Qt 5.7, even if it compiles). The KDE-FreeBSD CI system has had Qt 5.9 for some time already, but that was hand-compiled and jimmied into the system, rather than being a "proper" ports build.
The new Qt version uses a new build system, which is one of the things that really slowed us down from a packaging perspective. Some modules have been reshuffled in the process. Some applications depending on Qt internal-private headers have been fixed along the way. The Telegram desktop client continues to be a pain in the butt that way.
Following on from Qt 5.9 there has been some work in getting ready for Clang 6 support; in general the KDE and Qt ...read more...
На 7-м международном семинаре, посвященном RISC-V, компания Western Digital объявила о намерении использовать чипы с ISA RISC-V в своих продуктах; детали и конкретные сроки пока не называются, но планируемый объем выпуска превышает миллиард единиц.
На этом же семинаре Western Digital объявила о своих инвестициях в стартап Esperanto Technologies - компанию, основанную Дэвидом Дитцелем (David Ditzel), в число сторудников которой входят бывшие сотрудники Transmeta, Sun, Intel, и молодые дарования. Esperanto разрабатывает высокопроизводительную гетерогенную SoC, которую планирует лицензировать и самостоятельно использовать в приложениях машинного обучения и графики.
At the beginning of 2017, I was a programmer (mostly Python, and a little bit of C++) and spent most of my day at my desk, with an IDE open and a cup of coffee at hand. At the end of 2017, I'm a programmer (mostly C++, and a little bit of Python) and spend most of my day at my desk, with an IDE open and a cup of espresso at hand.
At some level of abstraction, not much has changed this year.
Of course, now I spend my entire day working on Free Software, in three different but partly-overlapping communities: KDE, FreeBSD, and Calamares. Basically you can track everything I do each day by looking in the relevant repositories on GitHub (read-only mirrors in the case of FreeBSD and KDE). Inspired by Michael, Krita, Matthieu Gallien (with the this-week-in-Elisa series) and Dominik Haumann, I've collected a list of things I did this year, in no particular order:
Released two versions of the proprietary application I worked on previously, and quit my job. Started working for ...read more...


Ubisoft опубликовал исходники сервера World in Conflict, Massgate, стратегии реального времени из 2007 года. Теперь можно поднять свой сервер, официальные сервера были отключены в 2016м. Лицензия GPLv2.
В декабря отмечает свой первый день рождения альтернативная операционная система LineageOS для Android-смартфонов, основанная на CyanogenMod. В честь этого руководители проекта опубликовали статистику использования системы в виде инфографики. Первые 4 места среди пользователей занимают страны BRICS (Индия, Китай, Бразилия, Россия), замыкает пятерку Германия. Всего поддерживается более 180 устройств от 23 производителей, зарегистрировано 1.7 млн активных установок и более 700 разработчиков.
Could you tell us something about yourself?
My name is Rositsa (also known as Roz) and I'm somewhat of a late blooming artist. When I was a kid I was constantly drawing and even wanted to become an artist. Later on I chose a slightly different path for my education and career and as a result I now have decent experience as a web and graphic designer, front end developer and copywriter. I am now completely sure that I want to devote myself entirely to art and that's what I'm working towards.
Do you paint professionally, as a hobby artist, or both?
I mainly work on personal projects. I have done some freelance paintings in the past, though. I'd love to paint professionally full time sometime soon, hopefully for a game or a fantasy book of some sort.
What genre(s) do you work in?
I prefer fantasy most of all and anything that's not entirely realistic. It has to have some magic in it, something from another world. That's when I ...read more...
Состоялся релиз программы для проявки цифровых негативов Darktable 2.4.0. Одним из основных изменений стало то, что теперь библиотека RawSpeed развивается под крылом Darktable. Новую версию отделяют от предыдущей почти 3000 коммитов, включая коммиты в RawSpeed.

Основные нововведения:
( читать дальше... )
Boost - кроссплатформенный набор библиотек C++ для разных задач.
Новые библиотеки:
Beast - реализация протоколов HTTP/1 и WebSocket поверх Asio;
CallableTraits - интроспекция и модификация callable types, наследник Boost.FunctionTypes;
Mp11 - библиотека метапрограммирования на основе C++11.
Из прочих изменений можно отметить:
Obviously I still use FreeBSD on the desktop; with the packages from area51 I have a full and modern KDE Plasma environment. We (as in, the KDE-FreeBSD team) are still wrestling with getting the full Plasma 5 into the official ports tree (stalled, as so often it has been, on concerns of backwards compatibility), but things like CMake 3.10.1 and Qt 5.9 are sliding into place. Slowly, like brontosauruses driving a '57 Cadillac.
In the meantime, I do most of my Calamares development work — it is a Linux installer, after all — in VMs with some Linux distro installed. Invariably — and especially when working on tools that do the most terrible things to the disks attached to a system — I totally break the system, the VM no longer starts at all, and my development environment is interrupted for a bit.
That's always a good moment to switch distro's .. since I'm going to spend an hour or so re-invigorating the VM anyway, reminding myself that this time I'll make a clone and keep snapshots and whatnot, I ...read more...
Изначальные планы проекта Fedora по выпуску серверной редакции Linux-дистрибутива в новом модульном представлении (в рамках Fedora Modularity) изменились: релиз Fedora 27 Server доступен в классическом виде. В рамках инициативы Fedora Modularity разработчики стремились убрать зависимость жизненных циклов приложений друг от друга и от жизненного цикла операционной системы. Для этого минимальную систему дистрибутива Fedora разбили на независимые модули (Host и Platform) с…
CES 2018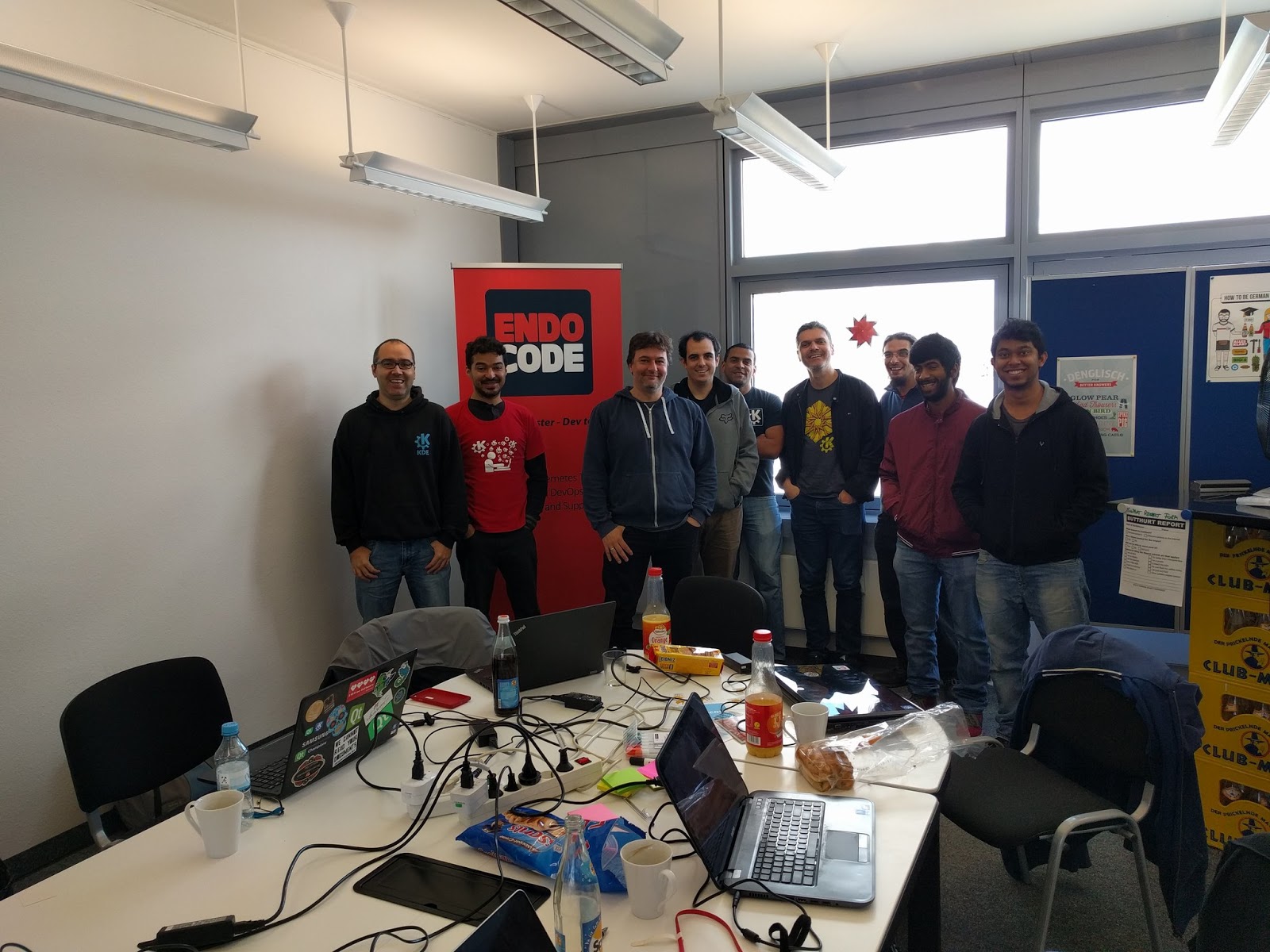 Two months ago I attended to KDE Edu Sprint 2017 at Berlin. It was my first KDE sprint (really, I send code to KDE software since 2010 and never went to a sprint!) so I was really excited for the event.
KDE Edu is the an umbrella for specific educational software of KDE. There are a lot of them and it is the main educational software suite in free software world. Despite it, KDE Edu has received little attention in organization side, for instance the previous KDE Edu sprint occurred several years ago, our website has some problems, and more.
Therefore, this sprint was an opportunity not only for developers work in software development, but for works in organization side as well.
In organization work side, we discuss about the rebranding of some software more related to university work than for "education" itself, like Cantor and Labplot. There was a wish ...read more...
Состоялся релиз Munt 2.2.0. Munt — эмулятор Roland MT-32 / LAPC-I. Идеален в связке с эмулятором Dosbox.
Основные изменения:
Добавлена эмуляция некоторого количества звуков MT-32 GEN0, которые можно послушать при использовании Control ROM v1.07 и новее. Это стало возможно благодаря серии патчей от NewRisingSun. Разработчики благодарят его за них, а также за набор тестов.
Исправление в реализации механизма конвертации сэмплов. Теперь целочисленные сэмплы без проблем конвертируются в нормализованные с плавающей запятой. А сэмплы с плавающей запятой — в полно-диапазонные целочисленные.
LA32FloatWaveGenerator теперь выводит на уровне 0.25, благодаря чему теперь каждый компонент LA32 использует только 14-битные сэмплы.

Пока не работают ограничения при использовании DACInputMode_NICE и сэмплов с плавающей запятой, поэтому громкость некоторых мелодий может отличаться в моменты, когда на ввод подаётся слишком громкий звук.

Добавлен новый режим «Nice Amp Ramp», предназначенный для улучшения эмуляции амплитудной рампы в фазе сустейна. На реальном оборудовании, быстрая смена громкости или экспрессии может привести к скачкам амплитуды. Когда режим «Nice Amp Ramp» включен (по умолчанию), то тогда эти параметры меняются постепенно. В противном случае точность эмуляции сохраняется.
Вчера на конференции KubeCon компания Oracle объявила об открытии исходного кода двух проектов, предназначенных для Open Source-системы управления контейнерами Kubernetes. Первый проект, Fn project Kubernetes Installer, продолжил недавнюю инициативу компании по открытию кода Fn project — serverless-платформы для запуска контейнеров в любых окружениях (облачных или on-premise). Привнося возможности serverless (т.е. модели, при которой облачный провайдер динамически управляет распределением вычислительных ресурсов) в Kubernetes,…
BTS Forum China 2017
Компания Mozilla 1 декабря опубликовала финансовый отчет за предыдущий год. В 2016 году доход компании составил около $520 миллионов, что почти на 100 миллионов больше чем в 2015. Основная часть средств (503 миллиона) была получена по контрактам с поисковыми системами и другими партнерами, чуть более 5 миллионов — пожертвования.
( читать дальше... )
Общая сумма затрат за год составила 360,6 млн долларов (в 2015 году - 337,7). Размер активов на начало года - 323 млн долларов, на конец года - 426 млн долларов. Трудоустроено около 1000 сотрудников.
>>> Источник

The KTextEditor Framework uses the syntax highlighting files provided by the KSyntaxHighlighting Framework since the  KDE Frameworks release 5.28.
The KSyntaxHighlighting Framework implements Kate's highlighting system and meanwhile is used in quite some applications (e.g. LabPlot, KDE PIM). What is quite nice is that the KSyntaxHighlighting framework is nicely unit tested. And while we do not have tests for all highlighting files, we still provide some quality assurance through a compile time checker.
How does it work? Well – in former times, Kate loaded all highlighting .xml files from disk (through the KTextEditor framework). This lead to a slow startup over time, since there are >250 .xml files that needed a stat system call at startup.
With the KSyntaxHighlighting Framework, all these xml files are compiled into a Qt resource (qrc file), that then is included into the KSyntaxHighlighting library.
In order to create the Qt resource file, we need to iterate over all available xml files anyways. So what happens is that we take this opportunity and also scan the highlighting files for common mistakes.
As of today, ...read more...
Новости про Linux-систему Sailfish OS от Jolla: про Sailfish X, блокчейн, Латинскую Америку и Россию
ESE Kongress 2017
Since Akademy in Almería we have been going through the process of defining goals for KDE for the next 3 to 4 years. Different ideas were proposed and refined. 10 of them made it into the community-wide vote to select 3 of them. Today I am proud to announce the result based on the 684 submitted votes.
The 3 goals KDE will be focusing on over the next 3 to 4 years are:
Top-notch usability and productivity for basic software: We want our users to love our software and enable them to do their day-to-day work hassle-free. As part of this goal we will focus on polishing our basic software so everyone will be delighted to use it. For more details see the proposal.
Privacy Software: A central part of KDE's vision for the future is privacy. As part of this goal we will work on improving privacy-related features, settings and applications all over KDE's software. Once done KDE software enables and promotes privacy, which is crucial for a free and open society and protecting our users from ...read more...


После полутора лет разработки доступен очередной релиз аудио-плеера Qmmp. Версия 0.11 поддерживает Qt4 и более старые версии библиотек, когда как 1.2 рассчитана на Qt5 и относительно современные версии дистрибутивов.
В новой версии можно отметить следующее:
проигрывание файлов из архивов (с использованием библиотеки libarchive);
запись в файл;
модуль вывода на сервер IceCast;
отключение уведомлений, если запущено приложение в полный экран;
отображение обложки в диалоге информации о треке;
новые опции командной строки: "--volume-status" и "--mute-status";
выбор интерфейса из командной строки;
кеширование текстов песен;
улучшена поддержка визуализации и некоторых форматов;
доработка простого интерфейс пользователя: добавлены быстрый поиск, настройка размера значков, кнопка записи и др. улучшения;
добавлен сброс названия окна при завершении воспроизведения;
обновлены переводы интерфейса, включая русский и украинский;
устранены утечки памяти и др. ошибки.
Одновременно выпущен набор дополнительных модулей Qmmp Plugin Pack 0.11 и 1.2. В новой версии, кроме поддержки очередной версии Qmmp, добавлены новые экспериментальные модули:
Goom - визуализация на базе исходного кода проекта goom;
FFVideo - воспроизведение видео с использованием библиотеки FFmpeg;
История прослушивания - инструмент для сбора статистики о прослушанных треках (использует sqlite).
...read more...
Сегодня был представлен выпуск новой версии популярного дистрибутива Linux Mint — 18.3 под кодовым названием «Sylvia». На данный момент анонсировано обновление двух редакций: с Cinnamon и MATE. Релиз Linux Mint 18.3 имеет статус LTS (long term support), который означает его поддержку до 2021 года. Он основан на ядре Linux 4.10 и пакетной базе Ubuntu 16.04. Главным изменением в дистрибутиве называется обновлённый менеджер…
BTS Forum Japan
Ссылки