Ссылки
· When using Microsoft DTC in a Cloned or Converted virtual machine you receive the following error: Failed to propagate transaction · DTC nodes cannot communicate with each...
После более чем года разработки, вышла финальная версия свободного открытого аудио-кодека Musepack. Данный кодек примечателен тем, что относится к subband-кодекам, что позволяет ему кодировать аудио поток на высоких битрейтах с более высоким качеством, чем его проприетарные конкуренты (MP3, AAC, WMA).

Основные изменения и улучшения:
Поддержка потокового вещания
Улучшение сжатия за счет более оптимизированных таблиц Хаффмана
Поддержка Sample-accurate (звуковые данные не будут иметь смещений, дополнительных или потерянных сэмплов относительно друг друга)
SV8 - теперь свой собственный формат-контейнер
Быcтрый доступ к данным без использования таблиц доступа
Очистка и реорганизация кода
На конференции VMworld Europe 2009, посвященной виртуализации, показали презентацию, демонстрирующую запуск виртуальных машин на интернет-планшете Nokia N800. На видео показано одновременно запущенные Windows CE и Android с впечатляющей производительностью.

прямая ссылка на видео: http://www.youtube.com/watch?gl=US&am...
Photo by Janex & Alba under a Creative Commons license. Blogging at a conference like VMworld is complicated business. Bloggers have to think on their feet in the first place -- they need to be opinionated, keep up to date...
По последним данным исследователей из компании Net Applications, использование свободных операционных систем GNU/Linux и FreeBSD медленно растет -- за счет пользователей Mac OS X...
So I was notified that commits to KDE are HOT, and I am in serious need of some hotness.
Мартин Нордхольц один из основных разработчиков GIMP, который расскажет нам о нынешнем состоянии дел, поможет нам понять, что происходит в недрах GIMP и GEGL, а также приоткроет завесу тайны, скрывающую то, что нас ждет впереди.
So I was notified that commits to KDE are HOT, and I am in serious need of some hotness. What could be more hot than working on Kiosk Tool? Well maybe KHTML, but I don't need love that badly. So back to kiosk tool. Back in KDE 3 Waldo Bastian made up this nice little tool that could give administrators a GUI interface around the kiosk functionality in KDE 3. Well 5 years have passed and the tool was in need of some love. First step was to get the last of the KDE/Qt 3 compatibility code removed. That took most of the day yesterday. Today was spent trying to add a few features to make it easier for 3rd party application developers to add their application's settings to the Kiosktool UI. I broke up the old monolithic XML file into modular ini files that can be installed into the kiosktool application data directory. This allows any application developer to create a custom set of options for administrators to lock down their application.
Now for those of you who have ...read more...
"KDE 4.0 is very exciting, though not yet production ready, and that shows with this weeks' release of the first beta.
Roland Wolters (liquidat): Playing the numbers game 2008: number of Linux installations world wide
Where Virtualization Meets the Cloud
No, we're not!
We're back working on the thing that was rumoured to be dead, Raptor!
After some months of idling because all people had different other stuff to do, we finally got back to work!
I'm taking over the job to inform you about that, Alessandro refused to do that: after his last blog post about Raptor, the project died again.
So here we go with a current Screenshot:

It's still work in progress, but what you see is your new view. It's completely based on a QGraphicsWidget, aka painting on it. Currently the new view is pretty basic: no hover animation, no partial item showing, but it's getting there.
So far…
Lukas
...read more...
While working through my backlog of articles on Planet GNOME on my way to Nuremberg (yes, again), I came across a blog entry of Philip Van Hoof.
In it he asserts that soon the era of email clients will be over, which I think some people misinterpreted as application for reading and managing email messages becoming obsolete.
However, what I think he intended to say and what he tried to explain in the following paragraphs, is that monolithic, end-to-end functionality, clients will be succeeded by applications specialized in displaying, creating and editing PIM data such as emails, but that other tasks like fetching emails from servers, filtering, etc. will be offloaded to services specialized in those domains.
Until now applicaton developers had to consider distracting isuses like how to get emails from servers, different protocols and capabilities of these servers, how to store the downloaded messages locally, how to search through potentially huge amounts of headers and message bodies, etc.
Since Philip's blog entry focuses on the search and filtering part, so I'll add ...read more...
Драйвер для серии Chrome 500 помимо поддержки OpenGL 3.0 может похвастать возможностью аппаратного декодирования видео в форматах H.264, VC-1, MPEG-2.

Однако, как отмечают обозреватели по ссылке, несмотря на много хороших слов в анонсе, драйвер далек от совершенства. Нет сборки для x86_64. Также, несмотря на заявленную лицензию GPL, никто пока не видел исходных кодов.
This time I am ok, but my 400GB external HDD is gone and along with it I lost all the photographs that I took in the last two year and the videos including meetthegimp and inkscape and bijra related videos. I somehow managed to kick it while it was connected to the system. It fell from 1 and half feet above the ground.
From /var/log/messages

Mar 1 15:02:15 localhost kernel: usb 2-1: USB disconnect, address 17
Mar 1 15:02:17 localhost kernel: usb 2-1: new high speed USB device using ehci_hcd and address 18
Mar 1 15:02:17 localhost kernel: usb 2-1: configuration #1 chosen from 1 choice
Mar 1 15:02:17 localhost kernel: scsi19 : SCSI emulation for USB Mass Storage devices
Mar 1 15:02:17 localhost kernel: usb 2-1: New USB device found, idVendor=0d49, idProduct=3200
Mar 1 15:02:17 localhost kernel: usb 2-1: New USB device strings: Mfr=1, Product=2, SerialNumber=3
Mar 1 15:02:17 localhost kernel: usb 2-1: Product: Maxtor 3200
Mar 1 15:02:17 localhost kernel: usb 2-1: Manufacturer: Maxtor Corporation
...read more...


В разделе статей nixp.ru очередное пополнение в виде 5 статей из различных выпусков электронного издания "Open Source" (по договоренности с редакцией и авторами)...
DVD диск с репозиторием разработан в Центре компетенции Mandriva Глазовского государственного педагогического института им. В.Г. Короленко и предназначен для облегчения установки и использования образовательного ПО, так как содержит в себе подборку программного обеспечения, необходимого для проведения занятий по курсам информатики и ИКТ дисциплин в средних, средне-специальных и высших учебных заведениях, составленную на основе пожеланий преподавателей и соответствует условиям тендера НП-18 по разработке дистрибутива свободного ПО для учебных заведений Российской федерации.

Особенности:
Lazarus в сборке GTK2 и Qt4 (метапакеты task-lazarus-gtk2 и task-lazarus-qt4;
FreeBASIC (совместим с QBASIC);
Scratch - программирование для детей на основе Logo;
Кумир (школьный алгоритмический язык);
LightLang - один из лучших словарей;
Phun - физический симулятор;
OpenProj - программа для планирования проектов;
iTest - система тестирования учащихся;
ATutor - программа для постороения систем дистанционного образования;
и другое ПО, полный список которого вы можете найти на ВиКи проекта: http://wiki.edumandriva.ru
Скачать диск вы можете отсюда: ftp://ftp.linuxcenter.ru/pub/Mandriva...
Итальянская компания Koan Software обновила свой индустриальный Linux-дистрибутив, используемый во встраиваемых устройствах...
Компания VDEL, представляющая компанию Red Hat на территории России, и МГТУ им...
Вышла очередная версия wine:
Улучшенная поддержка SANE сканеров.
Поддержка воспроизведения CD audio.
Улучшена поддержка управления cookies в Wininet.
Поддержка сборки 16-битных модулей.
Множество исправлений для работы на Windows.
Другие багфиксы.
After posting my last entry, I thought I'd elaborate on the G1's power usage. There's a useful little tool available on the Android Market called Watts, which logs the battery level and shows a graph of it. The image below is two screenshots from Watts.

The one on the left is the device's power usage last night, when I wasn't using the phone at all since I was asleep, but the phone was still checking my email and twitter regularly.

The one on the right was this afternoon, when I was watching the rugby at my parents', but also using my G1 a far amount for twittering, checking emails, texting, and looking up things like the words of 'God Save the Queen' and what a drop goal is.

As you can see, the standby life is pretty good, and you can probably get a good eight hours of reasonably intensive use out of the battery. Which is pretty poor, but I can live with it, since I don't usually use the phone that intensively.
...read more...
Sun выпустила 12-е обновление Java SE 6. В этом обновлении исправлено 140 багов. Полный список исправленных багов можно найти в Release Notes. Но главным отличием от всех предыдущих релизов является добавление 64-битных версий плагинов к броузерам для Solaris, Windows и Linux. Улучшена поддержка JavaFX.
I'm back to you today to show something that we have been baking lately for KDevelop. It is its new documentation integration.
With KDevelop 4 we have been focusing on putting together the information that the user will be willing to read every moment. Until now, while browsing the code, we were only showing the information gathered by the C++ support. Since the last week this is no longer true, we can now show the documentation provided by the different documentation plugins. We only have a QtHelp plugin for now, but I hope the architecture will be flexible enough for the new plugins we will have on the future, such as, maybe, a Doxygen's, cmake's or anything the reader can imagine.
Here you can see a couple of screenshots that might give you an idea of how does it work so that you can see KDevelop 4, love it and try it.
- The information shown when hovering the DUChain: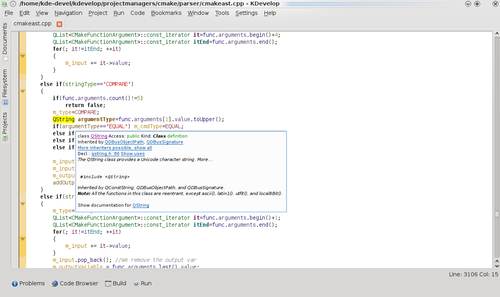 - The tool view on the right showing ...read more...
Since I've got myself a T-Mobile G1, I've had several people ask me if they too should get one. And the answer, as it often is, is: It depends.

If you want a phone with good battery life, this is definitely not the phone for you. If you have GPS and Wifi and 3G and all the bells and whistles turned on and you're using the phone constantly, you'll probably only get four or five hours of use out of it. I turn GPS and Wifi off and turn the screen brightness down (because even when it's turned right down it's pretty bright), and don't use it non-stop, just a fair bit of twittering and the odd bit of internet browsing and some texts and phone calls. And usually it's down to around 40% battery by the end of the day. Of course, it depends completely on how you use it. I usually plug the phone in at night so that it's fully charged in the morning. Last night I forgot to switch the charger on, and when I ...read more...
It is not too surprising that Ubuntu came in first in DesktopLinux.com's 2007 Desktop Linux Market Survey , or that Firefox was the topmost browser by far.
Выпущено обновление Adobe Flash плагина с исправлением пяти уязвимостей, позволяющих злоумышленнику получить контроль над системой пользователя:
Две уязвимости позволяют выполнить код злоумышленника при открытии специальным образом оформленного SWF файла;
Возможность получения доступа к конфиденциально информации и потенциального повышения привилегий. Проблема проявляется только на платформе Linux;
Две ошибки которые можно задействовать для совершения Clickjacking атак: при отображении указателя мыши, может быть использована злоумышленниками для организации подмены ссылки в момент клика.
(Одна проблема многоплатформенная, другая проявляется только на платформе Windows.)

Проблема исправлена в релизах 9.0.159.0 и 10.0.22.87.
· Conversion fails between 95% and 99% · Reconfiguration fails to complete · The virtual machine is created at the destination but does not start · Virtual machine does not start · You receive...
· Cannot use the Add Storage wizard to format a disk with a new VMFS Datastore. · The Wizard reports that it is unable to read the...
A long-requested feature has been a way to decouple Amarok's collection scanning from its GUI.  There are various use-cases for this.  For one, it can actually help us with debugging, by allowing us to control the inputs into the scan parser.  For another, many people have all of their music stored on a single machine, and would like to do the scanning locally where it's fast instead of on their e.g. laptop running Amarok, where it's over wireless and slow.
Yesterday and today (as of r933010) I put half of the solution into trunk.  I say half, because full collection rescans are now supported in batch modes, but I am still working on the methodology for incremental scans (I have a few ideas, but have to sort out which is the most reasonable/doable/makes the most sense). Below, I'll explain how to do it.  Keep in mind that this is designed to be (lightly) scripted, not done by hand...so it can be done by hand (which I did during testing) but it has some safeguards in place so that if ...read more...
Over at Ars Technica they've written an article titled "Microsoft suit over FAT patents could open OSS Pandora's Box" (http://lxer.com/module/newswire/ext_link.php?rid=116455).

They love their sensationalism over at Ars, that's for sure. Firstly, I don't believe there is a "Pandora's Box" to begin with. Microsoft would love us to think there was though.

This is all about Microsoft loosing out. They know there is a threat to their profits from Free and Open Source Software, so they try and discourage companies and businesses pursuing it by creating this overwhelming FUD aura around it.

No doubt, if Microsoft win this I see two things happening:

1) them using this win as 'proof' that Linux is dangerous and illegal. And that Microsoft themselves will possibly pursue you if you utilise it.

2) them using this as a testing ground against IBM. These two companies are at a stand-off with their respective patent portfolios and if Microsoft can win in one court against Linux then they can take this and bolster their attack on the big one, IBM. I wouldn't ...read more...
Ссылки