Ссылки
After posting my last entry, I thought I'd elaborate on the G1's power usage. There's a useful little tool available on the Android Market called Watts, which logs the battery level and shows a graph of it. The image below is two screenshots from Watts.

The one on the left is the device's power usage last night, when I wasn't using the phone at all since I was asleep, but the phone was still checking my email and twitter regularly.

The one on the right was this afternoon, when I was watching the rugby at my parents', but also using my G1 a far amount for twittering, checking emails, texting, and looking up things like the words of 'God Save the Queen' and what a drop goal is.

As you can see, the standby life is pretty good, and you can probably get a good eight hours of reasonably intensive use out of the battery. Which is pretty poor, but I can live with it, since I don't usually use the phone that intensively.
...read more...
Sun выпустила 12-е обновление Java SE 6. В этом обновлении исправлено 140 багов. Полный список исправленных багов можно найти в Release Notes. Но главным отличием от всех предыдущих релизов является добавление 64-битных версий плагинов к броузерам для Solaris, Windows и Linux. Улучшена поддержка JavaFX.
I'm back to you today to show something that we have been baking lately for KDevelop. It is its new documentation integration.
With KDevelop 4 we have been focusing on putting together the information that the user will be willing to read every moment. Until now, while browsing the code, we were only showing the information gathered by the C++ support. Since the last week this is no longer true, we can now show the documentation provided by the different documentation plugins. We only have a QtHelp plugin for now, but I hope the architecture will be flexible enough for the new plugins we will have on the future, such as, maybe, a Doxygen's, cmake's or anything the reader can imagine.
Here you can see a couple of screenshots that might give you an idea of how does it work so that you can see KDevelop 4, love it and try it.
- The information shown when hovering the DUChain: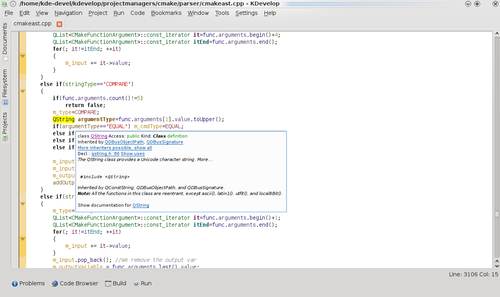 - The tool view on the right showing ...read more...
Since I've got myself a T-Mobile G1, I've had several people ask me if they too should get one. And the answer, as it often is, is: It depends.

If you want a phone with good battery life, this is definitely not the phone for you. If you have GPS and Wifi and 3G and all the bells and whistles turned on and you're using the phone constantly, you'll probably only get four or five hours of use out of it. I turn GPS and Wifi off and turn the screen brightness down (because even when it's turned right down it's pretty bright), and don't use it non-stop, just a fair bit of twittering and the odd bit of internet browsing and some texts and phone calls. And usually it's down to around 40% battery by the end of the day. Of course, it depends completely on how you use it. I usually plug the phone in at night so that it's fully charged in the morning. Last night I forgot to switch the charger on, and when I ...read more...
It is not too surprising that Ubuntu came in first in DesktopLinux.com's 2007 Desktop Linux Market Survey , or that Firefox was the topmost browser by far.
Выпущено обновление Adobe Flash плагина с исправлением пяти уязвимостей, позволяющих злоумышленнику получить контроль над системой пользователя:
Две уязвимости позволяют выполнить код злоумышленника при открытии специальным образом оформленного SWF файла;
Возможность получения доступа к конфиденциально информации и потенциального повышения привилегий. Проблема проявляется только на платформе Linux;
Две ошибки которые можно задействовать для совершения Clickjacking атак: при отображении указателя мыши, может быть использована злоумышленниками для организации подмены ссылки в момент клика.
(Одна проблема многоплатформенная, другая проявляется только на платформе Windows.)

Проблема исправлена в релизах 9.0.159.0 и 10.0.22.87.
· Conversion fails between 95% and 99% · Reconfiguration fails to complete · The virtual machine is created at the destination but does not start · Virtual machine does not start · You receive...
· Cannot use the Add Storage wizard to format a disk with a new VMFS Datastore. · The Wizard reports that it is unable to read the...
A long-requested feature has been a way to decouple Amarok's collection scanning from its GUI.  There are various use-cases for this.  For one, it can actually help us with debugging, by allowing us to control the inputs into the scan parser.  For another, many people have all of their music stored on a single machine, and would like to do the scanning locally where it's fast instead of on their e.g. laptop running Amarok, where it's over wireless and slow.
Yesterday and today (as of r933010) I put half of the solution into trunk.  I say half, because full collection rescans are now supported in batch modes, but I am still working on the methodology for incremental scans (I have a few ideas, but have to sort out which is the most reasonable/doable/makes the most sense). Below, I'll explain how to do it.  Keep in mind that this is designed to be (lightly) scripted, not done by hand...so it can be done by hand (which I did during testing) but it has some safeguards in place so that if ...read more...
Over at Ars Technica they've written an article titled "Microsoft suit over FAT patents could open OSS Pandora's Box" (http://lxer.com/module/newswire/ext_link.php?rid=116455).

They love their sensationalism over at Ars, that's for sure. Firstly, I don't believe there is a "Pandora's Box" to begin with. Microsoft would love us to think there was though.

This is all about Microsoft loosing out. They know there is a threat to their profits from Free and Open Source Software, so they try and discourage companies and businesses pursuing it by creating this overwhelming FUD aura around it.

No doubt, if Microsoft win this I see two things happening:

1) them using this win as 'proof' that Linux is dangerous and illegal. And that Microsoft themselves will possibly pursue you if you utilise it.

2) them using this as a testing ground against IBM. These two companies are at a stand-off with their respective patent portfolios and if Microsoft can win in one court against Linux then they can take this and bolster their attack on the big one, IBM. I wouldn't ...read more...
Особенности игры:
Мрачное футуристическое оформление.
Движок базируется на Сube Engine 2 (Sauerbraten), имеет GPL-совместимую лицензию zlib. Ресурсы имеют различные лицензии.
Однопользовательская (с ботами) и многопользовательская игры.
По мнению парней с phoronix.com игра выглядит неплохо, но до Nexuiz пока ещё не дотягивает.
Мультиплатформенность: Linux, Windows, Mac OSX.
Вторая альфа-версия игры вышла месяц назад, что же нового появилось с тех пор?
Улучшен игровой процесс, во многом благодаря обратной связи с сообществом (которое пополнилось после того, как игра засветилась на /.).
Новый, улучшенный искусственный интеллект.
Оружие: улучшено и добавлено новое.
Новые эффекты (ragdoll effects), предоставленные проекту главным разработчиком Cube Engine 2, делающие игру более привлекательной.
Новые карты (плюс улучшены старые), звуки и текстуры.
Расширены возможности настройки игры — гравитация, скорость и т.д.
Множество мелких улучшений и исправлений.
>>> Анонс
>>> Подборка скриншотов (правда, альфа-версии игры) от phoronix.com
Sometimes there is nothing you can do. Sometimes people, no matter how blatant the facts are, are incapable of change. Today is one of those days.

I manage IT for one of the largest single Real Estate offices in Australasia. Being well acquainted with Open Source and knowing what it can and can't do, I have been able to replace some of the proprietary applications that we use with free software. That means no licensing costs, free upgrades and feature parity with proprietary counterparts.

Here's a few issues that are having me retreat to the bathroom to contain myself from bursting out in utter frustration at the stubbornness of the humans around me:

1. Firefox:

We all know that this browser is perfectly capable of holding its own against IE. Not many dispute that. Especially for our company, none of the sites we frequent or need are incompatible in any way with Firefox. And you know what? Firefox is so much quicker at rendering the pages than IE. I'm not just saying that - I manually ...read more...
Отечественный проект по разработке дистрибутива Calculate Linux, основанного на Gentoo, представил новую версию десктоп-редакции своей системы -- Calculate Linux Desktop 9.3...
  Duplic ate of 1007800   Customer's users were complaining about poor network performance on their VMs. He was seeing several errors repeated several times per second in vmkernel...
Корпорация Microsoft подала иск на голландскую компанию TomTom, занимающуюся производством автомобильных навигационных систем, обвиняя ее в нарушении 8 патентов...
· Conversion fails between 2% and 96% · Cannot perform conversion · You receive the following errors: · · The file or directory is corrupted and unreadable (1392) ·...
Last week we finally had the first demo of our current work. We are working on animated layouts with the Qt Software guys. It has been a great great time. We are really happy with this work and the results that will come in the near future.
When we talk about animated layouts, we mean that when you change the layout of your widget you want that to have that change in a fancy and animated way (at least when you talk about Qt Kinetic). So we just finished the basic work to allow that and the next step is to define the API of setting animations between the changes of layout.
Right now we use the concept of states (using QStateMachine), a new way of setting a layout without destroying the old one and also a little hack to use QAnimation (this hack will go away as soon as we define a nice API).
Basically all you have to do is to use our concept of "proxies" and instead of adding your widgets to the layout you add this ...read more...
UBUNTU IS NOT JUST A COMPLETE operating system; it is also the center of a growing ecosystem of distributions.
В статье приводятся пошаговые инструкции по реализации высокой готовности виртуального сервера Xen с помощью программы IBM System Director Virtual Availability Manager. Virtual Availability Manager входит в пакет IBM System Director Virtualization Manager, расширения для IBM Director. В статье изложены все этапы настройки, от предварительных условий и установки до поиска и устранения неисправностей—все, что необходимо для получения виртуальных возможностей высокой готовности.
I just wanted to brag about my new blog theme. It was heavily inspired by the new DOT design (made by Philip Tyrer and Nuno Pinheiro), but is done in a bit /different mood/
The second thing is that Identi.ca is now my primary microblogging service which you can see in the box on the right. Twitter will be updated simultaneously because I've set Identi.ca to pass the posts to it, so there's no need for you to follow me on both places (if you're not already).
...read more...
В разделе статей nixp.ru опубликовано 5 статей из различных выпусков электронного издания "Open Source" (по договоренности с редакцией и авторами)...
Британское правительство опубликовало план, согласно которому предпочтение будет отдаваться открытому ПО.
когда OSS TCO не превышает TCO пропириетарного софта.
правительство будет избегать проприетарного софта и вендор-локина.
в оценку стоимости проприетарных решений будет включатся цена переключения на альтернативы.
обязательным условием для поставщиков проприетарного софта будет спецификация того, как можно будет от него уйти.
если лицензии на проприетарное ПО не надо будет покупать, то обязательным условием является доступность их на этих же условиях для всех общественных институций и трансферабельность лицензий без дополнительной оплаты и ограничений (ага - накрылись добрые дела Microsoft библиотекам желающим перейти на Linux, - r), а контракты заключаются непосредственно с правительством, как единой стороной.
правительство будет использовать открытые стандарты и требовать их поддержки у решений, которые оно покупает.
правительство будет требовать передачу прав на заказанные разработки и выпускать их под OSS лицензиями.
и др.
>>> Government Action Plan
Thread beginning with comment 350768 To view parent comment, click here . To read all comments associated with this story, please click here .
I'm having some technical difficulties. In the meantime, for more news out of VMworld I highly advise checking out Planet V12n, where you can keep tabs on keynotes, individual sessions, and what looks like an amazing party. Also check out...
· VMware VMotion fails at 90-95% completion · Cannot perform a VMotion · VMotion times out · The following messages are seen in VirtualCenter: Operation timed out · VMotion stops at 90% then...
So two weeks ago my HD did a huge CRACK and it stopped working. The system did not boot up and it just did CRACK CRACK CRACK all the time. So i browsed a bit and saw that ddrescue was a dd variant able to skip failing sectors. So i picked up a new HD the double size of the old one and a RIP CD and started the process of dumping the old filesystem into a file. Two weeks after ddrescue told me i had lost 77MB and thankfully after dumping the file into a newly created filesystem and some fsck later i did not lost anything important.

So thanks a lot ddrescue devels!
Компании Ingres и Alfresco объединяют свои усилия для того, чтобы создать Open Source-замену популярной платформе совместной работы Microsoft SharePoint...
Ottawa firms show innovation in Vegas
When I type into the remote console, I see unintended repeated characters. What is wrong? If you are using a wide-area or low-bandwidth connection, the time delay over the network may be...
openFATE is now up and running for a few days. openFATE is, in case you missed the announcement, the community accessible feature- and requirements tracking for the openSUSE distribution. We developed and used the FATE system (which has some more components than just openFATE) before internally, but since we want ...
Ссылки